Main Bedroom Reveal + Spring Fling Tour
Last Updated on March 3, 2022
We transformed our dark, beige and brown bedroom into a light and bright colorful oasis! Come see our main bedroom reveal with a bedding update + checkout the bedroom tours of my talented friends!
Hello friends! I haven't shared much of our main bedroom since we moved in, so I thought it was high time to show you what we've done in here! That's right–it's REVEAL DAY! And I'm not the only one freshening up my bedroom. At the end of this blog post, you can find links to blog posts of my talented friends who are also sharing posts for a fun Spring Fling Bedroom Tour! You can also find a full source list at the end of this post.
This post contains some affiliate links for your convenience. Click here to read my full disclosure policy.
First, let's take a look at what this room looked like when we bought the house. It was absolutely my least favorite room in the house, which was a bummer because I LOVED our bedroom in our old house. I was not a fan of the tray ceiling and because the screened-in-porch is right off it, it doesn't get a ton of light. And like pretty much everything else in our house when we moved in, it was beige and brown.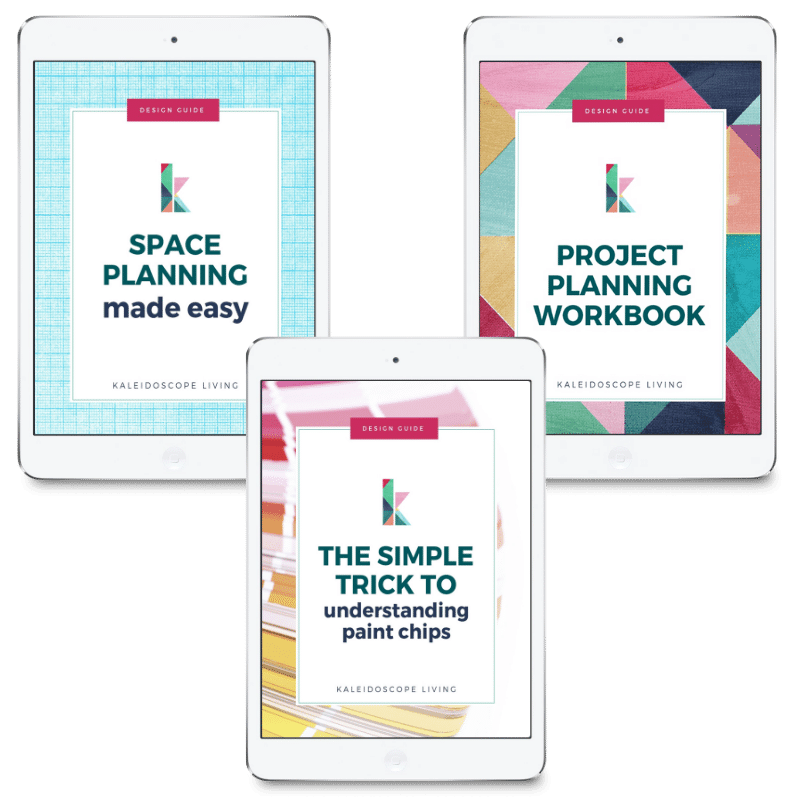 Get my FREE design guides when you subscribe!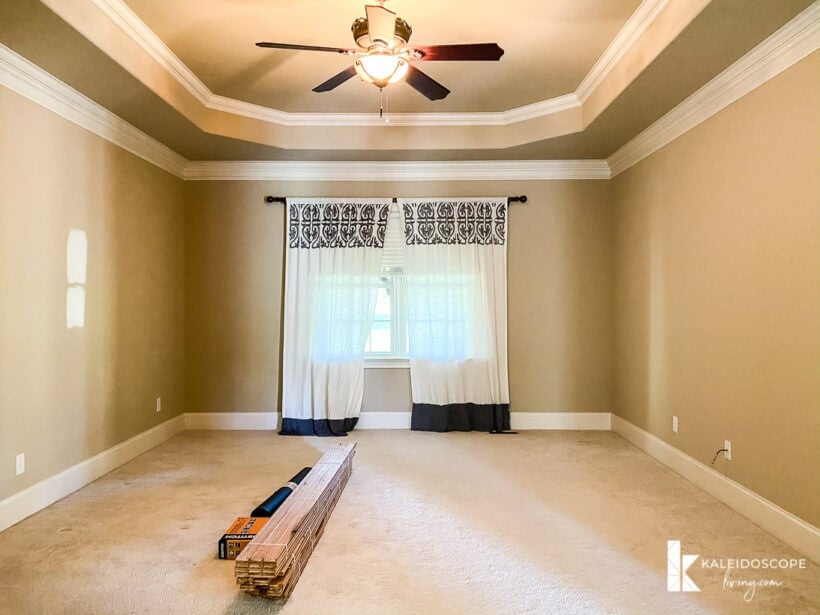 We had the walls and ceiling painted before we moved in. And we also had the carpet replaced with hardwoods. Below is a peek at what the space looks like now. We really reused everything from our old bedroom because we loved everything so much! But we did freshen up the bedding. And keep reading and scrolling to see how the wood floors turned out!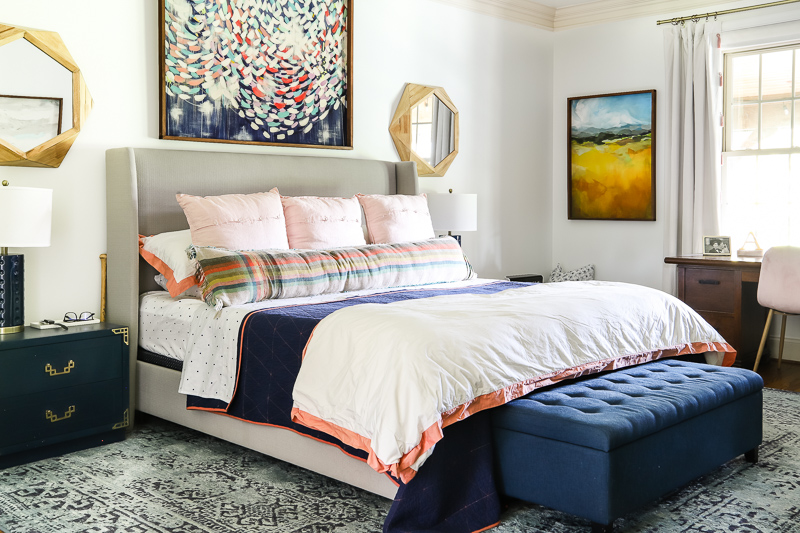 You may remember that last year we added a new quilt and shams to the bed and we still use and love them! We've had Crane and Canopy bedding in the past and are big fans. The quality is outstanding and it is so much softer than any other bedding I've ever felt. So I was absolutely thrilled when Crane & Canopy offered to gift us some new bedding I was happy to take them up on it.
Our old IKEA duvet cover was starting to look a little worn out and our bedroom in this house isn't as light-filled as our last one, so I was happy to lighten the bedding up a bit. We chose the Linden Apricot Border duvet and shams. The bright white and pops of coral definitely helped brighten our bedding up!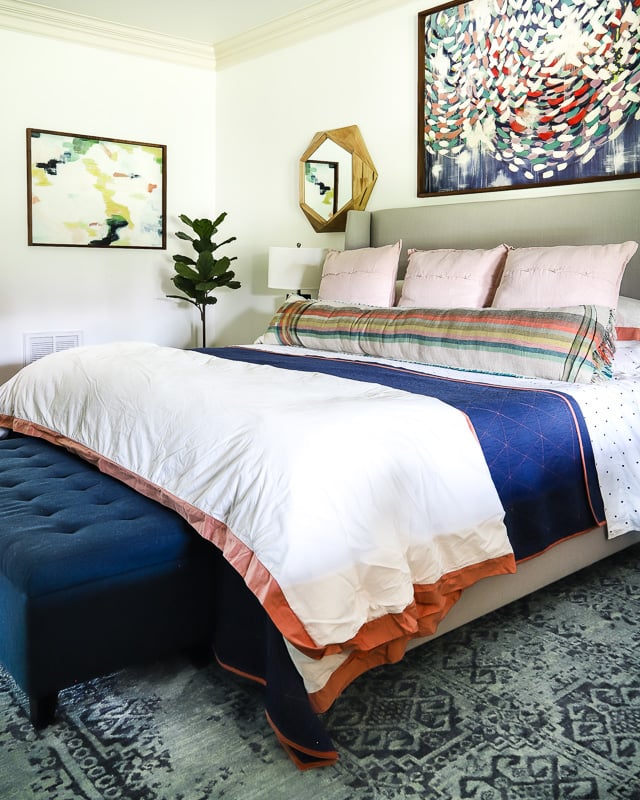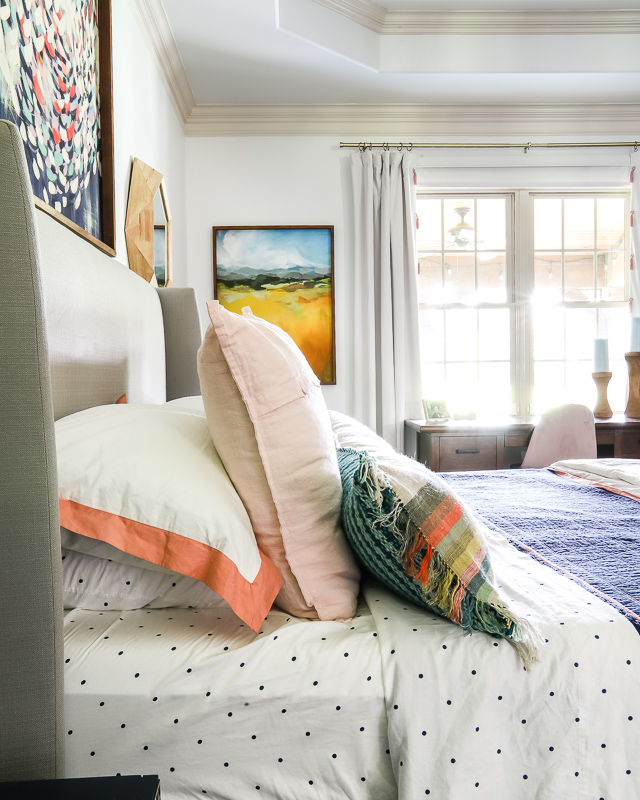 We are in that weird stretch of the year where it can either be hot or cool here in North Carolina, so we can't put away our duvet cover just yet. For now, we have to keep it folded at the foot of the bed and flop it over the bench at the foot of the bed at night just in case.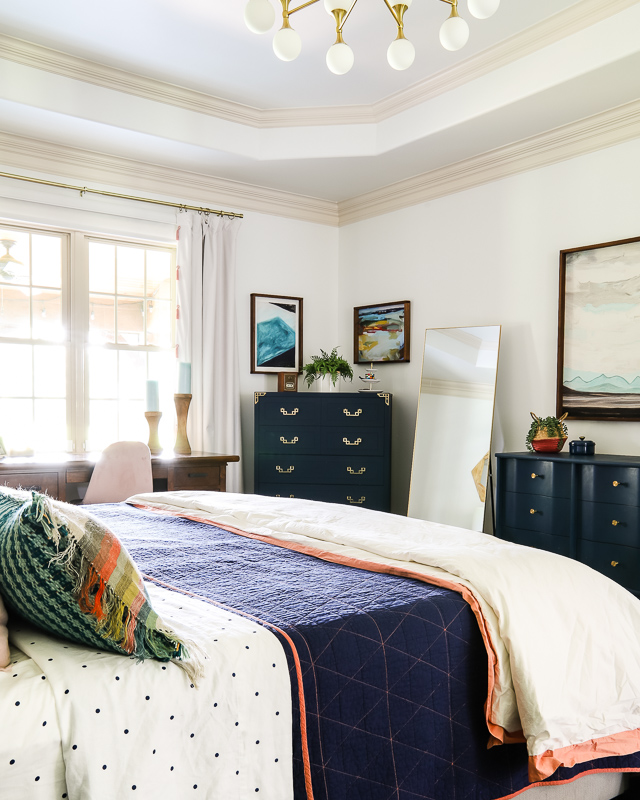 Now who wants a look at how the new hardwood floors turned out?! I'm so happy with them. They match the rest of the hardwood floors that were already in our house
perfectly.
Oh, and we replaced the ceiling fan with the chandelier from our
old dining room
, and I love it in here! Don't worry, we use
this tower fan
now and I feel like it keeps us way cooler than a ceiling fan ever did!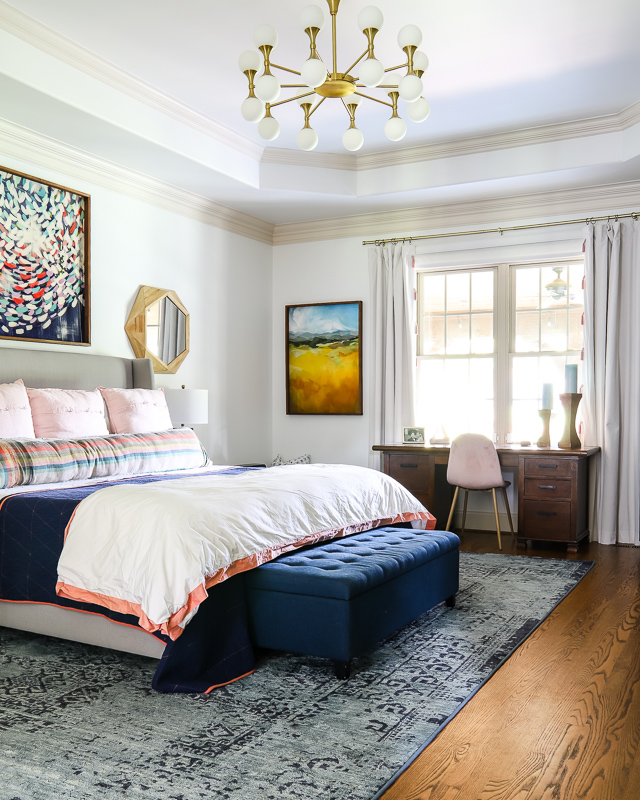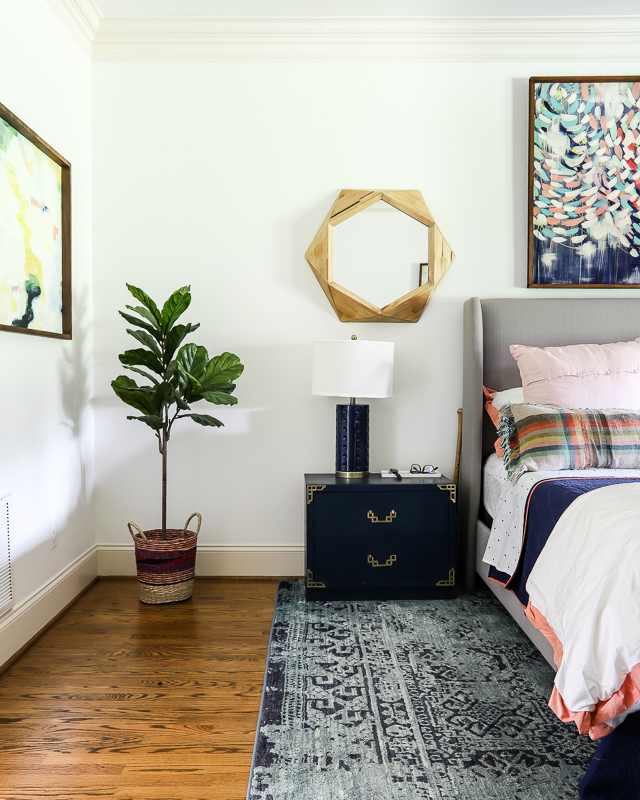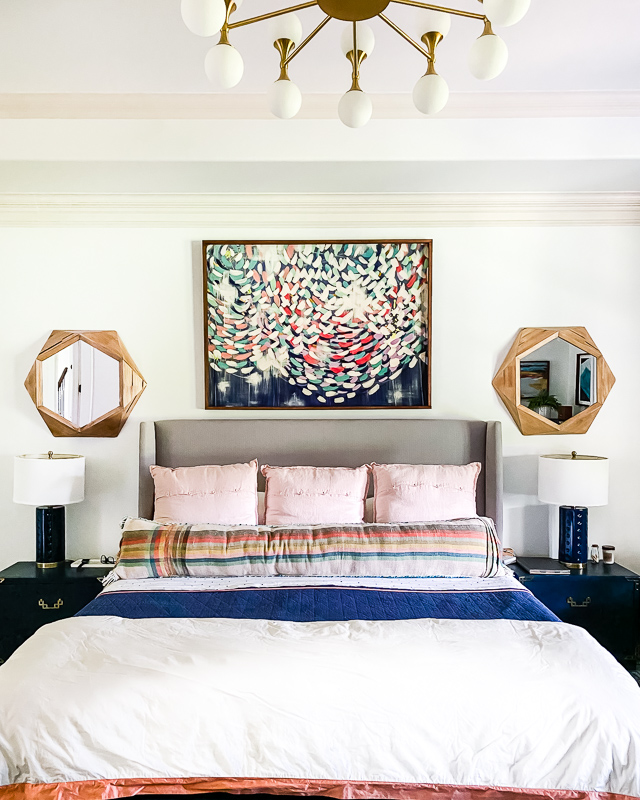 I feel VERY lucky to say that this room is now one of my favorite rooms in our house, which I genuinely did NOT expect given how much I disliked it when we first viewed the house. Just goes to show what paint, hardwoods & decor that is your style can do for a space!
Main Bedroom Source List
Wall color: Pure White by Sherwin-Williams
Trim color: Divine White by Sherwin-Williams
I've included sources for items that are still available and have done my best to find similar items for those things that we purchased second-hand (like the nightstands by our bed). Just click any of the images below for full product details.

Spring Fling Bedroom Tour
Now before you head out be sure to check out my talented friends' room refreshes–just click any of the links below to see their beautiful bedrooms!
Thanks so much for checking out our main bedroom reveal and I hope you enjoy touring my friends' bedroom as much as I do!
If you are wondering how I come up with room designs like this one, the answer is Designer in a Binder®. Designer in a Binder®. It is the design system I have used for years and years! A couple of years ago, I finally put it all down on paper so that others can use it as well! In it I walk you through all the important stuff like choosing items that are the correct scale, space planning, mixing patterns, choosing colors and more! I give easy-to-understand guidance on all of this in Designer in a Binder®! You can order your binder now. We have over 7,900 happy customers so far! Click HERE to learn more.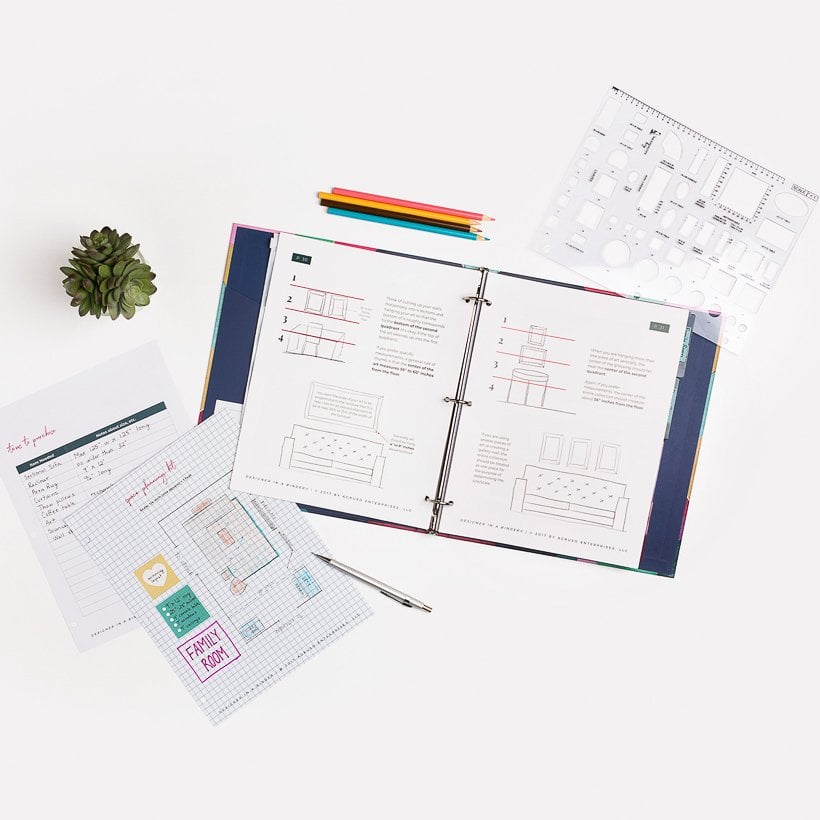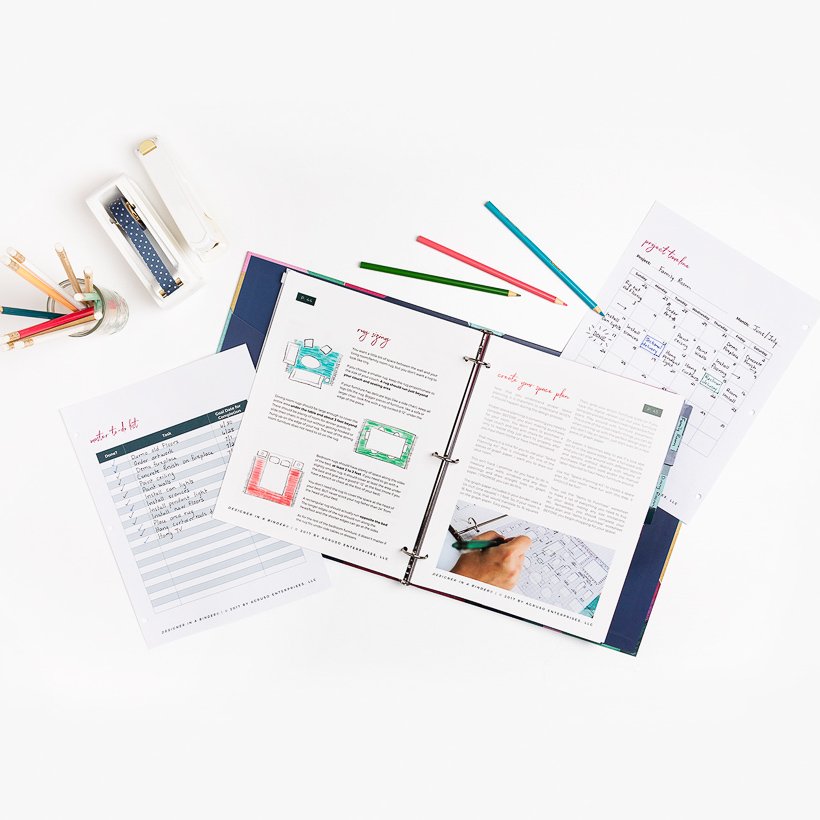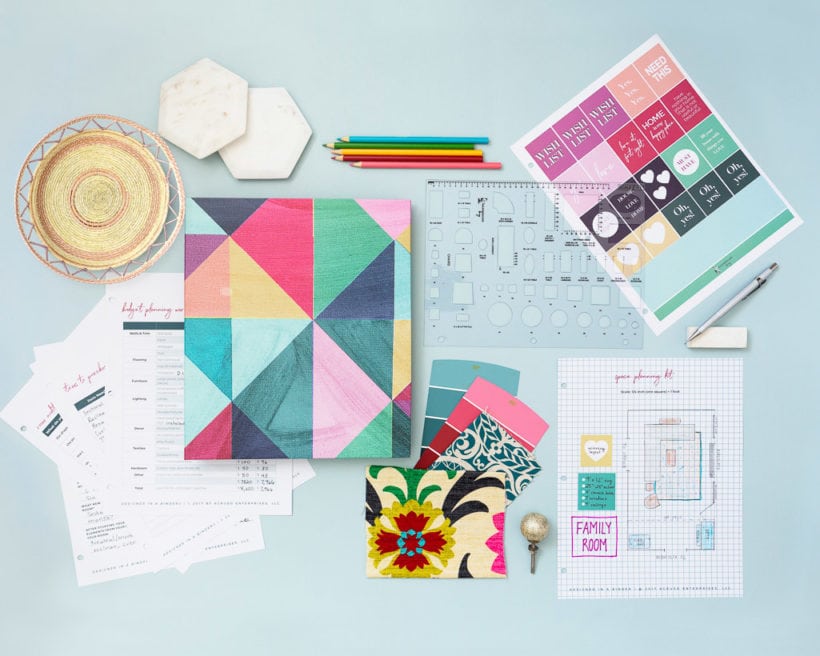 [mv_create key="3″ layout="circles" thumbnail="https://designertrapped.com/wp-content/uploads/2016/05/angies-list-after-5.jpg" title="Room Reveals" type="list"]