Want an extra long bolster pillow without the steep price tag? This simple tutorial is the EASIEST way to make a beautiful custom DIY bolster pillow (and an extra cover) that is really easy on your budget.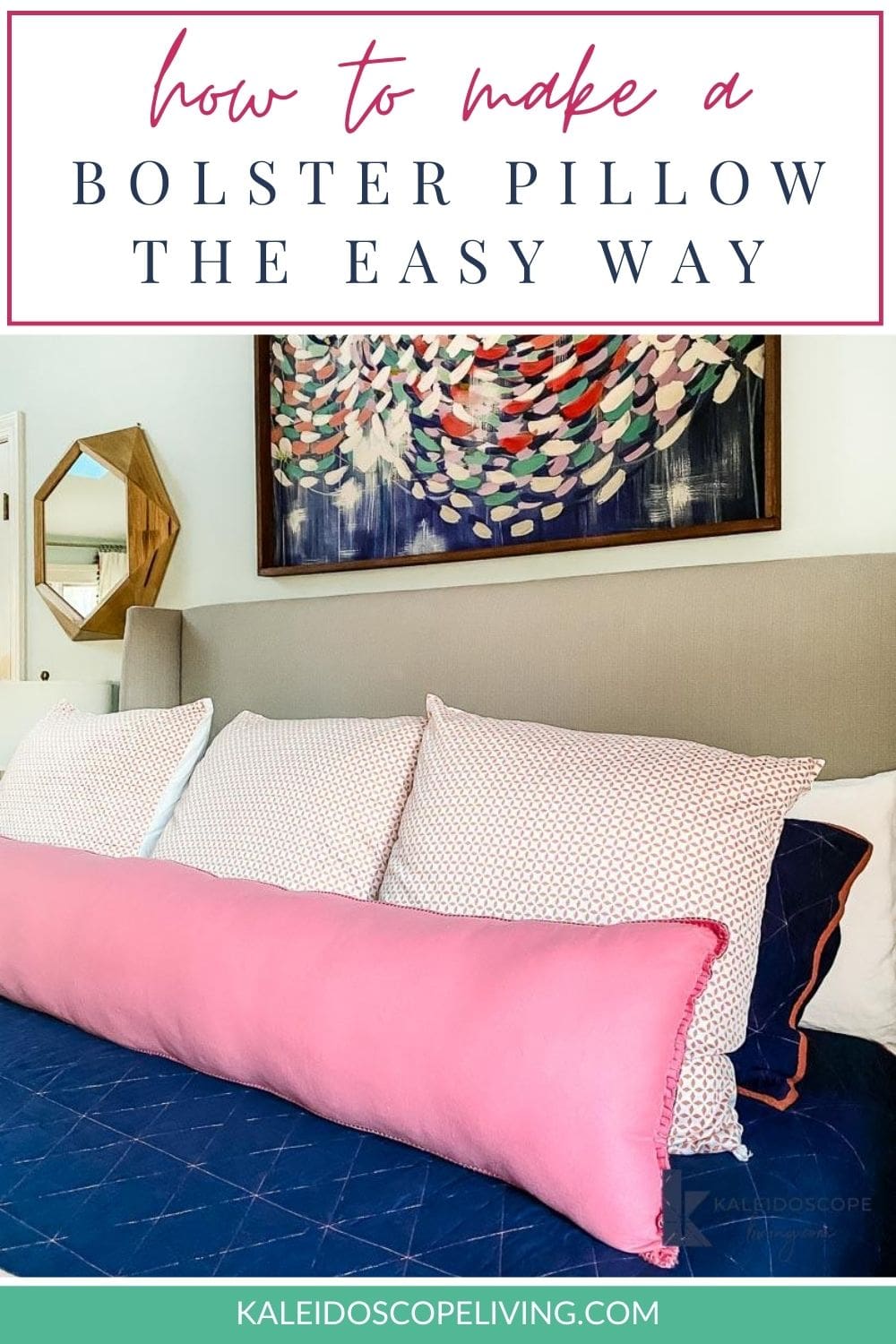 When I was giving our master bedroom a holiday makeover for the first time, I really wanted an extra long bolster pillow. I really didn't want to make it myself! But I started looking around and I was FLOORED by how expensive bolster pillows are. Then one day, I was shopping in Target, and as it happens sometimes, Target told me what I needed.
I saw a beautiful green and pink reversible table runner and I had a total light bulb moment. The runner was the perfect length and width to fit our king size bed, so I knew I could easily make a bolster pillow out of it! It was SO easy. I loved the way it turned out and it was perfect for the holidays!
A few months later I found myself at Target again, and you guessed it, I had ANOTHER light bulb moment. Looking at a really beautiful table runner with stitching and tassels, I realized I could easily make a cover for my DIY bolster pillow and change up the look in my bedroom. Really, I can make as many covers as I want! I made a second cover and it is an even easier DIY, if that is possible.
Both of these projects take only minutes and are so cheap while looking really high style. My favorite kind of DIY! And I am gonna give you quick and easy tutorials for both–how to make a bolster pillow and additional covers!
This post contains some affiliate links for your convenience. Click here to read my full disclosure policy.
How to Make a Bolster Pillow
Materials:
Table runners with two layers sewn together (The ones I used are no longer available but we found lots of great options, you can see them below. We did our best to find lined runners, but please verify!)
Polyfill ( I used two large bags of this type)
Scissors
Needle and thread

Steps:
If you prefer video tutorials, you can watch the video below. If you prefer to read the tutorial, just scroll past the video for all the step-by-step written instructions.
1) Your runner should be lined, or two pieces of fabric sewn together. Open the end of your runner about 4-6 inches. Snip the seams carefully with a seam ripper or scissors. The hole just needs to be large enough to jam your hand full of polyfill into it!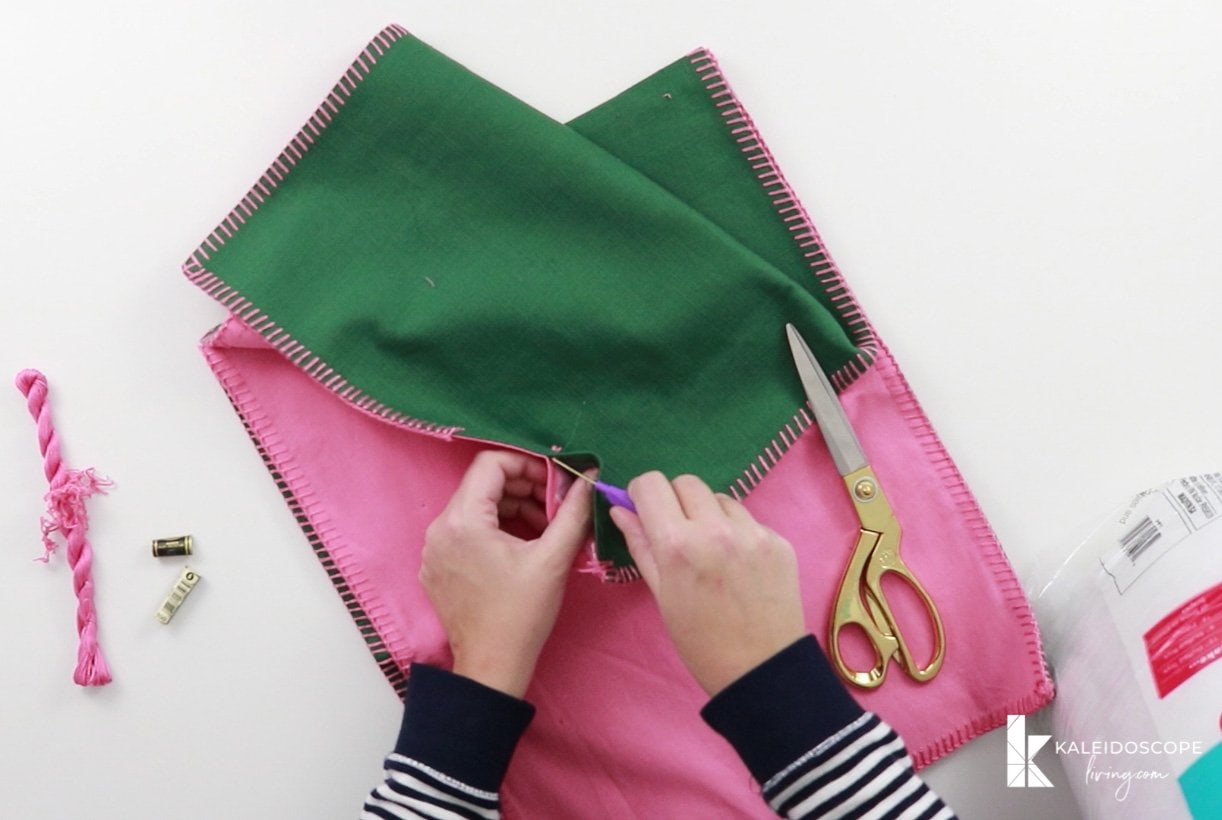 2) Stuff your table runner with polyfill. This is about as simple as a DIY gets, and so easy for kids to do with minimal supervision! We used two bags, but you can use as much or as little as you want. Add polyfill until you like the firmness of your pillow!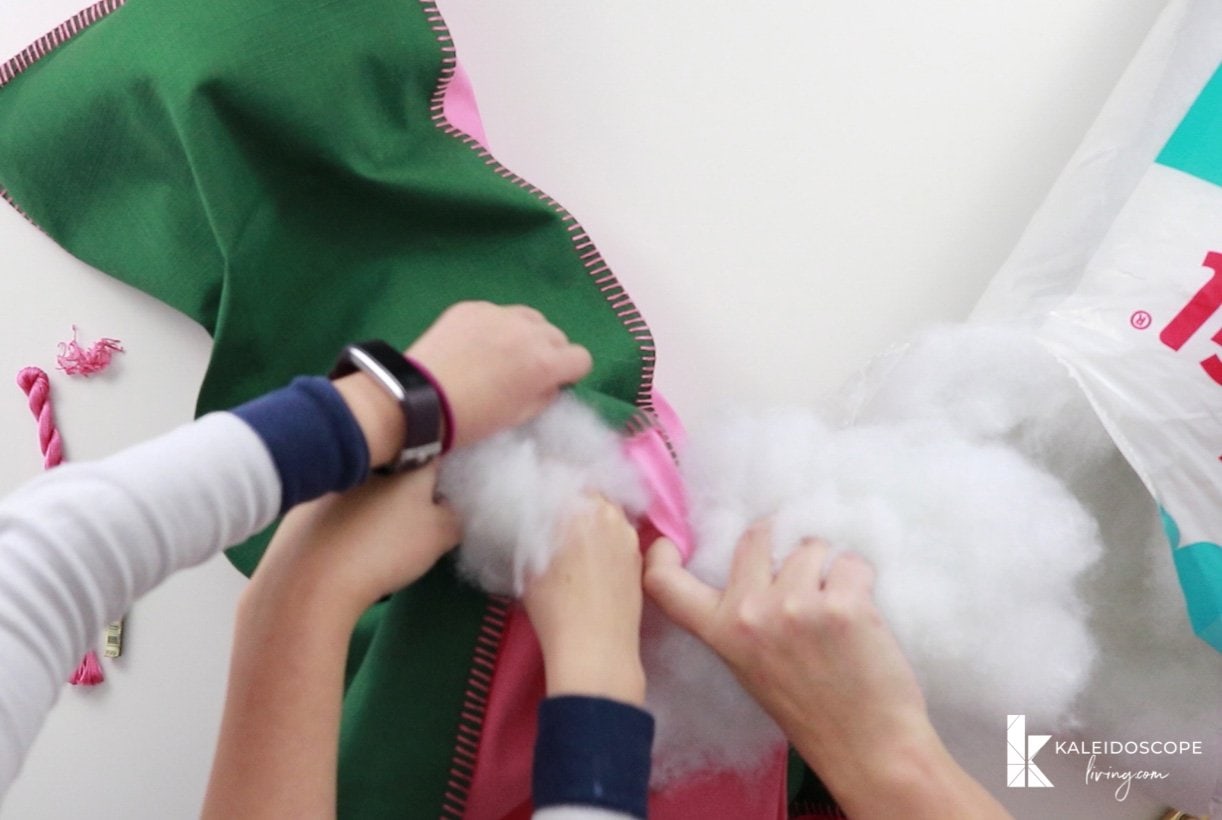 3) Once the runner is filled to your liking, sew up your hole. If you don't want to sew (or can't!) you can use iron-on hem tape or velcro. And now you have a bolster pillow for your bed! I stitched mine closed with green thread first and then did my best to match the pink blanket stitching.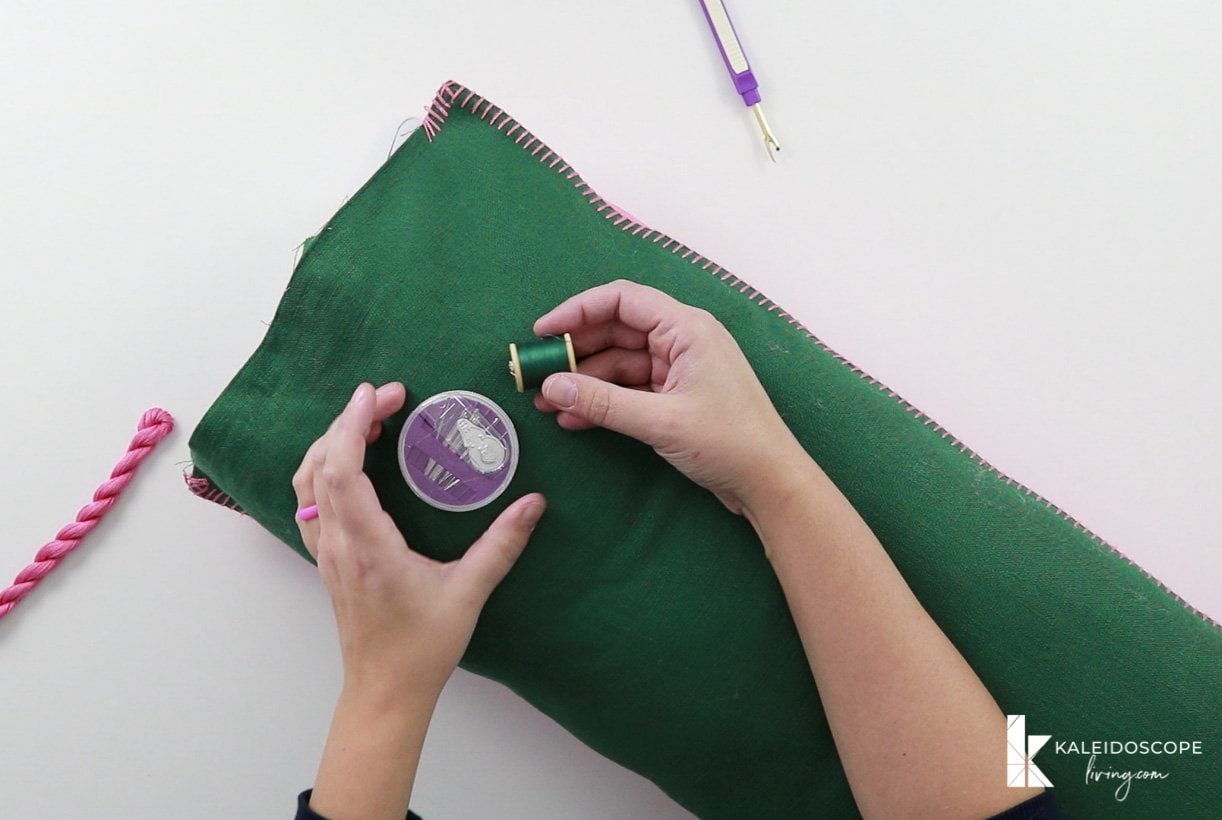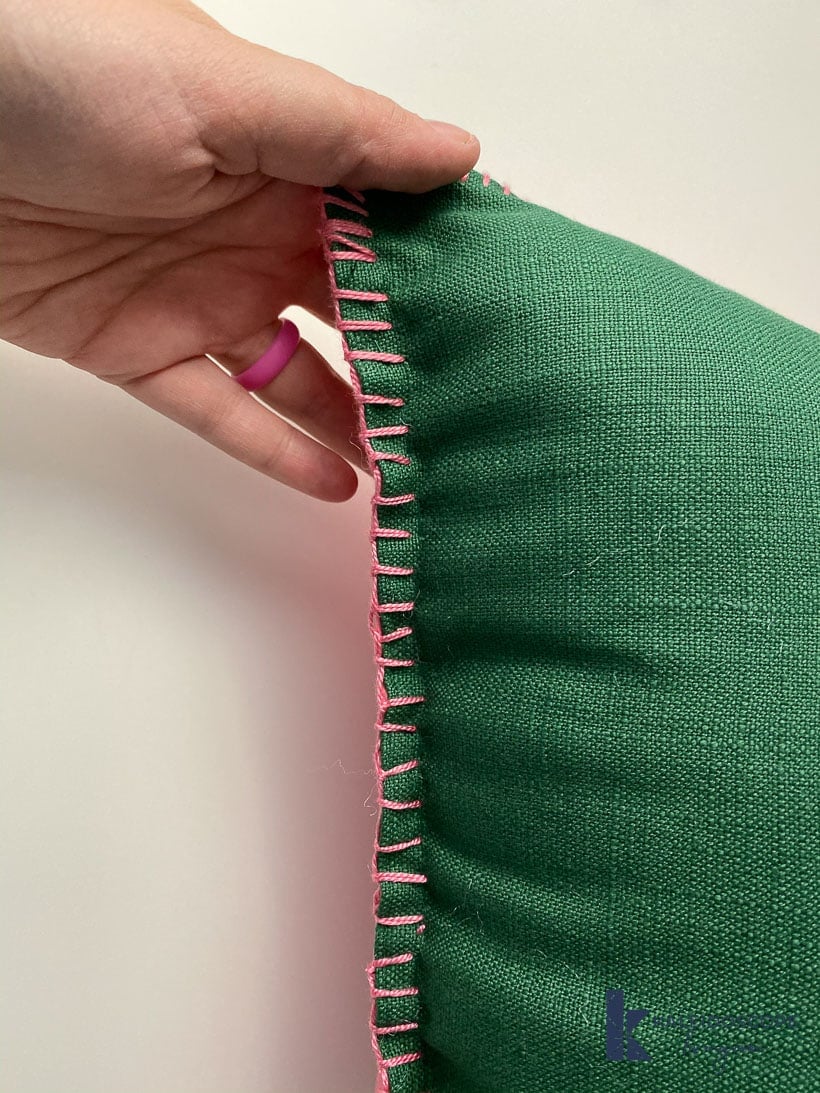 Bonus Steps: Make extra covers!
I have already made one new slipcover and can't wait to make more.
4) Choose another runner that is double layered. Open the seam of the layers at one end with a seam ripper.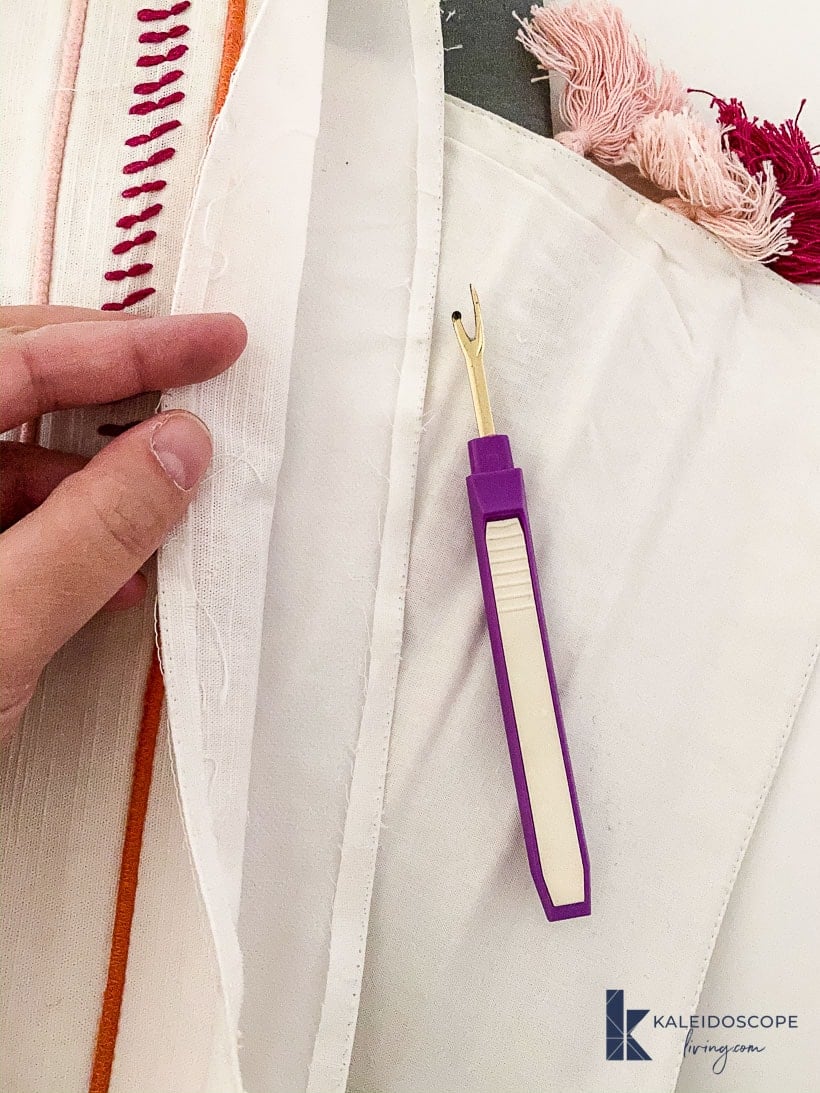 5) Attach iron-on velcro on the open end. This will allow you to close it easily!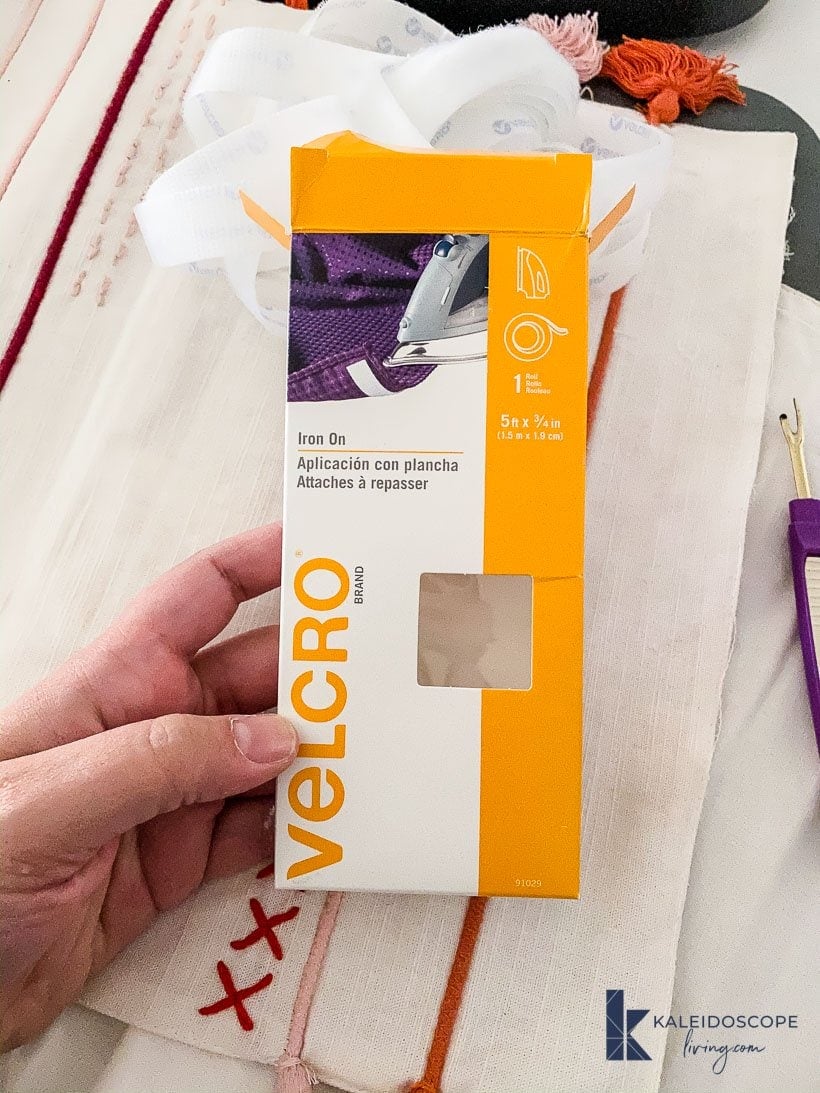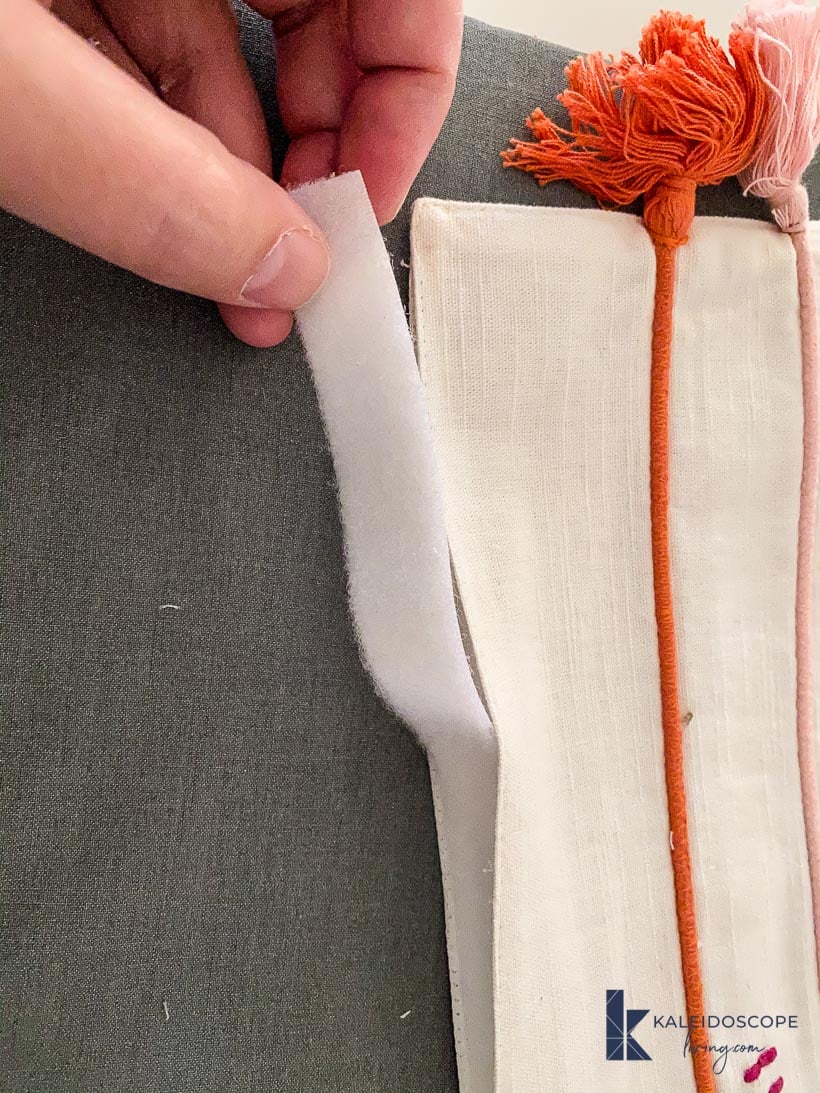 6) Slip the new cover on your DIY bolster pillow! Make as many as you want–they are so simple to change out. I love the idea of changing them up seasonally, which is what I did after Christmas!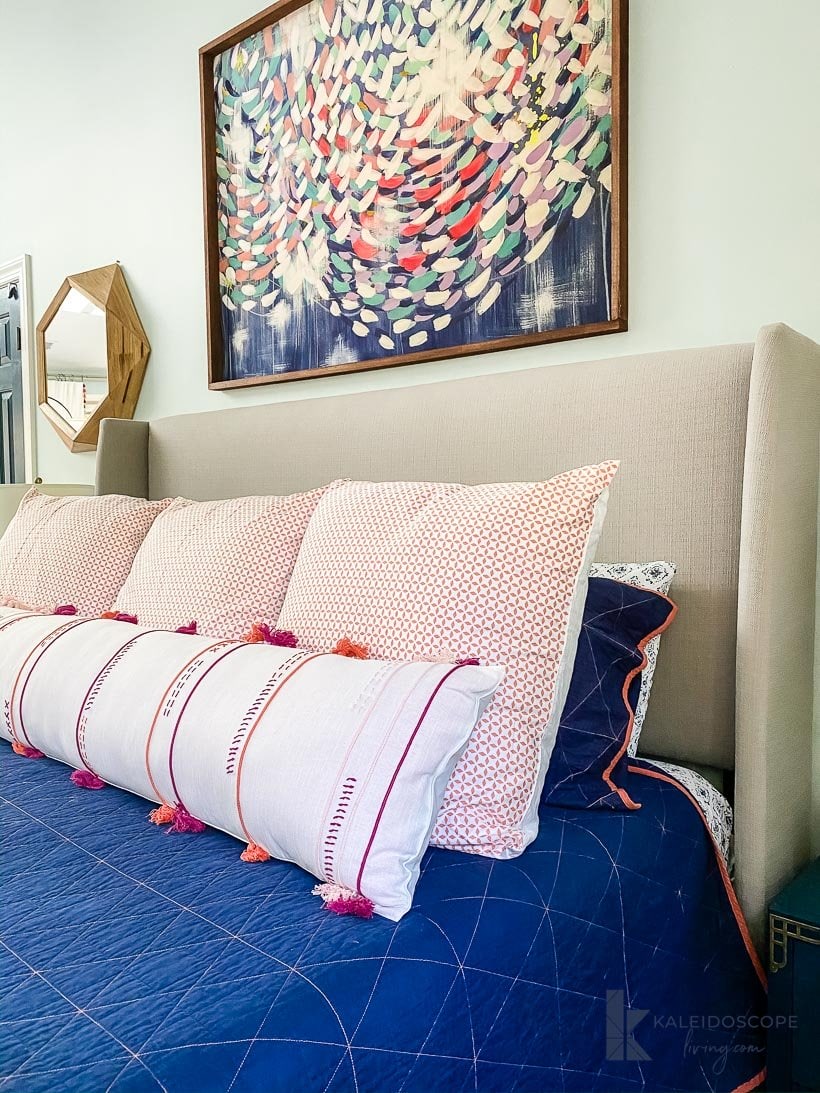 This is what it looks like without the slipcover. The one I chose to use during the holidays can easily be used all year, especially on the pink side!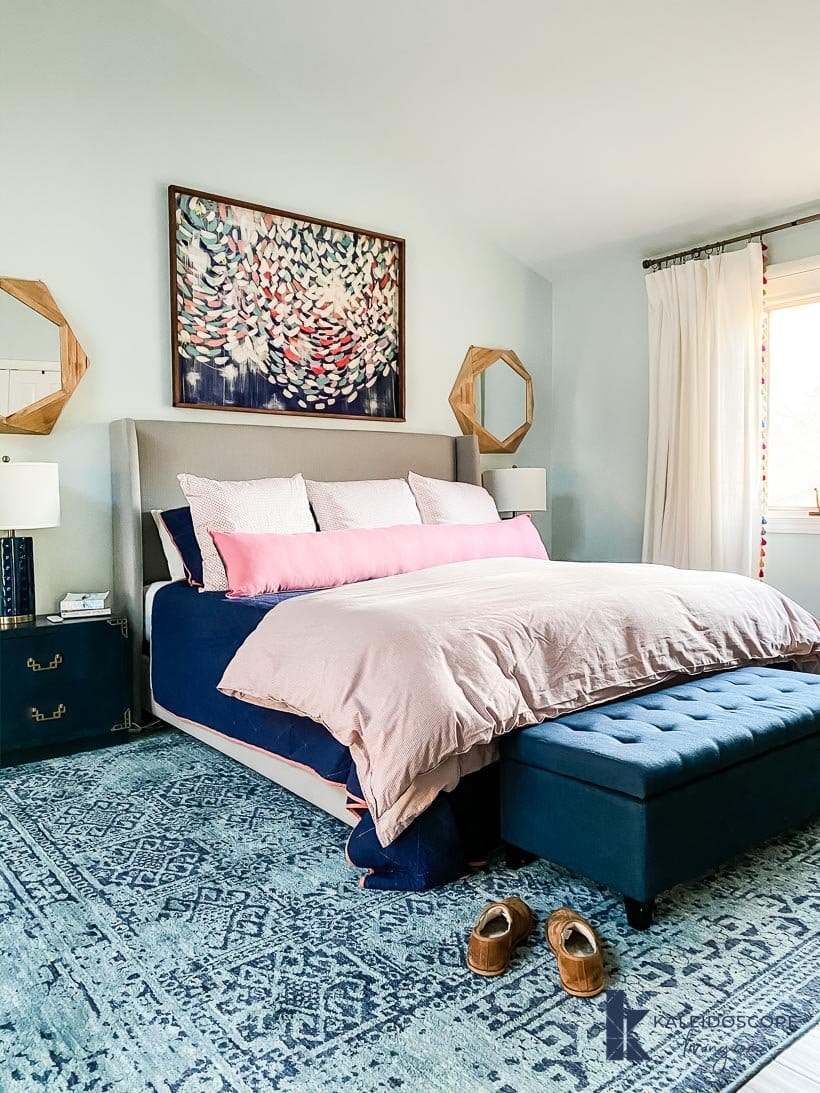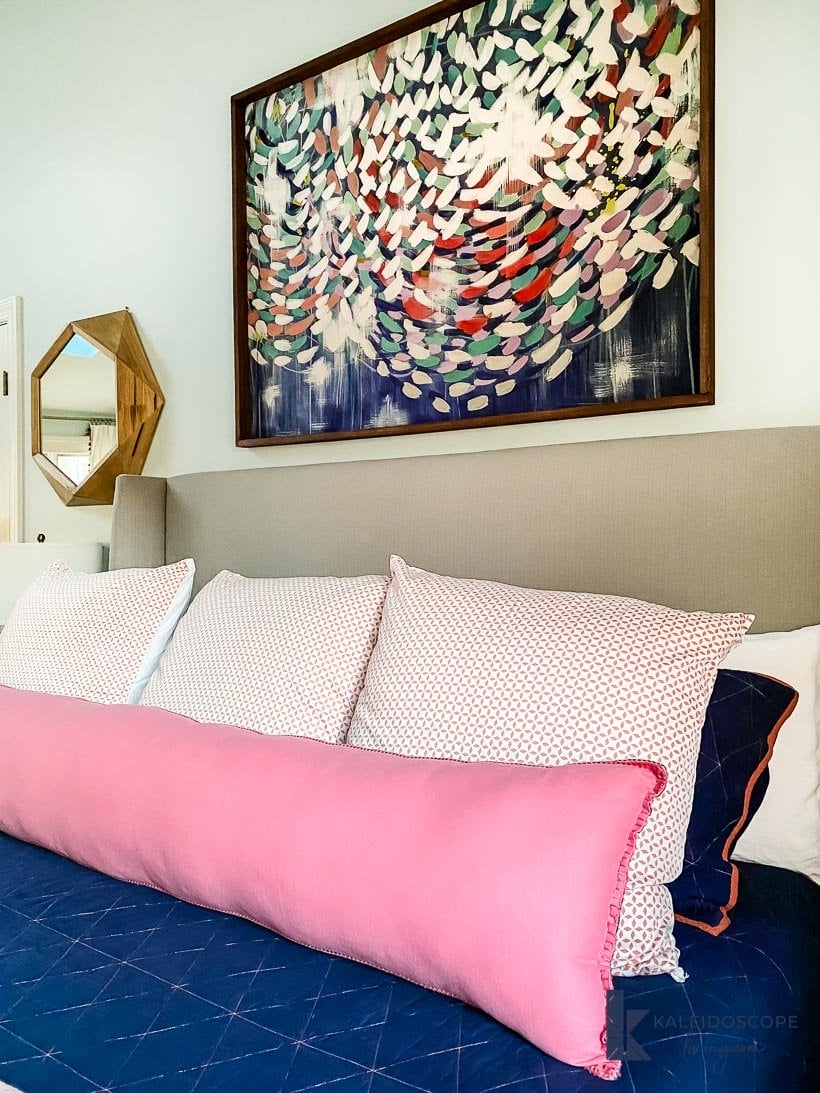 And then I slip on the cover and it totally changes the look! I can't wait to make more.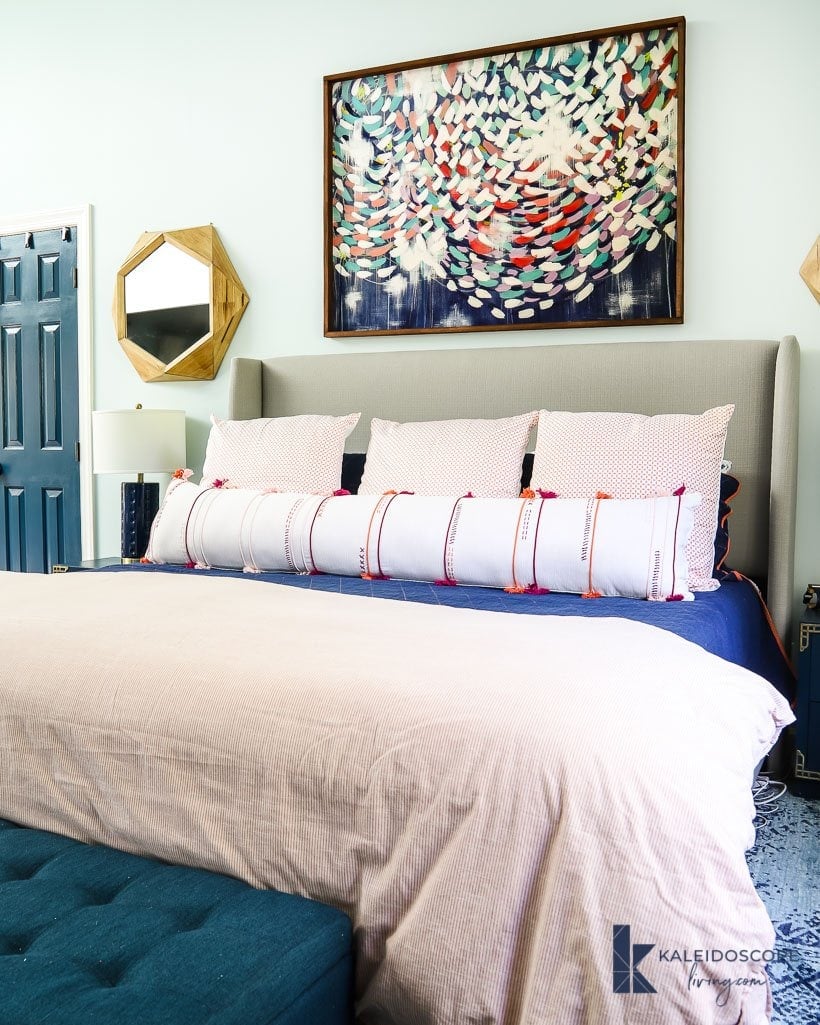 That is it! Such a simple DIY that creates an awesome end result. Doesn't it look amazing? Let your imagination go wild and make yourself as many covers as you want! My favorite part about the whole project is that it is so simple to switch them up depending on your mood or for the seasons.
If you want the full tour of our bedroom with the complete source list click here. For more great pillow projects, check out Cute Throw Pillows That You Can DIY.
Before you head out, I'd love for you to join our community as a VIP for free! You get all kinds of fantastic freebies when you subscribe!