Office Space Ideas You Can Do Right Now
Last Updated on March 2, 2022
Find yourself working at home all of a sudden? Make yourself as productive as possible by creating the perfect home office with these office space ideas. Easy to implement, these great ideas will help you establish your work area!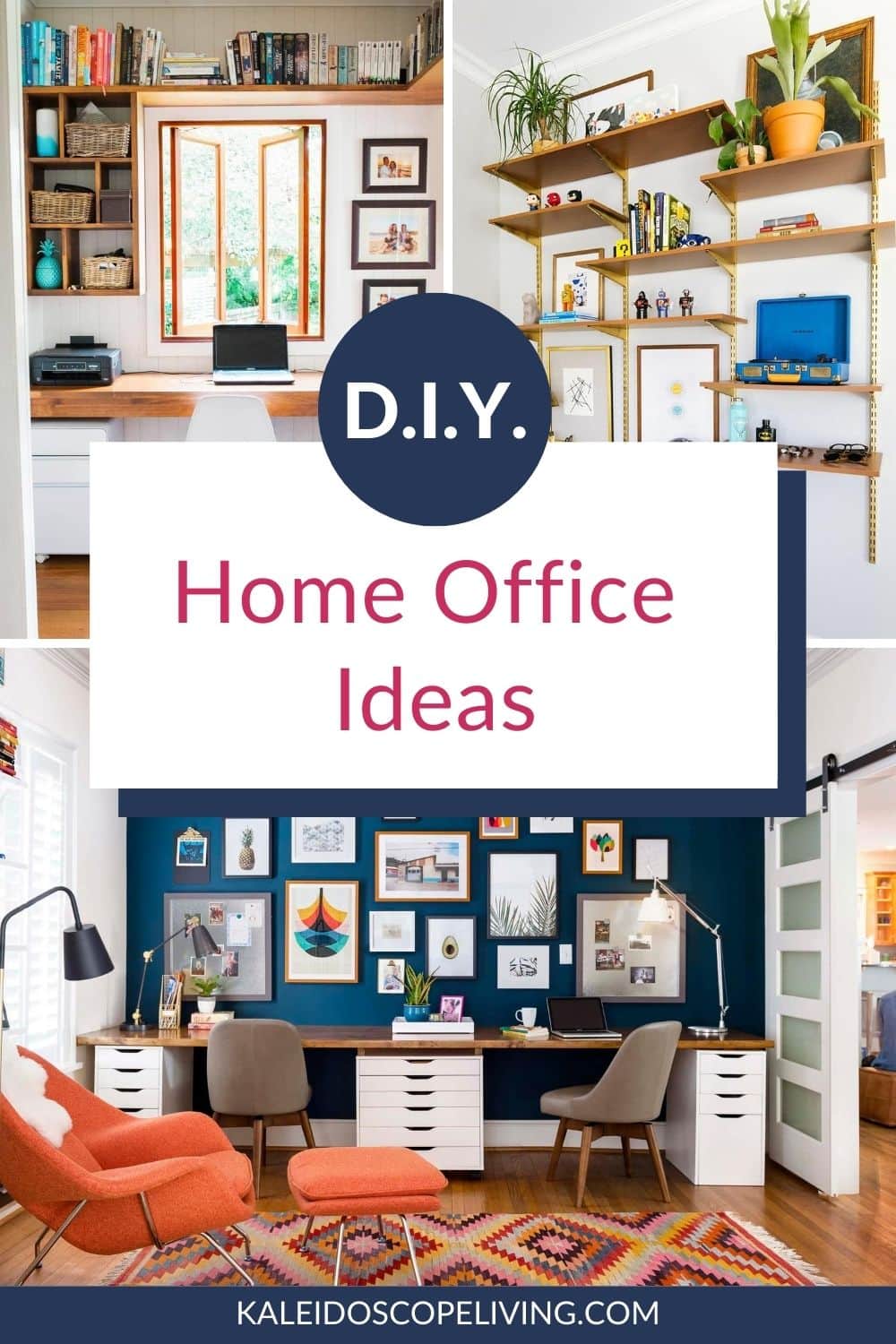 I haven't worked in an actual office building since I stopped practicing law in 2016! For over 4 years, I have been working from home. There have been moments where I wanted to scream (working with children and a husband and a dog around can be tricky!) but for the most part, I have really loved it. I know in the last several months MANY of you had to make the switch to working from home and had to do it very quickly! My best tip for anyone adjusting to working from home, is that having an established work area is VITAL to being productive! I wanted to bring you some of my favorite office space ideas for creating your own workspace quickly and easily (and often for little money!). I included quite a few with double workspaces because in today's world lots of couples are sharing office space at home!
My office has switched spots, and been redecorated and reconfigured many times. But you don't have to make huge adjustments to create a home office. Whether you have an empty bedroom, an empty wall, or even just an empty corner or closet, claiming the space as "work only" will make transitioning from home to work mode so much easier.
My office was originally in an unused bedroom upstairs. Once we gave my twins girls each their own rooms and they weren't using their playroom very often, I moved downstairs and took over their playroom (that was meant to be a formal living room).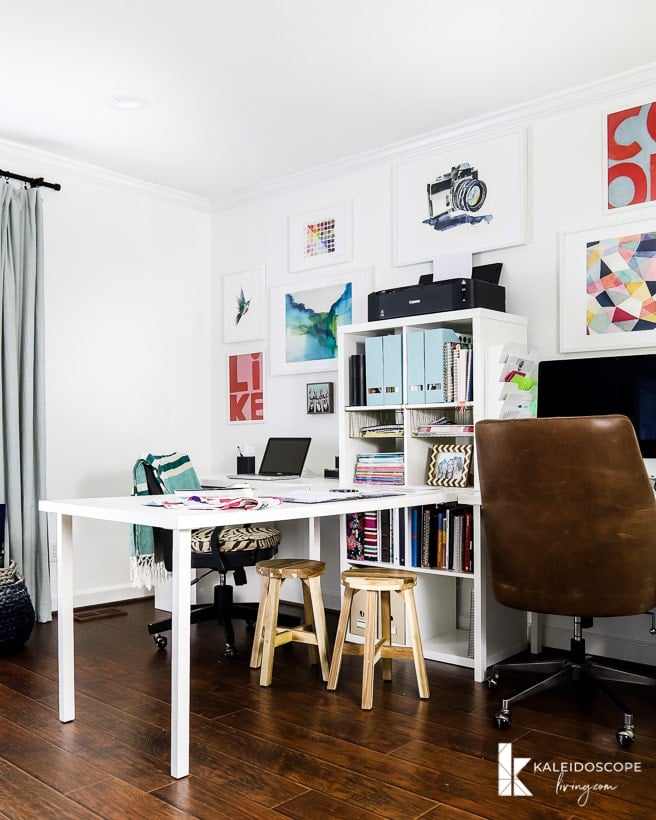 In my good friend Thea's house, we created her home office in what was meant to be the breakfast room of her kitchen. It is the perfect cozy spot and she has a designated spot to work. Don't get hung up on what a room was meant to be–get creative!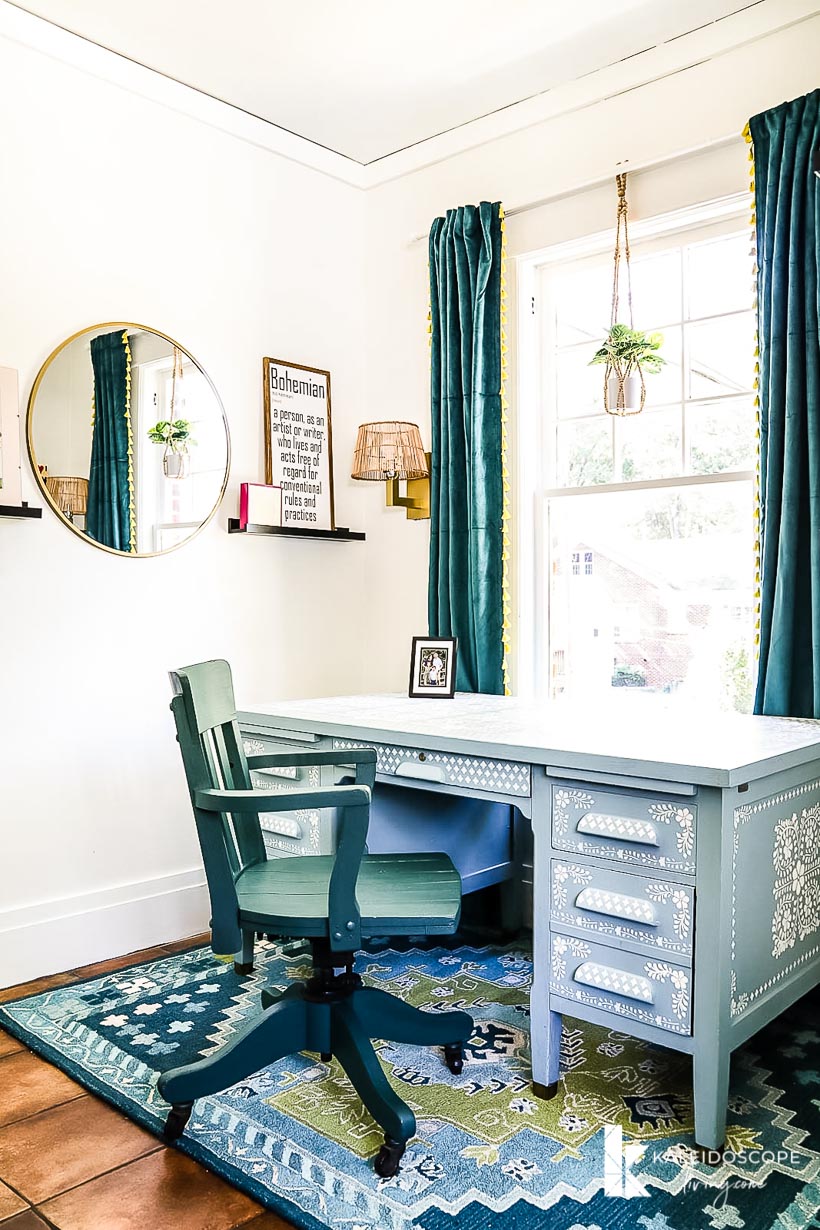 More Awesome Home Office Ideas
Closet Turned into an Office by Nesting with Grace. Need an office space but not sure where to put it? Get creative! This closet-turned-office is seriously cute with the wallpaper and lighting.
Simple Office Space by Courtney Adamo for Design Mom. Sometimes less is more! This open and airy corner of a room houses a simple desk and chair. These days a lot of us working from home don't need much more than a computer, so choosing an option without a ton of storage can keep things feeling less clunky, and "office-like."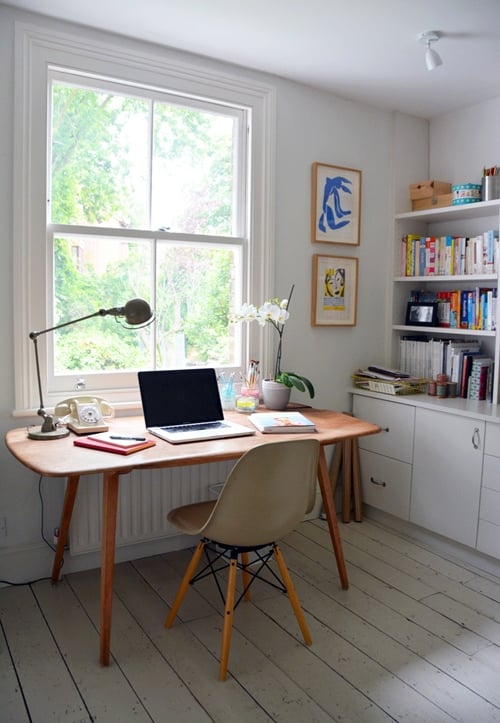 Vintage + Modern Home Office Space Ideas by Gina Sims Designs. This gorgeous office is perfect for the couple who both needs space to work, but doesn't mind working together! The designer combined new elements (IKEA) with mid-mod chairs to create a cool eclectic look.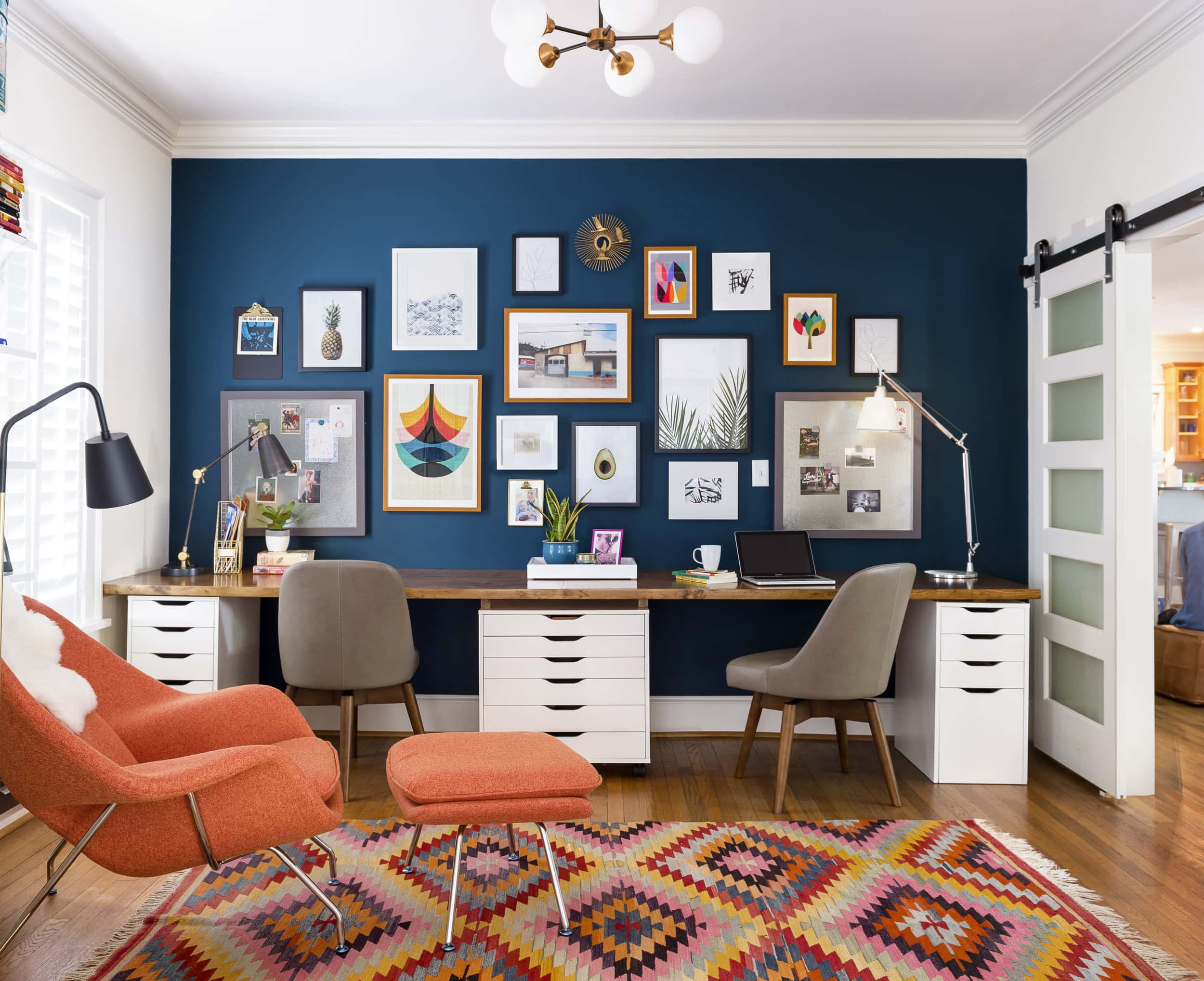 Double Office with Built-In Book Shelves By Amie Corley. These ceiling-high shelves are so gorgeous! I love the desks built into them and that there is enough room for two people to sit and work and not be on top of each other. Not to mention the emerald green pops!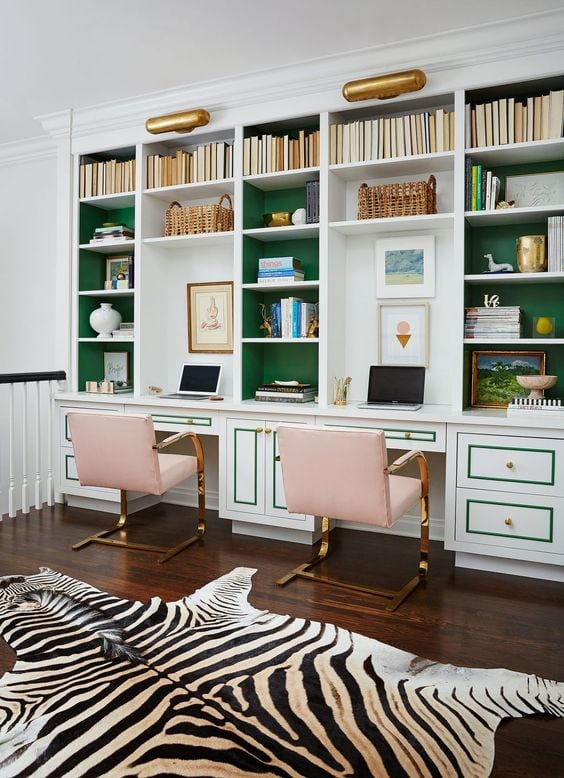 Wardrobe Office By 2LG Studio. Creating a small office space from a built-in wardrobe is a genius idea! Open it up and do all your work, then close it up, and no one can see your work mess. Giving it the pop of bright blue makes it even more fun!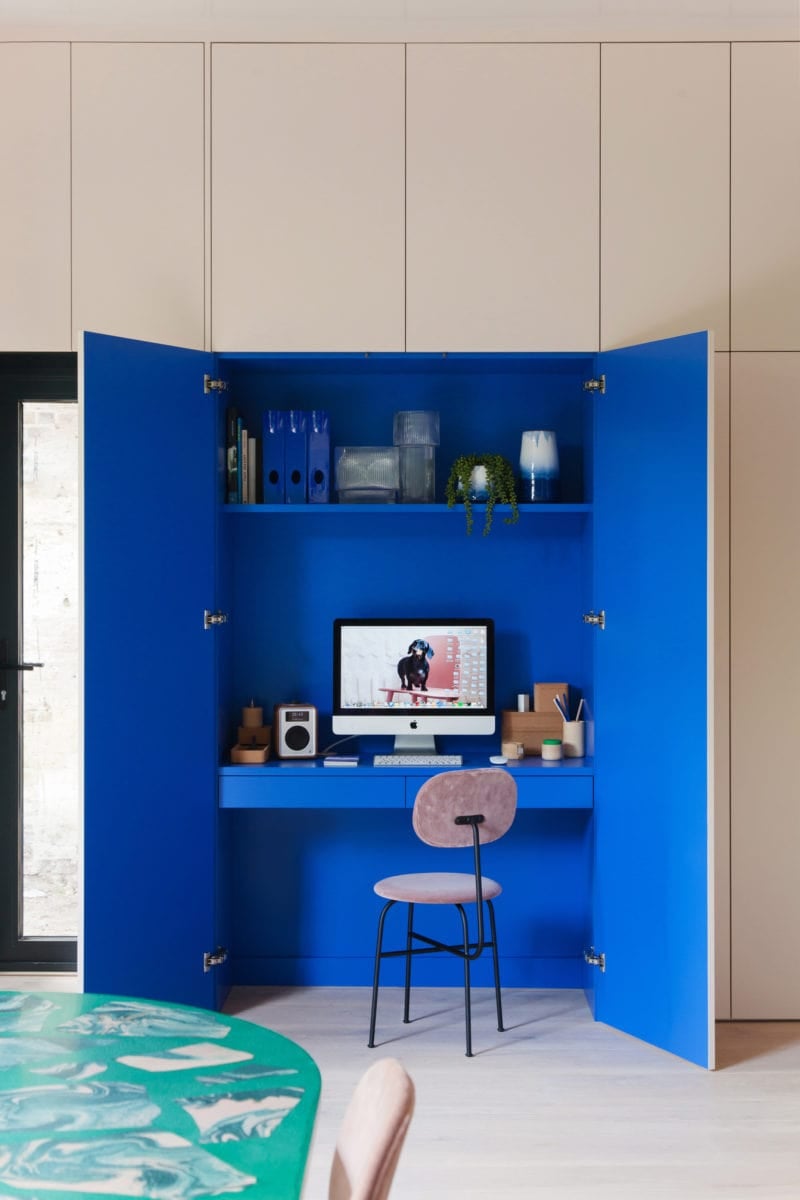 Bedroom Office Ideas By Design Sponge. Use a corner of your bedroom (or even better, a guest room) for the perfect office space! This corner would be so simple to replicate with shelves and a small rug.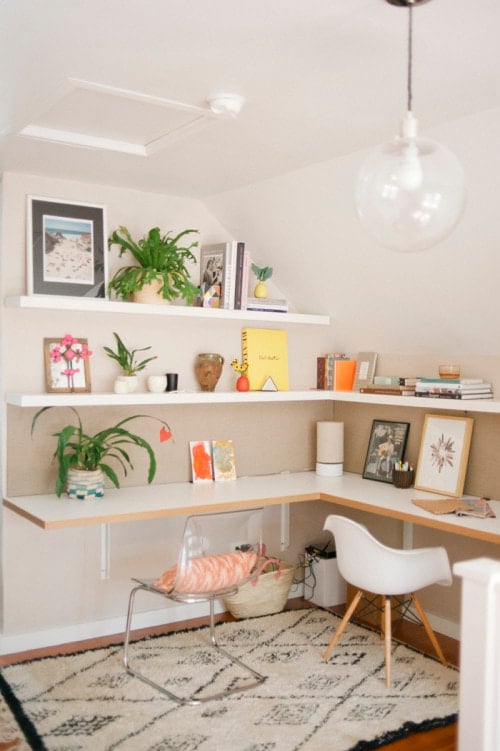 Wall Shelving Desk By Old Brand New. All you need for this clever set-up is an empty wall. Put up some shelving and add one wider plank at the bottom at desk height and voila!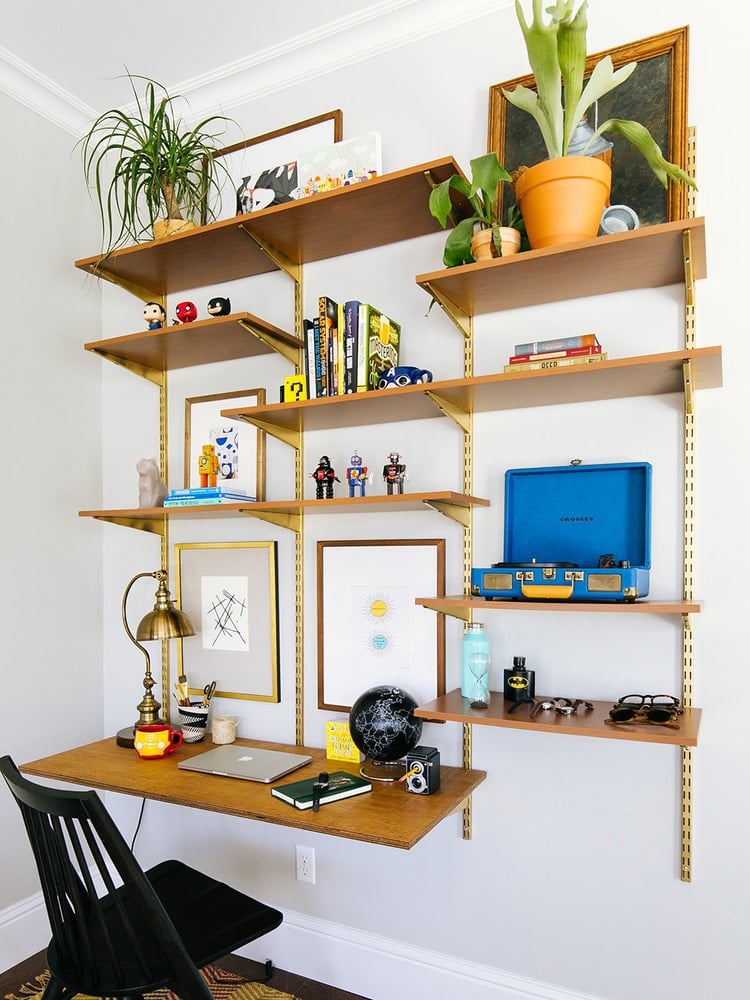 Turn a Closet into an Office Nook by Homemade By Carmona. Making the most of your space is a necessity! Using a junk closet may be the perfect solution for your home office. The built-in shelves finished with molding are an impressive DIY.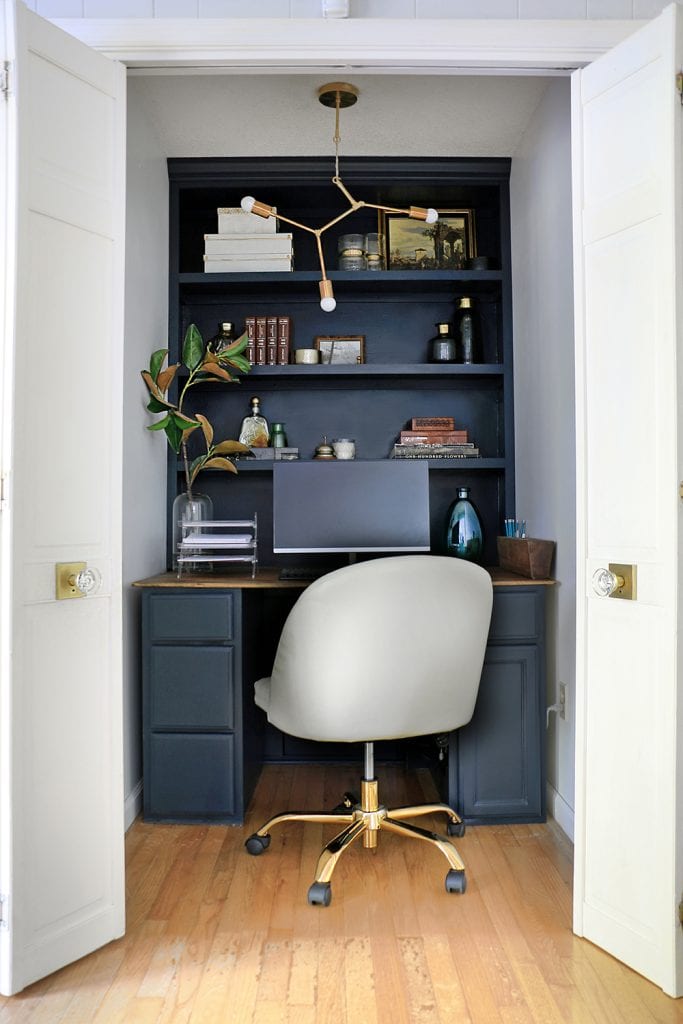 Sunny Office Space for Two By Camille Styles. Do you love a more neutral vibe? This simple double desk set-up in a sunny spot is filled with bright white and green plants!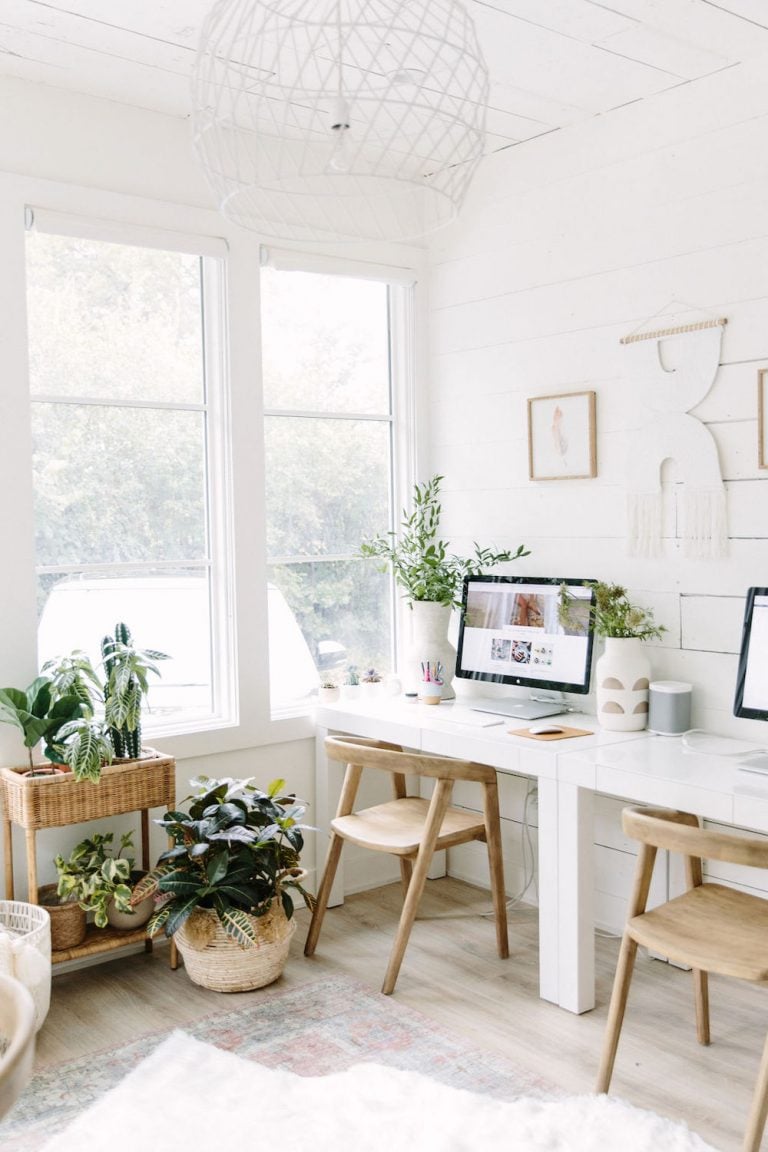 Maximize Your Small Office by Going Up By Anita Yokota. The takeaway from this awesome set up is to invest in shelves and cabinets and go as high as you can with them! That maximizes all of your space while keeping you organized and providing a great workspace.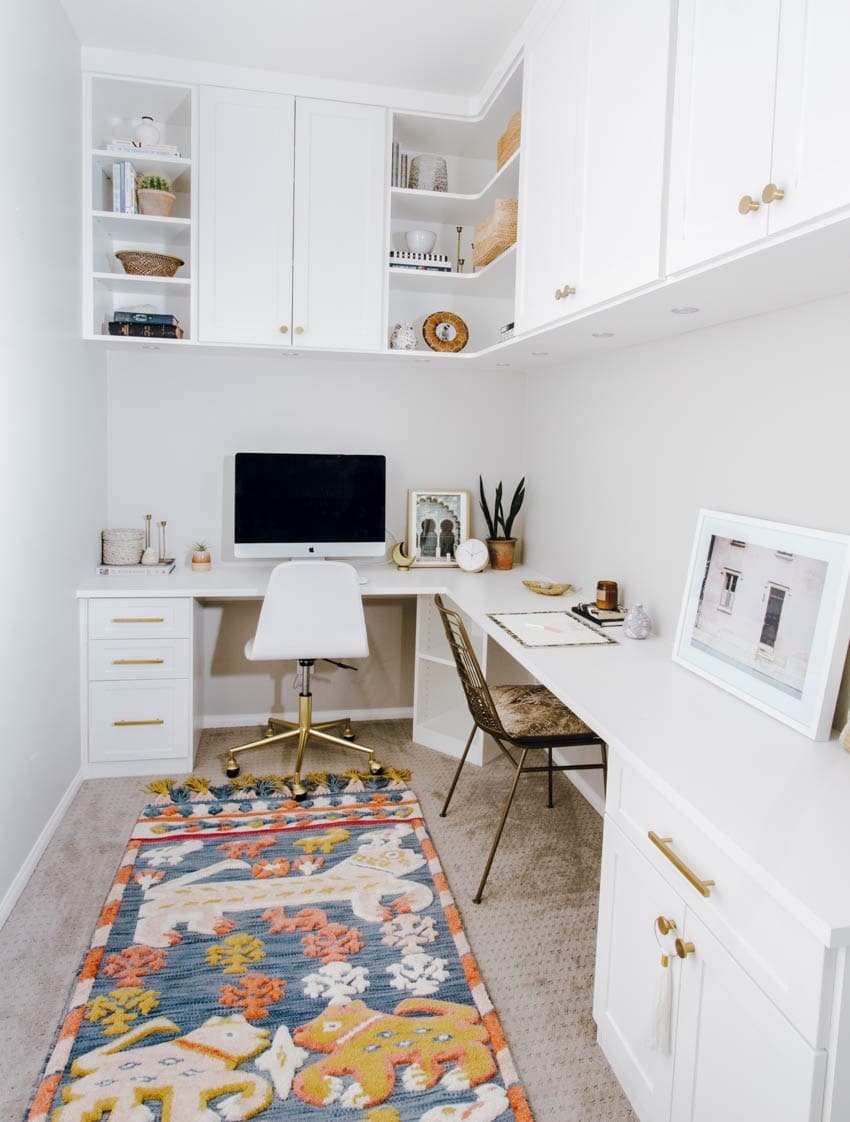 Bedroom Office Makeover By The Crafted Life. Extend your shelving and add a desk to create an instant office! Add a rug and a chair and it will make the space feel intentional. And you can up the fun and interest with color pops on the brackets.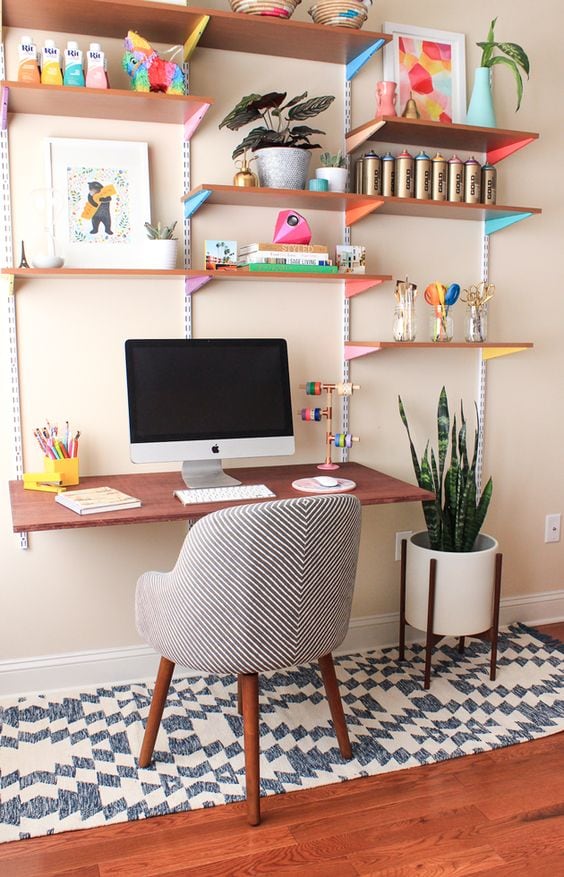 Get Creative By Indigo And Ochre Design. Do you have an old desk that you love but aren't using because it doesn't have a lot of storage? Create an office nook by using an existing piece and adding molding and shelves above it.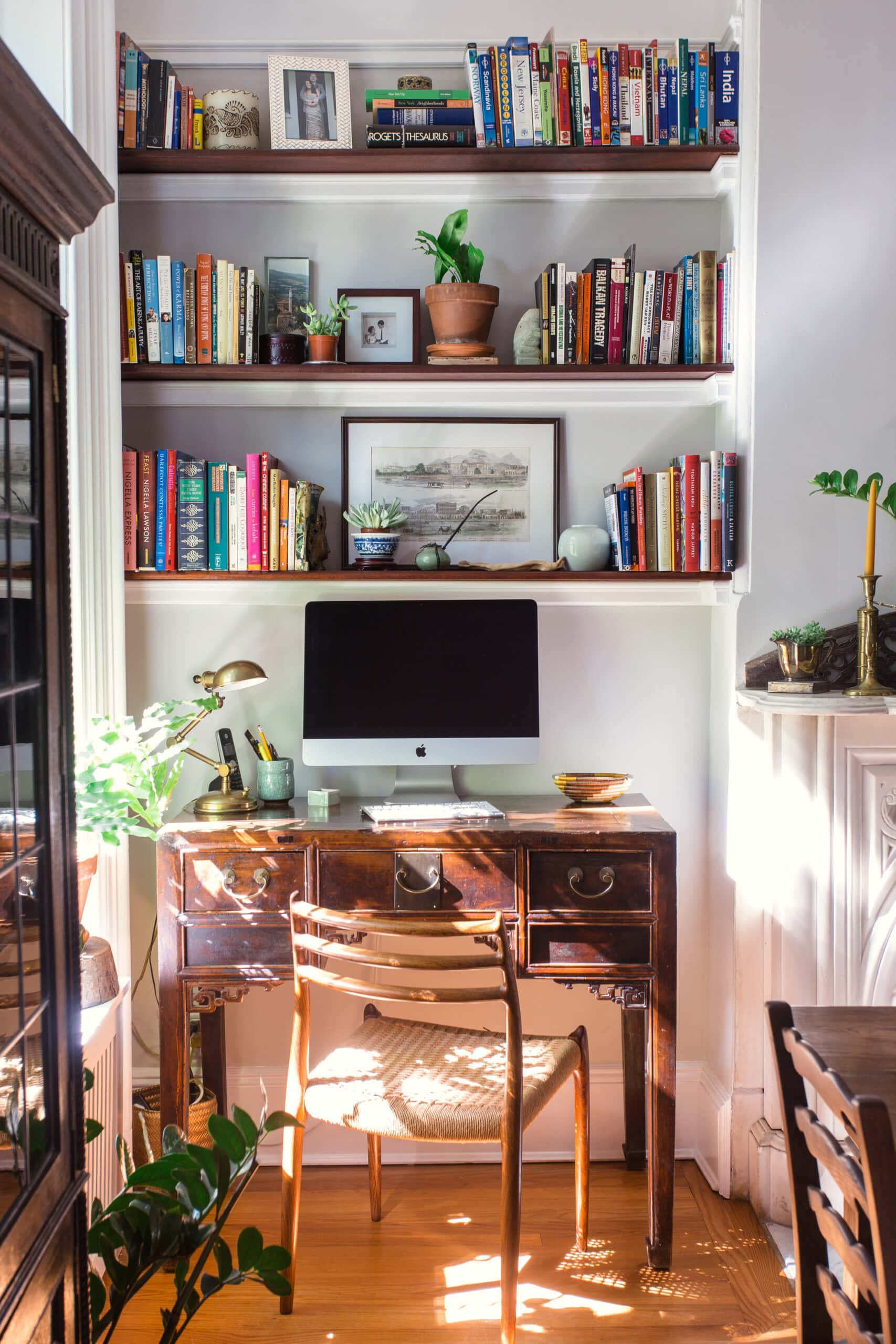 Workstation in a Bedroom By Jen Woodhouse. Want the perfect desk for your bedroom? Make it with this tutorial! It is really cute and hides the printer perfectly.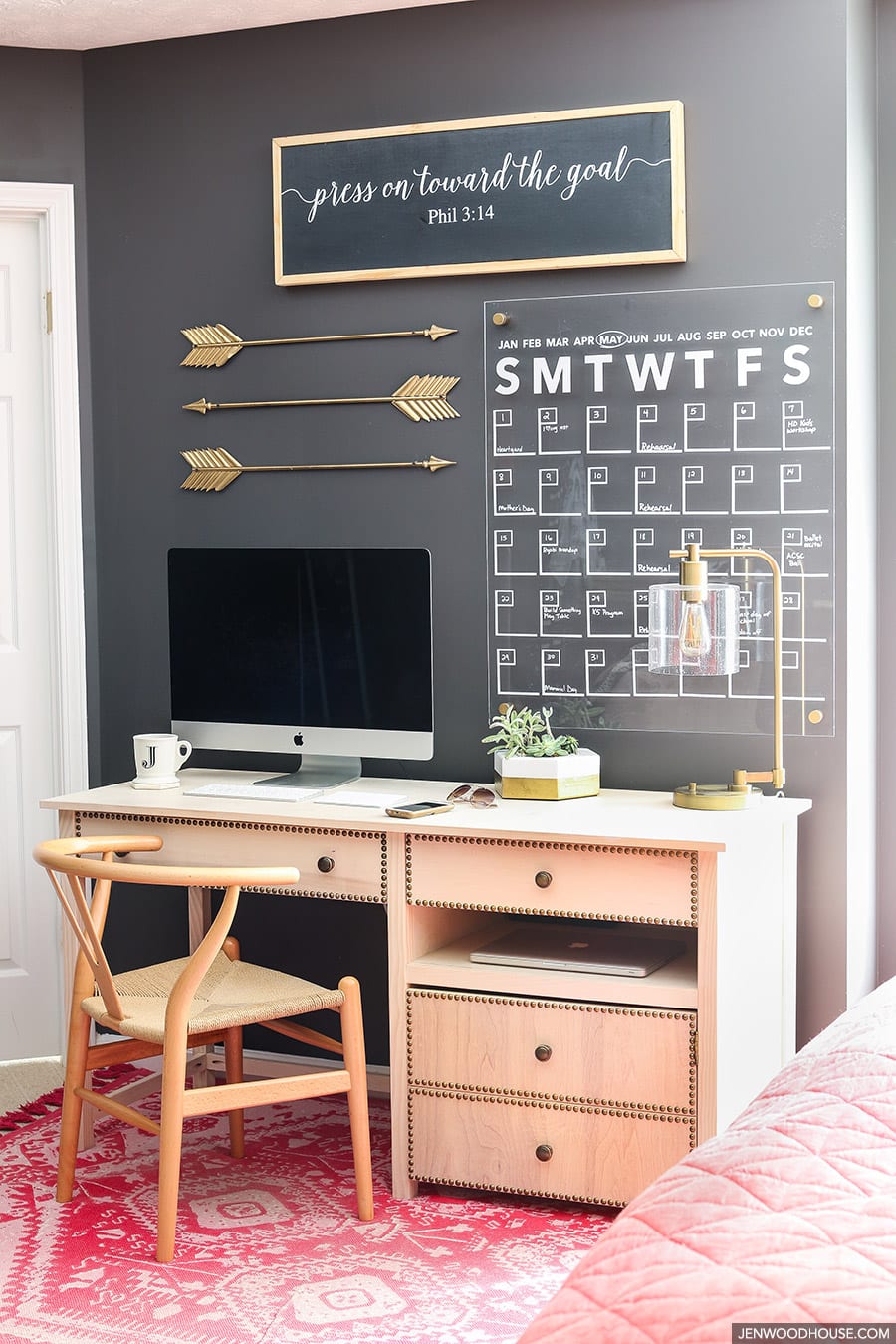 DIY Desk Under the Stairs By Love Create Celebrate. A lot of homes have dead space under and by the stairs. Put it to good use with an office space!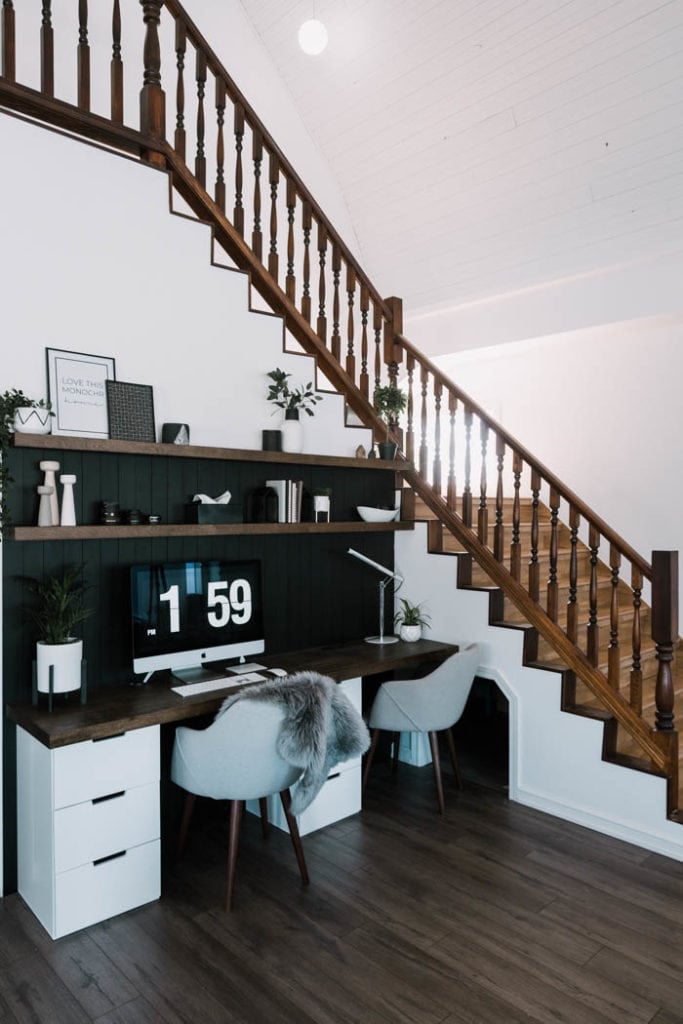 Make it a Fun Space By Oh Joy. Your home office space doesn't have to be boring! Oh Joy's ideas to bring in creativity and fun are always amazing. Here she combines basic pieces with fun pops like dots and metallics to make the space interesting!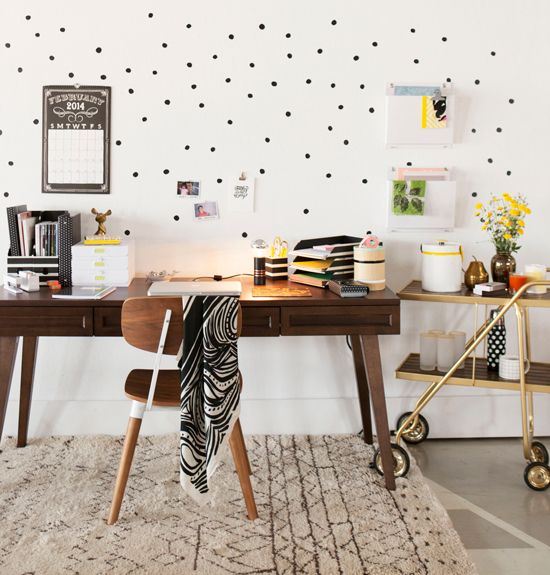 Corner Office with a Window By Homes To Love. This sweet little home office space is filled with great ideas. A window brings in tons of natural light and all the wood bookshelves create a cozy corner nook perfect for working from home!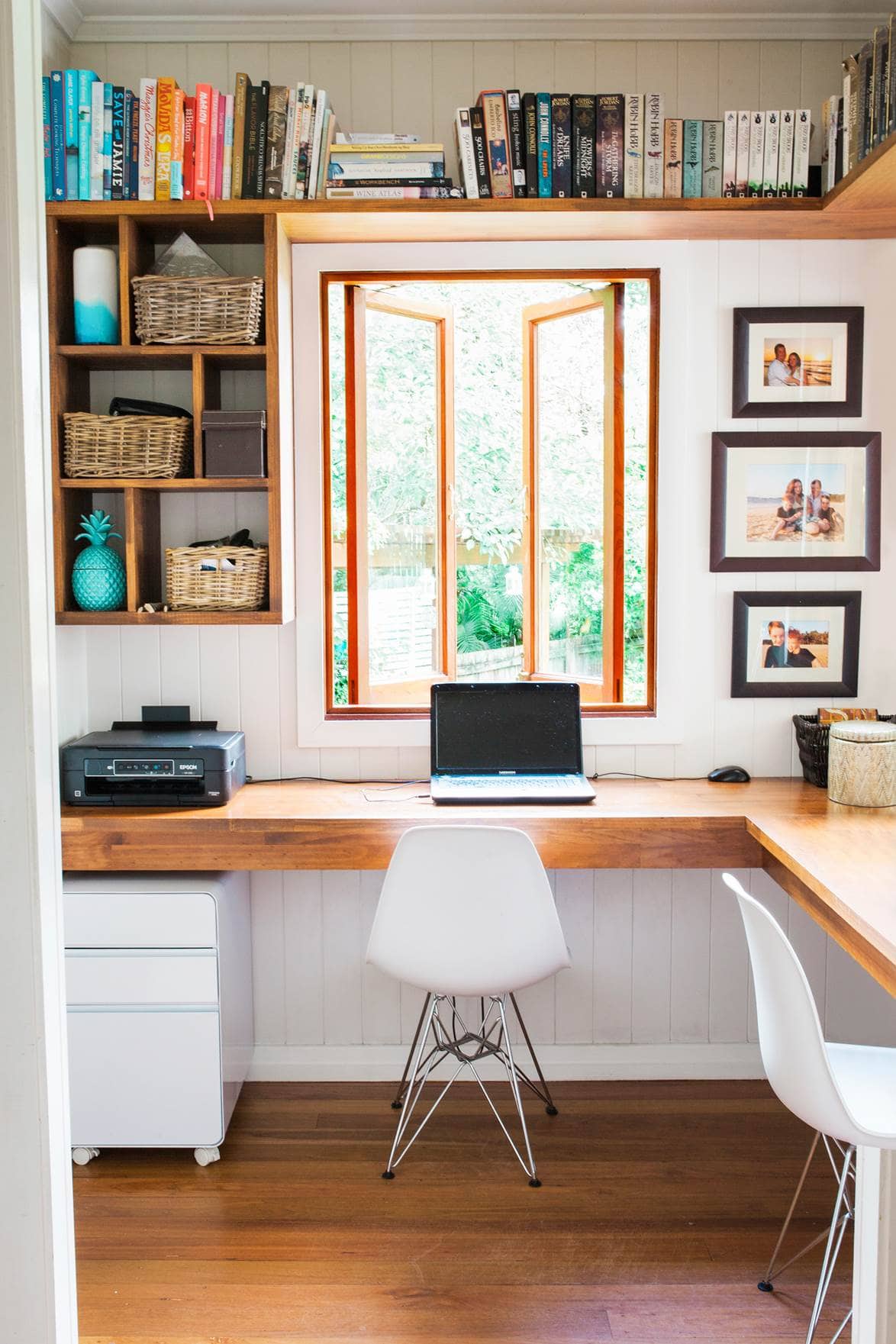 Tons of Colorful Office Ideas By Studio DIY. Working from home doesn't have to be boring! Bring in fun and funky colorful elements to your workspace to keep it exciting.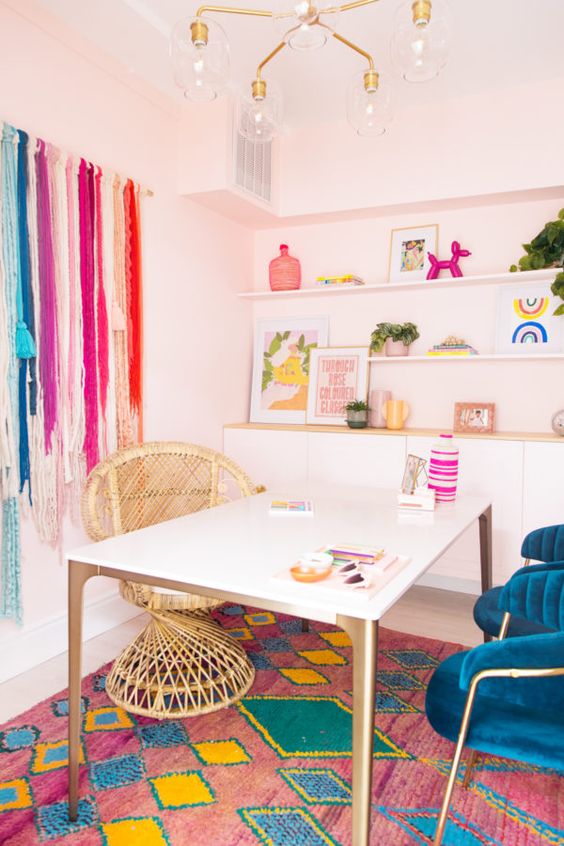 Black and White Office Design By Homey Oh My. Keep it simple with graphic black and white office space ideas. This office creates the perfect balance!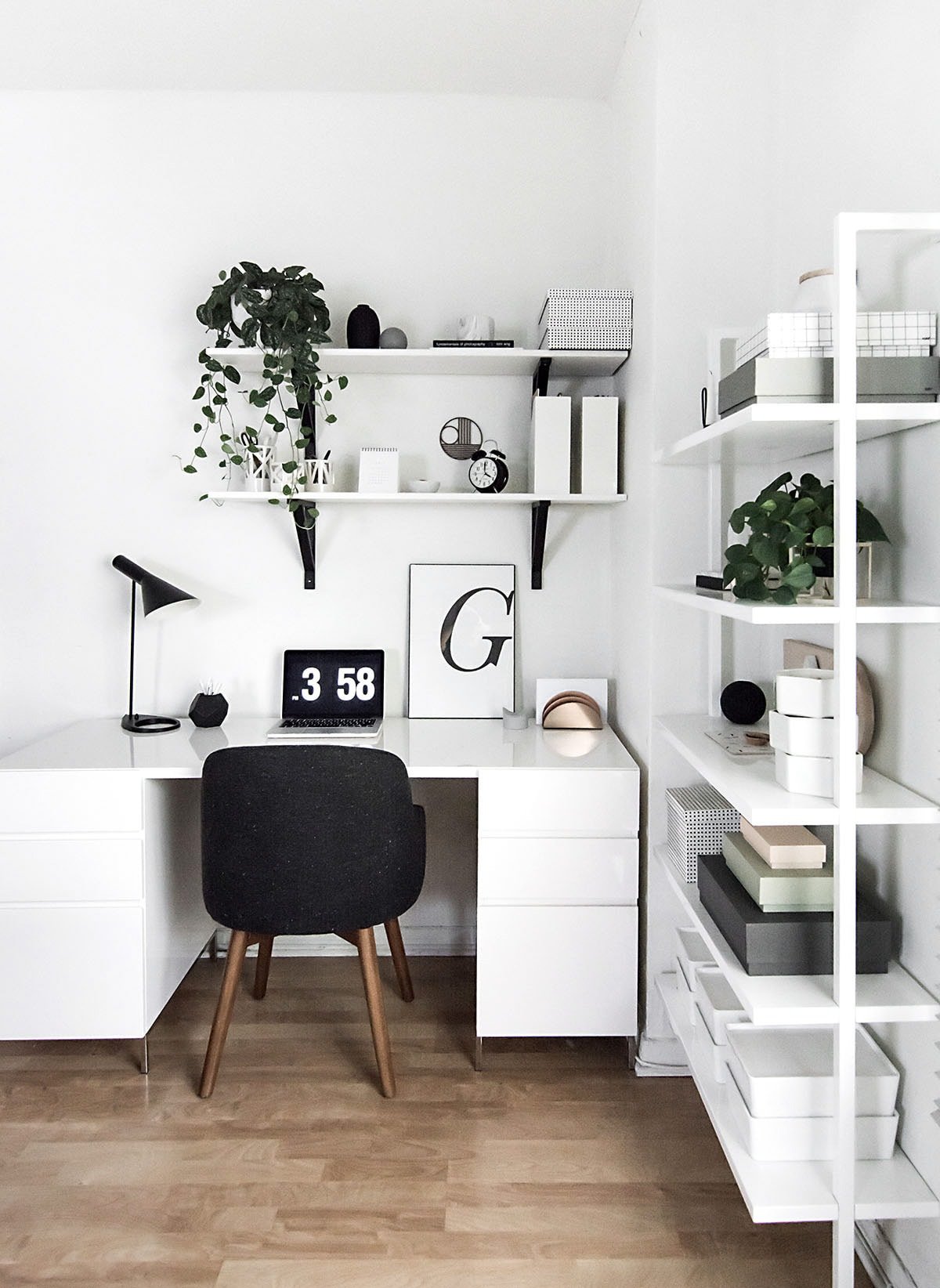 Colorful Home Office Design By Hunker. One of the fun things about working from home is that you can put all the things YOU love in your office! This eclectic home office is filled with fun special personal touches and tons of style. The bold wall mural sets the space apart.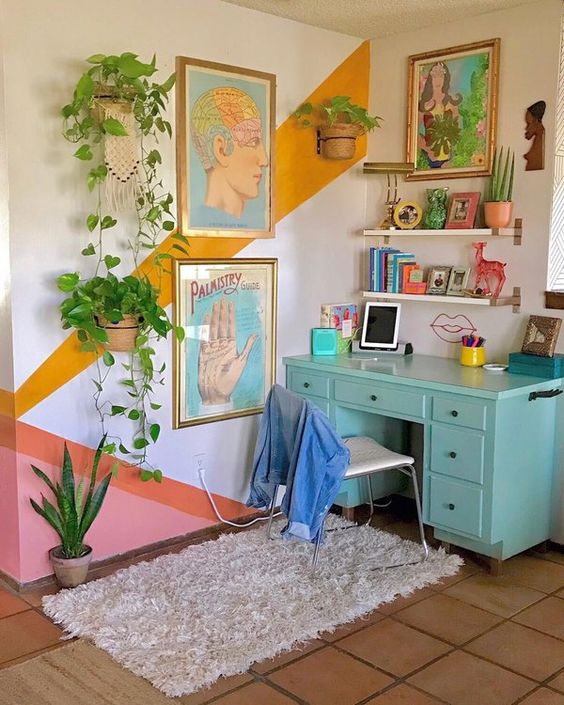 Warm Cozy Office Makeover By Sugar And Cloth. Use a bold color to set your office space apart! This rich green feels calming and cozy and like the perfect place to work.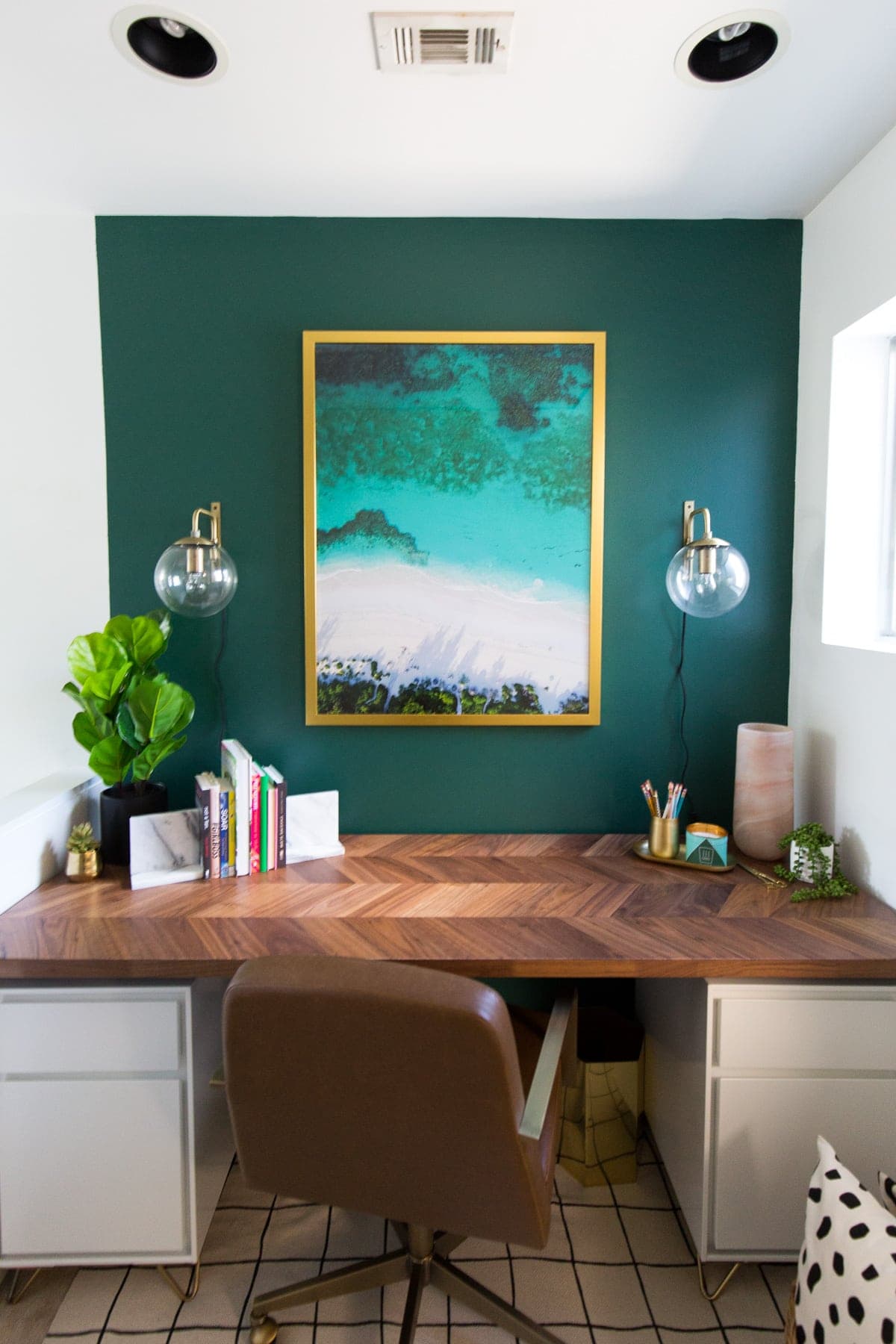 Walk-In Closet with an Office Inside By Rachel Parcell. Make a work area in your bedroom closet. Using a corner of a big closet is the perfect place to set up your office so that you can easily hide and get your work done!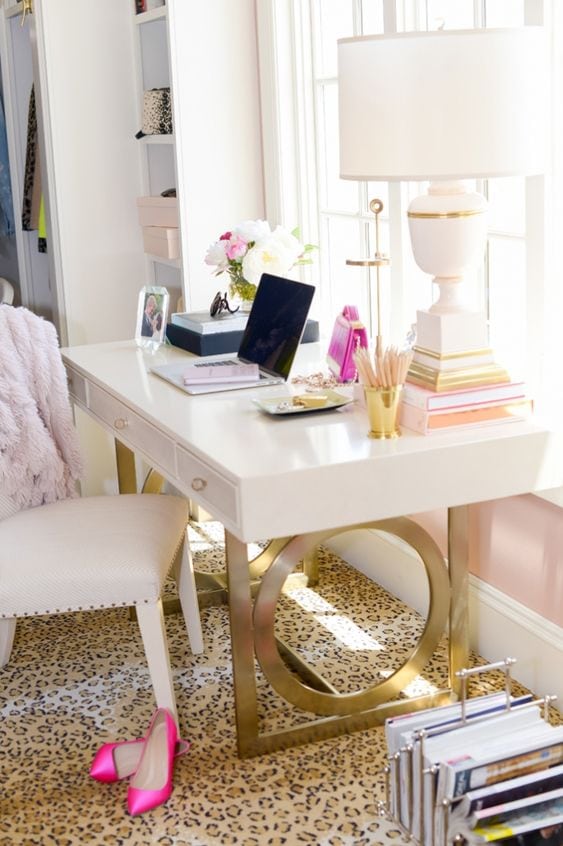 Aren't these awesome office space ideas? So many simple ways to claim a little bit of space in your home for an office. I have heard from many friends that their corporate employers are realizing how easy it is for their employees to work from home and I suspect we may see a trend of fewer people actually going back into a physical office once this is all said and done! So let's all get comfy and productive in our work from home spaces!
Want great ideas for DIY desks? Check out 10 Corner Desks to DIY or Buy and 14 Inspiring Ikea Desk Hacks You Will LOVE. Create your own desk to complete your home office–I think we will all be working from home for a while!
Before you go, take a second to become a VIP! When you subscribe, you get access to design advice, organization printables, DIY help and more, all for FREE in one easy-to-access to spot. Click below for your password!

[mv_create title="Most Popular Projects" key="1″ thumbnail="https://designertrapped.com/wp-content/uploads/2016/11/diy-home-decor-projects-diy-blog-200-1.jpg" type="list" layout="circles"]