How to Stencil a Wall for HUGE Impact + Foyer Reveal
Last Updated on March 3, 2022
Y'all know I love color and pattern, right? So it should be no big surprise that I am a BIG fan of stencils. They can completely transform a wall without the commitment of wallpaper. So, today I am going to share with you how to stencil a wall. I recently did it in my foyer and am crazy in love with the results.
First, let's take a look at what the foyer when we moved in. See that VERY beige space on the left? BLAH. How boring is that? So, we spruced it up a bit by painting the walls a beautiful blue color (I'm a sucker for pretty blue paint colors). I added a herringbone stencil eventually, which added some personality, not enough :) We built the table ourselves and while we like the shape and the function it adds to the space for storing our hats, gloves and shoes, I never loved the grain of the wood. So the photo on the right is what our foyer has looked like for the past 2 years or so.
This post contains some affiliate links for your convenience. Click here to read my full disclosure policy.
I was ready for a change. I wanted more color and bold pattern. Enter this gorgeous Contempo Trellis wall stencil from Royal Design Studios. Before I could stencil again, I had to paint the wall a solid color again. I chose the exact same blue–Babbling Brook by Olympic (sold at Lowe's). Alright, enough background, let's jump right into how to stencil, shall we?!
How to Stencil a Wall
Materials Needed:
Stencil- The BEST stencils I have found are from Royal Design Studios. The selection is huge and the quality is top notch. I used the Contempo Trellis wall stencil for this project.
Stenciling brushes

If you are using more than one color, like me, I recommend having a stenciling brush for each color so you can fill in all the colors before repositioning the stencil.
I personally prefer stiff bristled stenciling brushes over the foam versions, but it's a matter of personal preference.

Paper towels (to dab off excess paint)
Painter's tape
Steps:
Note, because of how our wall is configured, I decided to start in the corner and work from bottom to top. Stenciling corners can be tricky, so I wanted to ensure that I had a full stencil pattern on each side of the corner.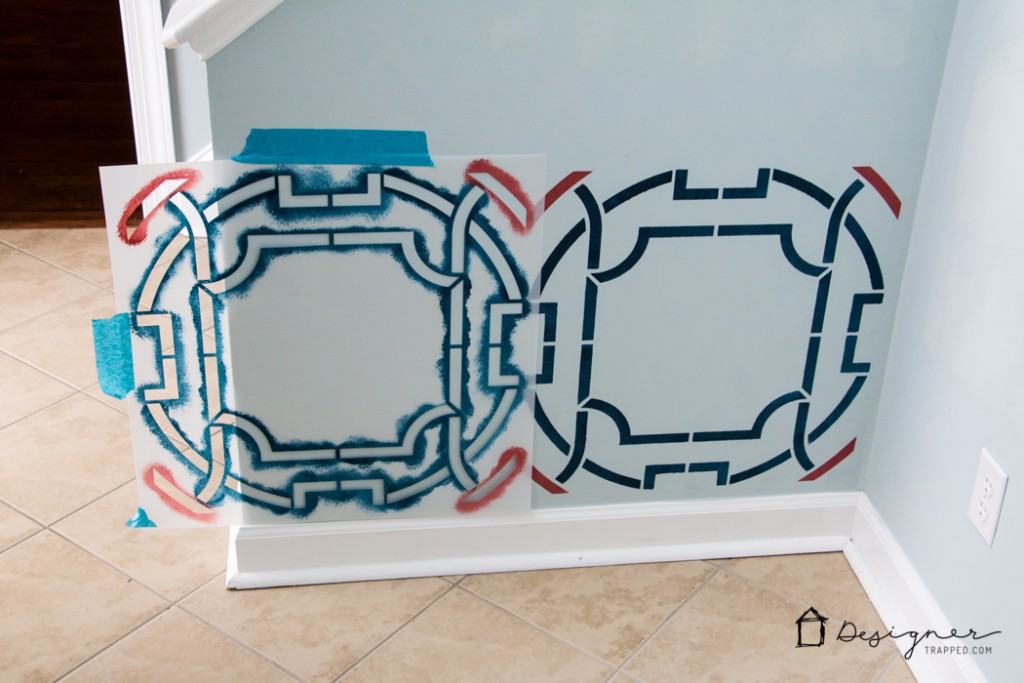 1) Tape your stencil in place using low-tack painter's tape. Load your stenciling paint brush by dipping just the tips of the brush straight into the paint. Then offload excess paint onto your paper towels using a circular motion. This will remove excess paint and also help to distribute the paint evenly onto your brush.
2) Start stenciling. You want to use a bouncing motion to tap the brush quickly. It's easier to demonstrate than to explain in writing, so I've created this short video for you. I used two different brushes for the two different colors so that I could move more quickly. When you first start, be sure to lift up the corner of your stencil to make sure you are getting nice, crisp stenciling lines. If you have paint bleeding under the stencil, you aren't off-loading enough paint first. It takes a little bit to get the hang of the perfect amount of paint, but less is more!

3) After stenciling the first repeat, reposition the stencil down and align it perfectly by lining up the registration marks on your stencil. I also periodically checked my work with a small level. Continue stenciling and repeating. I worked in a horizontal pattern. Others prefer to work in a vertical pattern. Where your stencil meets up with a corner or molding (or for us, our handrail), tape off the molding or opposite wall that you DO NOT want to stencil. Then, tape the stencil onto the portion of the wall that you are stenciling; leave the portion that touches the surface you are NOT stenciling hanging free.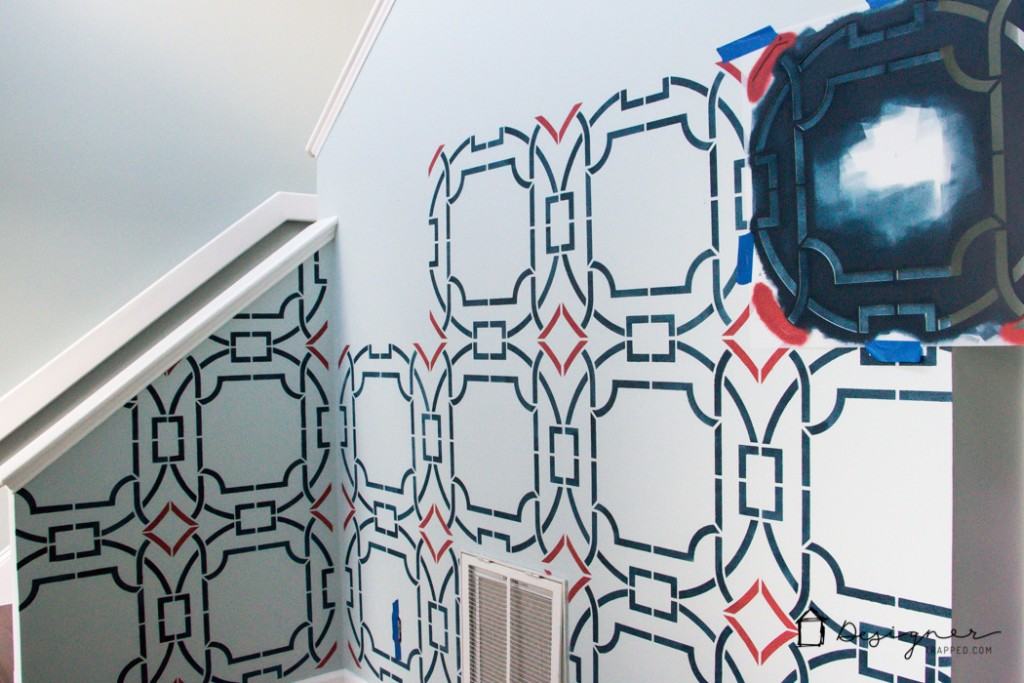 4) When you are done stenciling, touch up any bleed-through marks or mistakes with your base color using a small artist's brush.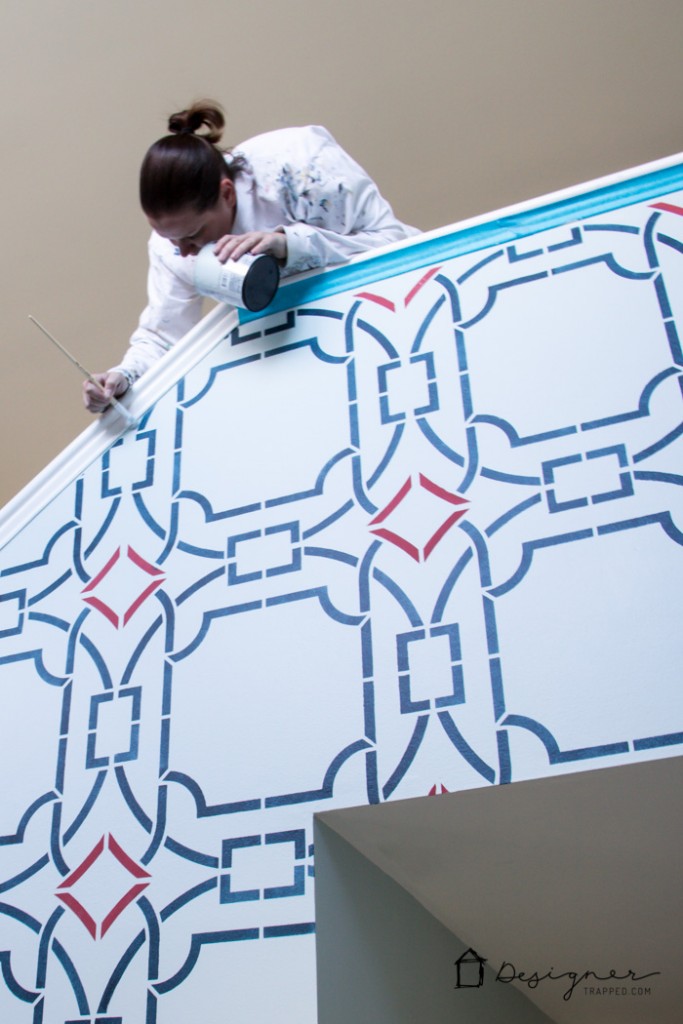 Here's the finished look. I am 100% in love with it and it makes a HUGE impact for a tiny amount of money. Plus, if I ever change my mind, I don't have to remove any wallpaper :) PS- I also painted the table and changed the drawer hardware. More on that soon.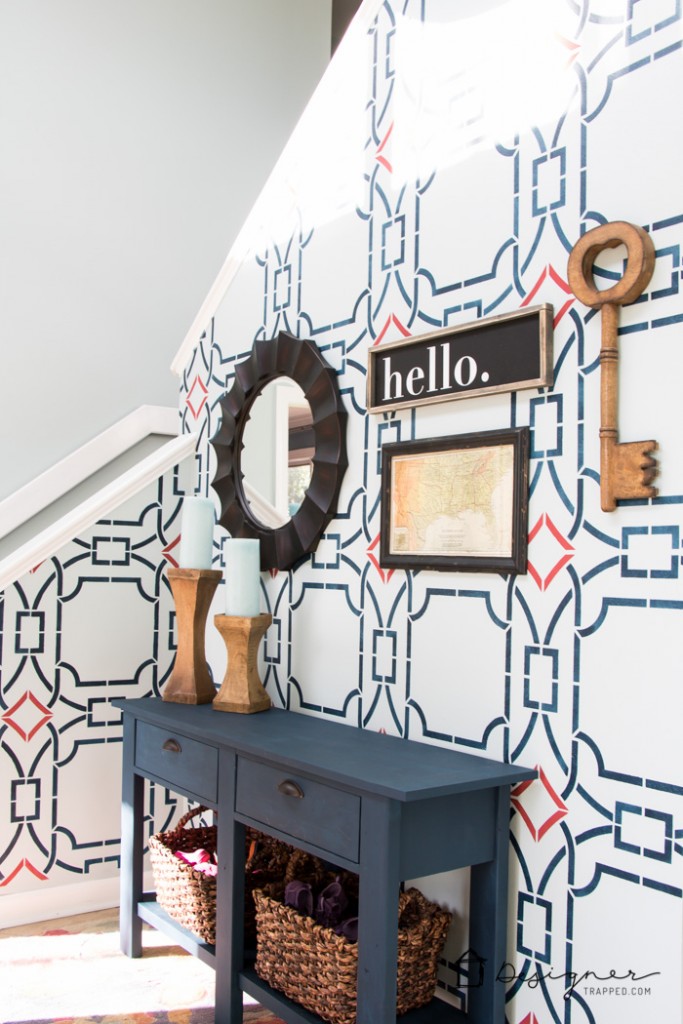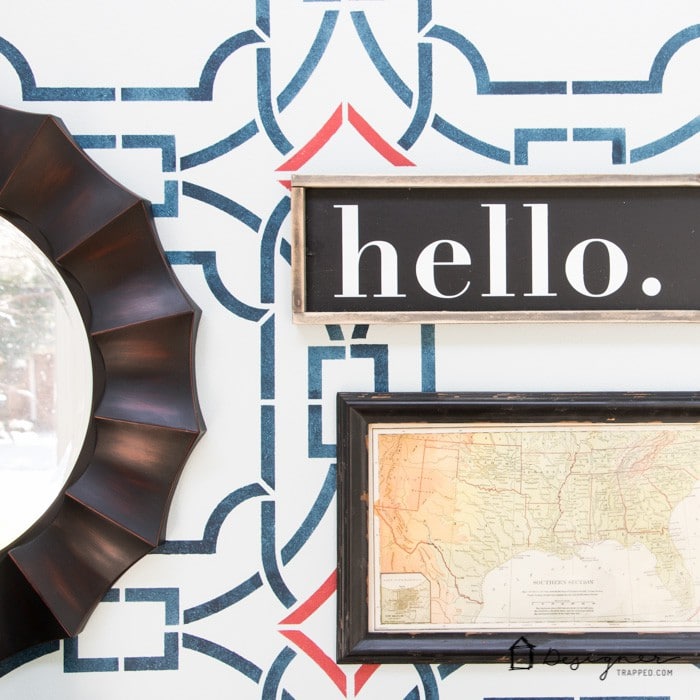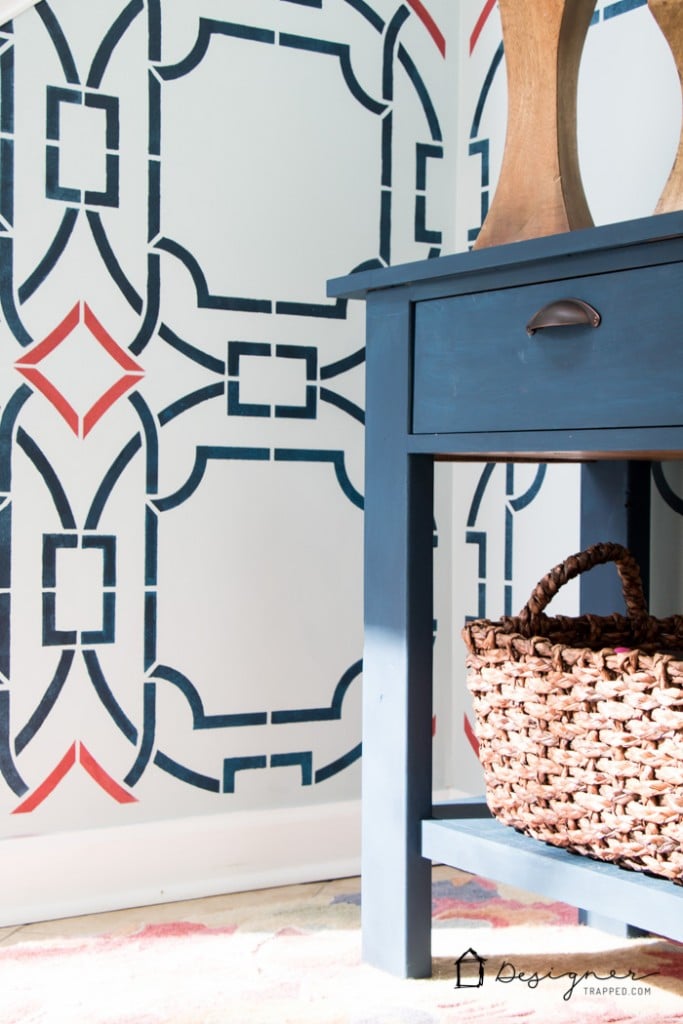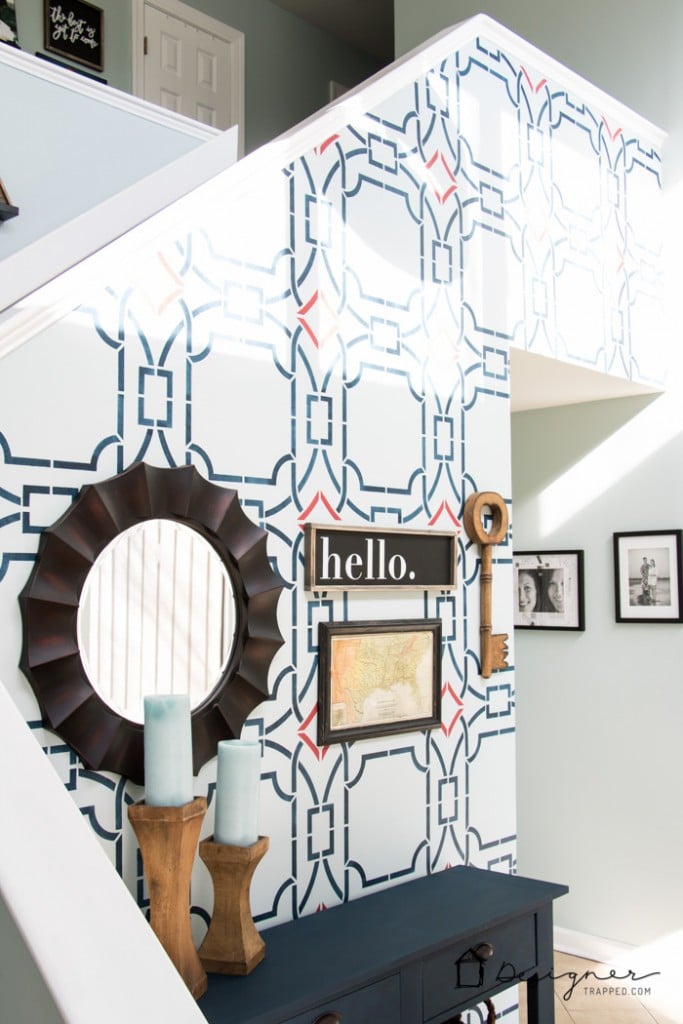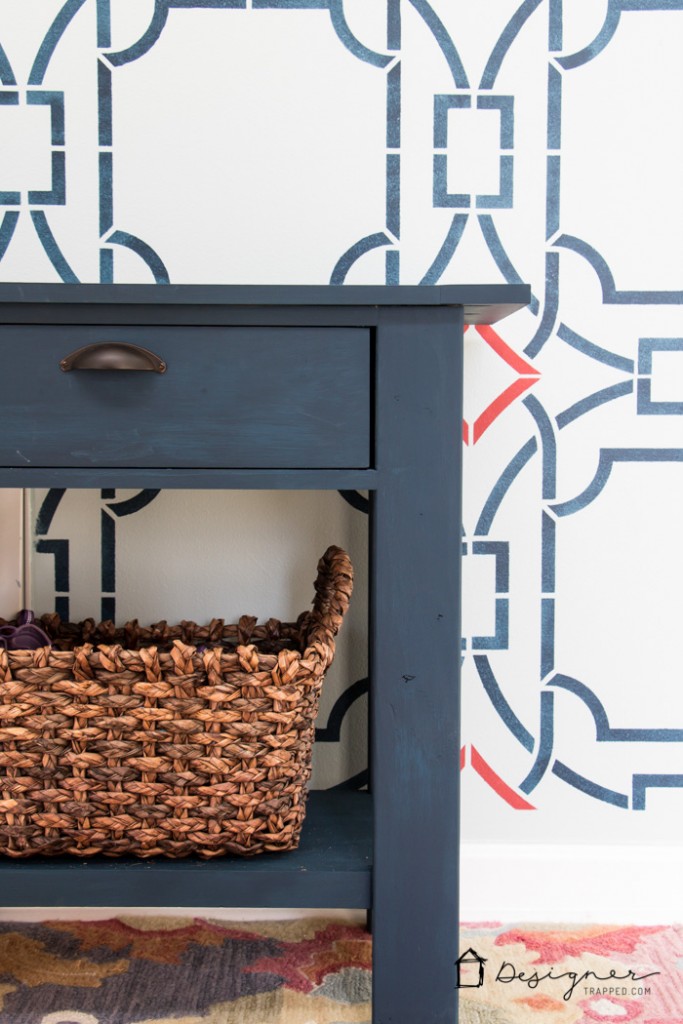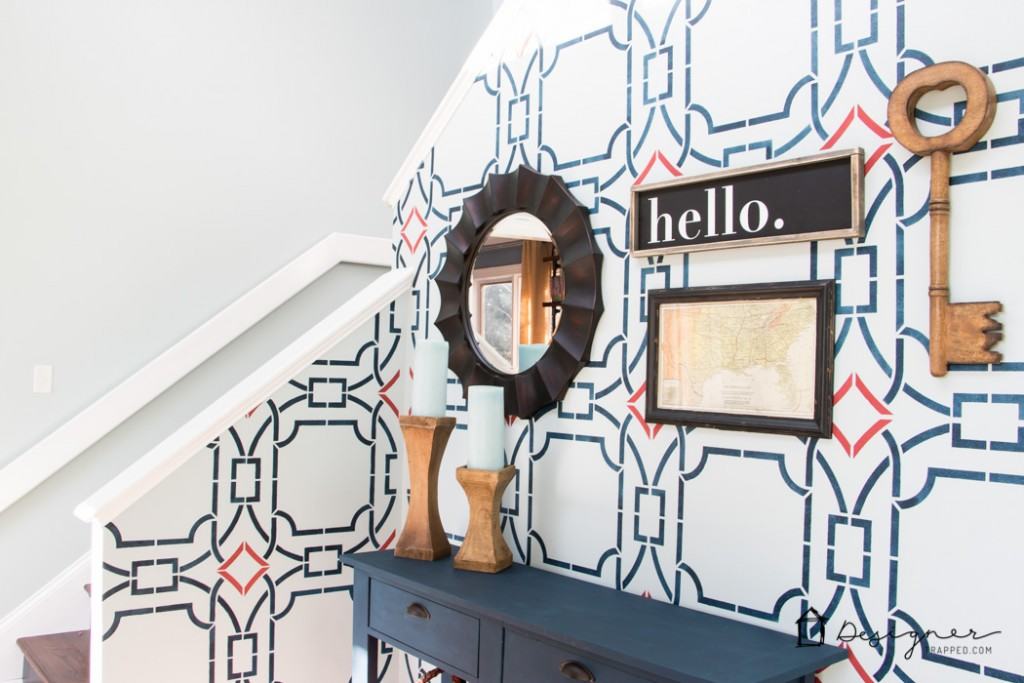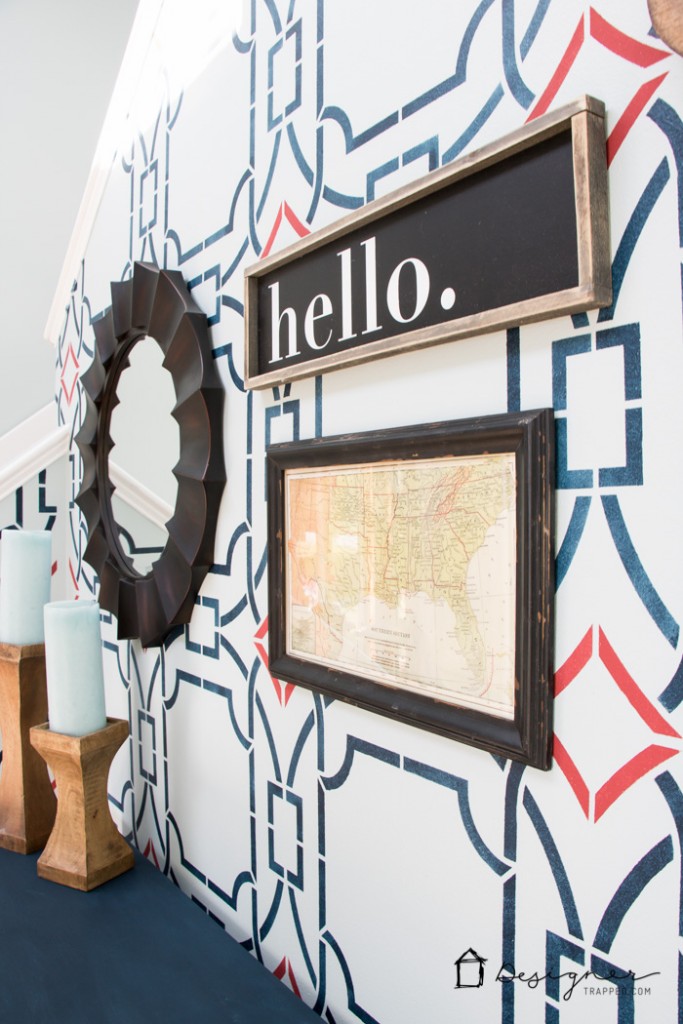 What do you think?
Source List:
Paint Colors:
​
[mv_create 1 11 200 2016 key="1″ type="list" title="Most Popular Projects" thumbnail="<a href=" https designertrapped com wp content uploads diy home decor projects blog jpg a]​