One of the biggest challenges for the modern family is staying organized and on top of everyone's calendar so nothing gets missed or forgotten. These time management tips will help you get your family schedules organized!
Have you ever noticed that the most successful and productive people are the ones that ALWAYS have their calendar with them and are tenacious about maintaining it? With as busy as life can get with work, kids, appointments, birthdays, holidays, etc. we just cannot accurately keep all of that information in our heads! Keeping a detailed calendar is a must if you want to keep your family schedules organized. These time management tips will keep everyone on point and free up your mental space for much better things…like relaxing with your family!
Some people prefer digital calendars over paper calendars. Others also like to have a large one hanging on a wall. No matter what your preference is, you need to note EVERYTHING that you have to do on your calendar. Notice I say what you HAVE to do. I am a big proponent of saying "no" (nicely, of course) to things that are not important to you or that you do not have time for. Stop committing to things out of guilt or obligation–you will free up so much time and angst when you start this practice! I recently heard the phrase, "if it is not a heck yes, it is a heck no." This is my new mantra!
Family Time Management Tips
Set up a family command center. This is such a simple thing to set up and it will help simplify your life so much. You can read all about my favorite family command center options here and about my tips for setting up a family command center here.
Decide on a calendar(s). I may be one of the few people that keep a digital calendar and a paper calendar. I include all appointments, kids' activities, birthdays, etc. on both calendars. The reason I maintain a paper calendar in addition to a digital calendar is because I like to write out daily to-do lists in my paper planner with pen and paper. Call me old fashioned. Having a paper planner to write them in eliminates the post-it note/scrap paper list problem.
Over the years, I have used many different paper planners. For a full review, check out the Best Planners for Your Personality. In it, I cover all the different planners I have used for the past 8 years, their features, and who they are best for! Choosing the right planner for you is a big step in following through with actually using it.
In terms of my digital calendar, I use the free Google calendar for all of my work stuff. It's super easy to use and there are lots of features you may not be aware of. Guess what? You can add attachments to your appointments! If you have a document that you have to have with you at an appointment, attach that bad boy so that you can quickly and easily access it. Did someone send you directions to a birthday party? Attach it to the appointment on your calendar and you won't get lost if you forget the printed directions at home. You can also share your calendar with others, so if your spouse maintains a separate calendar, you can easily view each other's if needed.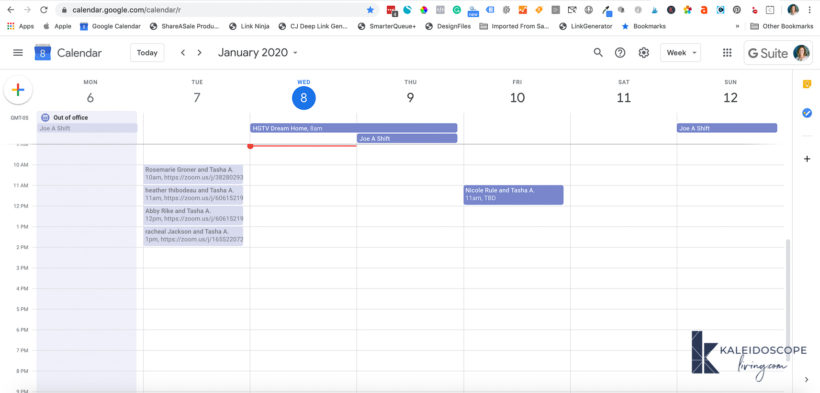 We also use a digital calendar for managing our family calendar. After trying lots of different things, we fell in love with the Cozi App. Using Cozi is one of the absolute best time management tips for your family that I have. Cozi enables us to track appointments for every single person in our family, including our kids and even our dog. Yes, Titan is on our Cozi calendar for vet appointments, when he needs his heartworm medicine, etc. Here are some important things to know about Cozi …

We used the free version of Cozi for well over a year. But I finally upgraded to Gold because it's super inexpensive and allows us to search AND use the monthly view, which is totally worth it.
It integrates with my Google work calendar so if I add an appointment for work on Google, it automatically shows up in Cozi for me and just shows that I am "busy." That way, if Joe goes to schedule something for one of our kids or Titan and it has to happen on a day he is on shift, he will be able to see if I am available or not without having to call or text me. SUPER HANDY.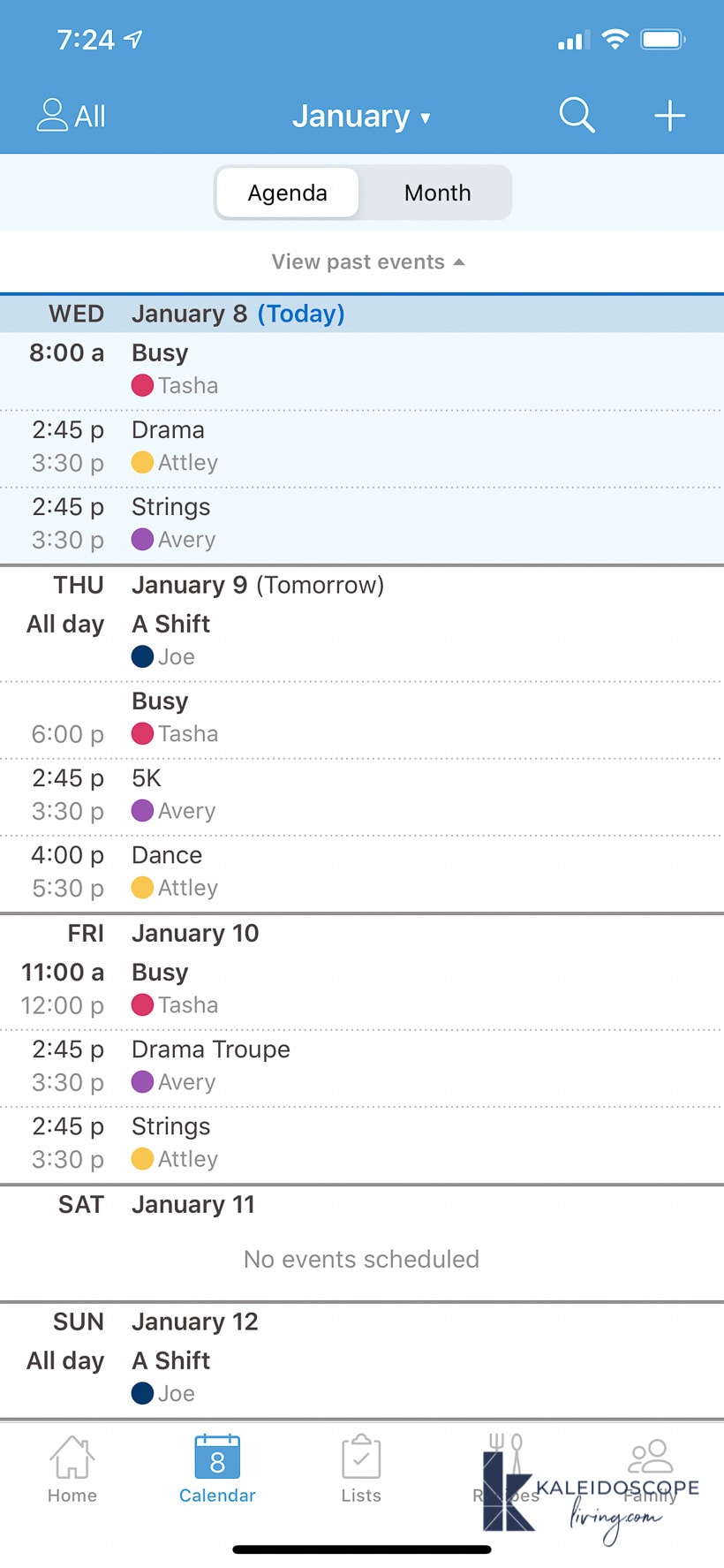 We also use Cozi for all of our shopping lists, which is LIFE-CHANGING. Yes, I am that passionate about it. We keep ongoing lists for groceries, Amazon, Home Depot and Target. Oh, and did I mention that our Alexa devices work with Cozi? Yep. So whenever we need something, we say, "Alexa, add deodorant to my Target list." Then bippity boppity boo, it appears on our Target shopping list in Cozi. The best part of this system is that it doesn't matter who winds up doing the shopping! The list is always completely updated so we aren't saying things like, "I wish you had told me you were going to Target. I needed x, y, z."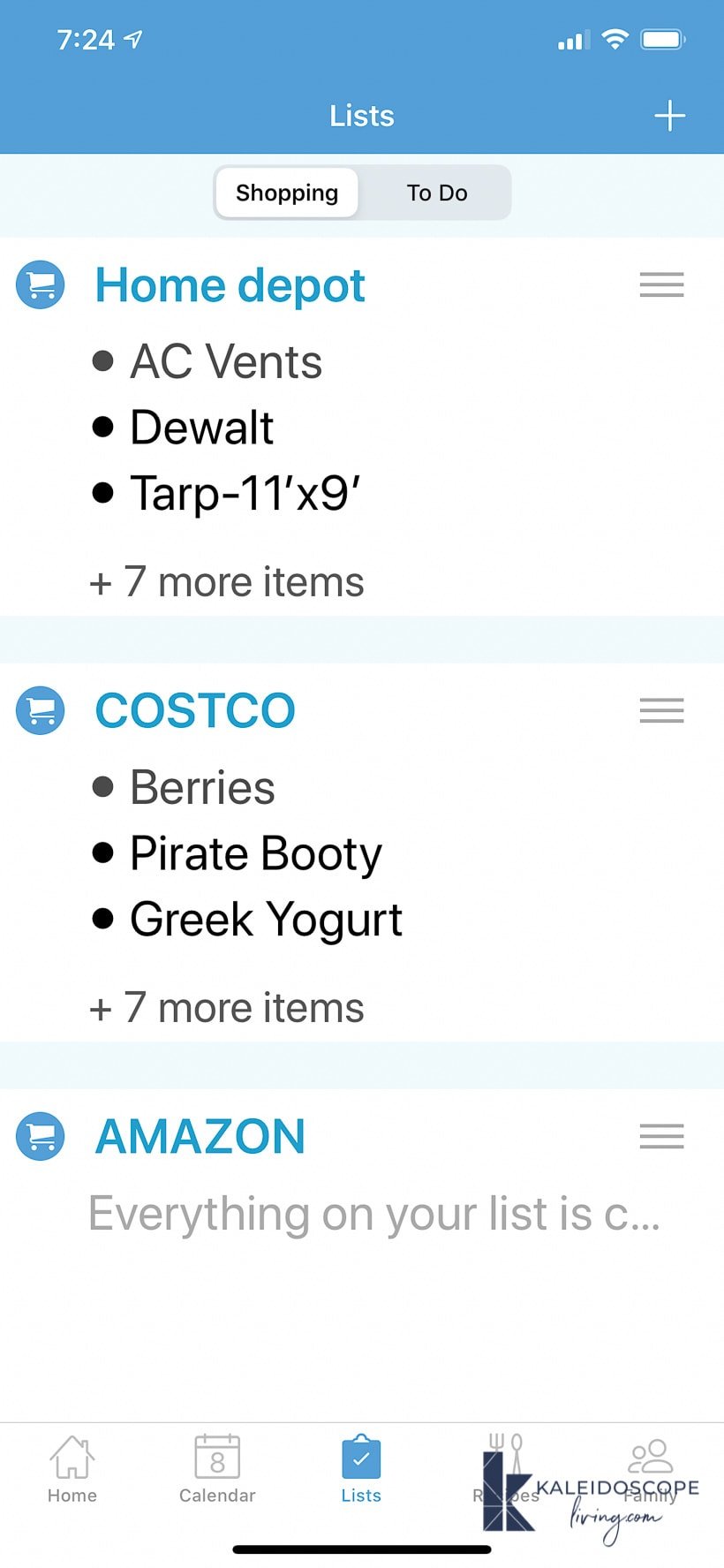 Last but not least, we do have a dry erase calendar as part of the family command center in our kitchen. We use it to note things that are specific to our girls' school and/or activity schedules so that they can easily see it as well.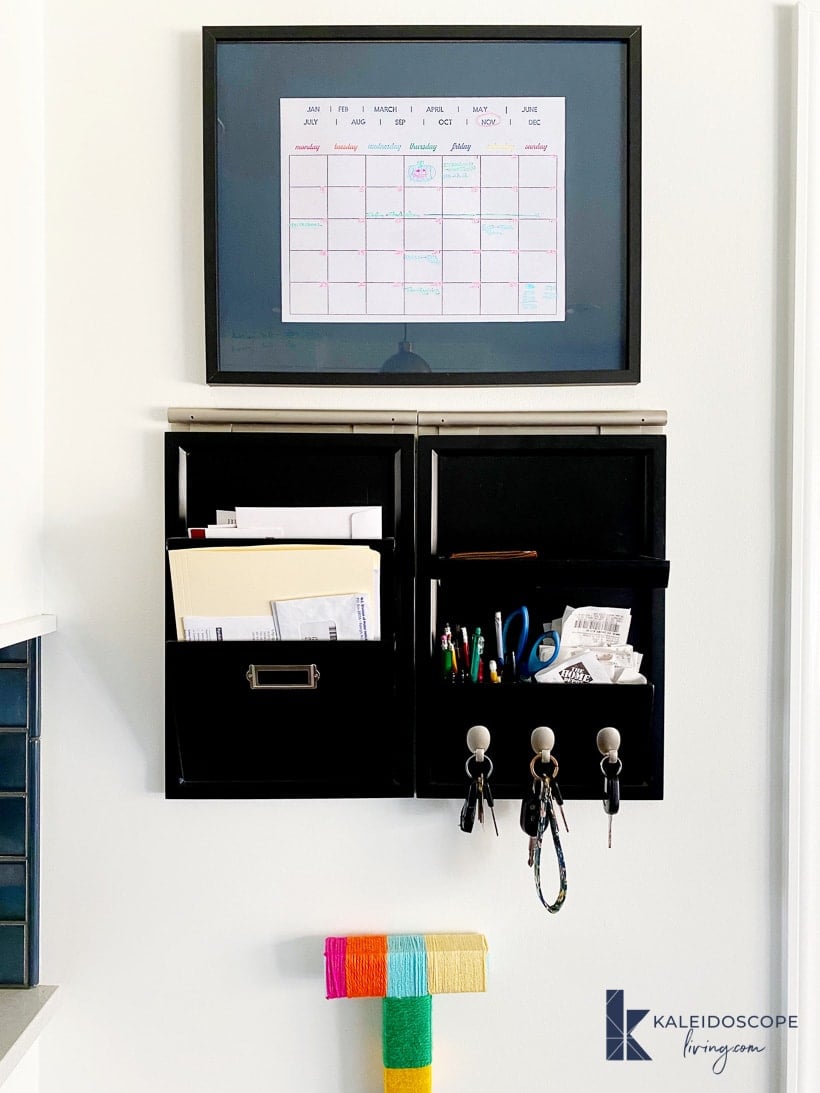 I designed the calendar myself and just popped it in a frame (you can use dry-erase markers on glass)! You can download it for yourself by subscribing to my FREE organization library!
Pick a system and stick with it. If you choose to use more than one calendar, make sure to decide whether everything will be documented on every single calendar, or whether family activities will be documented on the wall calendar, doctor's appointments in the paper planner, etc. Do what works for you, but make a decision as a family and stick to it. Otherwise, everyone will end up confused. Ensure that everyone (adults and older children) are on the same page and understand how the family is going to keep their schedules updated and straight! If everyone is not on board it will be impossible to maintain.
Maintain and update your calendar every single day. At the end of each day, review your calendar and move any incomplete items forward. If you are keeping multiple calendars in sync, make sure they are all updated at the end of each day.
That is it! It really isn't complicated. Buy the calendar, create the system, follow up. You will be so glad you started your year out like this, and once you commit to it and get into the practice, it will come naturally like it does for us!
Now, before you head out… If you want to get even more organized this year, be sure to check out our FREE library of organization printables. My favorite is the Home Decor & Maintenance Calendar. It's beyond helpful!