AirStone Fireplace Reveal & Review!
Last Updated on March 3, 2022
If you have ever wondered about whether AirStone is a good choice for a fireplace, checkout our AirStone fireplace reveal & a review of the product itself!
Hey, hey! Have you ever thought about adding a fireplace to a room in your house? Well, the good news is that it's totally possible! But I do believe that your results will depend on the quality of the materials that you use. So, if you have ever wondered if AirStone is a good choice for a fireplace, then you are in the right place. I'm sharing our AirStone fireplace reveal and giving you our thoughts on the product itself.
This is a sponsored post written by me on behalf of AirStone. All opinions are 100% mine.
If you have followed my blog for a while, then you may have seen our plans to install a fireplace in our master bedroom a while back (if not, you can find that post here). It took us a while to actually complete the work, largely because it took us a while to source the wood for our mantel and shelves.
But we finally tackled it the same weekend I turned 40. I mean, what better gift than to give myself the gift of a fireplace in our master bedroom sitting area?! Now, if you are thinking, "What?! This lady has a sitting area in her master bedroom?!" I get it. It's absurd. There, I said it. Our master bedroom is ginormous and while I wish I loved the size, I don't. It's too big. It's REALLY hard to make a gigantic bedroom feel cozy. So, if I had built this house, I would have made the bedroom half the size it is now. But, it is what it is.
In an effort to cozy the space up a bit, I decided a fireplace in the sitting area would really help. BUT we don't have a chimney. So, what's a girl to do? Well, as it turns out, you can install an electric fireplace in any room without having to vent it to the outside (at least you can where we are–check your local building code!). So, we decided to go that route.
But then we had to decide what to clad the fireplace with. We wanted the look of stone, but we didn't want to spend a fortune on it OR have to work with natural stone, which is heavy and tricky because of size variations, etc.
Enter AirStone. Some of my blogger friends have used it on various projects and were happy with their results, so when AirStone approached me about working with them on a project, I told them about our plans to add a fireplace to our master bedroom and we partnered up.
Now, let me answer some questions that I had and that I'm guessing you may have as well.
What is AirStone?
AirStone is an innovative, patented, ultra-light stone wall covering product that transforms a complicated construction ordeal into a simple do-it-yourself project. You can use AirStone both indoors and outdoors. The AirStone system offers the same look, feel and durability of real stone, but weighs 75% less.
Where can you buy AirStone?
AirStone is available at most Lowe's stores. Just call yours to check and see if they carry it–chances are the answer is yes, unless you are on the West Coast.
What colors does AirStone come in?
AirStone is available in three color blends: Autumn Mountain, Spring Creek, and the new Birch Bluff. We were torn between Birch Bluff and Spring Creek. In the end, we chose the Spring Creek blend and are very happy with our color choice. You can check out loads of AirStone Inspiration here.
Is AirStone easy to install?
Yes, yes, yes. I was a bit skeptical of the claim that anyone can install it using only pre-mixed adhesive, a putty knife and a hacksaw. But I have to admit, it REALLY is that simple. We didn't use any special mixing tools and used our sad, old hack saw to make our cuts.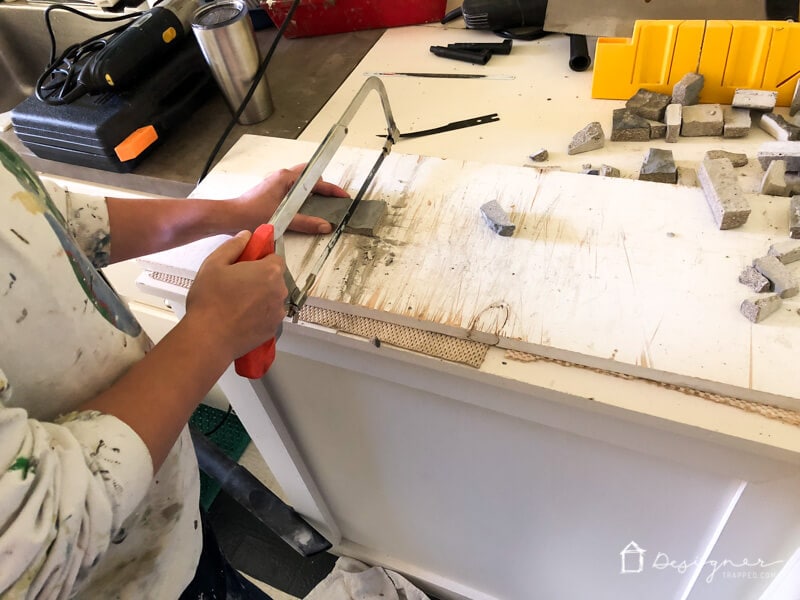 And we used an old putty knife to apply the adhesive. Super easy. If you can ice a cupcake, you can apply the adhesive to the AirStone.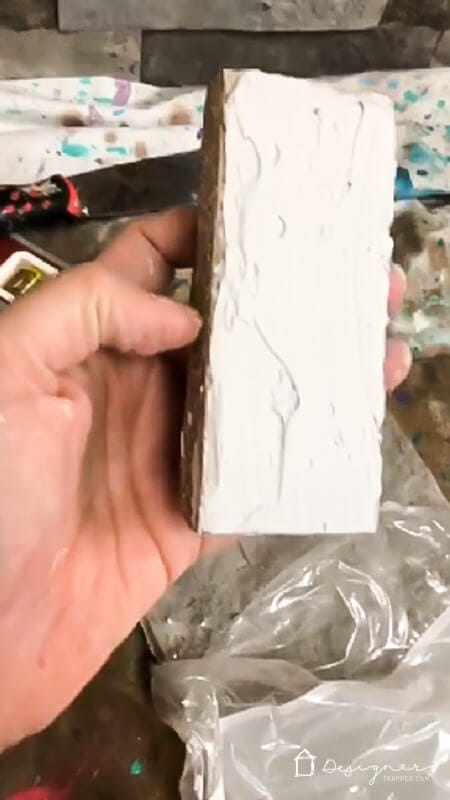 It is somewhat time-consuming, but we finished our entire AirStone fireplace (including the framing) in a weekend, so it's much faster than most DIY jobs, lol. And if you have ever tiled anything yourself, you will find installing AirStone MUCH easier. I laid every single tile in our twin girls' bathroom and it was miserable. Applying AirStone to our fireplace was like a walk in the park comparatively.
The pieces fit together perfectly, so as long as you start with a level line, you are good to go. The corner pieces are incredibly easy to use, thank goodness. I can't imagine trying to fit natural stone along corners.
So, how'd you tackle the AirStone fireplace in your bedroom?
I promise I will share a very detailed tutorial with all of our measurements, etc. at some point, but for now, I'll give you an overview of the process. And if you are on Instagram, you can check out pretty much a play-by-play of our AirStone installation in my "Recent DIYs" featured IG stories. Click here to check it out on my Instagram.
1) We used painter's tape to plan out what size fireplace we wanted and to find the center of our wall.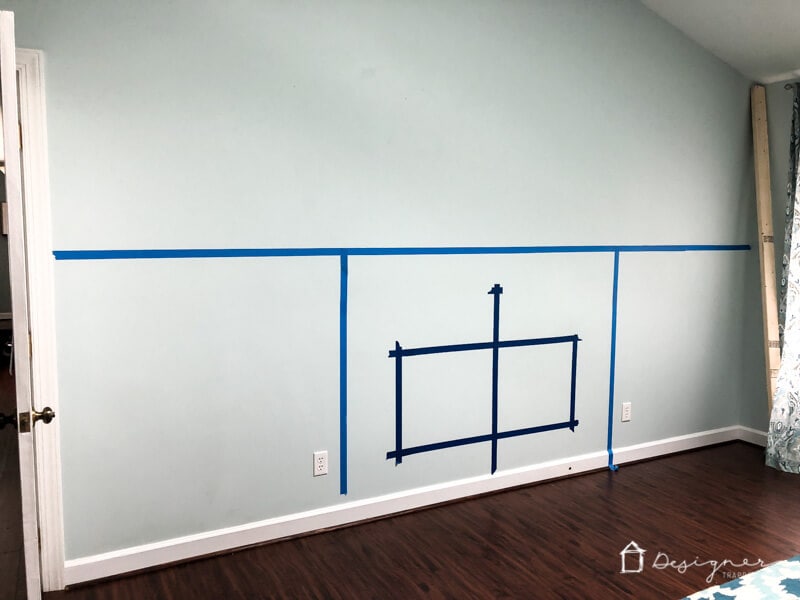 2) We framed out the fireplace box to the size we wanted AND according to the clearance specs, etc. of the electric fireplace we used. Then we attached the frame to the wall and the floor.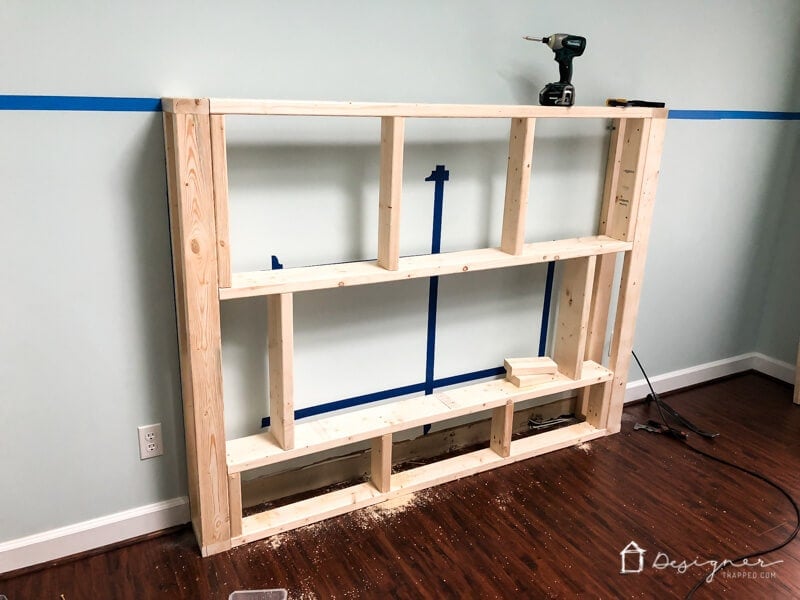 3) We applied drywall to the frame. (Try not to be jealous of my amazing hair–clearly I should be a beauty blogger ?).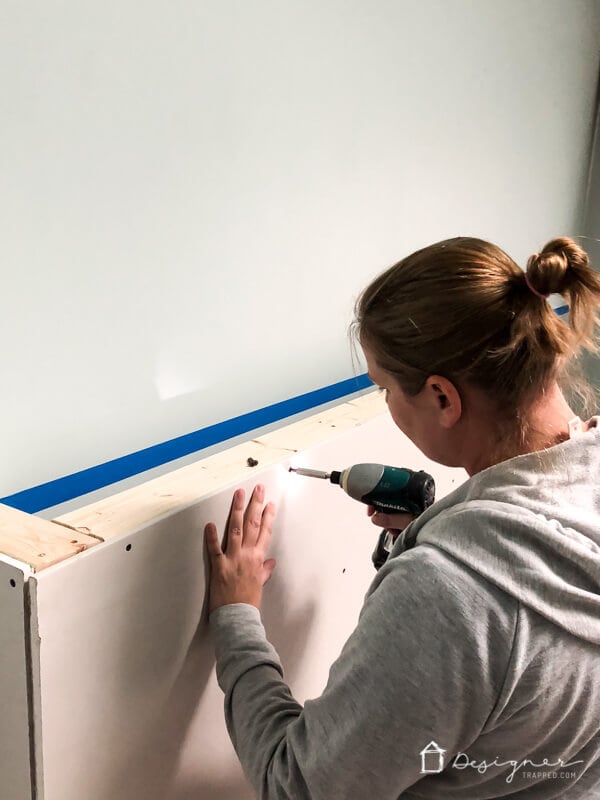 4) Next, we applied the AirStone to the drywall.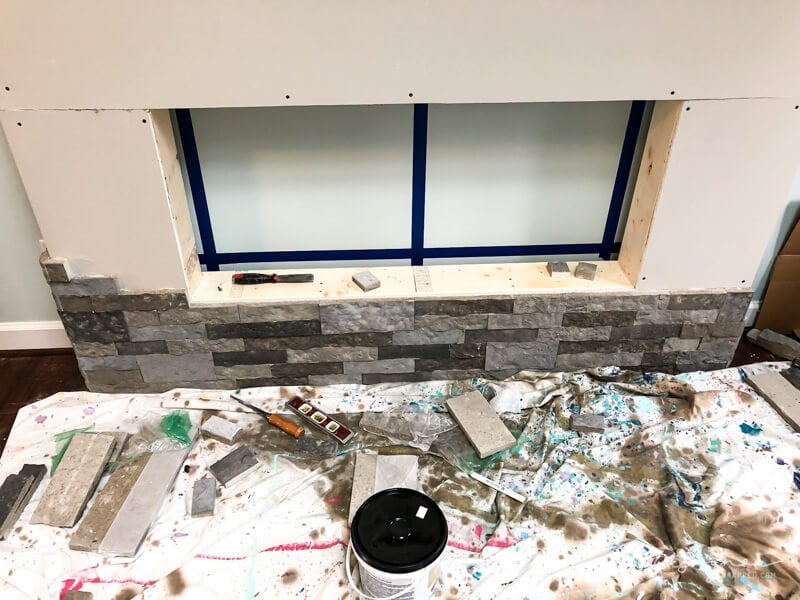 5) Once the AirStone was dry, we installed the electric fireplace and secured it to the framing. Then we cut and installed the mantel and wood shelves that we made ourselves. Overall, it is one of the easiest DIY jobs we have tackled, especially given how HUGE the impact is in the room. Take a look.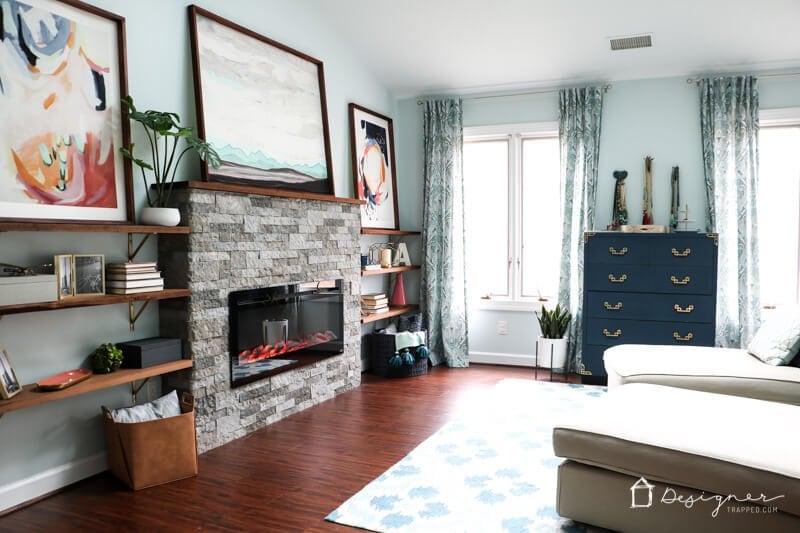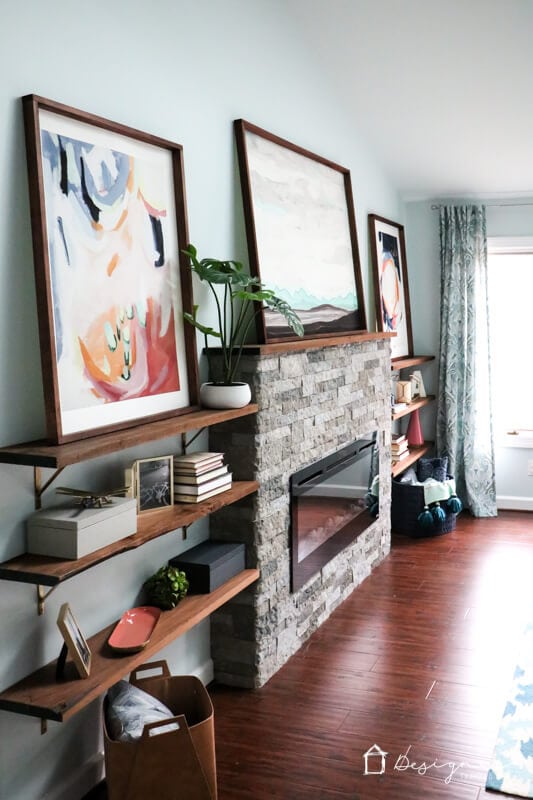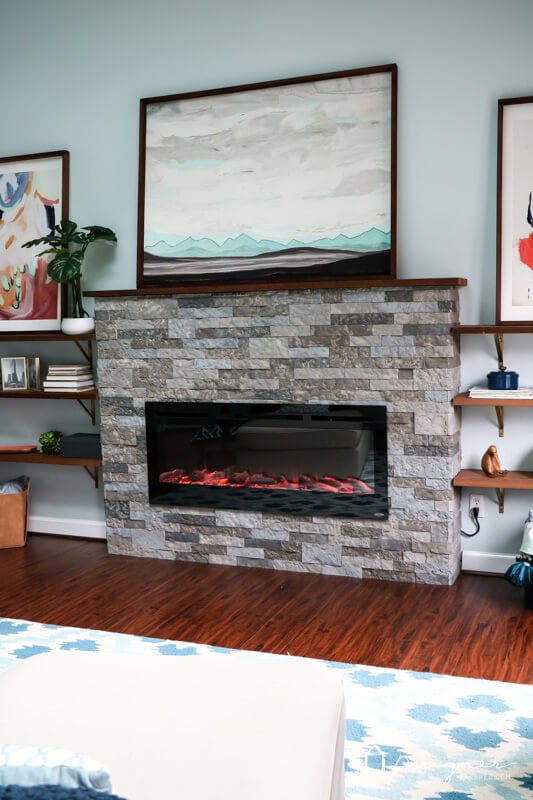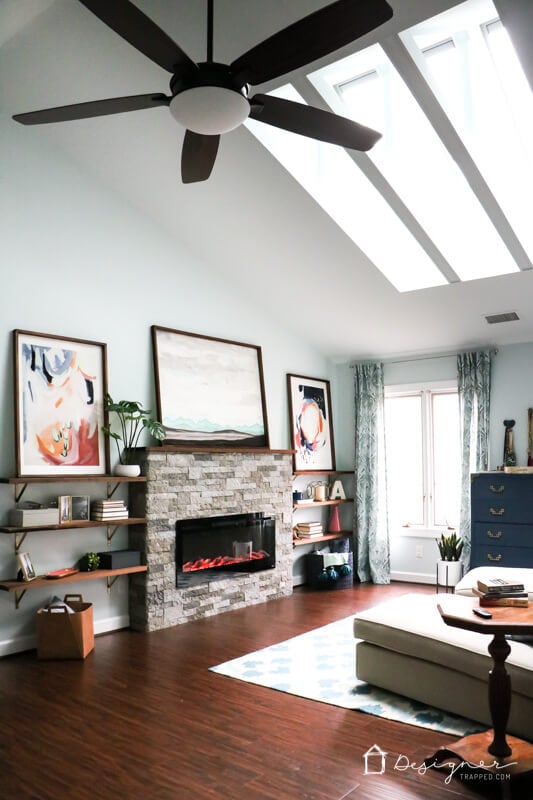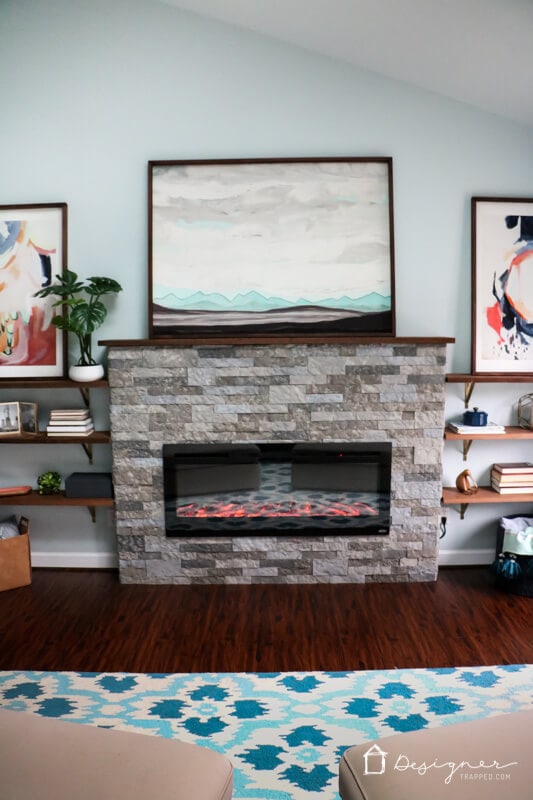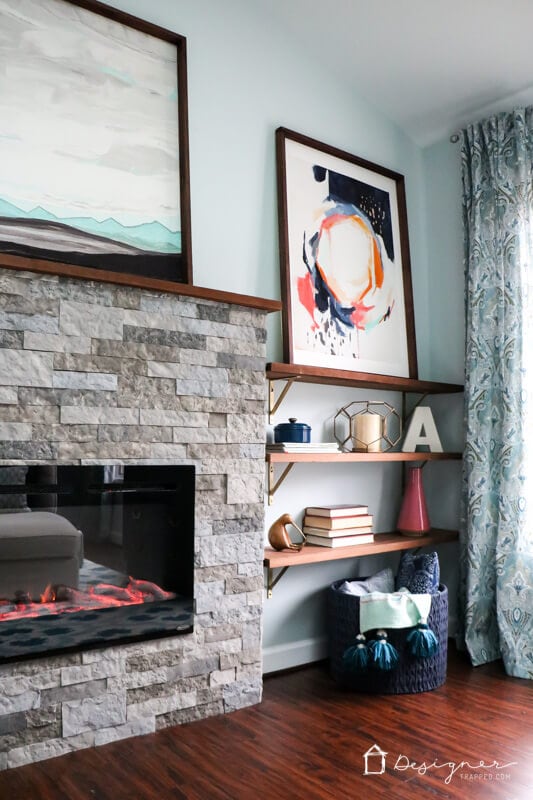 We really couldn't be happier with the results and with how easy the AirStone was to install!

[mv_create key="1″ thumbnail="<a href=" title="Most Popular Projects" type="list"]