Stylish DIY Shelves Anyone Can Make!
Are you looking to spruce up a space in your home with an easy and stylish DIY project? Or do you need some additional storage but you want to be sure it's pretty and stylish? If so, look no further! These DIY shelves are stylish, affordable and most are easy to make yourself. No matter what your aesthetic is – contemporary, classic or eclectic – these shelving ideas will help add character and storage into any room of your house.
From floating shelves, to industrial wall shelves and more, these are the best tutorials out there!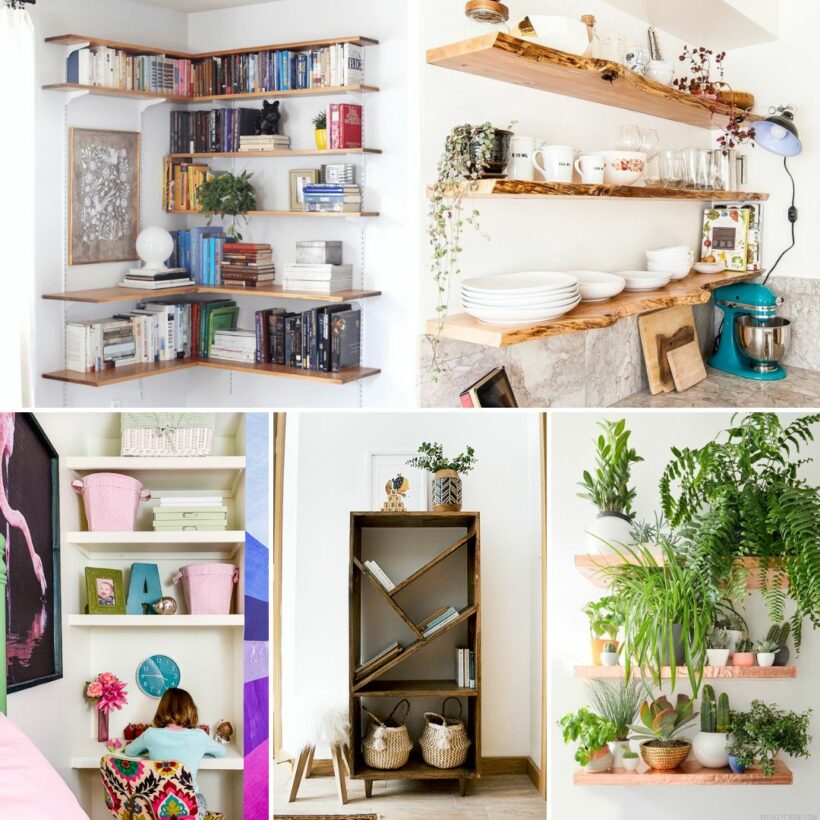 We have taken advantage of built-in shelves in each of our houses. They provide endless storage and ways to display my favorite home decor! I love using our family room bookshelves for displaying small pieces of art mixed in with my favorite decor finds. The shelves in our old kitchen were perfect for plants, my letter board and our favorite beautiful mugs.
I have gathered some of my favorite ideas for shelving. Floating? Industrial? Live edge? Metal brackets? Check out my favorite wall shelf ideas (including some I have made) and get inspired. These tutorials will make it so easy for you to create your own!
DIY Shelving Ideas
Freestanding Shelves / DIY Bookshelves
It isn't always possible to hang shelves on the wall, but these freestanding shelves get the job done when you need storage!
Modern Freestanding Bookshelf
This gorgeous shelving unit has cool gold accents and an interesting shape. It is smaller so perfect in a space that needs shelves but lacks the wall space for a large set.
DIY Rustic Wooden Bookshelf
This rustic wood bookshelf has a step-by-step tutorial on building this piece, right down to which wood stain to use! This piece is super versatile and can easily be used in a dining room like here, a living room for decor and books, or even a family room for toy storage shelves!
IKEA Hack Bookshelves
You don't have to start from scratch for beautiful bookcases and shelving! IKEA bookshelf and built-in hacks are popular for a reason! These started as plain IKEA Billy bookcases and turned into something special with the wooden board top and bright paint color. This one takes a few tools like a drill and a saw, but starting with the IKEA frames helps!
Industrial Iron Bookcase
Made from 2×10's and angle irons, this freestanding shelving has a slick industrial look. This one may be a little more daunting for beginners, but the finished product is a DIY shelf that looks professional!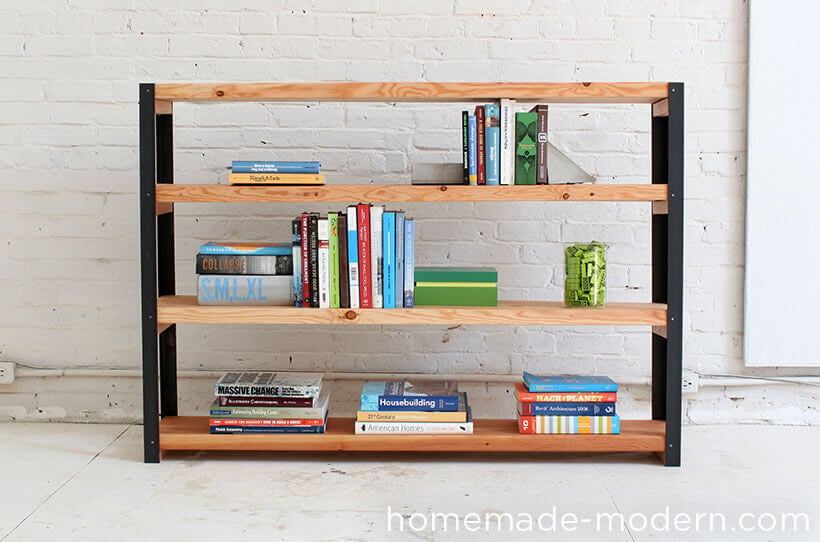 DIY Angled Shelves
Bre modeled the design for her son's nursery bookcase after a wine shelf and it is perfect! The angled shelves are so interesting and she has step-by-step instructions for building your own.
DIY Floating Shelves
Floating shelves may be just the clean look you want in your space. There are so many options and tutorials for DIY shelf projects that make it easy and budget-friendly!
This post contains affiliate links for your convenience. Click here for my full disclosure policy.
Easy DIY Wall Shelves
We made the absolute easiest DIY shelves using the same method in both our family room and in our laundry room. Quick, easy and gorgeous.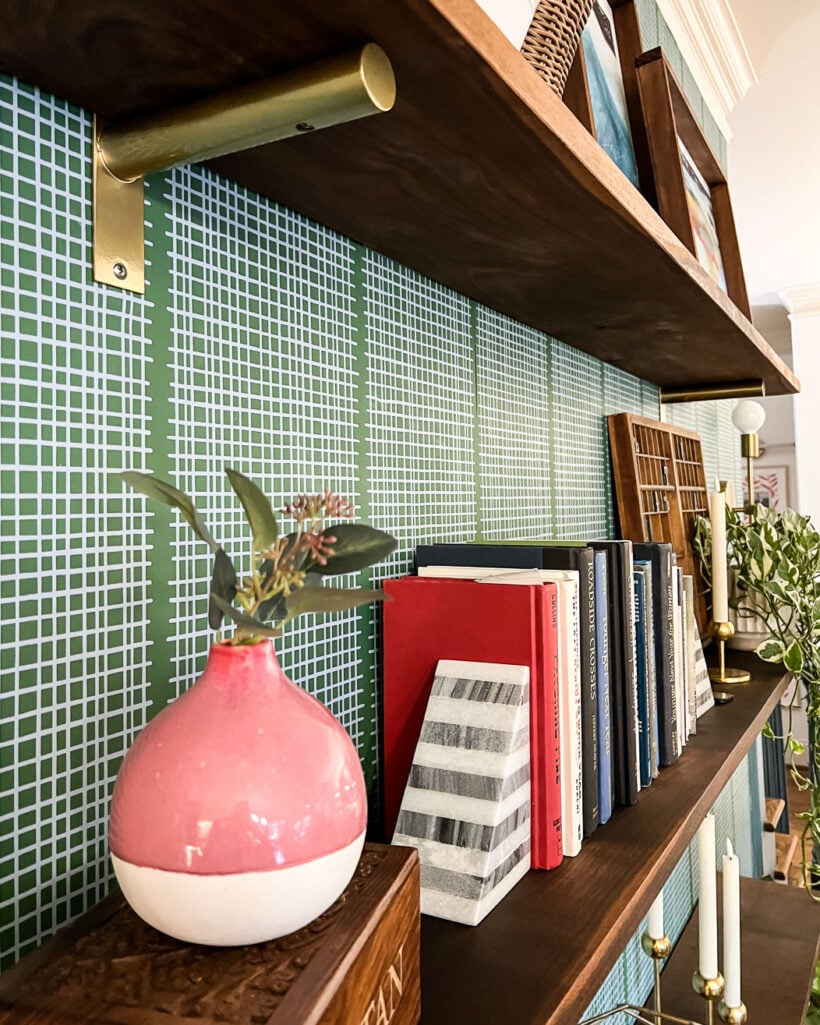 DIY Plywood Shelves
I love the look of this plywood shelf system. Nice clean lines and it is customizable. And the best part is it was under $70 and only took 5 hours to build!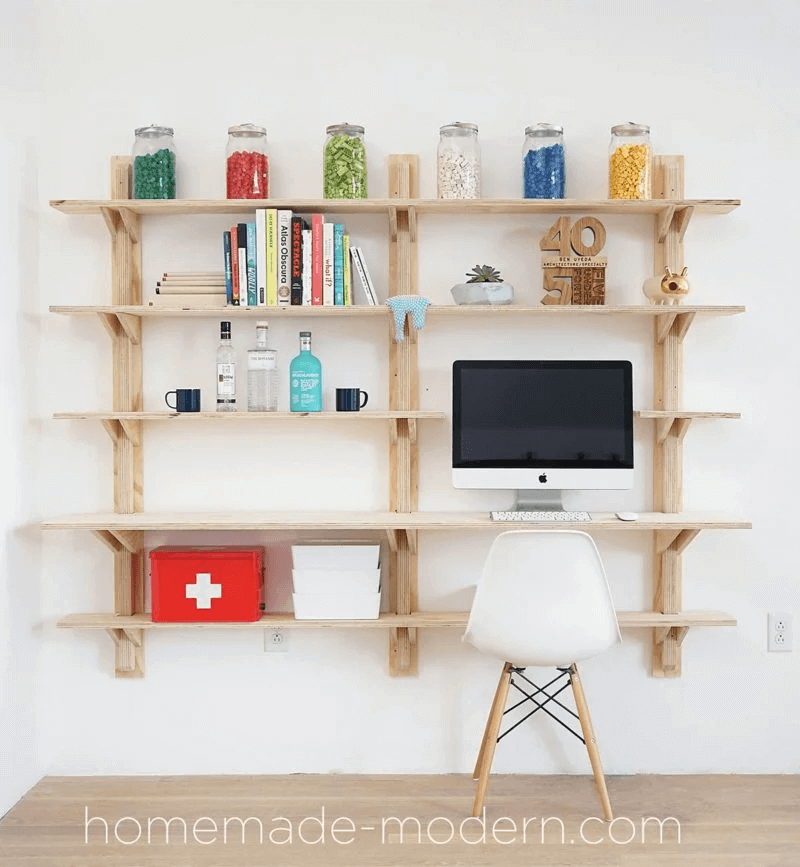 Budget Bookcase
This plywood bookcase with white brackets fills this big blank wall perfectly. The hardest part of the project is probably getting all 25 brackets hung perfectly!!! This is a stylish but low-budget way to create lots of storage with wall shelves.
Small Wooden Shelves
These craftsman-style open wood shelves are perfect for a small space and a great way to use up wood scraps you have been saving! (We all have that pile, right?!)
Copper Peg Shelves
These are so cool and different–a modern twist on the simple shelf. I love the copper pipe with the raw wood accent in contrast with the white shelves. Proof that do-it-yourself projects do not have to be boring!
Pipe Shelves
We made these shelves with metal pipes for our DIY home bar in our dining room and they were perfect! It is not hard to make–check for local hardware stores that can cut pipes in your area and create your own!
Plank Wall Library Shelves
This is one of the coolest shelf ideas for a cozy reading nook. It starts with a plank accent wall (which acts as the bracket) and the shelves are built out from that. I love how it sets the whole area apart and the dowels on the edge are the perfect library touch!
Poured Concrete Shelves with Metal Brackets
These concrete shelves are so cool and different. They bring something so interesting to the space that really elevates the style and a totally different feel than a plain wooden shelf. Perfect for a space that already has a lot of wood, like this ceiling!
Leather Strap Shelves
These rustic wood shelves are held up with leather straps and gold screws. This is such a simple DIY shelving idea and perfect for small space storage. It takes practically no tools and you can use almost any piece of wood that you love!
Corner Shelves with Brackets
These corner shelves are an adjustable DIY. They are designed and made so that the shelves can be extended into an office space and desk later, which is so smart!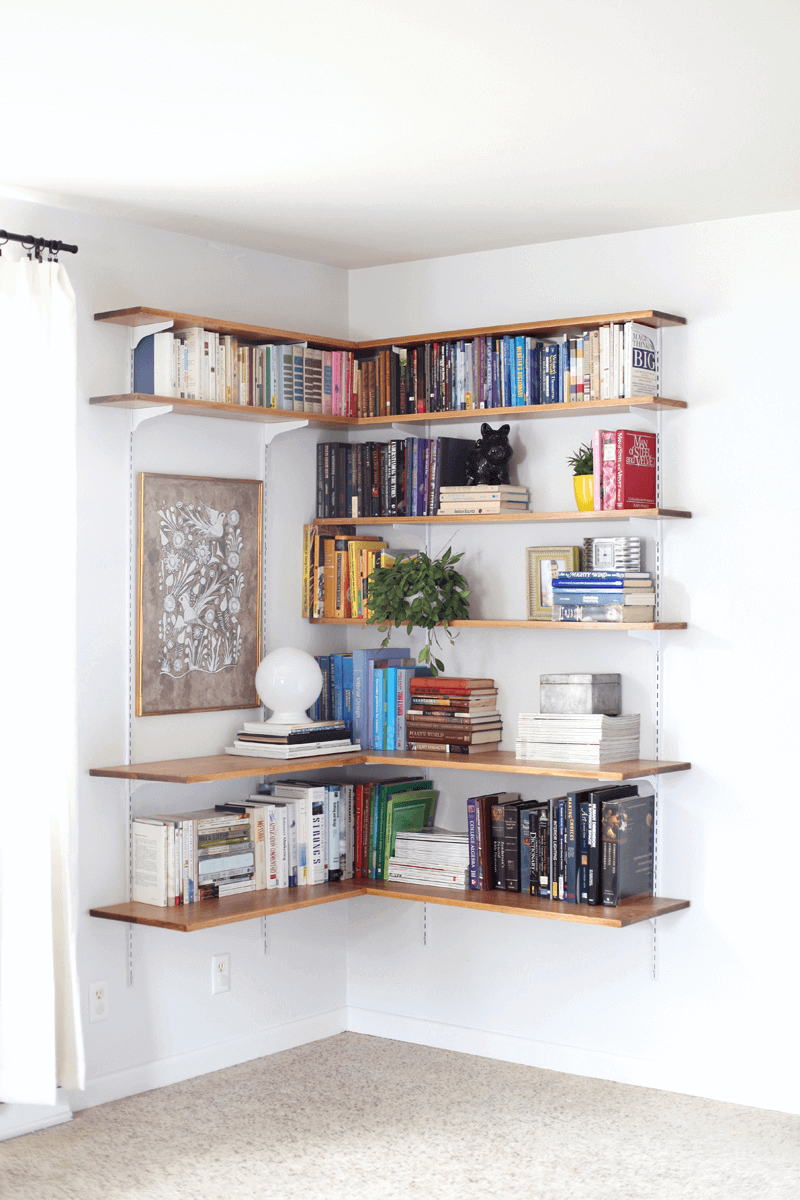 Aren't these all amazing?! These DIY shelf tutorials have me SO inspired. You can add DIY shelves to any part of your home–from your basement to your attic and any space in between!
Other posts you may enjoy:
Wondering how I approach transforming rooms and spaces in our home? Check out Designer in a Binder®.
And if you want exclusive content and behind-the-scenes sneak peeks, be sure to subscribe before you head out!