Colorful Girl's Bedroom Reveal + Color Splash Blog Hop
Last Updated on March 3, 2022
If you have a little girl that loves color, you don't want to miss this colorful girl's bedroom reveal. It's bright and fun, but sophisticated enough to grow with your little girl for years!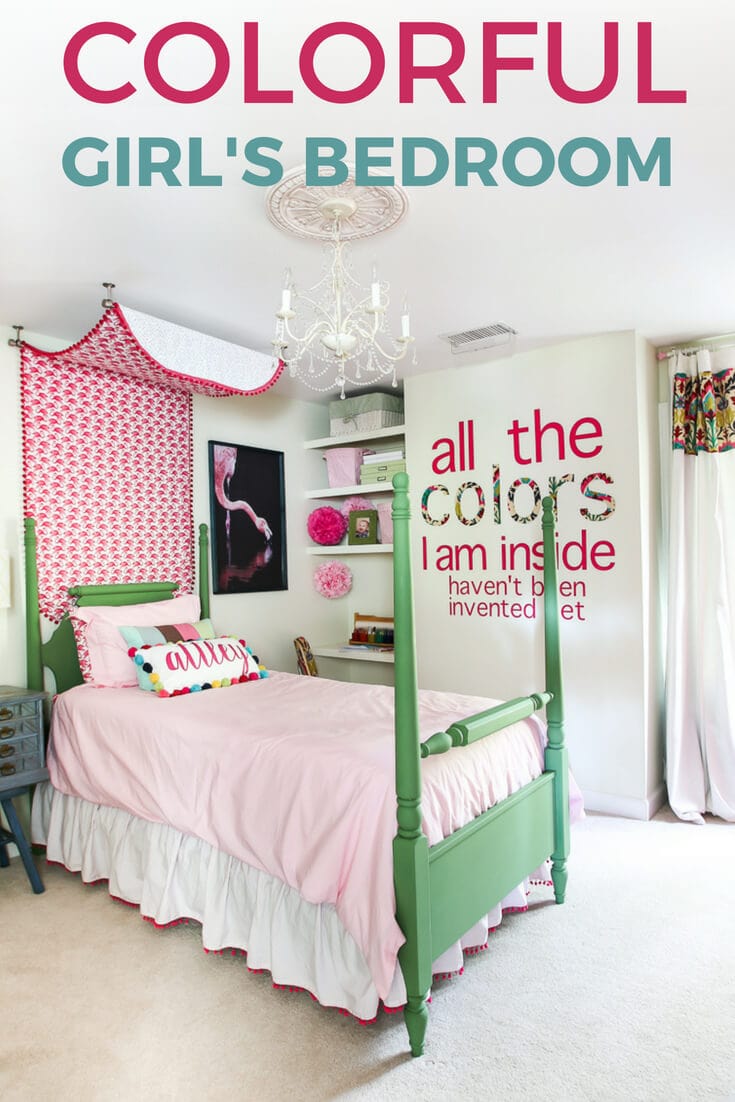 Hi friends! If you follow me on Instagram you have no doubt seen photos of my sweet Attley's room. It's VERY colorful, just like Attley. She is a lot like me in that she really loves pretty much every color that exists (except mauve, lol)! So when it came time to decorate her big girl room and she wanted bright pink dressers and bookcases, I said "SURE!"
More recently when it came time to paint her "new" second-hand bed she chose bright green. I was like, "YES! Let's do it!" Frankly, we could all learn something from kids and their fearless use of color, because I absolutely love how her room has come together. If you are a bit timid about decorating with color, check out my post: How to Decorate with Color Even When it Scares You!
You can find a source list at the bottom of this post. And for things that we've made or bought second-hand, I've included similar items. I've also linked to the DIY projects you see in this room throughout this post and right before the source list.
And that's not all! I've teamed up with some other color-loving blogger friends to bring you the Color Splash blog hop. You can find links to all of their gorgeous, color-filled projects at the end of this post. You will LOVE them!
Colorful Girl's Room Reveal
Alright, take a look at my little girl's colorful room now that it's all finished!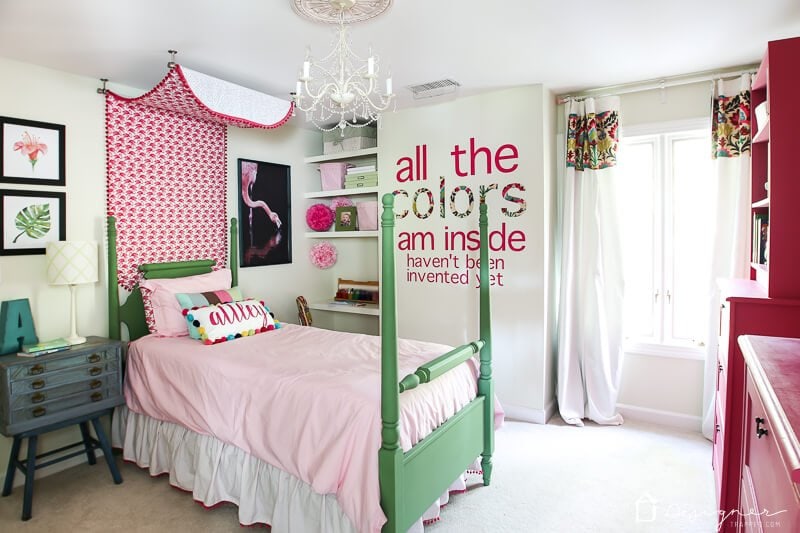 GAH! Isn't it bright and happy?! Let's see, in this photo you can see the DIY wall decals that I made, featuring a quote from one of our favorite Shel Silverstein poems. You can also see the DIY canopy and semi-DIY curtains that I made (both were SUPER easy projects). You can see the pink IKEA dressers and bookcases we hacked to create a custom furniture look to the right. And you can see the semi-DIY pompom bed skirt, which I still love.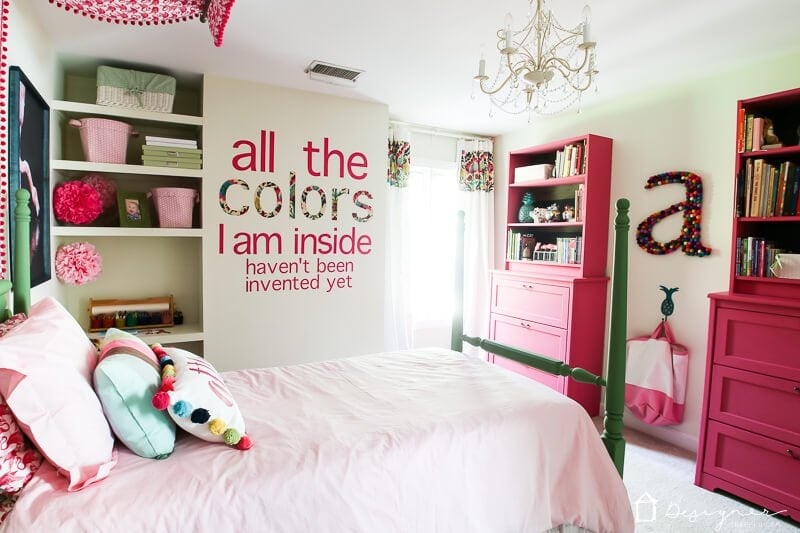 This shot gives you a better view of the other side of the room. You can see the pink IKEA dressers and bookcases we hacked to create a custom furniture look much better in this view. And that big, colorful DIY initial letter we made is still one of my favorite things in Attley's room. After I made one using only shades of purple for her sister, Attley requested "all the colors." Yes ma'am! You don't have to ask me twice.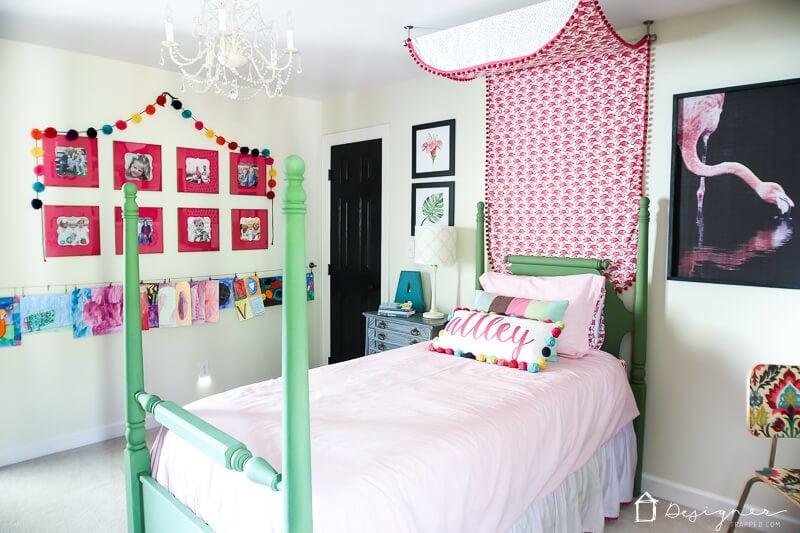 On the other side of her bedroom, you can see the IKEA wire system we hung to display some of her artwork. And above it, you can see the DIY gold frames & mats that I created for less than $10 each. They are filled with some of our favorite family photos. You can also see her colorful chair peeking out of the right corner of this photo. You can read all about how I transformed that basic, wood chair with fabric and mod podge in this post. And there's a better view of her colorful chair below. You can also see the DIY floating shelves and desk we created out of that awkward niche.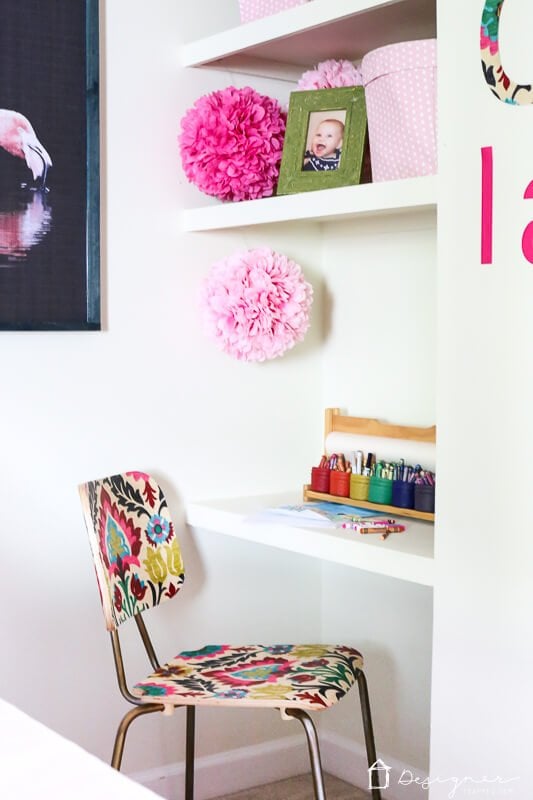 The bright green bed is a recent addition, and Attley and I are both obsessed with it. We scored it for only $75 off Craigslist and painted it. When I asked Attley what color she wanted to paint it and she picked green, I was SHOCKED. I really thought she would choose pink again. But I was totally on board with the green and she is thrilled with her choice.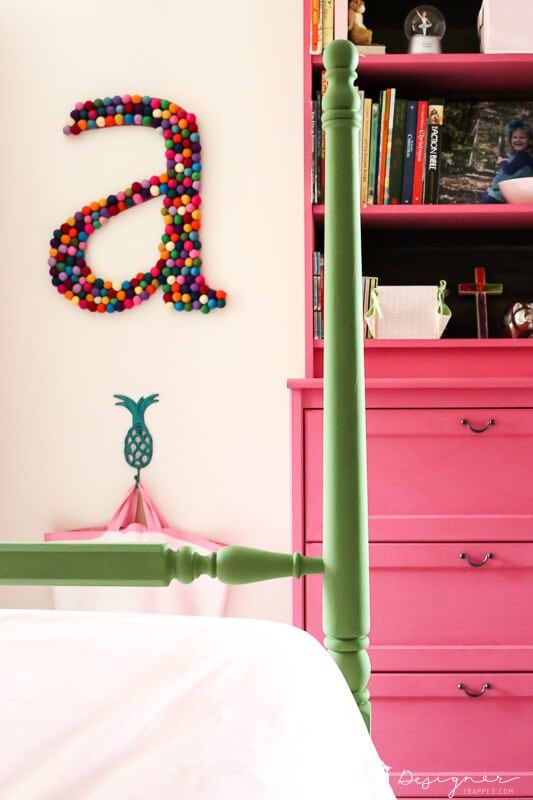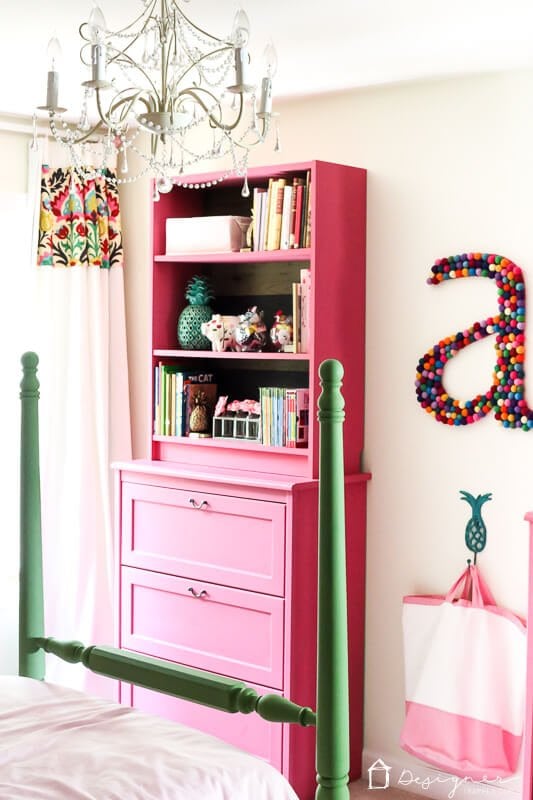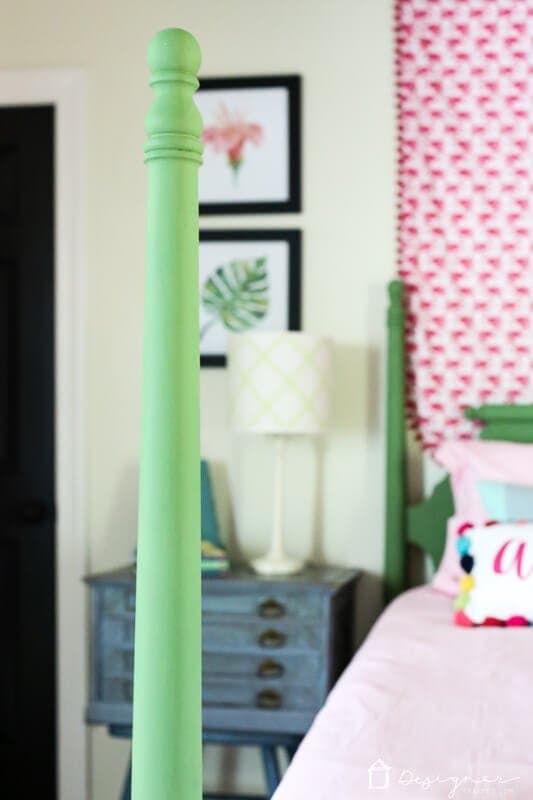 Well friends, I think that's it for this colorful bedroom tour. As promised, here's a list of the DIY projects in the room, followed by the source list for items we purchased or items that are similar to our DIY and/or second-hand items.
DIY PROJECTS SEEN IN THIS ROOM:
This post contains some affiliate links for your convenience (which means if you make a purchase after clicking a link I will earn a small commission but it won't cost you a penny more)! Click here to read my full disclosure policy.
SOURCE LIST:

Now, be sure to check out some more colorful projects by my blogger friends that are participating in this fun Color Splash Blog Hop! Just click on any of the links below the graphic to check out the details of their colorful projects!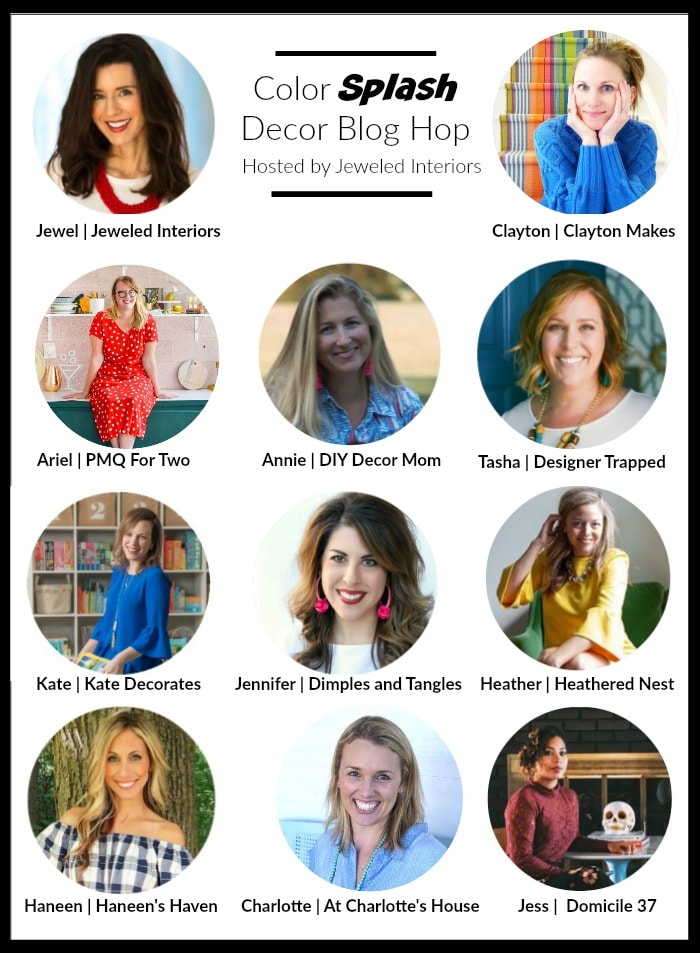 Jeweled Interiors | Clayton Makes | PMQ For Two | DIY Decor Mom | Designer Trapped | Kate Decorates | Dimples and Tangles | Heathered Nest | Haneen's Haven | At Charlotte's House | Domicile 37
Before you head out, be sure to subscribe to my newsletter by choosing one of my FREE design guides!
​
[mv_create key="3″ type="list" title="Room Reveals" thumbnail="false"]​