DIY Halloween Costumes for Toddlers and Kids
Looking for easy Halloween costumes that are super cute? These fun DIY Halloween costumes will save you from the last-minute scramble and your kids will love wearing them!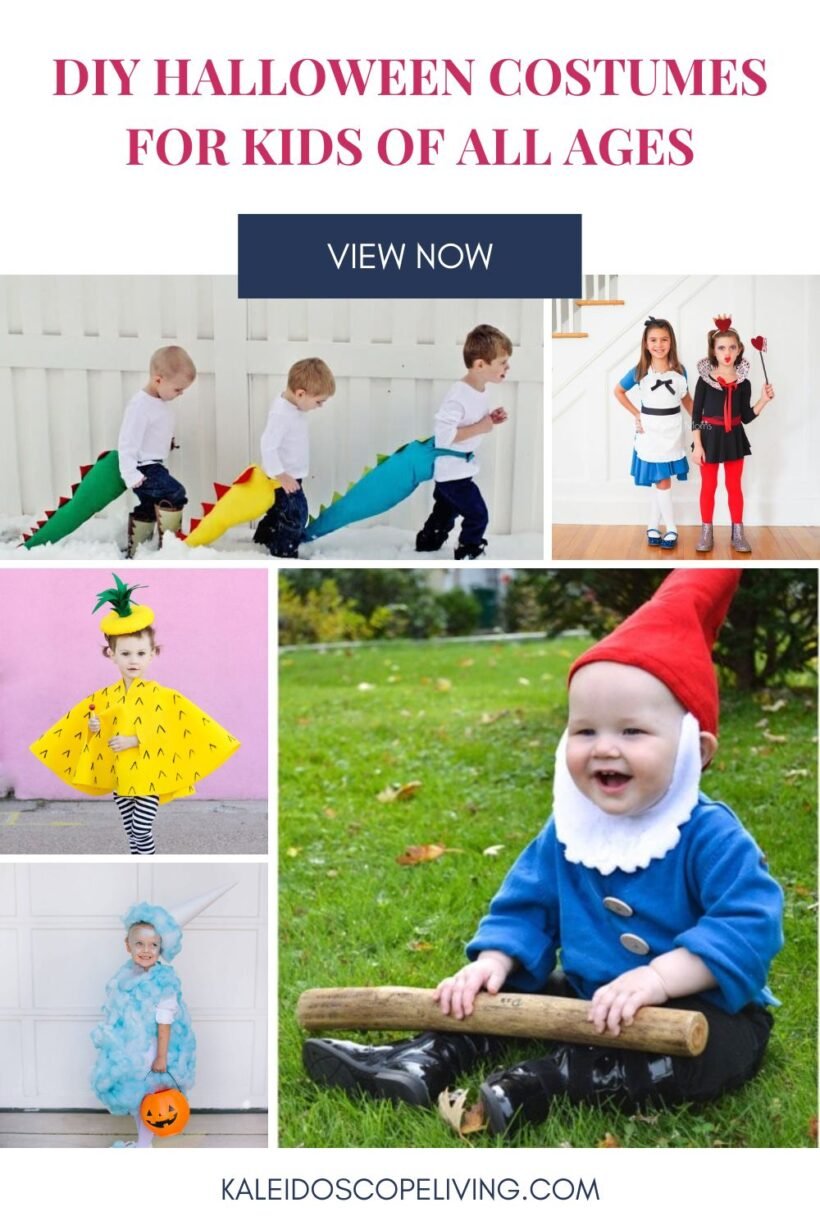 Most kids LOVE Halloween, and I get it! Candy, costumes, staying up late, lots of fun events with friends… what's not to love? But as we parents know, it can be stressful to plan and execute costumes kids love, are comfortable in, and will actually wear!
As the weather gets cool and the pumpkin spice appears, we start to feel the dread of having to come up with the perfect costume. Never fear! I have found the best DIY Halloween costumes out there for toddlers and kids. These ideas are so fun and clever, and lots of them are quick and easy, so you won't be scrambling around the day before trying to put together a complicated last-minute costume.
I honestly miss the days when I had complete control over our Halloween costumes! I made these DIY scarecrow costumes when my girls were little. They are my very favorite costumes–they were so easy and cute. I made the tulle halter dresses, popped a long-sleeve tee underneath, and added the fun hats! They were perfect and my girls loved them too.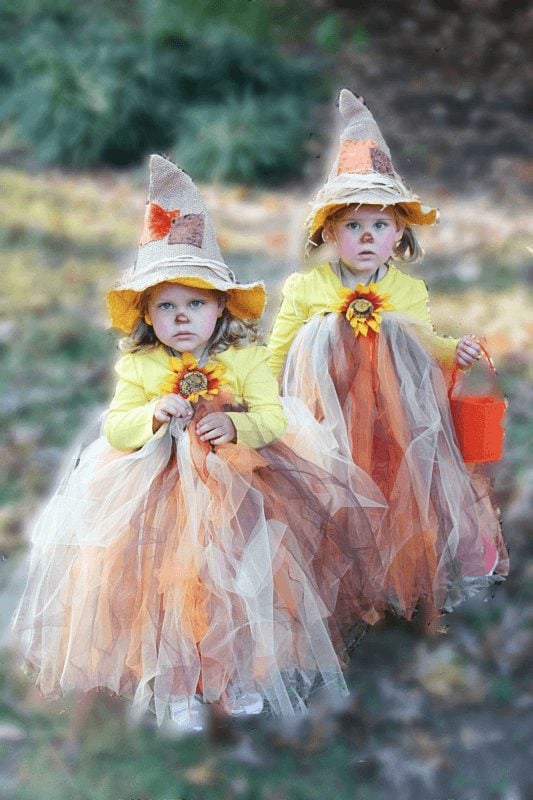 Want more great ideas that are easy to put together? Gone are the days of tossing a sheet over your kids' heads and telling them they are ghosts. Continue reading below to find super easy DIY Halloween costume ideas that will give you the coolest kids and toddlers at the Halloween party or trick-or-treating!
DIY Halloween Costumes
DIY Cotton Candy
DIY cotton candy is about as fun and sweet as it gets! This is such a fun idea from Pretty Life Girls and would be so easy to make whatever color your kid wants!
No-Sew Baby Chicken
This super cute no-sew baby chicken costume is from Fun at Home With the Kids. I love that it is no-sew AND that you can make it with any color you want. And it is an outfit that would keep littles warm if you have a chilly Halloween!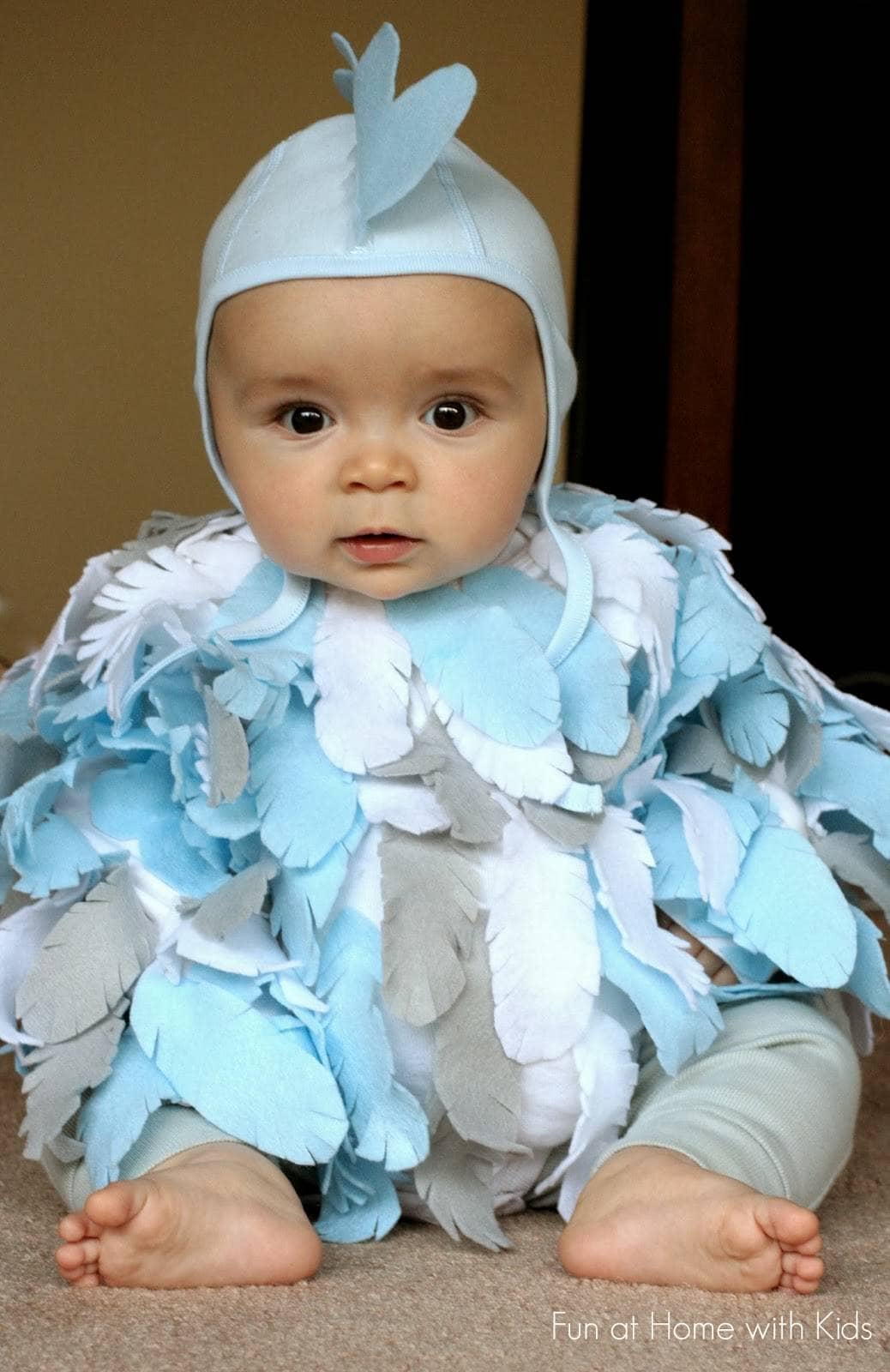 Tutu Cat
How CUTE is this tutu DIY cat costume by Do It Yourself Divas? The full tutorial is quick and easy. I really love that the ears are clip-in instead of a headband, so less tempting to pull off! And that tail is a wire hanger with a feather boa attached–genius!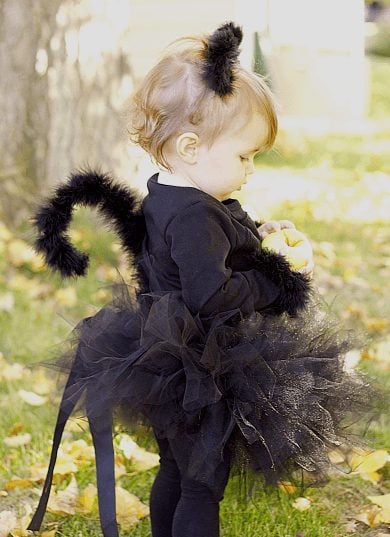 DIY Clark Kent
Put this DIY Clark Kent costume from The Chirping Moms together faster than Superman in the phone booth!! This is maybe the easiest superhero costume out there–all you have to purchase is a superman t-shirt and pair of fake glasses. The rest can probably be found in your little guy's closet! Grab a button-down, denim or black pants and shoes. Add a loosened tie if you have one for extra fun!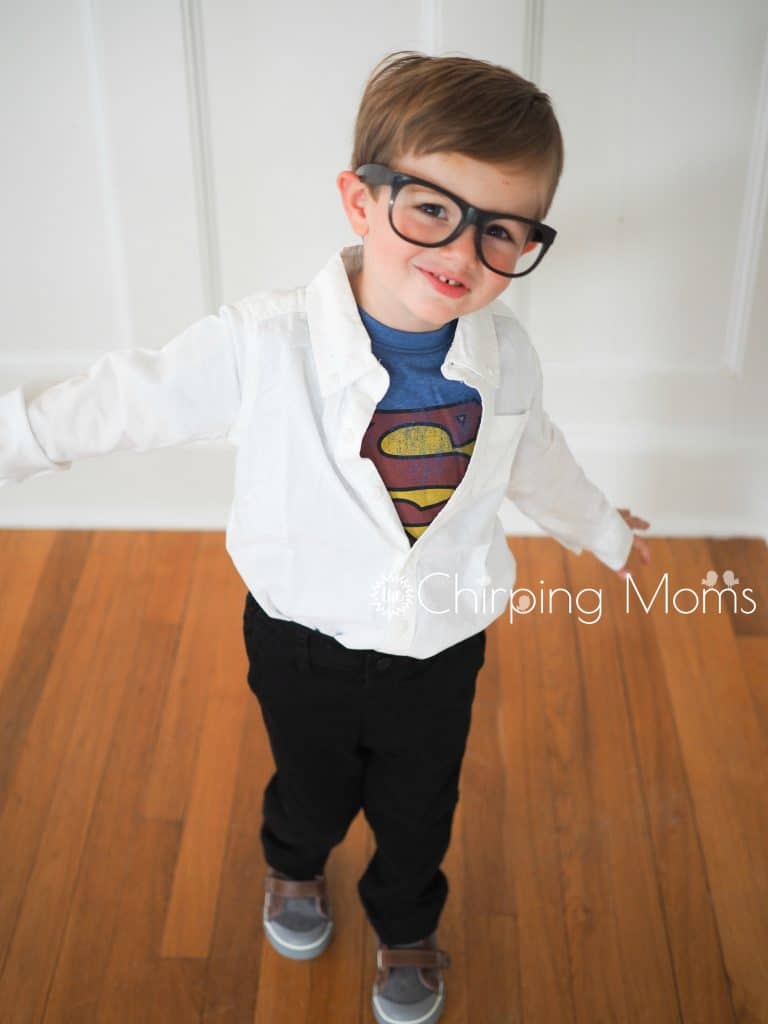 Crazy Cat Lady
The crazy cat lady from Oh Happy Day is one of those fun costumes than makes people laugh! There is something infinitely hilarious about little kids dressed as old people. Throw a gray wig on your girl and accessorize her bathrobe with little cat beanie babies (sew or hot glue them) and she can wear pajamas she already has! Clever and comfy.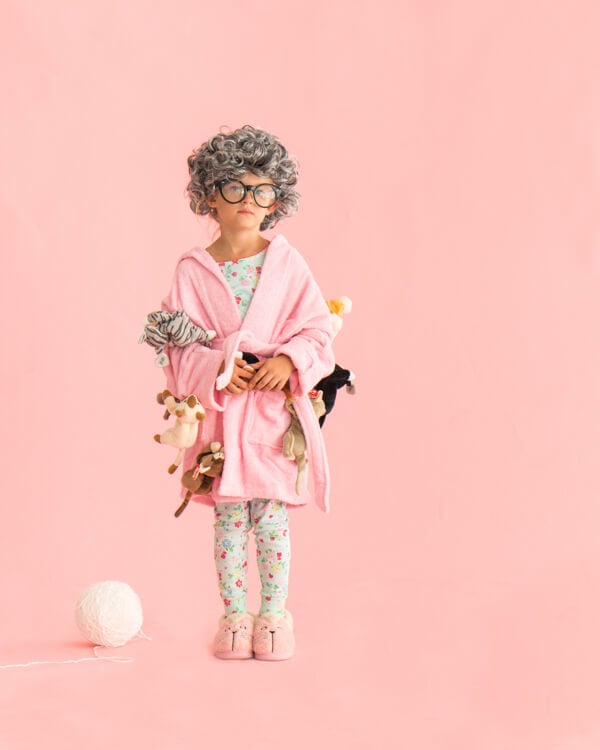 Alice and Queen of Hearts
Have a pair of little girls who would love a trip to Wonderland? This DIY Alice and Queen of Hearts costume from The Chirping Moms is easy to make and perfect for two! Grab a deck of cards, some ribbon and a pair of scissors and, get to work!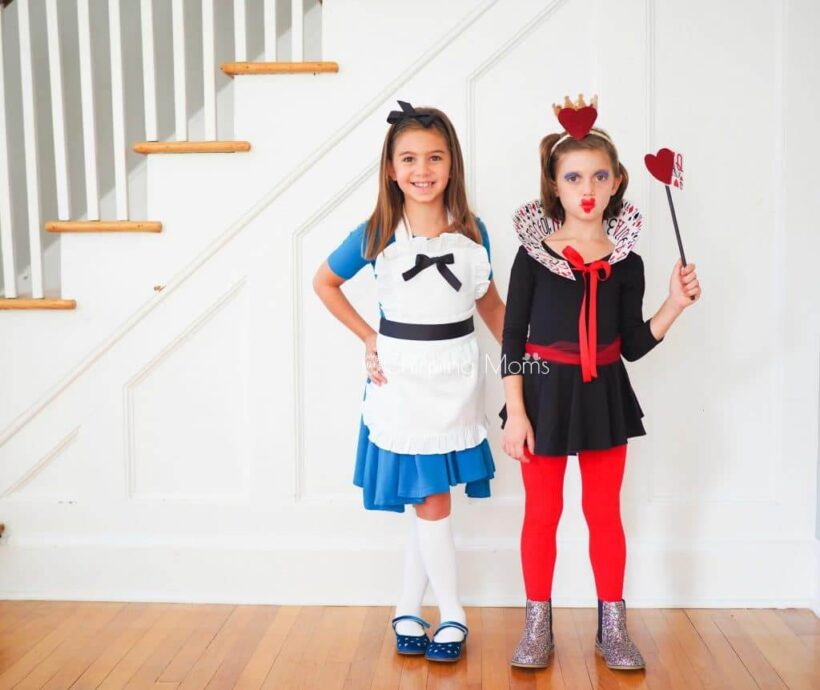 Baby Hedwig Owl
This insanely cute DIY owl costume by Make Life Lovely is perfect for Harry Potter fans and owl lovers alike! If you are searching for couples costumes for your kids, Hedwig and Harry is perfect. For a fun family idea, the whole HP crew with a baby Hedwig would be great!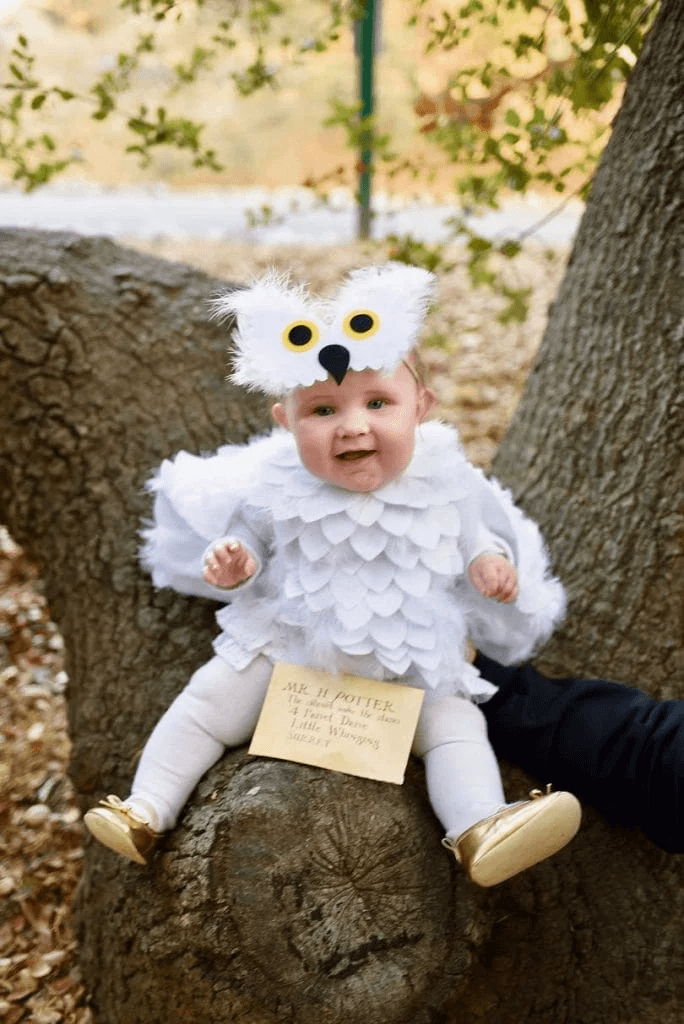 Up Costume
This DIY Up movie costume shared by Auburn Soul Photography is perfection. Again, this one seems to mostly depend on items in your baby's wardrobe, with the addition of a DIY "walker" made with PVC pipe. Beyond easy and adorable!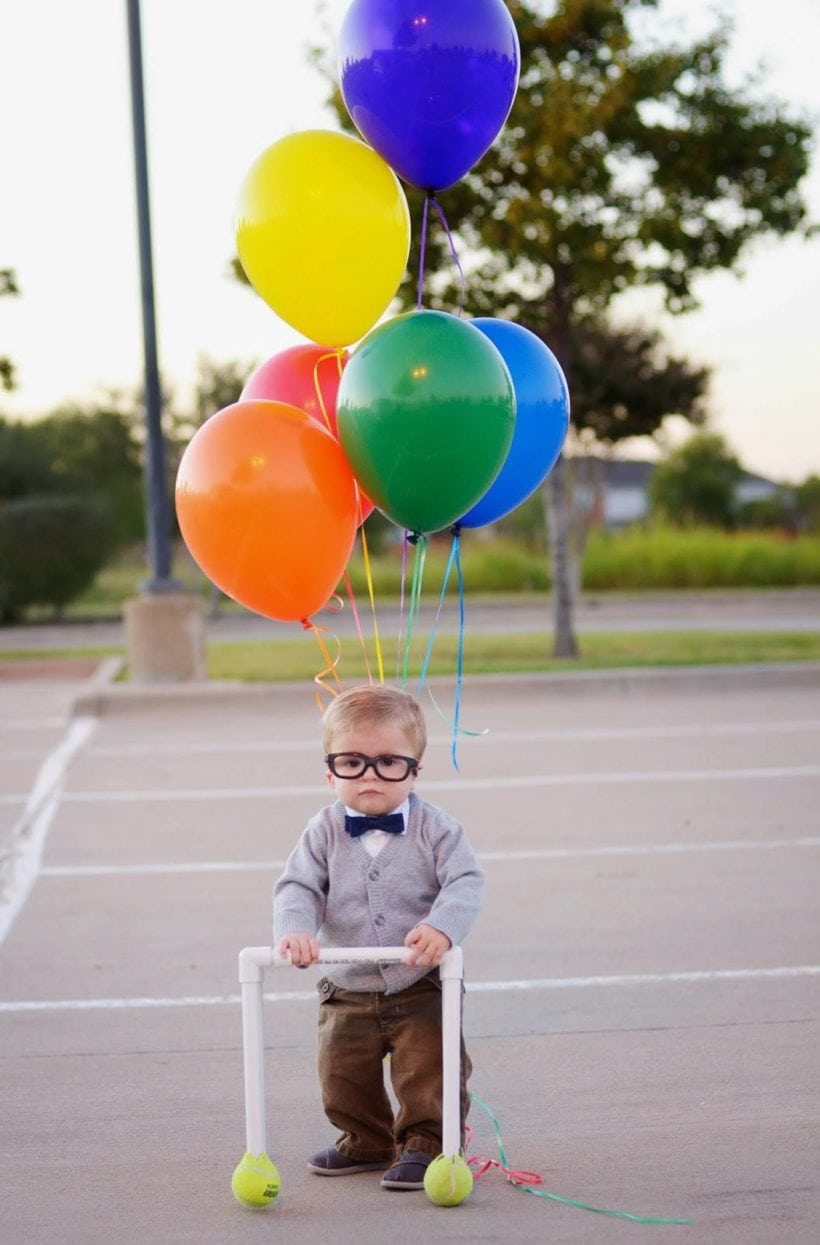 DIY Peacock Tutu
How CUTE is this DIY peacock costume?! The tutorial by Andrea's Notebook looks really easy. You just create the tulle tutu skirt and felt feathers and add a coordinating tee shirt!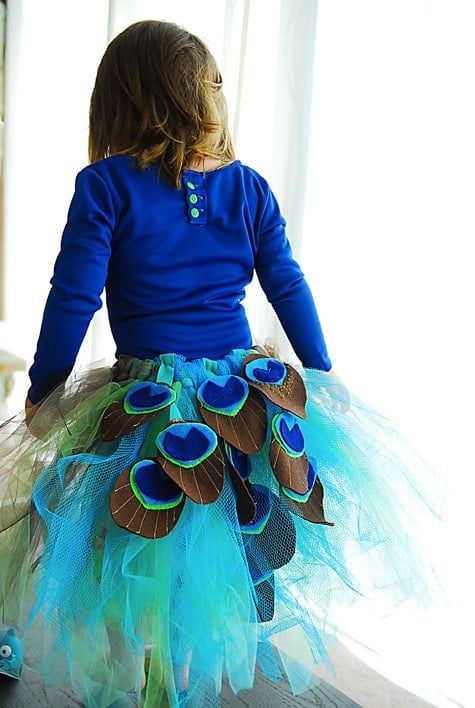 Kid Firefighter
You know we love firefighters around here! This DIY firefighter costume by Crayon Box Chronicles is so clever! Your child can wear their own clothes but will look like a professional firefighter when you make the DIY air tank and fireman's helmet! And they can keep playing dress-up after Halloween and put out "fires" all year.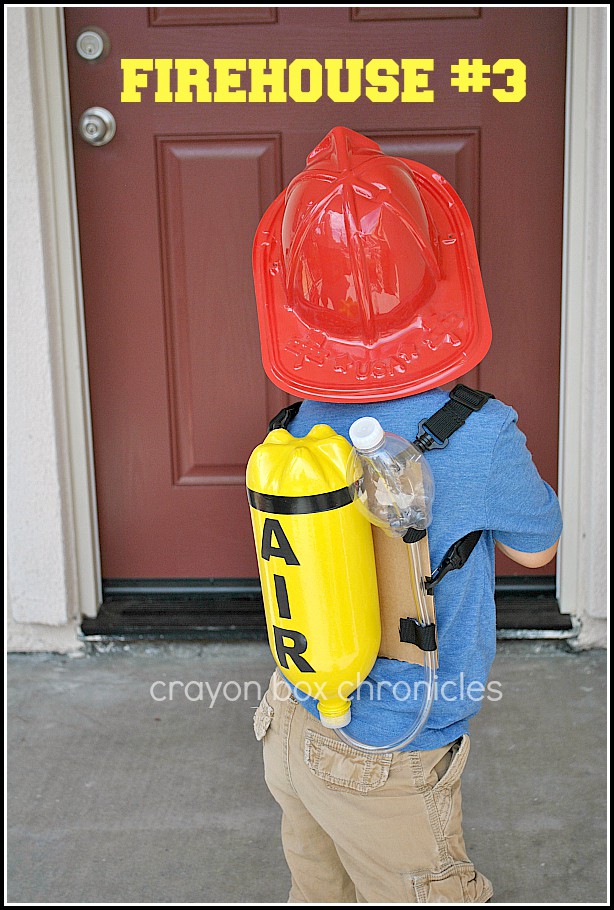 Wind-Up Dolls
This DIY wind-up doll costume falls into the category of GENIUS in my book! It's beyond cute and is so creative. A Little J and K used Boden dresses and the perfect accessories along with a little lipstick to complete the look to make their girls look like little dolls!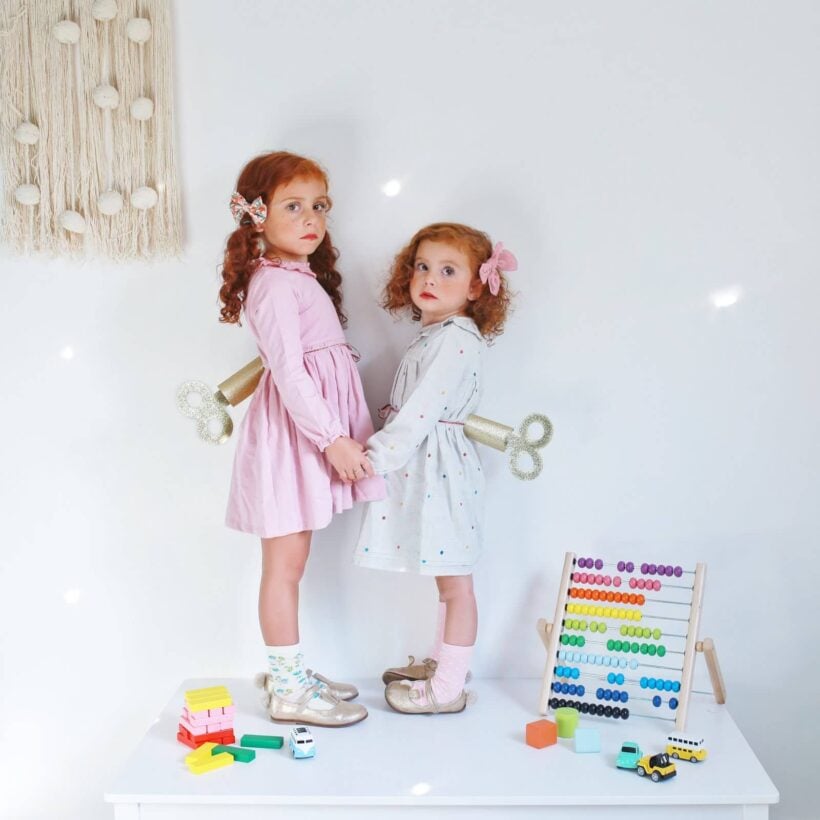 Little Garden Gnome
This VERY easy baby garden gnome costume by Adventure-in-a-Box is perfect for a boy or a girl and could not be cuter! Talk about easy last-minute costumes–it only took half an hour and some felt. They used their own sweater, belt and pants, and added big buttons to finish it off.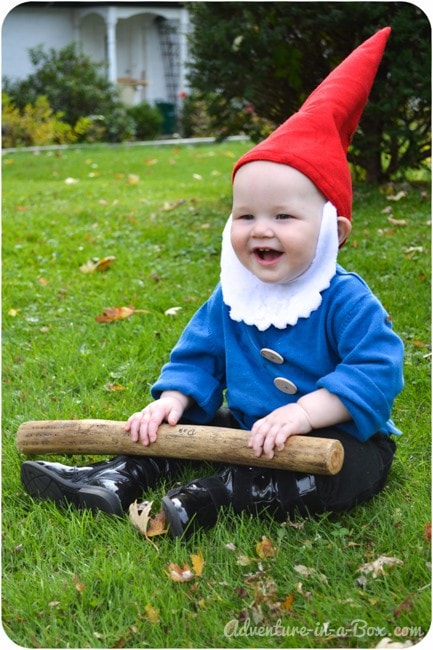 Dragon Tails
How adorable are these DIY dragon tails from Running with Scissors on Tatertots and Jello?! I bet kids would play with these dragon tails year-round! All it takes is fabric and some quick sewing to create these fun tails! These can also easily double as dinosaur tails for any dino-obsessed kids!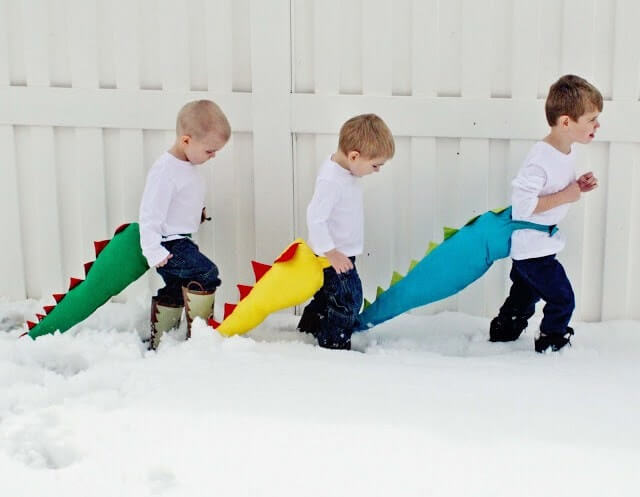 Nesting Doll Costumes
I seriously can't get over these clever DIY nesting doll costumes from Andrea's Notebooks. SO CUTE! This is actually a great option for my twin girls since one is 2 inches taller than the other, but it's also perfect for siblings of different ages, and even an entire family!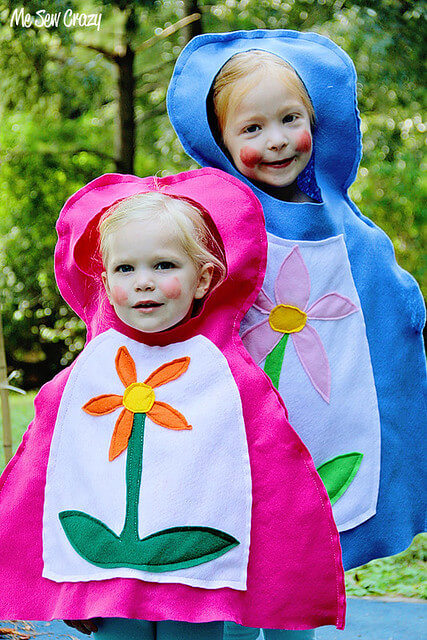 Lego Costumes
The DIY Lego costume from Lovely Indeed is perfect for your Lego-obsessed kid! You have to work on this one a few days ahead of time, but it is super easy. Also, I love a good cardboard box costume–they are classic!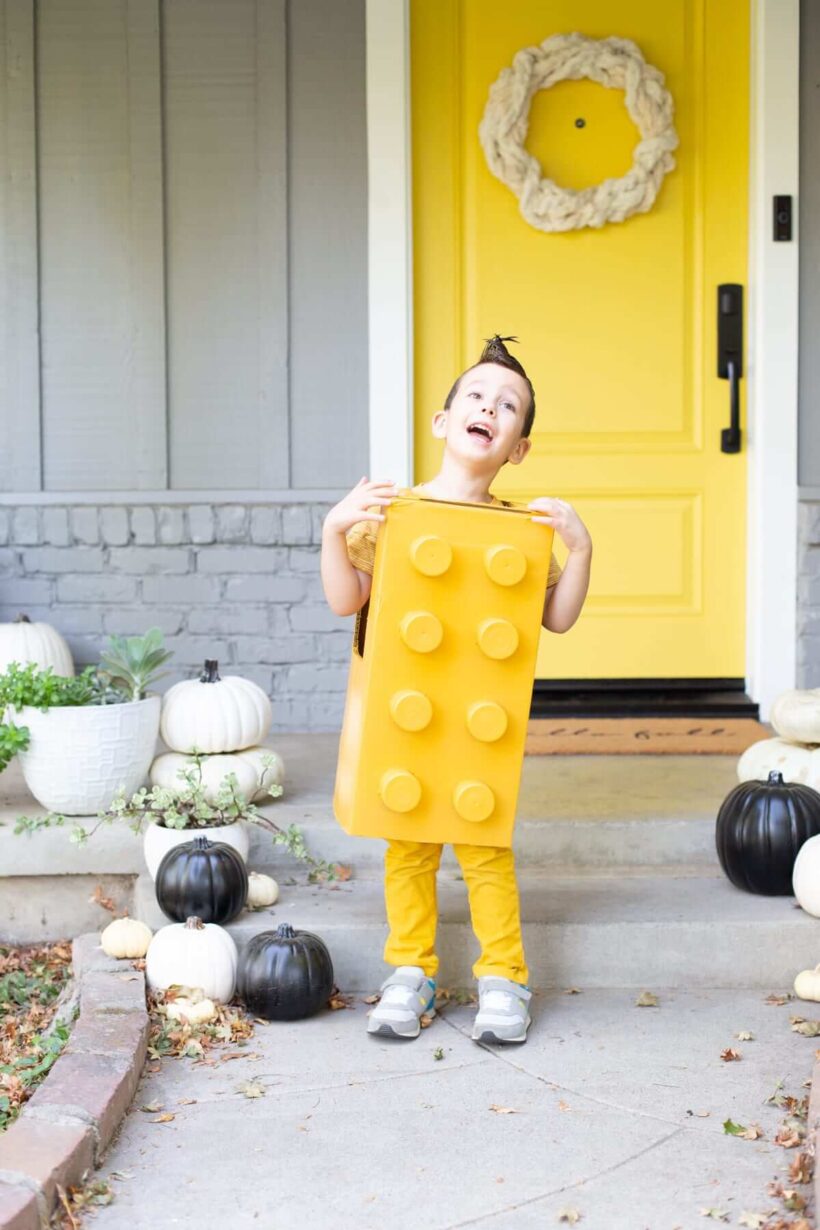 Paint Brush and Palette
As someone who is constantly painting something and has a child that loves painting, I really love this DIY paintbrush costume from Dukes and Duchesses! She used broom bristles and styrofoam reinforced with a hot glue gun to create the "straw hat" brush which is genius!
Colorful Cardboard Octopus
The easy octopus cardboard costume by Hello, Wonderful looks so simple and it is absolutely precious. You can customize the colors for your kid and add gloves if you want their hand to blend in!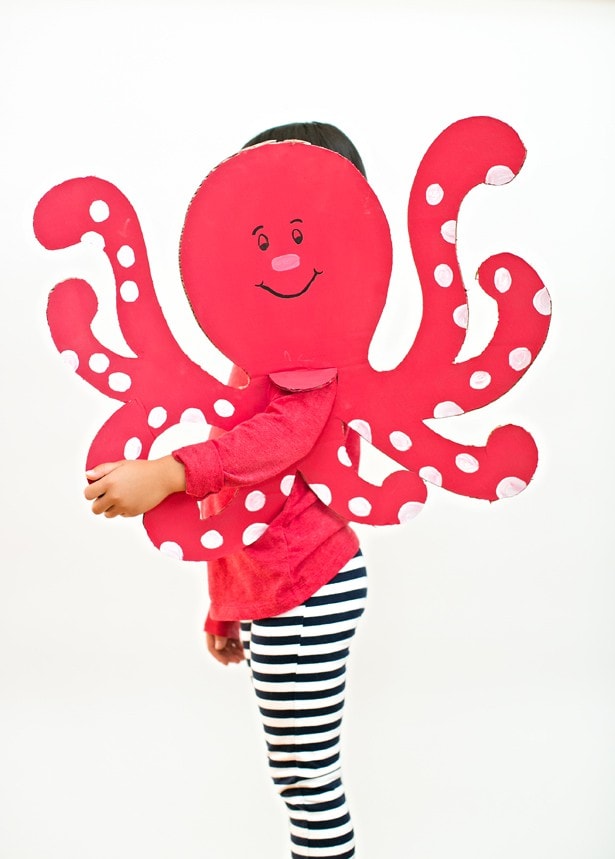 Butterfly Wings
So many little girls are obsessed with butterflies (mine certainly were) and would LOVE this simple costume. Put them in a leotard and some leggings and throw on these gorgeous DIY monarch butterfly wings from Buggy and Buddy and you have an awesome and simple costume. This is one that will get played with all year!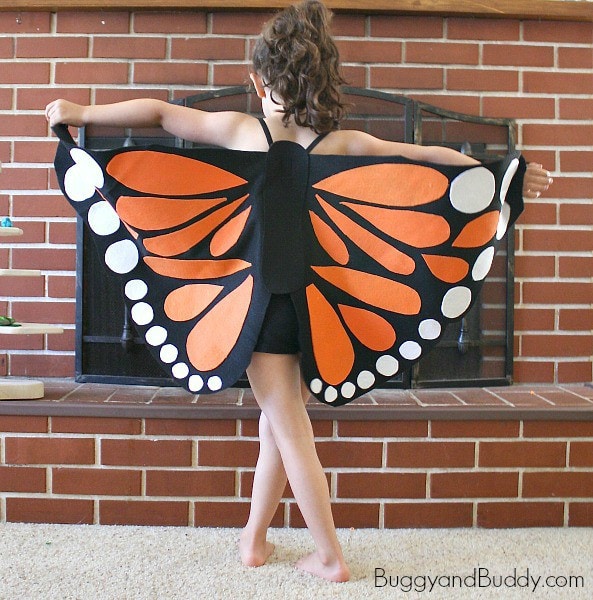 Gumball Machine
This super cute gumball machine costume by The Pretty Life Girls is easy to DIY and looks great. Perfect for a girl who loves color and whimsy but has outgrown rainbows and unicorns (or at least thinks she has)!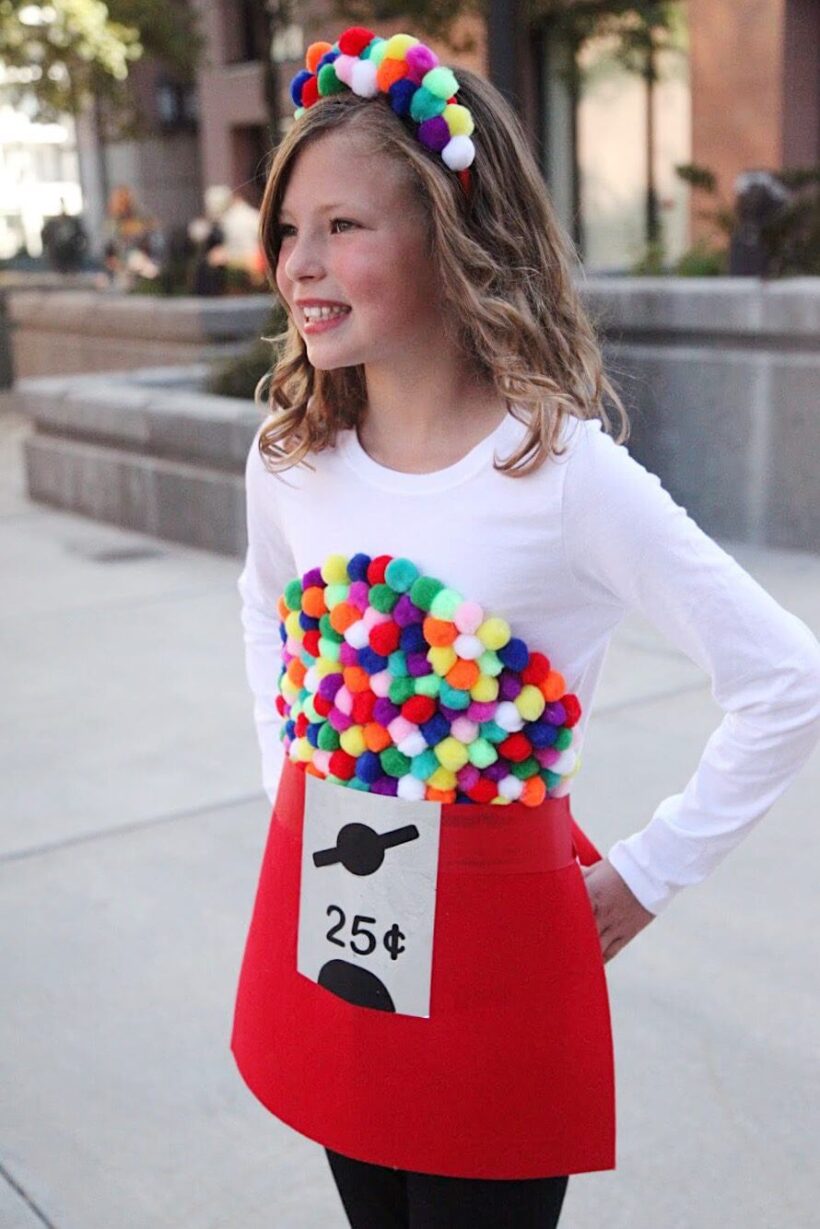 Pineapple Poncho
I cannot handle the CUTENESS of this DIY pineapple costume from Delia Creates! I especially love that no sewing is required. This is perfect for the little person that needs to still be comfy in their costume since it is basically just a poncho!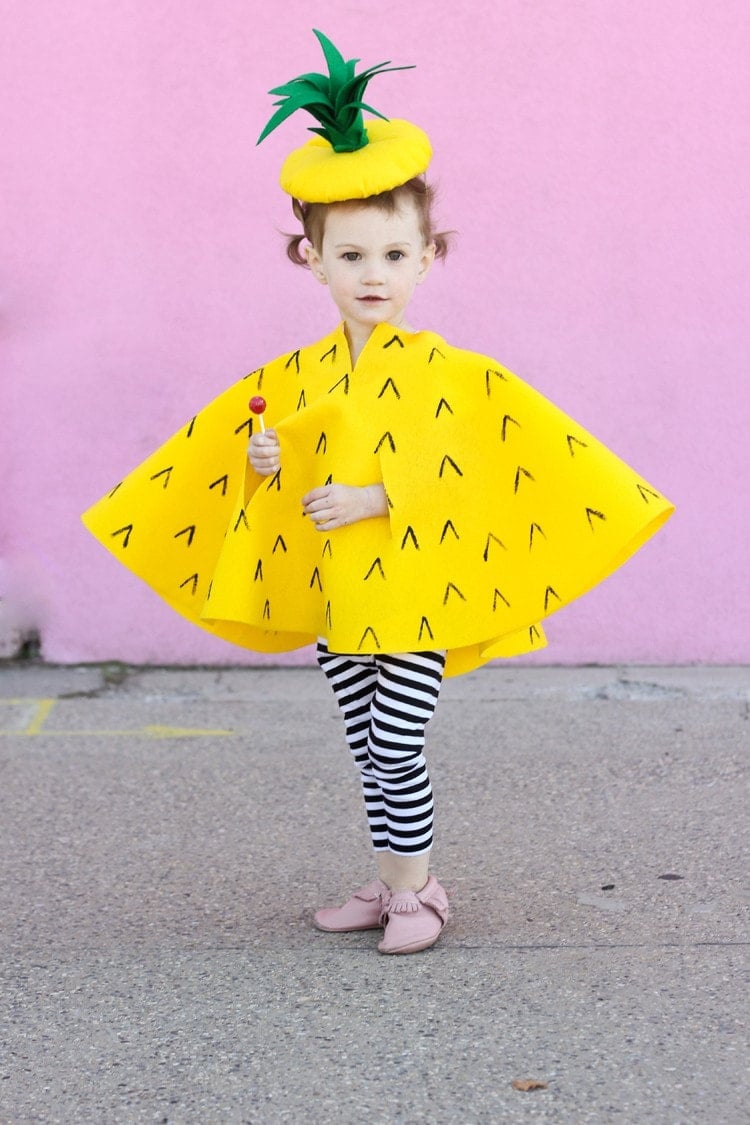 Lemonade and Ice Cream Stand
The creativity of these DIY lemonade and ice cream stand costumes by Love The Day blows me away! They are so simple to customize and I feel like these would win every costume contest.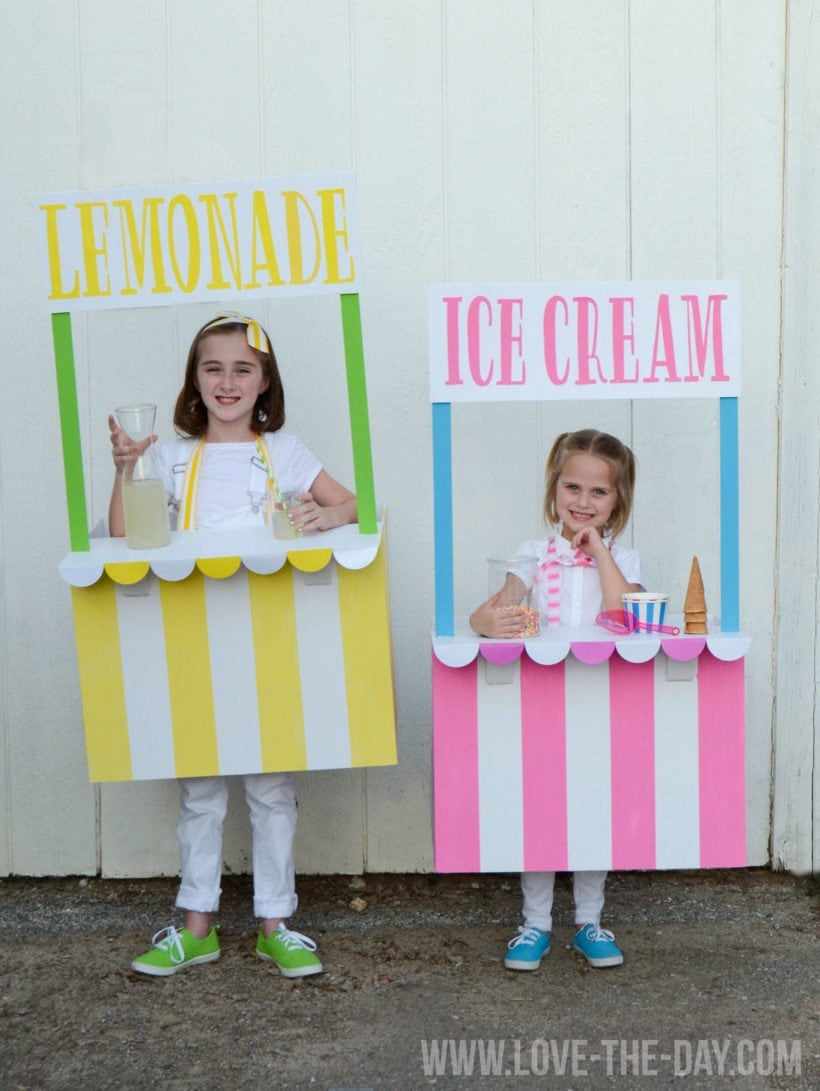 Easy Bat Wings
This DIY bat costume from Buggy and Buddy is precious and looks pretty easy to make! Pair it with the butterfly above and you can have one of each this Halloween!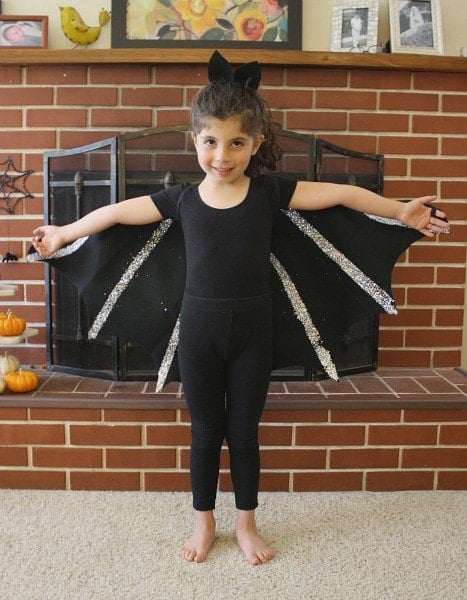 Prince Charming Costume
If sewing isn't your thing but you have a chivalrous boy on your hands, why not make this no-sew Prince Charming costume by Desert Chica for him? This is great as a stand-alone costume or to pair with a sister or friend who is a princess!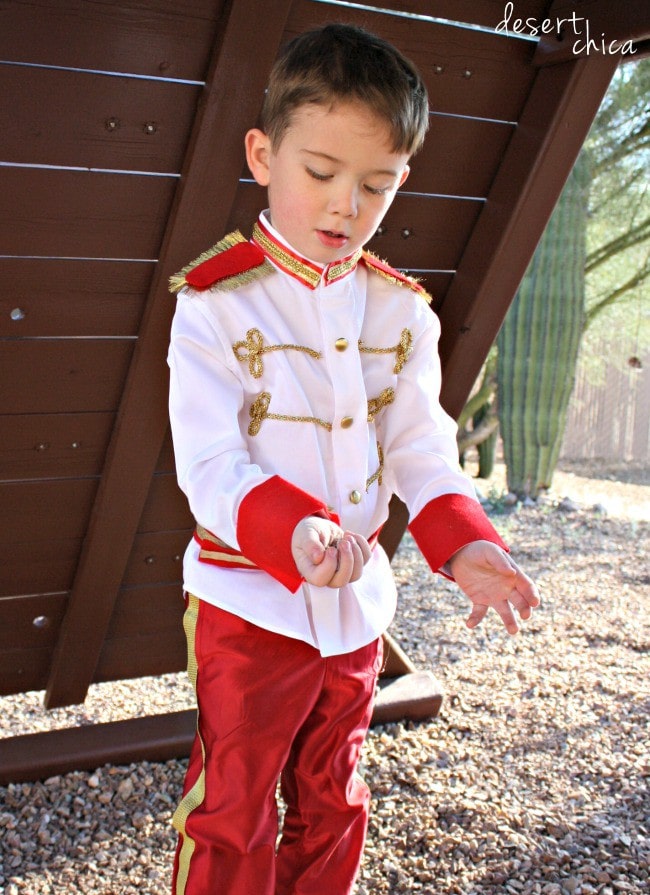 Which one of these DIY costume ideas is your favorite? They are all so clever and cute! I love that a lot of them are built on regular clothes or simple pieces. DIY Halloween costumes don't have to be expensive or complicated to be awesome. Get inspired with these fun ideas!
Other posts you may enjoy:
Wondering how I approach transforming rooms and spaces in our home? Check out Designer in a Binder®.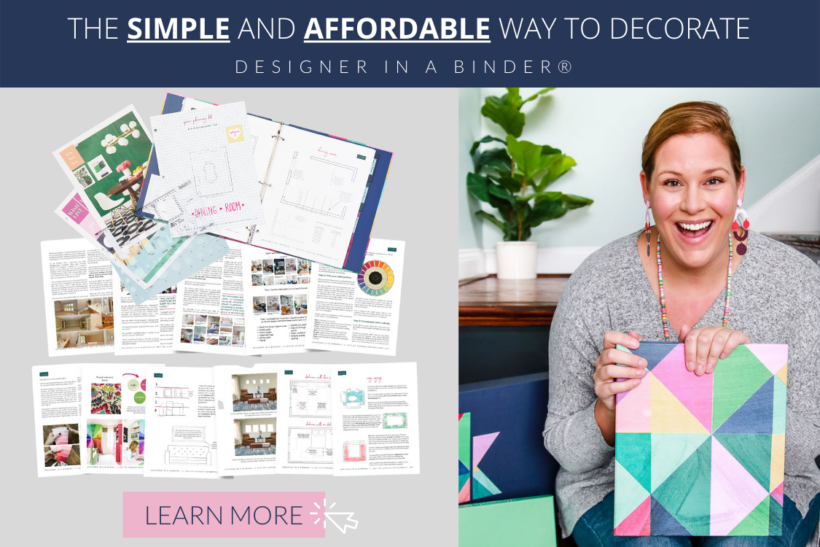 And if you want exclusive content and behind-the-scenes sneak peeks, be sure to subscribe before you head out!