How to Mix Interior Design Styles in Your Home
Last Updated on August 10, 2021
Hi there, friends! One question I get over and over is how to mix interior design styles in your home.
It's a great question and a dilemma for many. Some of y'all have raised this question because you're trying to combine decor with a significant other's existing pieces. Some need to make transitioning between styles work because they can't afford a total redo right now. Other readers have run into the question when a loved piece of furniture doesn't quite fit with the rest of the room and they're unsure how to incorporate it.
Well, guess what? There's NO rule saying you MUST stick with just one interior design style. You can mix a midcentury modern end table with a Louis Ghost chair. You can put your rustic dining table in your traditional-style dining room. Exposed brick doesn't mean your house must be decorated exclusively in reclaimed barn wood. You just need to use a few neat tricks to pull off your unconventional combinations!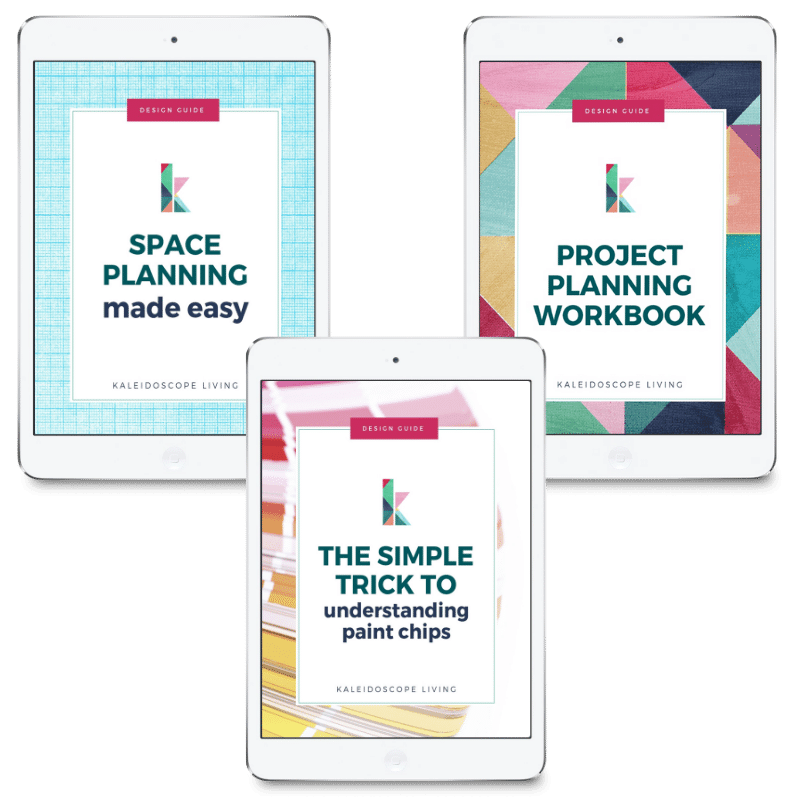 Get my FREE design guides when you subscribe!
If you're like me, your home is your happy place. You want your interior design styles to reflect who you are. You want your home to look cohesive and beautiful but you also want to let your personality shine through (and not your crazy). If there's something you really love, don't worry, you can work it into your design!
Besides, let's face it, furniture can be pricey—so every time we fall in love with a new rug or new piece of art, well, we can't always redecorate everything else to match. The good news is you don't have to!
You can absolutely mix interior design styles in your home without it looking bizarre. Use these simple guidelines to seamlessly combine and incorporate your favorite pieces. Read on to learn my best tips for mixing interior design styles!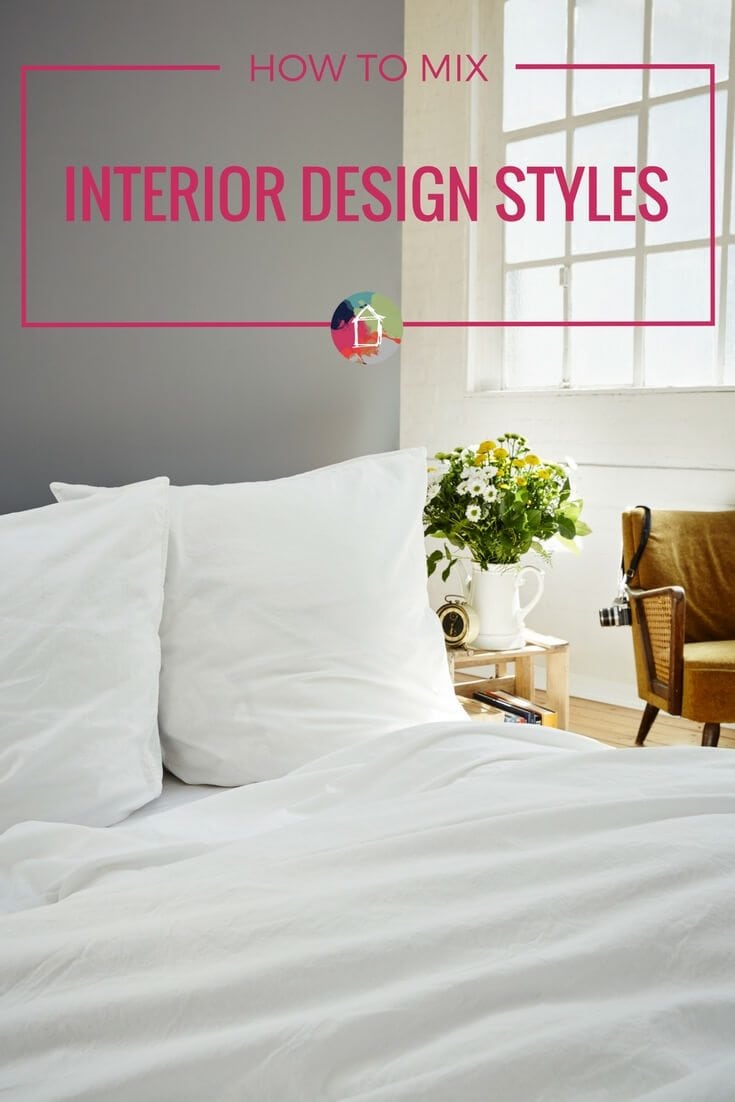 Create Unity with Color
Color is the biggest unifier, so using a cohesive color scheme can make nearly any shape or style go together. If you have a bright, fun couch or chair, make it a focal piece by adding accents of the same color in a piece of art, a vase or some other accessories. Keep the rest of your palette muted or neutral to allow the standout item to really make an impact.
As you can see here, keeping the pallet in the same color family, but then adding the pop of turquoise throughout, creates a unified look even with several "eclectic" pieces in this midcentury-style living room.
Add bright colors to make traditional pieces feel funky, modern and fresh. A coat of bright paint can instantly modernize almost any piece. Soften standout bright colors with a neutral palate on surrounding pieces and repeat the color throughout the room in several spots. Some fun color combinations to try are: bright pink or turquoise with soft mint; ruby red with soft blue, grey or khaki; a bold poppy orange with cool, dusty greens, blues and corals; or bright yellow with navy, grey, black or maroon.
Source: Emily Henderson
Link Styles with a Few Pieces
So you have some traditional pieces with muted colors and classic curves and you're looking to add some modern, sleek flair? While one item would stick out like a sore thumb, a few modern items throughout will create cohesiveness and a deliberate feeling to the style. This is good news for you newlyweds who are trying to combine two interior design styles! Rather than leaving your husband's one lonely, modern chair to fend for itself, give it a few buddies like a lamp, rug or piece of art. Just keep colors in the same family.
Modern and traditional pieces play well together in this contemporary kitchen and living room. The muted colors and classic curves fit seamlessly with the sleek, modern designs because there are a few pieces from each style.
Photo by STEPHEN FLETCHER ARCHITECTS
Photo by Andrew Flesher Interiors
Use Art to Combine Styles
One of the wonderful things about using wall art and even sculpture in your design is that art can be used to combine a variety of interior design styles. Add an abstract or modern art piece to a room of traditional furniture or pair a landscape with modern furniture. In fact, mixing it up a bit keeps the room from looking too "themey" or cliché.
My living room has a combination of rustic, contemporary industrial styles. Using these contemporary graphic prints with reclaimed wood frames, I've tied in the rustic wood on the fireplace with the contemporary style of the couch and lamp. The pole and "slide" hanging feature gives it an industrial feel that is picked up in the lamp and curtain rods as well as the fireplace screen. (Pssst- you can find the tutorial for the hanging reclaimed wood frames here and the DIY barn door style steel fireplace door here).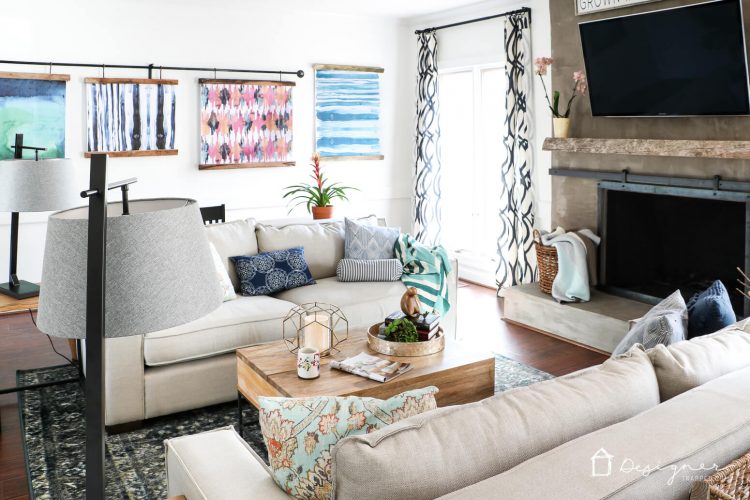 Go Bohemian!
When in doubt, keep your decorating style eclectic and funky, which allows much more flexibility than classic traditional or strictly modern. Add some different texture combinations—hard with soft, blocky with sleek—and use fabrics and textiles to make pieces stand out. Go for the unexpected, like covering a wooden chair with fabric or add a beaded chandelier. Once again, keep your colors cohesive but don't be afraid to add pops of color throughout. Incorporate interesting items from your travels, meaningful photographs or collections to showcase your eclectic personality.
Scandinavian Bohemian (or "Scandi Boho") is such a popular look right now because of its versatility. The modern Scandinavian lines pair perfectly with retro and vintage pieces, natural textures and funky, artsy accessories.
Photo by STEFANI STEIN
Combine Textures
Almost all natural textures "go" together. Mix wood with metallic. Combine a fuzzy throw with a rattan piece of furniture or a beautiful blown glass vase. Stone and glass pair well together and natural woods can fit with each other, even if they aren't the same tone. (Finished woods, on the other hand, don't play together quite as nicely, so use caution.) Use silks, soft cotton, nubby textured burlap and living plants to create a cohesive look. Bring nature into your designs with all the interesting shapes and textures.
This industrial farmhouse kitchen is full of texture—the wood, the sleek stainless fridge, the countertops and all the steel and metal accents. The reason it marries so well together is because the natural textures combine seamlessly.
Photo by Elle Interiors, Ellinor Ellefson
Use an 80/20 Ratio
When combining styles, aim for an 80/20 balance. 80% of the room should match one style and 20% should be pulled from the contrasting style. This will keep you from using too little of the style element you're trying to pull into the room, but will also keep things balanced. Aiming for a higher ratio like 60/40 or 50/50 makes it feel less deliberate and more unhinged and confused. The magic ratio of 80/20 should be your target.
Both this modern country kitchen and living room work because they follow the magic 80/20 formula. In the kitchen, the designer has chosen an 80% country look with 20% modern (the light fixtures and stainless-steel accents). Conversely, in the living room, the look is flipped with 20% country in the deer antlers and television console and 80% modern with the sleek couches, coffee table and accents.
Photo by Mark Williams Design Associates
Photo by Alexander James Interiors
Repeat Graphic Patterns
Animal prints and wild, graphic patterns play surprisingly well with classics. Look for bold graphic black and white prints, strong florals or patterns that are geometric and repetitive. Animal print is another great "neutral" that can add interest and fun to almost any décor. Simply look for unifying colors and combine one bold print with smaller, simpler patterns or designs.
This modern farmhouse works because the bold, graphic lines in the black and white rug compliment the graphic lines in the stair railing and exposed beams in the ceiling. The repetition makes the room feel larger and very contemporary.
Photo by Gardner Homes
Watch Size and Scale
In addition to creating cohesion with color and texture, pay close attention to scale and size. A giant overstuffed chair or a huge, solid buffet will look foreboding and out-of-place in a room of delicate feminine pieces. Keep items similarly sized and scale-friendly so everyone will get along and play nicely together. You can also create very interesting displays (and combine a myriad of styles) by grouping small items together. This looks intentional and adds interest to any area of the room.
As you can see here, this contemporary bedroom corner is created with a mid-century Lane-style end table. The classically midcentury piece feels fresh and deliberate because the scale is on bar with everything surrounding it. Next to a larger lamp or heavier accessories, the delicate table would disappear.
Photo by Amber Interiors
See?!? It's so fun to combine styles and make it work! If you're having a tough time getting it to look right, check your ratio, watch the scale and try unifying colors, too. Sometimes taking something away can have a surprisingly positive effect. It may simply be a matter of a small adjustment to make it work—so play around!
Don't worry! You CAN mix interior design styles in your home. In fact, it often comes with results that will exceed your expectations!

[go_portfolio id="most_popular"]