New Color Options + Features for Our Favorite Flooring!
Last Updated on March 3, 2022
It's no secret we are huge fans of Select Surfaces laminate flooring. We installed it in our home even before I started blogging. And I'm so excited about the new Spill Defense line that I had to tell you all about it!
Alright y'all, if you have been around for a while, you know that we are obsessed with our Select Surfaces laminate flooring. We installed it in our playroom (which is now my office) and family room YEARS ago before I even started my blog. Needless to say, it was not sponsored and we paid for it out of our own pockets. And we still loooooove it!
After I started my blog and we began replacing the carpeting upstairs we knew Select Surfaces is the only product we wanted to use. After all, we had it downstairs for years so we knew how much we loved it and how incredibly durable it is. So, I reached out to Select Surfaces about working together and they said yes! They provided us with the flooring material to replace the old carpet in our master bedroom and hallway with Select Surfaces laminate. No surprise that we love it just as much as our downstairs flooring!
We worked with Select Surfaces again when we completed our massive kitchen/first-floor renovation this year. We finally installed the laminate in our hallway, foyer, dining room and kitchen so that our downstairs now has uniform flooring. And it's GLORIOUS!
We have lived with this flooring for years now, y'all, and I cannot sing its praises highly enough. I tell EVERYONE about it and we've had multiple contractors come to our house and say things like, "Are you sure that's laminate?" We assure them we are certain because we installed it ourselves, lol. We are constantly amazed by how durable, comfortable and beautiful our flooring is. After living with it, I can truly say I never want solid wood floors again. We can literally play fetch with our big dog in the house and not worry about our floors getting scratched. It's life-changing.
This post contains some affiliate links for your convenience. Click here to read my full disclosure policy.
PRO TIP
I highly recommend ordering your Select Surfaces flooring from Sam's Club online and choosing the "pickup at store" option. If you just go to the store and hope to buy what's in stock on the shelves, there's a very good chance they won't have enough. Plus, when you order it online they put it on a huge flat cart for you and place it at the front of the store so all you have to do is show your receipt and roll it out to load it up! You can CLICK HERE to see the ordering options.
Here's a peek at the Select Surfaces laminate flooring that we have throughout our home.
We have it throughout the downstairs of our house, including the kitchen, dining room, family room, hallway/foyer and my office.
Upstairs, we have it in our hallway and master bedroom.
So when I found out Select Surfaces had a new line coming out, I had to know more! And nope, this is not a sponsored post. I am not being compensated by Select Surfaces to write this.
All About Select Surfaces Spill Defense Line
Select Surfaces Spill Defense line takes the durability of these laminate floors up a notch by making it waterproof for 24 hours. That's pretty amazing, since the only concern most people have about laminate flooring is how they hold up to spills. While we haven't had any issues with spills (and trust me, we had a BIG SPILL under our Christmas tree one year), it is a legitimate concern for most laminates and we do try to handle spills quickly. But the beauty of this new line is that it will have absolutely no problem withstanding everyday household accidents. No need to panic if your tree stand overflows with water, lol.
The Select Surfaces Spill Defense line is designed to have a tighter seal than regular laminates. It is waterproof for 24 hours so you can install it in any room, even kitchens, without having to worry about normal spills/accidents.
One of the things that we have always loved about our Select Surfaces laminate flooring is how thick it is. It's 14 mm total thickness, which includes a 2mm foam backer that is attached to each plank. I firmly believe that the thickness and the attached backing is why these floors don't have that weird hollow/echo sound that a lot of laminate floors have.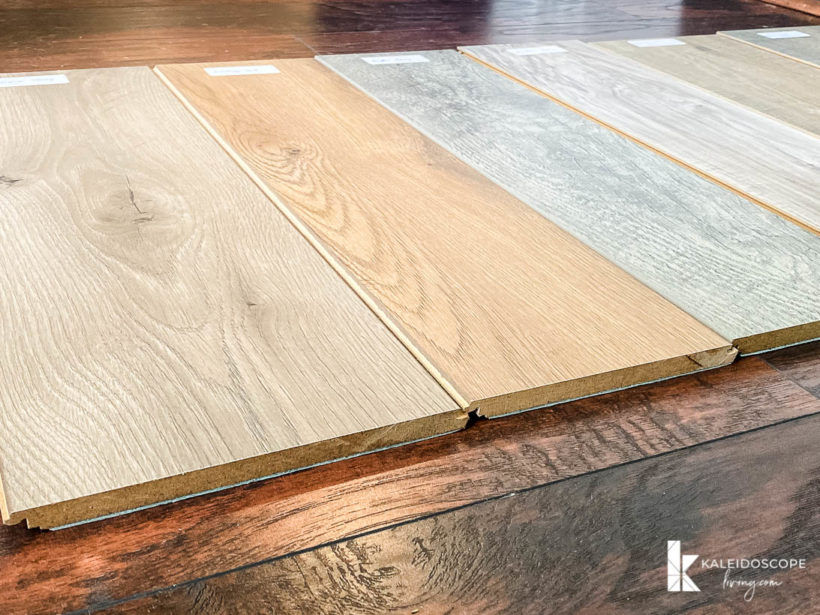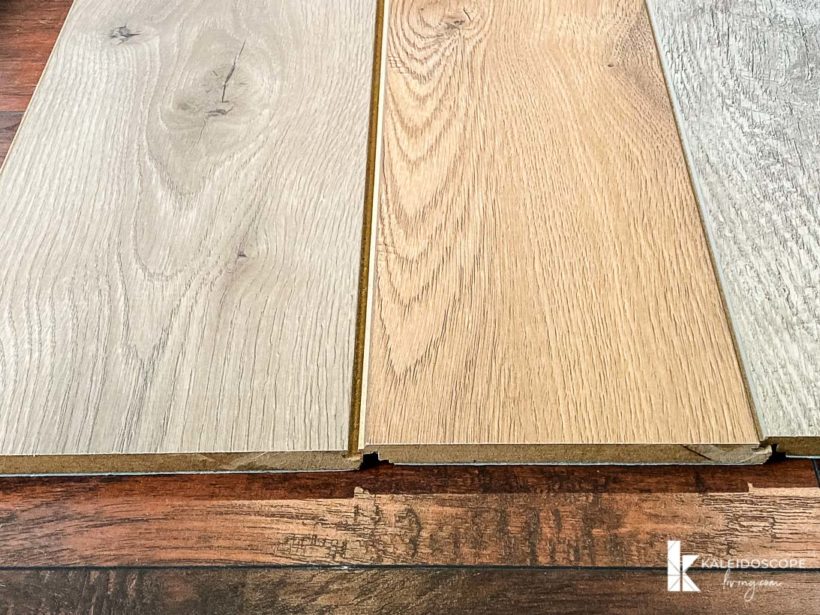 If you are in need of new flooring for your house, I would not consider any other brand. I am a die-hard fan, y'all! I have nothing but amazing things to say about this flooring.
IN FACT, my sister will be installing this in her house this upcoming late winter/early spring and I'll be documenting the before and after transformation for you. I can't wait! She has old laminate in her house and they aren't made as well as Select Surfaces, so they are showing LOTS of wear and tear. Can't wait for her whole house to feel like a new place with new flooring!!!! Stay tuned…
Select Surfaces Spill Defense Color Options
But I have to tell you, my absolute favorite thing about this new collection are the new colors that are available! Just take a peek.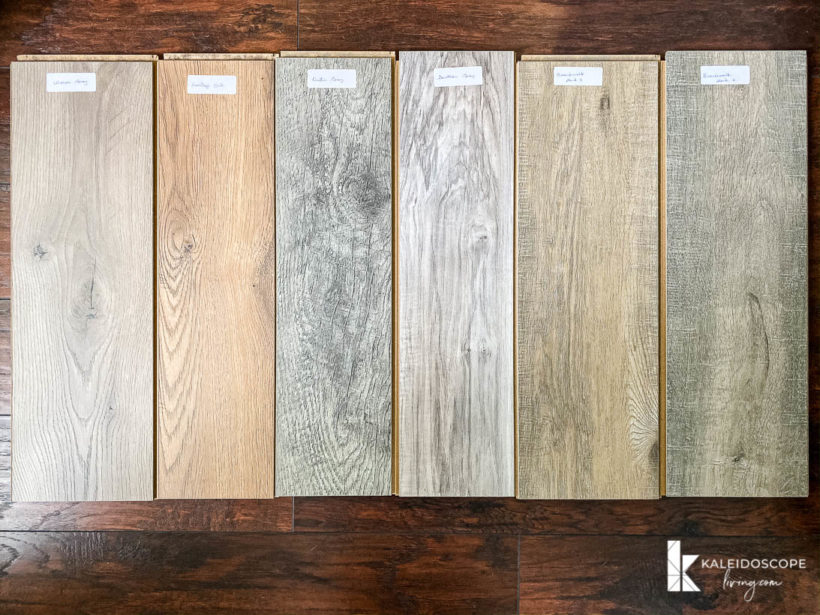 When I chatted with Select Surfaces about the new options prior to tackling our first floor/kitchen renovation, we seriously considered changing out all the existing laminate flooring in our house to use one of these new options. In the end, we decided that would be super wasteful and way too much work, so we installed Canyon Trail in the remainder of our first floor since it matched what we already have. And we REALLY do love it! I don't regret it at all.
But y'all! These new colors! I am head over heels in love with the Heritage Oak option (is the second from the left in case you can't read the labels). If we were starting from scratch, there is NO QUESTION we would put Heritage Oak through our entire home. I also think the Warm Gray is beautiful! No question that all the new color options are "on trend" right now.
Here are some more views for you.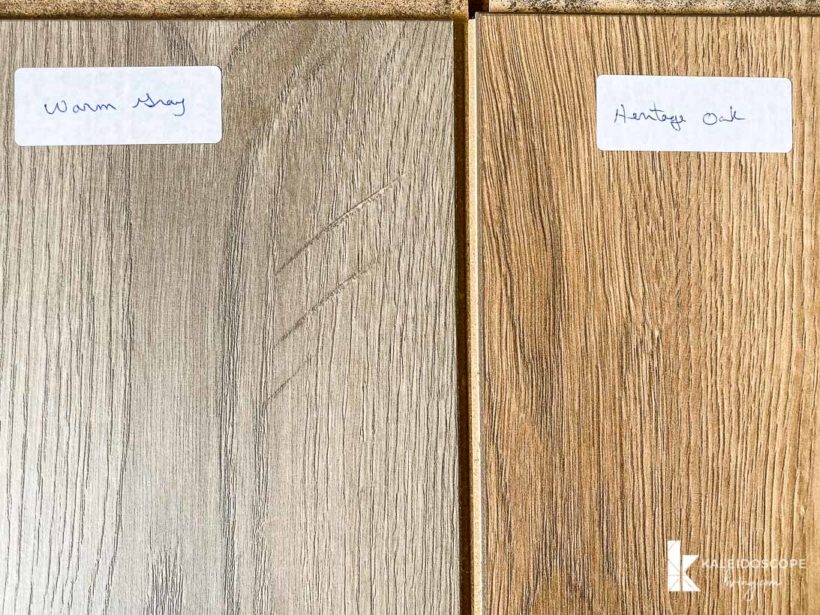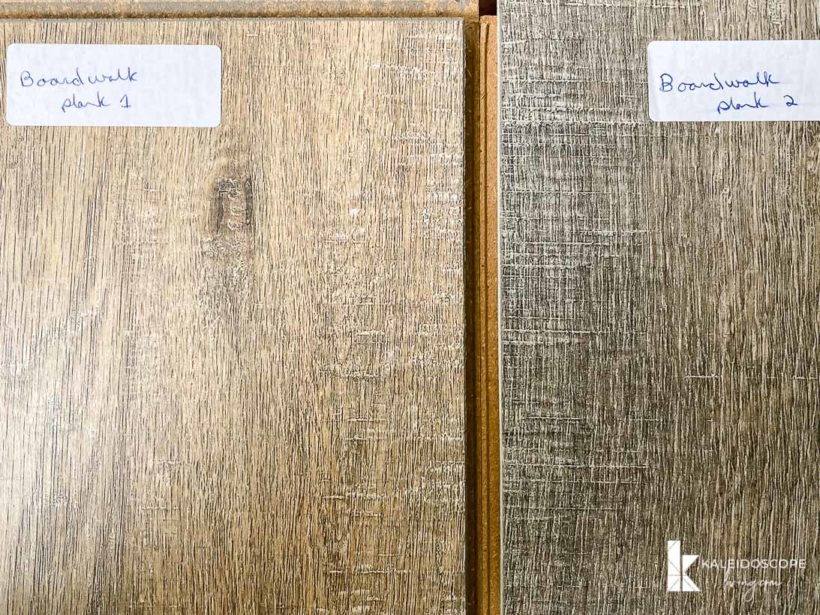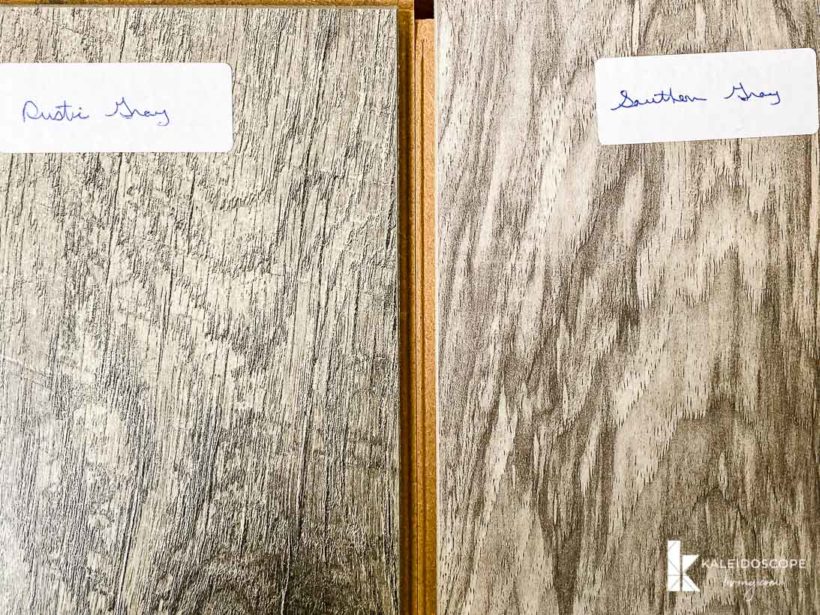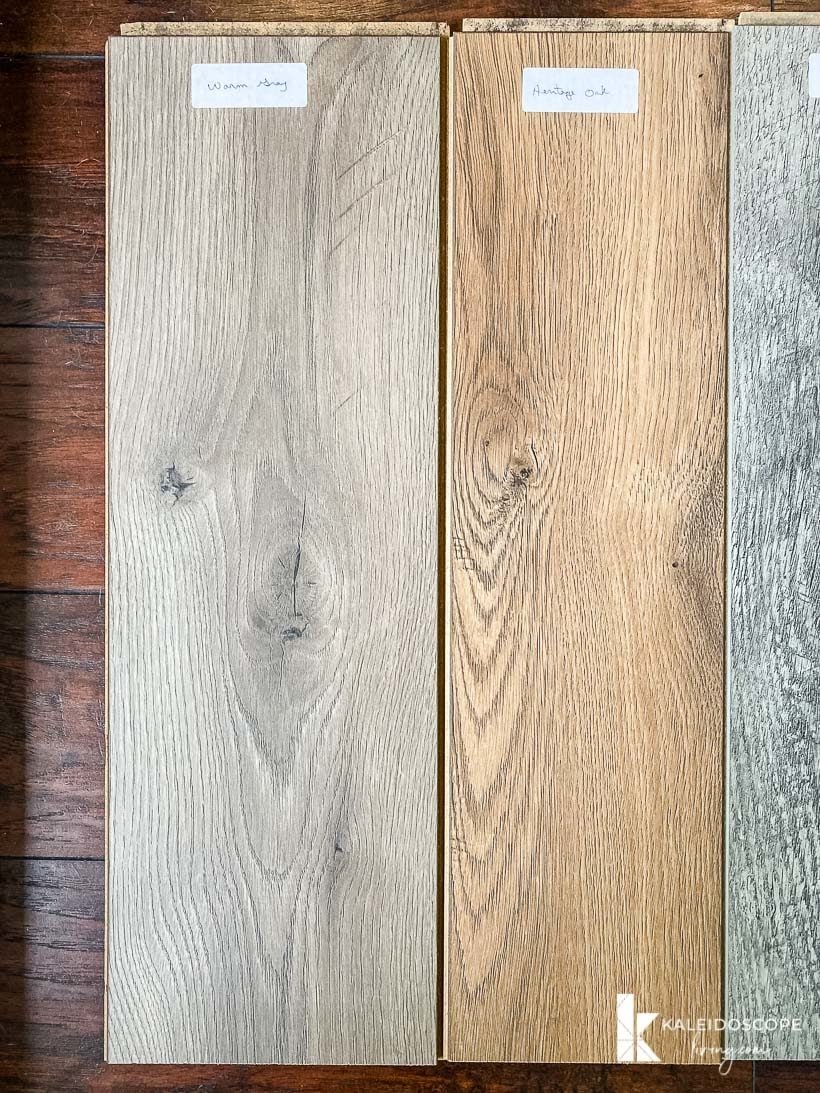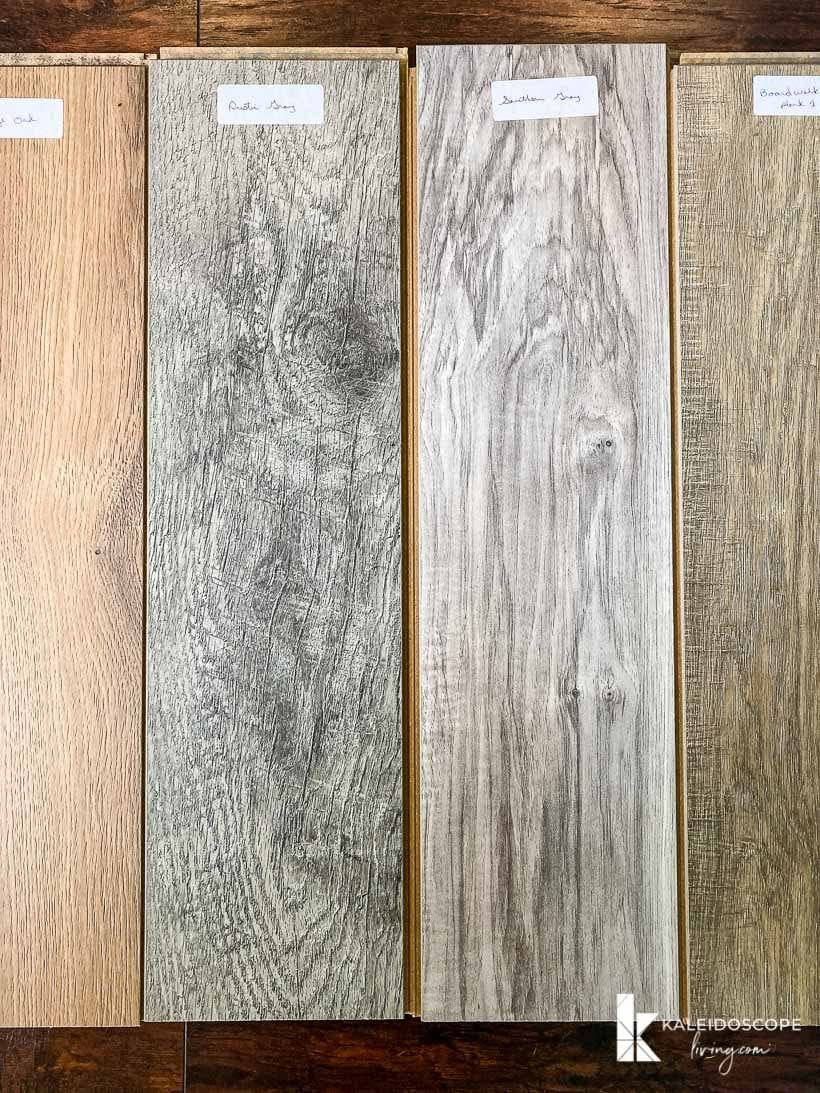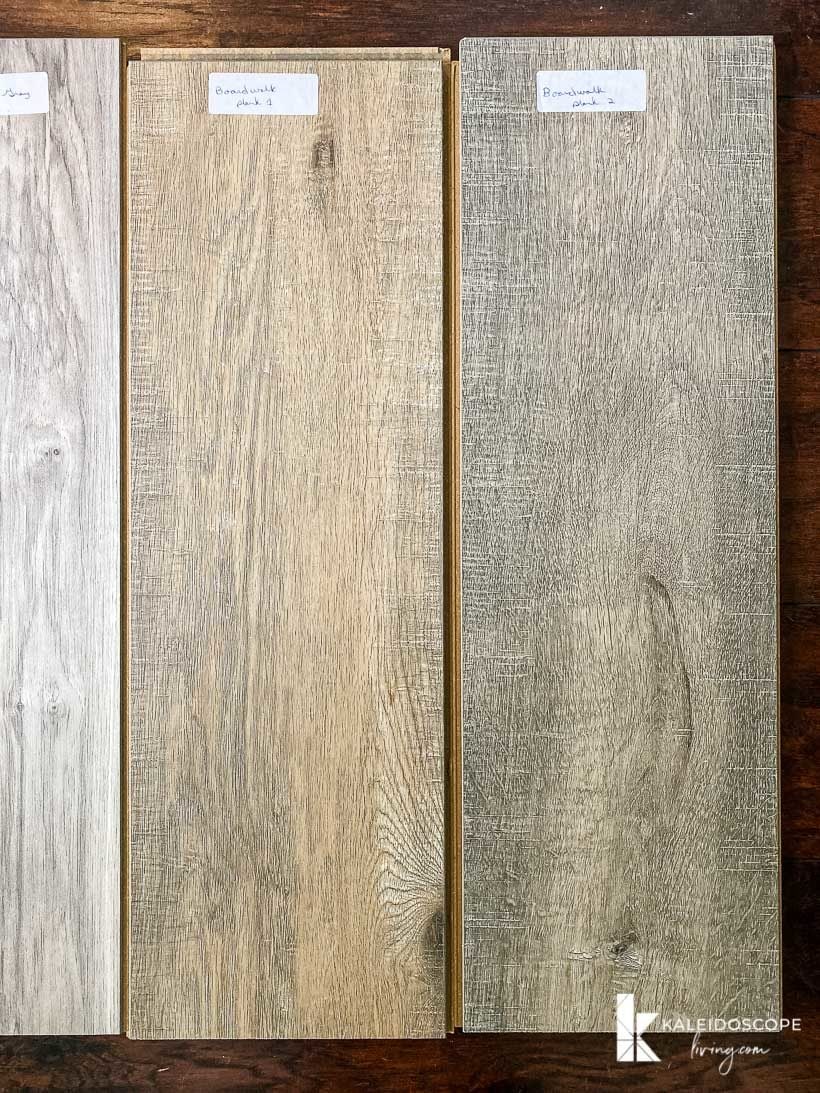 What do you think? Do you have a favorite color? Are you rethinking laminate flooring now???
Before you head out and get started, be sure to check out my FREE design guides that will help you help you design spaces you absolutely love! Subscribe now and you will receive a password so that you can access everything in one convenient digital library.


[mv_create title="Most Popular Projects" key="1″ type="list" layout="circles"]