Cricut Cutting Review: DIY Crepe Paper Succulents
Last Updated on September 6, 2022
In this Cricut cutting review, I take a look at whether the Cricut Maker can REALLY cut crepe paper and other delicate materials, plus I share a tutorial for making adorable DIY crepe paper succulents!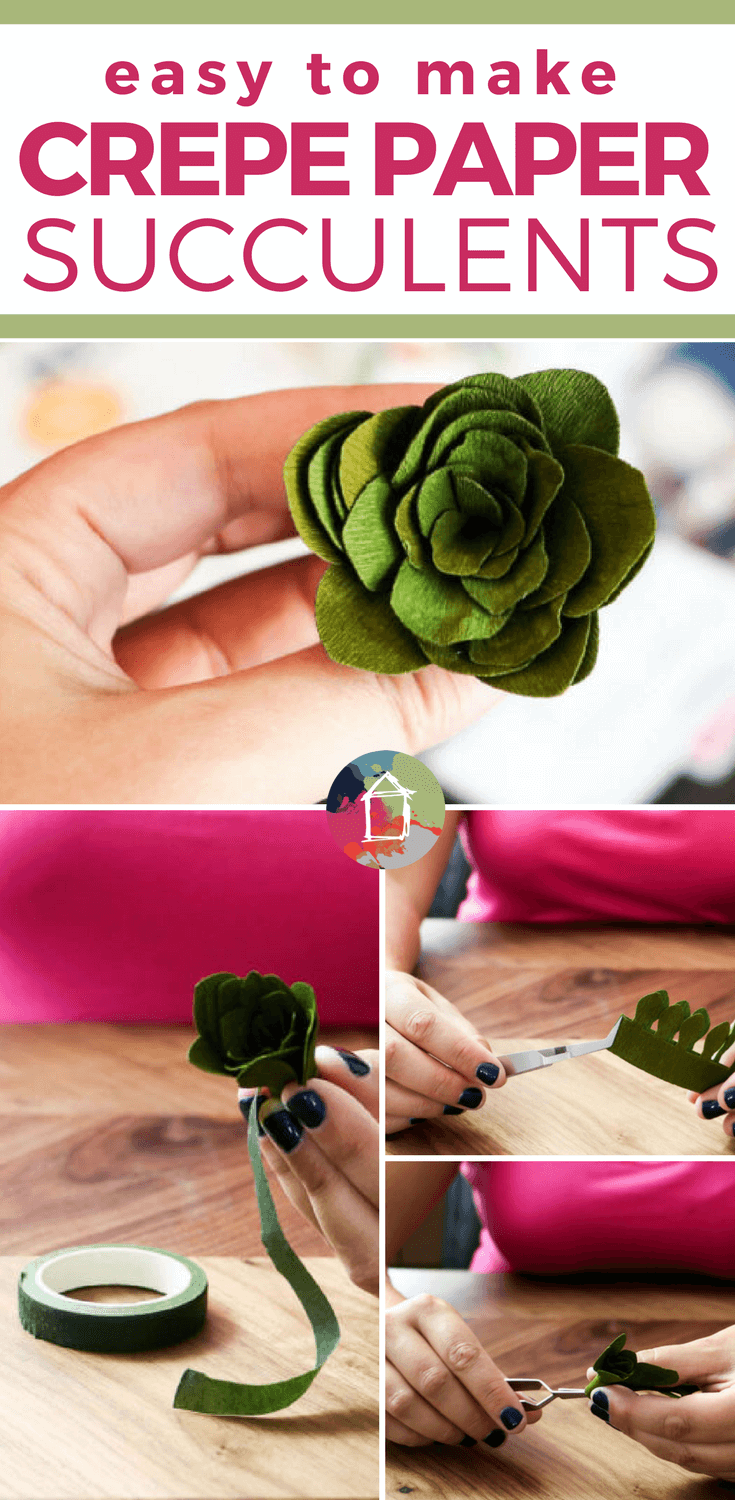 Hello, hello! Do you love the look of plants around your house, but have a bit of a black thumb like me? And are you kind of sick of paying what seems like a fortune for artificial plants that look real? I know I am! So I was super excited to discover I can now make beautiful succulents for next to nothing in the comfort of my own home :) Read on to learn how to make your own crepe paper succulents and for my full Cricut cutting review (because surely it can't be possible for a cutting machine to cut crepe paper?!).
Thank you to Cricut for sponsoring this post. As always, I share my brutally honest opinions and only recommend products that I would recommend to my family and friends! This post contains some affiliate links for your convenience (which means if you make a purchase after clicking a link I will earn a small commission, but it won't cost you a penny more)! Click here to read my full disclosure policy.
Cricut Cutting Review
First up, let's talk about my review of how the Cricut cut crepe paper. I will tell you I was HIGHLY skeptical that this was going to work. I mean, seriously, crepe paper is delicate. I had almost no confidence that 1) the Cricut maker could cut crepe paper without tearing it OR, 2) that the crepe paper would come off the cutting mat without tearing.
So, to say I was surprised that the Cricut Maker cut my crepe paper without a single tear AND that it pulled off the mat without any issues is an understatement. Don't believe me? Take a look for yourself.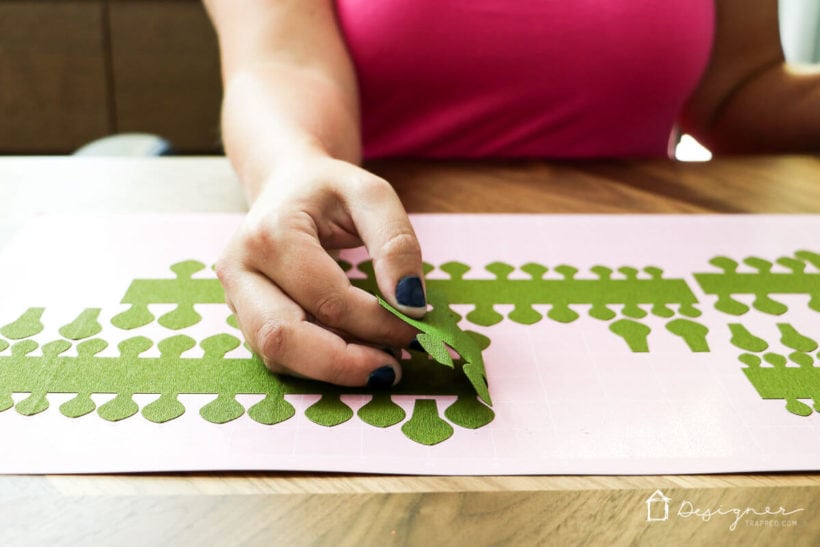 It's all made possible because of a new blade called the Rotary Blade. The Rotary Blade brings precision fabric cutting to the cutting machine world. You can use it to cut crepe paper, tissue paper, and a huge variety of fabrics without backing (cotton, felt, fleece, denim, and more). With its gliding, rolling action, it cuts virtually any delicate material like crepe paper like a dream.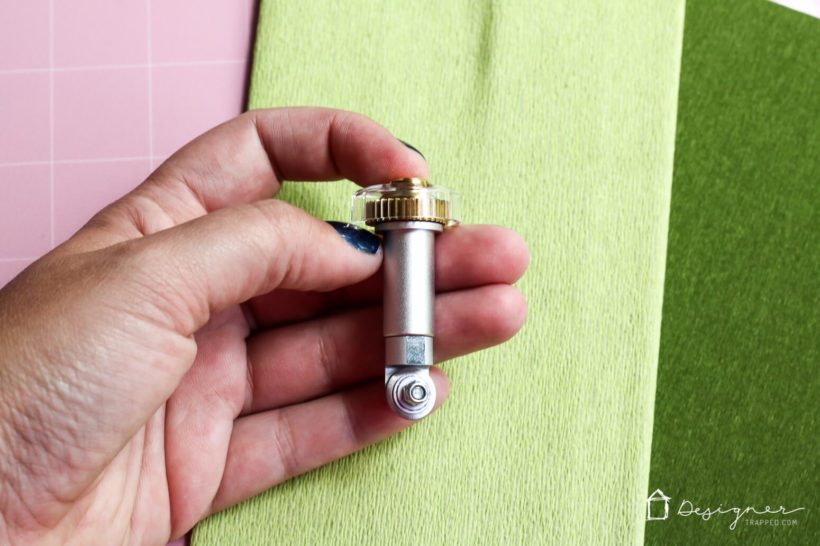 So yeah, I'm super impressed with my Cricut cutting experiment on crepe paper. I have also used it to cut felt many times with great results as well, which you can read about here, here and here.
DIY Crepe Paper Succulents Tutorial
Steps:
If you'd like a video overview of this project, click below.
1) Use your Cricut Maker with your rotary blade and fabric cutting mat to cut out your project. Each image will make 1 succulent. You should feel free to duplicate the image multiple times to cut out several at once. And you may want to vary the size of the image a bit so that all of your succulents aren't the exact same size. I made some smaller ones by reducing the length of the image to around 9 inches. This is what each succulent will look like once it's cut out. You'll also have some extra petals with each cut–those are for you to use to fill in any sparse areas after you finish steps 2-4 if you need to (I didn't need to use any of the extra petals, but you may want to).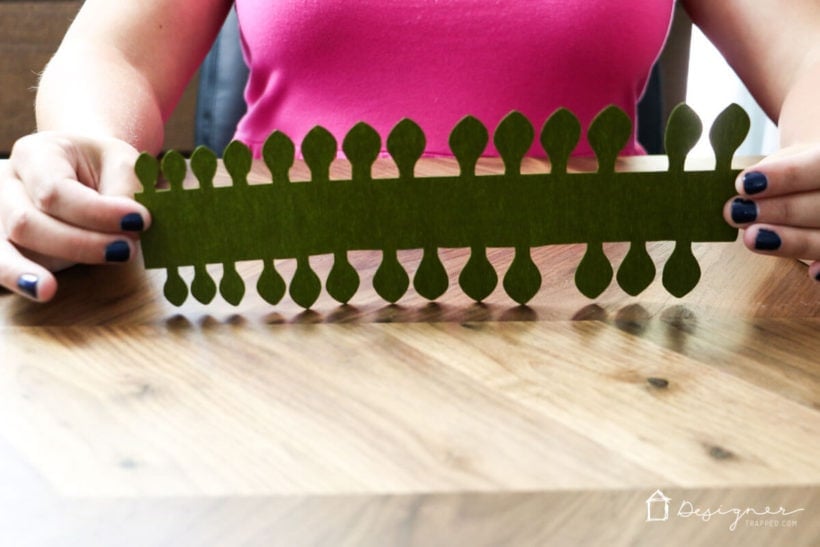 2) Fold your cut crepe paper in half, horizontally. Then use your Cricut Tweezers to pinch the end where the smallest petals are.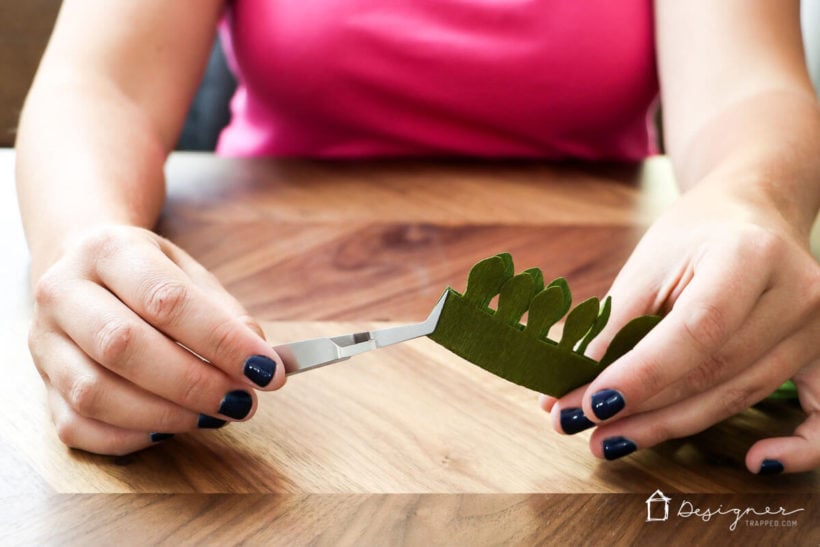 3) Keeping the tweezers in place, tightly roll your crepe paper all the way around your tweezers.
4) Once you are done rolling, gently pull the tweezers out and secure the bottom of your succulent with floral tape.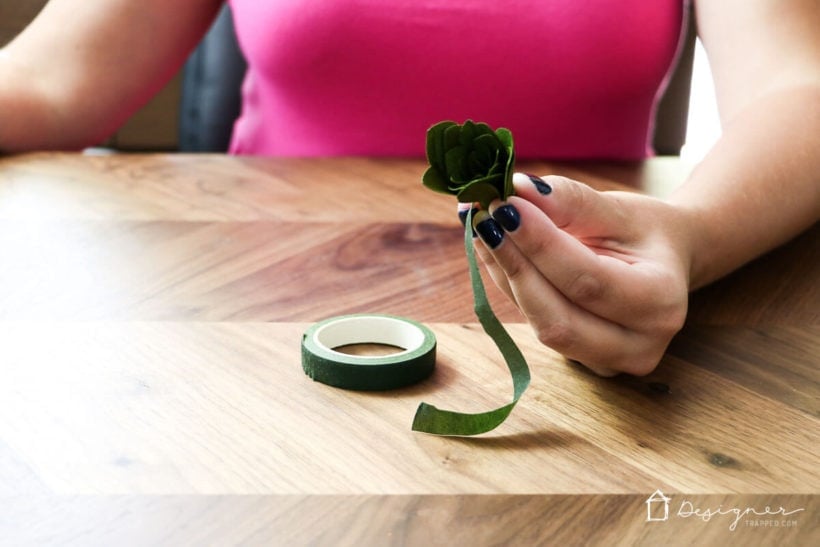 That's it! Check out how friggin' cute these crepe paper succulents are!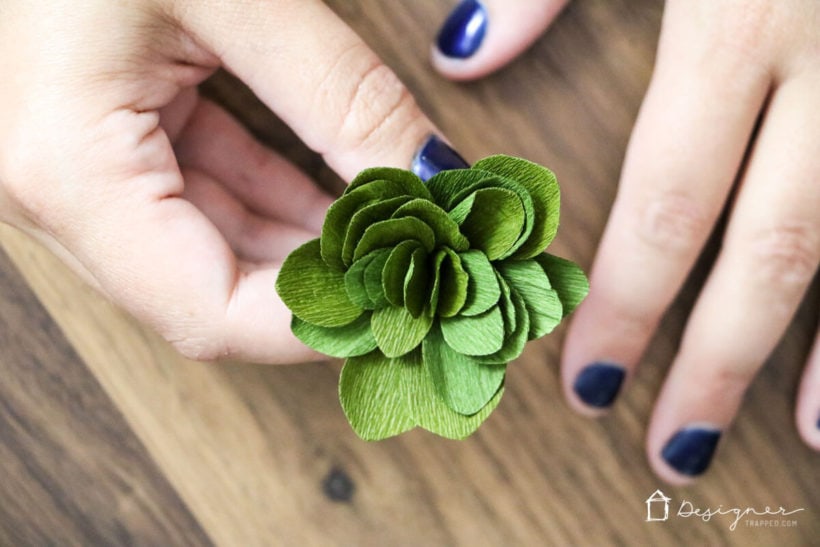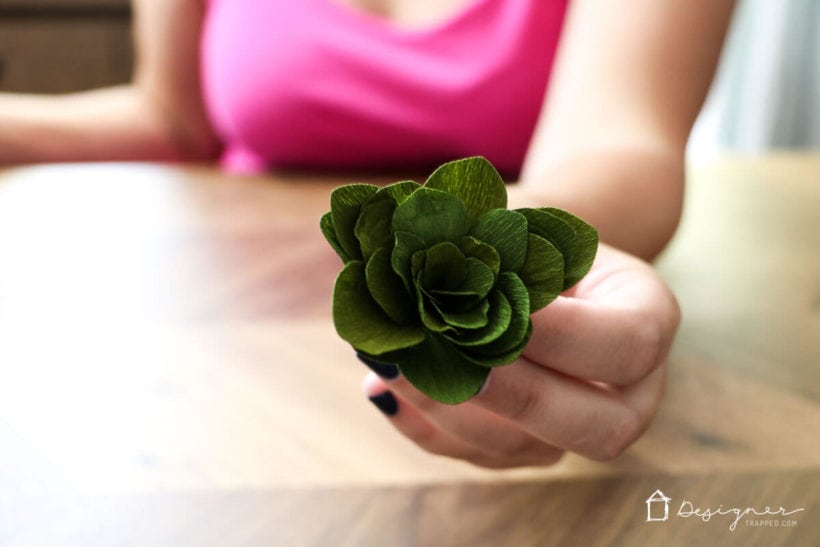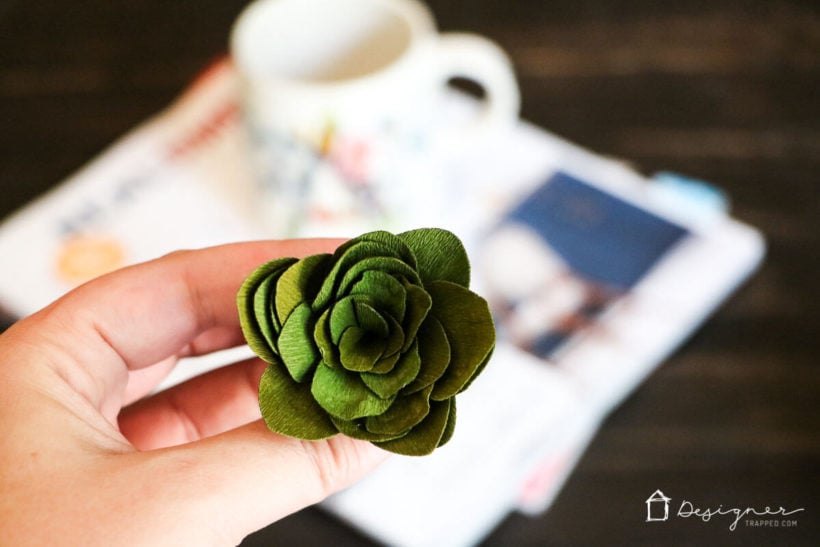 Put a bunch of them in this sweet little ceramic ramekin that I found at the Target Dollar Spot a while back and I love the look. It's perfect to place on top of a stack of books for some added color and texture. And best of all, you don't have to worry about keeping them alive :)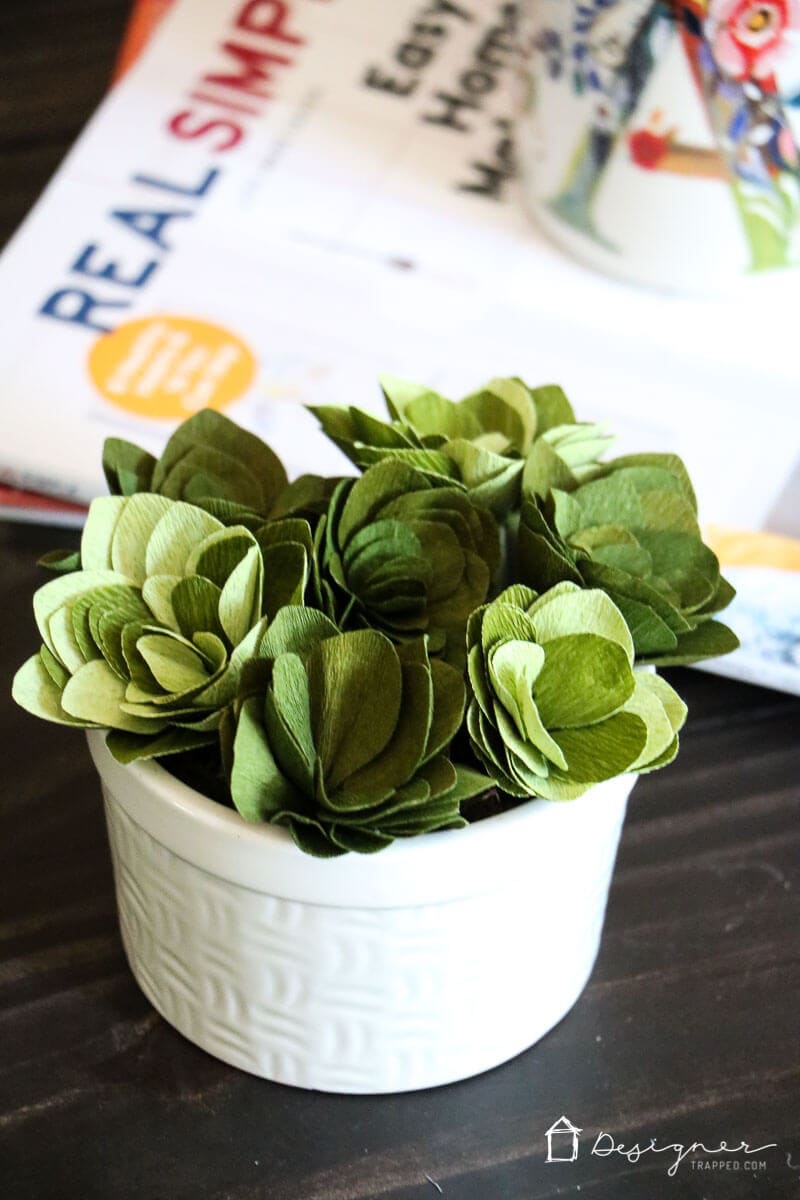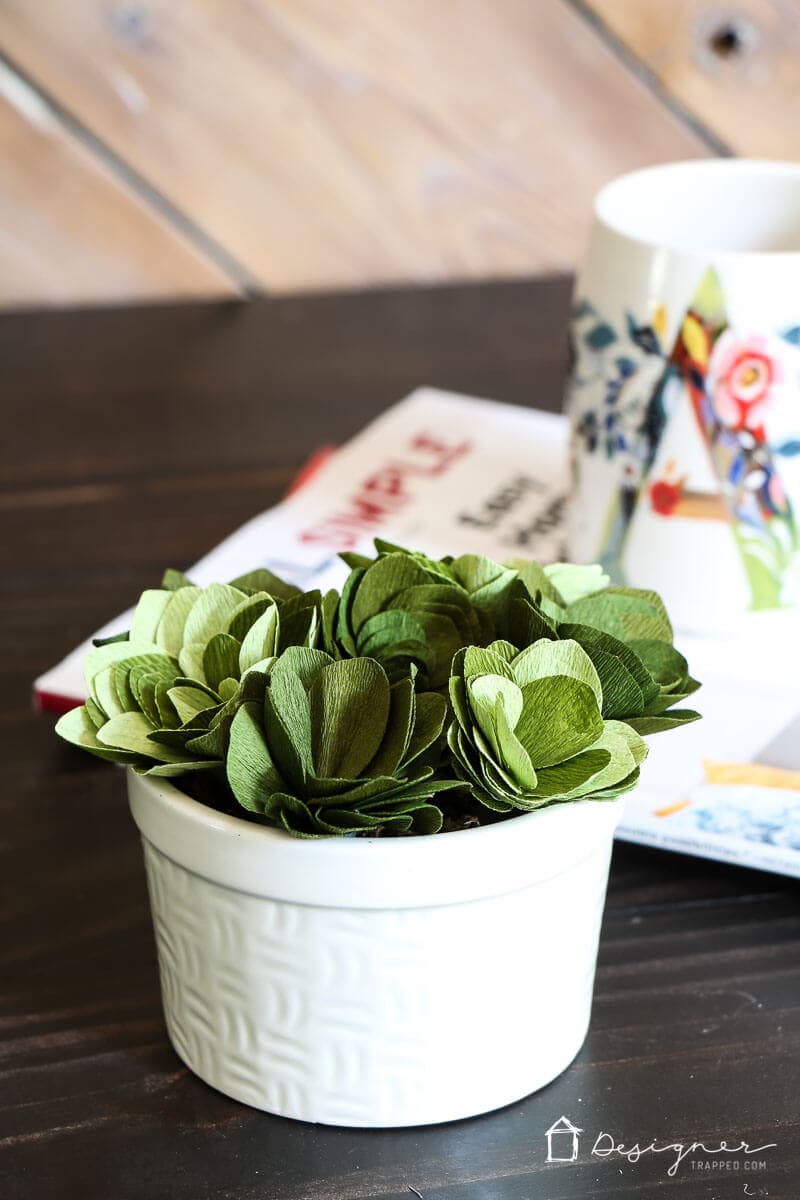 ​​​This is a sponsored conversation written by me on behalf of Cricut. The opinions and text are all mine.
Other posts you may enjoy:
Wondering how I approach transforming rooms and spaces in our home? Check out Designer in a Binder®.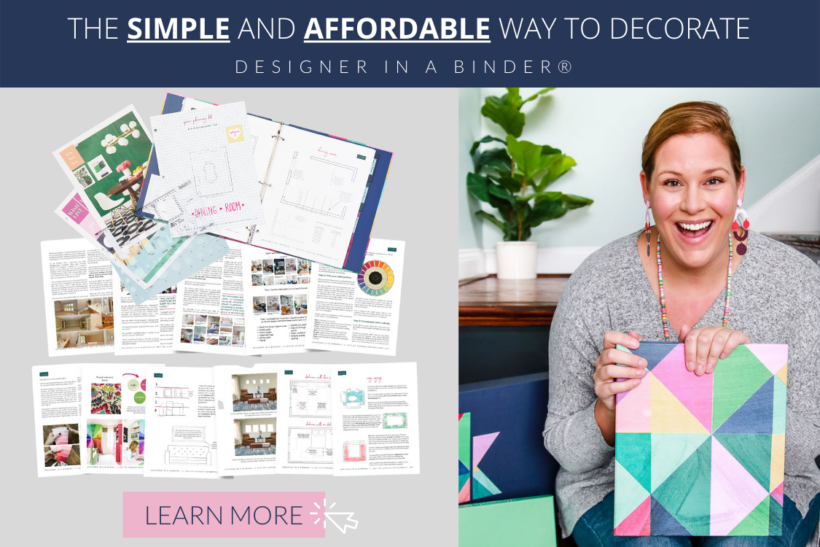 And if you want exclusive content and behind-the-scenes sneak peeks, be sure to subscribe before you head out!