Come check out our plans for a colorful DIY bathroom remodel! It's the last room we have to renovate on the main level of our house and we are pulling out allllll the stops for it!
I know what you're thinking… "What?! A bathroom renovation?! But didn't you just finish a huge kitchen renovation and an office makeover ? Yep. We sure did. So are we crazy for tackling a bathroom renovation now? Maybe a little bit.
But guess what? The powder room on the main level of our home is the only room that still needs to be updated. That means once we finish with the powder room, the entire main level of our home is DONE. After 6+ years of working on it. Wooooo hooooo! Needless to say, we are pretty fired up to get this powder room renovation under our belts.
I've teamed up with some incredible sponsors as well as 6 incredibly talented (and color-loving) bloggers for a "Primp and Pamper" bathroom renovation challenge hosted by my friend Jewel of Jeweled Interiors . More on that later in the post :) I have no doubt that our dining room refresh is going to be quite an adventure. I hope you'll follow along with us over the next 4 weeks!

Before I share with you the plans for our powder room, let's take a peek at what it looked like when we bought our house over 6 years ago. (And no, the faux flowers did not belong to us). It was outdated and very basic, beige and boring.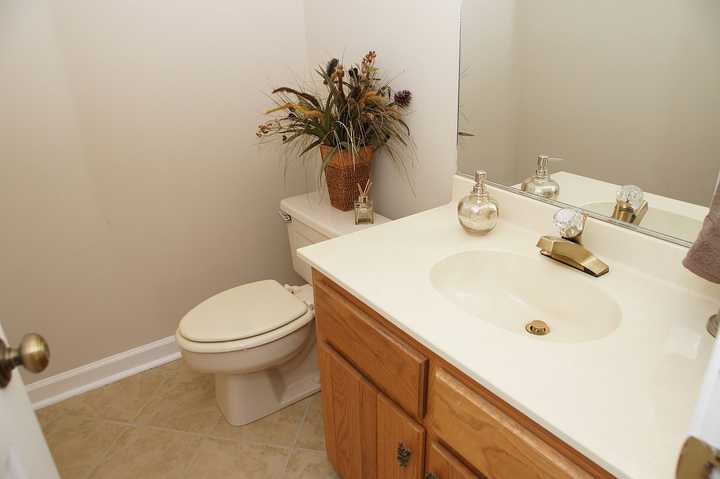 About 5 years ago we gave it a little refresh by giving the sink and countertop this DIY concrete overlay and painting the cabinet . We also added a cool DIY wood frame with concrete inlay to the builder grade mirror and updated the outdated lighting with this easy fix . This was the result.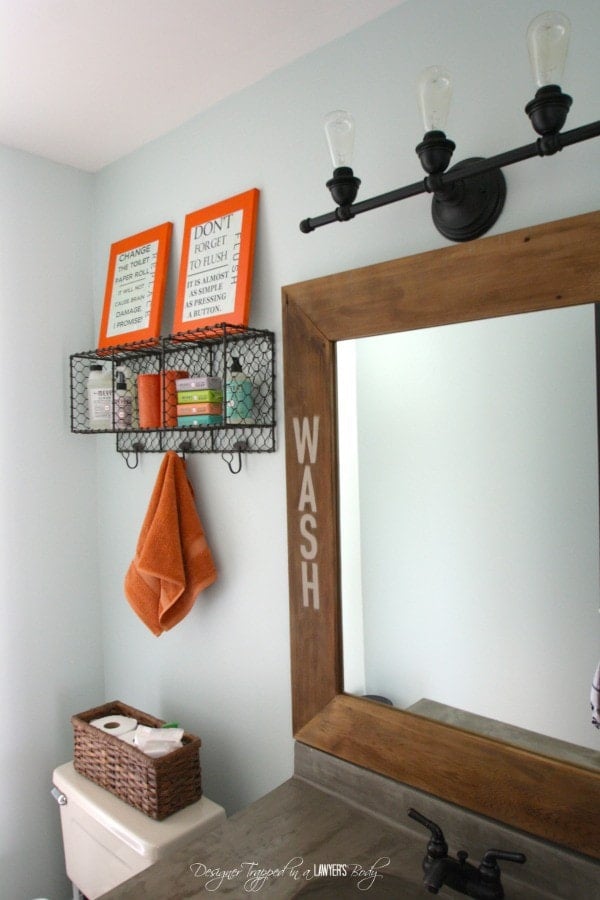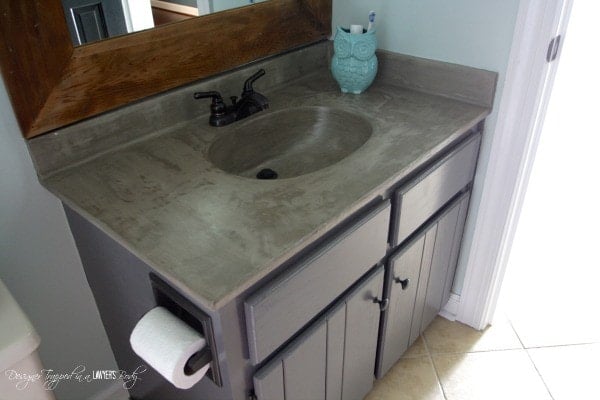 It was MUCH better, but we always knew those were temporary fixes until we could completely gut the space and start from scratch. And that's what we are ready to do!
This post contains some affiliate links for your convenience. Several sponsors, including Build.com , Signature Hardware , Peerless Faucet and Saba Tile have gifted us with products for this project–no additional compensation was received. We are so grateful for their support! Click here to read my full disclosure policy.
Our Colorful Bathroom Mood Board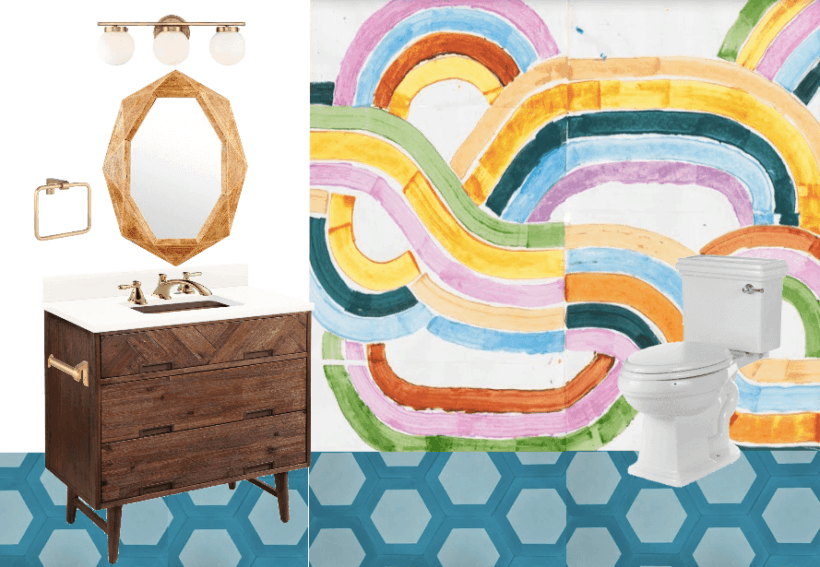 SOURCES:
Cement Tile| Vanity| Vanity Light| Towel Bar | Toilet Paper Holder | Toilet| Wall Mural (I am going to paint my own mural, but it's inspired by this beauty)| Mirror | Faucet
Our DIY Bathroom Remodel To-Do List
Here's a list of everything we need to do in the space:
It's going to be a busy few weeks, but I'm excited to get started. I'll be sharing an update with you next week and then the big reveal on September 12th!
Before you head out, check out the exciting plans from the 6 other bloggers that are joining in this Primp and Pamper bathroom challenge. You can click on any of the links below to head over to their posts.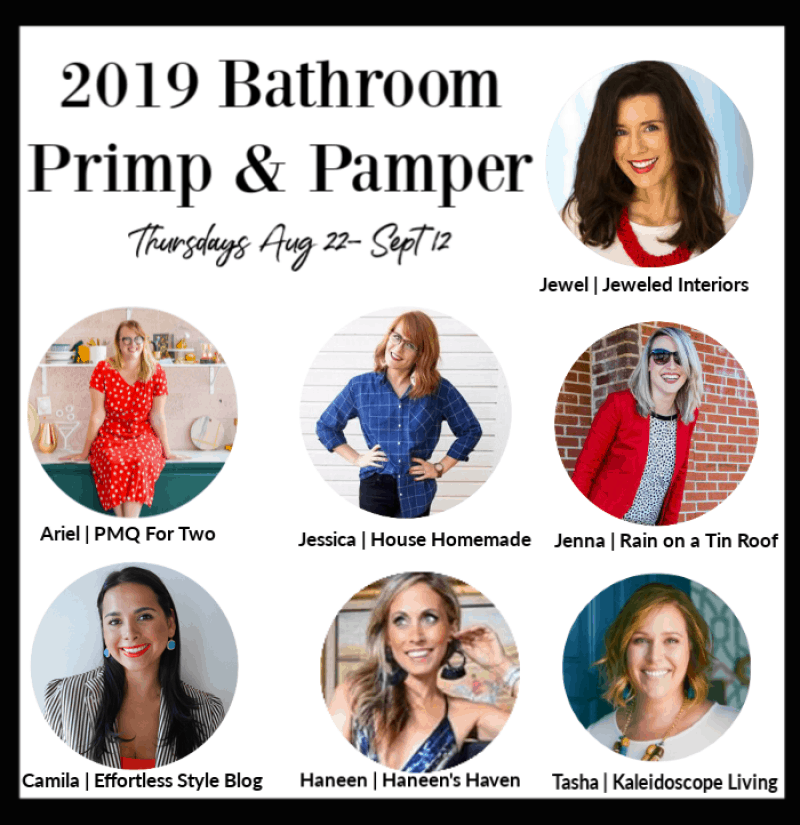 Jeweled Interiors| PMQ for Two| House Homemade| Rain on a Tin Roof| Effortless Style Blog| Haneen's Haven| Kaleidoscope Living
If you are wondering how to make mood boards for yourself, be sure to grab my free training video before you head out!