Come check out the progress we have made on our colorful DIY bathroom remodel! One week down, three weeks to go!
Yep, we are in the midst of a 4-week bathroom makeover! If you missed last week's post, you can click HERE to get all caught up.
I've teamed up with some incredible sponsors as well as 6 incredibly talented (and color-loving) bloggers for a "Primp and Pamper" bathroom renovation challenge hosted by my friend Jewel of Jeweled Interiors . More on that later in the post :) I hope you'll follow along with us every Thursday until the big reveal on September 12th!

This post contains some affiliate links for your convenience. Build.com & Signature Hardware have gifted us with products for this project–no additional compensation was received. We are so grateful for their support! Click here to read my full disclosure policy.
Progress So Far
If you want to follow our progress closely, be sure to follow me over on Instagram . I share daily updates in my stories!
Now, let's review our to-do list and see how we are doing!
Demo the entire bathroom, including the floor
Paint the walls and ceiling a creamy white color
Paint the colorful wall mural
Install the new floor tile
Install the new Vanity from Signature Hardware
Hang the new Vanity Light from Build.com
Install the new faucet
Hang the new mirror
Hang the new towel bar and toilet paper holder from Build.com
Accessorize
We are moving right along! Demo and painting went very smoothly. Fingers crossed things continue to go well!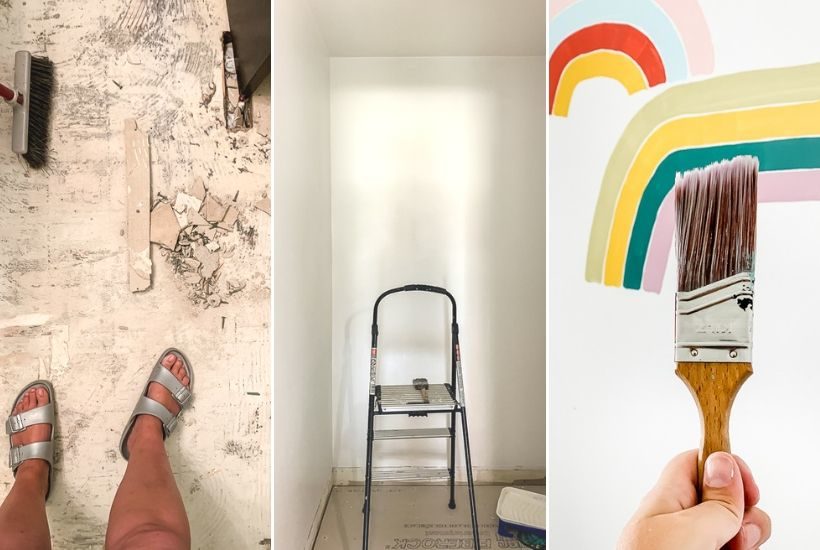 Now, let's talk about some of the specific choices we've made for our powder room…
The Vanity
Y'all, let's talk about the vanity we've chosen for our powder room. It is EVERYTHING! It is the 36″ Danenburg Vanity from Signature Hardware . We chose the white quartz top and square white porcelain sink. I couldn't wait to rip the box open when it was delivered and it EXCEEDED my expectations!
The subtle herringbone pattern on the top (faux) drawer and antique brass hardware are just SO GOOD! I can't wait to get it installed. It's definitely a statement piece that I never plan to part with. I seriously think I would take this with me if we ever moved.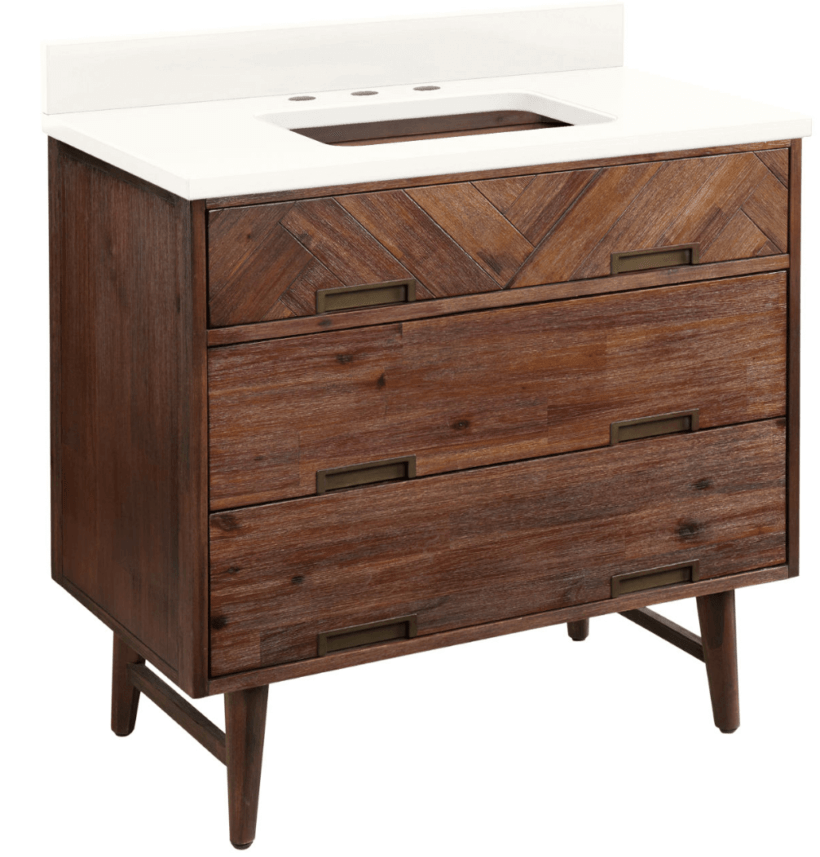 The Finishes
Choosing the finishes for fixtures and lighting can be kind of overwhelming. I really wasn't sure what direction I wanted to go in our powder room.
So, I started browsing Build.com that has tons of trending styles and unique finishes from all the top brands. It's so much quicker and easier to find products for a full room renovation from Build.com than it is to browse lighting sources, then faucet sources, then hardware sources. Build.com has everything you need for any home renovation project from all the best brands on a single site. Much more efficient.
Once I started browsing, I fell in love with this light fixture in a satin brass finish.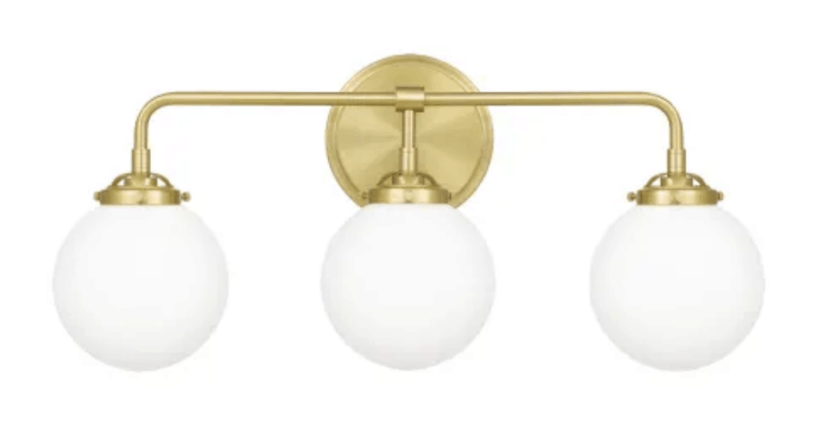 Once I decided on the light fixture, deciding on the towel and toilet paper holders was easy. I searched for satin brass options and VOILA, I found these beauties almost instantly.

Towel Bar | Toilet Paper Holder
Now, to be clear, I do not think all finishes should always be matchy-matchy! I love mixing and matching metals! I think these satin brass fixtures and hardware will pair beautifully with the antique brass hardware on the vanity! And we've actually chosen a polished brass for the faucet (more on that next week).
Before you head out, check out the exciting plans from the 6 other bloggers that are joining in this Primp and Pamper bathroom challenge. You can click on any of the links below to head over to their posts.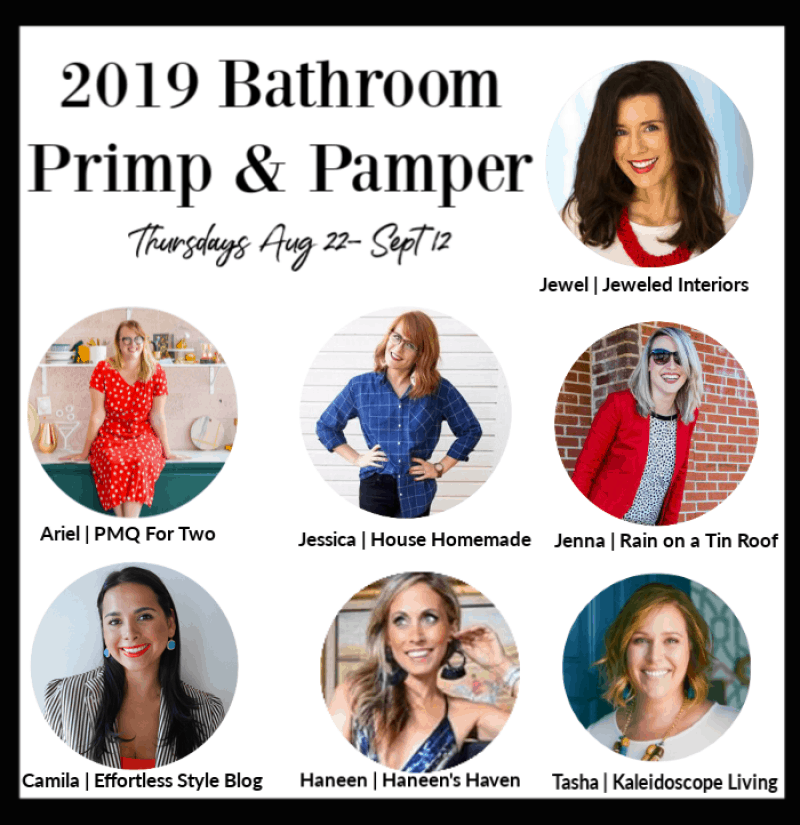 Jeweled Interiors| PMQ for Two| House Homemade| Rain on a Tin Roof| Effortless Style Blog| Haneen's Haven| Kaleidoscope Living
Before you head out and get started, be sure to check out my FREE design guides that will help you help you design spaces you absolutely love! Subscribe now and you will receive a password so that you can access everything in one convenient digital library.


[mv_create title="Most Popular Projects" key="1″ type="list" layout="circles"]