Come check out the progress we have made on our colorful DIY bathroom remodel! Only one more week until the big reveal!
Yep, we are in the midst of a 4-week bathroom makeover! If you've missed the progress so far, you can click HERE to read about the plans for our bathroom, and HERE for last week's update.
I've teamed up with some incredible sponsors as well as 6 incredibly talented (and color-loving) bloggers for a "Primp and Pamper" bathroom renovation challenge hosted by my friend Jewel of Jeweled Interiors . More on that later in the post :) I hope you'll follow along through the big reveal on September 12th!

This post contains some affiliate links for your convenience. Several sponsors, including Build.com , Signature Hardware , Peerless Faucet and Saba Tile have gifted us with products for this project. We are so grateful for their support! Click here to read my full disclosure policy.
Progress So Far
If you want to follow our progress closely, be sure to follow me over on Instagram . I share daily updates in my stories!
Now, let's review our to-do list and see how we are doing!
If you have been following along in my Instagram stories, you know this week was alllll about installing the gorgeous cement tile from Saba Tile . Floor tiling is not what I would call an easy DIY project. But we've done it a few times, thank goodness. Otherwise, I would have been terrified of ruining this tile, which is officially my favorite tile in the whole world. And for the record, Saba Tile is the only source I could find for colorful, modern cement tiles. No farmhouse style tiles there! Only bold colors and patterns. It was love at first sight.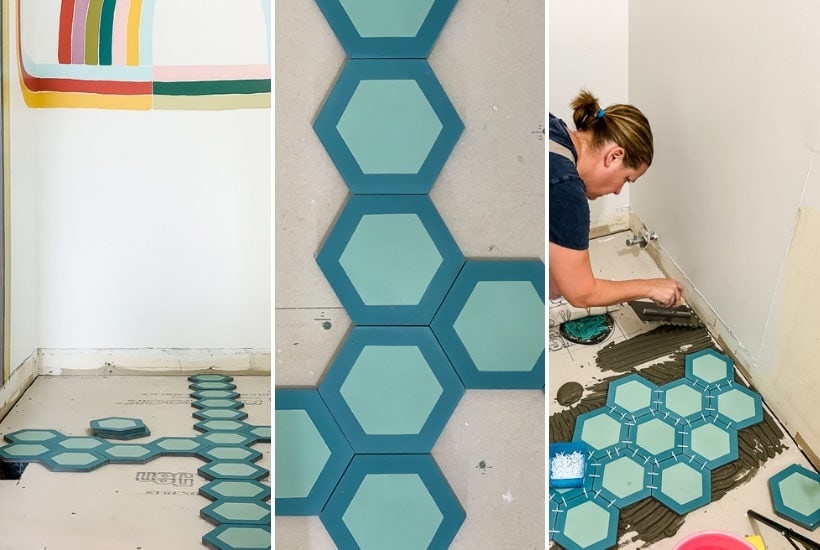 At this point, all of the time-consumer work is DONE! Now we just have to install the vanity, new faucet, and light and hang the smaller accessories and mirror. Compared to what we've done so far, that will take no time at all!
I can't WAIT to share the big reveal with you next week. It's gonna be soooooooo good!
Before you head out, check out the exciting plans from the 6 other bloggers that are joining in this Primp and Pamper bathroom challenge. You can click on any of the links below to head over to their posts.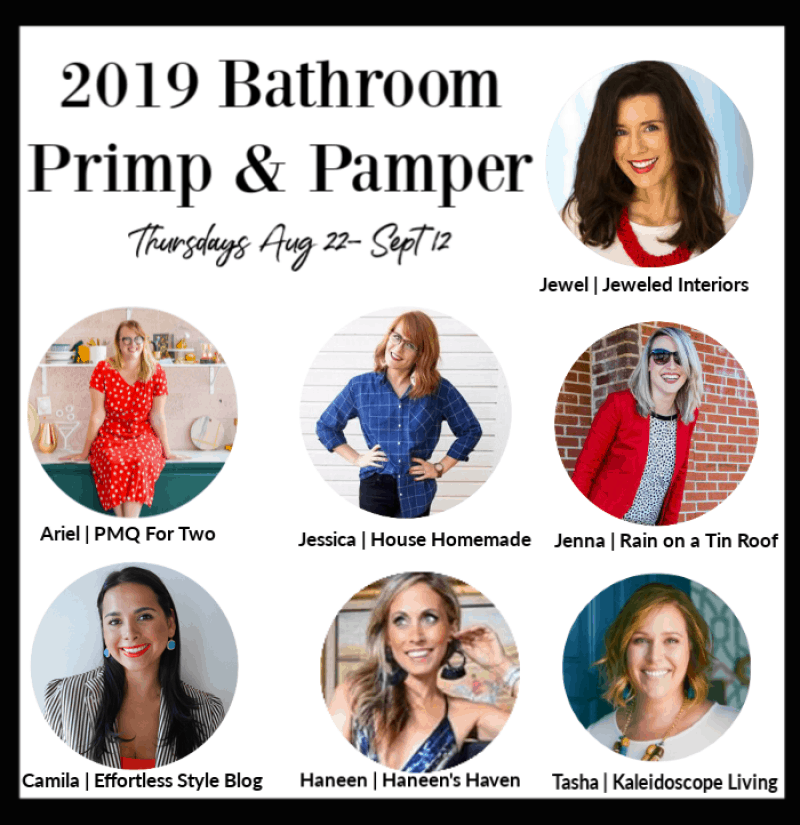 Jeweled Interiors| PMQ for Two| House Homemade| Rain on a Tin Roof| Effortless Style Blog| Haneen's Haven| Kaleidoscope Living
One more thing before you head out and get started, be sure to check out my FREE design guides that will help you help you design spaces you absolutely love! Subscribe now and you will receive a password so that you can access everything in one convenient digital library.
[mv_create title="Room Reveals" key="3″ type="list" layout="circles"]