The kitchen is the heart of most homes, so why is kitchen organization such a dreaded task?! I think for most people it's probably because you are insanely busy and you are stuck in a rut (I know that's how I feel)! You make do with whatever "system" was decided on when you moved in, and then feel like it will take forever to reorganize and set up a system that really does maximize the storage in your kitchen cabinets and drawers. So you just keep suffering! The good news is that kitchen organization really can be easy! Once you tackle your kitchen organizaiton, you will be so thankful every time you are cooking a meal and don't have to go searching for the right dish or a particular ingredient.
Kitchen Organization for Your Cabinets and Drawers
These kitchen organization tasks take some time to complete, but just think of how much easier it will be to function in a kitchen that is truly organized and clean!
First, remove and put away any items that belong in other rooms. Use a basket to collect items that belong in other rooms and return them to their proper homes. Then begin clearing and decluttering one cabinet and drawer at a time using the following tips:
For cabinets and drawers that store non-food items, focus on the following:
Get rid of any items that you don't use, you don't like, you feel obligated to keep because they were a gift, or that don't fit in the space/are difficult to store. Be sure to also get rid of anything that is not in proper working order. And SERIOUSLY, get rid of any tupperware or storage for which you don't have lids that fit. If a container doesn't have a matching lid, it should get tossed. Last but not least, get rid of any unnecessary duplicates, such as that old coffee maker that you replaced a while back, but never took the time to donate or trash the old one.
If you run across items that you haven't used in over a year, consider getting rid of them. Remember, excess stuff just weighs you down and it could be really useful to someone else! So, if you received a beautiful fondue set when you got married but haven't used it, it's time to get it out of your kitchen.
For cabinets and drawers that store food items, focus on the following:
Throw away anything that has expired (yes, spices and many other things go bad folks)! Gather together non-perishable food items that you simply don't like or will not use and take them to a local food bank. If it's perishable, but you know you won't eat it or use it, find someone to give it to or throw it away.
Group like items with like items: Try to store all baking items together, all pots and pans together, all food storage items together, etc.
Decide what to donate, sell, or toss: Consider selling quality items that you simply don't use on eBay, Facebook or Craigslist. But don't delay in taking action!!!! For those items that are not "sale worthy" donate them to a local charity or thrift shop, such as Goodwill (be sure to get a receipt of your donation in case your tax professional determines that your donation is tax deductible). Again, toss anything that is broken or useless.
If you are feeling a tad overwhelmed by the thought of your kitchen organization, click here to check out my post of inspiring kitchen cabinet organization ideas!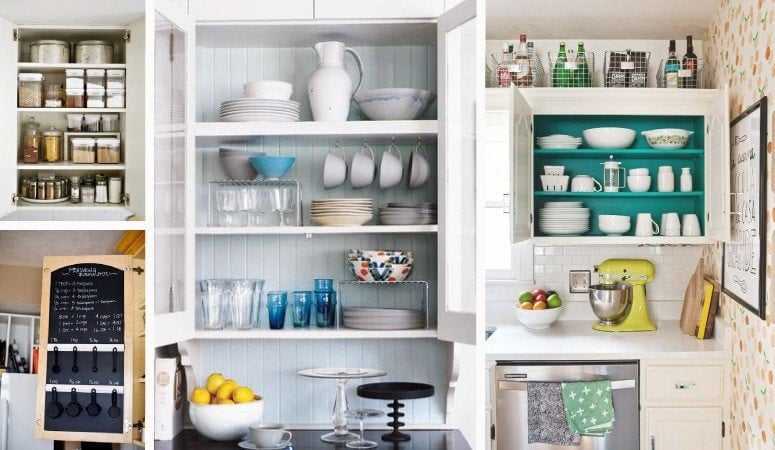 That first time you get to cook after you have tackled these kitchen organization tips you will be so glad you did it! I truly believe the time it takes to organize all of your cabinets and drawers will be regained several times over when you can actually find what you need every time you prepare a meal. And now you can truly enjoy the heart of your home!

[go_portfolio id="cleaning_and_organization"]