Master Bedroom Progress + National Sleep Week
Last Updated on March 3, 2022
Turns out we timed our master bedroom project perfectly. In honor of National Sleep Week, I want to share with you the updates we've made to the master bedroom so far. This week is all about the sleeping side of our bedroom.
Hey, hey friends! If you follow me on Instagram, you know we've finally turned our attention to some updates in our master bedroom. Our master bedroom is weirdly large, so we use half of it for sleeping and the other half as a sitting area. But we've not gotten the sitting area quite right in the past. And the half of the bedroom that we use for sleeping was just feeling a bit blah and dull, unless it was first thing in the morning in which case it felt like waking up on the face of the sun it was so bright. So, time for some updates!
I'm excited to share what we have done so far! And I'm not the only one freshening up my bedroom. At the end of this blog post, you can find links to blog posts of my talented friends who are also sharing posts in honor of National Sleep Week!
This post contains some affiliate links for your convenience. Click here to read my full disclosure policy.
First up, we added a new quilt and shams to the bed. We've had Crane and Canopy bedding in the past and are big fans. The quality is outstanding and it is so much softer than any other bedding I've ever felt. So I was absolutely thrilled when Crane & Canopy offered to gift us some new bedding to celebrate National Sleep Week. The Ellis coral Euro shams add such a fun pop of color and I love them paired with the Diamond Box-Stitch navy blue quilt. Those pops of coral are exactly what our bedding needed.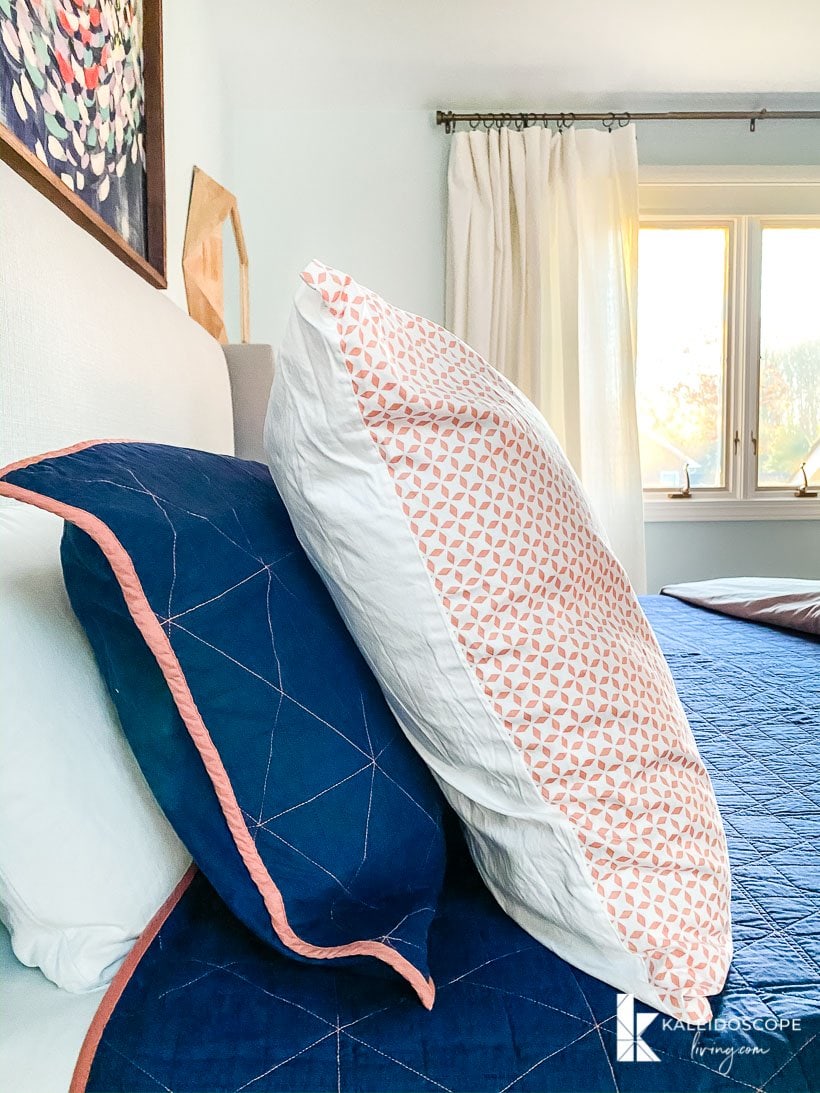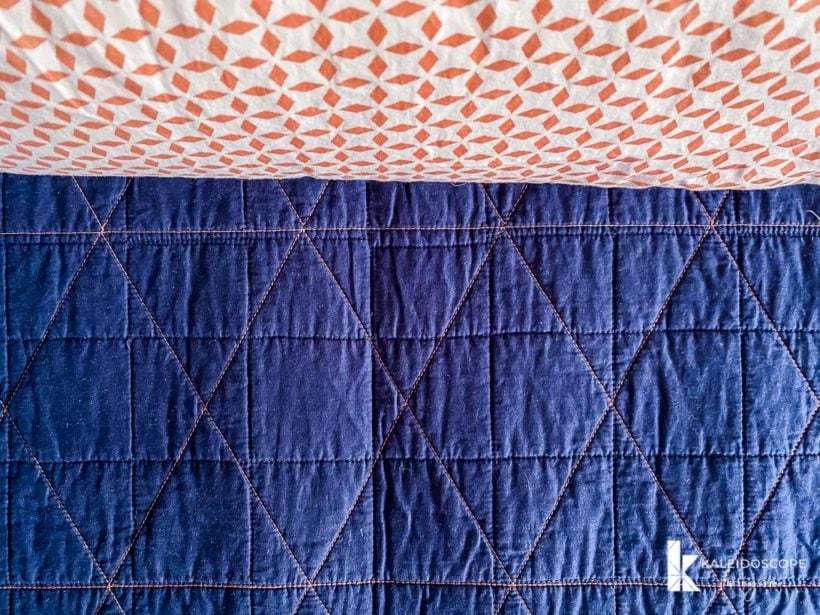 We are in that weird stretch of the year where it can either be hot or cool here in North Carolina, so we can't put away our duvet cover just yet. For now, we have to keep it folded at the foot of the bed and flop it over the bench at the foot of the bed at night just in case.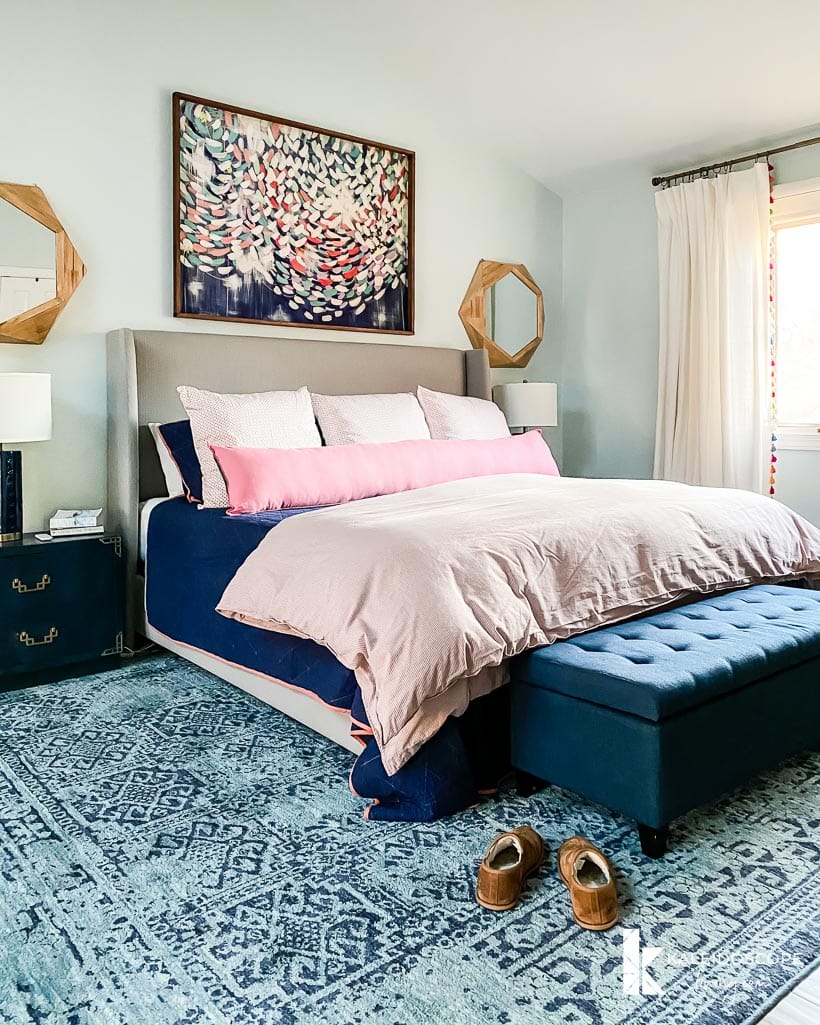 I added those tassel curtains a while back (tutorial coming soon), but in the 7+ years we've lived in this house, we have NEVER had blinds or shades on the windows. And while I LOVE having so much natural light in our bedroom, it is so bright in the mornings. Now that our girls are a bit older, we can sleep in on the weekends, but it was hard with only those unlined curtains.
So we FINALLY sucked it up and ordered simple roller shades. And we splurged for the remote control operation. I don't regret it. I ordered them during a sale, so at least I got a fairly good deal on them. That said since they all had to be custom made because of the size of our windows, they weren't exactly inexpensive. But after waiting for 7 years to buy them, I don't feel bad about it.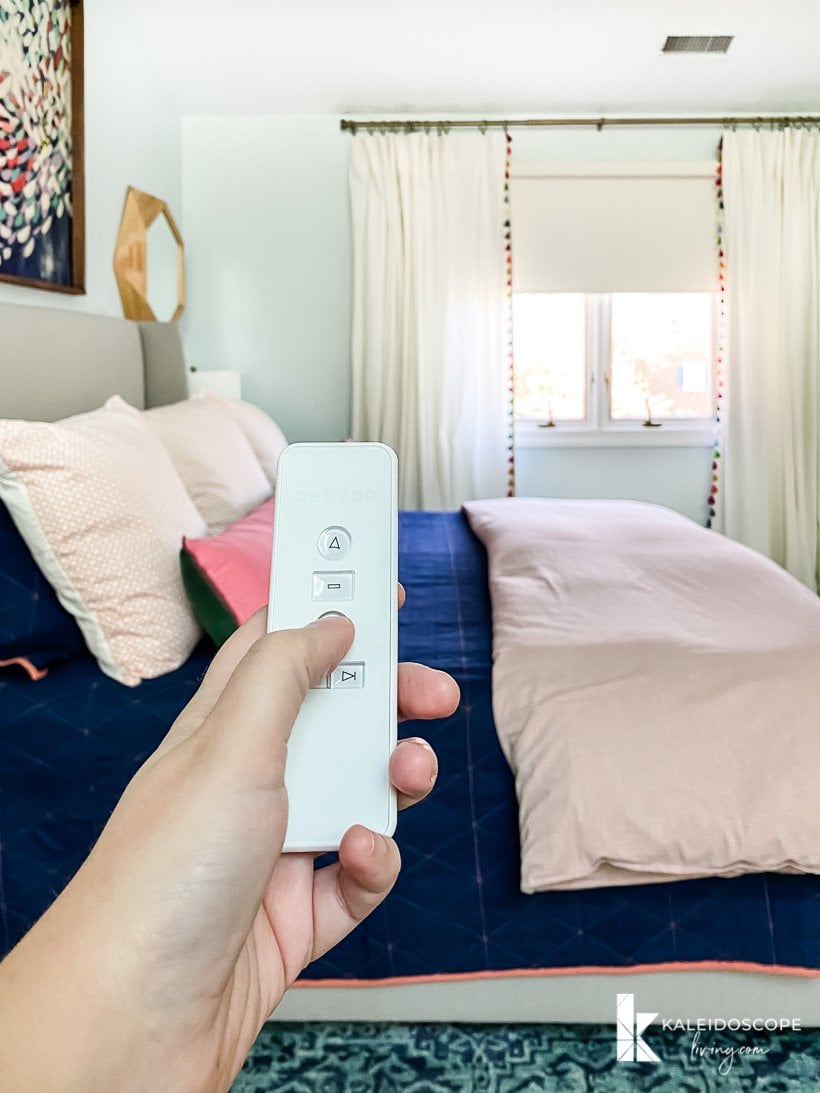 Next week we are turning our attention to the sitting area of our bedroom. This is what it currently looks like. Yikes. We added that DIY fireplace a couple of years ago as well as the skylights in an effort to make the space feel a bit more cozy/interesting and less cavernous. But now we need to get the furniture right. And we have decided to move our TV over to this side of the room.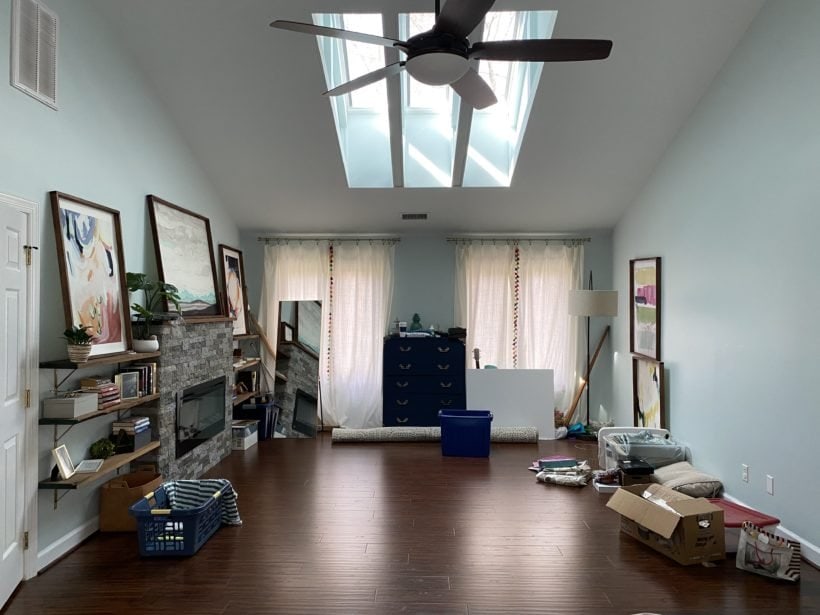 Joe felt VERY strongly about having recliners to sit in up here after falling in love with his beloved, modern recliner in our family room. I wanted a small sectional with a chaise lounge. But I finally relented because I found these beautiful and modern recliners that are so similar to the one in our family room, but are a FRACTION of the price! I've also ordered the rug and nightstand (for in between the recliners) and some of the artwork. We are moving the ottoman up to our bedroom from our kitchen. Here's the mood board for the sitting area of our master bedroom.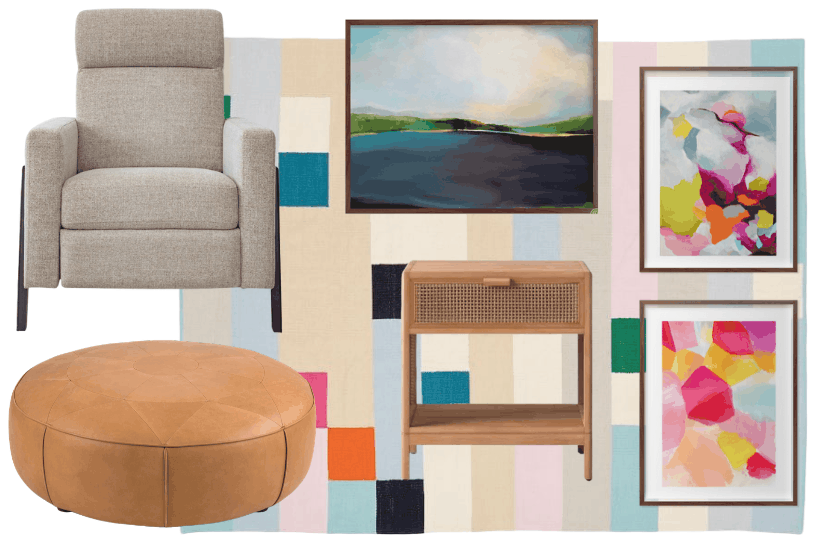 Master Bedroom Source List
I've included sources for items that are still available and have done my best to find similar items for those things that we purchased second-hand (like the nightstands by our bed). Just click any of the images below for full product details.

Now, before you head out be sure to check out my talented friends' room refreshes–just click any of the links below to see their beautiful rooms!


[mv_create title="Room Reveals" key="3″ thumbnail="https://designertrapped.com/wp-content/uploads/2016/05/angies-list-after-5.jpg" type="list" layout="circles"]