The Most Inspiring Screened-in Porch Ideas
Have a screened-in porch but aren't sure what to do with it? Or are you thinking about adding a screened-in porch to your home and want some inspiration and ideas? You are in the right place! Choosing the right design elements and decor pieces for your screened porch is crucial to creating a space you will use and enjoy as much as possible! These simple screened-in porch ideas will give you tons of inspiration, whether you are just dreaming up building plans or you want to add some comfort and ambiance to your existing porch.
When we bought our current home, the screened-in porch was one of the biggest selling points. Now that we've lived here for 3 years, I can tell you that we are obsessed with our screened-in porch! We designed it to be a beautiful and multi-functional space that allows us to enjoy being outdoors almost all year despite pretty cold winters and very hot and humid NC summers. Our screened-in porch is a place for us to eat meals, watch movies, lounge, and chat.
Screened-in porches should be functional and beautiful! Check out these inspiring ideas so that you can create the perfect space for your family.
How to Design the Perfect Screened-In Porch
Include a Fireplace for Year-Round Use
We love that the fireplace allows us to basically use this space all year long. When I started decorating our screened-in porch, I kept the stone fireplace the focal point of the "lounge" area. If you are in the planning stages for your porch, consider a fireplace. It is a game-changer for the chilly months! We've even sat out by the fire at Christmas time.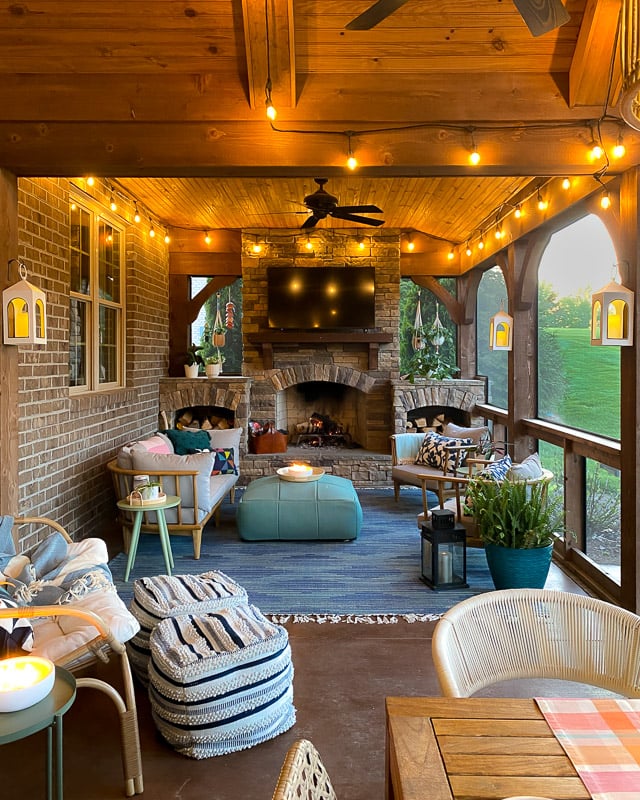 Add Definition and Ambiance With Lighting
When I designed the two separate areas for our screened-in porch, I carefully planned the lighting for each space. Over the table, we hung this DIY outdoor chandelier which really helps define the dining area. In the lounge/seating area, we continued the string lights and lanterns for ambiance but didn't include any overhead lights since we prefer dim lighting for chatting and watching TV!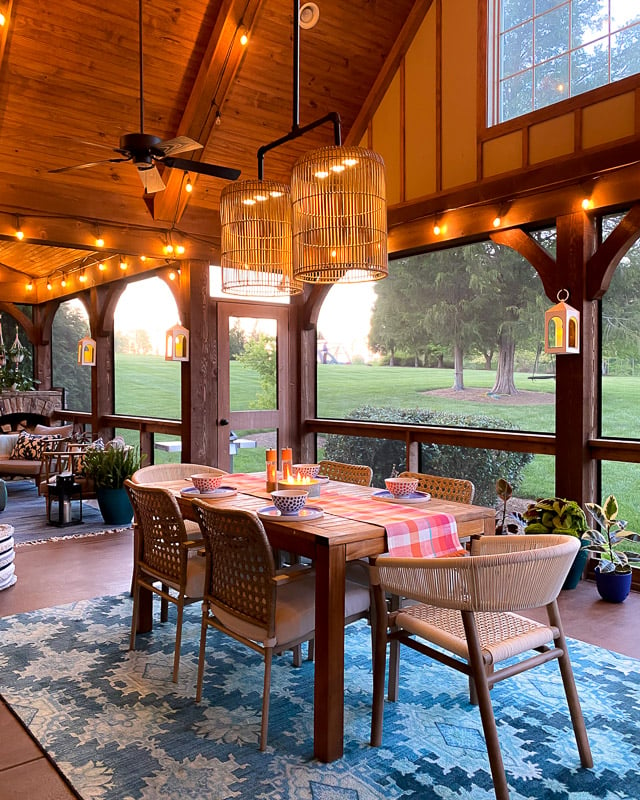 Add a Pop Of Color
A bright pop of color elevates this outdoor space! Choose accessories, an area rug or furniture in bright colors to add some fun and style to your screened-in porch. The bright pinks here look gorgeous set against the natural lush green in the background and that blue pot adds a second little pop.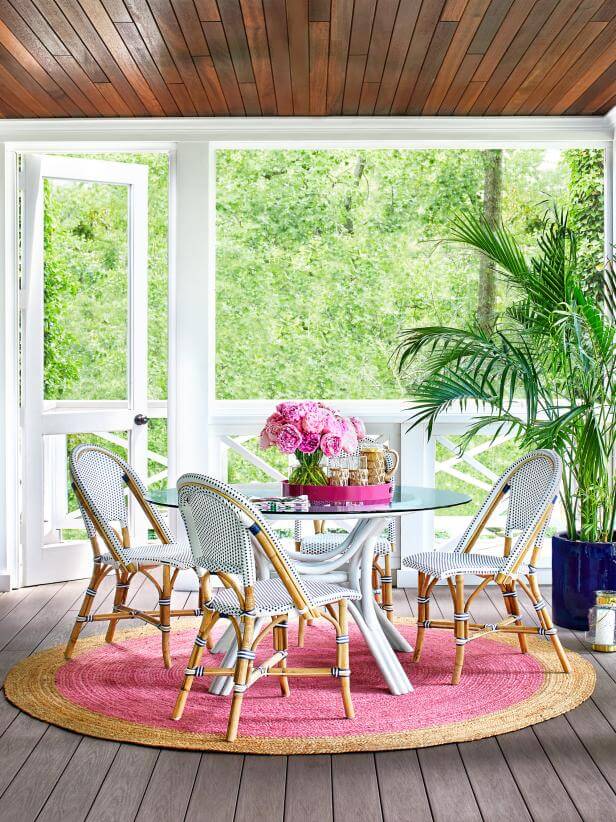 Incorporate Natural Textures
Add natural texture to the decor on your porch. Choose materials like raffia, rattan and wicker to bring the outside in and give things a relaxed feel. I love the raffia light and woven wicker and wood stools in this eating area. They are perfect for a screened-in porch! Choosing the right natural textures can, depending on the style, bring in style touches of rustic, coastal or boho.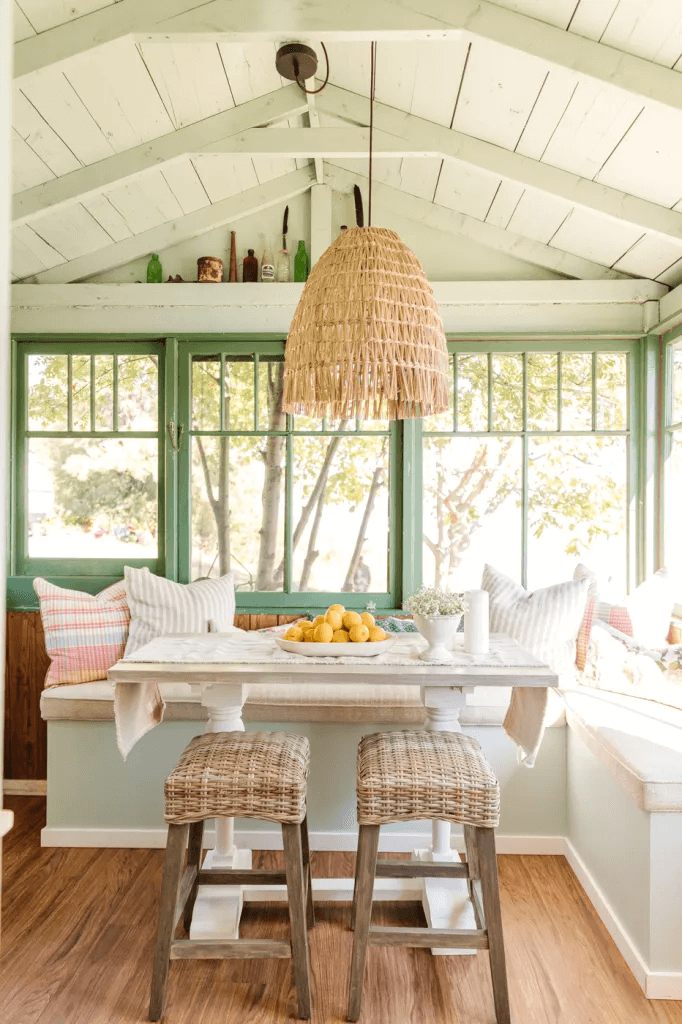 Add a Daybed for Maximum Relaxation
One of the most popular and simple screened-in porch ideas for creating a calm and cozy space is to add a daybed. There are lots of ideas out there for cool options you can DIY or buy. Add some throw pillows and you have the ultimate spot for spending lazy days relaxing!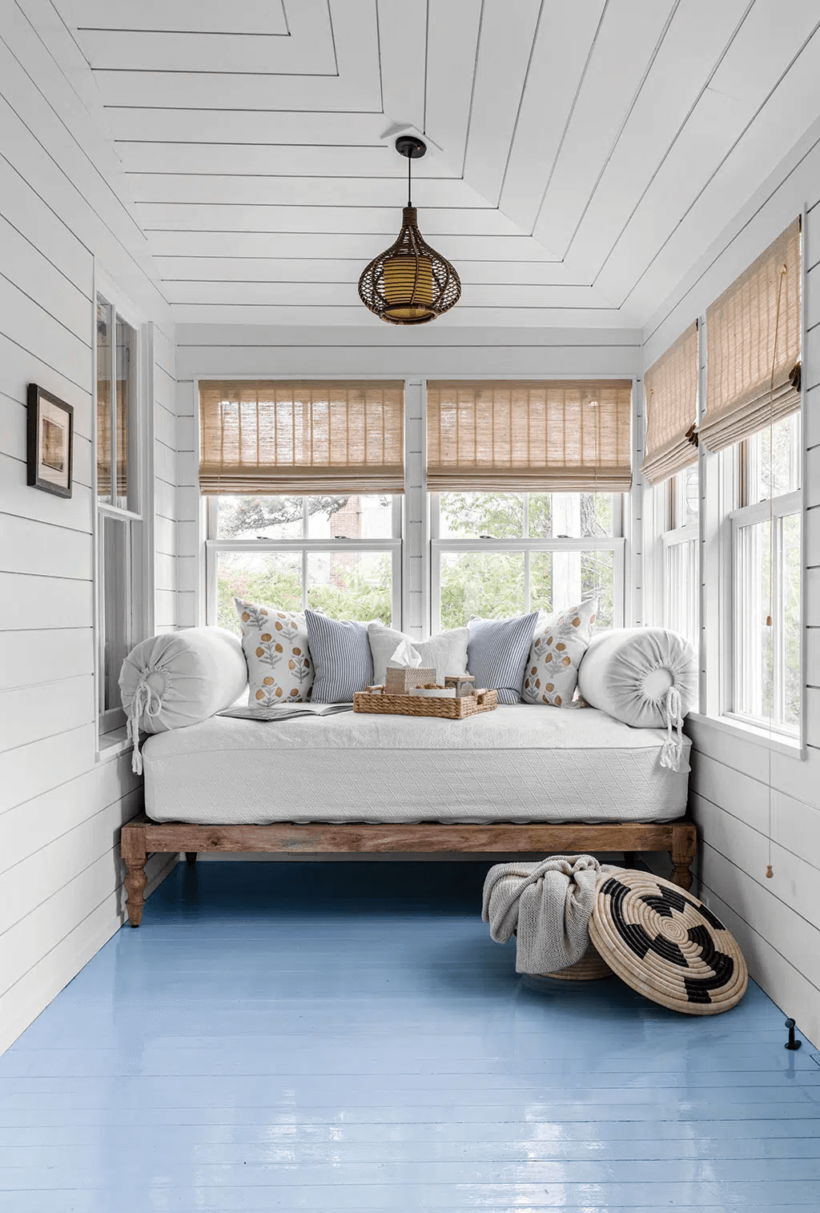 Add a Dining Area
Eating al fresco is one of our favorite parts of having a screened-in porch. Add an outdoor table set or a rustic table and chairs to enjoy meals in your outdoor living space! Separate your living and dining areas with rugs for defined spaces. I love the all-weather capability of this sunroom with the windows that can be raised to enjoy the dining space fully.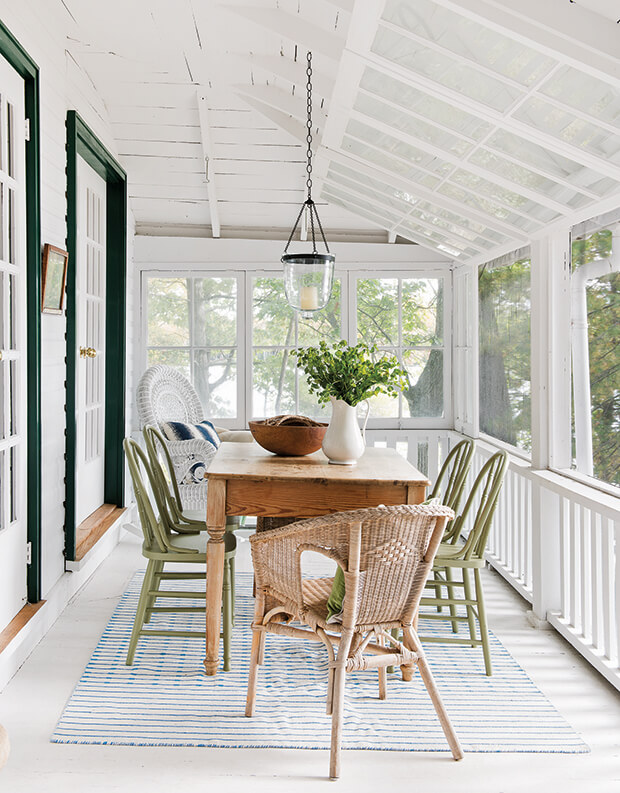 Maximize Breezes With Vaulted Ceilings
A simple way to bring in the most breeze into your screened-in porch is to make the ceiling tall! I love this tall vaulted ceiling. It makes the porch feel huge and allows for lots of air movement. The interior painted pale blue is a fun added touch!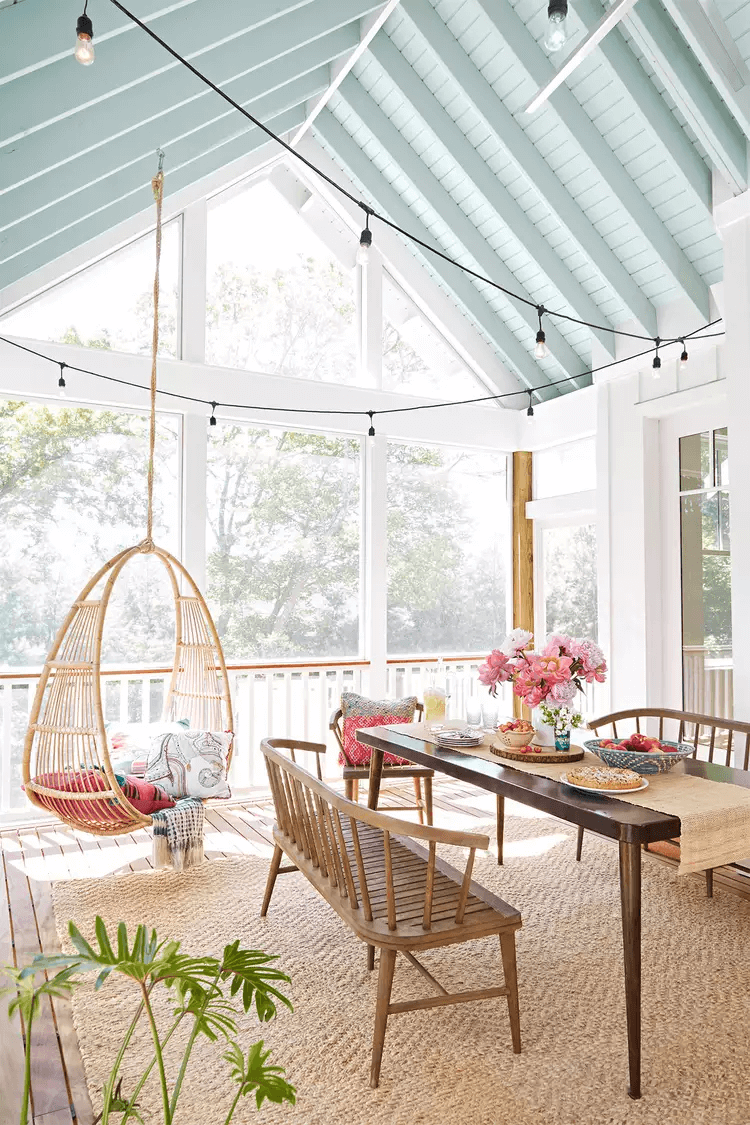 Include Multiple Seating Options
Design a screened-in porch with comfort in mind! Giving various seating options allows for lots of people to gather. Chairs, a sofa and a few floor cushions give plenty of options for those times when you have lots of guests enjoying your beautiful screened-in porch!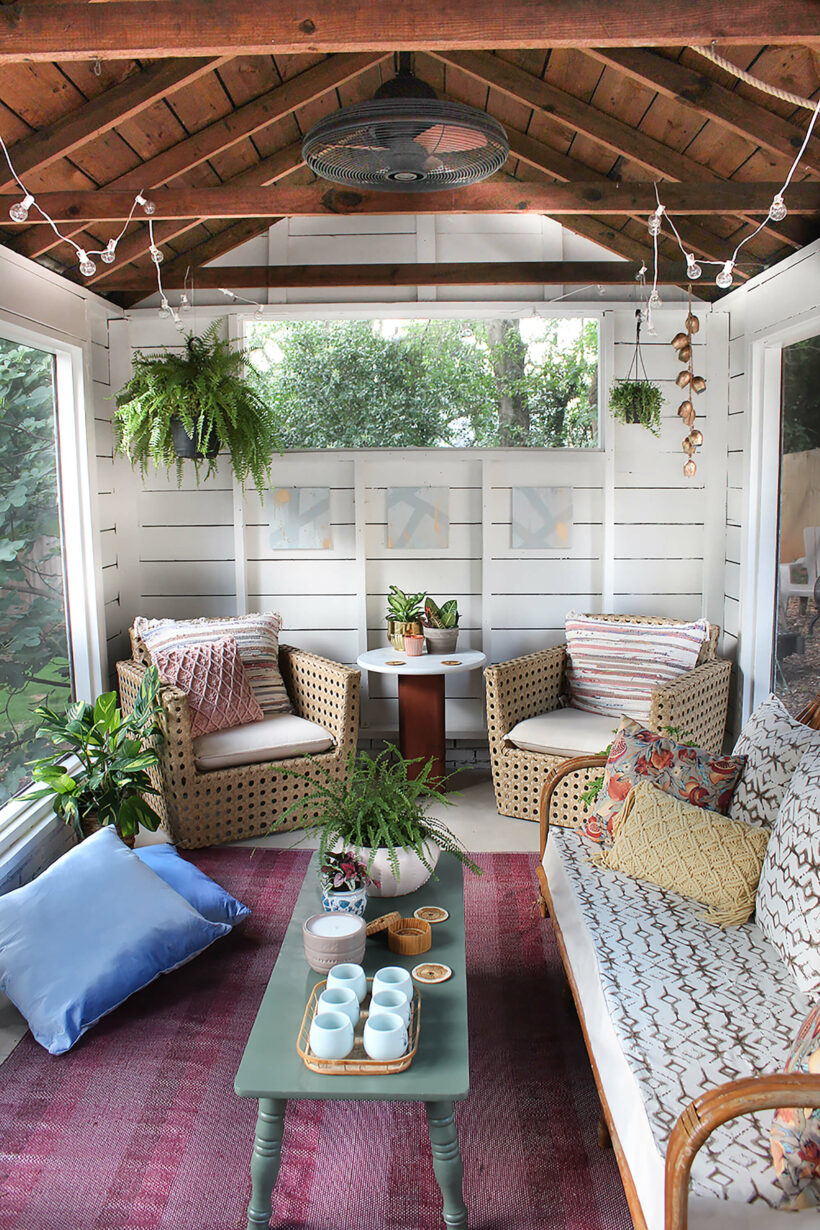 Include a Ceiling Fan
When the really hot days of summer set in, it can feel too hot and muggy to be out on the screened porch. Adding fans will allow you to get so much more use out of your space! They will keep the air flowing and also help keep the bugs moving if any manage to find their way in. We have a total of 3 ceiling fans in our screened-in porch and they make a HUGE difference during the hot months of summer!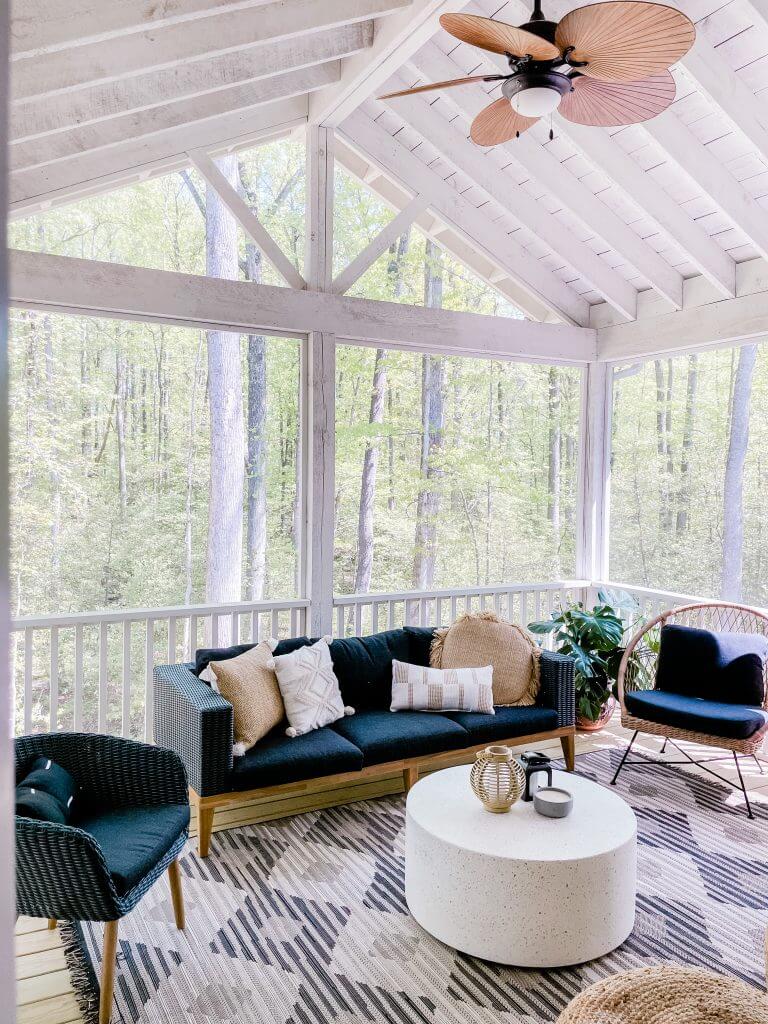 Add Plants for the Perfect Porch Decor
I love moving my plants out to my screened-in porch when the weather starts to get a little warmer. Either bring out the ones that have been wintering inside or buy plants that can live on your porch! This simple screened-in porch idea softens the area and makes it feel like an extension of the outside world.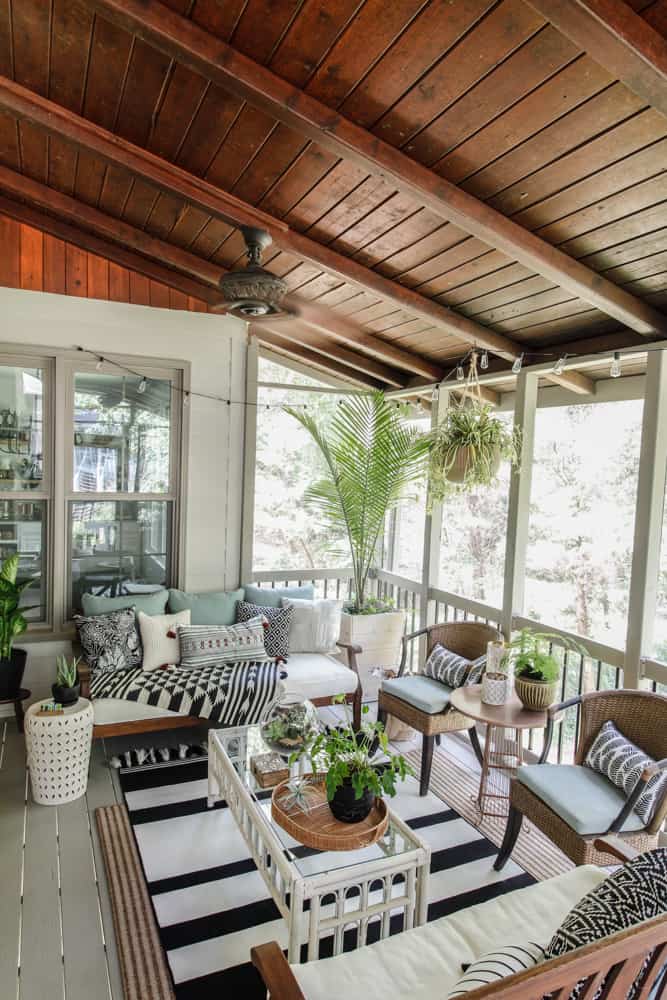 Use An Area Rug
Make your porch feel like a living space with beautiful furnishings and an amazing area rug. I recommend an indoor-outdoor rug for durability and weather resistance. This porch is perfectly styled and feels like an actual room. Even though the furniture is made for the outdoors, arranging it on the beautiful rug and adding accessories and side tables gives it a pulled-together feeling. Pro tip: Make sure that you clean your indoor-outdoor rug yearly to extend its life!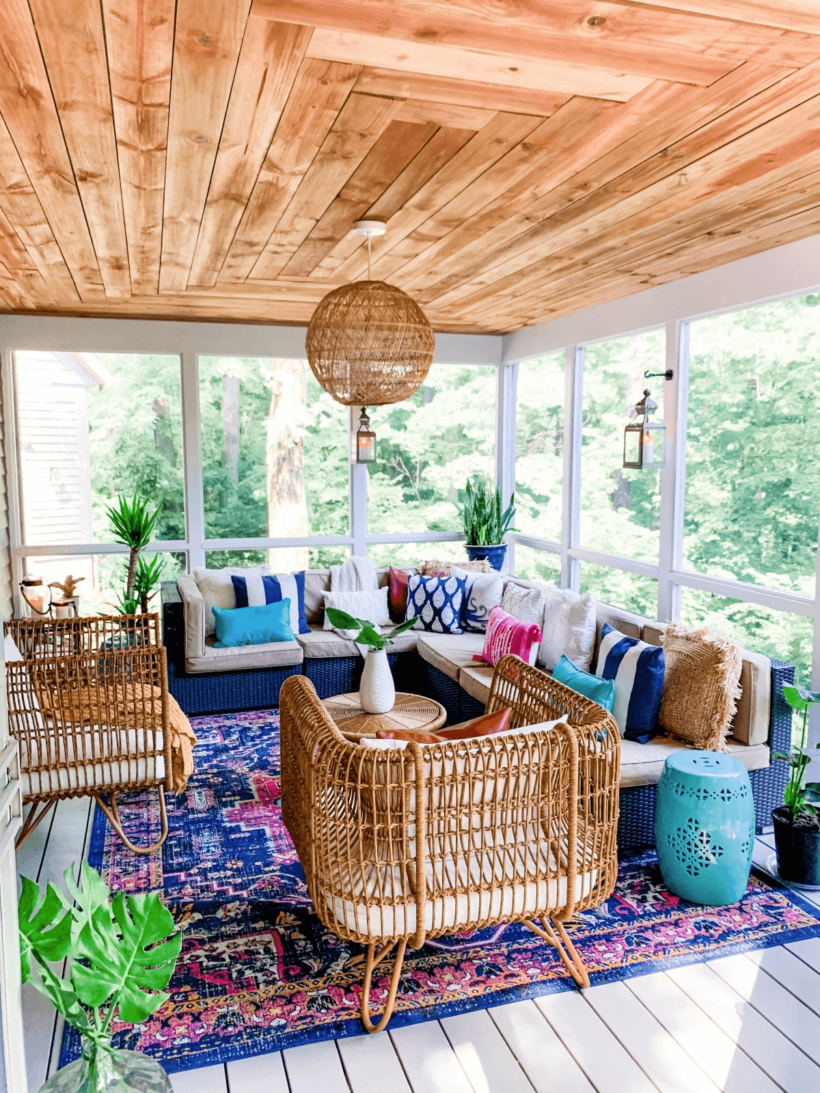 Aren't these simple screened-in porch ideas genius? Upgrade your existing porch or start from scratch and create your dream outdoor living space so that you can enjoy nature all year long–just not the mosquitos!!! We enjoy our screened-in porch all year long and now I am not sure how we could ever live without it.
Wondering how I approach transforming rooms and spaces in our home? Check out Designer in a Binder®.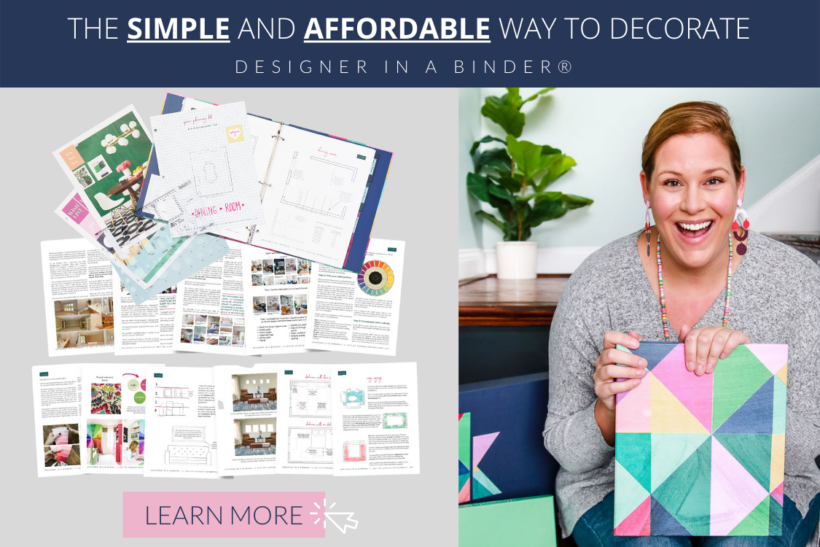 And if you want exclusive content and behind-the-scenes sneak peeks, be sure to subscribe before you head out!