The Evolution of Our Master Bedroom Design
Last Updated on August 10, 2021
Finding the perfect master bedroom design (or any room design for that matter) can take a while. It is perfectly normal to go through multiple steps as your tastes evolve and your budget allows. After seven years we have finally settled on a master bedroom design we love!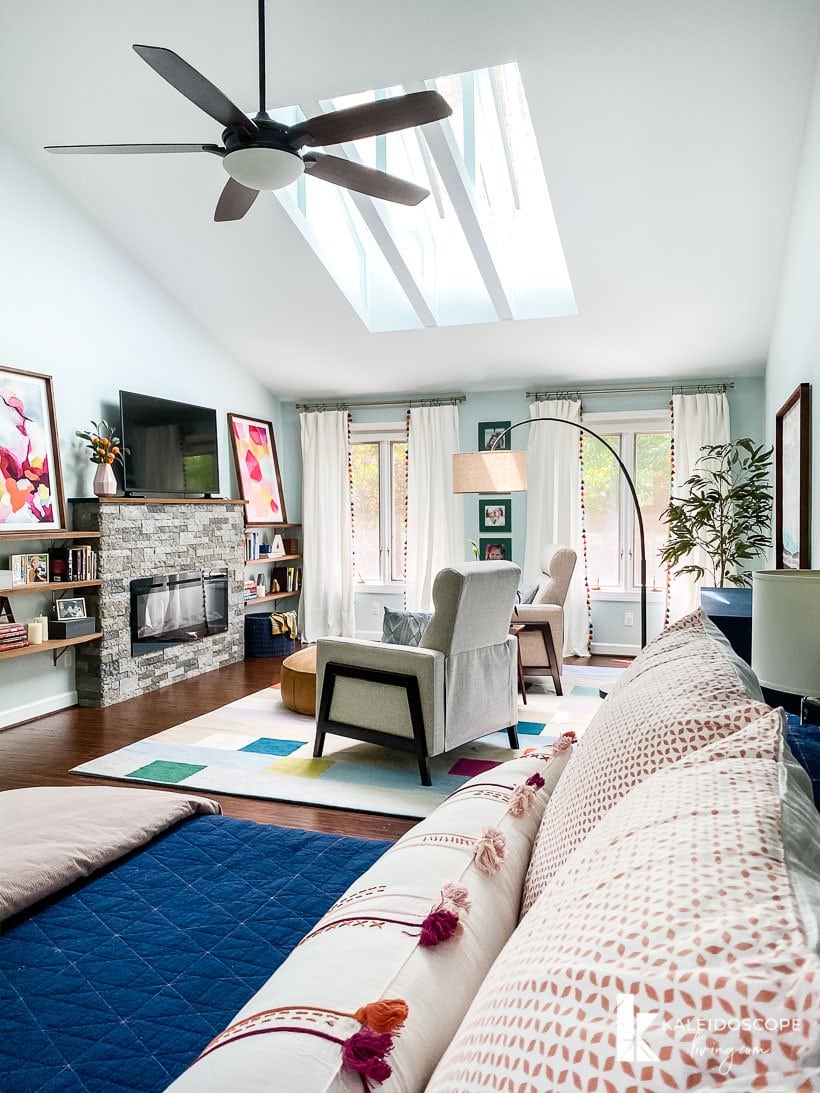 Our master bedroom design has taken us seven years to finally feel finished! Through the years, we were limited by our time and by our budget, so we took things one step at a time as we could do them. That's real life! So if you ever scroll through Instagram or Pinterest and get discouraged about the progress in your own home, stop. The fact is, creating a home you love can take a long time. And that's NORMAL and OKAY!!!!
Our Master Bedroom Through the Years
This is what our master bedroom looked like when we moved in over 7 years ago. Very beige and blah!!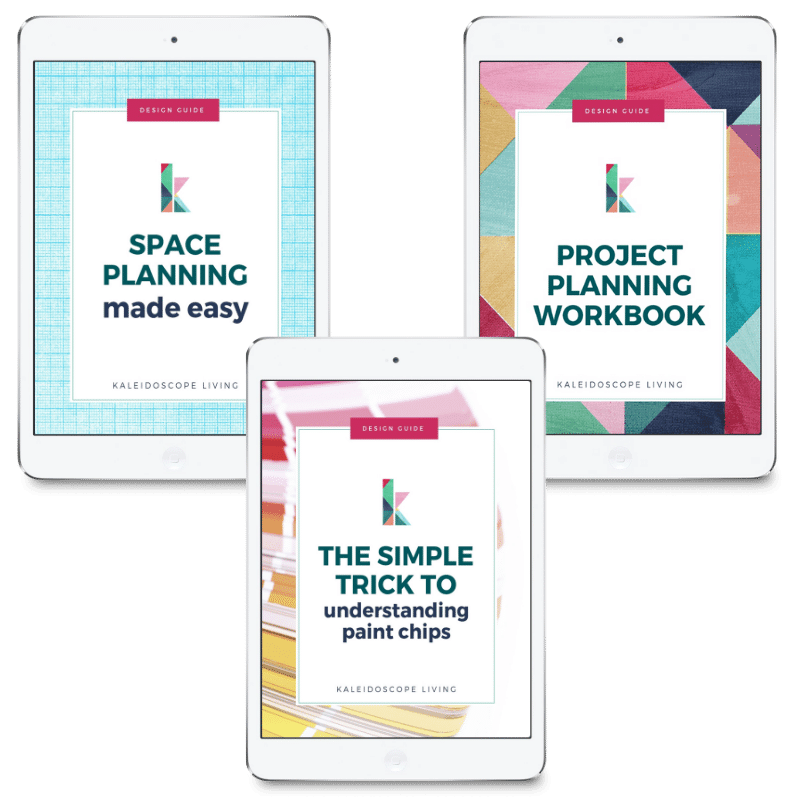 Get my FREE design guides when you subscribe!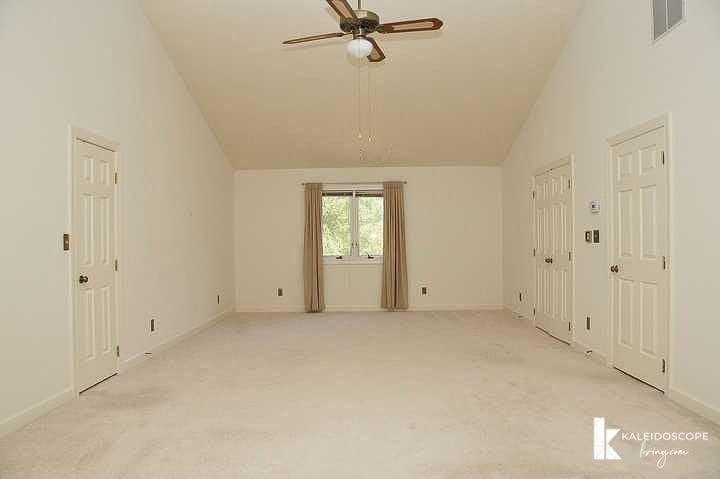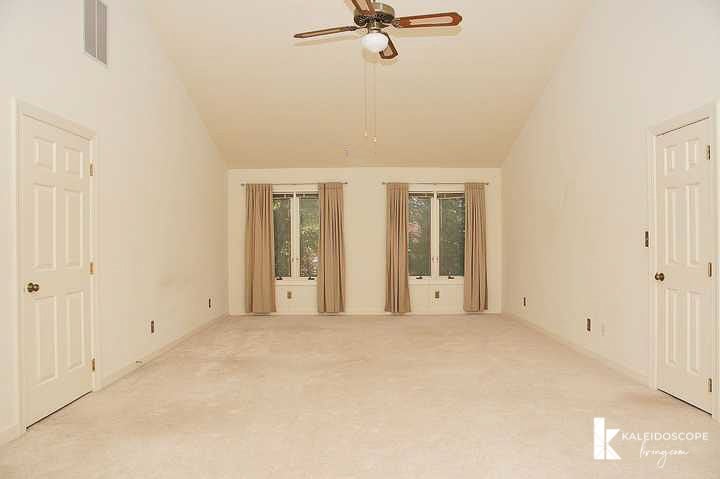 For the last seven years, I have made big changes and small tweaks to our master bedroom design. We've slowly completed projects in it over the years and adjusted things. We ripped out the carpet and installed our favorite laminate flooring that we've used throughout our home (here's why we've chosen laminate flooring for our home). We painted the walls and trim. We replaced that sad and TINY fan with a much larger version. More recently, I painted all of the doors. We also added skylights and a DIY electric fireplace (yep, you can add a fireplace to literally any room in your home).
This is how one side of our bedroom (the side that we now use as a sitting area) has evolved over time… This is after we painted the walls and replaced the flooring. Yes, we used to have our bed on this side of the room. You can't see it in this photo, but we used our OUTDOOR FURNITURE on the opposite side of the room for seating.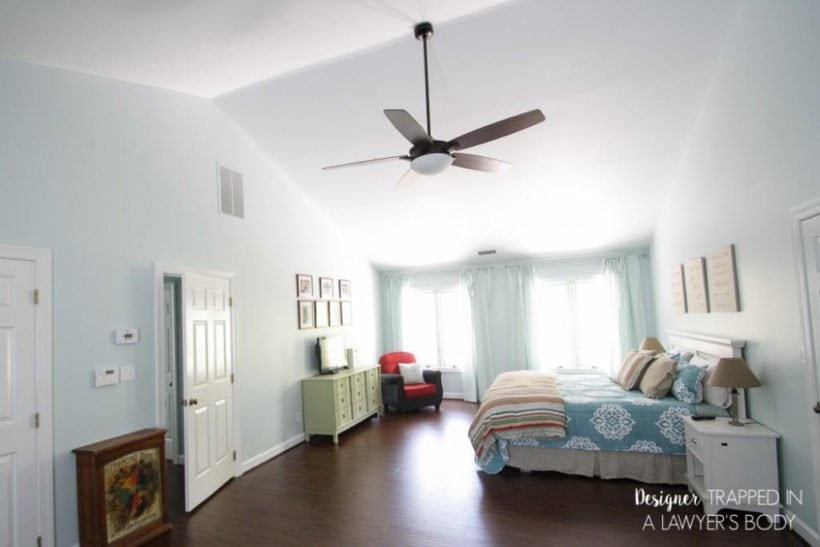 This is after we added skylights and flip-flopped the bed and seating areas and finally added some art to the room. We made those DIY frames to stay within our art budget.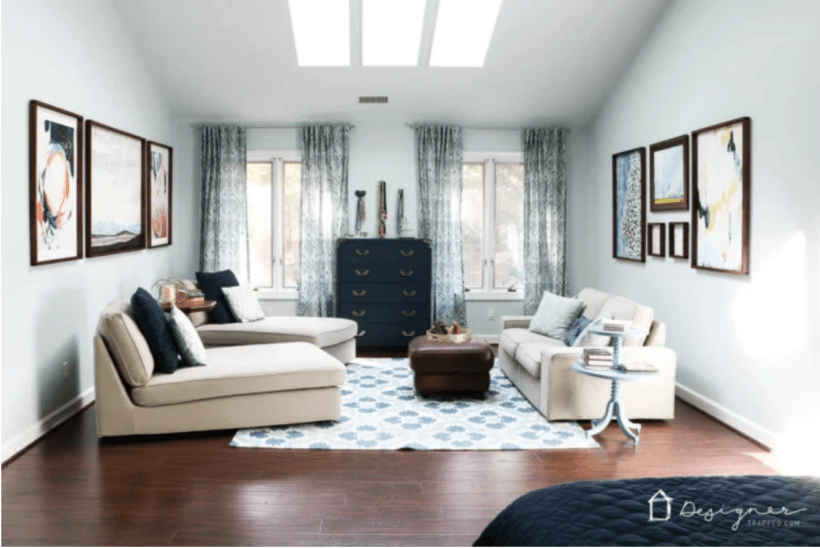 This view is after we added our DIY fireplace to the sitting area. It is amazing how adding it as a focal point changed that side of the room completely!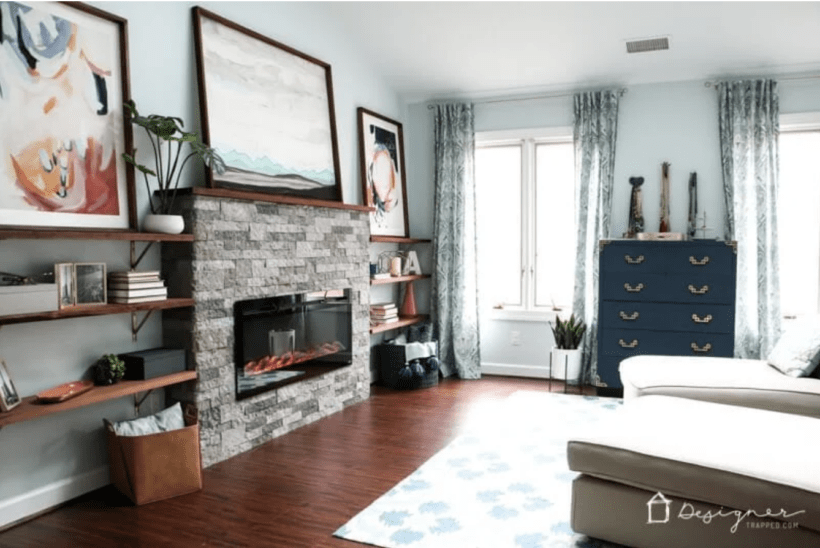 And drum roll… This is what our master bedroom design looks like now! We have made so many changes to get here. I love the contrast of the navy blue paint on the closet door with the wall color. We finally settled on the two recliners after lots of discussion and different seating arrangements. The tassel curtains and the bolster pillow are some of my favorite DIY projects and all the decor touches I curated through the years totally complete my design vision! You find everything you see in the pics below in our master source list!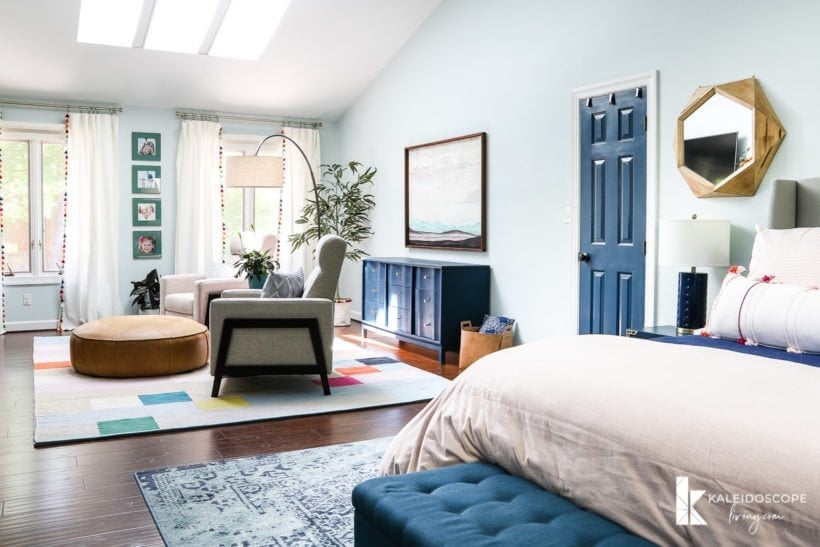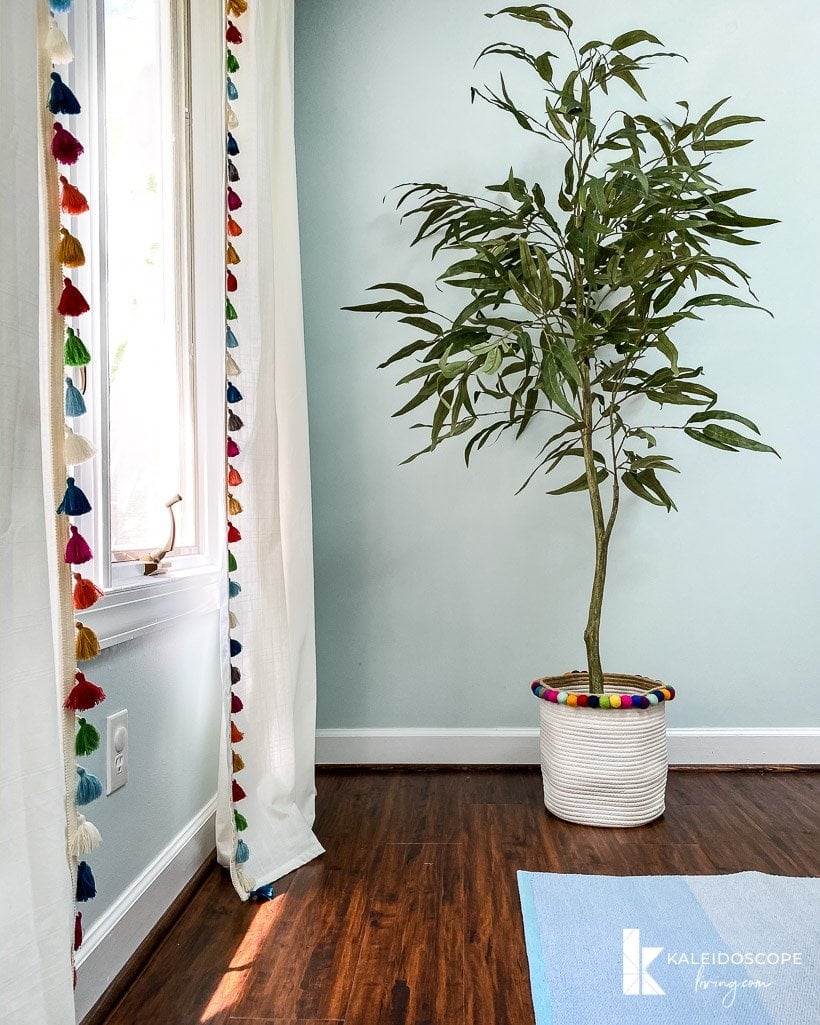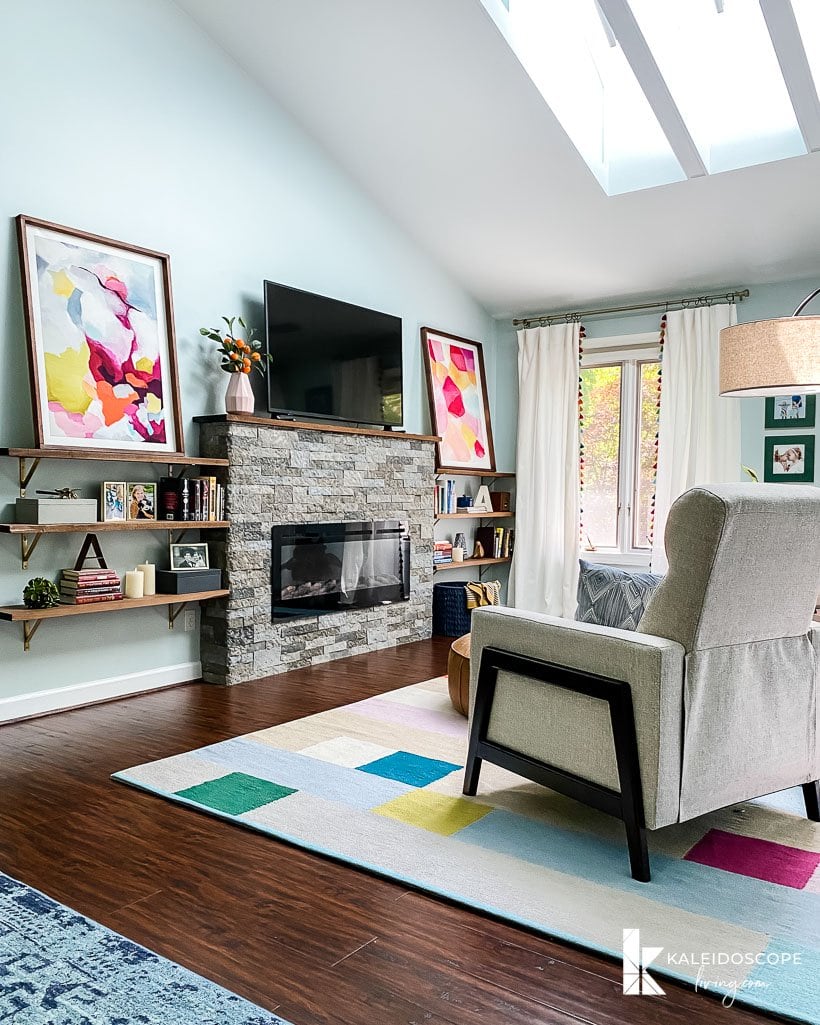 Bottom line… It has taken us YEARS and finally taking the time to develop a cohesive design plan ahead of time to get our bedroom to this point. So don't be hard on yourself if you didn't nail a room the first time or if your renovations are taking as long as ours. Creating a home you love can be a long journey. Try to enjoy the process!
We still have lots to do in our home. But instead of feeling frustrated about what is still left, I try to focus on all the incredible changes we HAVE already made to our home and that we LOVE. You can take our full house tour here if you are interested.
And you need some master bedroom inspiration for yourself, check out these posts: 17 Gorgeous DIY Headboard Ideas and Inspiring Budget-Friendly Master Bedroom Makeovers.
Creating a cohesive and beautiful room design can be overwhelming. There's so much more that matters, like choosing items that are the correct scale, space planning, mixing patterns, choosing colors and more! I give easy-to-understand guidance on all of this in
Designer in a Binder®!
And the brand new 3rd edition starts shipping soon. You can order your binder now. We have over 4,600 happy customers so far!
Click here to learn more
.