In case you haven't heard already, I'm giving my amazing friend Thea a budget-friendly kitchen makeover of EPIC proportions. I have vowed to do it for less than $2,000, but I'm really planning to stay under $1,000. This week, I'm sharing all the before photos and revealing some of the plans to you!
First, let me say that this is the most fun I have had in a while! Makeovers on a small budget are my favorite and are kind of my specialty. But now that we are nearing the end of our own home renovations, we are no longer on a super limited budget AND the last renovations we have are full gut jobs (in other words, not inexpensive). You already know that if you followed along with our huge kitchen renovation.
So getting to help Thea completely makeover her kitchen on a limited budget FEELS SO GOOD!!!! I looooooove it! You can probably sense my enthusiasm for this project if you follow my stories over on Instagram . I've even added a highlight reel for Thea's kitchen project. You can find it above my feed–I've circled it in the screenshot below.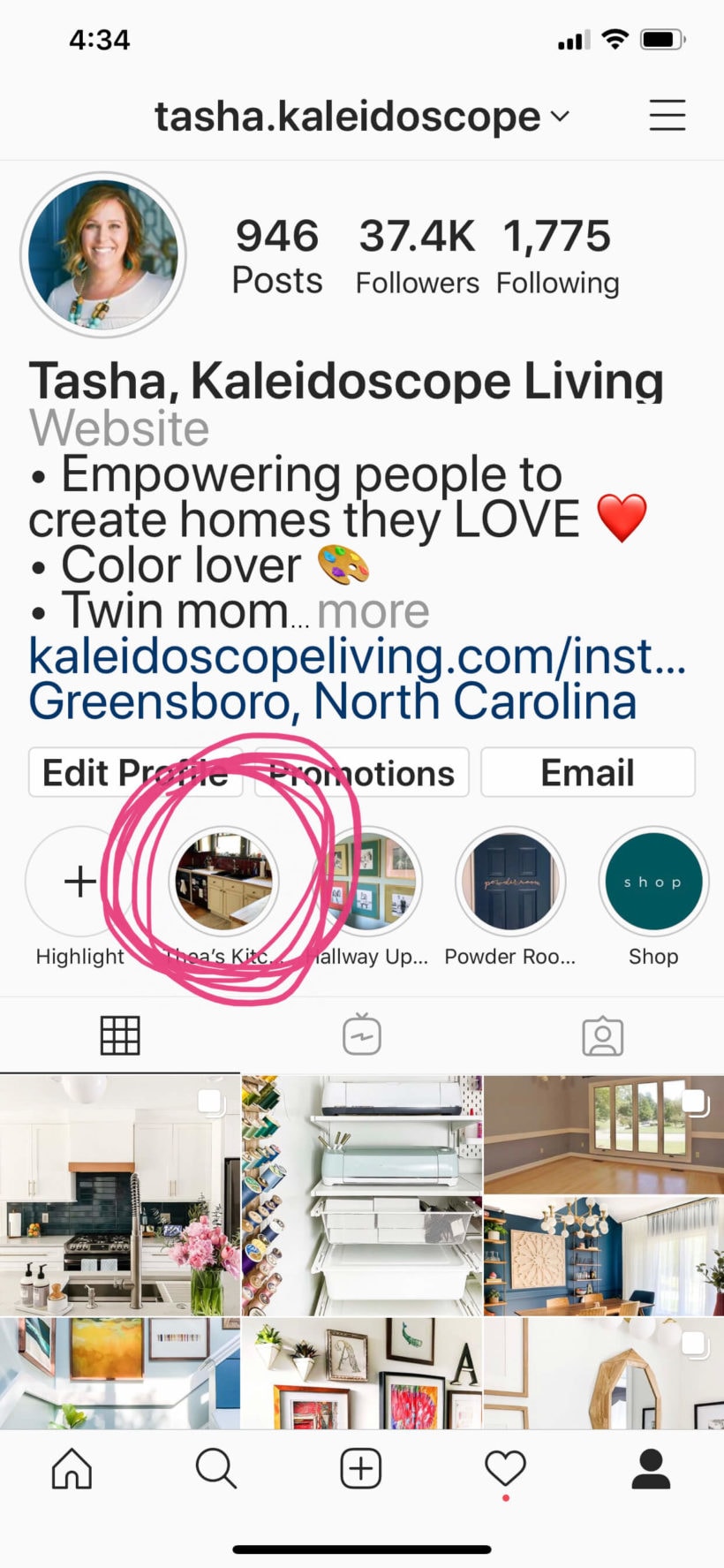 We've been doing stories every step of the way as we work on her kitchen. It's hard work (we sweat an embarrassing amount) and we get a little punch drunk sometimes, but it doesn't suck to work on a project like this with one of your favorite friends. To say we are having fun is an understatement.
Today, I want to share with you the kitchen that Thea and her family have been living with for more than 8 years. This is the view you see from the doorway that leads from their dining room to the kitchen.
Thea's Current Kitchen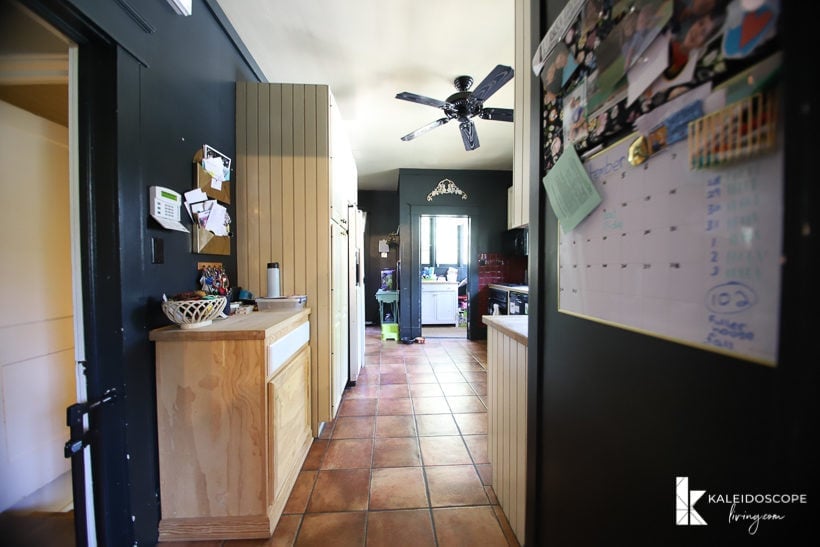 The walls and trimare technically painted a dark green color, but to the naked eye, their kitchen is BLACK. Very cave-like. Not exactly how you want to feel in a kitchen. Here's the view looking back toward the dining room.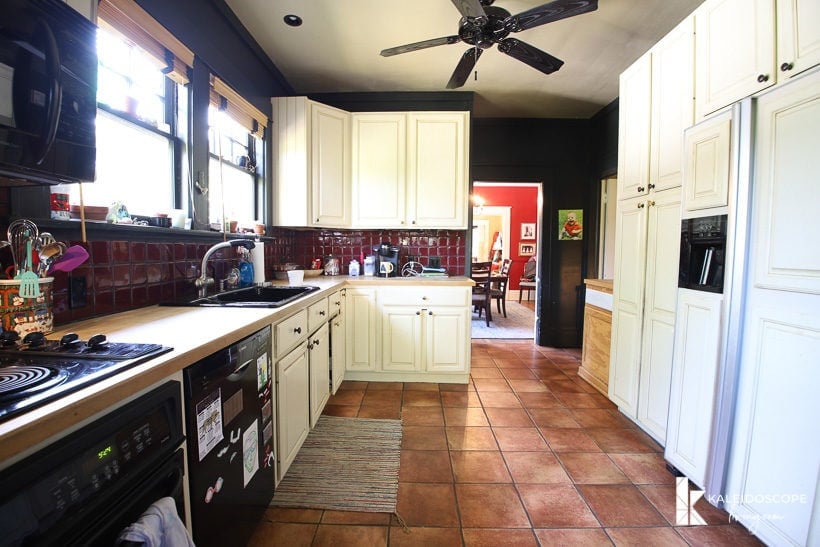 The lighting in the kitchen is minimal. The ceiling fan had no light kit on it and there are just a few overhead can lights. We can't add more can lights in our budget BUT we have taken down the fan and are adding a beautiful light fixture that should help the lighting situation!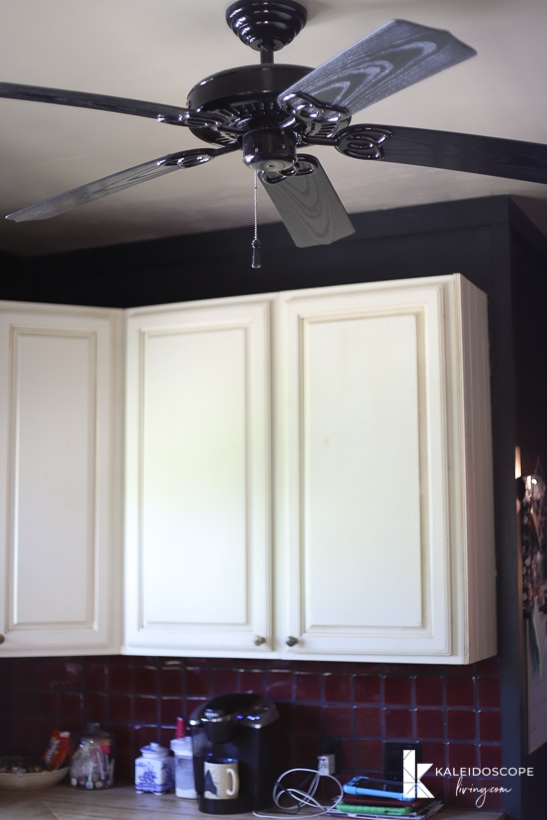 The backsplash is very red and shiny. Thea HATES it, so it has to go. But, replacing the tile wasn't an option in our timeline or budget. So, we are painting and stenciling the backsplash. Yes, you can do that! You can see my tutorial for how to paint a tile backsplash here.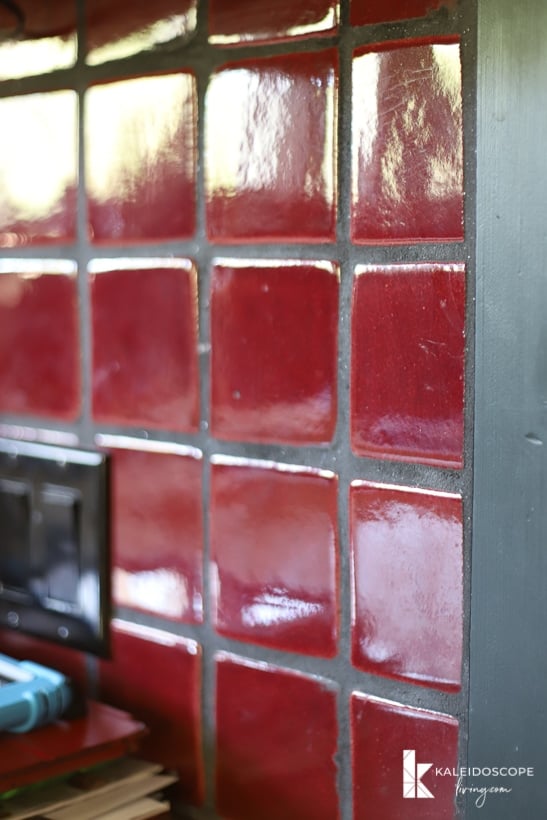 This is the view on the opposite wall. They have some large pantry cabinets, which is great. Thea doesn't love the paneled refrigerator, but I think she will be okay with it once we are done!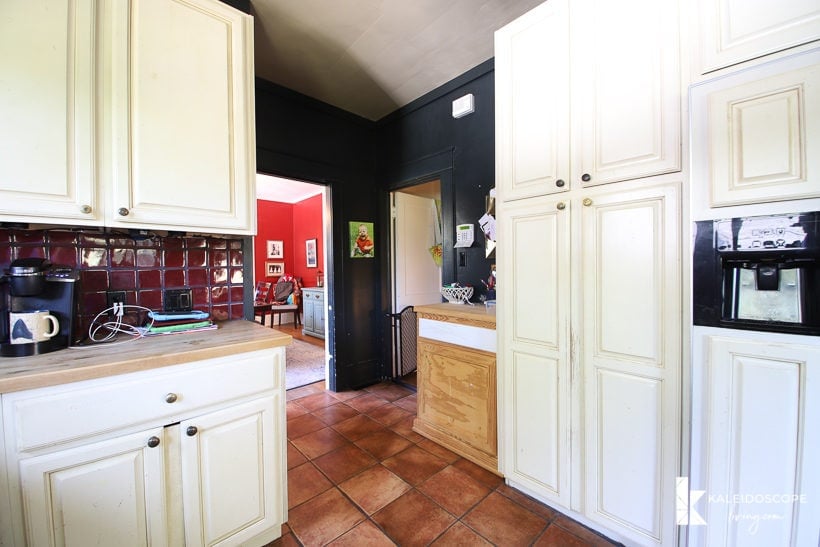 To the left of the pantry cabinets is the family "landing zone/command center." But it's not being utilized to its full potential. And I'm a big believer in the importance of command centers and the best command center options . Fear not! I will be making this a super functional command center and landing zone for their sweet family. And we will definitely be painting the cabinet they had custom-built many years ago!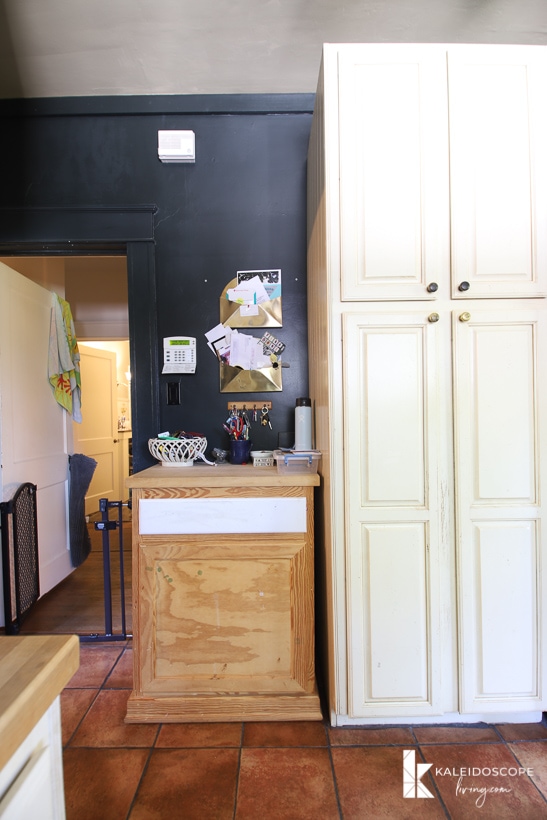 All the cabinetry is solid wood and aside from needing to have some hinges tightened and adjusted, they are in good shape! They are just worn out need a little love and a lotta paint.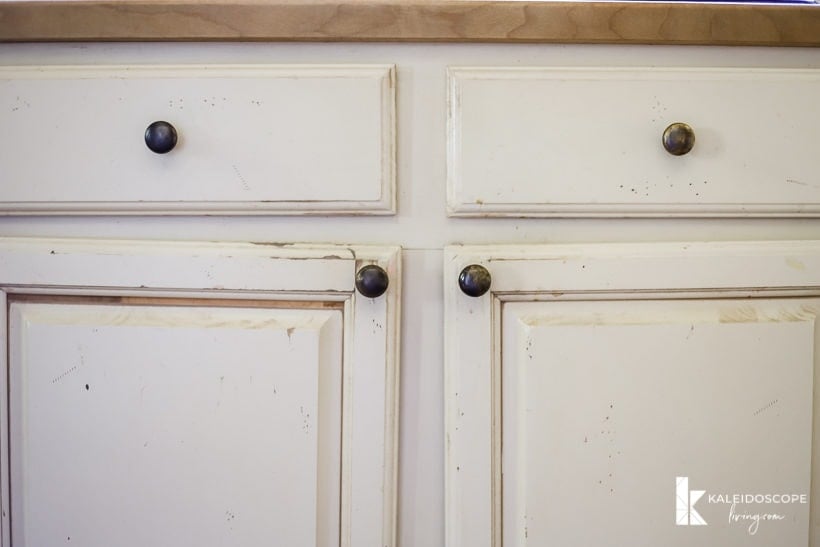 We've already started work on her kitchen and let's just say that even the primer is making this kitchen feel lighter and brighter already! Take a look at the ceiling, which was a dreary beige color. The white you see is the primer going on. It's going to look AMAZING once it's all painted!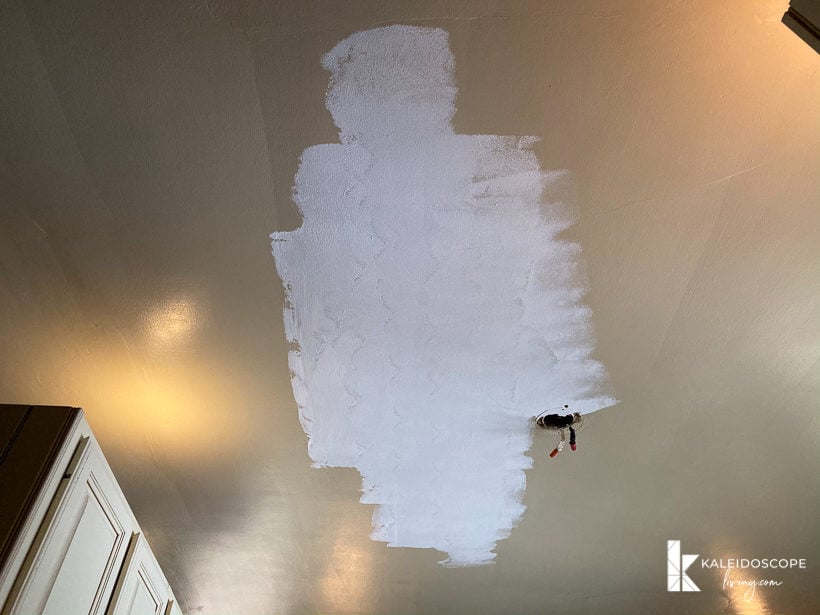 So, now that you've taken the tour of Thea's kitchen, let's chat about our plans for this budget-friendly kitchen makeover!
The Budget-Friendly Kitchen Makeover Plans
Paint is going to be the HERO of this project! We are:
Primingthe walls, ceiling and all the trim
Paintingthe walls, ceiling and all the trim various shades of white
Painting the cabinets
Painting and stenciling the backsplash
We are also:
Removing the fan and adding an overhead light
Replacing the black sink and old faucet
Sanding and refinishing the butcher block countertops
Replacing the cabinet knobs and pulls
Then, of course, we'll be decorating and styling the kitchen. But I can't tell you about those plans because I want to surprise Thea with the final reveal! So, for now I'll show you the mood board with the plans Thea DOES know about.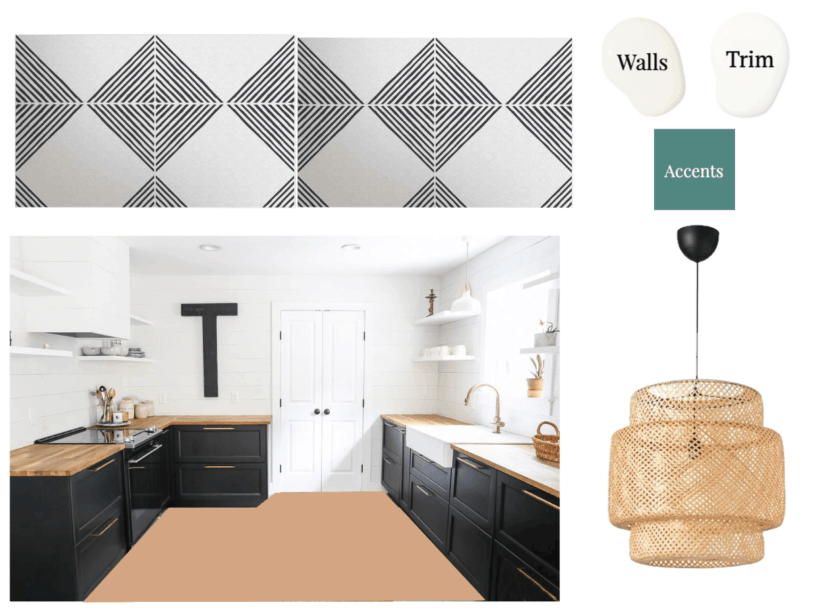 This transformation is going to be one for the books, y'all! Once it's all done, I'll be sharing lots of tutorials for the individual projects as well as a detailed budget and timeline breakdown.
For now, be sure to check back for weekly updates and follow along with us on Instagram stories!
Before you head out and get started, be sure to check out my FREE design guides that will help you help you design spaces you absolutely love! Subscribe now and you will receive a password so that you can access everything in one convenient digital library.
[mv_create title="Most Popular Projects" key="1″ type="list" layout="circles"]