Kitchens in general are one of the hardest rooms in the house to keep a handle on, and kitchen countertop storage and organization can be particularly challenging. But it's SO important to keep your kitchen functional and tidy because the kitchen is where we gather to do SO MANY things. It is certainly the heart of our home! It is where the cooking, homework, arriving and leaving, eating, and chatting happens. That is a lot for one room!
The trouble with kitchen counters is that they are often the largest flat surface in our home. As a result, a WHOLE lot of things end up on kitchen counters that shouldn't be there. Books, mail, magazines, school papers, appliances, groceries, etc. The problem is that having cluttered countertops REALLY hinders the function and enjoyment of your kitchen. Fortunately, it's easy to tackle kitchen countertop storage and organization and bring sanity back to your kitchen!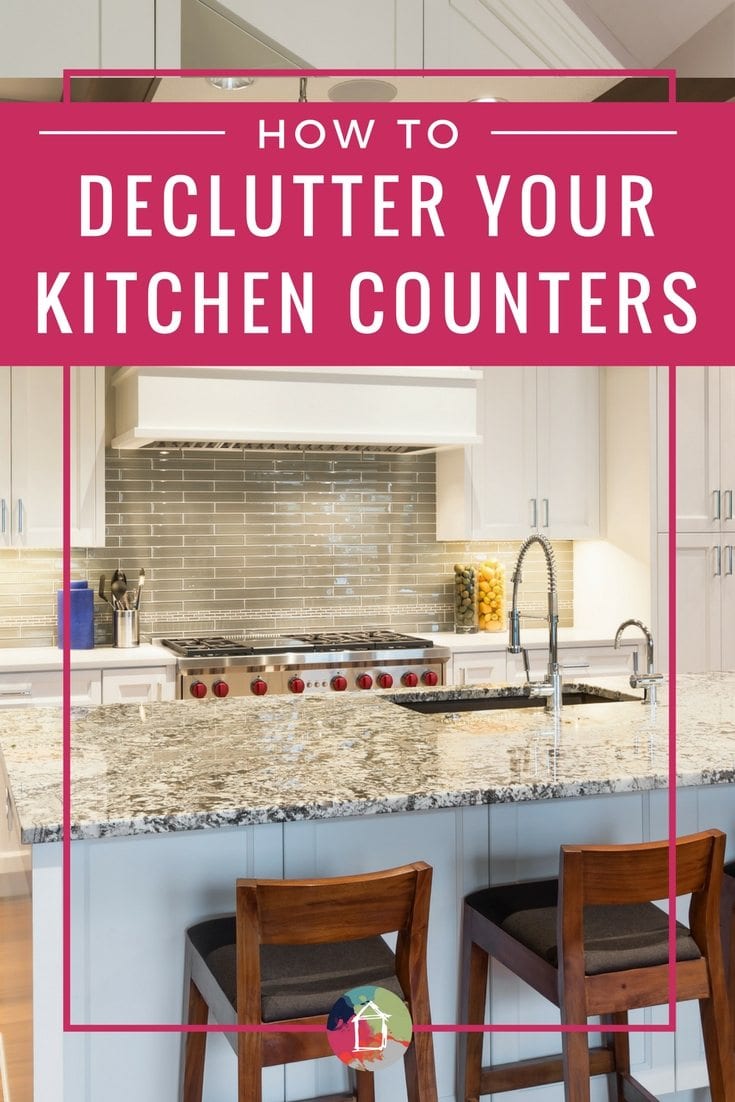 How to Declutter Your Kitchen Countertops
The key to keeping your kitchen counters clear of all but the essentials is to establish a clear no-clutter policy that is strictly enforced. Don't worry–you can do this! When you establish a command center and work your way to being paperless, keeping your kitchen counters clear will be much easier than it seems now. If you don't know what I am talking about, go back and check out these posts: Why Your Busy Family Needs a Command Center and How to Go Paperless and Why You Should .
Kitchen Counter To Do List:
– Clear all paper from your kitchen counters: Quickly clear all counters of any paper, and deal with it as discussed here (in other words, trash/shred it, scan it, or keep it). If it is something you need to keep, make sure it is put in the proper spot for important papers!
– Remove and put away any items that belong in other rooms: Use a basket to collect items that belong in other rooms and return them to their proper homes.
– Get rid of unwanted, broken or useless items: Keep only items that are currently useful, are in proper working order and that you absolutely love. Again, get rid of things that you are keeping solely out of obligation or guilt. It won't be easy, but it is necessary to let go of those things that were gifted to you that you just don't love or don't use. Decide what to keep, sell or donate and follow through with it ASAP.
– Keep only absolute necessities out on your counters: For my family, that includes a coffee maker and blender, because we use those items daily. We also have a fruit bowl, a jar with olive oil in it and salt and pepper (by the stove) and dish soap by the sink. That's it! If you can scale it down to even less than that, go for it! A clean, clutter free kitchen can go a long way in reducing your stress and making meal prep time far more enjoyable. It's also much easier to unpack groceries when your counters aren't cluttered by paper and other stuff.
– If you have a tiny kitchen, you need to make some hard choices– Is your kitchen tiny with little cabinet space? I GET IT. Truly, I do. Each of my former houses had small kitchens with limited storage. The struggle is real! It can be easy to feel like you HAVE to keep things out on your kitchen counters. But, there are some creative solutions that will help you. Be sure to check out my post on genius storage ideas for small kitchens and learn how to maximize every inch of storage space that you have.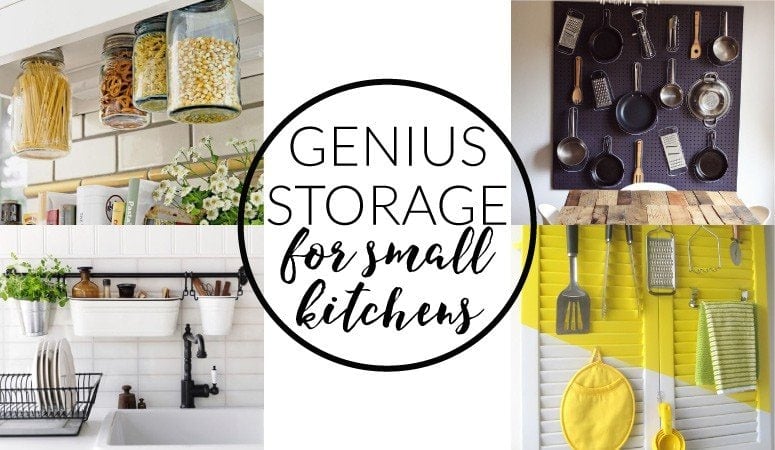 Once you have gotten your kitchen countertops clutter free you will be AMAZED at how much more pleasant it feels to spend time in your kitchen. Now, go get to work! You will be so happy with the end result!

[go_portfolio id="cleaning_and_organization"]