Progress in the Back Yard
Last Updated on August 10, 2021
Hey friends! If you follow me over on Instagram, you've probably seen some of our backyard progress in my Insta stories. But for those of that haven't, I wanted to share a super LAID BACK, non-tutorial post just to share with you what all we have been doing. And let me tell you…we are TIRED. Crazy tired. And I really don't think I've sweat so much in my entire life. I can't say I recommend tackling such a HUGE outdoor project in the middle of Summer, but hindsight is 20-20. The good news is that it's all coming together beautifully and it's going to be sooooo worth it!
Alrightly, first let's take a look at the old deck (31 years old, to be exact). It was badly splintered and we were never fans of the orange-tinted stain. These are photos from when we first moved it and it remained largely unchanged (except for that ugly privacy fence that we ripped down and turned into this DIY herringbone plank wall a couple of years ago).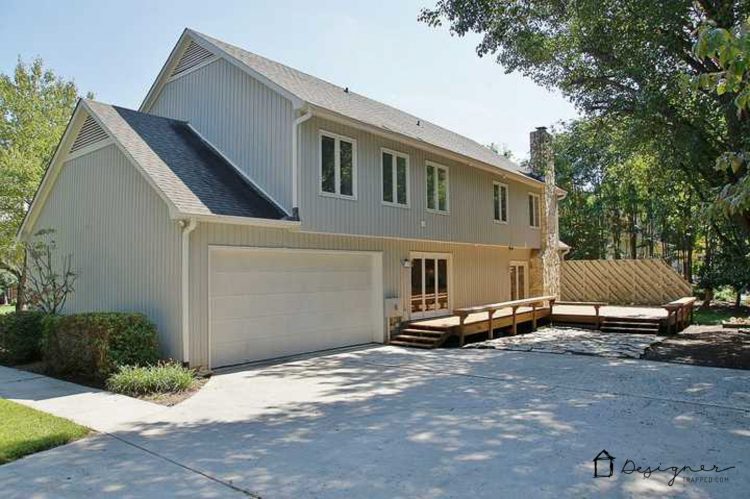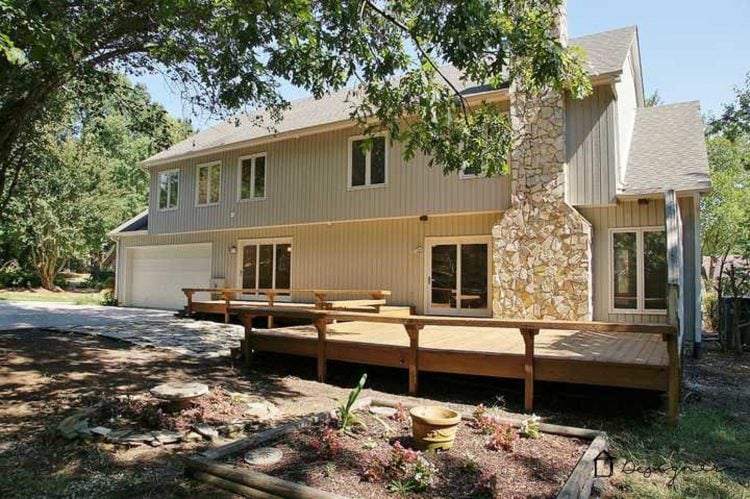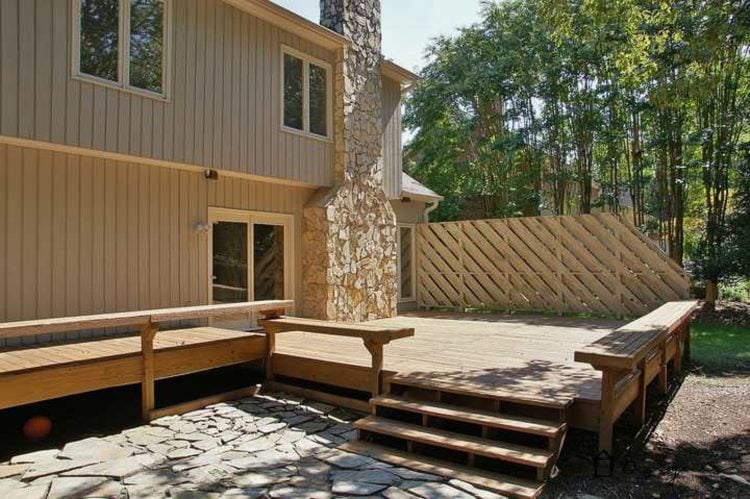 We ripped it to shreds. Yeah, it was messy.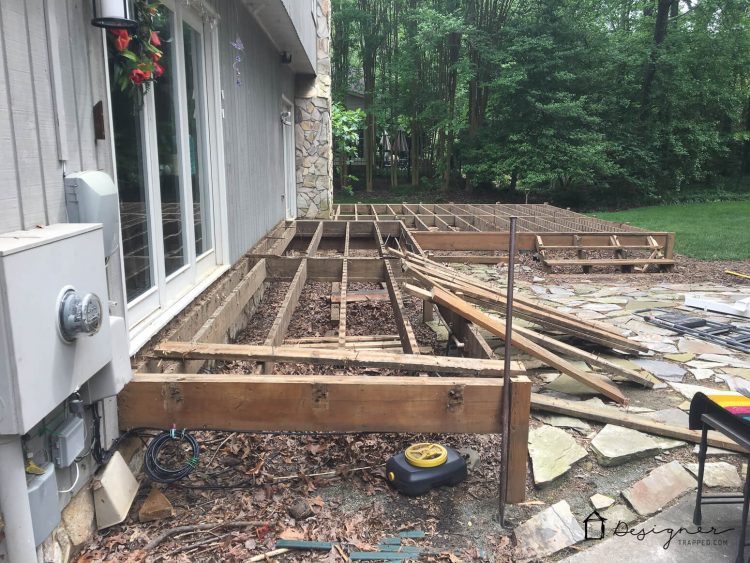 We kept the exact same layout so that we could re-use the existing framing (which was in great shape, thank goodness). Some day I'll share with you all the reasons we decided to use pressure treated pine for the decking boards and decided against any composite materials, but for now, just check out the new deck!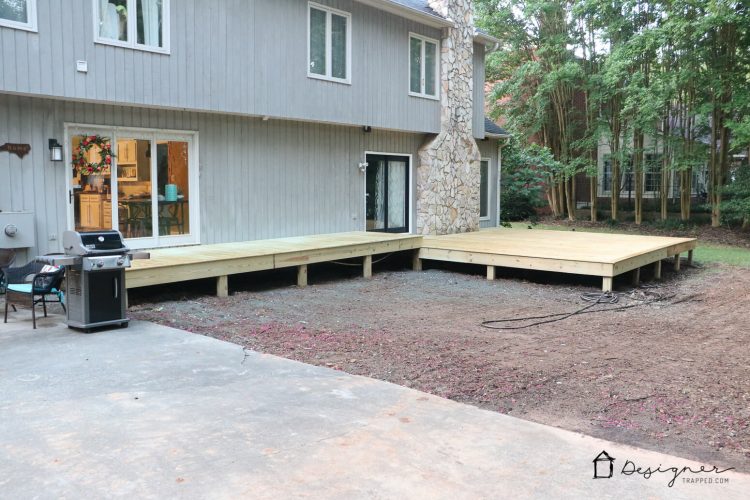 We decided to keep the deck as open as possible and since the deck sits so low to the ground, our local code does not require railings. So, in lieu of railings, we decided to build wrap around stairs and a DIY outdoor bar–you'll see those projects soon :) We added a nice detail by adding a "picture frame" around the entire perimeter of the deck instead of just running the deck boards straight to the edge of the frame. It definitely added some extra time and planning, but we are glad we did it. It looks much more "finished."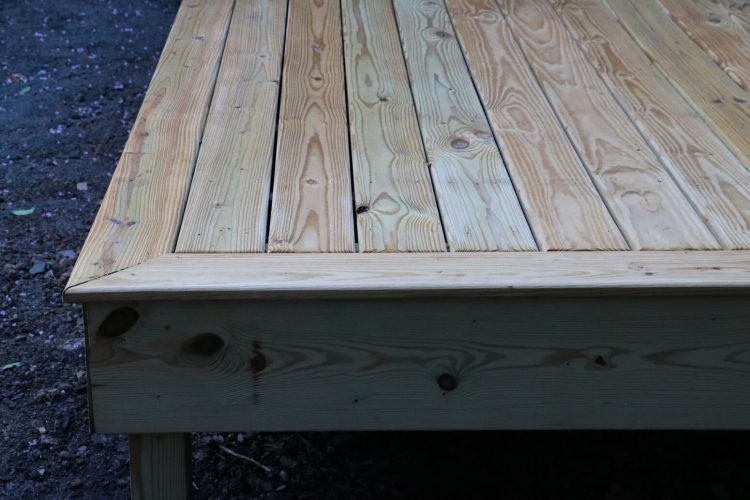 We had to delay building the stairs because we hired out some grading work, so we dove right into staining the deck. I had hoped staining would move pretty quickly, but it felt like it took forever. It probably didn't help that we were working in the 95 degree heat.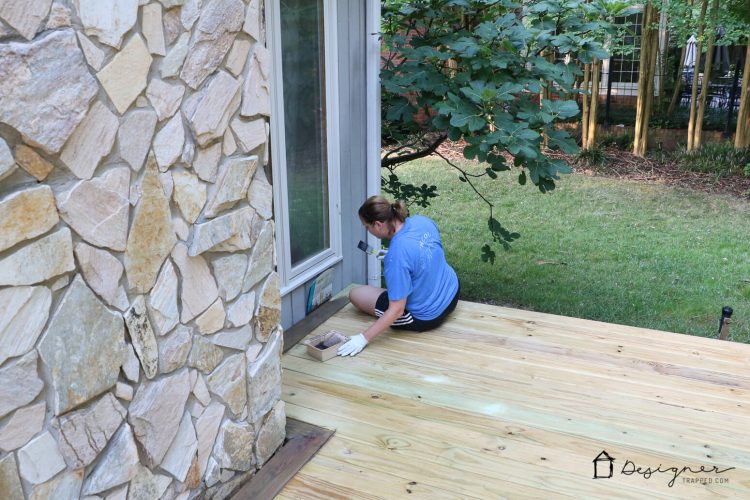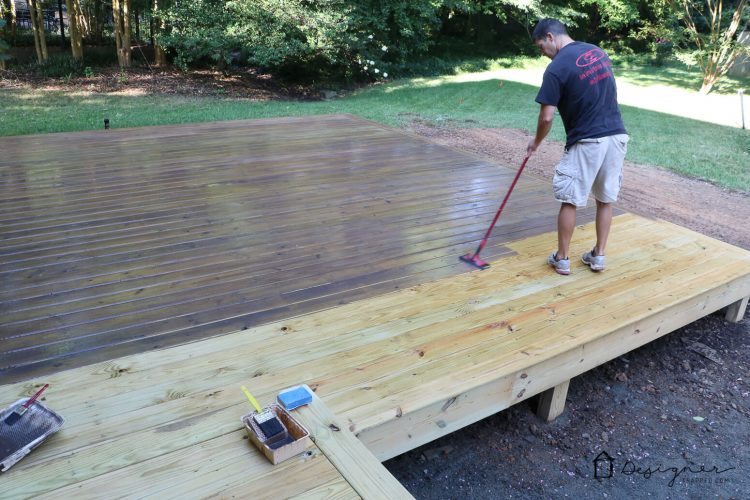 And that my friends, is where I leave you :) The full reveal will be coming later this month, so stay tuned :)
[mv_create 1 11 200 2016 key="1″ type="list" title="Most Popular Projects" thumbnail="<a href=" https designertrapped com wp content uploads diy home decor projects blog jpg a]