Tips & Inspiration for Decorating Your Dining Room for Christmas
Christmas is just around the corner and if you are like most people, you are giving some thought to having your holiday meal in your dining room. Lots of people think about what the table setting will look like, but have you thought about other what other dining room Christmas decorations you can add? You can make your entire dining room feel festive and special with just a few touches!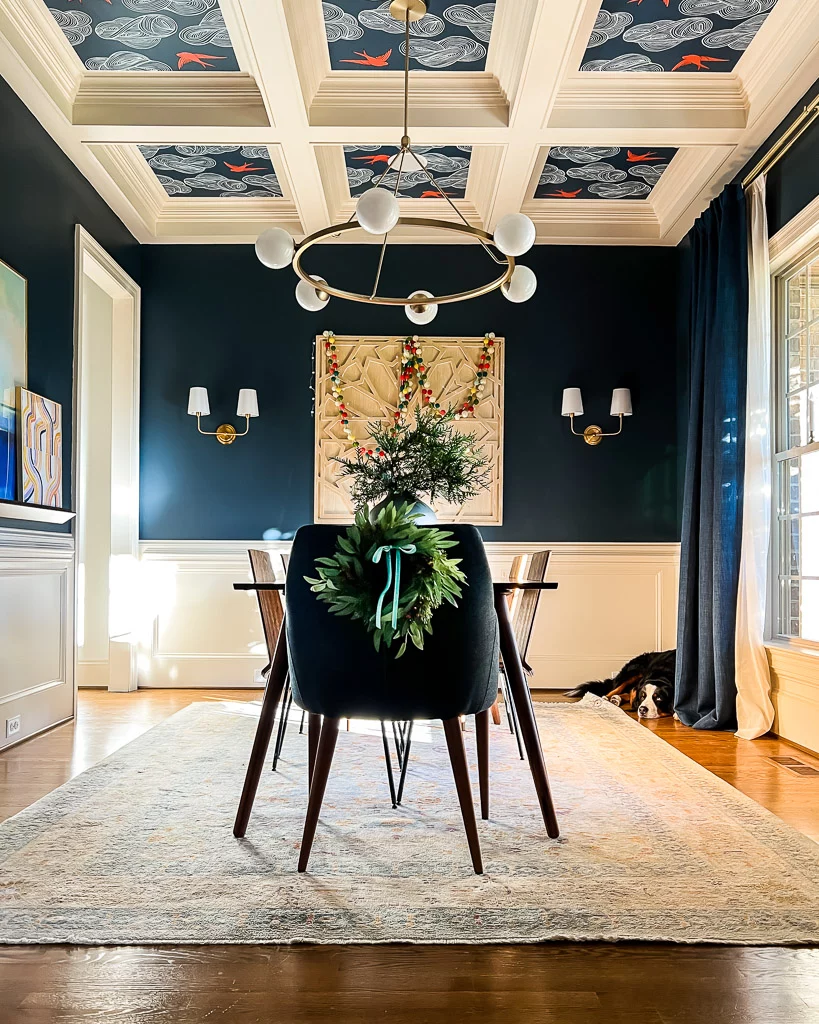 Because you need to keep most of your dining room table relatively open so that people will have plenty of time to eat, let's talk about all the other ways to decorate a dining room for Christmas! You can find my top tips and inspiration from other creators below!
Tips for Decorating Your Dining Room for Christmas
Tip # 1: Create a magical moment
I know that sounds vague, but that's intentional. I think there are a zillion different ways to create a magical moment in a dining room for Christmas. Maybe you hang pretty paper Christmas fans from your chandelier or you add fairy lights on every surface you can. Just choose something that feels whimsical and is something you wouldn't do any other time of year. Last year we created these DIY Christmas lanterns and hung them in the cased opening to our dining room and they feel, well, magical.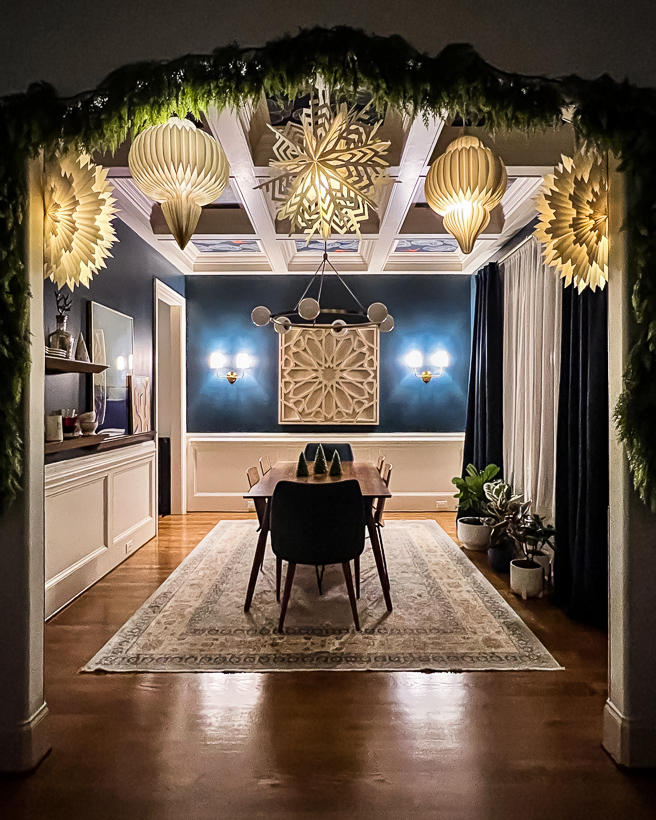 Tip # 2: Add wreaths to your dining chairs
Never underestimate the power of decorative mini wreaths. Add them to just your arm chairs at the heads of the table (like I did) or add them to every single chair for instant holiday cheer.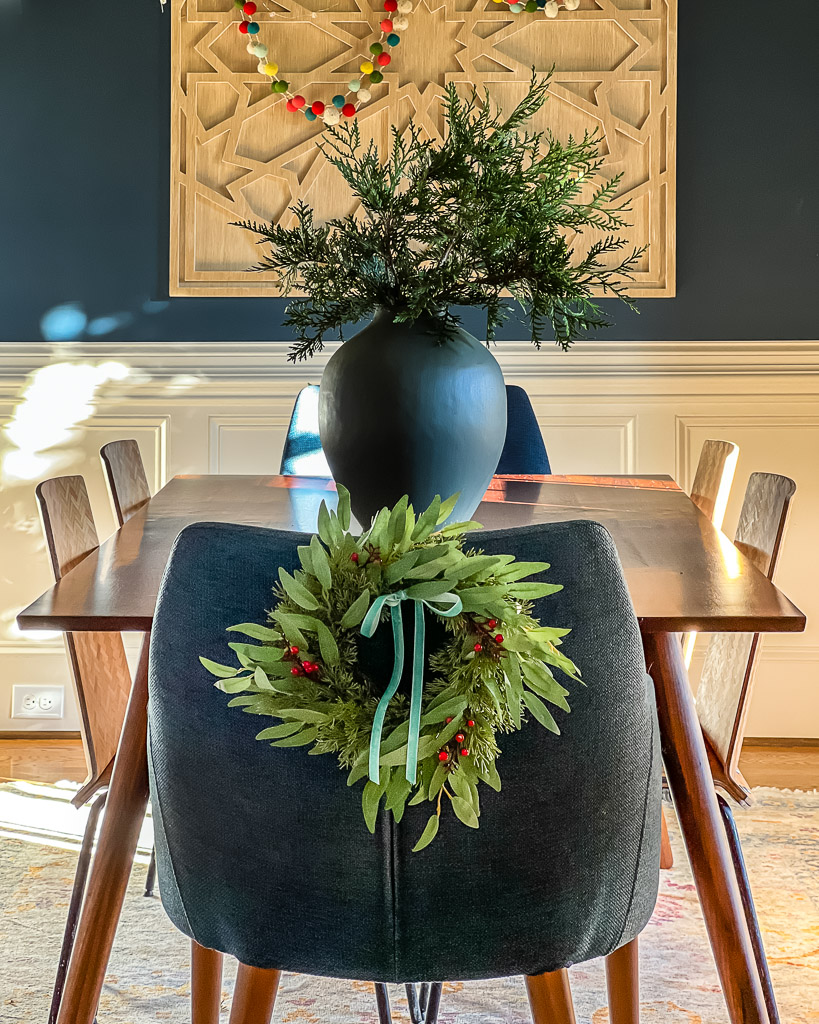 Tip # 2: Display holiday glassware and/or dishes
This Christmas dining room decor idea is easy and functional! If you have shelves or a hutch, display some holiday dishes and any special glassware you use for the holiday season.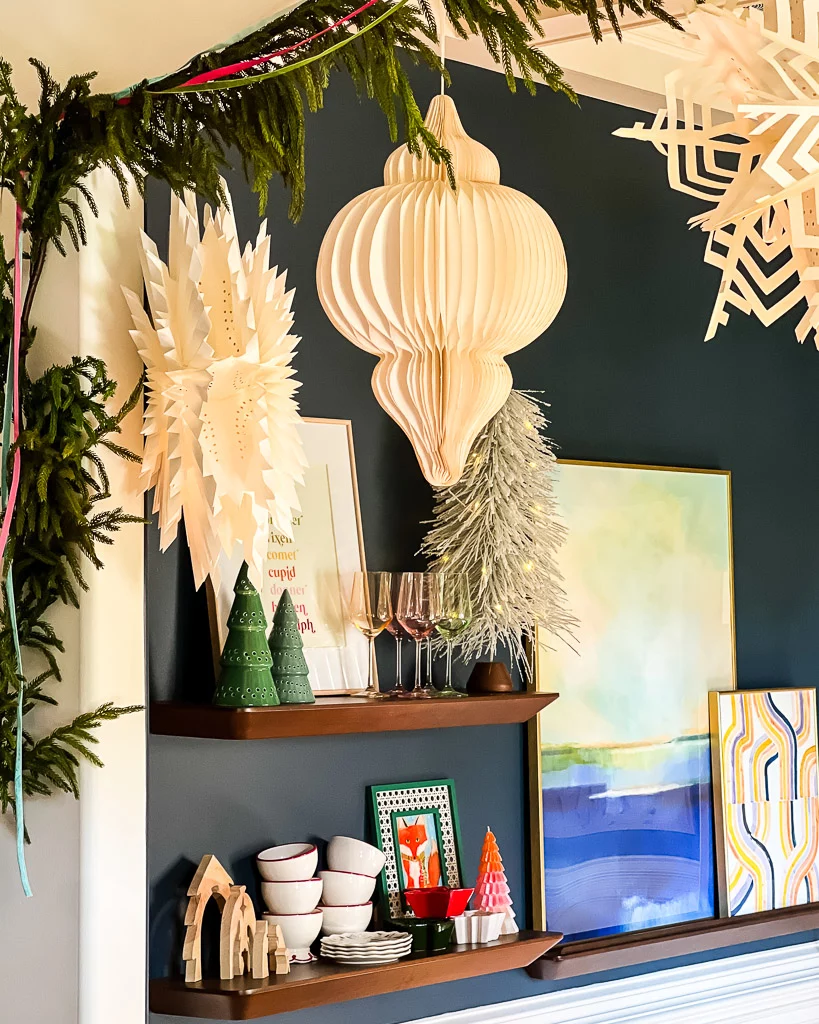 Tip #4: Display special artwork
On of the easiest ways to elevate your Christmas aesthetic is by displaying some seasonal artwork. You'll notice that I didn't change out any of the large pieces of art we have in our navy blue dining room. But I did add some smaller pieces to our shelves, like this colorful reindeer art print. And I put the Christmas fox that my daughter Attley painted for me in this special green lattice frame.
Tip #5: Drape garland over existing artwork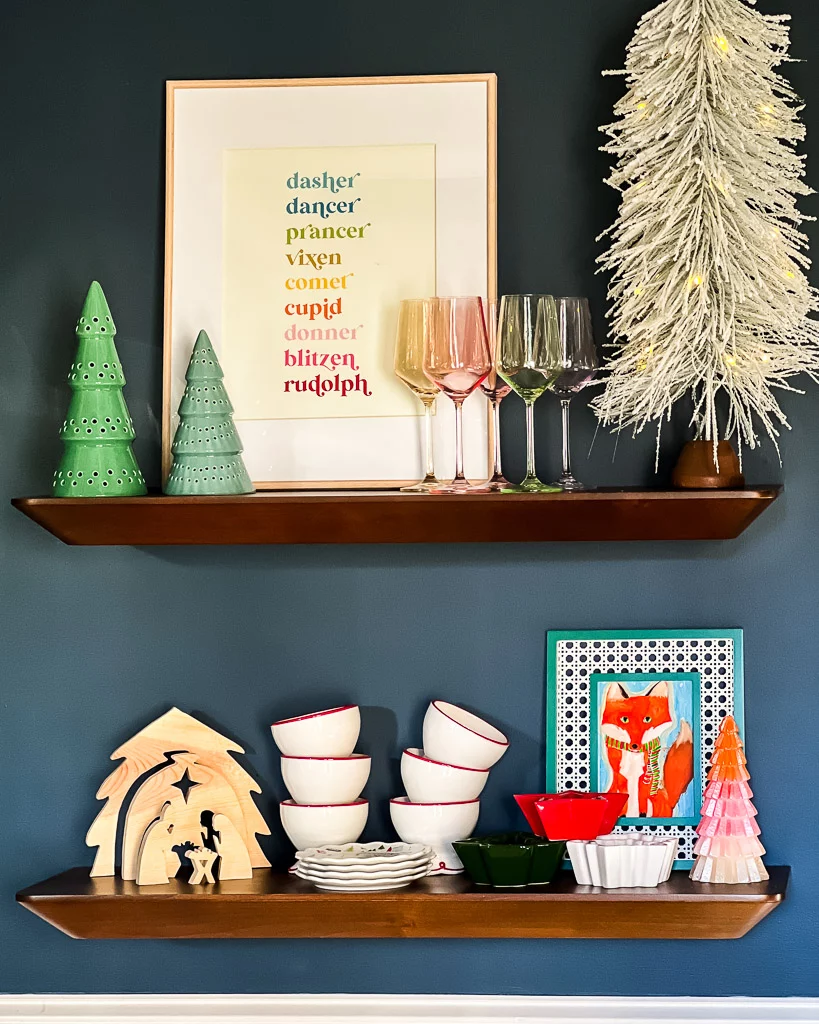 Another simple touch that takes less than 5 minutes is draping garland over existing artwork in your dining room. I draped a colorful pom pom garland and a strand of Christmas lights over the large geometric wood art hanging in our dining room. So easy!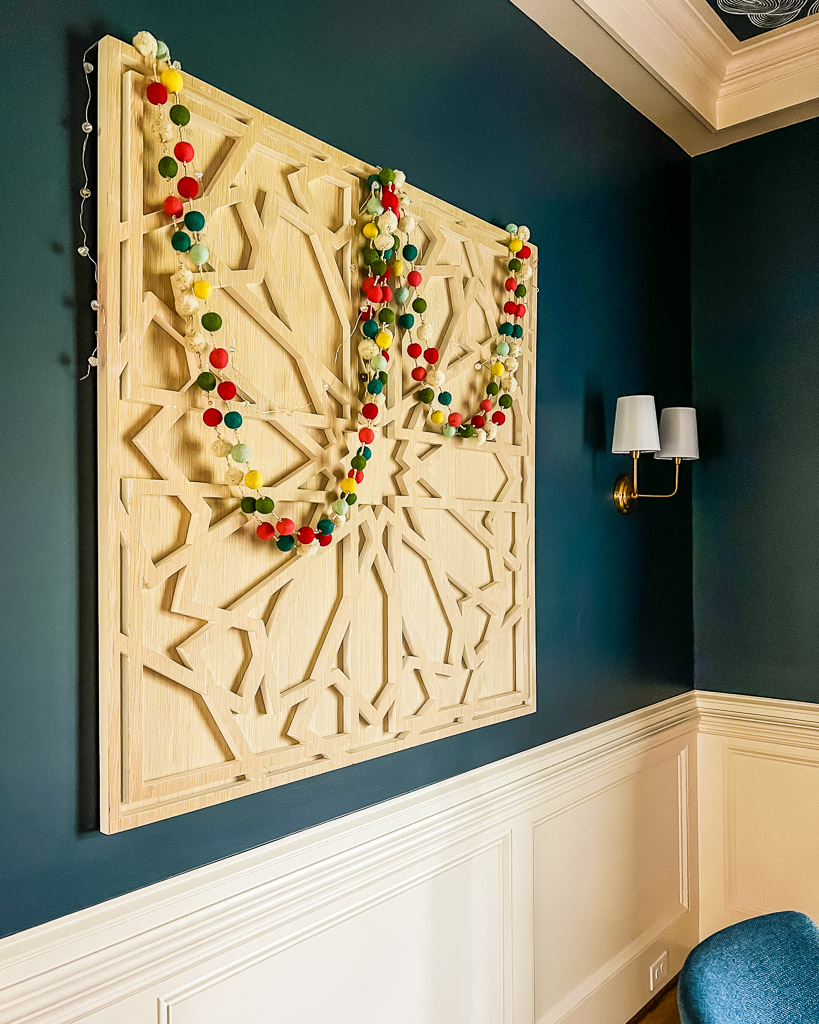 Christmas Dining Room Decorating Ideas
If you are looking for more ideas on how to decorate your dining room for Christmas, you should find some inspiration from around the web below. These are some of my absolute favorite ideas!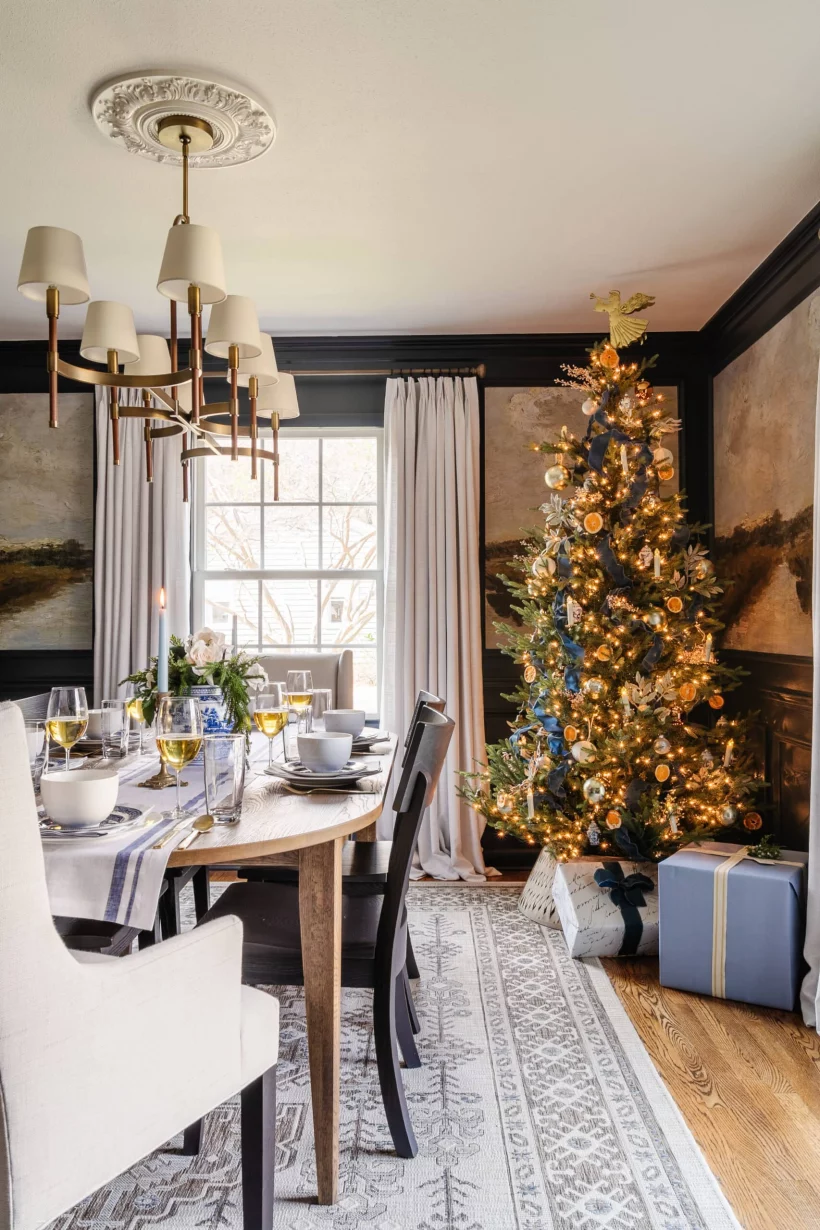 How stunning is this Christmas dining room by Lauren from Blesser House? If you have the room for it, I LOVE the idea of putting a Christmas tree in your dining room for the season! Total bonus if you add beautifully wrapped presents beneath it!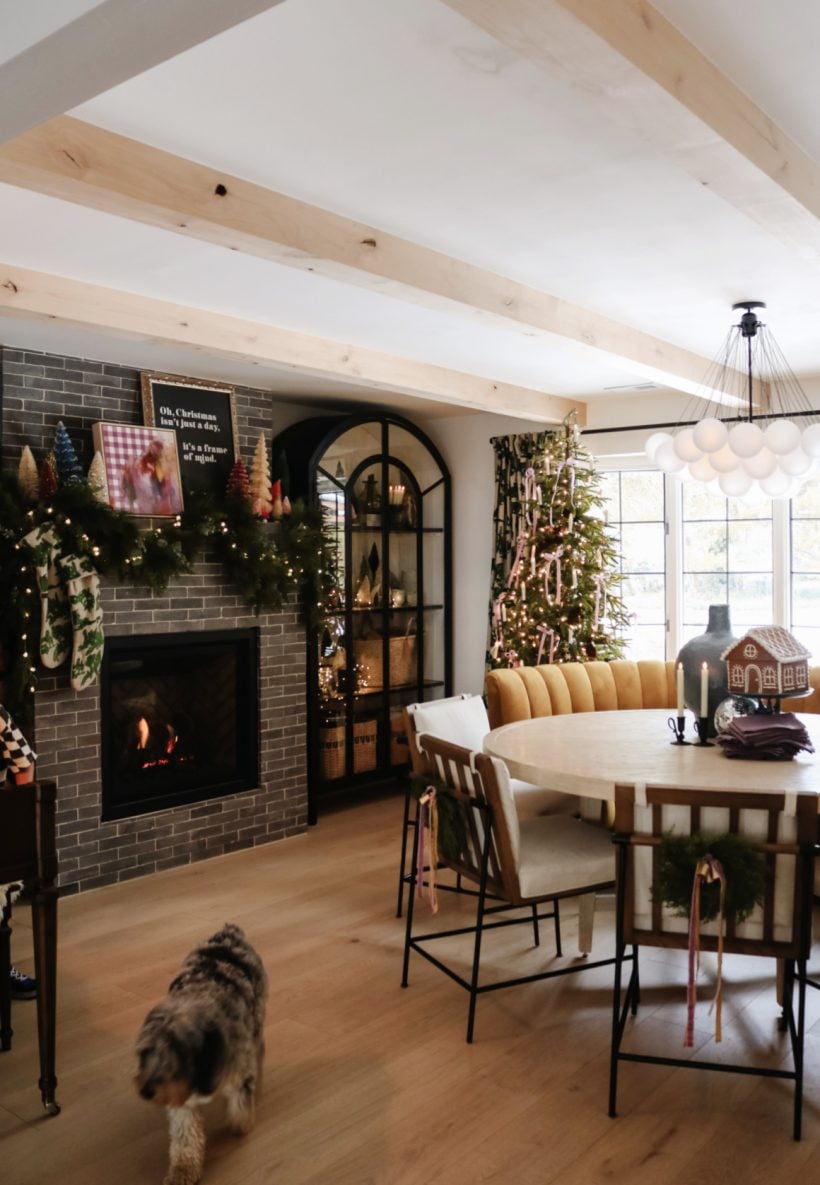 Can we just swoon over everything about this dining room decked out for Christmas by Brooke of Nesting With Grace?! What I love most is how layered all the decorations are (the garlands, lights and artwork on the mantle, for example). It's so cozy it makes me want to crawl through the screen and join them for a meal in this room!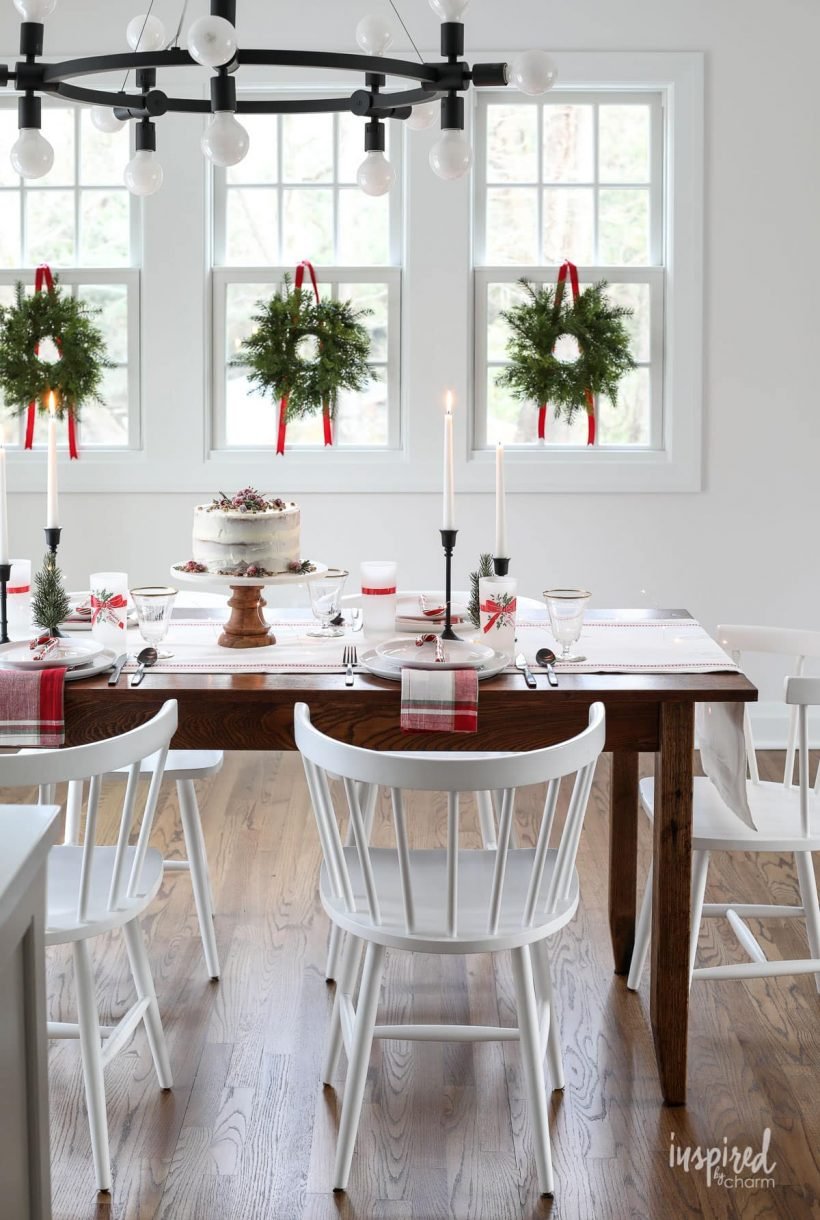 If you prefer a more light and airy look, this clean and simple Christmas dining room by Michael of Inspired by Charm should give you some great ideas. I love the wreaths on the window and the understated tablescape. So simple, but stunning.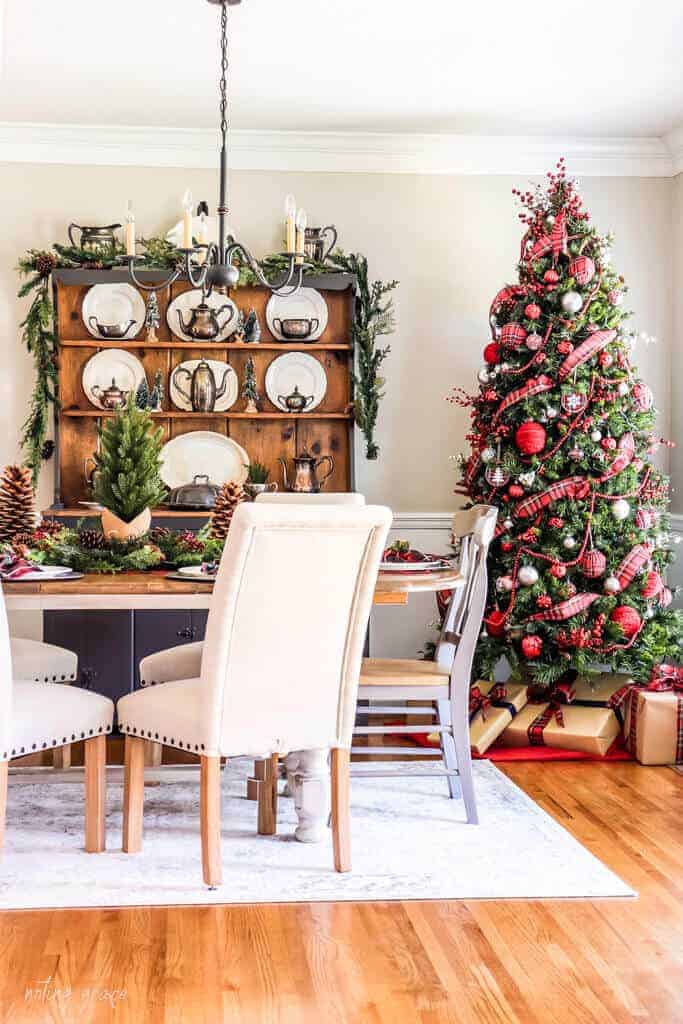 This dining room by Noting Grace is a great example of how you can decorate a hutch for Christmas by just adding a garland. And the tree in the corner is a beautiful touch as well!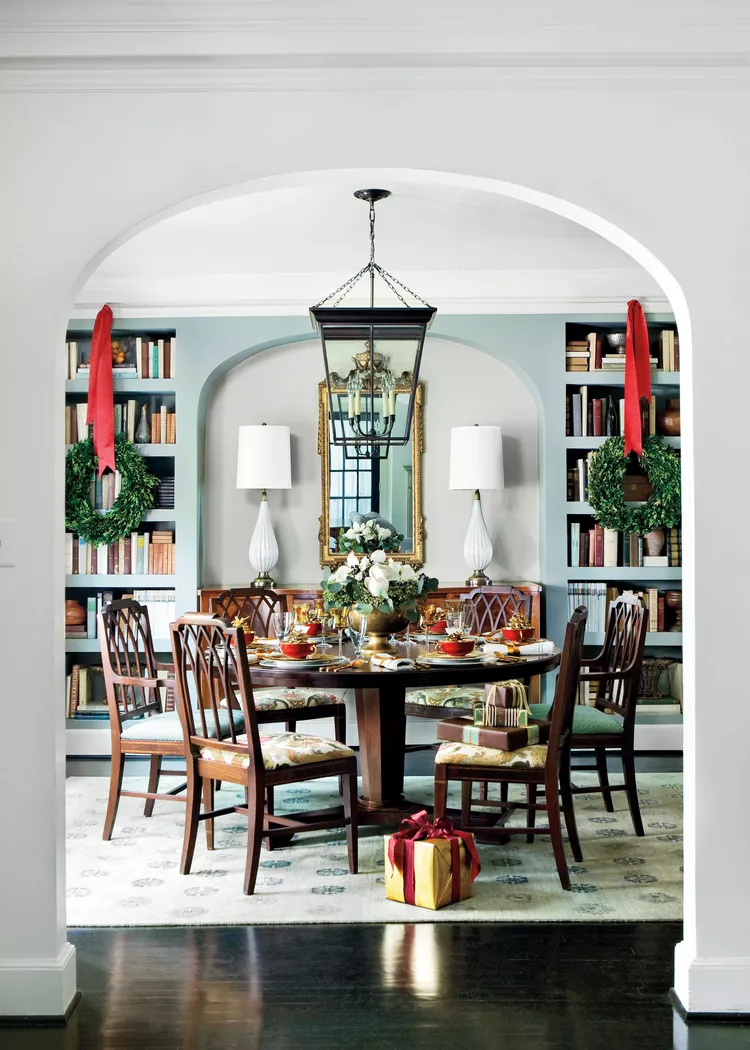 Y'all, this Christmas dining room via Southern Living stopped me in my tracks. I adore everything about it! I love, love, love the idea of hanging wreaths from ribbon in front of built-in bookcases. If your dining room has built-ins, please do this so I can live vicariously through you :)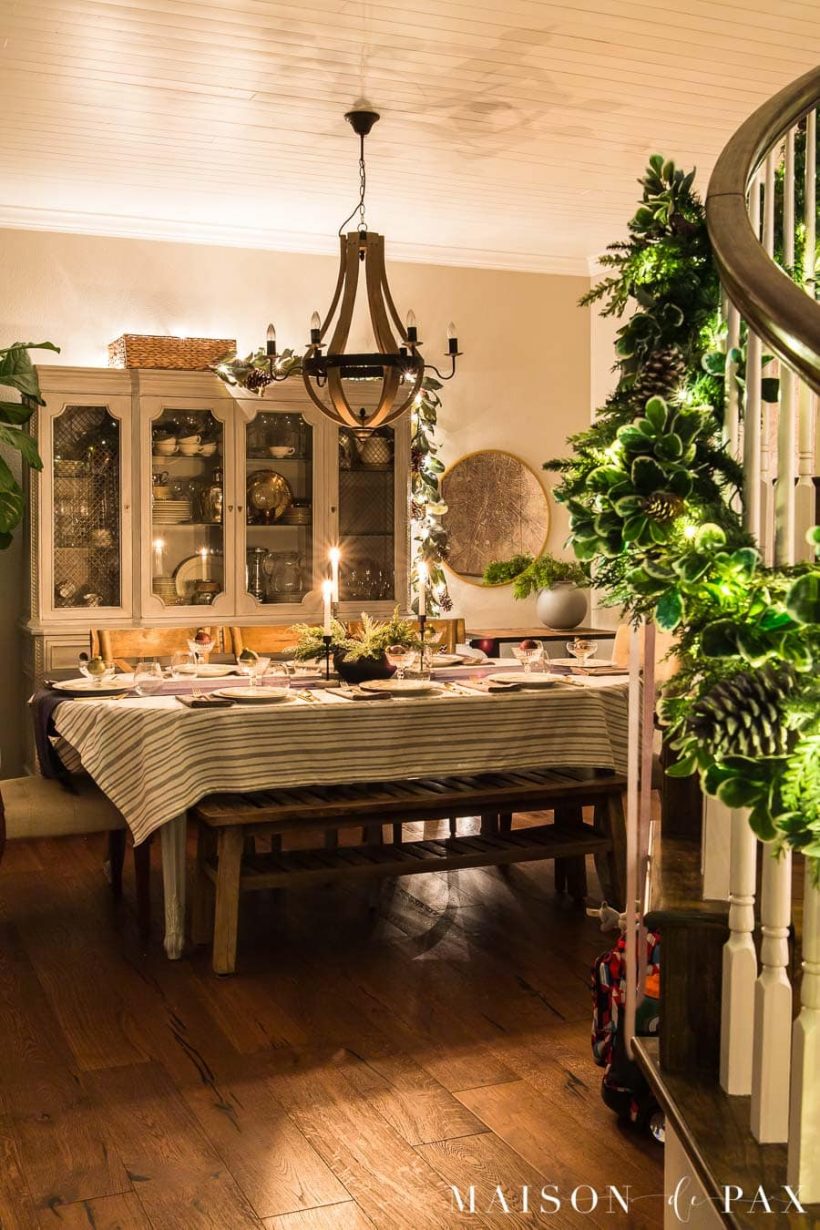 This glowing dining room by Rachel of Maison de Pax is simple but beautiful. I love that she added garland and Christmas lights to the top of her china hutch. It's a great example of a "magical moment" that you can accomplish in under 5 minutes!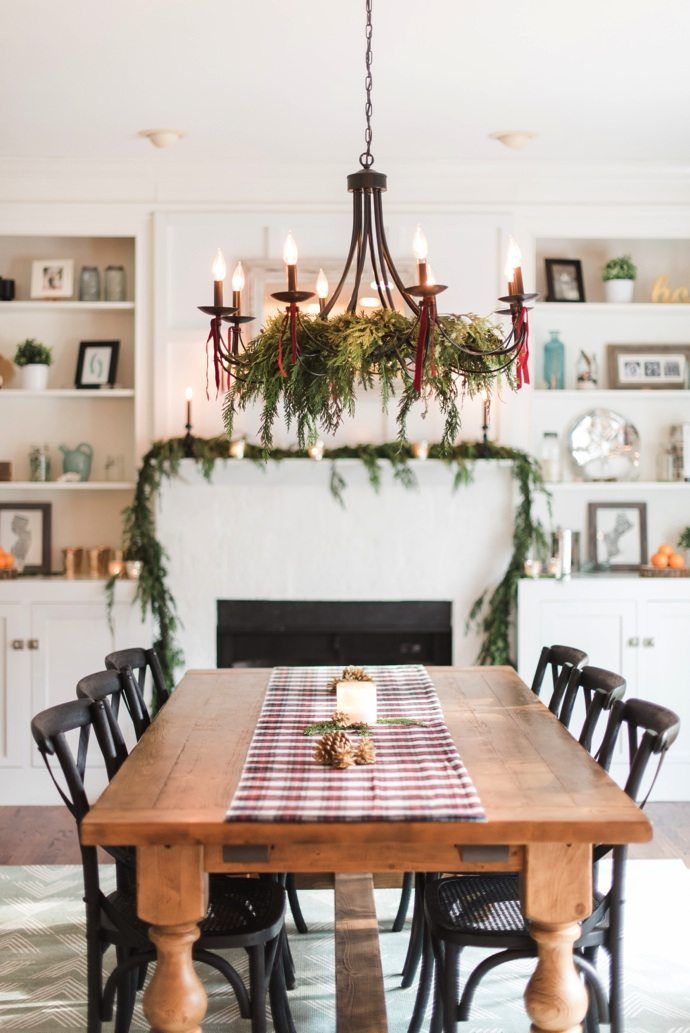 I love sooooo many things about this dining room from The Glitter Guide. From the simple garland on the mantle to the minimalist decor on the table, it's so beautifully done. But my favorite touch by far is how the dining room chandelier is decorated for Christmas with greenery and ribbon. So simple and clever! I may try some Christmas decorations like this in my own dining room next year.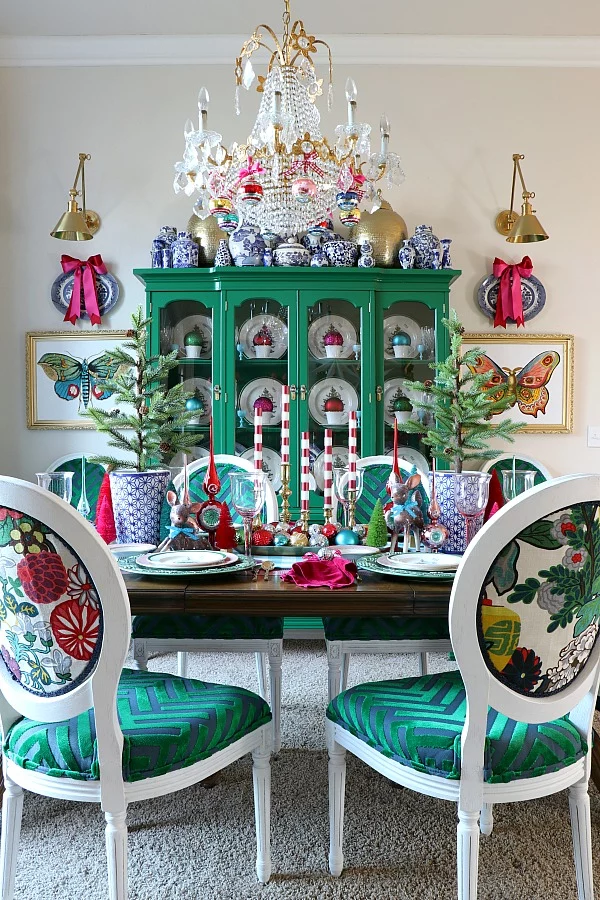 How fun and colorful is this Christmas dining room from Jennifer at Dimples & Tangles?! I love the ornaments on the chandelier and the bows on the plates that are hanging on the wall. Very unexpected but fun touches! And Jennifer's display of holiday dishes and ornaments in her china hutch is just beautiful!
I hope you are feeling inspired to decorate your own dining room for Christmas now! We eat in our dining room for most meals (not just special occasions), so it's an easy "yes" for me to decorate it for Christmas. But even if you use yours less frequently, it's still a room worthy of decorating for the holiday season!
Other posts you may enjoy:
Wondering how I approach transforming rooms and spaces in our home? Check out Designer in a Binder®.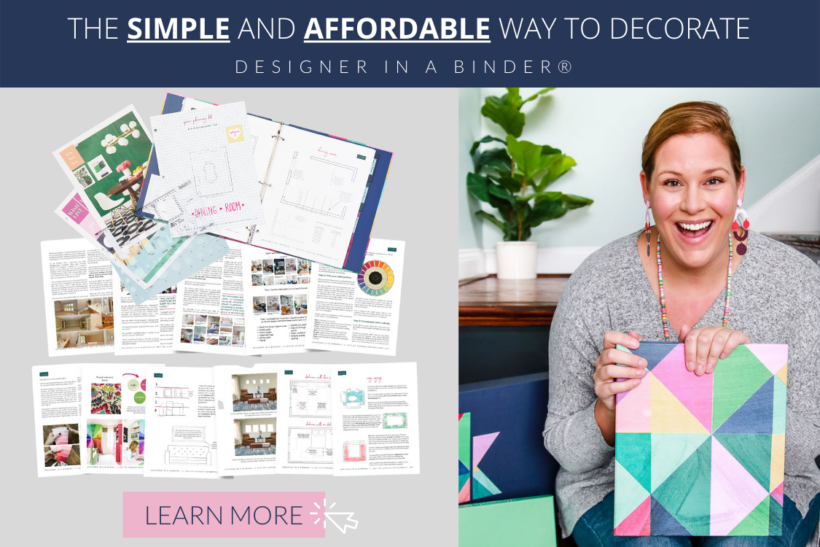 And if you want exclusive content and behind-the-scenes sneak peeks, be sure to subscribe before you head out!