Hey friends! I'm here with yet ANOTHER bathroom renovation update. This time it's all about those finishing details that shouldn't take that long, but sometimes they always do. Sigh.
If you are new here and want a bit of history on this project, you can read about the plans for the bathroom here, see the first bathroom reno update here, and second update here and last week's tiling reveal here.
First, let me explain (in case you don't already know) that no room in the history of construction has ever been made with perfectly square corners or perfectly level surfaces. Never. So, even though we installed our tile in perfectly straight lines, it turns out our ceiling and floor are not totally level. Sooooo, we wound up with uneven gaps at the top of our walls. You can see what I mean in the photo below. Ugggh…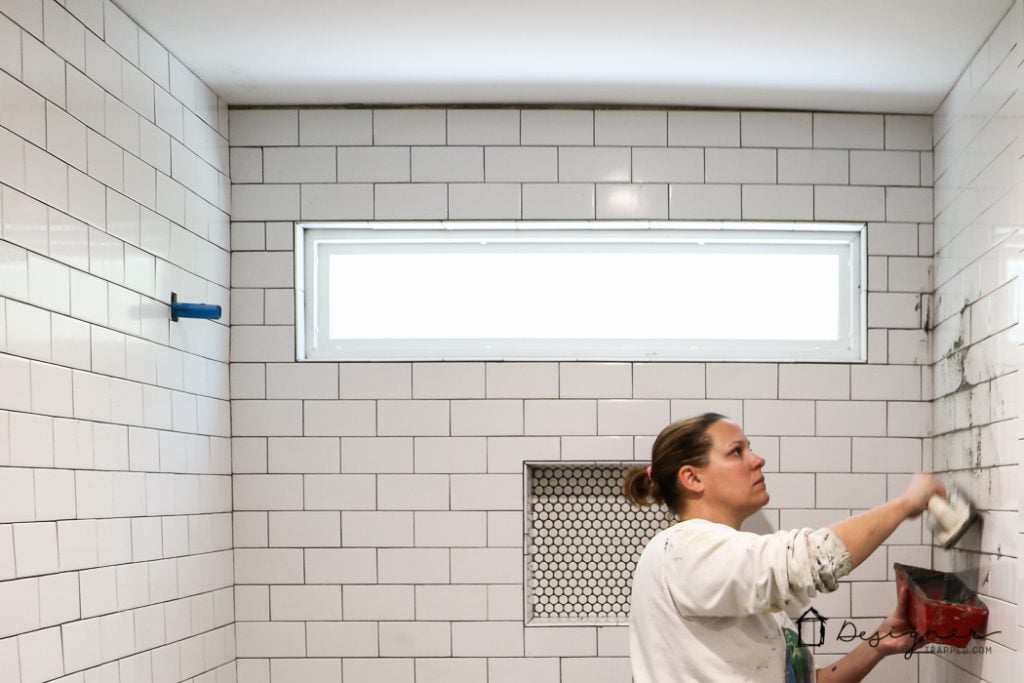 This post contains some affiliate links for your convenience. Click here to read my full disclosure policy.
Initially, we planned to install ceramic quarter round tiles at the top, but since tile can't BEND, that wasn't really an option :) So, we did some research and found a vinyl quarter round option at our local home improvement store. It was super inexpensive and easy to install. Most importantly, it was flexible so it was able to accommodate the unevenness of our ceiling.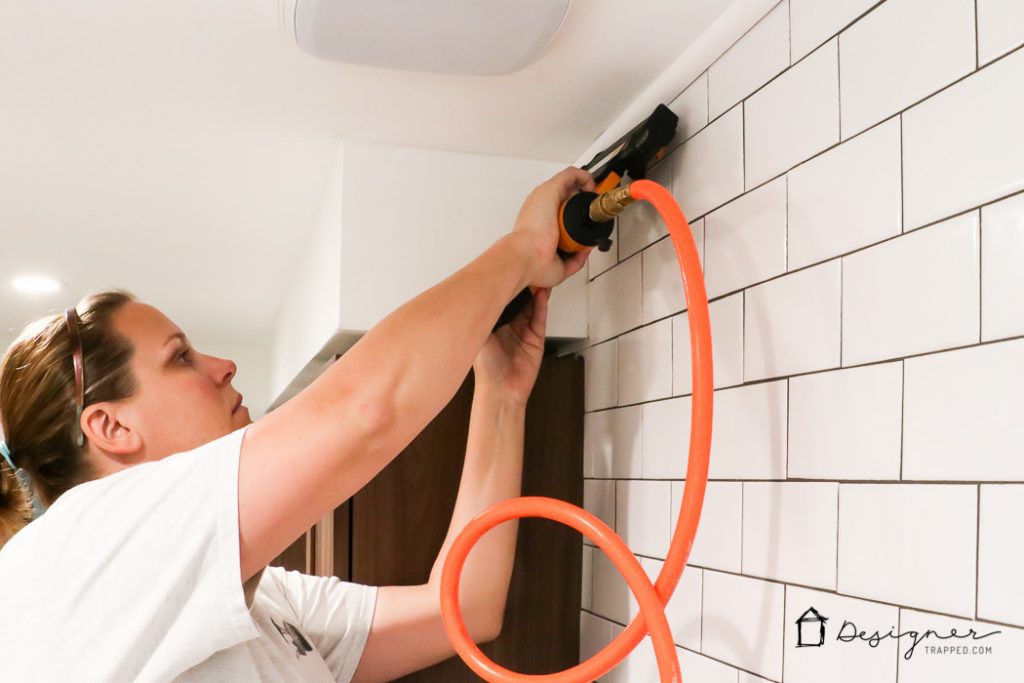 I did have to paint it after it was installed, but since I had to also paint the baseboard molding, it wasn't really a big deal and didn't take very long.
Next up was that window. I REALLY wanted a bit of drama in the shower area and wanted the new window we installed (there was no window at all in this bathroom before–it was a total dungeon), to really pop. While it looked nice white, it just looked…boring.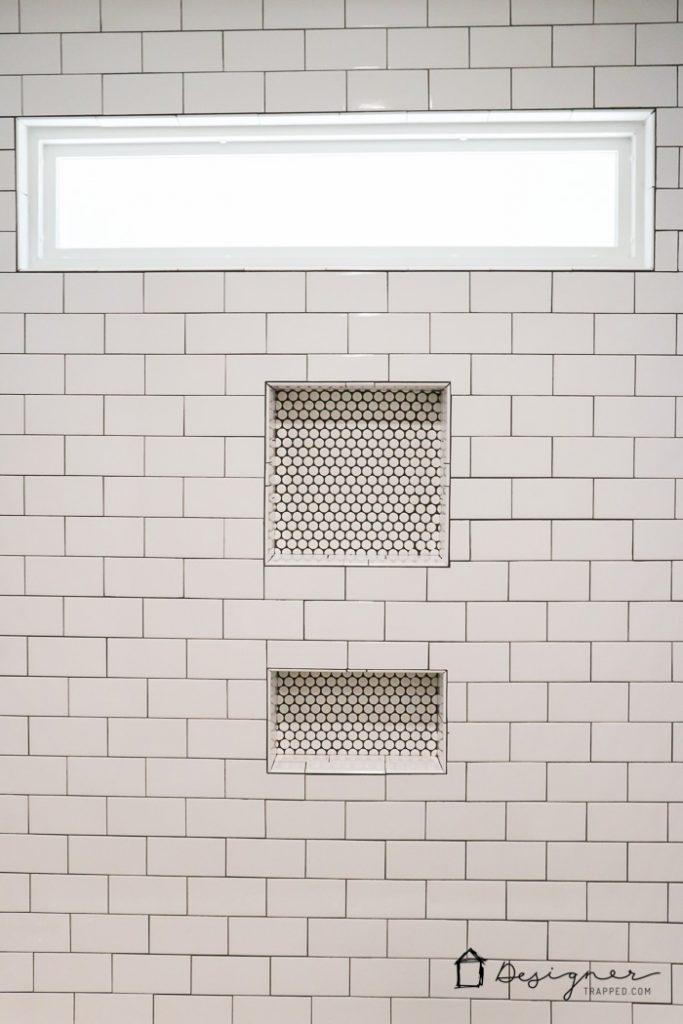 Sooooooo, I decided to paint it black!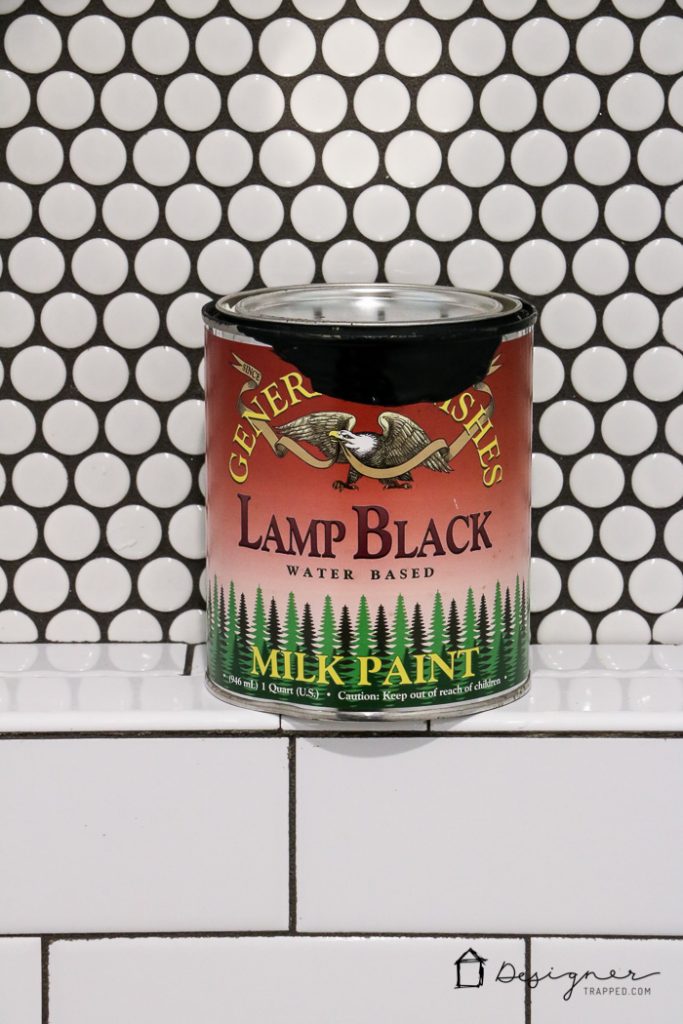 Since it's a vinyl window, I knew I needed to use paint with excellent adhesion, so I turned to my old reliable friend General Finishes Milk Paint in Lamp Black. You can read all about why I trust this paint sooooo much in this post about how we painted our kitchen cabinets without sanding or priming (and are still holding up perfectly years later) by clicking here.
Y'all, BEST DECISION EVER! Check out how it looked after just the first coat.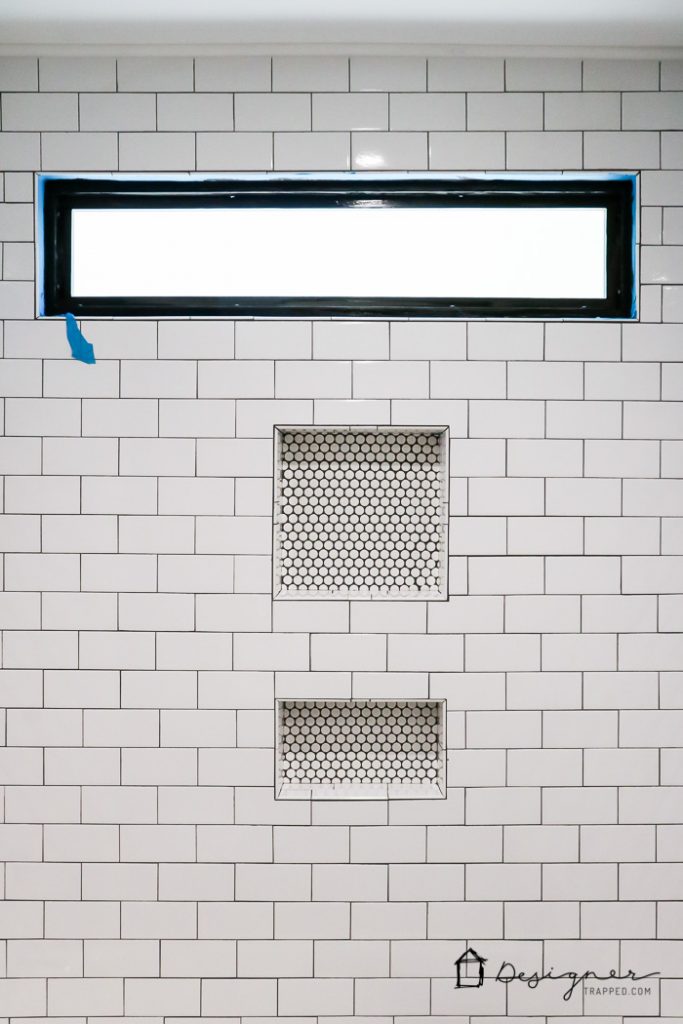 YES for drama!!!!!
Let's do a side-by-side comparison so you get the full impact.
That's it for today, friends! Next week you will get to see the FULL REVEAL! You may be surprised just how much color I can cram into this very neutral backdrop of a bathroom :)
Oh, and before I forget, I am participating in the amazing One Room Challenge hosted by the amazing Linda at Calling it Home with this bathroom renovation of mine. You can click on the image below to see what rooms over 200 other bloggers are making over and sharing on their blogs over the coming weeks. There are some MEGA talented bloggers participating and there are so many amazing transformations in progress to be inspired by. Be sure to head over and check them out!