DIY Staircase Makeover In 2 Days: Tutorial & Reveal
Last Updated on August 2, 2022
Removing carpet from stairs and replacing it with wood stair treads is a very doable do-it-yourself project. This DIY staircase makeover took less than 2 full days and looks like a professional job!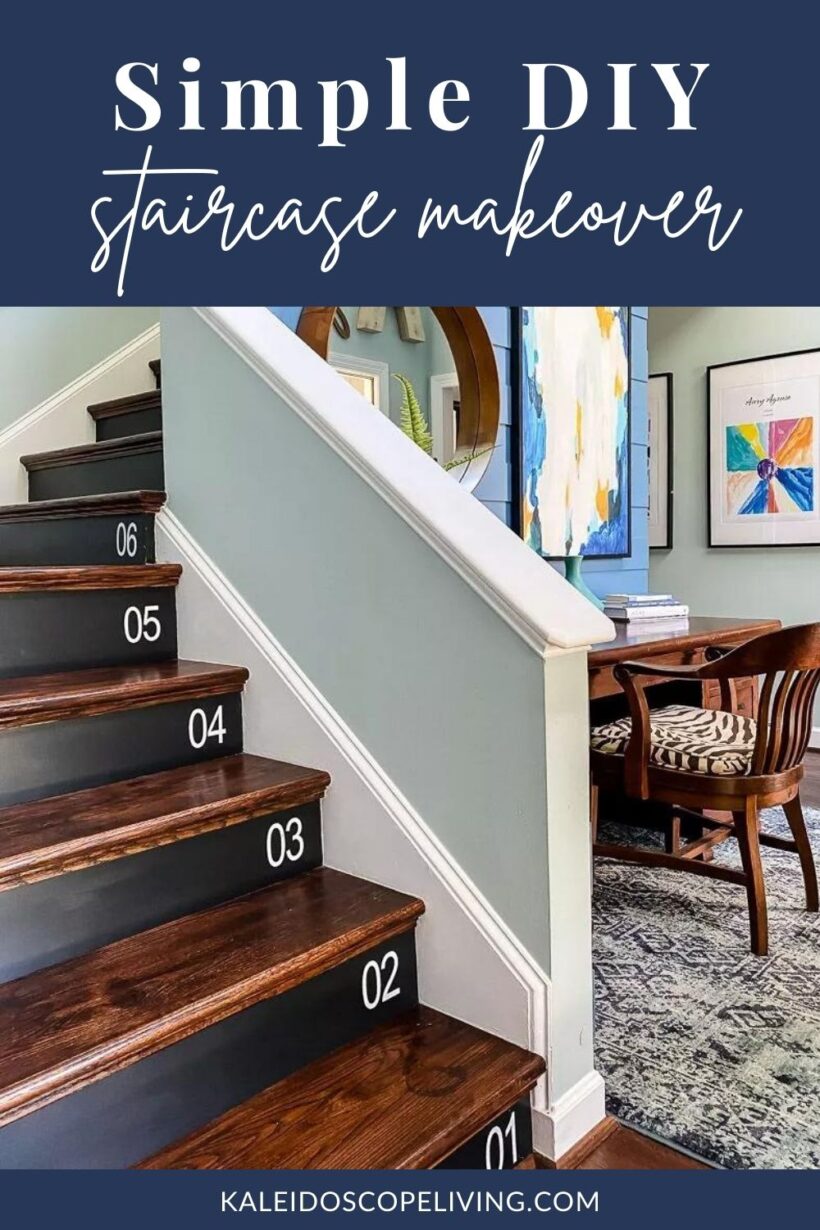 A lot of people wonder, "How do you renovate stairs on a budget?" Well, this is how! We did not like our dated staircase covered in beige carpet. It was boring and uninspiring. So we modernized the staircase by ripping out the carpet and installing wood stair treads. And y'all, we did it ourselves in 1 1/2 days.
I thought installing wood stair treads would be so hard. It was NOT. We have done a lot of DIY projects and home improvement projects over the years, including installing new laminate flooring throughout our home. Installing these new stair treads was FAR easier than installing flooring, which really surprised me. And it was also much more affordable than hiring it out to the pros (which we did in a previous house and I am still a bit shocked by how much we had to pay for it)!
This post contains affiliate links for your convenience. Click here for my full disclosure policy.
How to Install Wood Stairs
Materials Needed for this Staircase Makeover
Stair retreads /hardwood treads(you can learn more about the exact stair retreads we used below)
Utility knife
Hammer
Crow bar
Circular saw (at a mininum–inexpensive and would get the job done)
Miter saw (makes it easier)
Table saw (also makes it easier–this is the table saw we have and love)
Caulk, painter's tape and touch-up paint
Wood Stain
There are LOTS of stair retread options out there y'all. Sometimes you can even find them inside an actual home improvement store like Home Depot (though usually you have to order them since they don't always stock them).
In the end, we chose theNuStair system because it's 1) high-quality and 2) all of the materials you need, even the adhesive, are shipped directly to you and that really appealed ot us since it would save us lots of time. And I have to tell you, this DIY staircase makeover project moved smoother than ANY of our projects in recent history. I believed the system would work well and would be beautiful, but I honestly did not expect that it would be as simple as it was. We had 95% work done in one weekend. ONE WEEKEND. Really, in 1 1/2 days. It was awesome.
Installation Video
I am not even going to attempt to provide a detailed tutorial on how to install new stair treads with the NuStair system because for once, I DON'T HAVE TO! The NuStair instructions and videos cannot be improved upon. Even if you go with a differentstair retread product, the installation should be very similar so I HIGHLY recommend watching this video. I'll share a brief recap of how the project unfolded for us below the video.
Our DIY Staircase Makeover Step-by-Step
Removing the Carpet & Prep Work
We started by ripping out the old carpet and carpet pad. That part wasn't bad. Removing the tack strips and staples was a lot less fun, but it moved relatively quickly. The entire "demo" step took about 4 man-hours.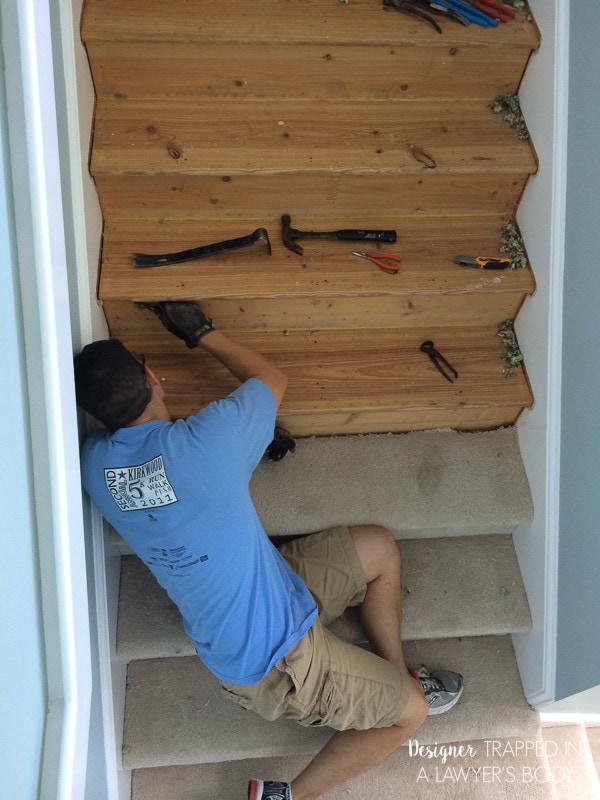 Staining/Painting
Next up was a whole lot of staining. You can order prefinished treads, but we chose unfinished Red Oak so that we can stain it ourselves to match the laminate flooring we have been replacing the carpeting with. So, after custom mixing a stain to match our laminate floors, we stained, and stained, and stained. Fortunately, we only had to apply one coat of stain. It dried quickly and we were able to put a coat of water-based polyurethane on before we went to bed that same night.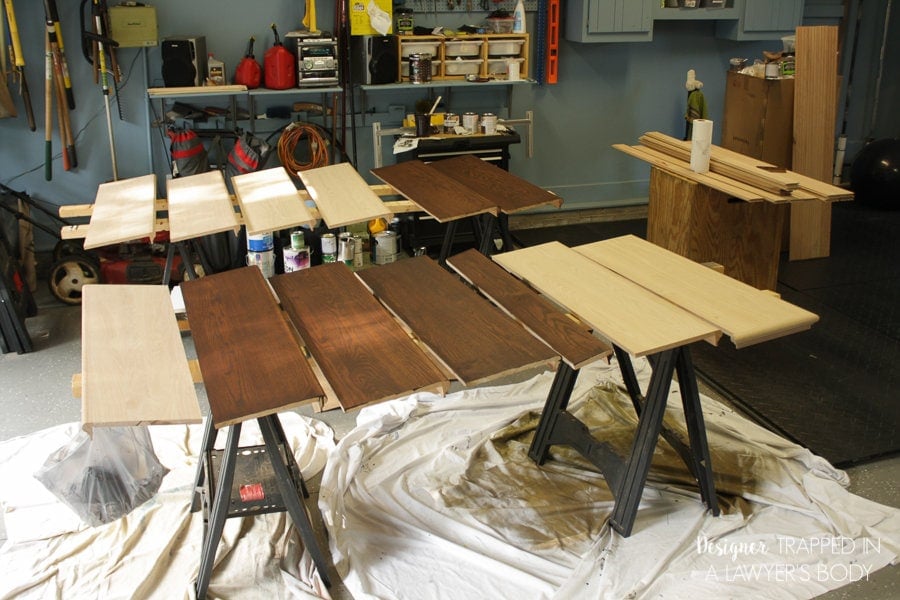 We also painted the stair risers. They come primed, which is awesome! We opted for black stair risers, which required 2 necessary coats for good coverage, but it moved really quickly. It took about 4 hours to do all the staining/top coating and painting, with both Joe and me working on it.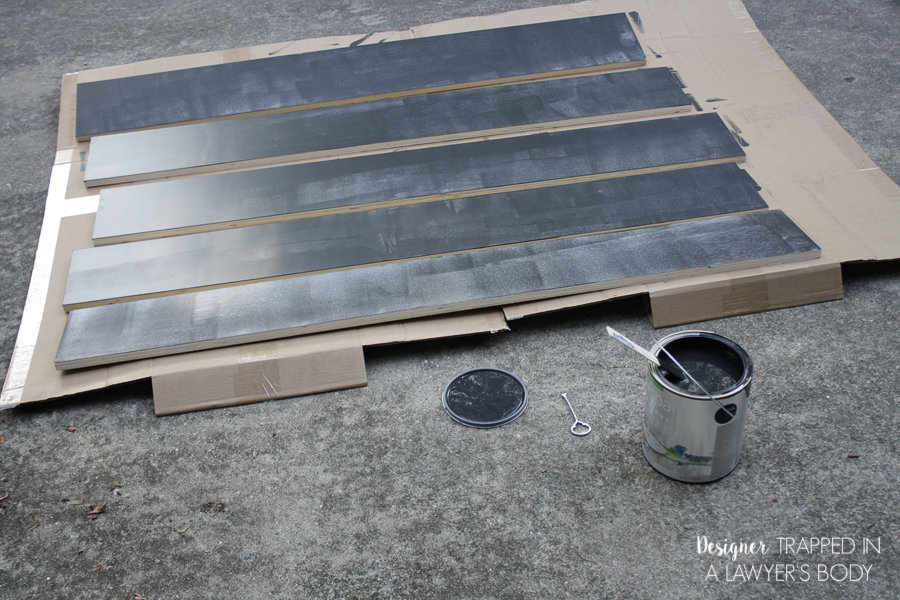 We let the stain/poly and paint dry overnight and got to work installing the stair treads and risers the next day. It really could not be more simple. NuStair provides something called a "NuScribe," which acts like a slide ruler and can be positioned on top of each step, with the edges fitting tightly against the the stair stringers. Once you have a snug fit, you lock down the arms and then remove it from the stair. Then you position it on the NuStair tread, make your marks and your cuts and install it.
Installing the Treads & Risers
The basic installation process is this:
Trim all stair parts to size.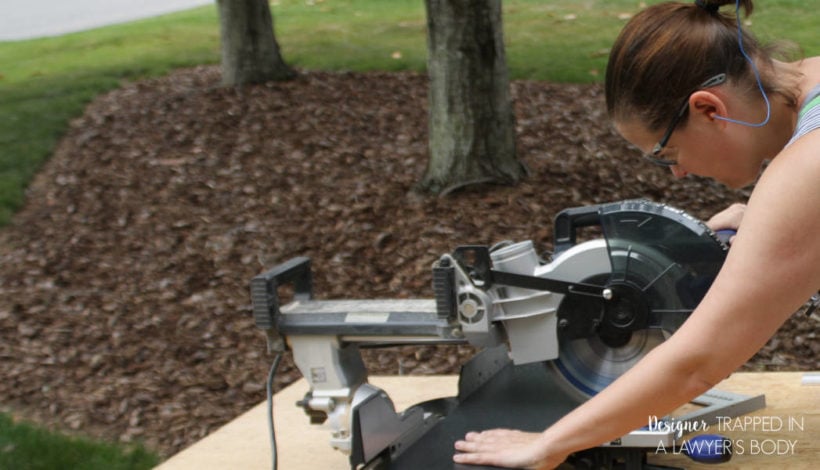 Install the 1st stair tread using a urethane-based adhesive. Secure your 1st prefinished stair tread by nailing the back edge so that it will be disguised by the riser.
Then install 1st set of shims using adhesive and nails.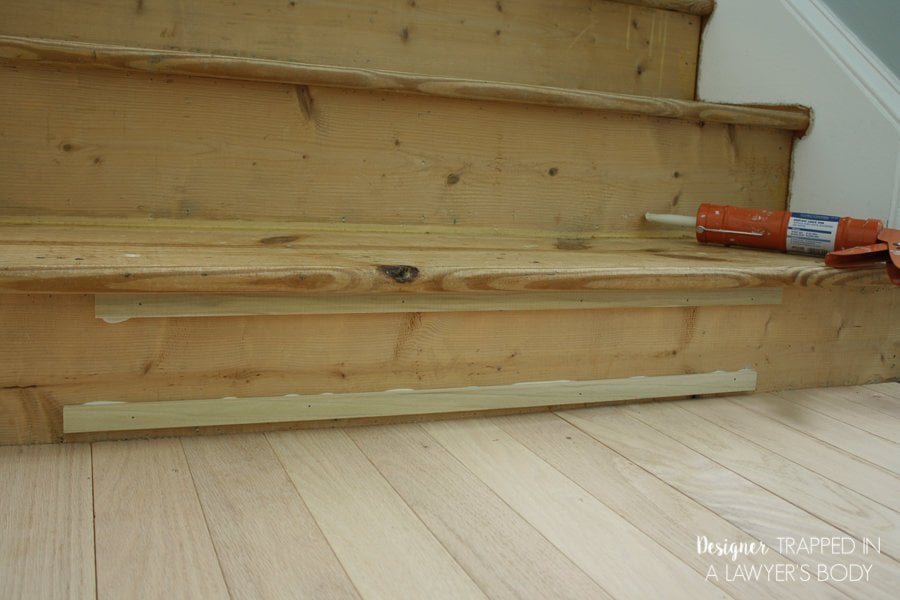 Install the 1st riser with the cut edge facing up and the factory edge against the stair tread that it sits on.
Repeat steps 1 through 5 until you are done! If you have a small landing like we do, you will install regular hardwood planks on the landing.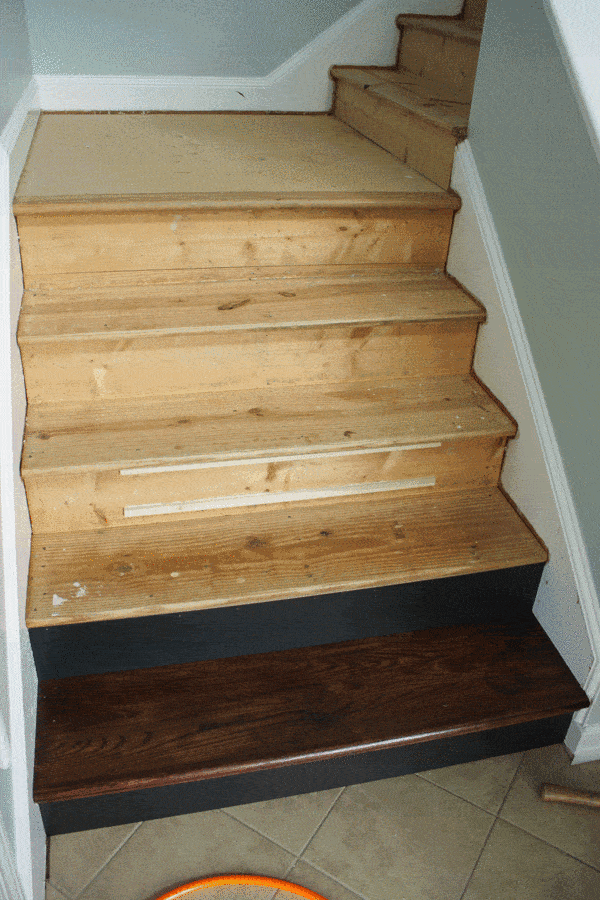 Once we were totally done installing the new wood treads, we caulked along the edges and touched up the paint on the baseboards and banister/handrail and then we were DONE!
The Reveal
We decided to add a bit of a decorative touch to our new stairs by numbering them. When we were thinking about what to do in the stairwell, I considered a fun stair runner, but I really wanted to enjoy the clean new look and all of our hard work! So instead I used durable vinyl numbers on the stairs (you could also use a little paint and a stencil)! These decals easily peel off. It was a fun and simple DIY. We love how the white numbers really pop off the black risers.
We are so happy with the finished look. Once I added home decor touches to go with the new stairs, I felt like the foyer really came together for the wow factor I wanted. I now LOVE the view from above when I am looking down from our upstairs hall. Such a dramatic difference!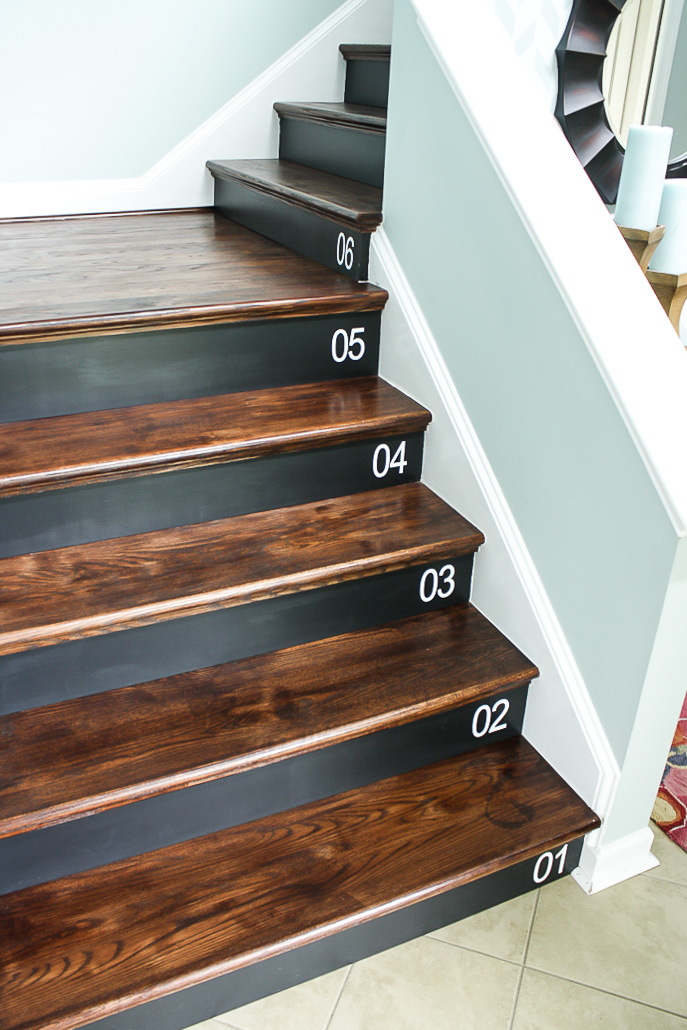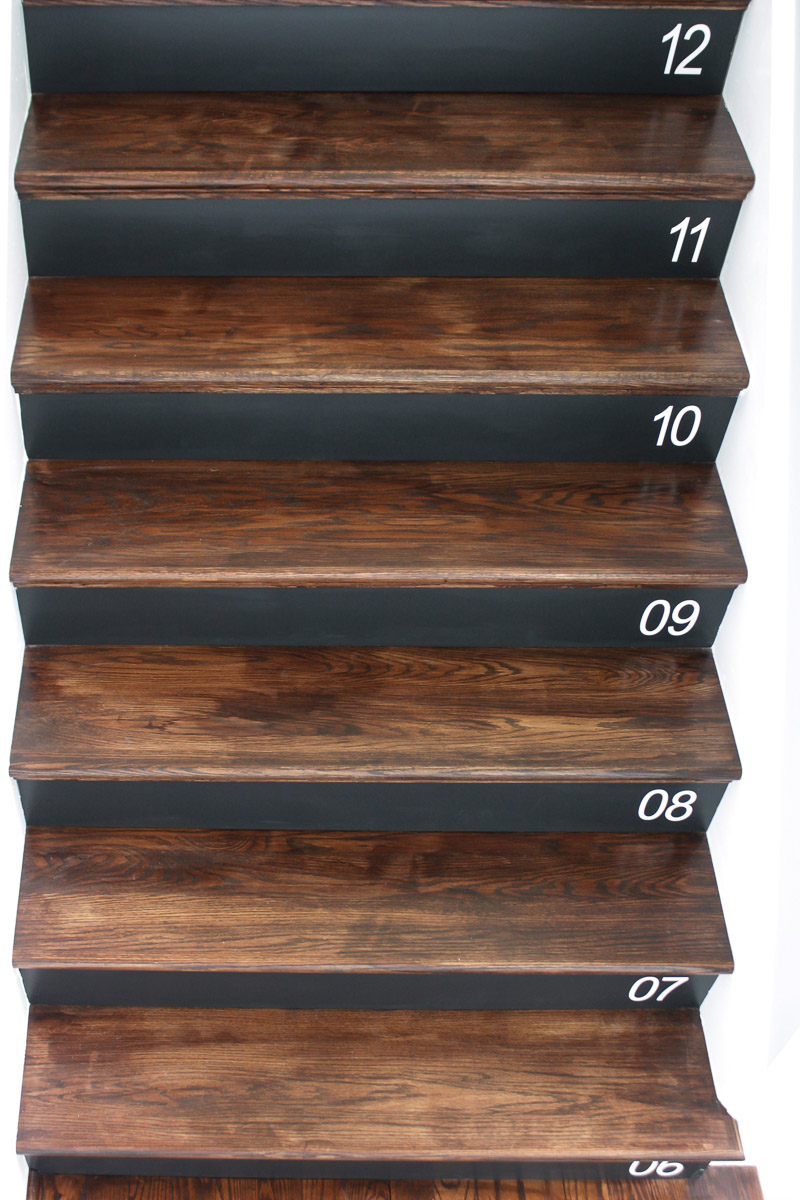 The Cost
Now, let's talk about cost of this DIY staircase makeover. The price will vary from project to project, obviously, depending on whether you have a short set of stairs or a longer staircase. Also whether you have a landing, balusters, and open or closed railings factors into the complexity. It's easy to obtain a quote–just fill in the details of your project here and NuStair will provide you with a free quote. That said, the cost for everything we needed was just over $2,000 for all the wood treads, risers, wood for the landing, adhesive, shims and the NuScribe. One of the best purchases we have made for our home to date!
You may be thinking that $2,000 sounds like a lot, and there is no doubt it is an investment. But, I promise you that you will pay a lot more to hire this job out and using stair retreads makes this a doable DIY job, which was super important to us.
What do you think? Are you now convinced that you can tackle your own staircase makeover on your own? Seriously, you can do it! If you aren't convinced, go back and read my post on the DIY staircase installation process again!
Update
2020 Update: It has been 4 years since we tackled this staircase makeover and since then we have given our foyer and stairs even more of a makeover. We added a modern plank wall, updated our stairway gallery wall, and replaced the beige tile on the floor in the entryway with the laminate flooring in the rest of the house. The stair treads still look PERFECT. Very happy with the quality and durability of them!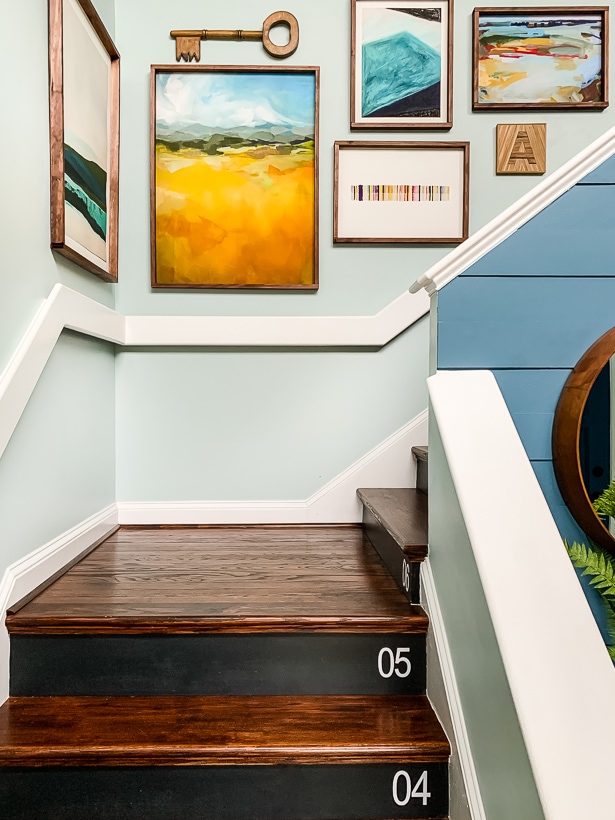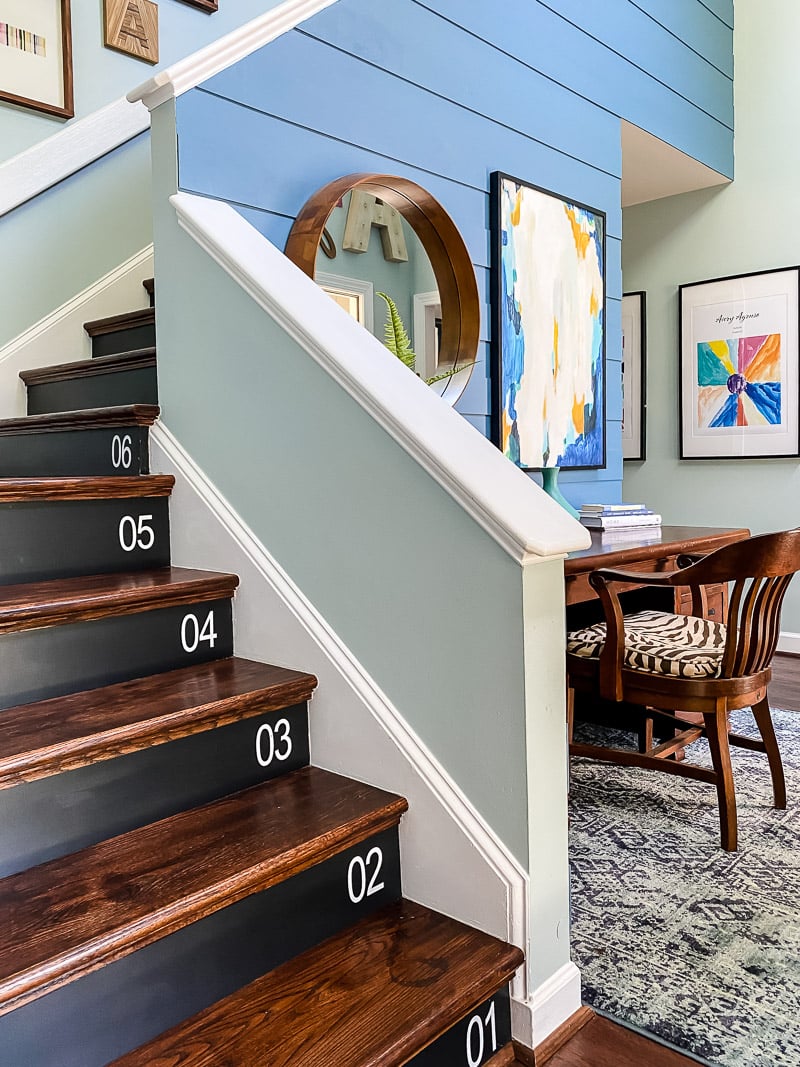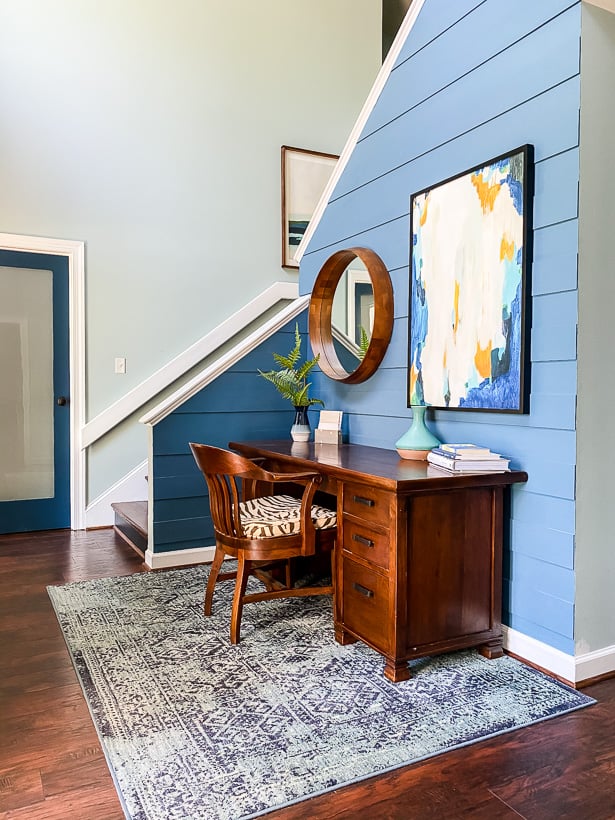 You may also enjoy these posts:
Wondering how I approach transforming rooms and spaces in our home? Check out Designer in a Binder®.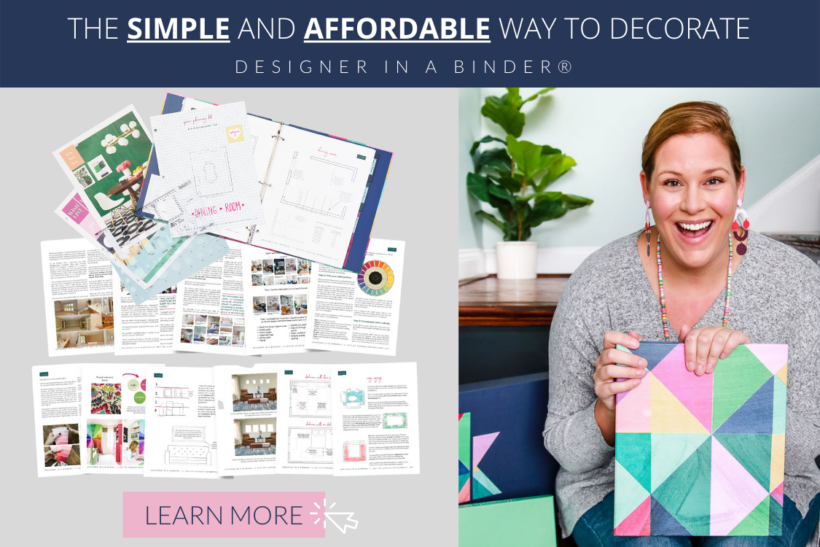 And if you want exclusive content and behind-the-scenes sneak peeks, be sure to subscribe before you head out!