Family Room Lighting + Refresh Reveal
Last Updated on March 3, 2022
Since finishing our fireplace earlier this year, we've made a few other tweaks in our family room including the addition of some accent lighting. The space FINALLY feels complete.
When we finished our fireplace renovation in August, it really gave us an opportunity to look at the room with new eyes and evaluate what still felt a little bit off about the room.
This post contains affiliate links for your convenience. Click here for my full disclosure policy.
If you follow me on Instagram, you already know that we decided the wall below with the tall bookshelves needed some tweaking. We LOVE these bookshelves (they were in the dining room of our last house and are now in Avery's room in our current house), but when we placed them on this wall it was right after we moved and we chose that spot for them because we really had nowhere else to put them at the time.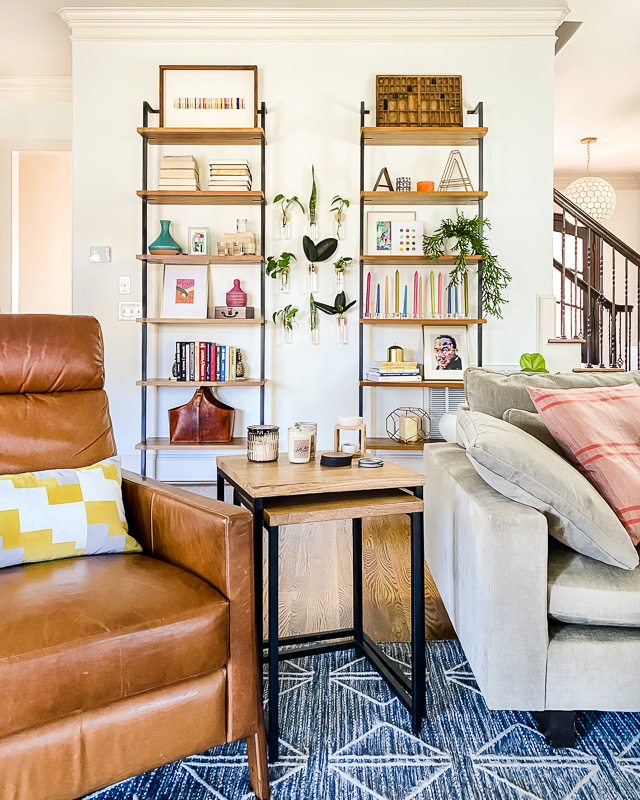 So we decided to move the bookshelves up to Avery's room and add long shelves to this wall. Once we removed the bookshelves, I also realized this wall needed a little something else. I suggested wallpaper, but Joe was NOT into that idea, lol.
So we decided to paint it the same dark, delicious blue as our current dining room. The dark color immediately made our family room feel a bit cozier. But it also made the family room, which doesn't get a lot of bright sunlight, feel darker. This is what it looked like after we painted the wall and installed these easy DIY wall shelves.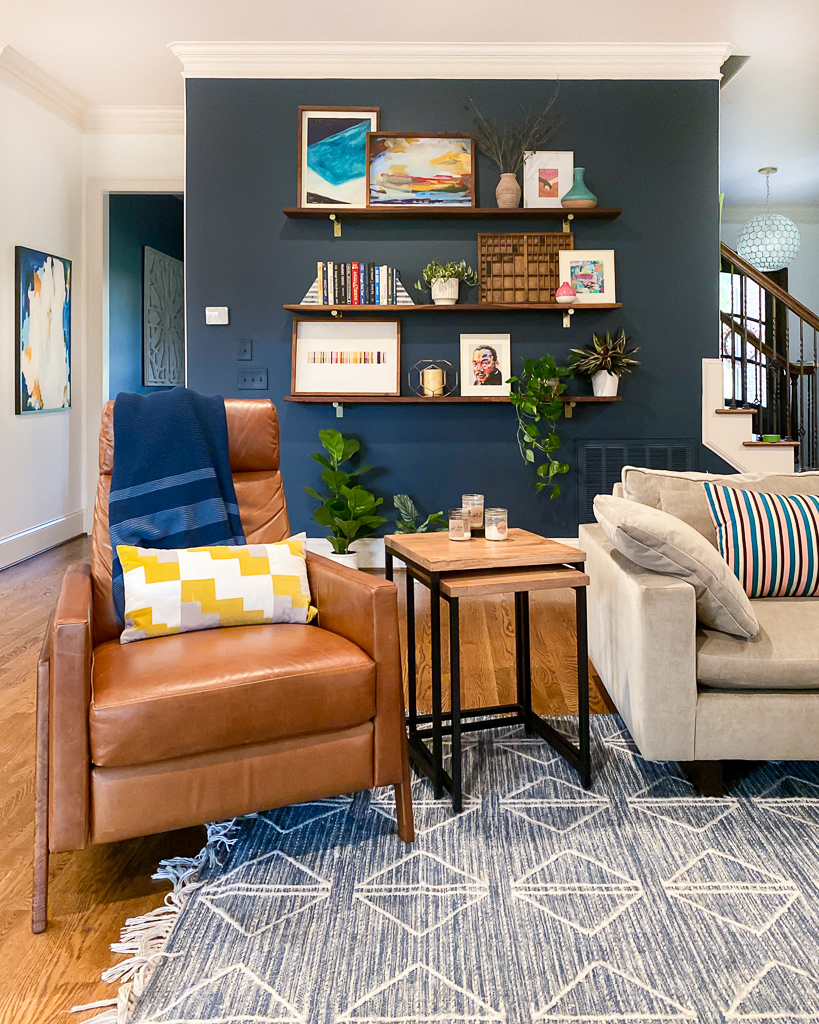 That brings me to the most exciting tweak we made in our family room… the addition of accent lighting! Since our family room is open to our kitchen and has 10-foot ceilings, this space never felt very cozy. The dark navy blue paint color helped, but realized we also needed some soft, ambient lighting in this room.
So we added this floor lamp in one corner of the room (this floor lamp we chose is super affordable and gorgeous–it's solid wood). I've added a smart plug to it and set it up on our Alexa routine to come on at sunset. We love the soft light it adds to this corner of the room.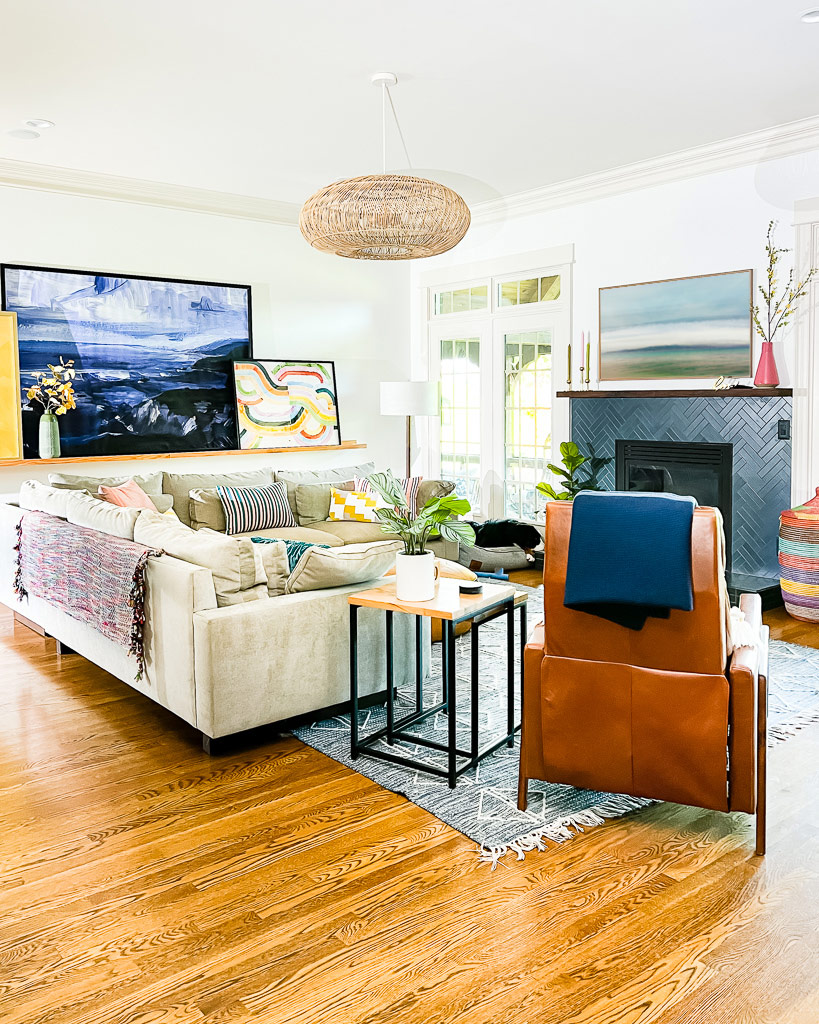 We also ordered this woven basket to hide our router and various cable/internet stuff. We find that the cut-out handles allow enough ventilation for the equipment, but we could always take the lid off if we need to. And it's so gorgeous! I'd love to have it in this space even if it wasn't hiding all of our ugly equipment. It complements this larger, colorful woven basket we have next to the fireplace beautifully (ours is the XXL size).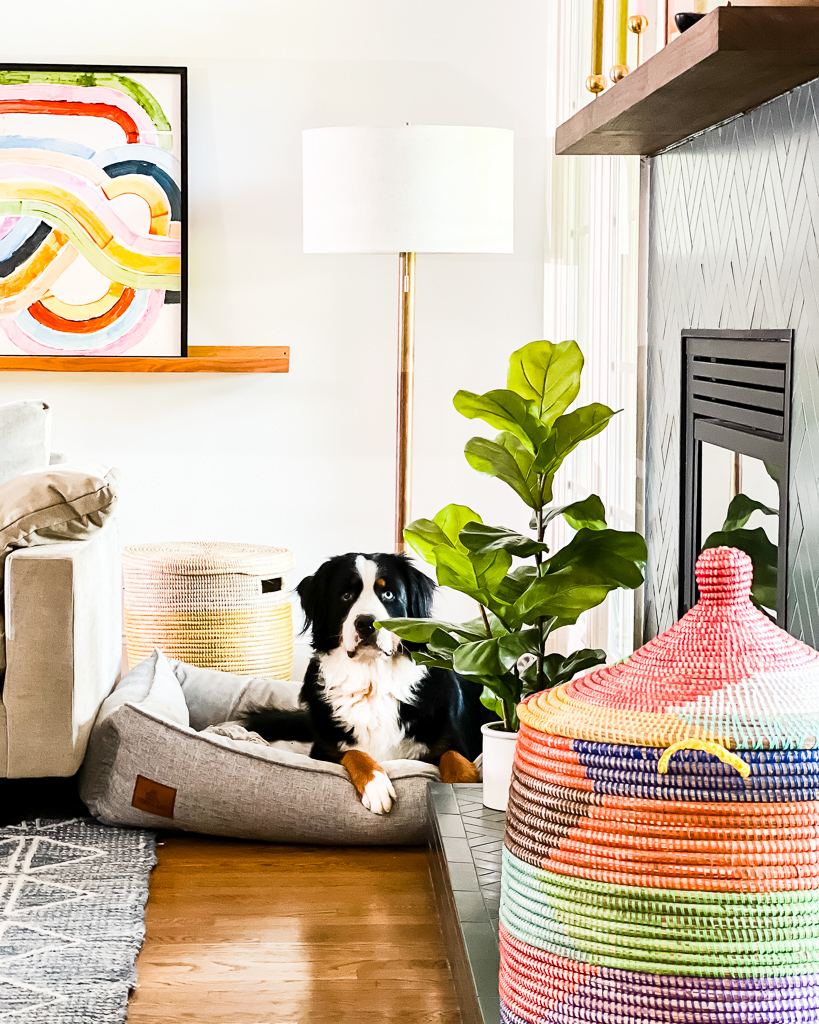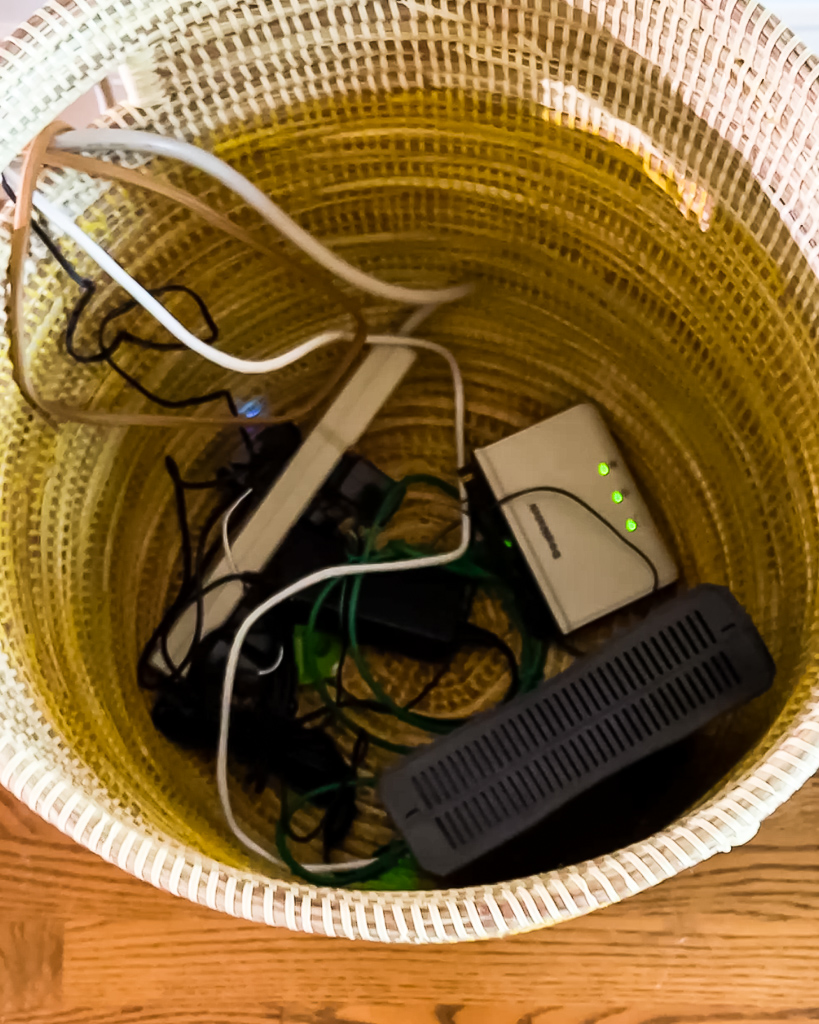 And we added these double sconces to the wall with the DIY wall shelves, which had been our plan when we decided on the length of the shelves. We chose to use round bulbs in them and are so happy with how they look on this wall.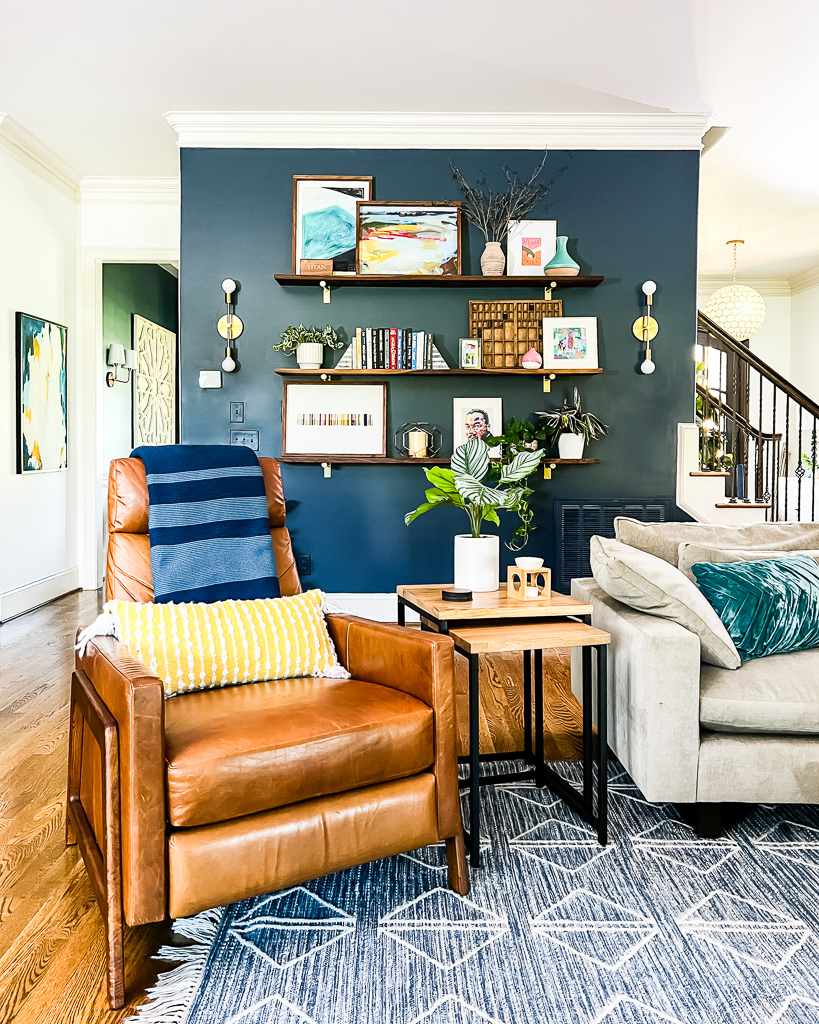 They add such a nice, soft glow at night.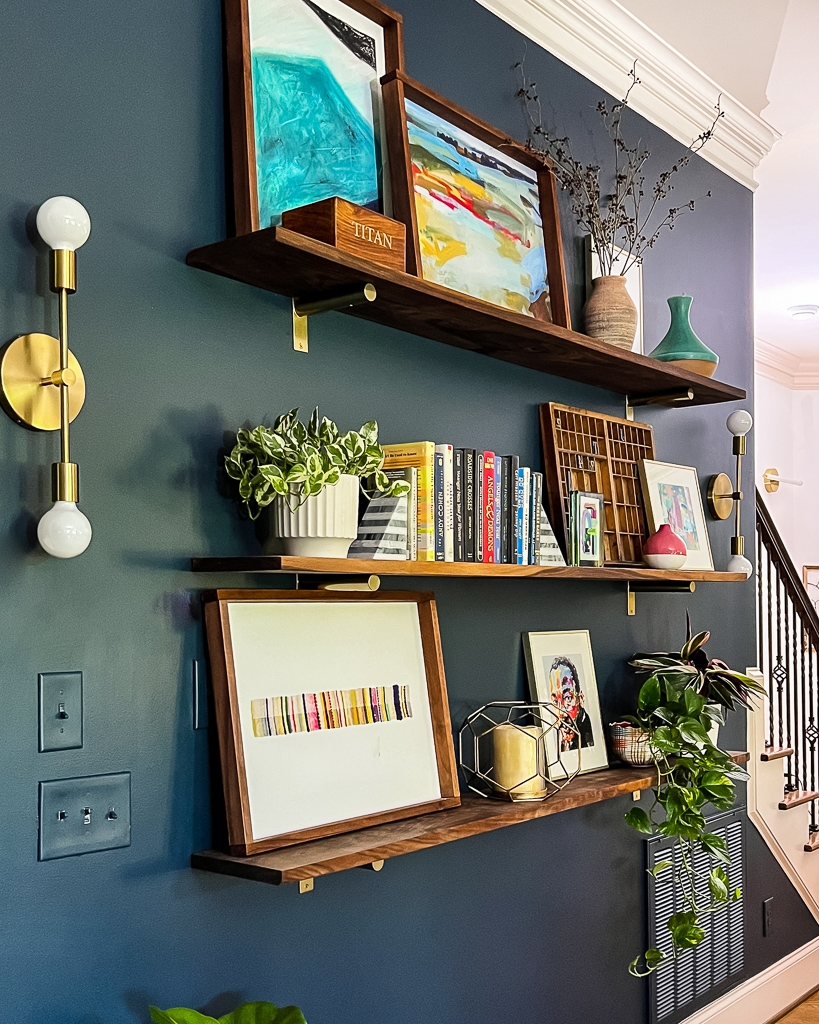 So that's it! This room finally feels truly complete and not a moment too soon. I'm so excited to decorate this space for Christmas, especially our new and improved fireplace!!!!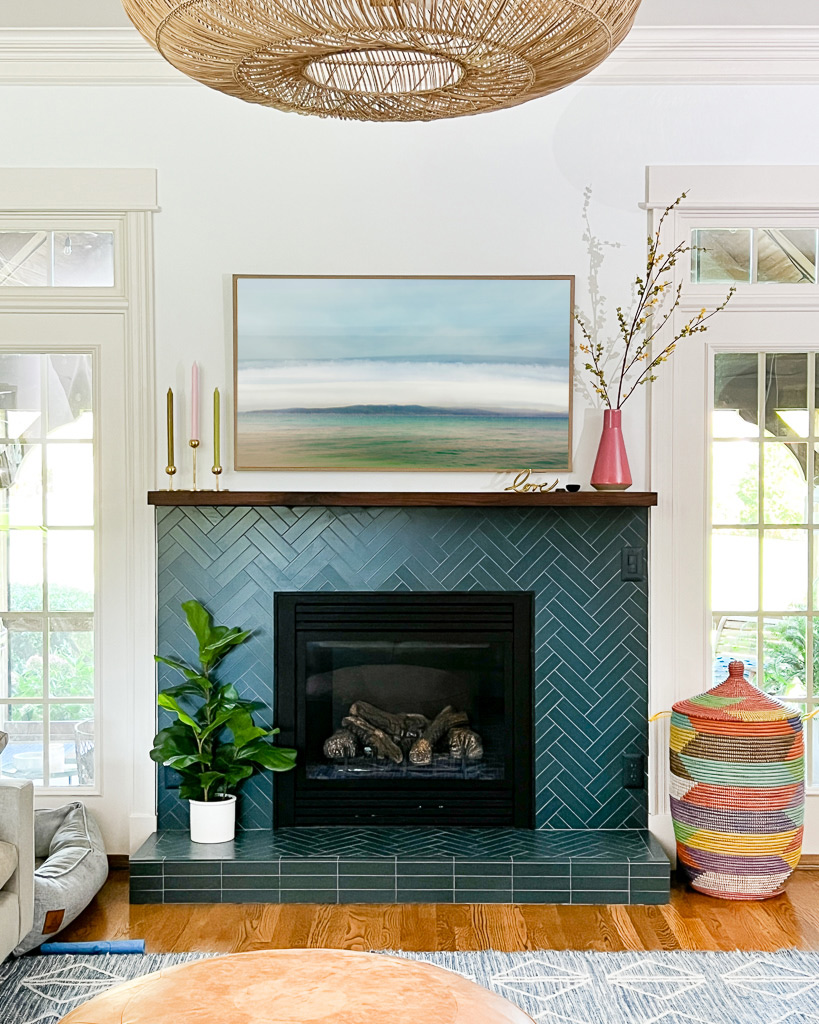 Before I sign off, here's a complete source list for our family room if you are looking for something :)
Family Room Source List
White walls: Pure-White by Sherwin-Williams
Dark blue wall: Gale Force by Sherwin-Williams
Trim & ceiling: Divine White by Sherwin-Williams
Everything else that I can find links to is shown below. Click on any image for full product details.

Wondering how I approach transforming rooms and spaces in our home? Check out Designer in a Binder®.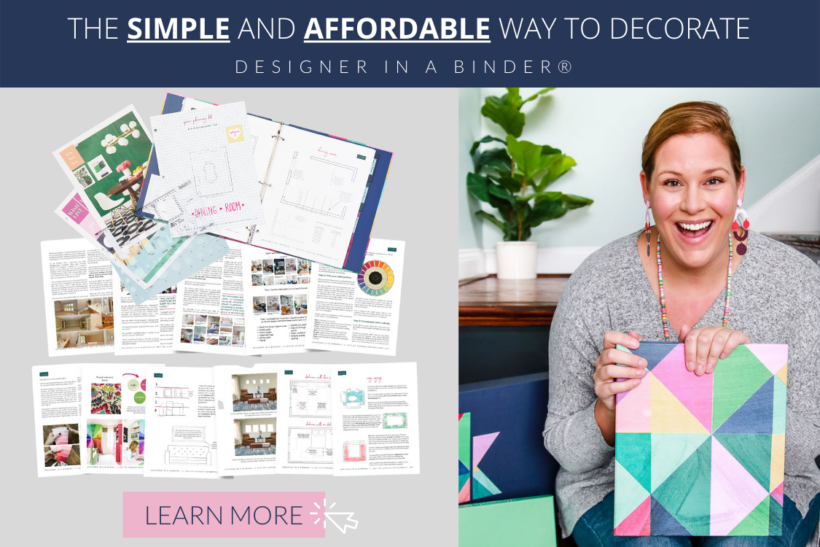 And if you want exclusive content and behind-the-scenes sneak peeks, be sure to subscribe before you head out!


[mv_create key="3″ type="list" title="Room Reveals" thumbnail="https://designertrapped.com/wp-content/uploads/2016/05/angies-list-after-5.jpg" layout="circles"]