Huge DIY Art Frames For Less than $20 Each
Last Updated on March 3, 2022
Art can totally transform a home and is worth investing in. Stretch your budget as far as you can make making your own DIY art frames for less than $20 each with this step-by-step tutorial.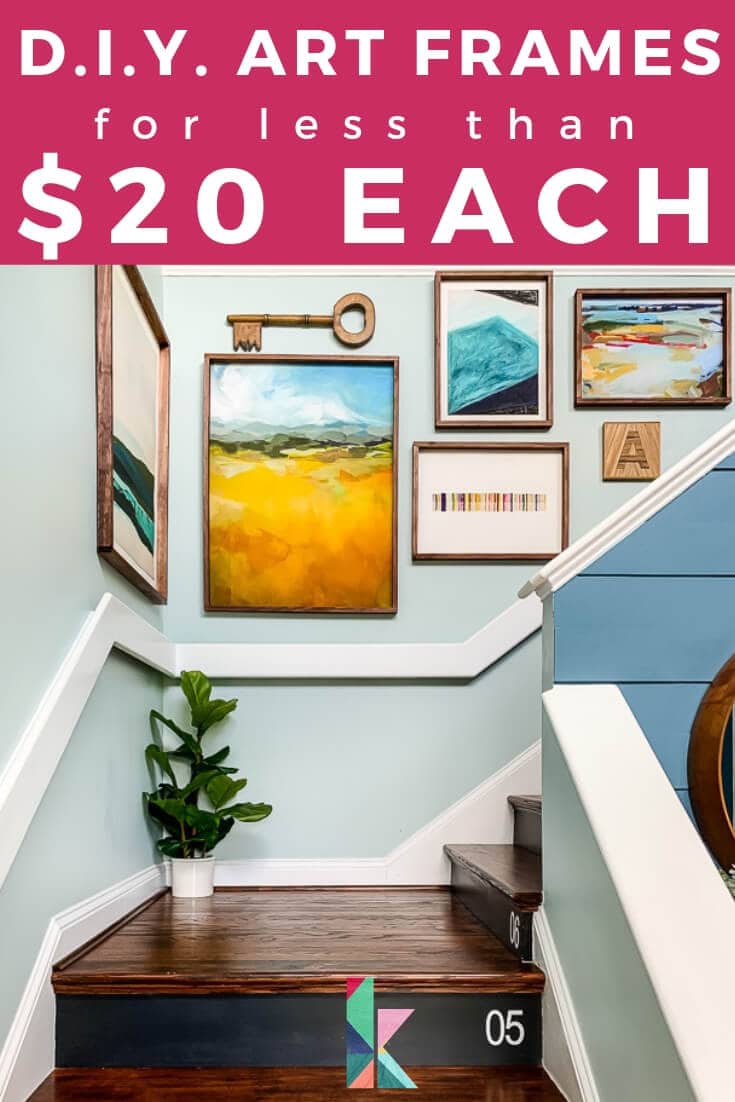 Have you ever bought a piece of art that you love only to find that the cost to frame it was crazy high and out of your budget? It's happened to me more than once! The cost of custom framing is crazy, y'all. When we started to add large art prints to our home a couple of years ago, we realized quickly that in order to have the budget to actually purchase art, we were going to have to make our own DIY frames for our art prints (we've also made our own DIY canvas frame for large canvas art pieces).
We've tried many different methods of making our own art frames over the past couple of years (you can see a couple here and here) and we've tweaked the process along the way. This tutorial, my friends, is the absolute best and most cost-effective way to make huge art frames for less than $20 each.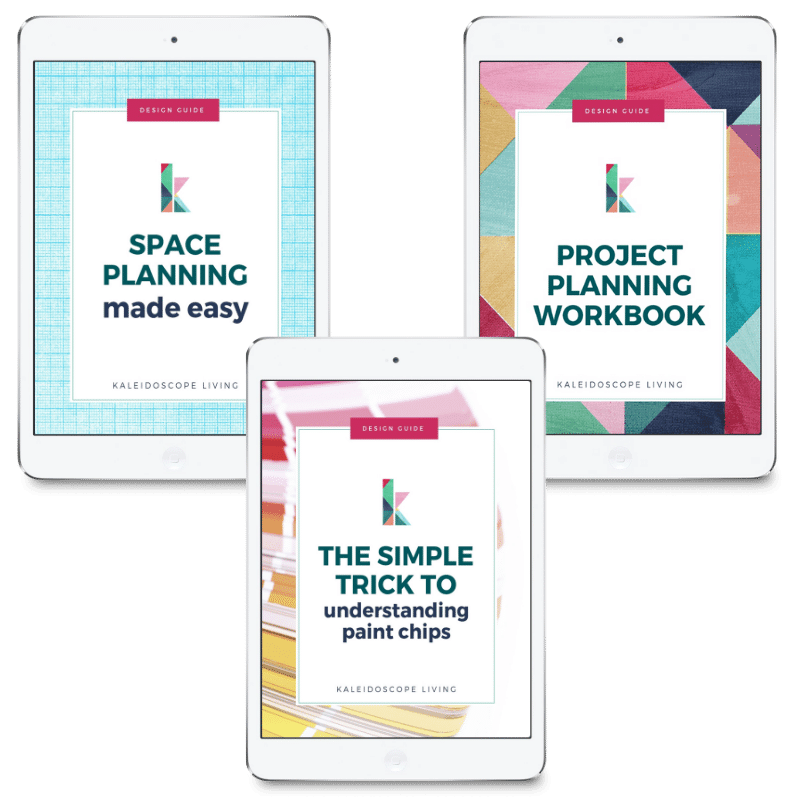 Get my FREE design guides when you subscribe!
Thank you to Mohawk Consumer Products for sponsoring this post. This post contains some affiliate links for your convenience. Click here to read my full disclosure policy.
And before you ask, you can find the sources for all the prints that I framed below as well as at the bottom of this post :)

How to Make DIY Art Frames for Large Prints
If you would like FREE printable instructions for this project, just click the image below!:)
Steps:
Step 1:
First, you need to cut your 1″ x 2″ boards and screen molding down to size.
Each frame requires 4 pieces cut from your 1″ x 2″ pine–2 horizontal pieces and 2 vertical pieces. The horizontal pieces will overhang the vertical pieces (see the diagram below we made for another project).
Each frame also requires 4 pieces of screen molding, cut to the exact same lengths as your 1″ x 2″ pieces.
In order to get the frame to be the perfect size (allowing enough surface area to attach the prints to them), you need to:
Cut each horizontal piece to 1/4 inch longer than your print.
Cut the vertical pieces 1 1/4 inches shorter than your print.

You need to do this to account for the overhang of the horizontal pieces.
Below is a diagram that shows what I am talking about. We made the diagram when working on a different project, but you use this SAME exact "formula" for any size print you are working with.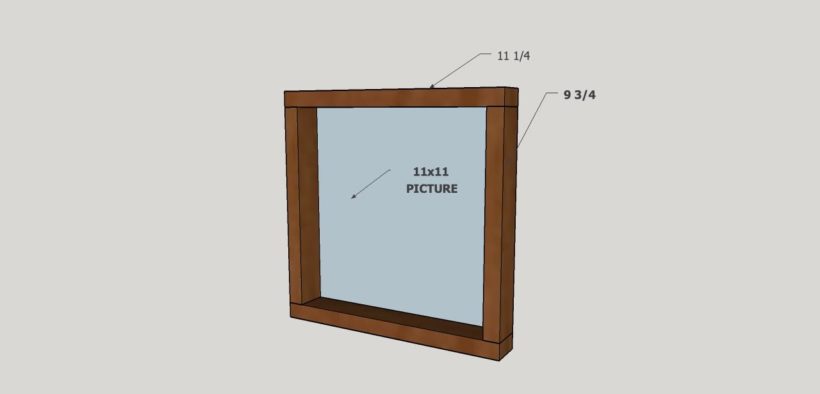 Step 2:
Lightly sand any rough edges created by your saw and then stain all of your cut pieces.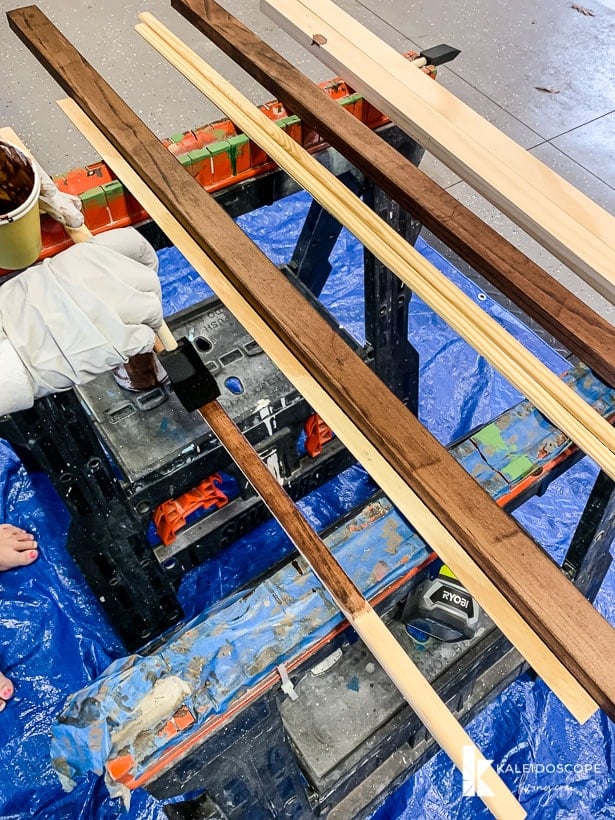 Step 3:
Next, use your 90-degree clamps to create tight joints. Once they are in place, use your staple gun or brad nailer (or even a hammer and nail) to attach the boards to each other.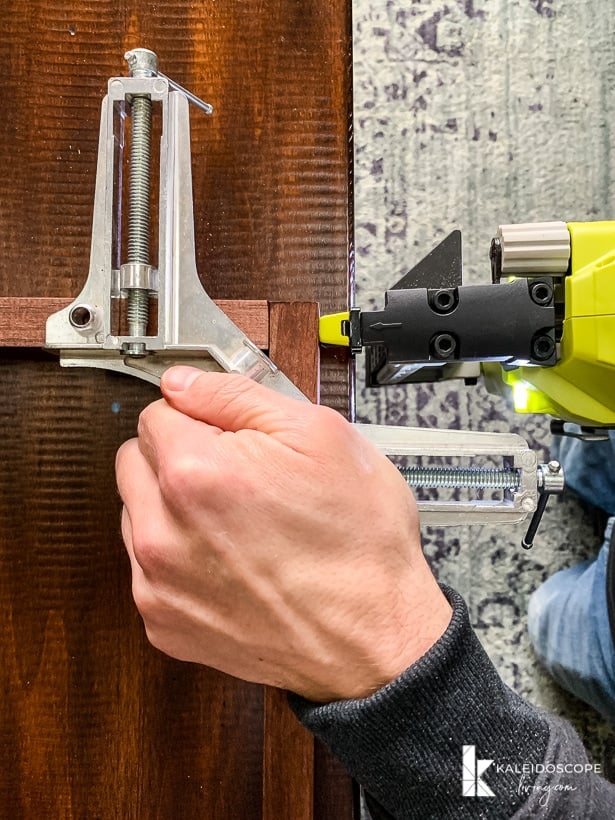 Step 4:
Once you are confident your stain is dry, you are ready to attach your prints. Now, I wouldn't recommend this method for original, irreplaceable and super expensive pieces. But this method is perfect for large posters or reproduction paper prints like we used. Simply lay your print face down on the back side of your frame.
Step 5:
Next, "sandwich" your print between the back of the frame and your corresponding pieces of screen molding. Then attach your screen molding with your brad nailer. This step makes SUCH a difference! It keeps your prints nice, taut and smooth.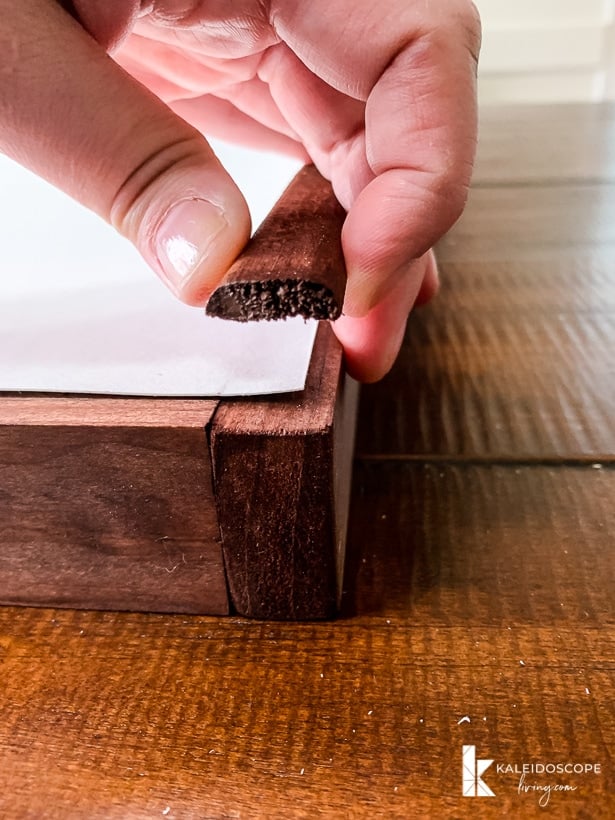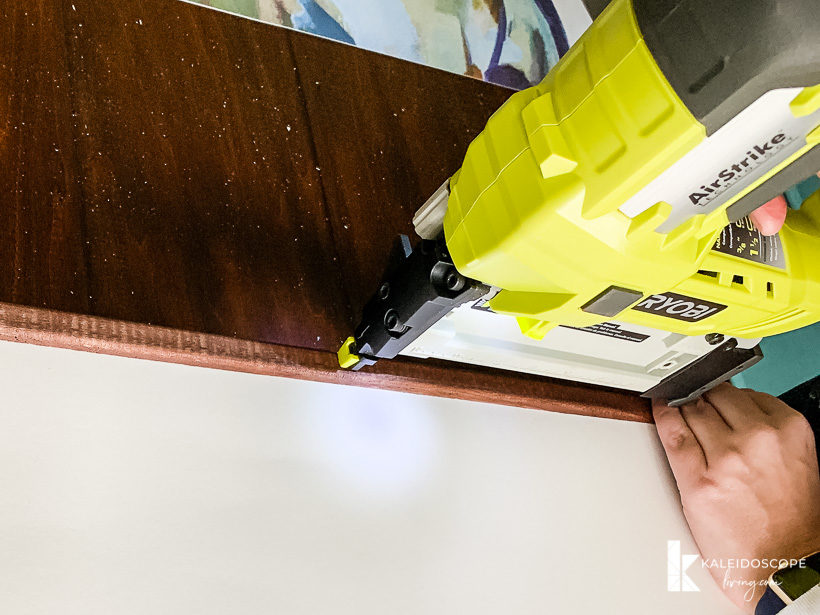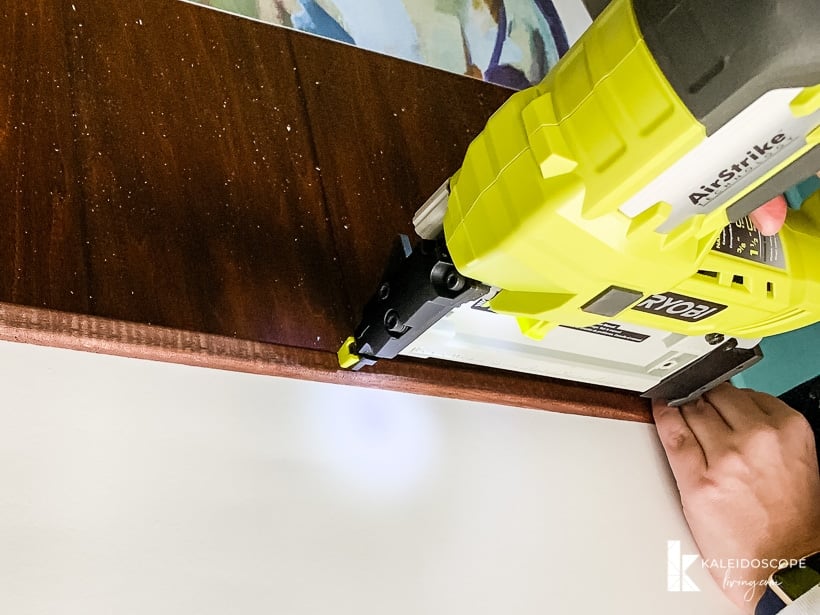 Step 6:
Once your entire frame is assembled, you need to patch the nail and/or staple holes. My absolute favorite way to fill small holes like this is to use Mohawk's Patchal Putty. It is so much easier to work with than traditional wood filler or spackle. It's almost the consistency of butter or Crisco. But the best part is that it is pre-colored, so you don't have to worry about staining afterward (I don't know about you, but we can never really get wood filler to stain properly). For this project, we used the Van Dyke Brown color.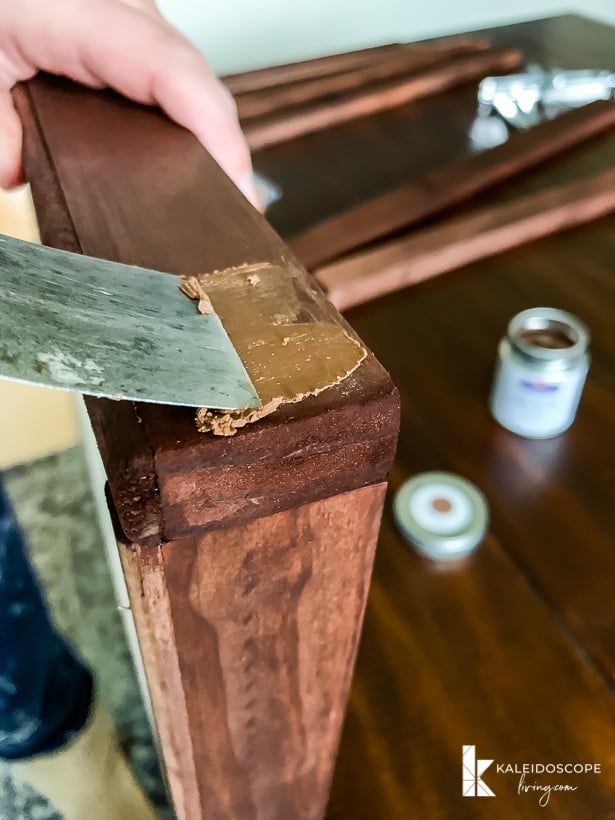 And here's the before and after for you. It took about 4 seconds to accomplish this :)
Step 7:
Attach some photo hanging hardware to the top center of each frame (I used sawtooth hangers) and hang them up!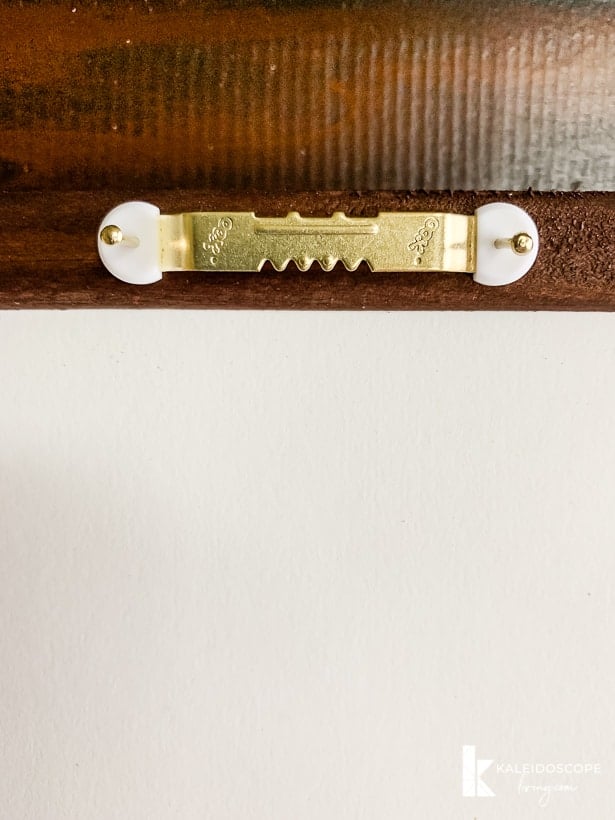 SO EASY! And ours turned out beautifully. Below you can find the details about the art we framed.

Now, take a look at how our DIY art frames turned out. We are so, so happy with them!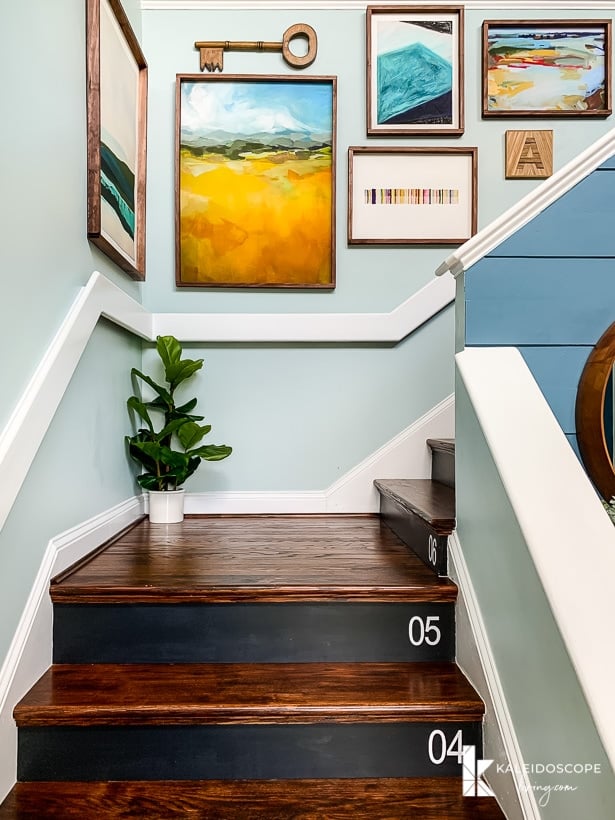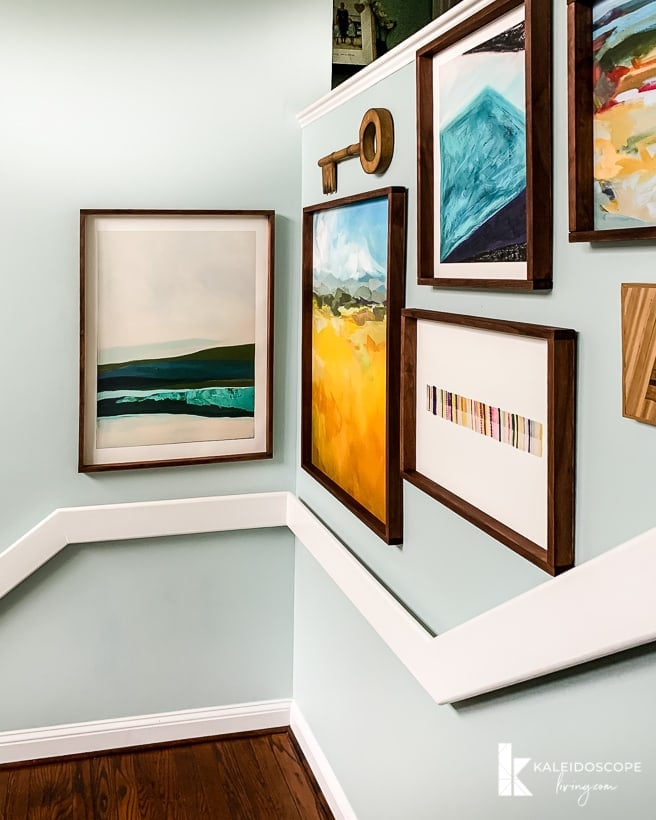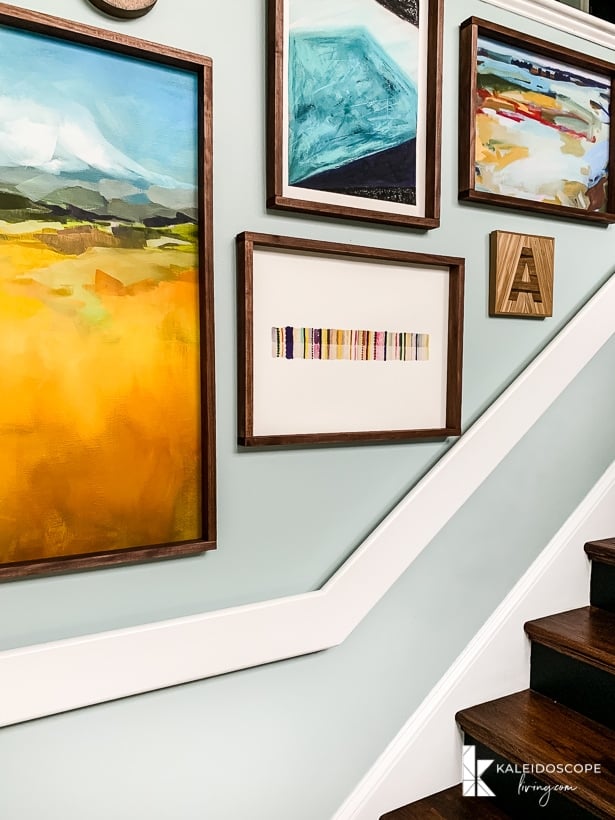 Want more great ideas on filling your home with beautiful art? Check out How to Choose Art that Flows: Tour Our Colorful Artwork, Why You Need Big Wall Art (and where to find it!), and "DIY" Gold Frames for Less Than $10 Each.
If you are looking for some awesome large prints to frame, check out the FREE printable art library you have access to by becoming a VIP. Click below to sign up and we will send you your password to access free art and so much more!
​

​
[mv_create key="1″ target="_blank" thumbnail="</span><a href=" title="Most Popular Projects" type="list"]​