We get soooo busy with working, raising kids and running a household that sometimes our pantry can turn into a disaster area. Can you relate? But the thought of organizing a pantry can be overwhelming, especially if it has been a while since you have purged old packaged food or never attempted to organize your pantry before. But not to worry! These pantry organization ideas will help get control of your pantry and keep it organized and user-friendly for you and your family.
Pantry Organization Ideas and Tips
Let me start by saying that we are super lucky to have a pantry. I know not everyone has a pantry, but even if you don't, consider using these pantry organization ideas for whatever space you do use to store your non-perishable food items. This post contains some affiliate links for your convenience. Click here to read my full disclosure policy.
– Empty your ENTIRE pantry: Yes, I know it will cause a temporary mess in your kitchen, but trust me, this is the only truly effective way to declutter your pantry and get it back to an organized state. After it is entirely empty, take the following steps:
Remove anything and everything that does not belong. Yes, this step applies even to your pantry. Don't pretend that you don't know what I am talking about. I have known plenty of people who store things like wrapping paper in their pantry. Don't do that! Your pantry should store food and kitchen gear that doesn't fit elsewhere…that's it!
Trash anything that is expired. If you can't find a clear expiration date, trash it if it's opened and you can't remember how long you have had it. Chances are, that means it was a long time ago and is not fit for consumption :)
Donate or trash any rarely used ingredients. If you filled your pantry with super healthy items during your last health kick that you wound up hating, now is the time to get rid of them. Don't hang on to items that you know you don't like or likely will never eat. Instead, donate them to your local food pantry or give them to a friend that you know will eat them.
– Tweak your pantry storage: After you have sorted everything, get ready to tweak your pantry if needed, using the following tips:
Make sure your shelves are not too deep. If your shelves are too deep, items will get lost and hidden and forgotten about. I cannot tell you how many items you will end up repurchasing because you could not see that you already had it. Deep shelves also make it very hard to reach things. I think the ideal depth for pantry shelves is 8 to 10 inches. When we organized our pantry, that meant we had to address the depth of our shelves because they were too deep. Our shelves were originally 21 1/2 inches deep and they are now 9 1/2 inches deep–MUCH easier to access!
Make sure your shelf space is only as tall as it needs to be, to maximize vertical space. If your tallest item, such as a cereal box, is only 14 inches tall, you do not need 24 inches between your shelves. And you probably need only one shelf to accommodate your tallest items. The rest of the shelves can be anywhere between 8 and 12 inches apart. Remember than you can store tall items (such as boxes of pasta) on their side to maximize vertical space!
Maximize the space on your pantry doors. There is a whole lot of storage real estate on the back of your pantry doors. USE IT! Purchase or build back-of-the-door storage so that you can free up some shelf space. I highly recommend The Container Store Elfa System–I purchased it for some storage in my craft room and love it! I wish I had known about it when we organized our pantry. The door storage we purchased from Amazon is working fine, it's just not nearly as sturdy as the Elfa System! Adding storage to the doors made a huge different for us!
– Return items to your pantry: Now it's time to put all your items back in your pantry. Take your time–don't rush this step.
Group like items together. This one seems obvious, but it needs to be said. Group like items together and store them in baskets or bins. For example, I was able to fit all of my cookie decorating supplies in one bin. I placed all of my flours and grains together in a basket.
Divide your pantry into zones. Arrange all of your pantry items into three zones: used rarely, used daily, and used sometimes. For example, Zone 1 should be at the top and should store things you rarely use. Zone 2 should consist of the two or three middle (and most accessible shelves) and should store items that you use daily or several times per week. Zone 3 should be the bottom most area and should be items that you don't use on a daily basis, but that you use frequently enough that you don't want to have to get a stool to reach them. For us, Zone 3 stores paper towels and dog food. Create as many zones as you need.
Take a look at our pantry before and after photos (we also took the time to paint our pantry while it was empty)!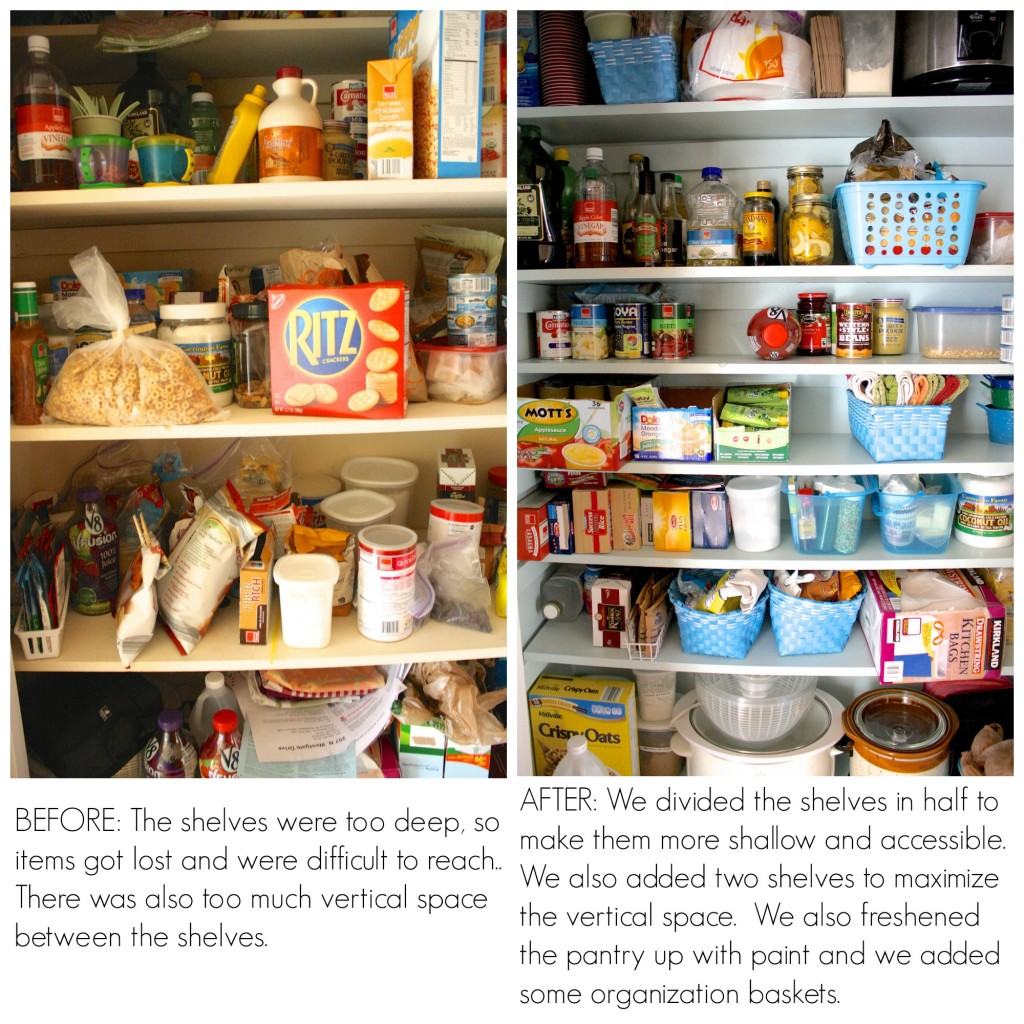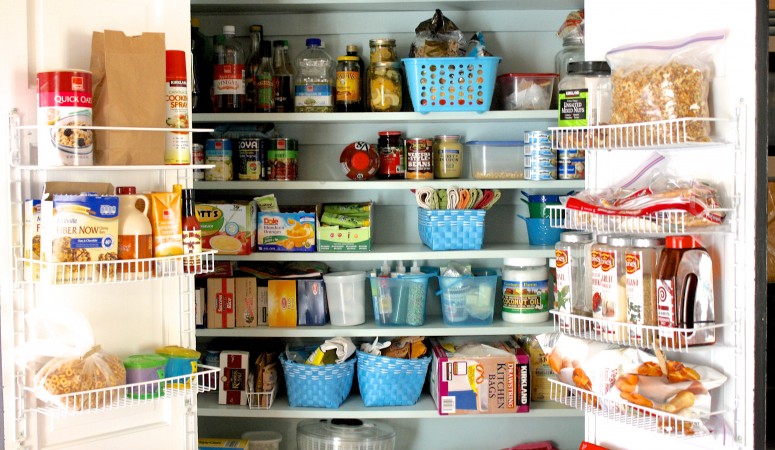 That is it for my pantry organization ideas! You have everything you need to make your pantry perfect–easy to use, neat, and orderly. Not only is it nice to look at, but it will make your life so much easier when you go to cook a big meal or bake a cake and you will be SO glad you put in the work to get your pantry organized!
[go_portfolio id="cleaning_and_organization"]