Kitchen Pantry Organization Tips & Ideas
Wondering how to organize your pantry and keep it that way? Do you find yourself wondering how in the world people achieve those images of perfect pantry organization? You know the ones I'm talking about–not a thing is out of place. Baskets and bins are used perfectly. Everything is labeled perfectly. That's what we want, right? Function and beauty!
I'm sharing with you my favorite pantry organization ideas & tips so that you can create your own well-organized and beautiful pantry.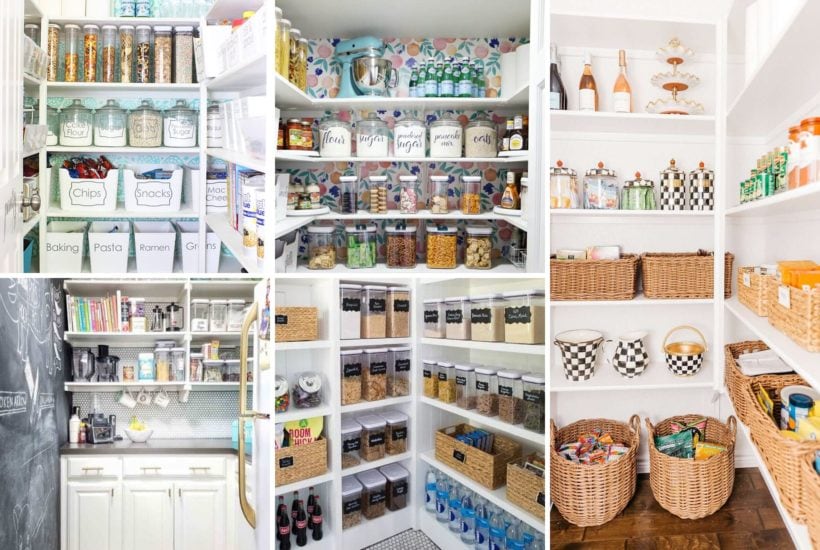 Getting our pantry organized has been on our list of things to really focus on since we finished organizing our kitchen. What we have found with every space we have organized over the years (like our organized linen closet and DIY master closet) is that once we get a space organized and functioning well, it's easy to keep it that way. So we are turning our attention to getting our pantry organized.
The thing I love about all these pantry organization ideas is that they are versatile. It doesn't matter if your pantry is a giant walk-in pantry or a closet (note: we do have a separate post on How to Maximize Your Walk-In Pantry Space). There are ways to make everything accessible and orderly! And I've included my general tips for how to organize your pantry as well!
20+ Kitchen Pantry Organization Ideas
Custom Built Pantry Shelves by The Handmade Home. If your pantry shelving is not working, build some custom DIY shelves like the ones you see below. The beauty of building your own shelves is that you can customize the height, spacing and depth to exactly what you need. Keep in mind that a lot of pantries have really deep shelving, which is not ideal because it's so easy for things to get lost behind stuff on shelves!
Colorful Pantry Organization Ideas by Addison's Wonderland. A beautiful pantry will help you want to keep it organized! This blogger used gorgeous wallpaper and simple organization to create the perfect pantry.
Green and White Pantry Organization by Laura Kostelny for Country Living. Don't want the same kind of pantry everyone else has? Think outside the box. I love the idea of using this screen door and those vintage bins are beautiful!
Small Pantry Restoration by Daniel Kanter. When you are dealing with a small pantry space, it can be hard to figure out how to organize your pantry. This New Yorker does a great job making his small pantry functional and pretty by using shallow shelves along the length of the pantry and deeper shelves at the end.
Pantry with DIY Chip Rack by Eleven Magnolia Lane. Get clever with your pantry storage! This smart use of vertical space for bagged snack storage is one of my favorite pantry ideas!
Pantry Organized by Zones by Better Homes and Garden. One of the keys to staying organized is to keep like items together in "zones." Divide your pantry into zones like this design to make grabbing snacks and food prep easy.
Beautiful and Organized Pantry by Classy Clutter. Fun and colorful wallpaper and simple jars and bins create a clean uncluttered pantry that will make you smile every time you walk in! I love that you can easily see what goes where with a combination of clear storage containers and an abundance of labels.
Organize Your Pantry with Baskets by Alyson Haley. Use baskets to hold all your like items and make an easy system for grabbing what you need. No more jumbled bags or boxes falling over! Easy-to-reach baskets on the floor hold kid snacks to make everyone's life easier.
Small Pantry with Door Storage by Home Staging In Bloomington Illinois. It is not uncommon for a home to have the panty in what is virtually a closet in the kitchen. Making the most of ALL of your space is the best way to organize one of these! Don't forget the endless possibilities of smart back-of-the-door storage!
Tidy Pantry by Stylish Revamp. Investing in good containers, risers, and under-shelving storage are some of the best ways to organize any pantry, especially a small one. I especially love how they use lazy susans in the corners to maximize that otherwise dead space!
Perfectly Organized Pantry by She Gave It A Go. Clear containers and labels are an organizer's favorite weapon when it comes to taming the pantry–I love using my Cricut to make pretty labels. Taking food out of its packaging and putting it into containers may seem like a chore at first but that will be far outweighed by how easy it is to keep your pantry perfectly organized!
Pantry Makeover with Removable Wallpaper by Ginger Snap Crafts. Your pantry doesn't have to be boring! Give it a makeover with removable wallpaper and pretty bins. This will take your pantry to the next level and inspire you to keep it organized!
Perfectly Labeled Small Pantry by Making Home Base. Just because you have a small pantry, doesn't mean it can't be organized! I love how Chelsea keeps things relatively simple and labels everything for easy cooking.
Perfectly Organized Pantry by The Neat Method for The Container Store. One of the hottest pantry ideas out there right now are from The Neat Method! One of those ideas is to empty all dried goods and food out of its boxes into clean and clear containers whenever possible. I love the uniformity of it!
Pretty Pantry with Clever Storage by Polished Habitat. I love that Melissa really created a Butler's pantry out of her space. The penny tile and chalkboard wall make it so special! Her food storage is clever and functional and allows for lots of storage for other things like glassware and appliances. Subway tile would also be beautiful in a Butler's pantry.
Organizing a Simple Pantry by Clean Mama. Wondering how to organize a simple pantry? This system is your answer!
Jars, Baskets and Bins by Better Homes and Gardens. Using glass jars, wooden bins and woven baskets make your pantry organized and pretty! I like how this allows some things to be visible and others to be hidden.
Uniform and Organized by Tara Thueson. If uniformity calms you, then this pantry organization method is for you! She uses simple white and clear containers to calm the chaos.
Colorful and Happy Pantry Makeover by Classy Clutter. If you are a color-lover like me, then you are going to love this! The bright wallpaper shines through all the glass storage containers and perks up the whole space. When we finally get around to renovating our pantry in this house, you better believe there will be some fun wallpaper involved!
Small Pantry Makeover by See Vanessa Craft. Lots of homes have a small pantry, but this amazing makeover is proof that any pantry can be organized into the perfect useable space. I love thesmart back-of-the-door storage (a trick I use in a lot of our closets to maximize storage).
Now you no longer have to be sad every time you open your pantry and see chaos! Everything you need to know about how to organize your pantry is right here. I love having my pantry organization in place and we worked hard to make it perfect after our kitchen renovation in our old home. We are very excited to tackle the pantry in our current home–it's huge but the current shelving is NOT ideal. I'll be using a lot of these pantry ideas when we renovate it!
Other posts you may enjoy:
Wondering how I approach transforming rooms and spaces in our home? Check out Designer in a Binder®.
And if you want exclusive content and behind-the-scenes sneak peeks, be sure to subscribe before you head out!
Wondering how I approach transforming rooms and spaces in our home? Check out Designer in a Binder®.
And if you want exclusive content and behind-the-scenes sneak peeks, be sure to subscribe before you head out!