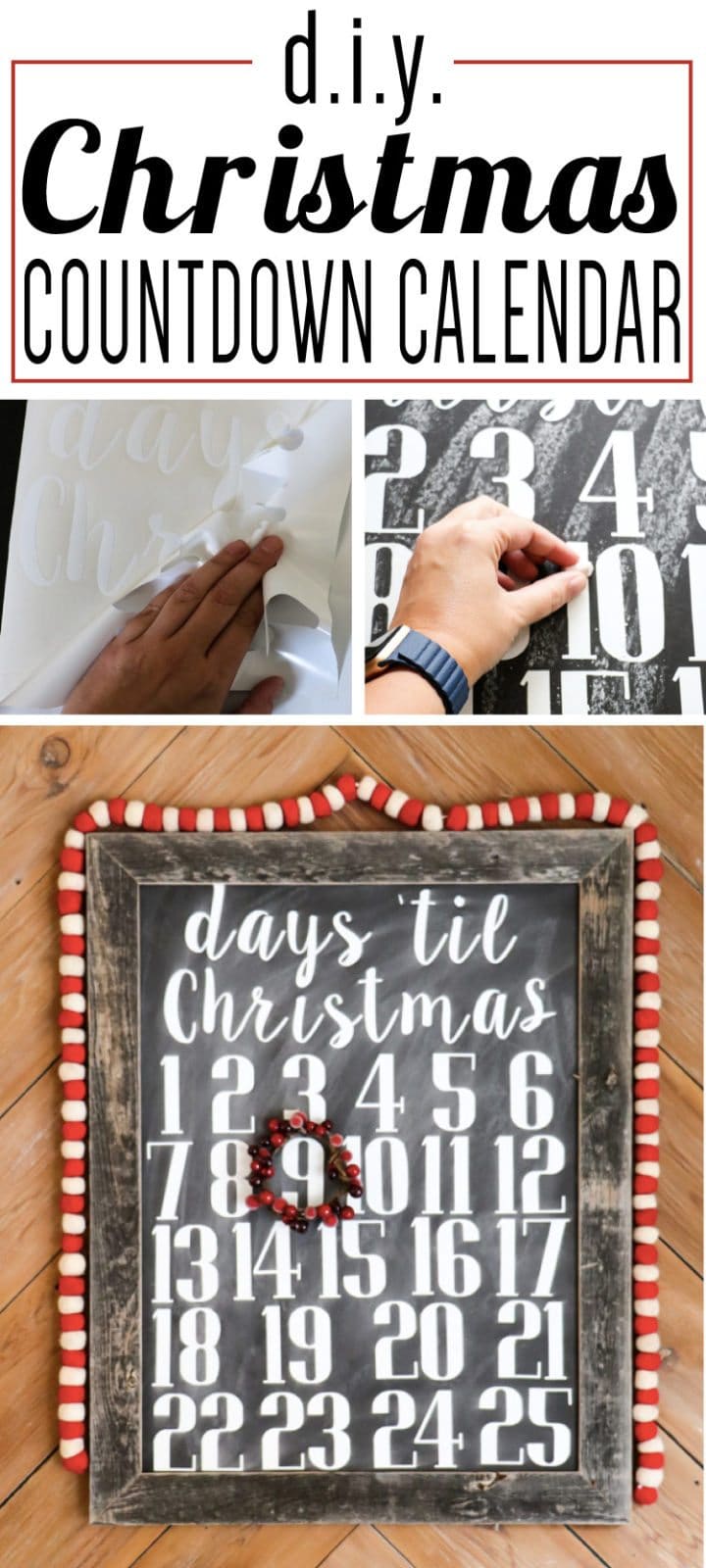 Y'all, Christmas is coming. Like SOON. I've been busy decorating and shopping for our kiddos, but I did manage to find some time to make this DIY Christmas countdown calendar, and I'm in love with it! This is one of the easiest and cutest projects I have ever tackled (if I do say so myself, lol)! It is inspired by a really cute Christmas countdown calendar I saw in Target, but I didn't like the tone of the wood and I thought it was a little bit too small. So I decided to make my own and am so glad I did. It was super inexpensive and so, so simple. Read on to learn how to make one for yourself, but before you do, I wanted to let you know that I have some gorgeous Christmas printables in my super affordable printable art shop that I think you will love! You can check them out below:
This post contains some affiliate links for your convenience. Click here to read my full disclosure policy.
DIY Christmas Countdown Calendar
Materials needed for a Christmas countdown calendar:
Black foam core board (I buy mine at The Dollar Store)
White vinyl (I STRONGLY prefer Silhouette Brand vinyl –it's much easier to peel off the backing paper than other brands)
A cutting machine (I use the Silhouette CAMEO but have heard great things about the Cricut Explore as well)

Bear in mind that you could use stickers if you don't have a vinyl cutting machine :)

Transfer paper (the Silhouette brand is great, but I purchased this huge roll about a year ago because it's so much less expensive and it works perfectly)
Chalk
Chalk eraser or paper towel
Wood frame (you can find wood frames with no glass at most craft stores)
Steps to make a Christmas countdown calendar:
1) Measure your frame and cut your foam core down to size, if needed.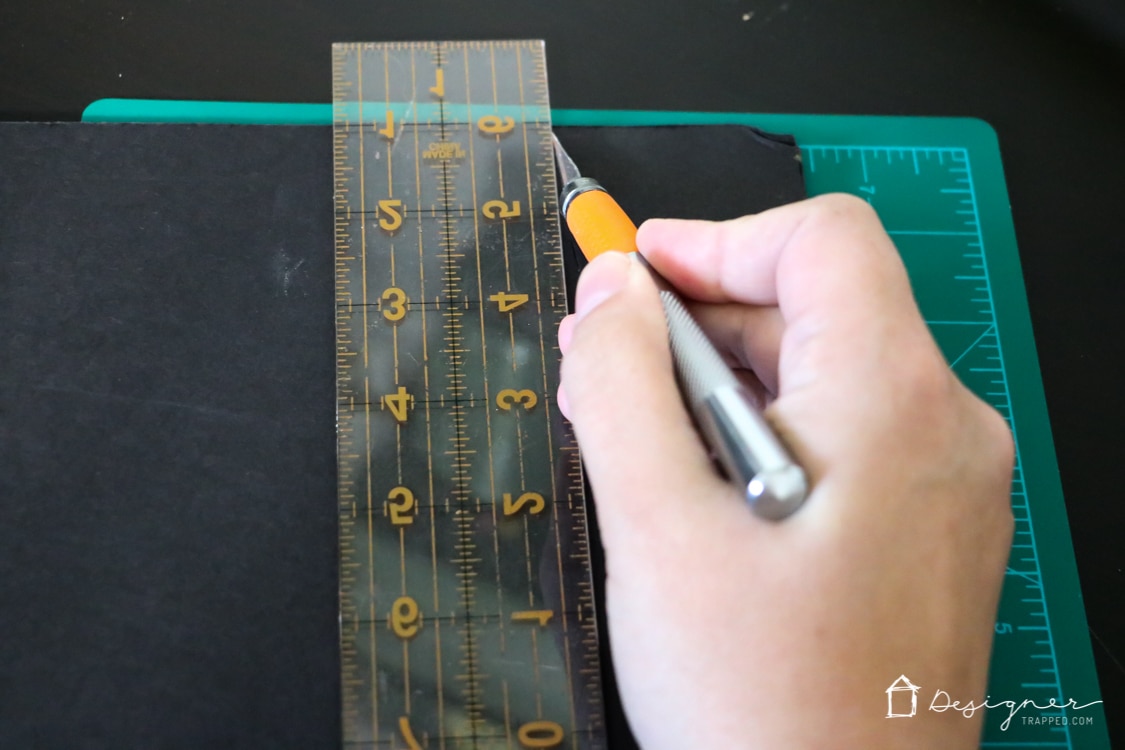 2) Design your sign in Silhouette Studio (or whatever software you use for your cutting machine). Be sure your design will fit on your foam core and into your frame. This is a glimpse of what my cut file looked like. I used the font "Sugar Plums" for the script at the top of the sign and " Pottery Barn" for all the numbers. Note both of those fonts had to be installed on my computer, so you may not find them on yours.
3) Cut out your design. If you don't have a Silhouette or other cutting machine, you can buy stickers at a craft store!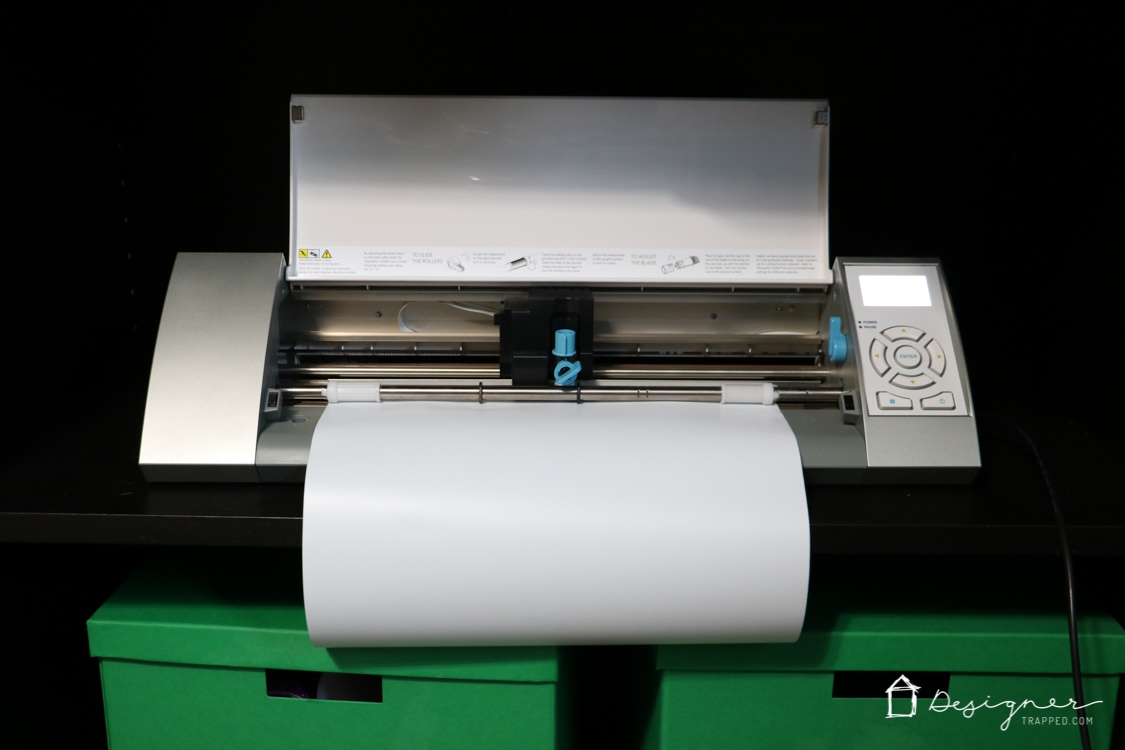 4) "Weed" your design. That's just a weird way of saying you need to remove all of the excess vinyl so that just your design is left, as shown below.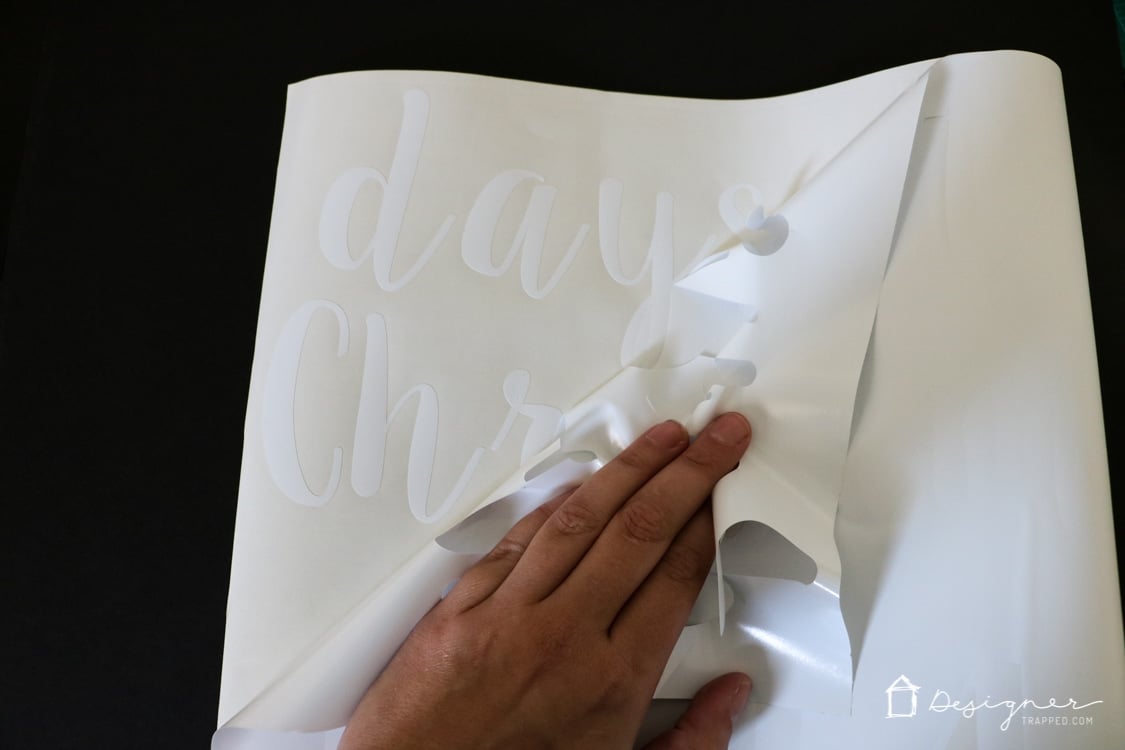 5) Use transfer tape to transfer as much of the design as you can. This helps keep the spacing on your Christmas countdown calendar correct, but it does use more vinyl. If you want to use your vinyl as economically as possible, place your digits and letters as close to each other as possible in your cut file. (I forgot to photograph this step on this particular project, but you can see what I mean with the photo of a different project shown below).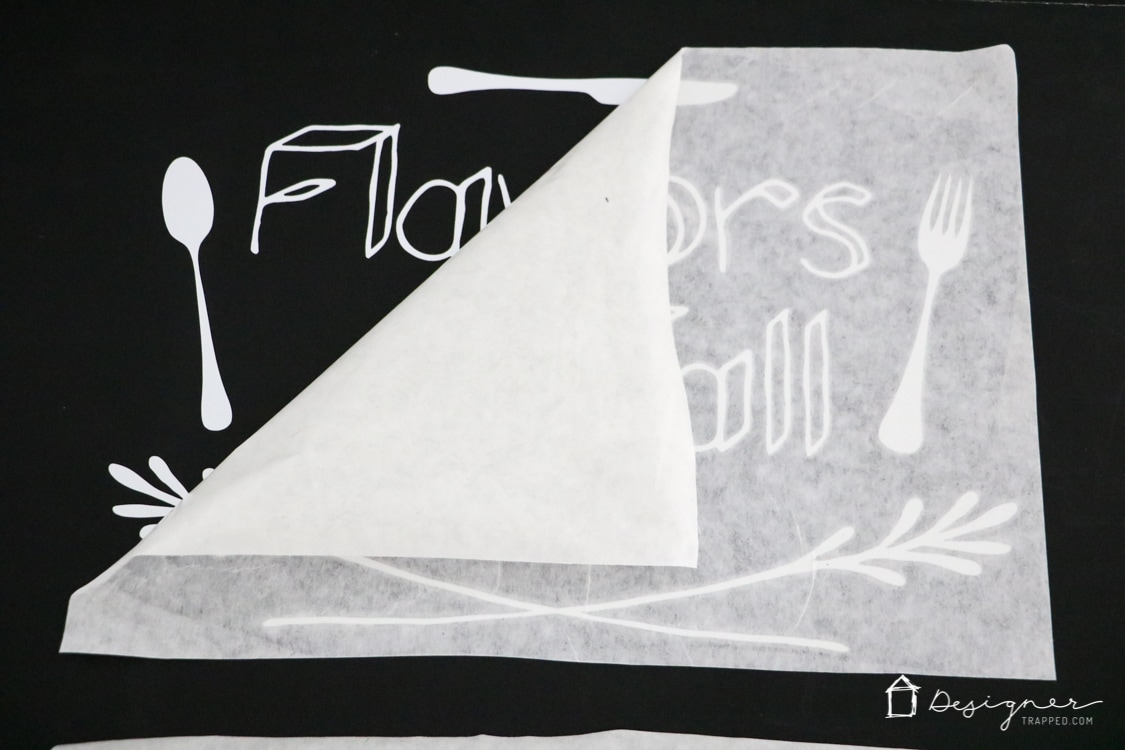 6) Next, rub chalk all over your Christmas countdown calendar and use a paper towel or chalkboard erasers to coat the entire surface with chalkboard dust. This is what makes it look so authentic, so don't skip this step. Also, do NOT do this before attaching your vinyl because the vinyl won't stick to the chalk dust.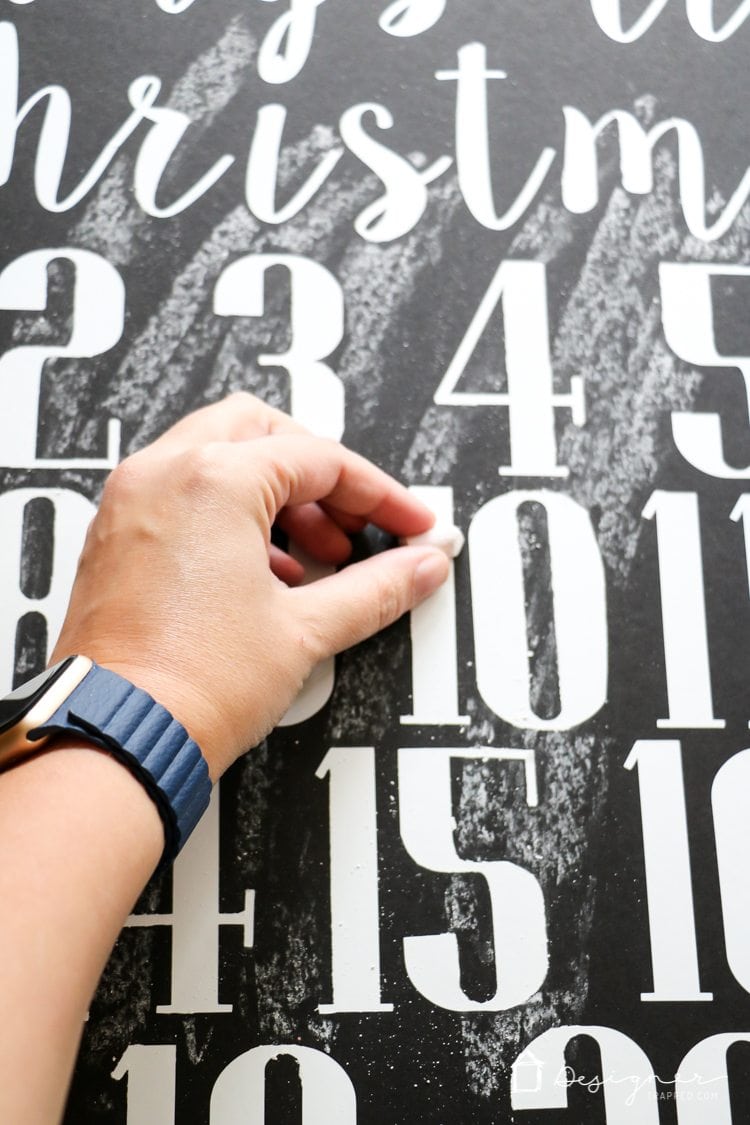 7) For the wreath, I bought a spray of berries from the craft store. I formed it into a circle and cut it to length. Then, I cut a very short piece and shaped it into a hook, exposing some of the wire on one end. I use that hook to hang the wreath on the foam core, pushing it in just like a push pin. It works perfectly!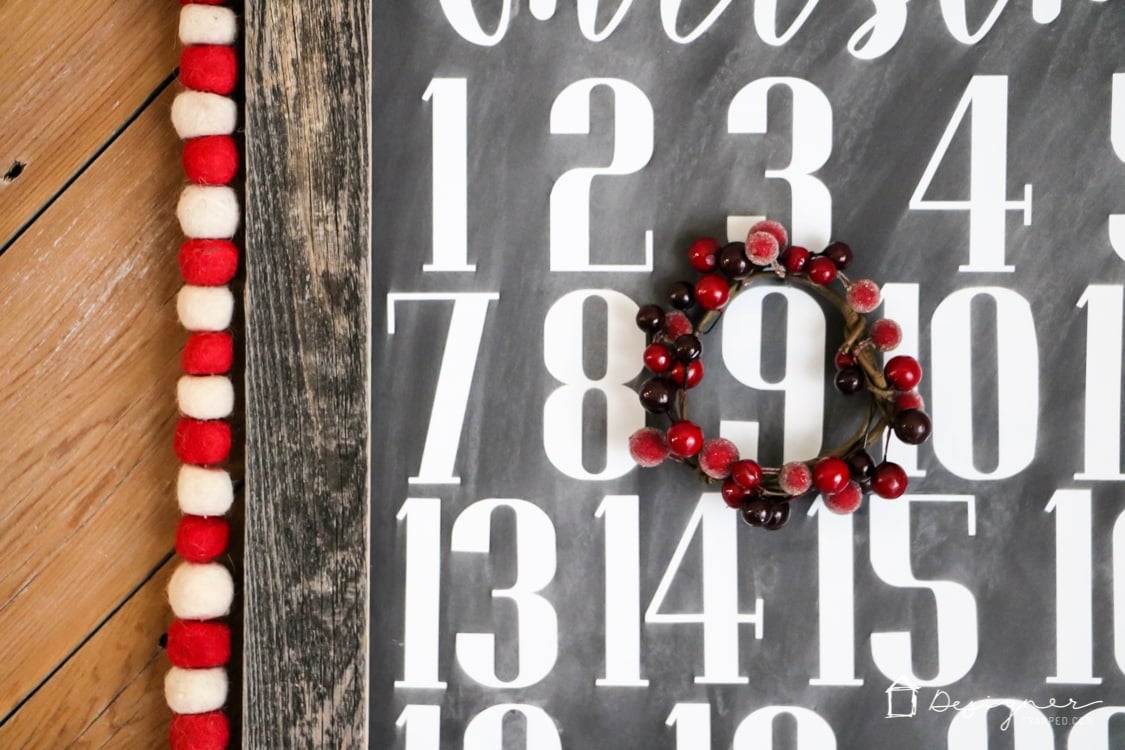 Finally, pop your Christmas countdown calendar in your frame, hang it up and enjoy! Check out how adorable this DIY Christmas countdown calendar looks all finished. My twin girls LOVE it and are so excited it's almost December so that the countdown can begin!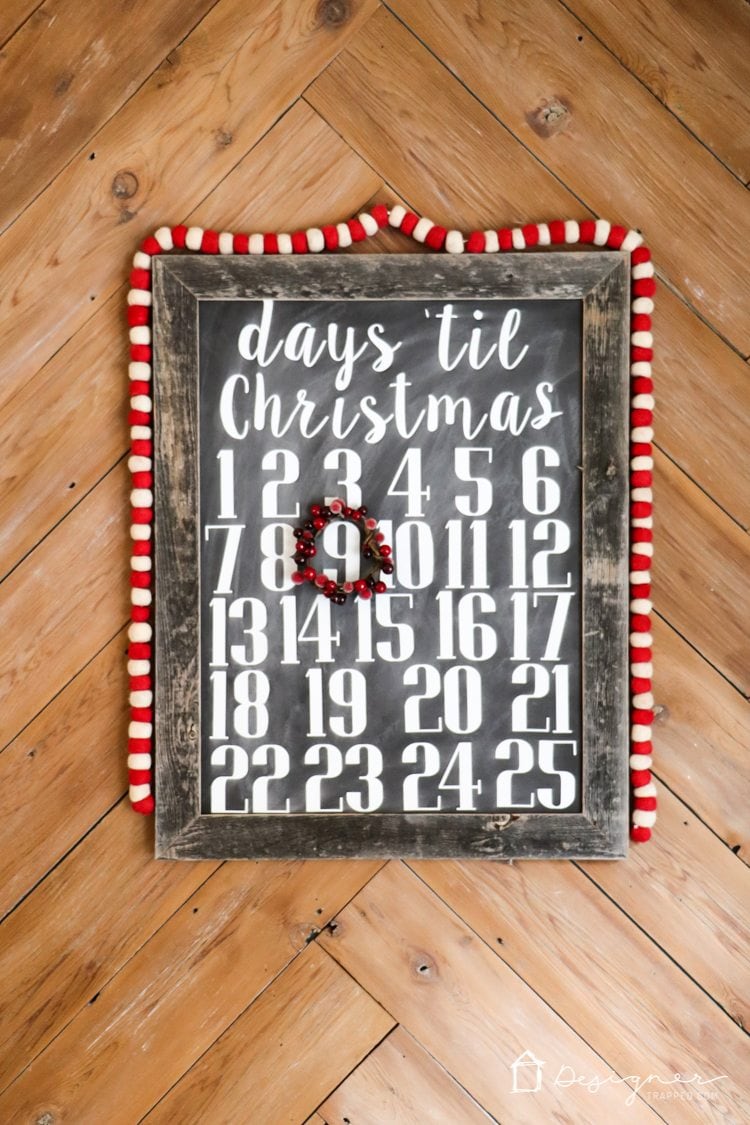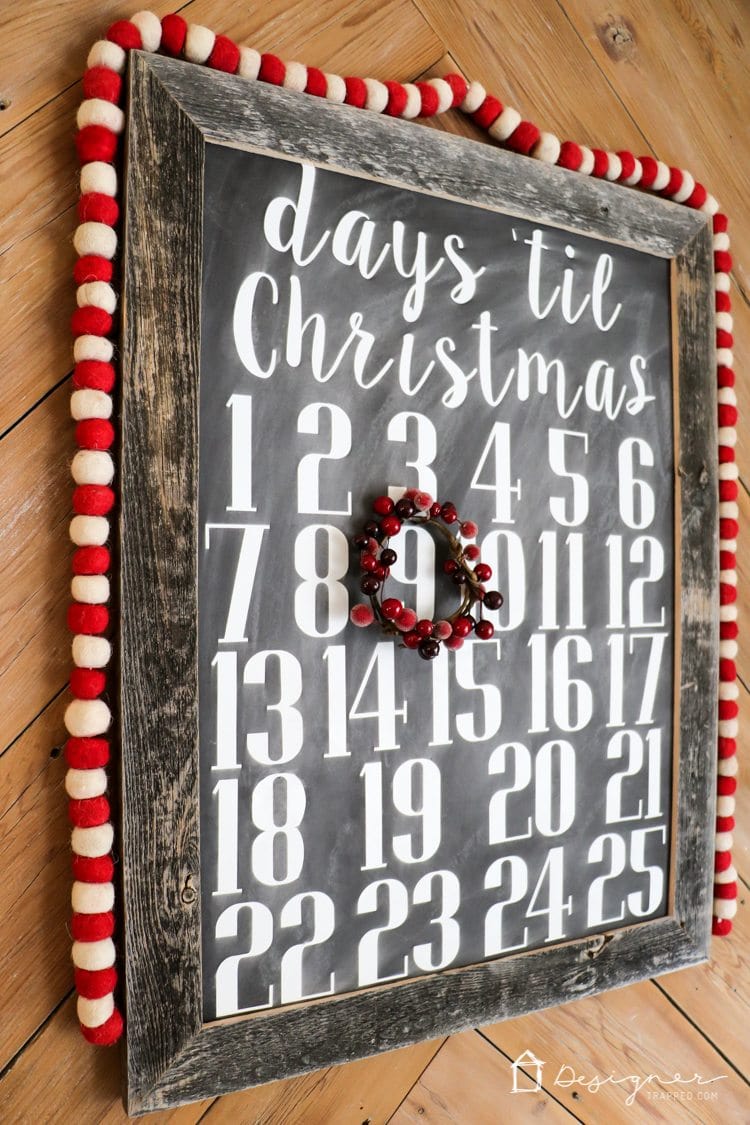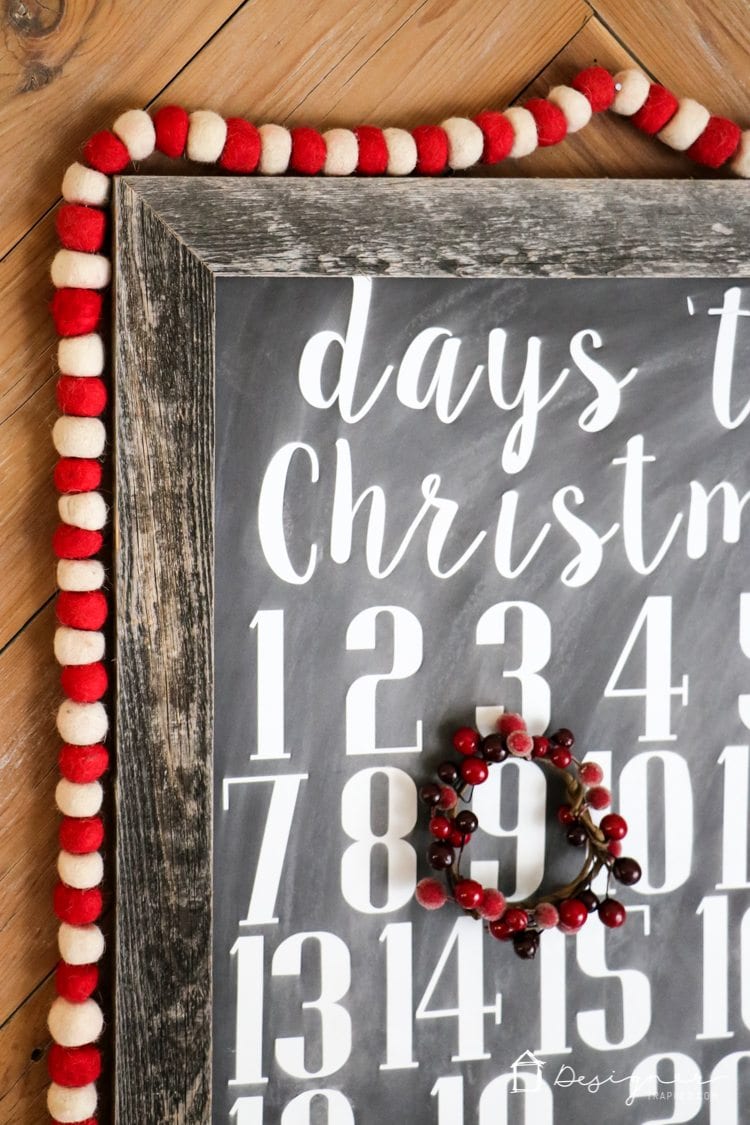 Let the countdown begin!!!!
​
[mv_create 1 11 200 2016 key="1″ type="list" title="Most Popular Projects" thumbnail="</span><a href=" https designertrapped com wp content uploads diy home decor projects blog jpg target="_blank" a span]​