Last Updated on March 3, 2022
We are finally making plans for our sweet girl's sophisticated and modern bedroom! Check out what we will be doing.
Alright y'all, it's high time that we turn our attention to Avery's room now that we've been in our house for almost a year. Don't get me wrong, her room is perfectly fine, we just haven't done anything other than throw furniture in it. Now it's time to actually design it for her!
Let me start by saying this… I bet if you saw a photo of Avery's room pop up randomly in your Instagram feed, you wouldn't associate it with my house. That's because Avery's style is VERY different from my own and I do my very best to HONOR HER STYLE. Avery doesn't love all the colors like Attley and I do. She favors muted colors and earth tones. She loves horses and butterflies and wants them on her walls. The only nod to my love of color in her room is the color block pillows on her bed and she puts those there out of her love for me. Sweet girl. Avery is also MUCH more of a minimalist than me. She wanted bamboo shades, not curtains. She wants very little on her walls overall. When I suggest something and she says no (like the hand-painted mural I suggested), I respect that and move on.
I think it's just as important for kids to love their spaces as it is for adults to love theirs. How we feel in our rooms affects our moods and happiness! I love that my Avery has her own sense of style that is just as unique and beautiful as she is ❤️❤️❤️
The "Before"
This is what Avery's room looked like when we bought the house.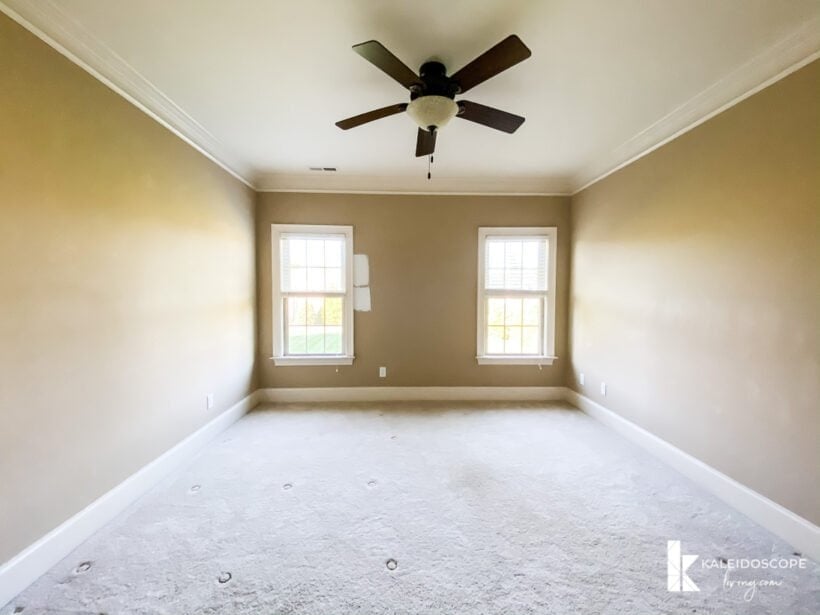 I think the only photo of Avery's room that I have shared up since giving the "before" tour of our house is the one below. You can see from the photo below that we have painted the walls, replaced the carpet, updated the light fixture and added bamboo shades. So it's not like we've done nothing, lol!
As for furniture, we gave Avery this beautiful bed from our old guest room because we couldn't bring the built-in bunk beds from her old room with us, lol. She's been using a cute mid-century table that I scored on Facebook Marketplace as her bedside table for a temporary solution. And we've hung some art (you can check out my art picks for girls' bedrooms here). We love what we've done in her room so far and not much of what you see in this photo will be changing.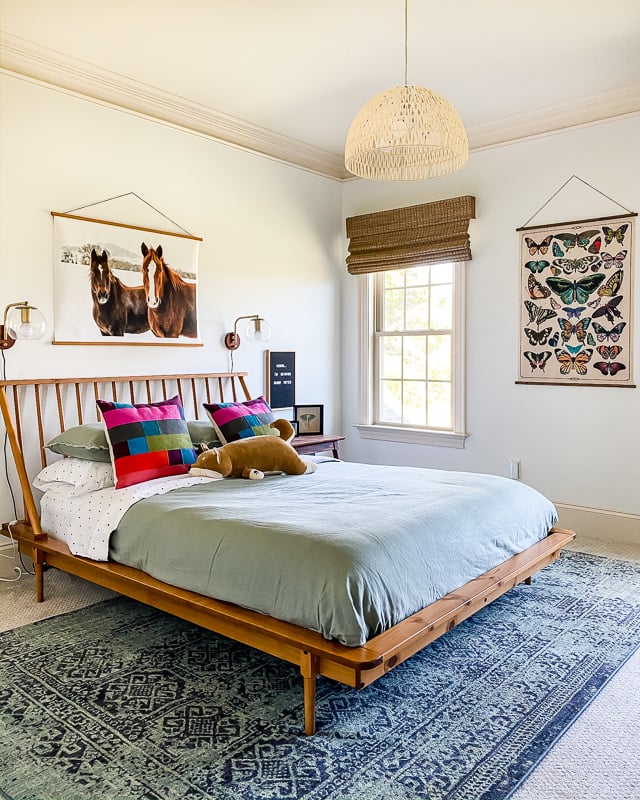 SOURCES:

But there's a whole lot more to do because THIS is what the other side of her room looks like.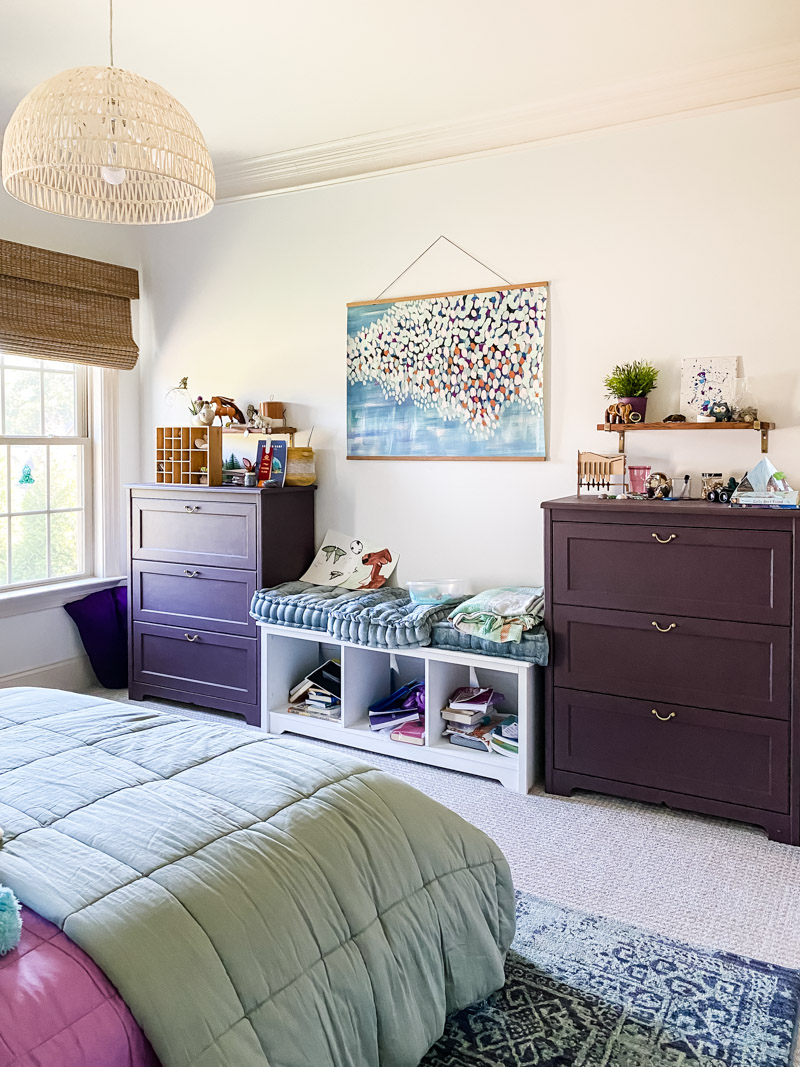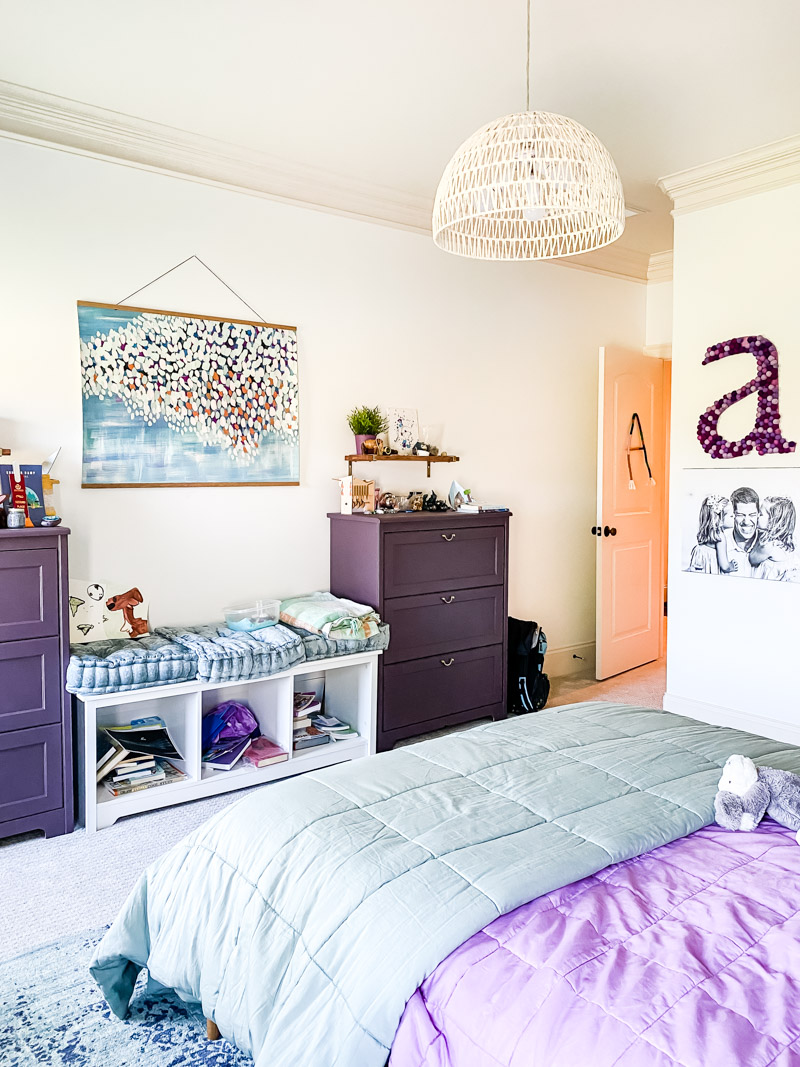 The dressers you see are from IKEA and are absolutely fine, but Avery doesn't need that much drawer storage and they are really large for the space. They are the dressers that we bought for our girls' nursery 11 years ago. Since then, we have used them in our girls' shared room and then in Attley's room once they moved to their own bedrooms. At this point, they've been painted more times than I can count and I just feel like it's finally time to say goodbye to them. We will also be selling the bench that is sitting between them (which used to be in Attley's room also).
So now that you know what her room currently looks like, let's talk about what we want/need to change.
This post contains affiliate links for your convenience. Click here for my full disclosure policy.
The Plans for Avery's Room
The overall goal is to give Avery storage and furniture that makes more sense for her. She really wants a desk and she needs far less drawer space (she has a large closet and prefers hanging her clothes). So let's talk about the drawer storage issue first.
We plan to get rid of both of the dressers and drop down to this 3-drawer dresser, which will also double as her nightstand (I LOVE when furniture serves multiple purposes).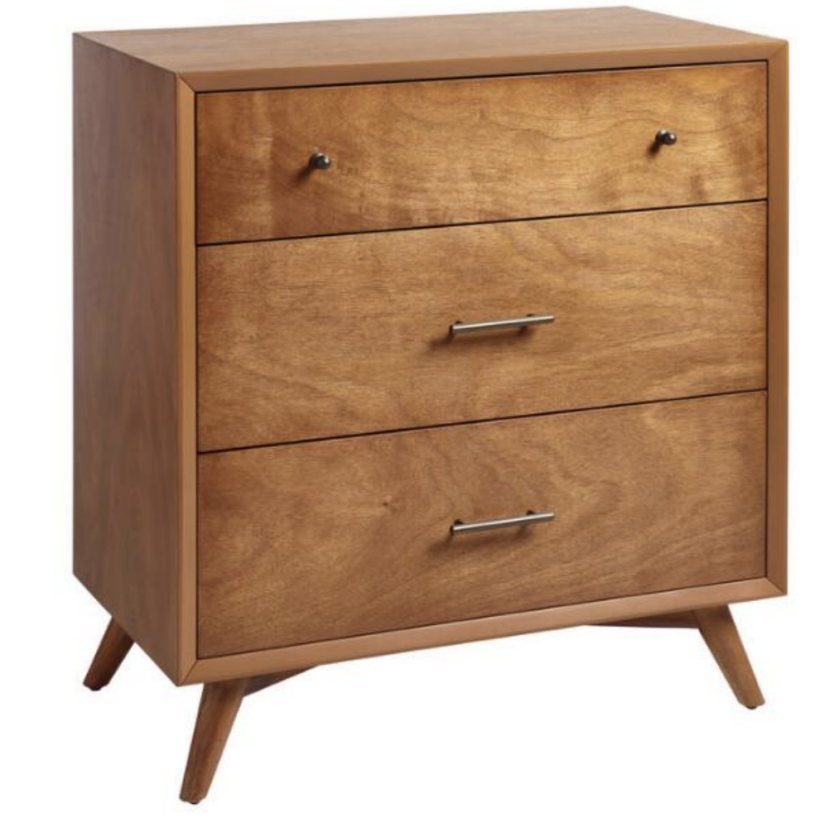 The MAJOR changes will be happening on the other side of her room. With the two dressers and bench gone, we will have room to give Avery a desk and these bookshelves which we will be moving up here from where they are in our family room (more on what we will be doing in the family room soon). We love these bookshelves so much–you may remember that they were in the dining room of our old house. And the bookshelves are so much more shallow, narrow and visually "lighter" than the old dressers! I think they will open this space up quite a bit. The desk we chose is the exact same depth and the bench that's there now, so we know the room can handle the size.
Here's a look at what this wall should look like soon!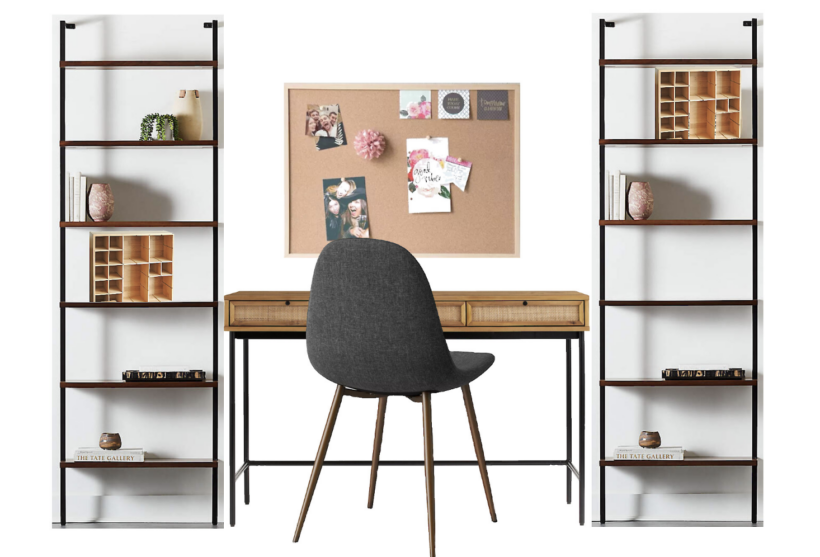 SOURCES:

Avery is VERY excited about what will be happening on this wall. She's especially looking forward to having a bulletin board since she and Attley CONSTANTLY write each other sticky notes and stick them all over their walls. I'm hoping they will put them on the bulletin board instead.
One thing I'm very excited about is the fact that the bookshelves will store her books (that are currently thrown into the bench in her room) and all of her "treasures." I don't know if you can relate, but my kids both have lots of little doo dads. Attley calls her little things "stuffy stuff" but Avery thinks of all her seemingly random rocks, feathers, etc. as TREASURES. And I love that for her! But I can't stand them cluttering every surface. So I ordered two of these inexpensive wooden cubbies that will fit perfectly on the bookshelves and will help bring some order to her treasures. You can actually spy one of them on top of one of the dressers if you scroll back up to the photos–I wanted to make sure they are going to work and they definitely are!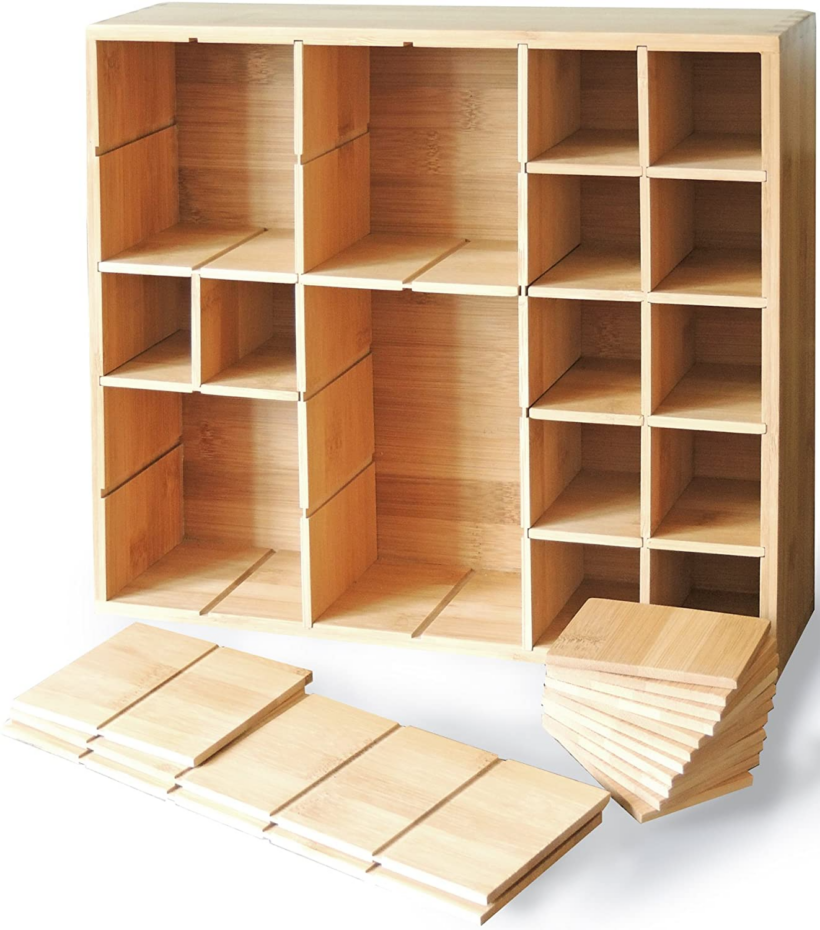 The one thing I'm still debating is whether I should paint some sort of fun accent in her room. I think I probably will, but I think I want to see the whole room put together before I make a decision on that.
That's it! Those are our grand plans for Avery's room. What do you think?
Wondering how I approach transforming rooms and spaces in our home? Check out Designer in a Binder®.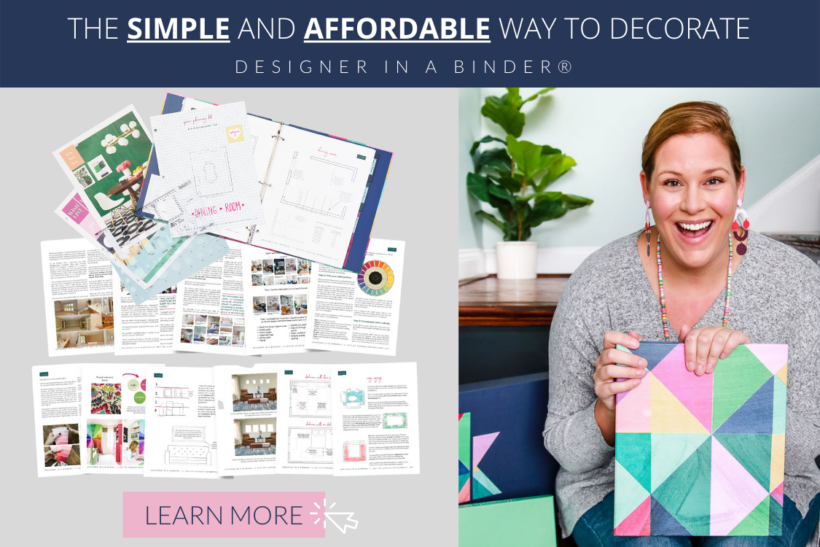 And if you want exclusive content and behind-the-scenes sneak peeks, be sure to subscribe before you head out!


[mv_create key="3″ type="list" title="Room Reveals" thumbnail="https://designertrapped.com/wp-content/uploads/2016/05/angies-list-after-5.jpg" layout="circles"]