20 Gorgeous Cheap Flooring Ideas That Are DIY-Friendly
Last Updated on April 5, 2023
These 20 cheap DIY flooring options can save your budget and are absolutely beautiful! I've included low-cost and budget-friendly options like painted floors and cheap wood floors made from plywood that look incredible. But there are so many other cheap flooring options to consider, like peel and stick tiles, sheet vinyl floors and more. In this post, you'll find the best inexpensive flooring options, including several that I have personally used in my own homes. Yes, I speak from experience!
Let's face it y'all. Ugly, outdated or damaged flooring can really effect how your home looks. But replacing old carpet or tile floors can be expensive. In fact, one of the most expensive things to replace in your home is flooring. Hardwood, tile, laminate hardwood… most require a professional installer and come with a seriously hefty price tag. But you can totally transform your flooring with these cheap flooring ideas!
I can't count how many times we have tackled a room makeover and simply did not have the budget for new flooring. So I've had to come up with creative ways to update outdated flooring.
I tackled my first cheap flooring makeover in 2013. I gave our laundry room a complete makeover for only $71. As part of that, I painted our vinyl floors and they turned out beautifully (and held up well for 7+ years). Since then, I've painted and stenciled damaged hardwood floors, installed a floating tile floor and updated bathroom tile with tile stickers. I've been thrilled with the results of every single one of the low-cost flooring updates I've used!
This post contains some affiliate links for your convenience. Click here to read my full disclosure policy.
But I have so many other ideas to share with you! This list includes cheap flooring ideas for all kinds of floors including painted floors, tile stickers, vinyl plank floors, peel and stick floors, DIY wood floors, and more. And I've linked to all of the detailed tutorials for you! (Note all of these flooring options are for interior rooms. I have a separate post dedicated to garage flooring options).
20 Cheap Flooring Options that are DIY-Friendly
Update Tile Flooring With Tile Stickers
Tile stickers allow you to update outdated tile floors without any sort of demo or hard work. Tile stickers are made from vinyl and are completely waterproof. And they are far more affordable than entirely new flooring! They are quick and easy to install and are completely painless compared to re-tiling. You can learn everything you need to know about tile stickers here (I even share a video about how the tile stickers are holding up after 16+ months).
They work beautifully on ceramic tile, porcelain tiles and any other tiles that don't have textures. I would not recommend using tile stickers on travertine, slate or other natural stone tiles. Tile stickers really need a smooth surface to adhere properly. I don't know that I would recommend them for very high-traffic areas, but they are perfect for bathrooms!
You can watch an overview of installing tile stickers below.
I have personally used tile stickers in Avery's bathroom makeover. Here are the tile stickers we used in Avery's bathroom.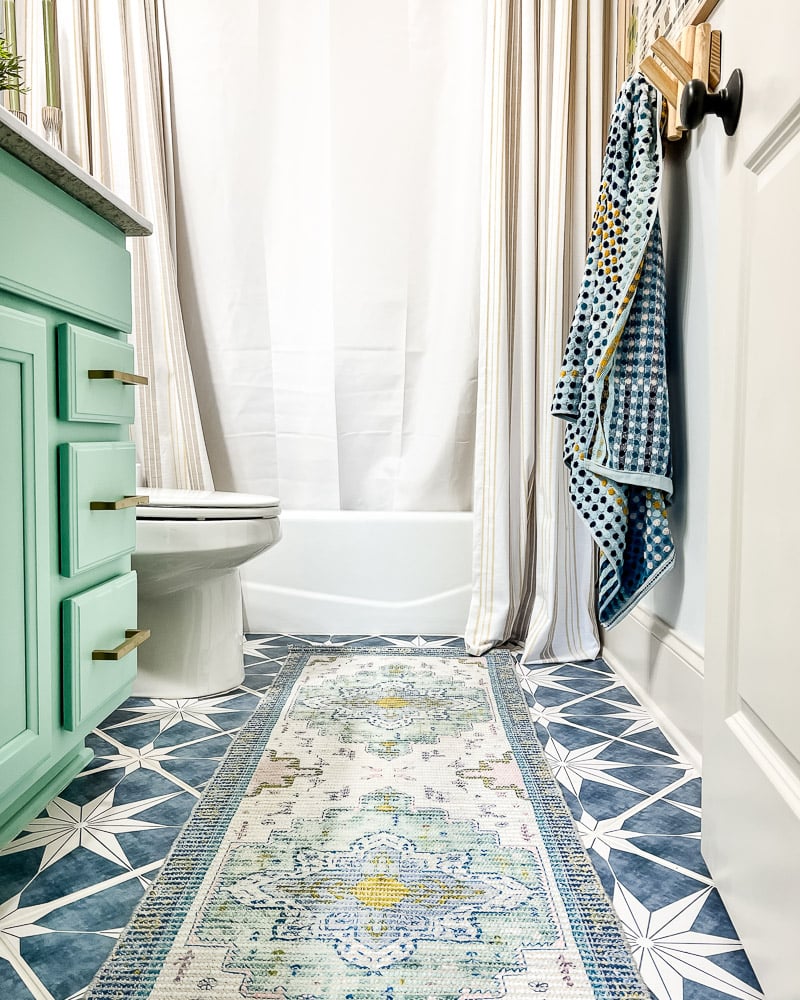 And we also used tile stickers to update the tile floor in Attley's budget-friendly bathroom makeover! Here are the tile stickers we used in Attley's bathroom.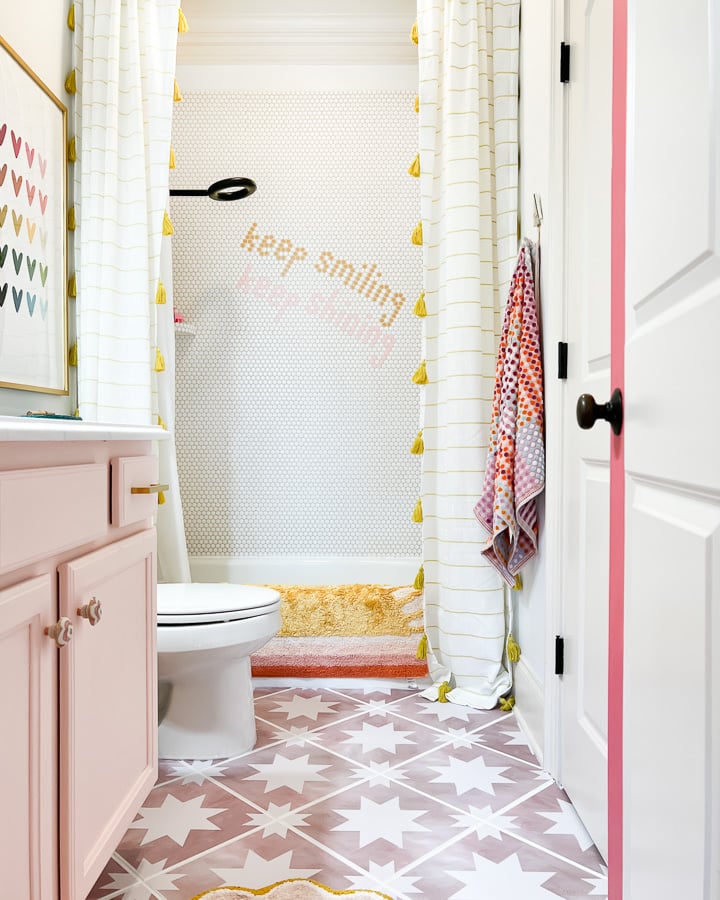 Below are some of other beautiful tile stickers that I've seen.
Scroll and click on any image for full product details.

Install Sheet Vinyl Over Outdated Tile
You can also install sheet vinyl over tile like my friend Lauren of Bless'er House did.
Paint and Stencil An Outdated Tile Floor
Painting and stenciling an old tile floor is always an option as well! Just make sure that you use the correct products (porch and floor paint is a must) and prep the surface correctly. As long as you do that, your paint job should last for YEARS. And no, you don't need a topcoat on the floor as long as you useporch and floor paint. Just look at the beautiful painted tile floors below!
Paint Your Damaged Hardwood Floors to Cover Scratching and More
If your hardwood floors are seriously damaged (or you just don't like them) but replacing or refinishing them is not in your budget, you still have some awesome options! Whether you like colorful decor or prefer neutrals, you should definitely consider painting your hardwoods.
I have painted and stenciled hardwood floors myself and can tell you that as long as you use porch and floor paint and prep your floors correctly, you do NOT need to worry about the paint peeling or chipping! And NO–you really, truly don't need a top coat on them.
This is the kind of paint you MUST use for durable painted hardwood floors. Paint is an excellent way to hide stains and even out imperfections in worn-out wood floors! And painted wood floors can look beautiful no matter your style.
Liz Marie painted the hardwoods in her farmhouse the perfect creamy white/cream color. Aren't they stunning with the rest of her neutral decor?
If you prefer a pop of color, then you will love these painted green floors by White Dog Vintage. They add so much depth and character to the space.
And I love how Teri Moore painted her historic hardwoods white in an otherwise colorful space!
Paint Your Concrete Floor to Add Warmth to a Space
Concrete floors are awesome, but some people find that the look is too cold and modern for them. If you don't love look of your concrete floor and want to warm up the space a bit, you can paint your concrete floors to totally transform the look of them. That's exactly what Postbox Designs did in her mudroom and it only cost her $80.
Paint Your Vinyl or Linoleum Floors
We painted our vinyl floor in our old laundry room using this porch and floor paint. Simple stripes gave it a fresh new look that we loved! Again, as long as you use porch and floor paint, they should be super durable without the need for any topcoat!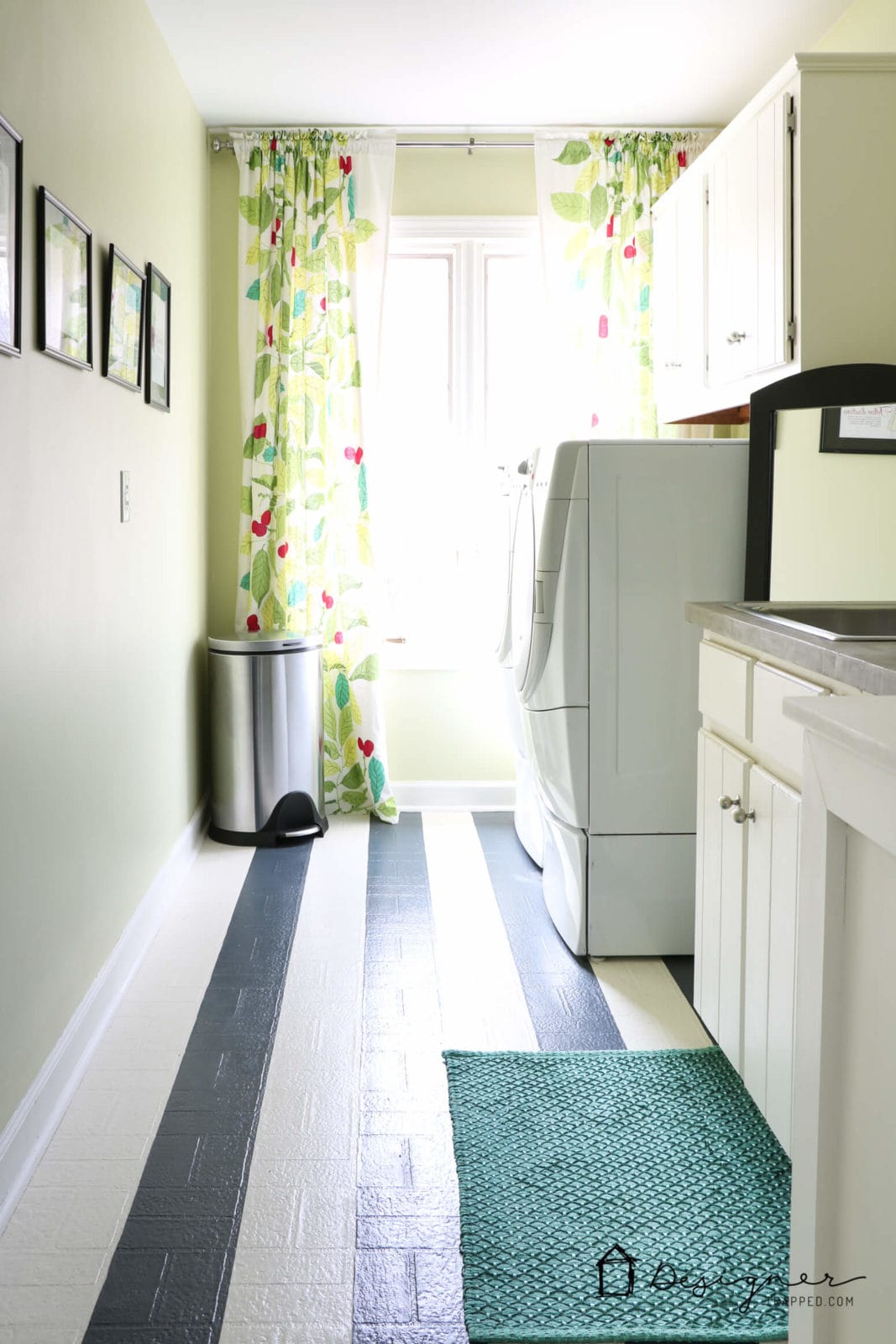 Install a Luxury Vinyl Tile Floor Over Outdated or Damaged Floors
If you don't like the idea of painting or reviving your hardwoods, all hope is not lost. You can install a floating floor right over them! The term "floating floor" does not refer to a type of flooring material. Instead it refers to the method of installation that can be used with a variety of materials, including laminates, engineered hardwood, and luxury vinyl flooring.
With a floating floor, individual planks or tiles interlock edge-to-edge to form a single surface that rests on the underlayment. It is MUCH quicker and easier than glue-down or nail-down methods and can look absolutely gorgeous. You can see how easy it was to install in the short video below.
We installed a floating floor in our laundry room and it's beautiful! Best of all, it's incredibly durable and was inexpensive! This is the floating faux marble tile we used–it's gorgeous and completely waterproof (most are at least water-resistant).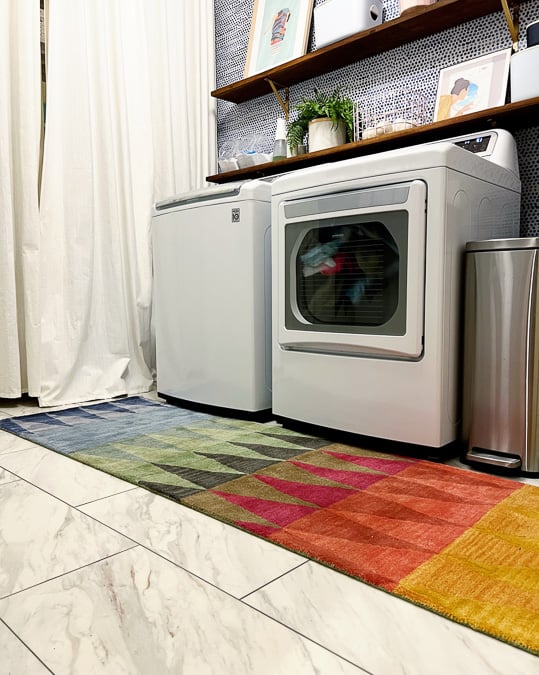 Install Vinyl Tile Planks in a Herringbone Pattern
Luxury vinyl tiles also come in planks that look like hardwood. My friend Lauren installed her LVP flooring in a herringbone pattern to cover her outdated tile floor and it looks gorgeous!
Paint a Plywood Subfloor
It never would have occurred to me to just beautify a plywood subfloor (the cheap material that sits UNDER tile, hardwoods, etc.), but that's exactly what Carrie did. Talk about a cheap but stylish upgrade!
Install Peel & Stick Tiles Over Any Flat Floor
We installed peel & stick luxury vinyl tiles right over vinyl floors as part of our colorful laundry room makeover. The installation only took about an hour and it looked beautiful! This should work on any flat floors–vinyl sheet floors, linoleum floors, hardwood, even bare subfloors! But if you wanted to install this over grouted tile, you would need to fill in/level the grout lines first.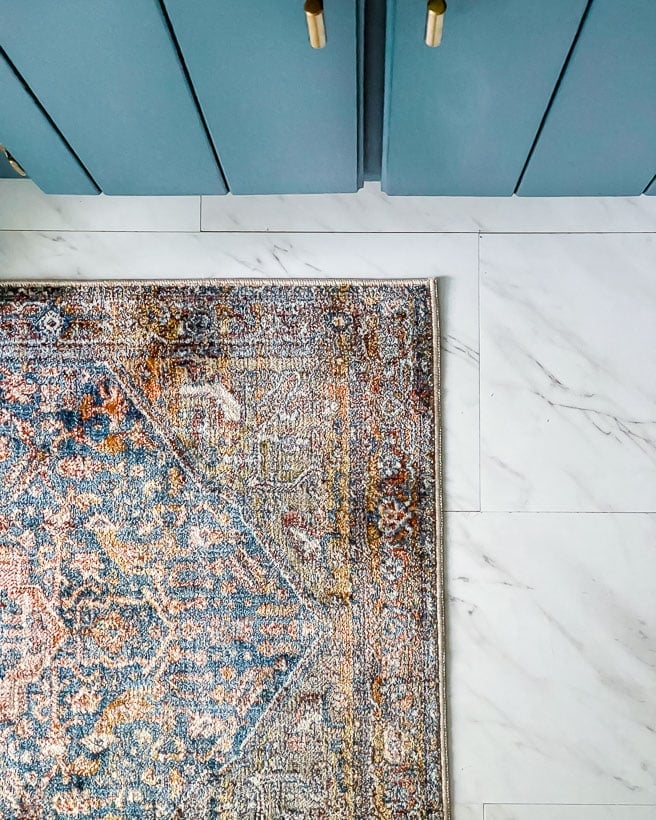 Wallpaper Your Floor
Medina updated the scratched laminate flooring in the entryway of her rental with wallpaper. How cool is that?!
Stain Your Subfloor
If you really want the look of hardwood floors without the huge price tag, consider this stained plywood subfloor by Ana White!
Create the Look of Hardwood Planks With Plywood
Or you could create your own plywood plank floors. They look beautiful stained or painted!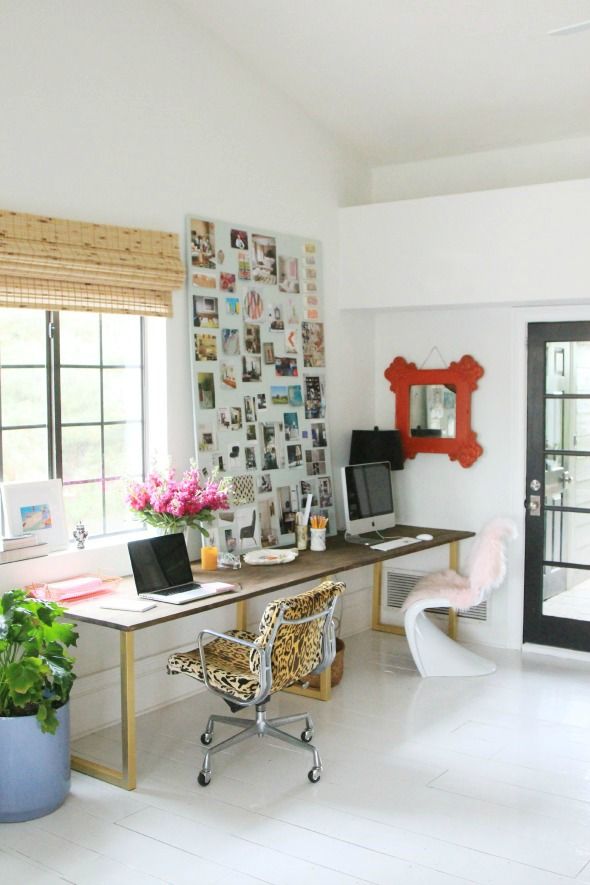 Make Your Own Geometric Wood Floors
And if you are feeling SUPER adventurous and are patient, then you could install these DIY geometric wood floors like Mandi at Vintage Revivals. I love, love, love these floors so much. Someday I will install them somewhere!
Cover Your Floor With Unusual Materials
Now let's look at some of the most original flooring ideas I've ever seen. Check out his incredible scrabble tile floor. I mean… it's so cool. I've never seen anything like it!
And these gorgeous green art paper floors by Lazy Cozy are like nothing I've ever seen before. So creative!
I am so impressed with all of these cheap flooring ideas! They are so pretty and don't blow your makeover budget out of the water. Which is your favorite? I am seriously in love with those green-painted floors! Also, the scrabble tile floor is insanely clever and fun. I love seeing how creative people can be with their budgeting dollars!
I hope these cheap flooring ideas have given you some ideas for updating the flooring in your own home. Sometimes all you need is a little info and inspiration!
Here are some other posts you may enjoy:
Wondering how I approach transforming rooms and spaces in our home? Check out Designer in a Binder®.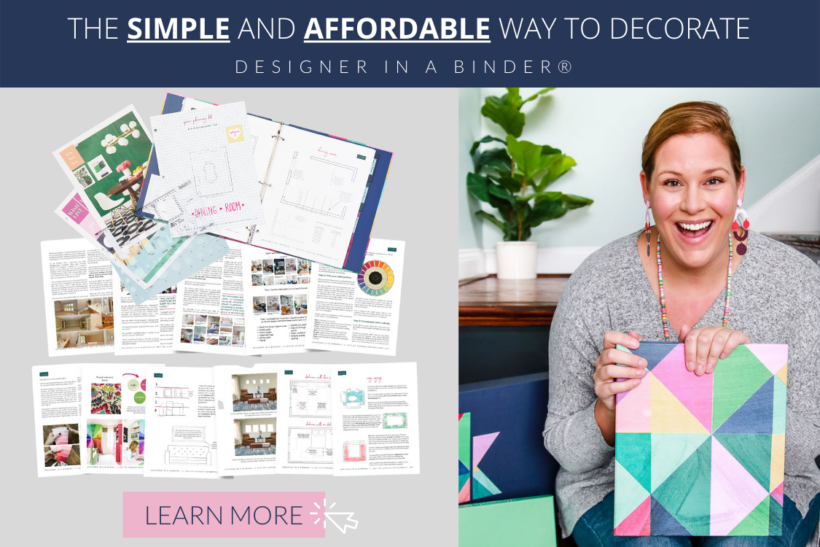 And if you want exclusive content and behind-the-scenes sneak peeks, be sure to subscribe before you head out!