Girls' Wall Art: Top Designer Picks
Last Updated on May 16, 2022
Design the room of your daughters' dreams. We have rounded up gorgeous wall art for girls' bedroom in every style and color palette!
My twin girls have VERY different styles. One is all rainbows and girly things. The other loves a darker moodier palette with a more modern vibe. Back when they were tiny they shared a room and I decorated it with pinks and greens. Now that they are older and no longer share, they each get a room that reflects their personal style! You can see Avery's room in our last house and Attley's room in our last house–pretty different, right?!
One of the most fun things about creating their rooms in our current house is that we worked on the designs together. I spent time with each of my girls separately, and we discussed what they like and don't like, how they want their room to feel, and what colors make their heart happy! Once we had a plan, I worked really hard to choose the best girls' wall art that fits their style and personality (and gave them lots of say in what goes on their walls!).
In our new house, Attley wanted her room to be a lot like her old room, right down to a mural by the same artist. We used some of the same art, but also got her some really fun new art for a gallery wall on either side of her window. She loves all things girly and all the colors, so her art really reflects that.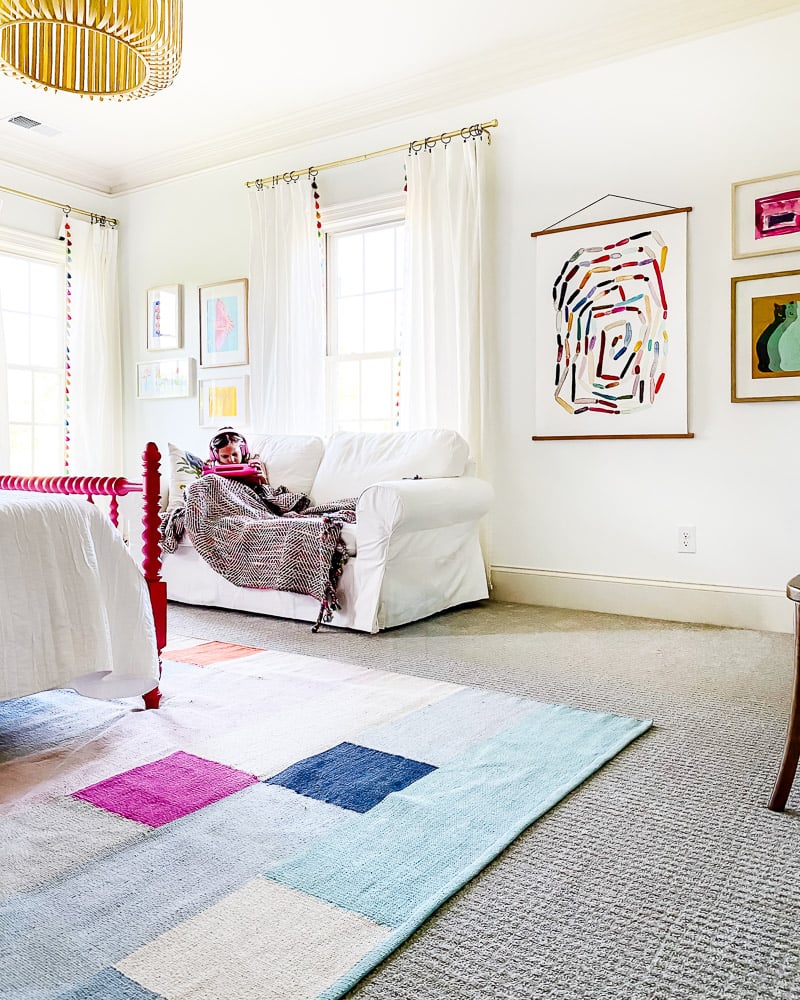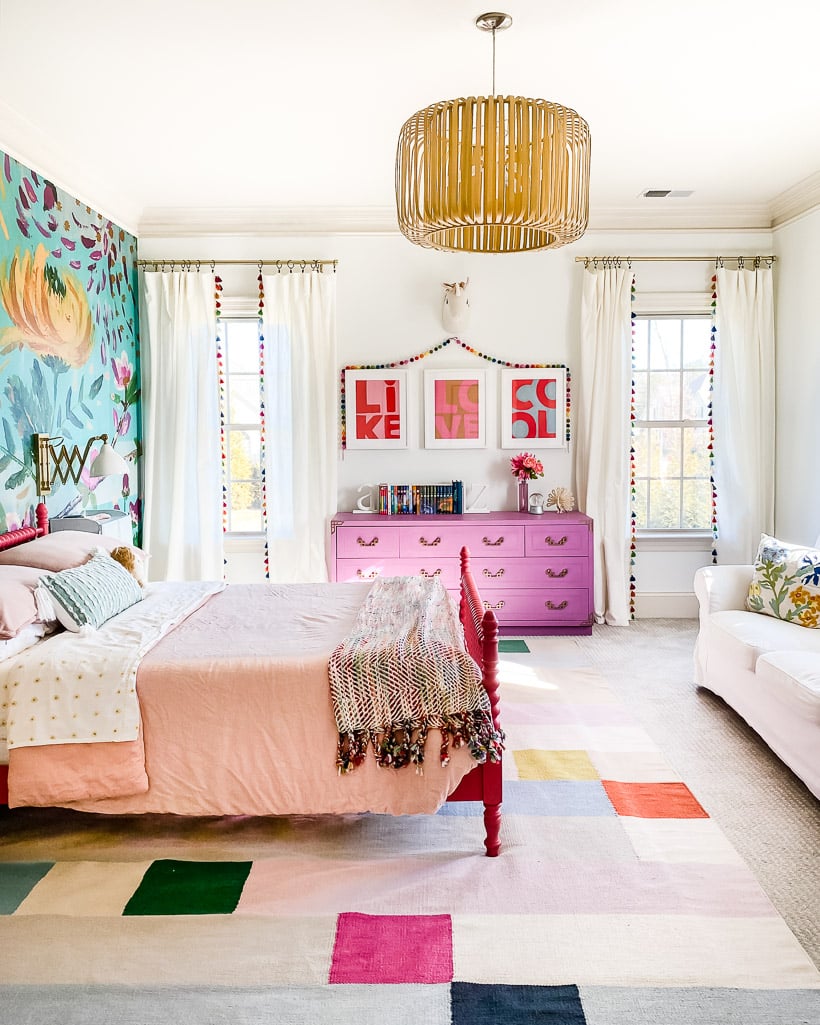 Avery's room is a lot different than her room at the old house. She loved her old built-in bunk beds but she wanted her colors and style to be a little more grown-up and modern this time, so we changed things up. I paired what used to be our guest room bed with some new and very cool art. Though her room is still a work in progress (though we will finally be finishing it very soon–the other side of her room is a hot mess right now), she loves the direction it's going and it reflects her style perfectly.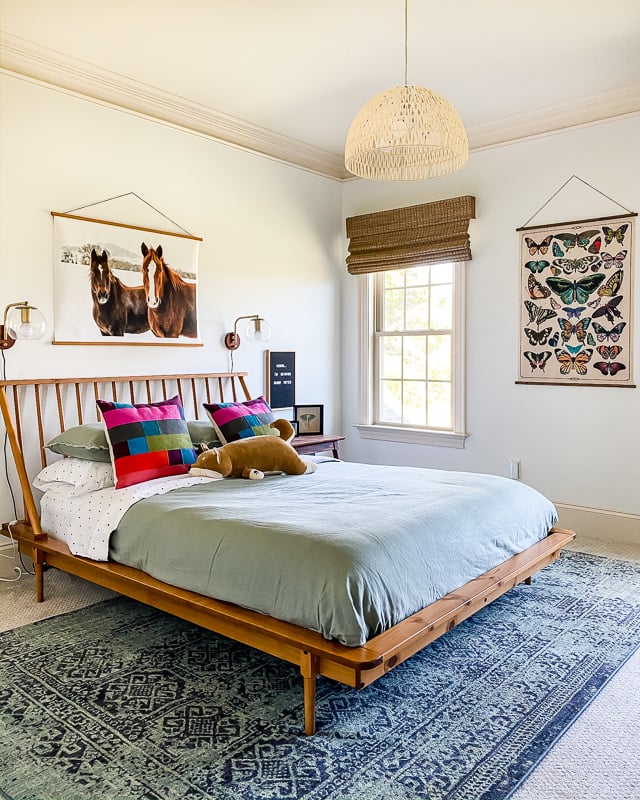 Bottom line, the art you choose for your kid's rooms makes a HUGE impact on the overall style and feel. So if you want to give your daughter a that she absolutely loves, pay attention to the art you choose! Girls' wall art doesn't have to be boring or babyish. I've curated these designer approved picks for the most fun and stylish options out there.
This post contains affiliate links for your convenience. Click here for my full disclosure policy.
Best Art for Girls' Rooms
Click on any image below for full product details :)

If you are wondering how I do things like choose art and how I come up with room designs, the answer is Designer in a Binder®. It is the simple system I have used for years and years to design spaces in my own home. A couple of years ago, I finally put it all down on paper so that others can use it as well! In it I walk you through all the important stuff like choosing items that are the correct scale, space planning, mixing patterns, choosing colors and more! I give easy-to-understand guidance on all of this in Designer in a Binder®! You can order your binder now. We have over 7,900 happy customers so far! Click HERE to learn more.
Other posts you may enjoy:
Wondering how I approach transforming rooms and spaces in our home? Check out Designer in a Binder®.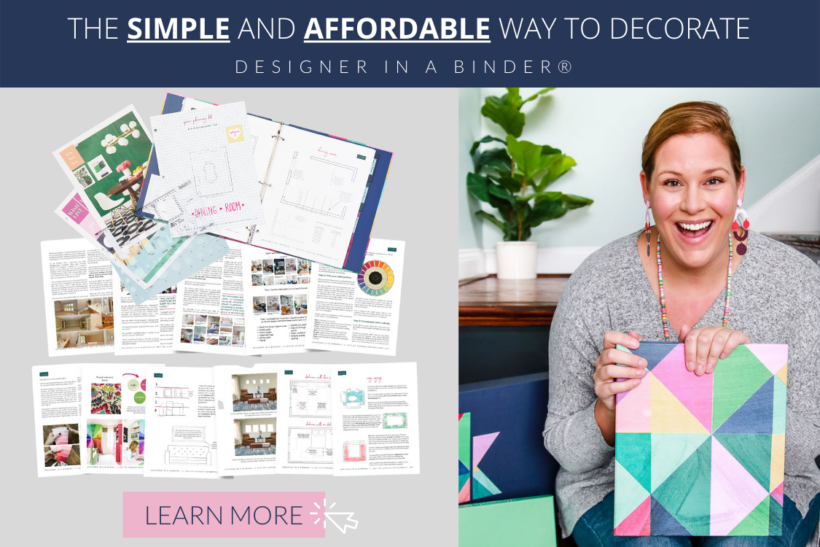 And if you want exclusive content and behind-the-scenes sneak peeks, be sure to subscribe before you head out!