What is Space Planning (and How to Create a Space Plan)
Last Updated on April 29, 2019
What in the world is space planning?! In this easy to understand post, you will learn what space planning is, why it is so important AND learn how to create a space plan.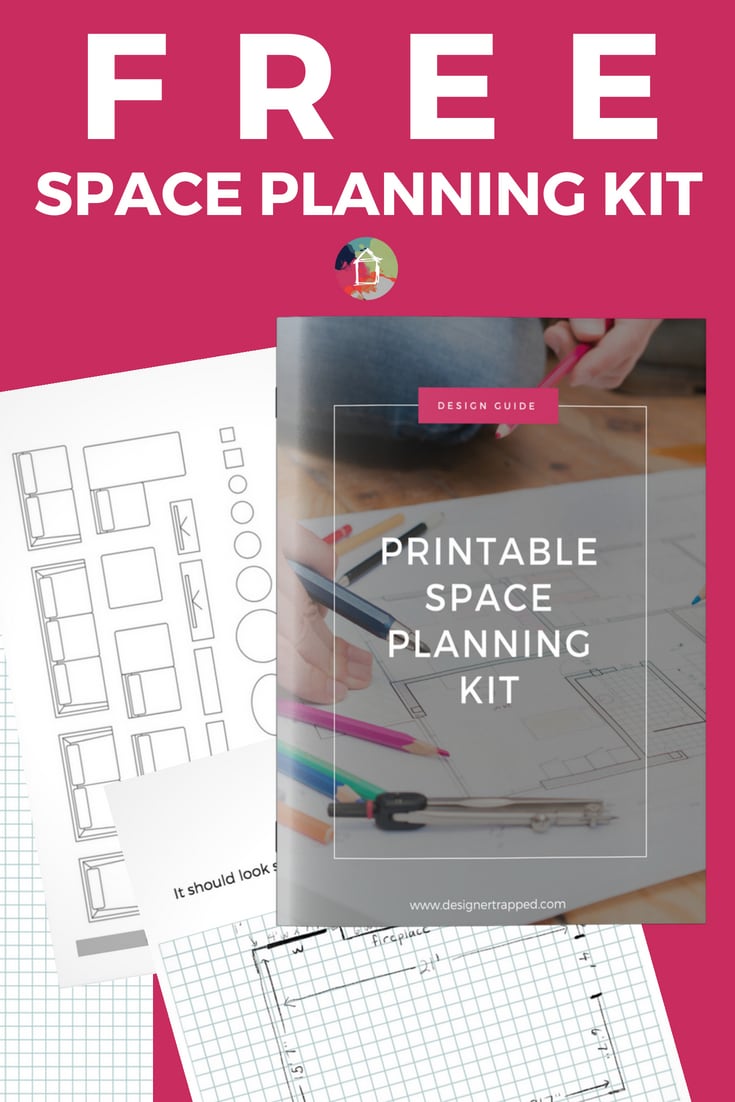 It happens all the time. You fall in love with a piece of furniture. The color is perfect. The shape is perfect. You love everything about it. So you buy it and either take it home or have it delivered. And that's when you realize it's a bit too big or small for your space. It just doesn't feel quite right. And now you have to find the time in your busy schedule to return it. Or you can just live with it (and have it drive you crazy). Neither option is appealing.
What you find yourself wondering is, "how did this happen? It looked like it would fit in my room perfectly!" The fact is that your mistake happened before you ever started your furniture search. You made a mistake by not creating a space plan for your room before you even started your shopping. Like most people, you started shopping feeling like you had a good sense of how furniture would fit into your room. Sadly, that almost never works out.
What you need is to create a space plan, which is just one part of creating a cohesive design plan. A well thought-out design plan requires thought about a color palette, lighting, room size, scale AND space planning. FYI, you can get all the info you need to create a cohesive design plan in Designer in a Binder.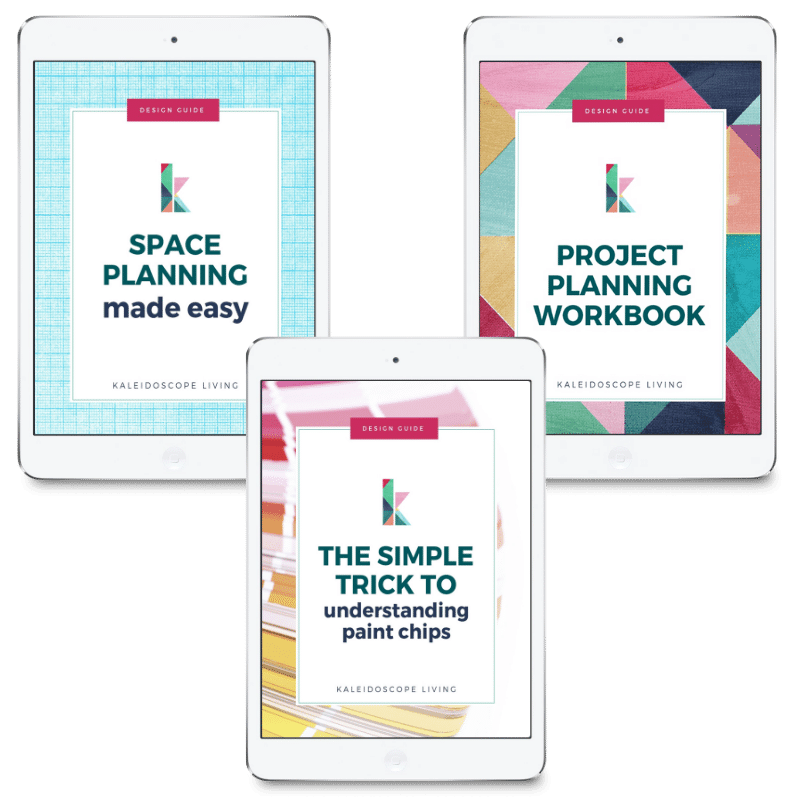 Get my FREE design guides when you subscribe!
But for now, let's focus on exactly what space planning is AND talk about how to create a space plan.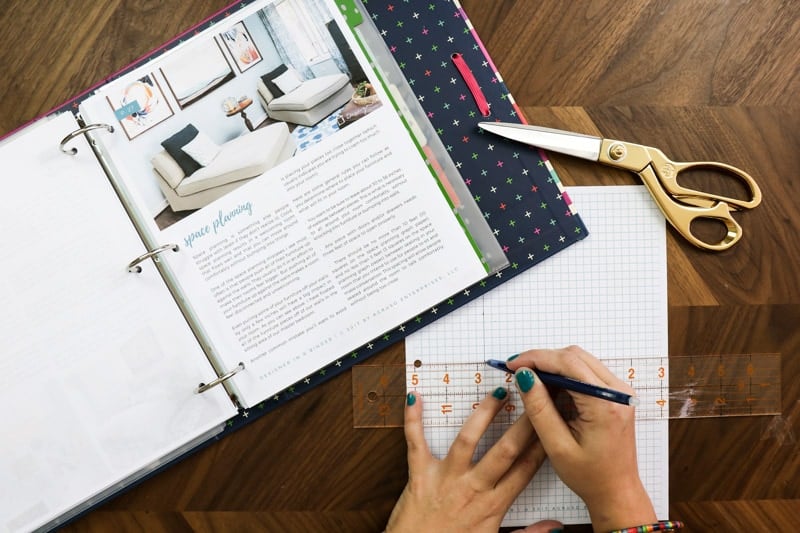 What is space planning?
Simply put, space planning is an assessment of how the space in a home or room is used. Space planning considers who will be using the space and what they will be using it for. When done well, space planning takes into account traffic patterns in and out of the room, as well as necessary space in between furniture pieces so that you can move around the room without bumping into things, etc.
Space planning ultimately leads to something called a space plan.
What is a space plan?
A space plan is just a to-scale drawing that includes the architectural elements of the room (doors, windows, and immovable objects like fireplaces or built-ins). Once the room itself is sketched out, furniture is then added to the space plan to make sure it fits and uses the space well.
How can I create a space plan?
To make creating your own space plan SUPER easy for you, I've created a space planning kit that is absolutely free to my newsletter subscribers. All you have to do is subscribe and it will be emailed to you right away. Click below to grab yours now.
It's actually really easy to create a basic space plan. All you have to do is measure your walls, windows and any door openings and draw straight lines on graph paper. I PROMISE you can do this. If you grab my free space planning kit, you will use a scale of one square = 1 foot. So, if your room is 16 feet long, that would translate to 16 squares on the graph paper. Easy peasy. It will look something like this when you are done (this is a sketch I made of our family room–it's not pretty, but it works)!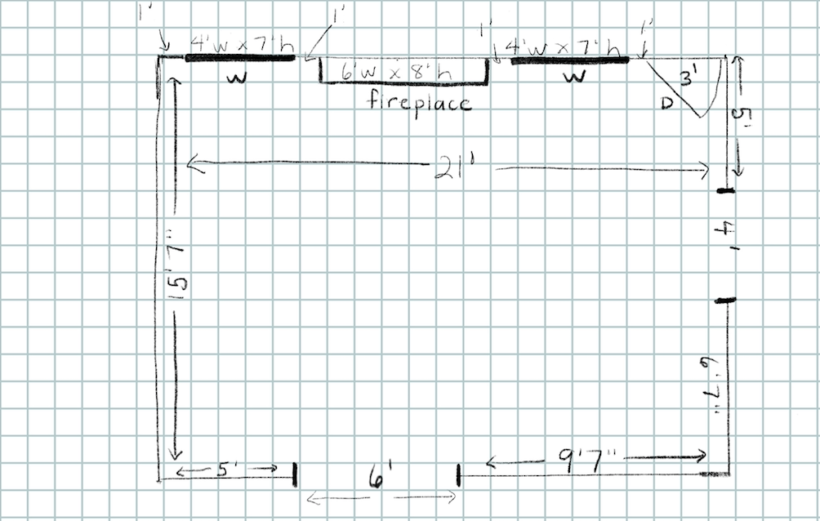 After you have sketched out your room to scale, you are ready to play around with furniture placement until you find a plan that works. As you work on your space plan, keep these guidelines in mind.
You want to be sure to leave about 30 to 36 inches of walking space between pieces. This is what is necessary to all around your room comfortably, without knocking into furniture or bumping into walls.

Any piece with doors and/or drawers needs three feet of space to open properly.

There should be no more than 10 feet (10 squares on the space planning graph paper) and no less than 3 feet (3 squares on the space planning graph paper) between seating in your room that you intend to use for people to sit and make conversation. This spacing will allow people seated around the room to talk comfortably, without being too close.
Also keep this in mind… One of the space planning mistakes I see most often is that people push all of their furniture up against the walls. They usually do it in an effort to make their rooms feel bigger. But pushing all of your furniture up against the walls makes a room feel disconnected and unwelcoming. Even pulling some of your furniture off your walls by only a few inches will have a big impact in your room.
The easiest way to try different furniture arrangements is by cutting out to-scale furniture pieces and move them around on your space plan until you find the perfect arrangement. As you do this, it will become easy to see if a loveseat will fit in your space far better than a full-sized sofa. And you can play around with different layouts and options without dealing with returns of purchases that don't work and/or the manual labor required to haul heavy furniture around.
That's it! See, creating a space plan really isn't that complicated and it will go a very long way in helping you create spaces and rooms you really love! If you enjoyed this post, be sure to check out my other interior design tips and tricks by clicking here. And you can also grab one or more of my free design guides by clicking the image below.
[mv_create 1 2018 key="2″ type="list" title="Design Posts" thumbnail="<a href=" https designertrapped com wp content uploads 05 how to pick paint colors jpg a]