A "Before" Tour of Our New House Part 2
Last Updated on March 3, 2022
We are excited to share a tour of the upstairs of our new house. It is boring and brown NOW, but it will be colorful and stylish when we are done with it!
Welcome back for the second part of our "before" tour! If you didn't catch part 1 where I shared the exterior and entire first level of our new house, you can check that our HERE. In that post, I also remind you of how bland and boring our last house was when we moved into it in 2012–you have to see it to believe it, just click HERE. And if you are shocked to hear we have purchased a new house, you can catch up on that news HERE.
The Second Story
We are super excited that the entire second story has 9-foot ceilings (the downstairs has 10-foot ceilings)–having moved from a home with 8 foot ceilings in most rooms, we love the sense of space we get from the higher ceilings! Much like the downstairs level of our new house, the upstairs was also VERY BROWN. The walls were brown, the cabinets are brown, all the tile is brown… Everything was brown except for a single room upstairs (which has become Attley's room). I apologize for the sad photos that I took with my phone.
The Hallway and Landing
I love how large the landing/upstairs hallway is! It will be super fun to decorate with colorful artwork and the same gallery wall that we had upstairs in our old house. But we didn't love the BROWN paint and basic beige carpet that was starting to show its age. As we talked about in a podcast episode, we had the carpet replaced and the walls painted before we moved in, so it already looks better than this.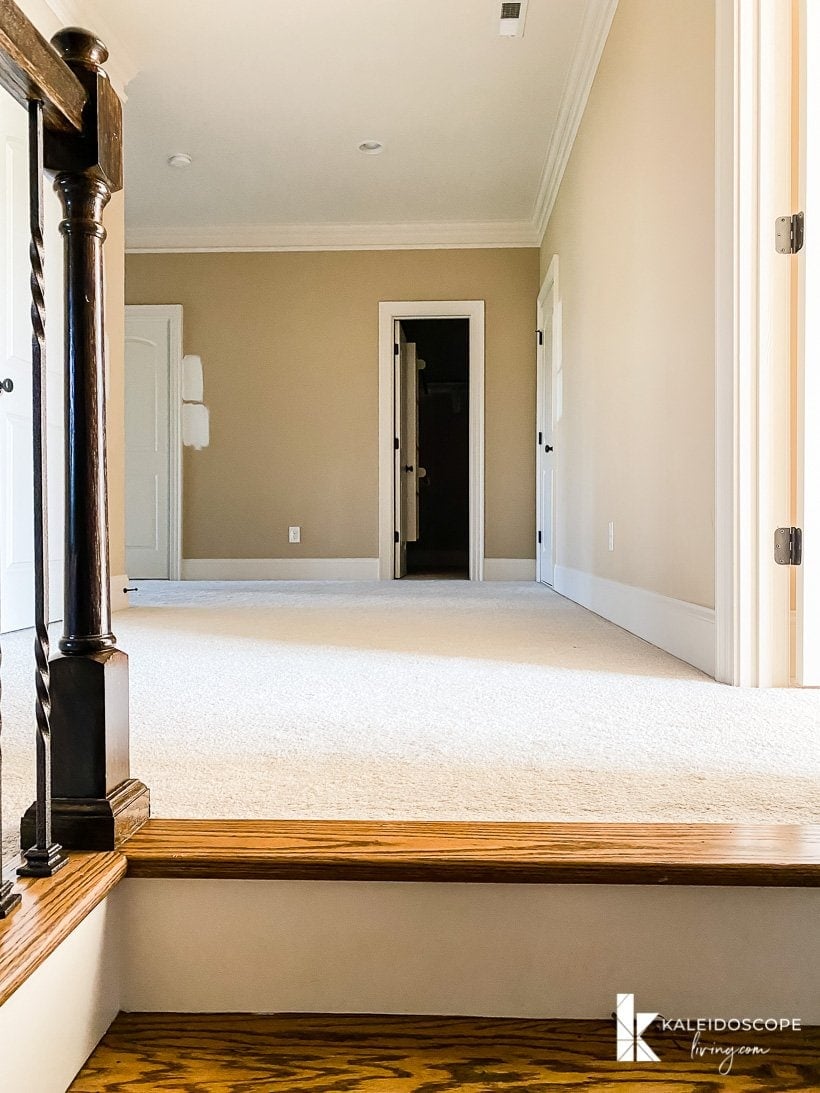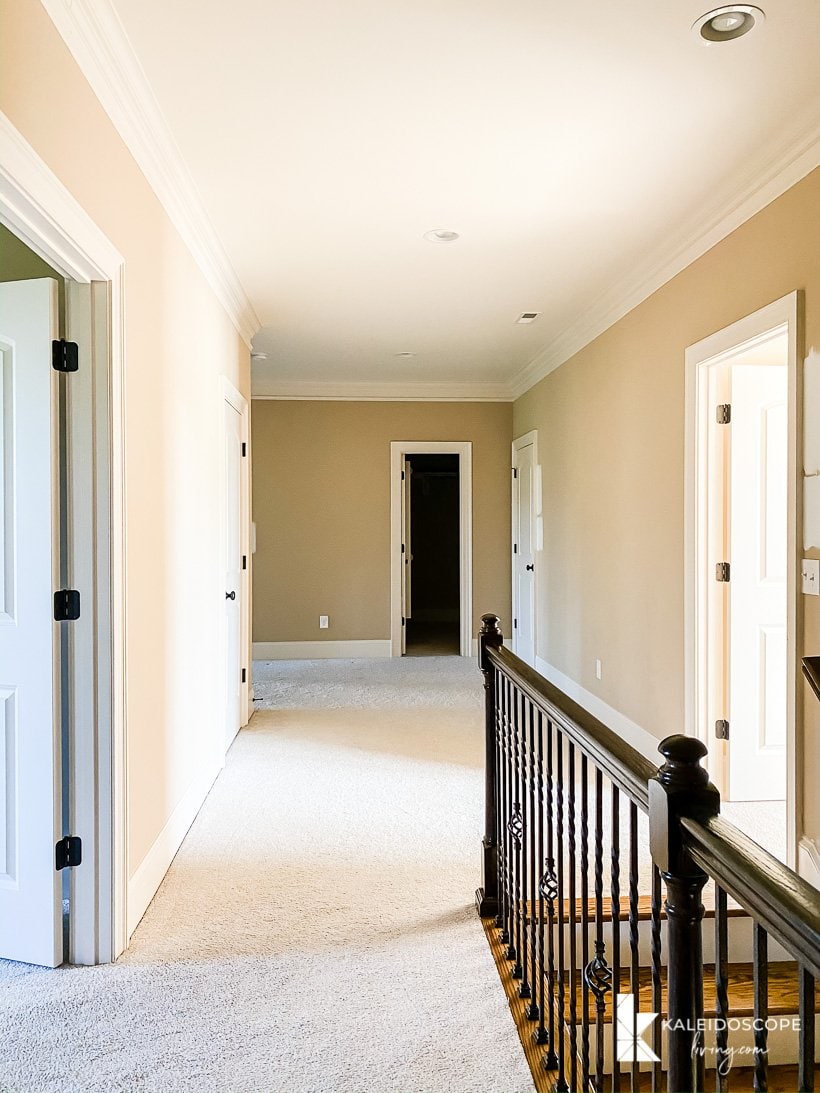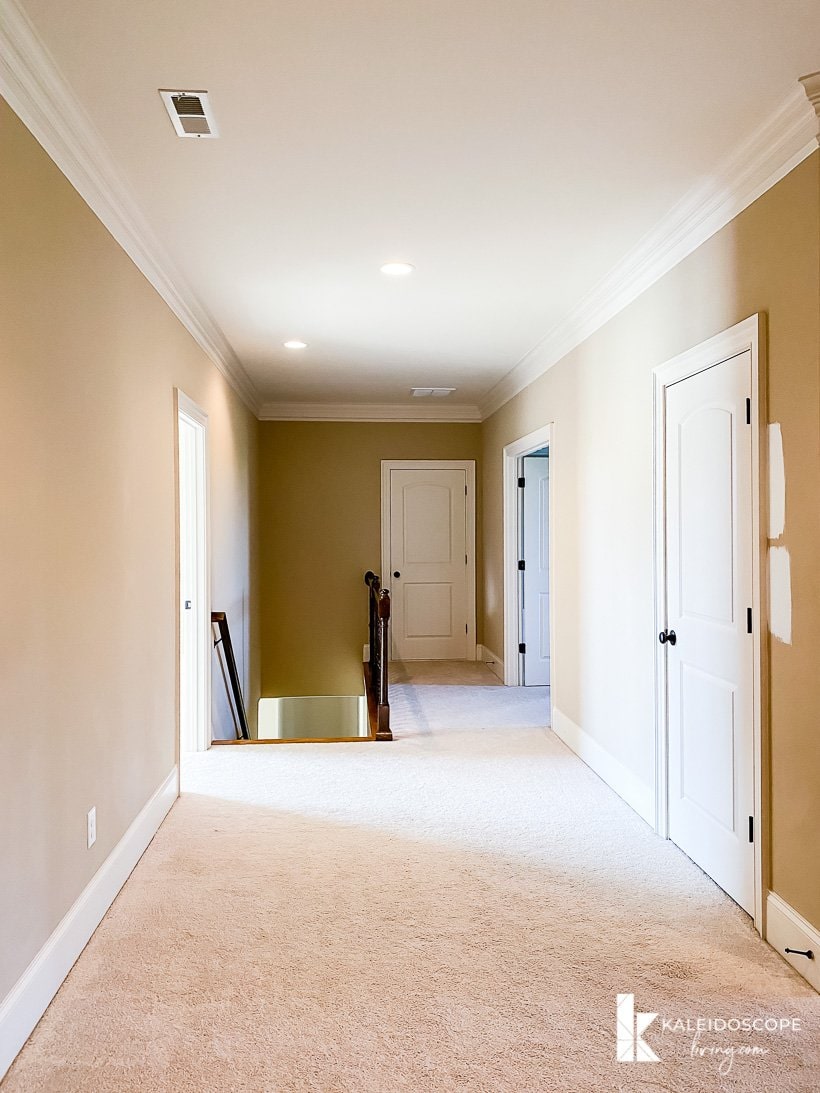 Attley's Room
Attley's room is the larger of the kiddo bedrooms and has beautiful natural light! Attley really loved the blue color the walls were painted, but the blue color looked awful with the trim color (which we decided to keep as I shared in this post all about contrast trim). It already looks brighter and much better since the walls have been painted white and the carpet was replaced. I can't wait to take that "boob light" down and get her room all decorated. She wants her room to be very similar to her room in our old house, which you can see here.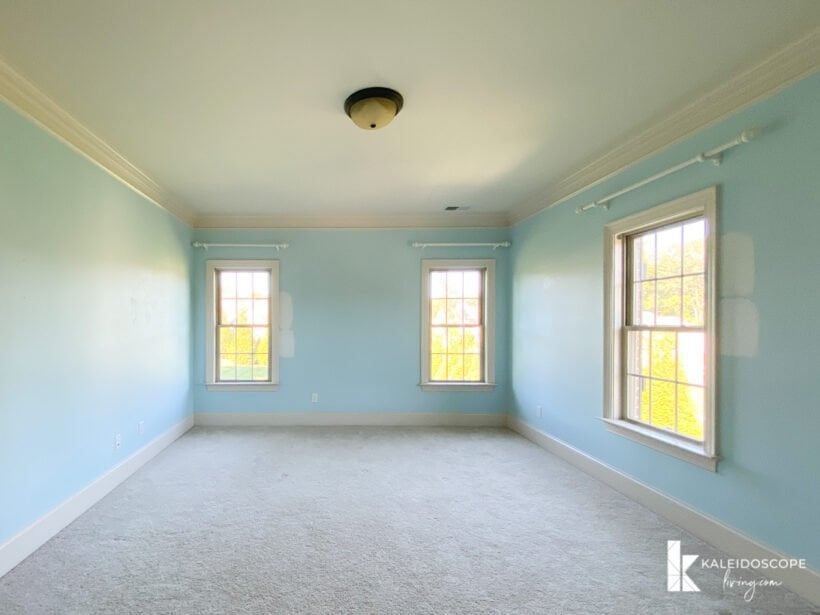 Attley's Bathroom
The tradeoff that Attley had to make by choosing the larger bedroom is her bathroom. It is technically "her own" bathroom, but it also services the bonus room and my office (so you can enter it from Attley's room as well as from the hallway). To her, it was worth the slight tradeoff, lol. As with all the other rooms with cabinetry and tile in our house, her bathroom is BROWN. We will completely gut it at some point, but for now we will make the best of it!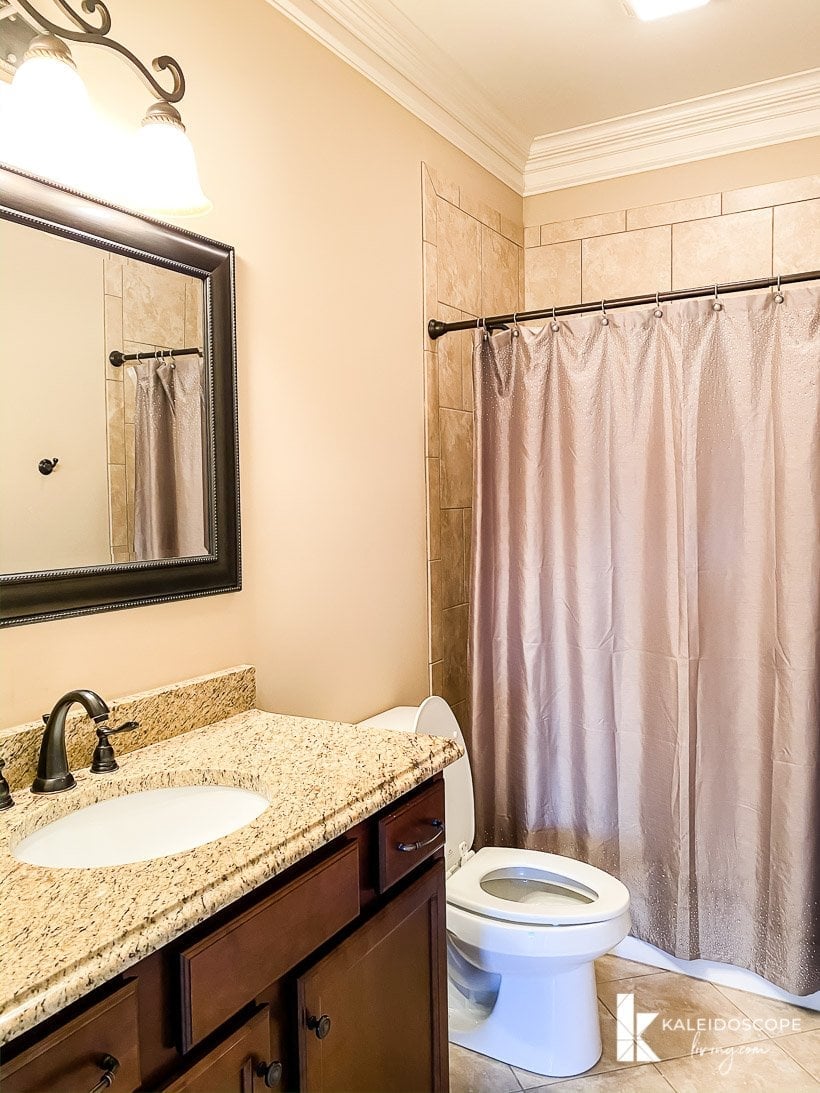 Avery's Bedroom
Avery chose the smaller bedroom and I have to say, I actually prefer it over Attley's room. It feels much cozier and private. And yes, you guessed it… It was brown, lol! We have REALLY cool plans for Avery's room. Avery wants her new room to be totally different than her room in our old house. And since we couldn't really bring her DIY built-in bunk beds with us, we are happy to switch it up for her!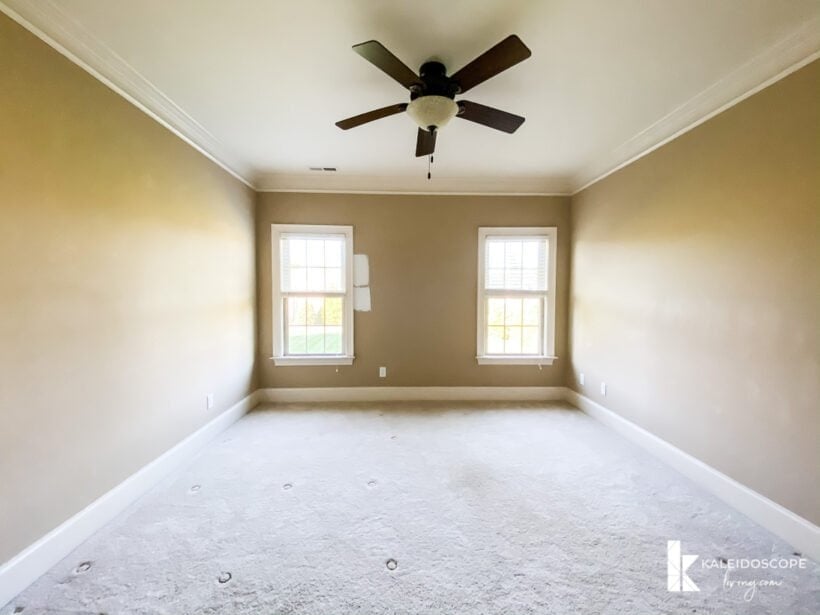 Avery's Bathroom
Avery is thrilled that she has a private bathroom all to herself! It's another vast expanse of brown that will change at some point :)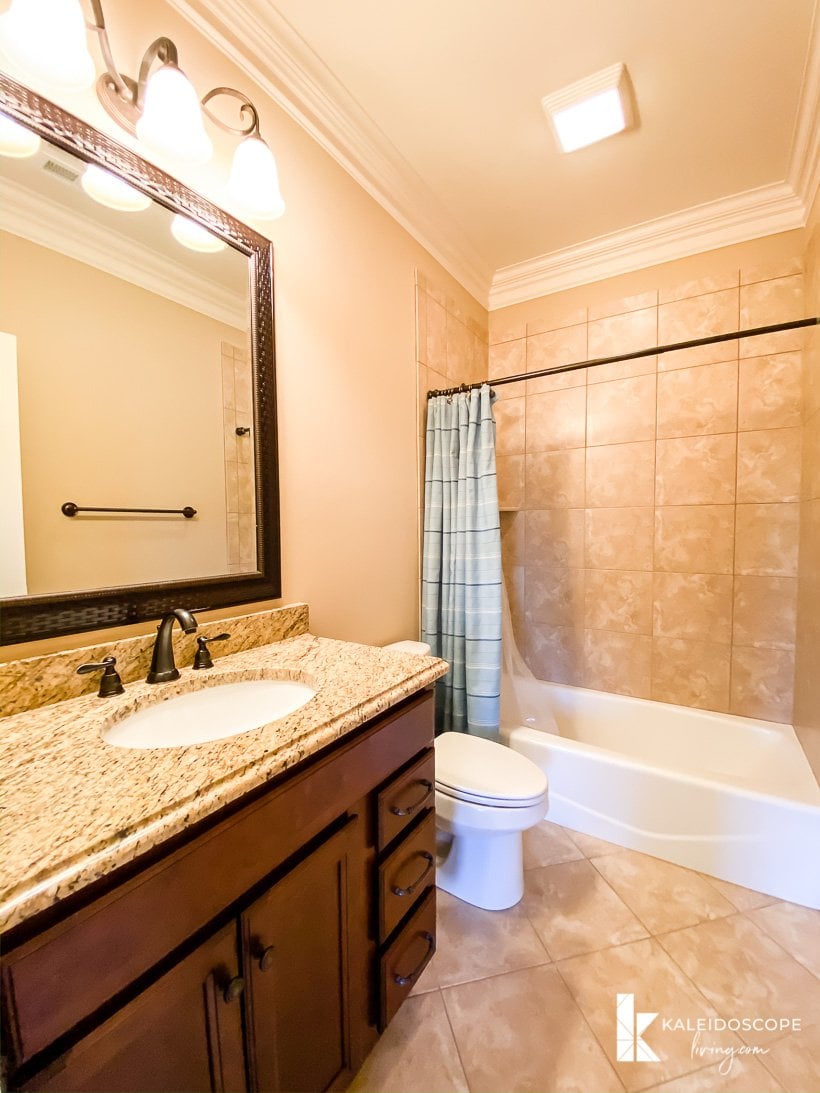 The Bonus Room
We are all thrilled about the bonus room. As we talked about in this podcast episode, we decided that a bonus room was on our list of must-haves since we really want our girls to have a space that makes them want to invite friends over frequently, especially as they get older. And Joe has wanted a ping-pong table forever, so we plan to get one for this space! It doesn't look very big in these photos, but it's 24 x 16 feet.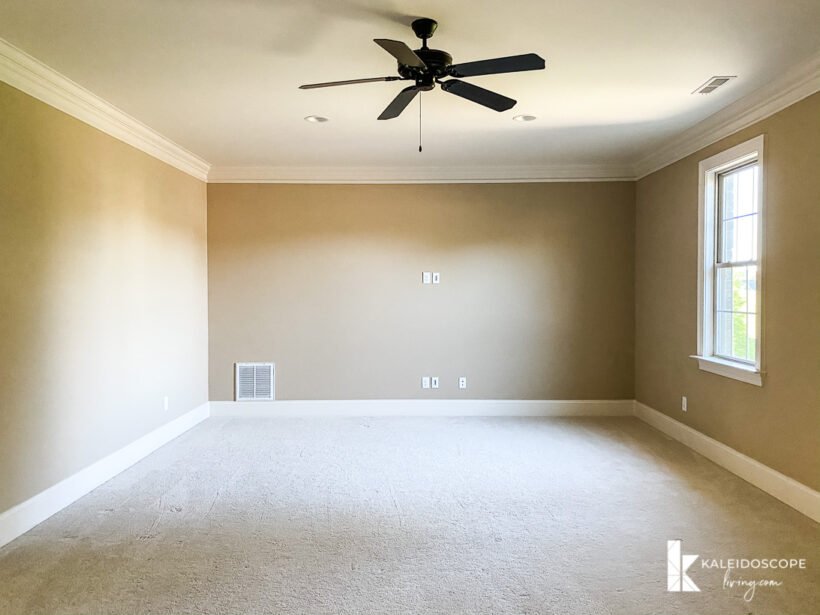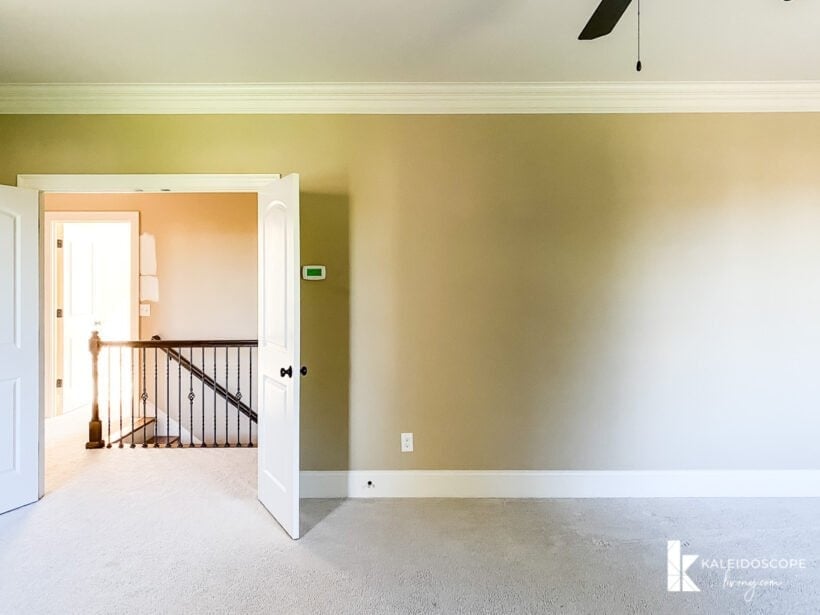 My Office
The other thing that was on our list of must-haves for our new house was a dedicated office for me. After all, the location of the office in our last house was one of the reasons we decided to move. My new office gets SO MUCH NATURAL LIGHT I can hardly believe it! And it's out of the way of all the action, so it should be a nice, quiet space for me to work.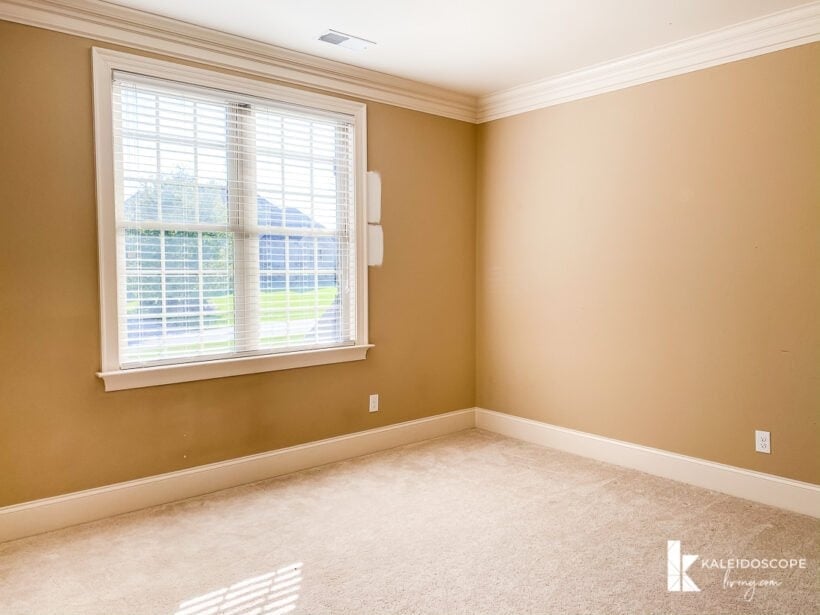 The Attics (yes, there are 2 attics)
I can't finish up this tour without sharing the attics because they are MAGICAL!!!!! They are accessed on the second story of the house–we don't even have to walk up additional stairs to get to them. That makes them so, so easy to get in and out of. We have vowed that we will not fill these spaces up and we will continue to purge them regularly (which is something we talk about doing in this podcast episode).
Here's attic space #1.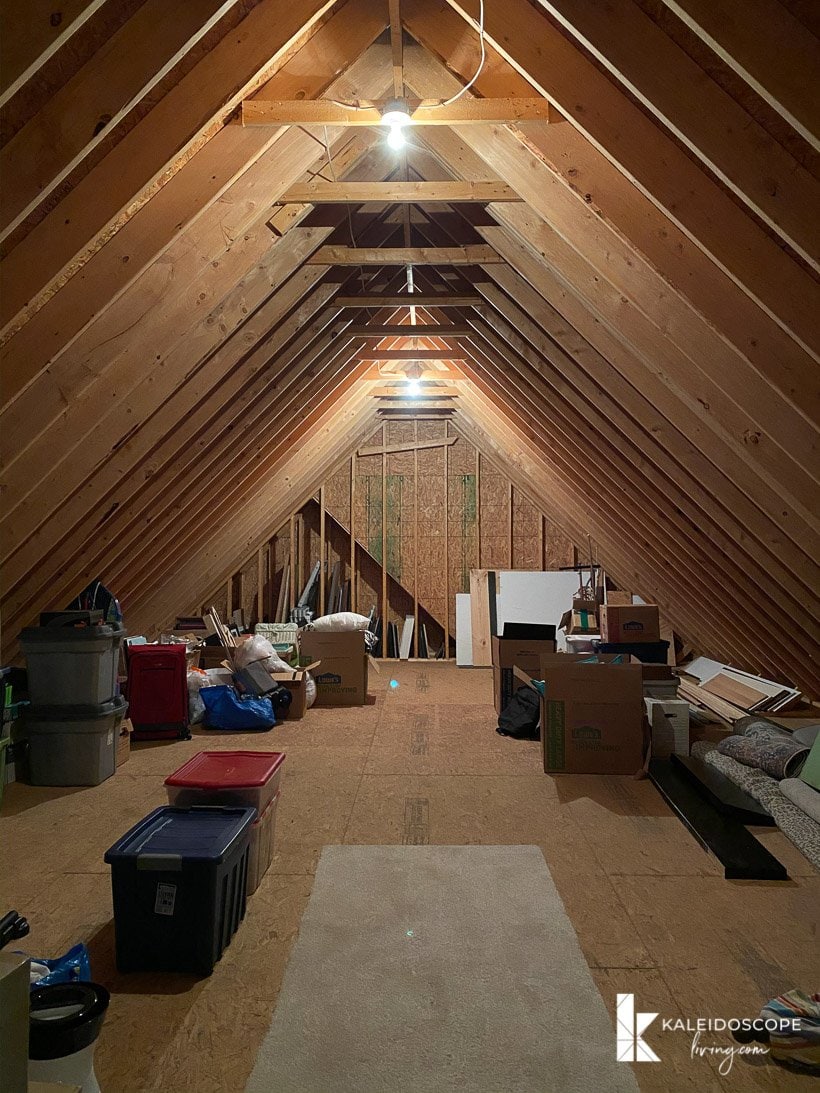 And here's attic space #2.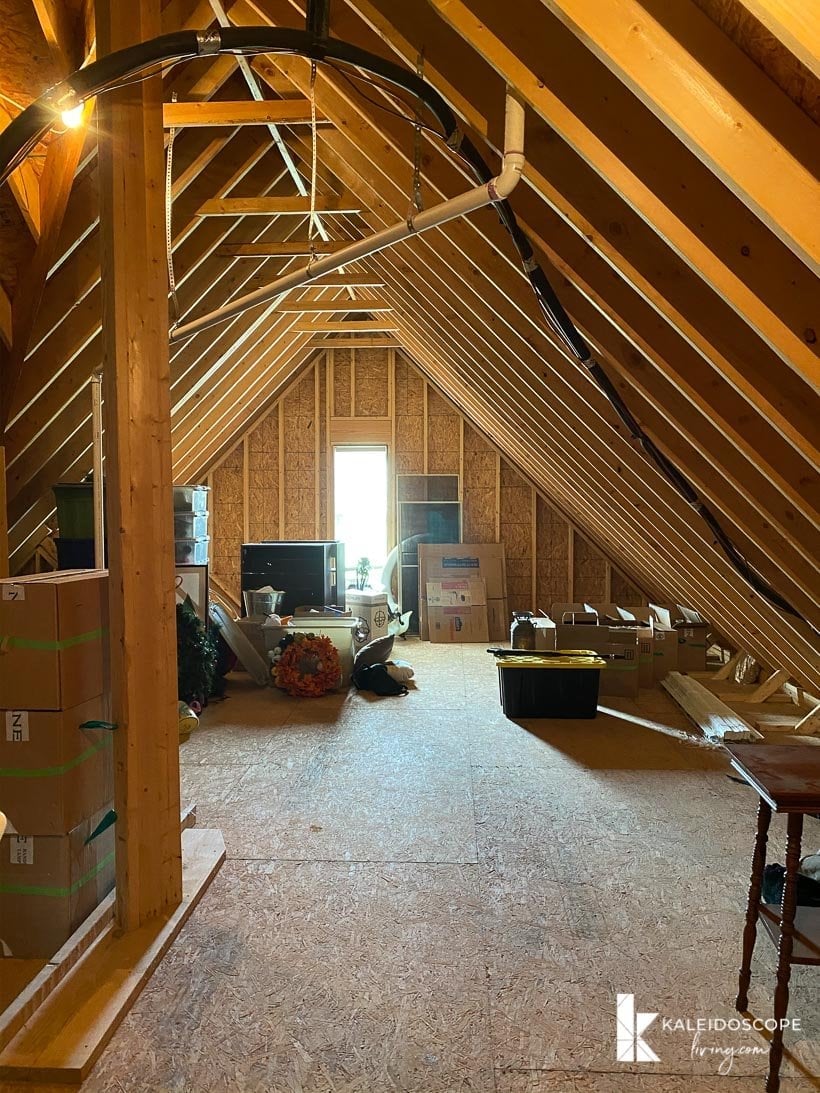 Well friends, that's it! Don't forget to check out the tour of the downstairs of our new house if you haven't already! I hope you have enjoyed a peek into our new home. And I hope you are excited about following us on this brand new journey of transforming this house into a home that is totally our style. It's going to be FUN!
If you are wondering about how in the world I will tackle the design process in this house, I'll be using the same system I always do! I have a certain way that I approach interior designs that makes it simple and easy. A couple of years ago, I put pen to paper and explained my entire system in Designer in a Binder®. You can click HERE to learn more. We have over 5,900 happy customers so far!
Wondering how I approach transforming rooms and spaces in our home? Check out Designer in a Binder®.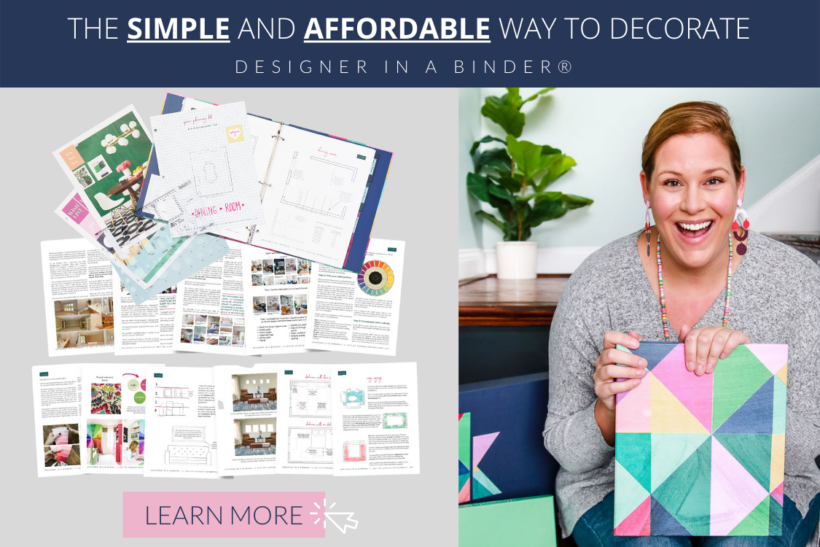 And if you want exclusive content and behind-the-scenes sneak peeks, be sure to subscribe before you head out!


[mv_create key="3″ type="list" title="Room Reveals" thumbnail="https://designertrapped.com/wp-content/uploads/2016/05/angies-list-after-5.jpg" layout="circles"]