How to Pick YOUR Perfect Paint Sheen (& FREE Paint Sheen Chart!)
I'm Betsy from Happily Ever After, Etc. and I can't believe that I'm here to chat with all of you on Designer Trapped in a Lawyer's Body today! I have been a long time reader here with all of y'all and had the chance to meet Tasha recently at Haven! She is so sweet in person and I loved talking to her and asking questions! I was ecstatic when she invited me over to talk to y'all about paint… something near and dear to my heart.
On my blog you'll find a little home décor, a little DIY and a whole lot of paint! I've been painting everything I could get my hands on since I was a little girl but it wasn't until later in life that I learned how to paint walls (being an army brat they really discouraged that kind of thing on base!).
Once I started painting I realized that walls are like pringles… you can't paint just one! I learned everything I could about painting the inside of your home and then I started working at the local paint store! Now I spend my days mixing paint and answering questions… and I'm here to share a little bit of that knowledge with you!
I've also included a FREE paint sheen chart… so don't miss that at the bottom!
Today I thought we'd talk a little bit about paint sheens. With only a few paint sheens available (mainly flat, satin/eggshell, semi-gloss and gloss) picking a sheen should be as easy as counting to four… but with different opinions and options it becomes a little more complicated than that! Don't worry, the free paint sheen chart I've included later in this post will help you remember everything that I go into detail below.
Let's think of paint sheen as a sliding scale… from flat to gloss. On the left end of the spectrum is one hundred percent flat paint and on the other end is gloss. Does that make sense?
Flat Paint
Flat Paint has absolutely no sheen. It is the absolute best sheen to cover imperfections but is not cleanable. That means that all the nicks and dings in your wall will be camouflaged with a good coat of flat paint… but you won't be able to wipe your wall clean.
When you try to wipe flat paint clean the paint simply comes off the wall onto your rag… not cool! Since you can't clean flat if it becomes dirty you have to paint over the dirty spot.
That's why flat paint is the perfect solution for ceilings! Flat will cover the imperfections in ceiling drywall and cleaning won't be a problem.
Matte Paint
Matte is a tiny bit washable so while it's not used everyday folks who absolutely hate sheen are happier with a matte finish then satin.
Matte is still not very cleanable so people who clean often should stick with a sheen further down on the sheen scale.
Satin Paint
Satin is the best of both worlds. It covers imperfections like a flat while being washable like a gloss… of course, no paint is perfect but if you're looking for a good compromise this is it.
Most folks use satin for walls in their home: think living rooms, bedrooms, hallways etc.
Semi-Gloss Paint
Semi-Gloss is the perfect solution for most crown molding, baseboards, and trim work. Its shiny surface is easy to clean while the difference between satin (for the walls) and semi-gloss (for the trim) gives a nice contrast in sheens.
Because of it is easy to clean, some people like to use semi-gloss for the walls in high traffic areas like kitchens or bathrooms (rooms that are cleaned often). In that case, gloss would be the perfect trim paint.
Gloss Paint
Gloss is the most cleanable of all the paint sheens! Of course, it's also the shiniest so painting an entire wall with gloss paint would be quite… sparkly. Typically gloss is perfect for trim or doors… high traffic areas in small doses. If semi-gloss isn't enough of a contrast for your trim gloss is probably the perfect solution. This post contains some affiliate links for your convenience. Click here to read my full disclosure policy.
FREE PAINT SHEEN CHART!
Hopefully, paint sheens now make a bit more sense… and you're ready to pick the perfect one for your walls! If you're still confused I've made a little freebie just for you… a printable paint sheen chart that you can stick in your purse and take with you to the paint store! Now you don't have to remember which is which… just pick which one is perfect for your project of the day!

Of course after so many years of being the paint lady I've learned a thing or two… and instead of keeping it all to myself I'm sharing it with you in a little eBook called Inside the Paint Can: Beginner Tips and Tricks for Interior Painting! You can click the image below to learn more about it.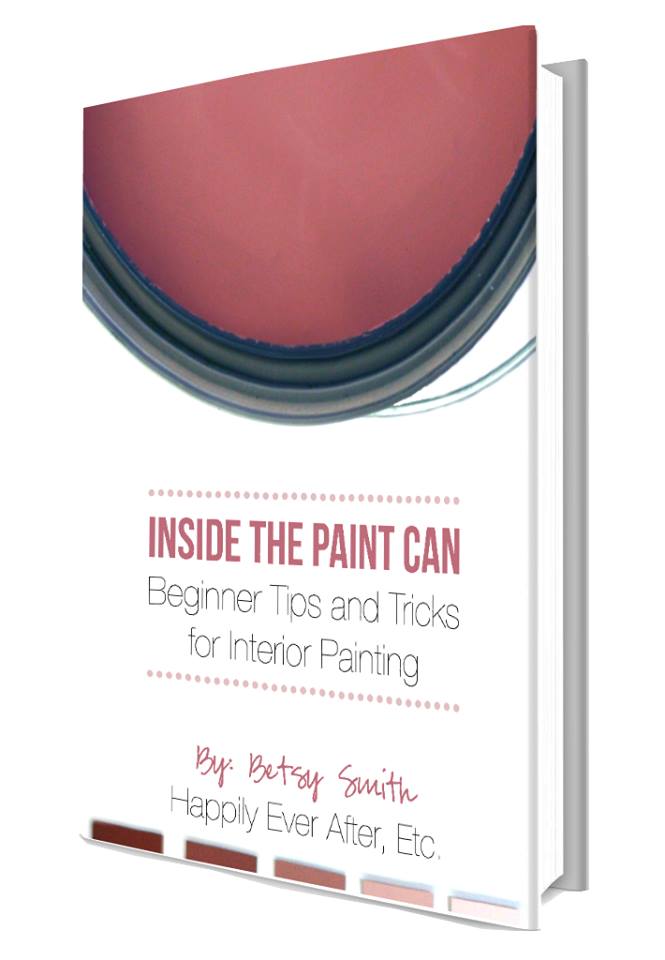 Painting your home can be a daunting task but it doesn't have to be. So if you're ready to make painting a little less confusing you'll love all 10 chapters of this book… it's jam packed with the answers to all kinds of fun painting questions!
Thank you so much to Tasha for having me today and thank YOU for reading! I'd love to have you over for a visit at Happily Ever After, Etc… hope to see you there!