How to Turn a Closet into a Bed Nook + Spackling Tips
Last Updated on October 3, 2022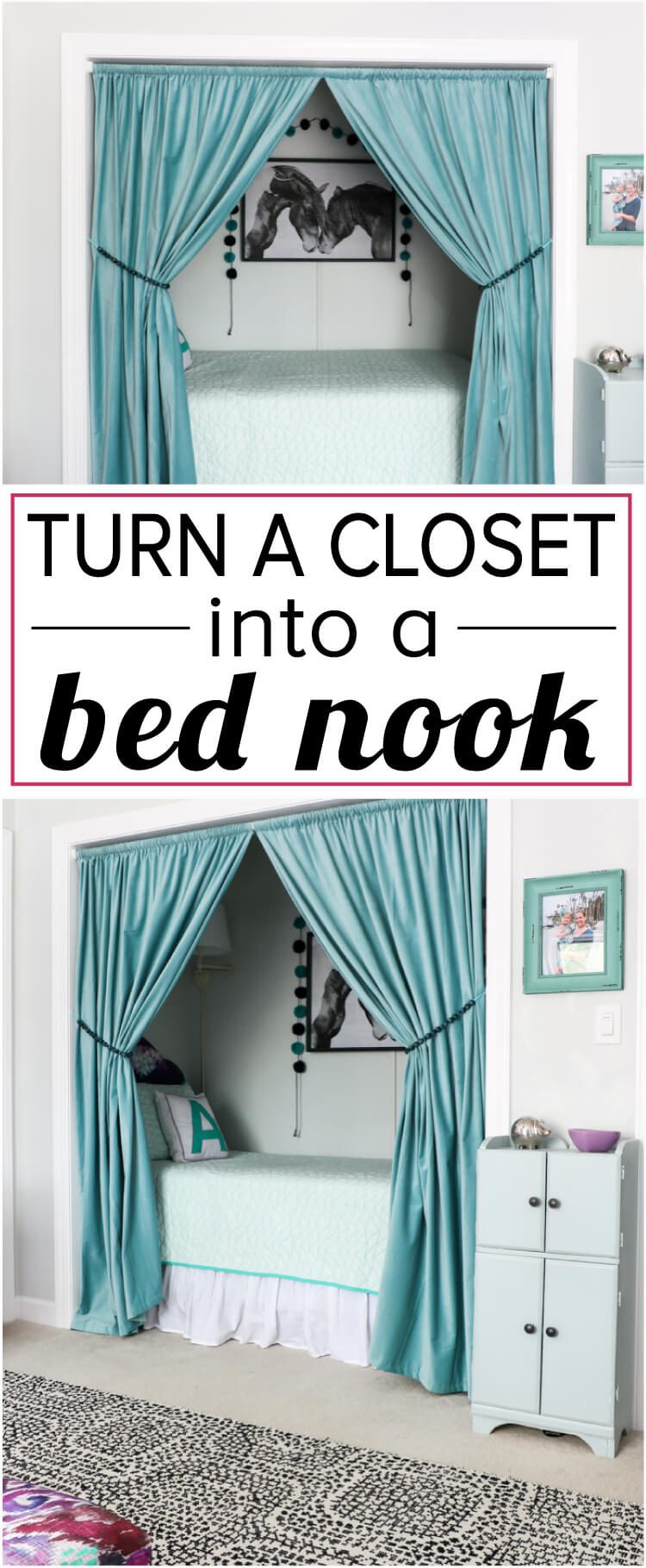 Thank you to DAP Products for sponsoring this post. As always, the opinions and text are all mine.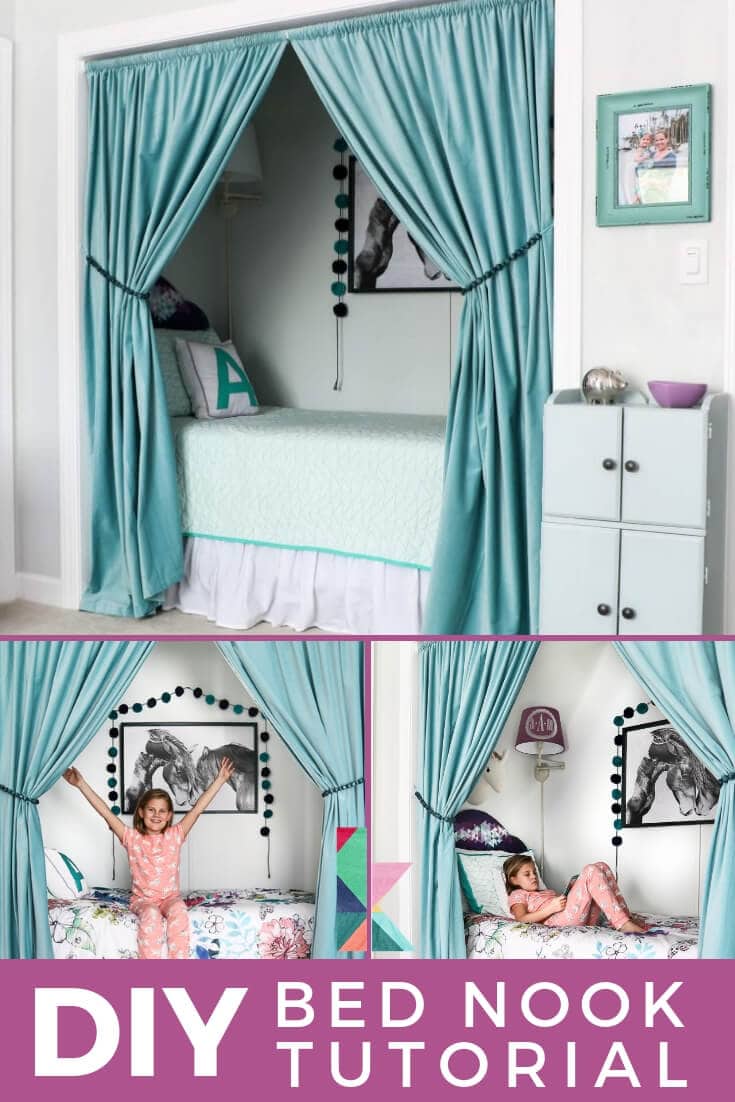 If you've read my blog for a while, you know that we are FINALLY wrapping up several room makeovers. You see, we recently decided to move our twin girls into their own bedrooms, which put a whole bunch of changes into motion (I had to relocate my office, which meant we had to relocate their playroom, etc.). Well, we are nearly done with every single room and today I want to share with you how to turn a closet into a bed nook.
This is one of my favorite projects we have tackled in a while and Avery is in LOVE with it. This was an easy decision for us because Avery's room has two closets (we have no idea why), so we were happy to sacrifice one to use as a bed nook. But even if we had only had one closet, I still would have done it because YES, it is that awesome and we could easily have stored the clothes in her closet in her dresser instead :) So, even if you don't have two closets, don't give up on this idea!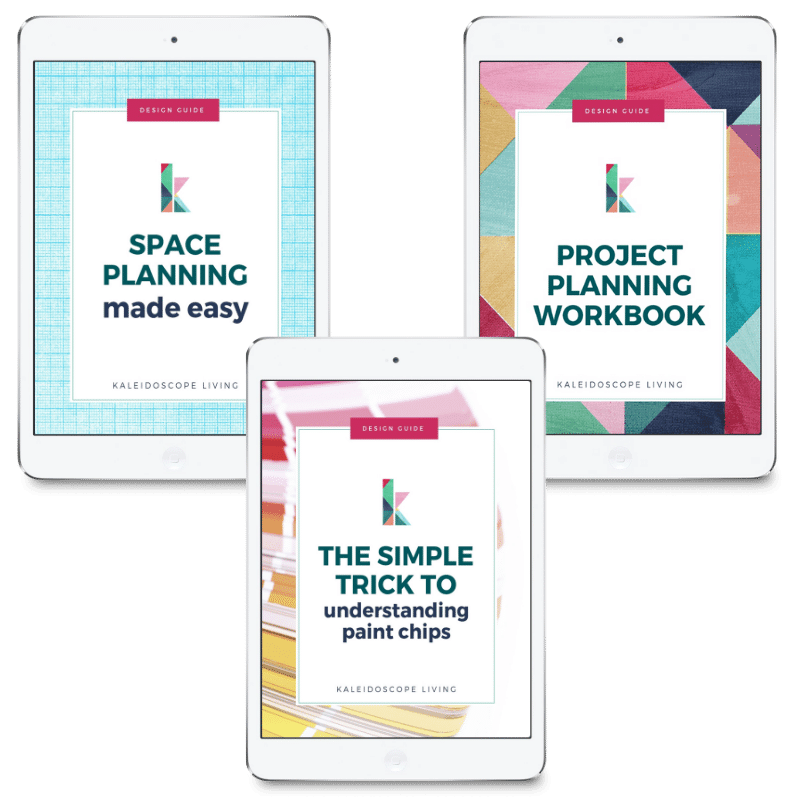 Get my FREE design guides when you subscribe!
What is now Avery's room used to be my office and her bed nook used to serve as my storage closet. This is what it looked like.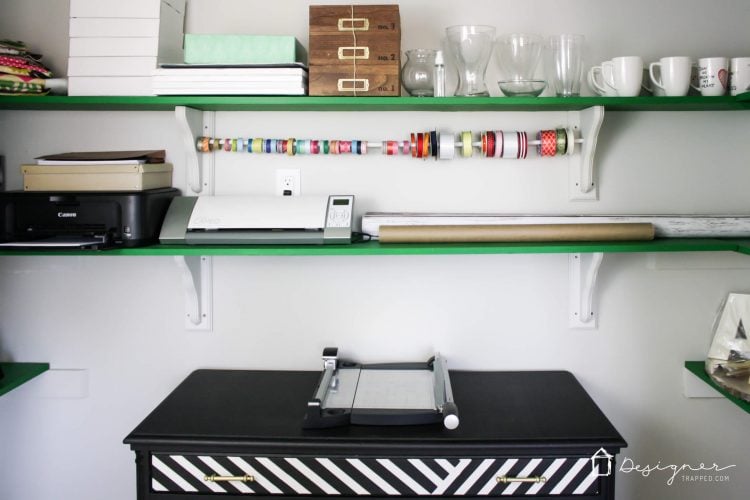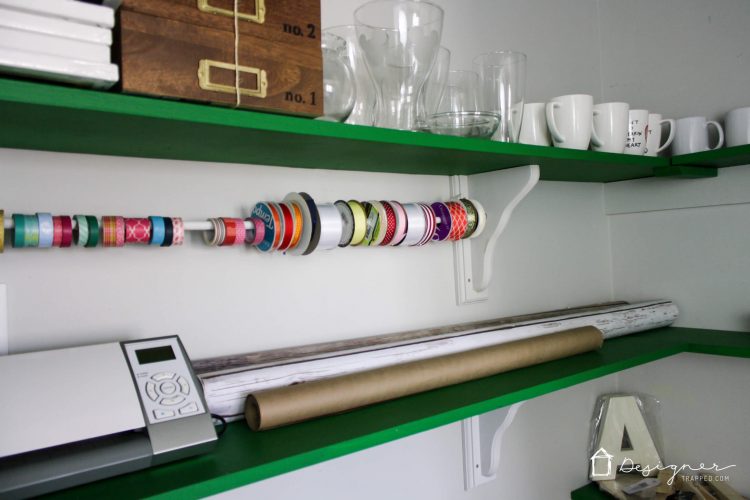 Now, on with the tutorial for how to turn a closet into a bed nook! It's really easy and your kiddo will think you are the coolest parent ever for doing it!
DIY Bed Nook Tutorial
Materials needed
Screwdriver or electric driver to remove existing closet components and doors
Putty knife
DAP Alex Plus Spackling (if you have holes or imperfections to repair on the wall where the quote will be going)
Sandpaper
Face mask
Steps
1) This probably goes without saying, but first make sure that your closet is big enough to fit a twin size bed :)
2) Remove your closet shelving, components and doors.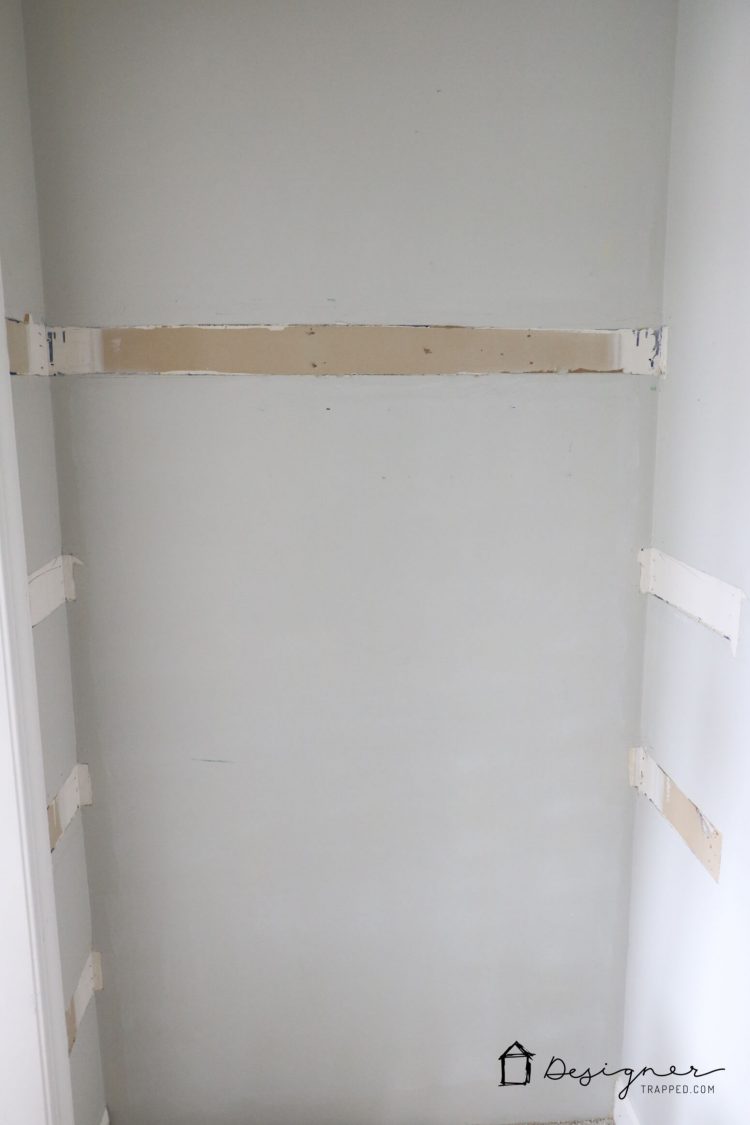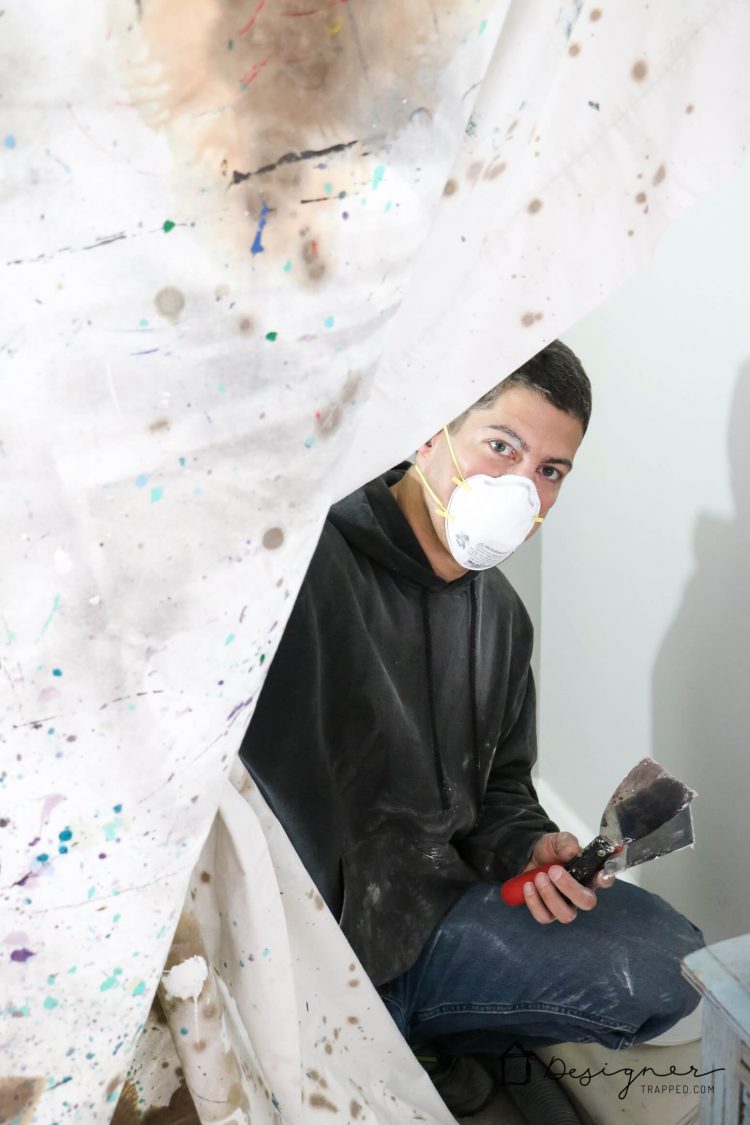 3) Repair your walls. We had quite a bit of repairs to make to the walls in the closet. We used DAP Alex Plus Spackling to do all the repair work. It's a brand new product, and let me tell you, this stuff is my FAVORITE. It's like caulk and spackle had a baby! The consistency is much smoother and easier to use than the zillions of other spackles I have used over the course of all of our DIY home projects. It's a new product and it is hands down my favorite spackle I have ever used. I even found that it sanded easier AND resulted in less dust. YAY!
Here are some spackling tips for you:
First, use a putty knife to gently scrape away loose paint and protruding fragments of drywall or impressions left by nails until the surface around the imperfection is as smooth as the rest of the wall.
Apply your spackle to your putty knife. Then, position the blade of your putty knife at a 45-degree angle to the wall and spread the DAP Alex Plus Spackling over the imperfection in a smooth, feathering motion until the imperfection is completely filled in.
Scrape away excess spackle from the wall while holding your putty knife at a 90-degree angle to the wall. Be careful not to remove the spackle from the imperfection as you do this! Use a damp cloth to remove any excess spackle from the wall that your putty knife did not remove before the spackle dries.
After the spackle has dried, it may have depressed slightly below the surface of the wall. If so, simply apply another layer of spackle.
After your repair work is complete and the spackle has dried, lightly sand it down with fine-grit sandpaper until it is even with the wall. Wipe away dust with a damp cloth. Be sure to wear a mask and drape off the area while you sand to avoid dust getting everywhere :) DAP Alex Plus Spackling kicks up a lot less dust than other spackles, but there will still be dust.
4) Paint the areas you repaired and touch up other paint as necessary.
5) Move your bed into the closet. We attached a simple DIY headboard to the wall (you can click here to see how we made it–I just switched out the fabric when we moved Avery into this room).
6) If you have room, hang picture ledges at the foot of the bed–they make the perfect place to store books and don't take up much space at all! We used picture ledges from Ikea.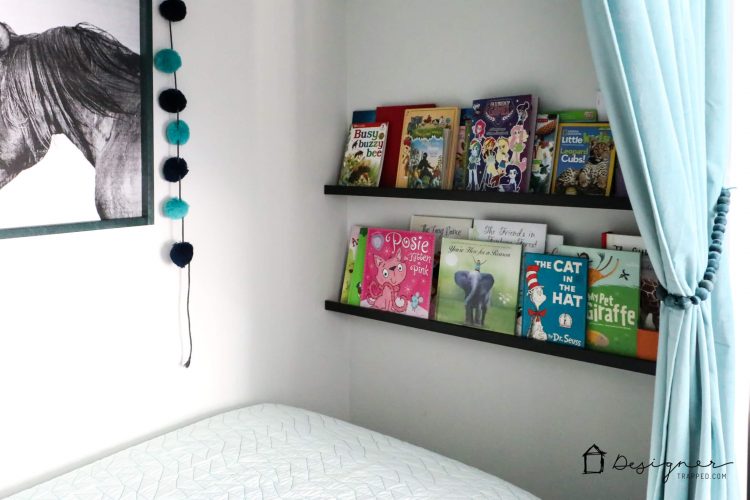 7) Mount curtain hanging hardware on the inside of the door frame and hang curtains. We purchased our curtain hanging hardware and curtains at Ikea as well.
8) Hang a lamp, artwork and anything else you want to decorate the bed nook. We hung this lamp and that large DIY art print (you can see how we made those huge DIY prints by clicking here) with some fun pom poms that I found in the Target Dollar Spot to make the space really feel like a cozy room.
8) Add curtain tie backs (you can see how we made the DIY curtain tie backs for Avery's room here) and you are done!
Check out the finished DIY bed nook!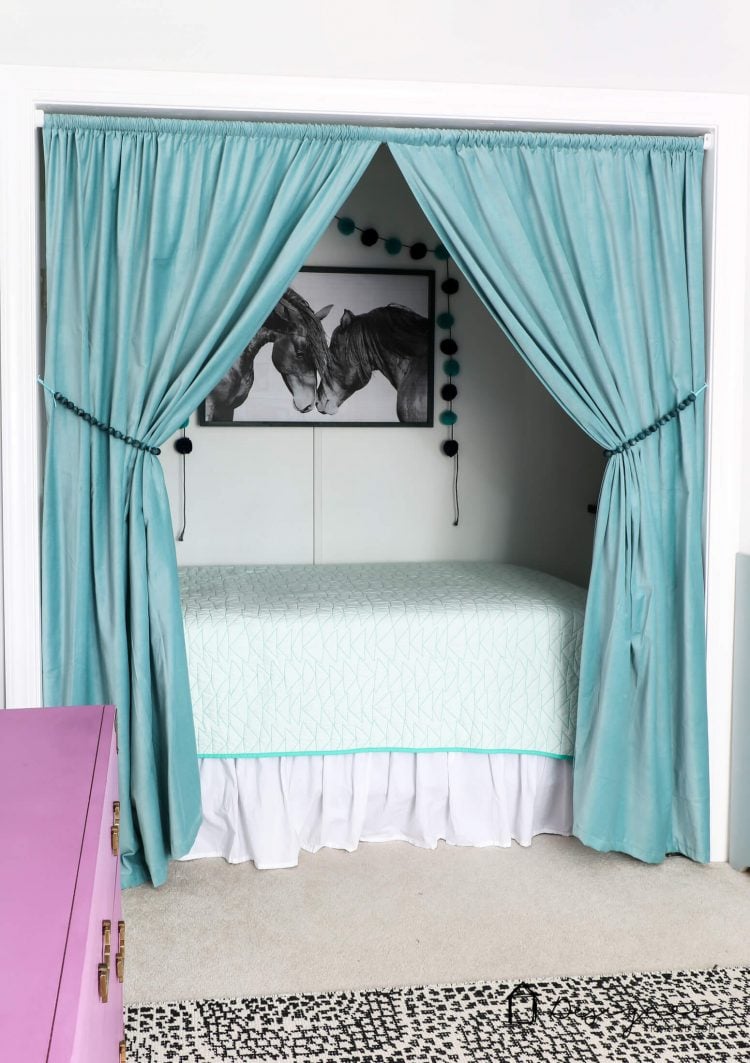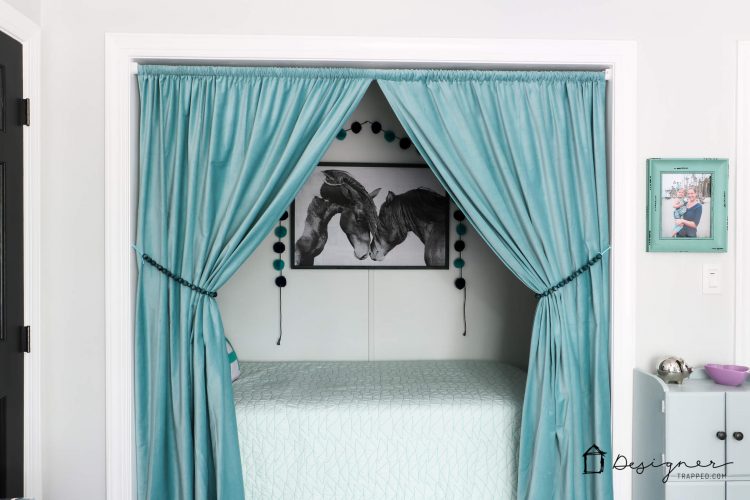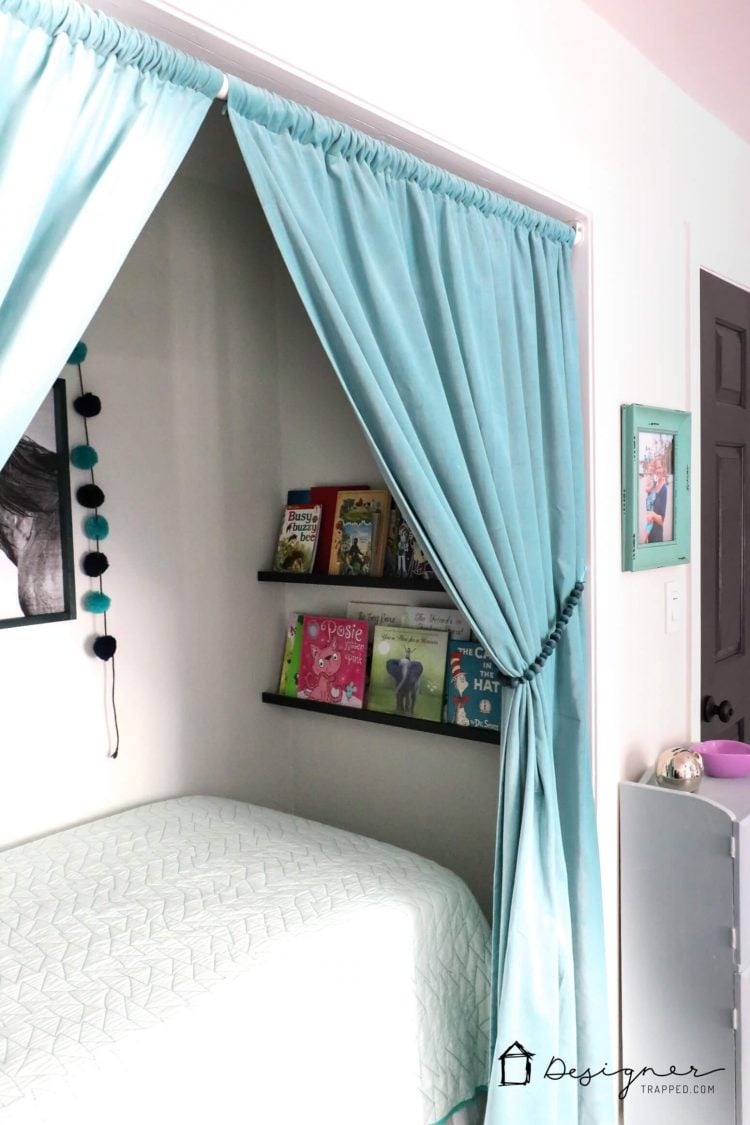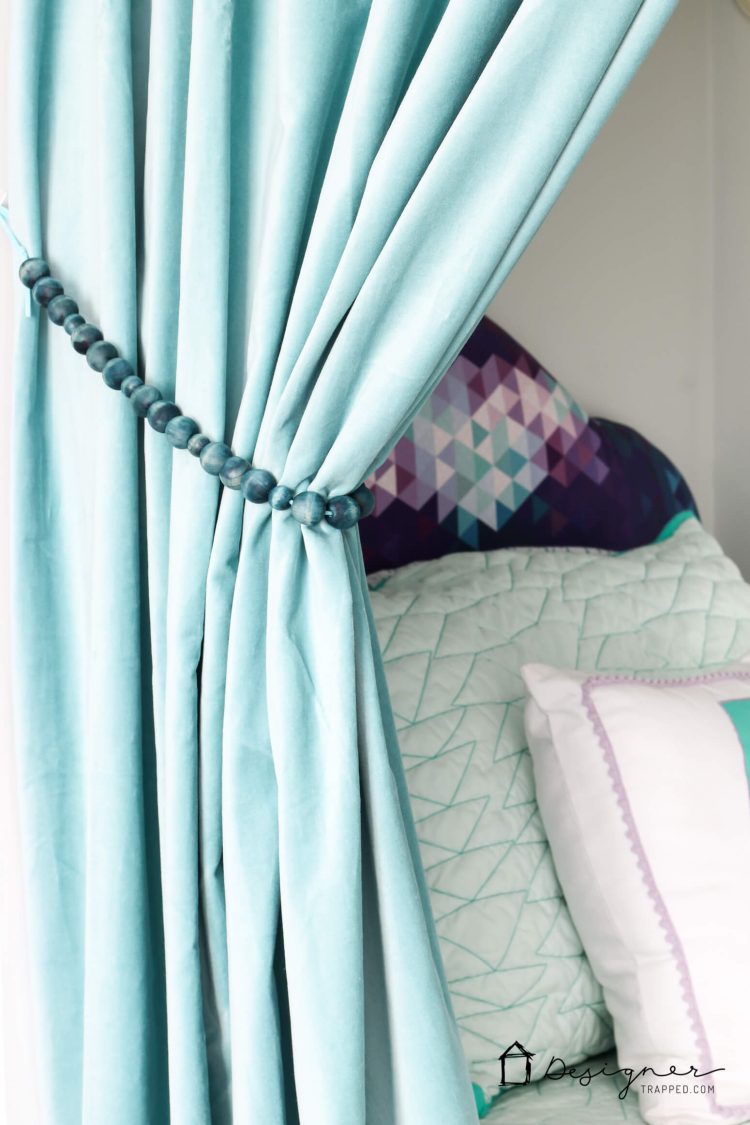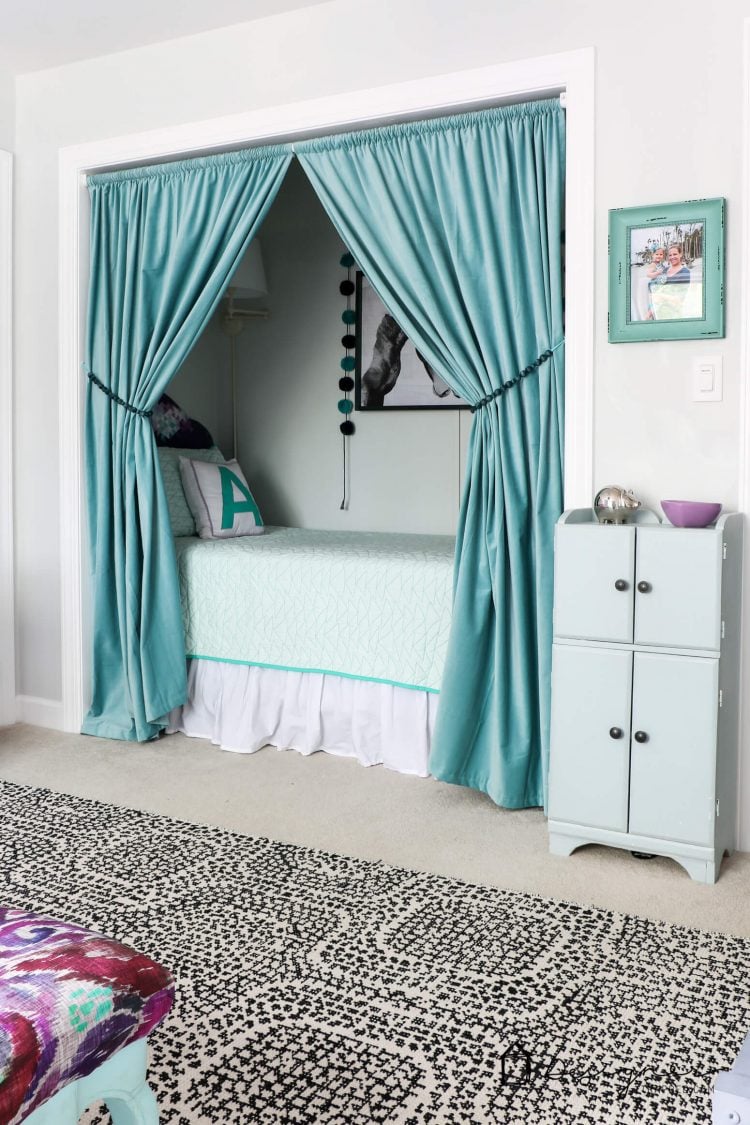 What do you think of Avery's bed nook? I have to confess, I've taken a nap in it just to try it out and it really is amazing. So cozy and relaxing! But most importantly, Avery is absolutely, head over heels in love it her bed nook. SO much better than a second closet that she didn't need :)
Other posts you may enjoy:
Wondering how I approach transforming rooms and spaces in our home? Check out Designer in a Binder®.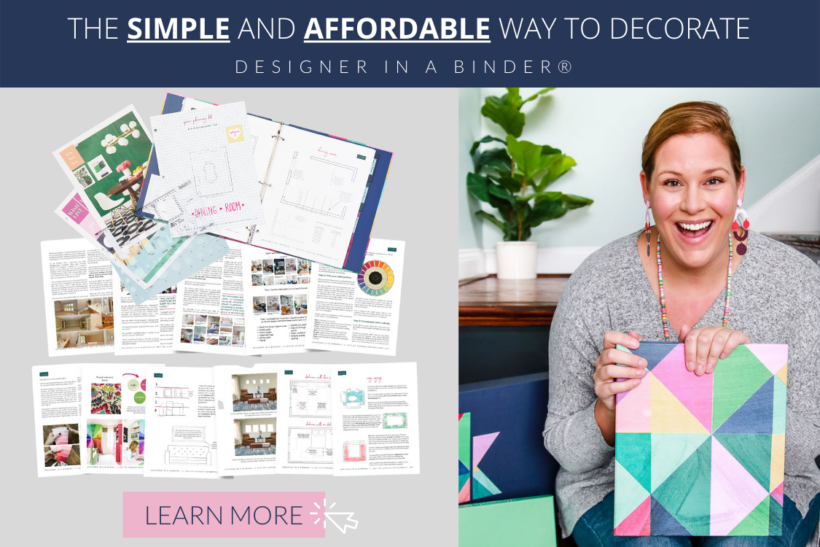 And if you want exclusive content and behind-the-scenes sneak peeks, be sure to subscribe before you head out!