Laundry Room Design Plans
Last Updated on March 3, 2022
We have big plans to transform our laundry room quickly and on a budget! Check out our final laundry room design plans (and the 2 designs that Joe rejected, lol)!
Hello!!!! If you follow me on Instagram you know that we are about to give our laundry room makeover in our current house. Do you remember our first laundry room makeover for only $71 in our old house? It was my FIRST ever blog post, believe it or not! And then we gave it a better makeover about 7 years later (right before we sold it last year). So in case it isn't obvious, I love a good laundry room makeover. I believe we should love EVERY room in our homes, even laundry rooms, pantries, etc.
We are SO EXCITED about this transformation not just because we want the space to reflect our style more, but because this room needs some serious improvements to function well for us.
It's a large room (12 feet x 7 feet), but that doesn't mean it's awesome and functional. The only storage is the cabinet below the sink (and we all know how frustratingly cramped those are) and the cabinets above the washer and dryer. Here's the thing… I'm 5'9″ which is pretty tall for a woman and it's HARD for me to reach anything above the lower shelves in those cabinets. Not only are they high (these are 10-foot ceilings for reference), but because the washer and dryer stick out so far it makes you have to reach EVEN farther. Long story short… the upper cabinets are nearly useless for us.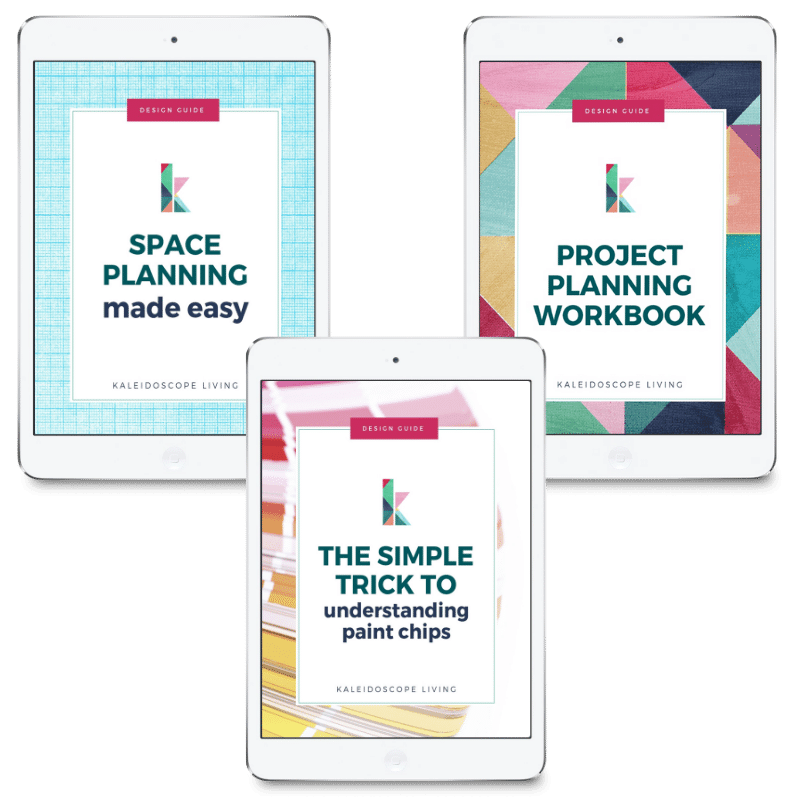 Get my FREE design guides when you subscribe!
The best storage in the laundry room at the moment is the top of Riggins' crate. Sad but true. It's where we keep all of his stuff (dog treats, grooming tools, flea and tick prevention meds, etc). But it's basically a big tabletop which means it always looks like a hot mess with stuff strewn everywhere. That drives me and Joe nuts.
Here are some shots of what the laundry room looks like now.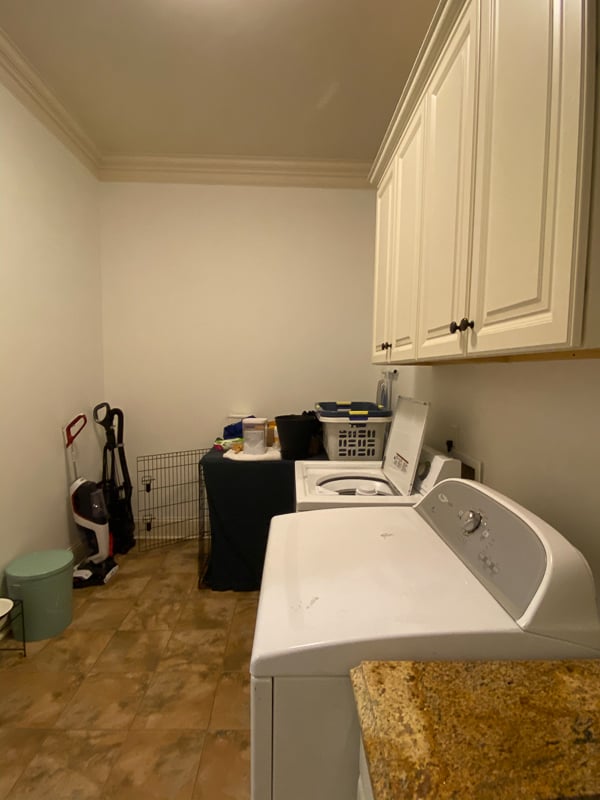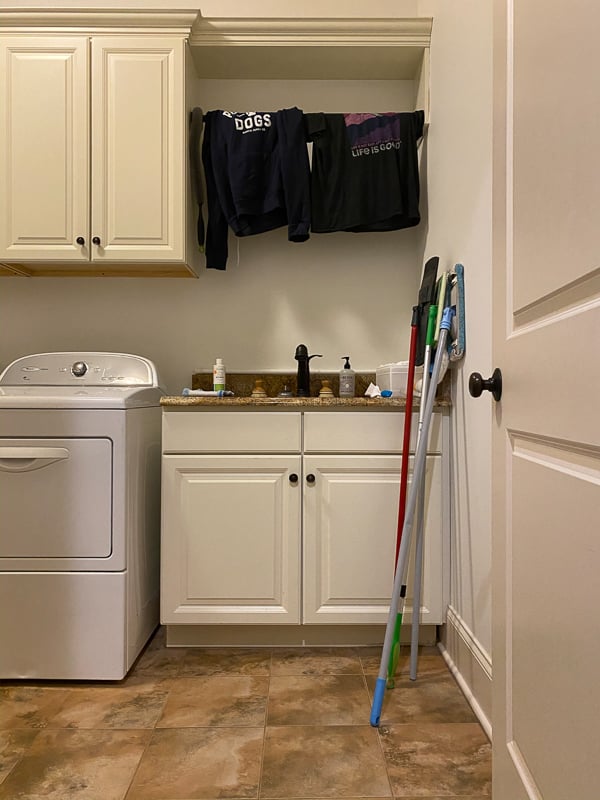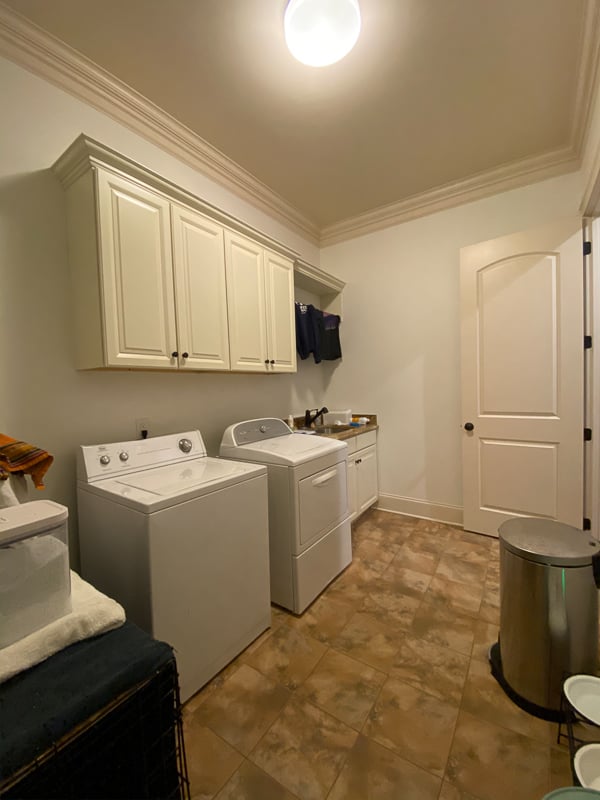 So, with that in mind, let's chat about the laundry room design and what we are doing in here!
Functional Changes
The biggest storage addition is going to come in the form of an open closet that we will be adding to the big wall where Riggins' crate is right now. We'll be using the IKEA Boaxel system (the new version of the Algot system that we used so much in our old house–you can read about that HERE). We will be removing Riggins' crate now that he's older, so that will free up the wall for some REAL storage.
Here's our plan for that wall. Again, the ceilings are 10 feet tall, so this will be A TON OF STORAGE. We plan to use the upper shelves for things we rarely have to get to, like extra paint. And all of this glorious storage and drying rack only cost $340!
We plan to hide the new closet system behind floor-to-ceiling curtains, which you'll see in the laundry room design plan below.
We are also going to remove the upper cabinets and replace them with lower open shelving that will be much easier to access. Plus they will be pretty!
Aesthetic Changes
This is the fun part! We'll be adding lots of fun texture in color in this room. Removable wallpaper, vinyl floor sticker tiles and paint are going to allow us to do transform our laundry room quickly and on a small budget. After all, this is a laundry room and we still have LOTS of work to do in other rooms in this house. So we don't want to spend a ton on this makeover.
Here's the winning design plan! We chose it because BOTH Joe and I like it. And making sure Joe likes the spaces we create is important to me–we both live here, after all! The closet wall will be behind the curtains. You can find links to the sources below.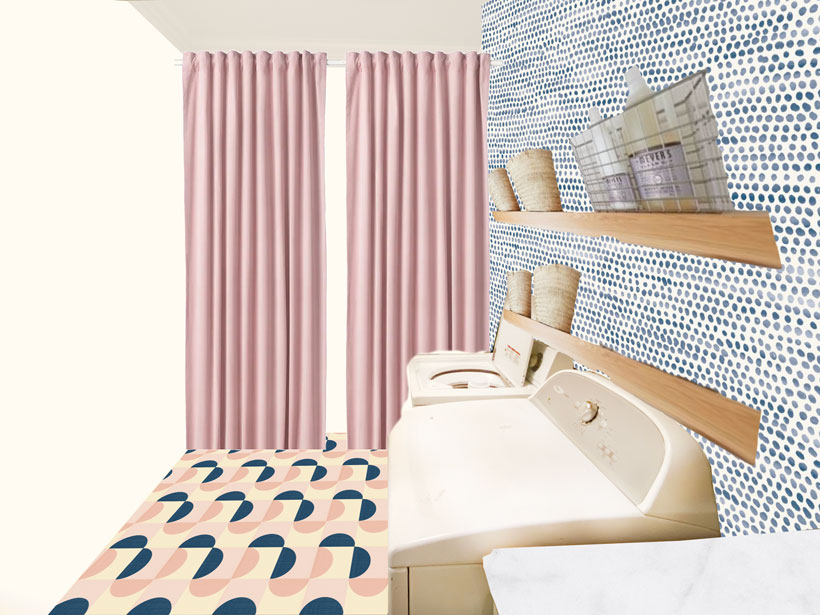 The Design Plans That Were Rejected
Below are the design plans that I love, but that Joe kindly rejected, lol. You can find sources below each of them in case you are curious.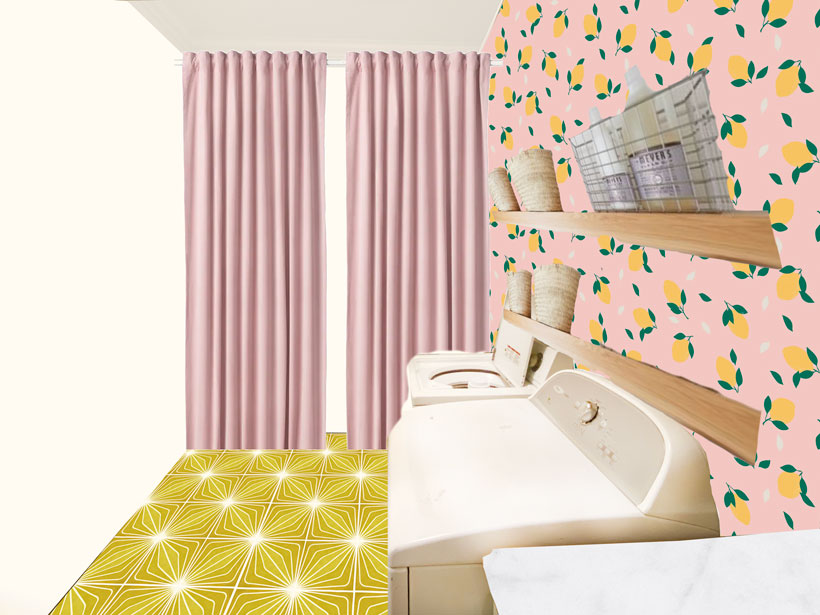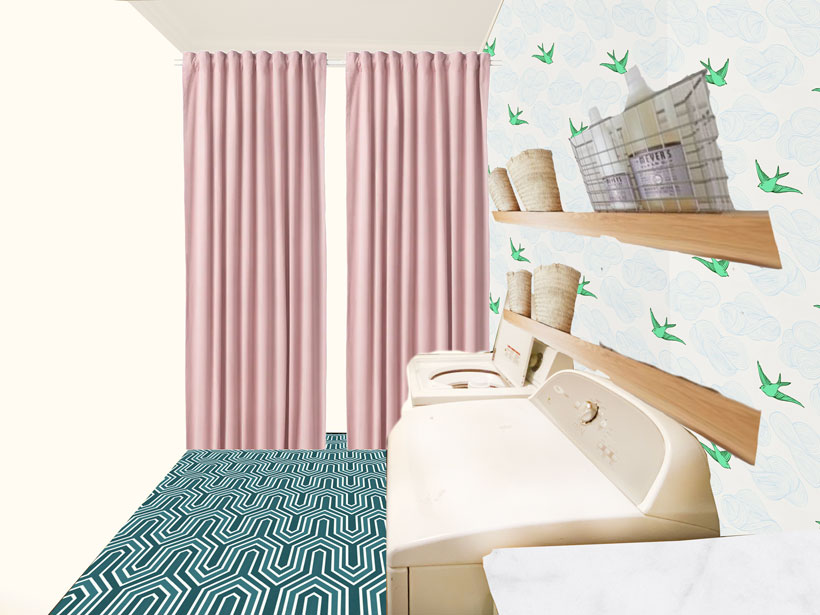 What do you think?! I'm so excited to make this room brighter, happier and FAR more functional soon. If you want to follow along in real time, be sure to follow me on Instagram and tune into my stories. I'll be sharing every step of the process.
Wondering how I approach transforming rooms and spaces in our home? Check out Designer in a Binder®.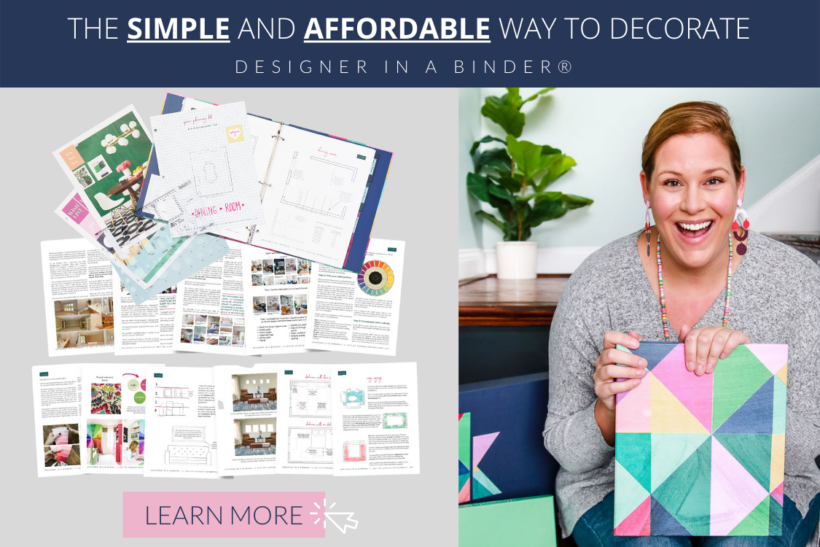 And if you want exclusive content and behind-the-scenes sneak peeks, be sure to subscribe before you head out!


[mv_create key="3″ type="list" title="Room Reveals" thumbnail="https://designertrapped.com/wp-content/uploads/2016/05/angies-list-after-5.jpg" layout="circles"]