5 Room Updates for Under $100 (Some are FREE!)
Last Updated on May 27, 2022
Don't let your budget keep you from creating a home you love! These 5 EASY tips teach you how to update your rooms for under $100. And some are even free!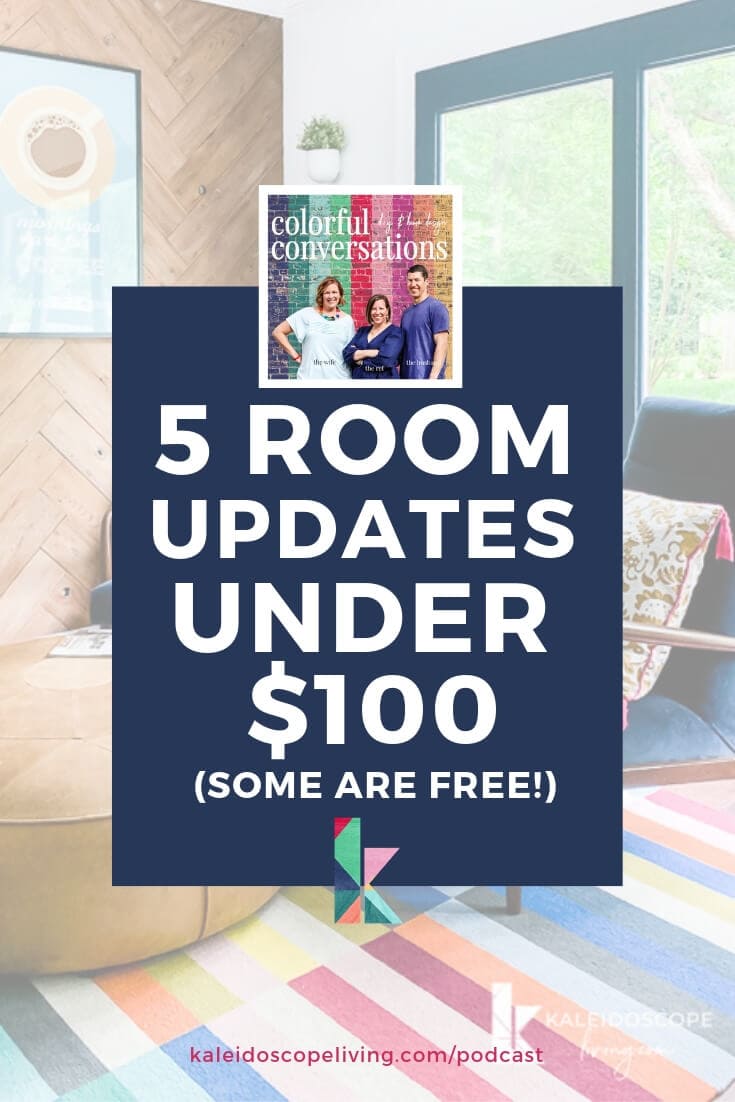 Want to listen on your favorite app? Click whichever option you prefer below:
iTunes | Stitcher | Spotify | Google Play
I hear people say they can't afford to change their home because they don't have any budget. We have been there and I am here to tell you that you absolutely can make changes with little to no budget. I give you five tips for how to make room updates that are under $100. And a few are even free, so no excuses. Get to work making small changes until you can afford to make big ones!
This post contains some affiliate links for your convenience. Click here to read my full disclosure policy.
All the Details
If you haven't listed to episode 7: Why It's Important to Love Your Home, check it out. It is the perfect (and important) prelude to this episode. We want you to love where you spend all your time, and we are here to help you do that!
You have to declutter, and it is the only option that will make you money! Find out how and make sure to listen for our VERY strong reactions to yard sales. There are better options out there!!! We just sold this whole art display system (pipe, frames & prints) for $175 in a local Facebook group. Now we can change our decor and we made money in the process. WIN-WIN!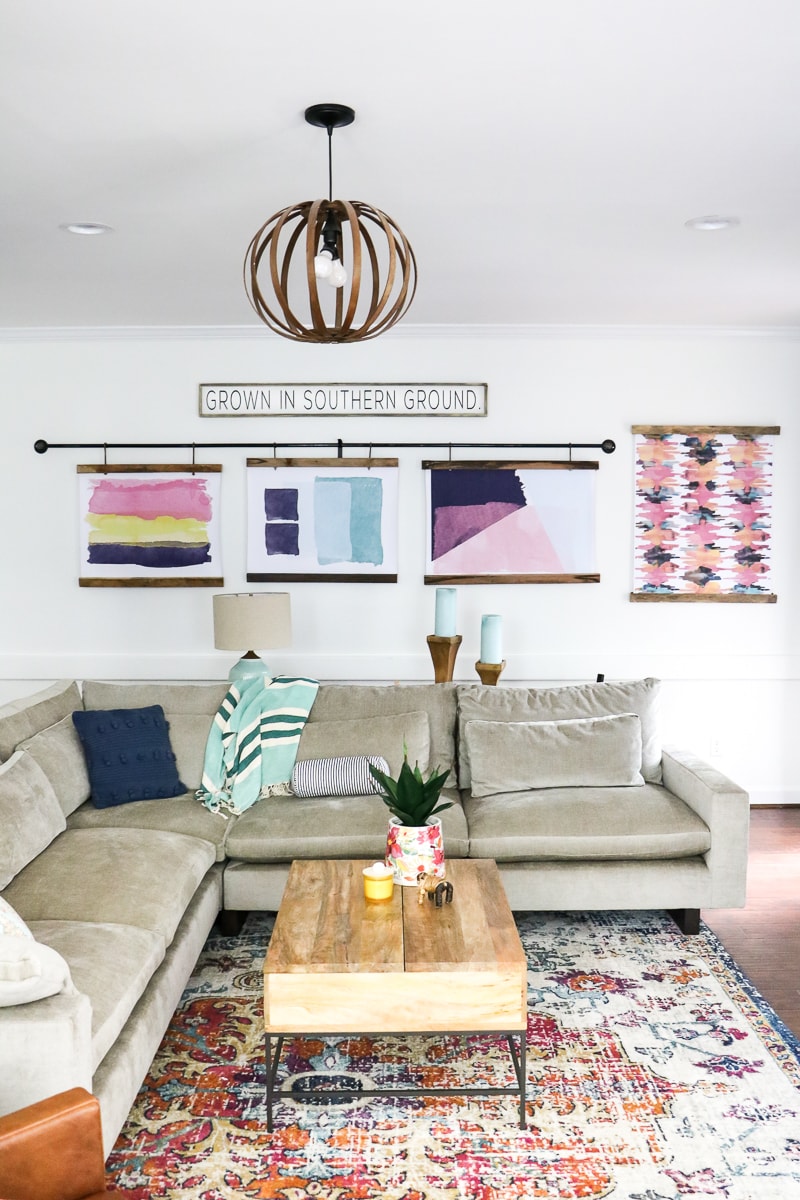 We have already talked about this–you can listen here to the whole discussion–but get yourself some plants and curtains! It will change your space and bring life, even if those plants are fake and the curtains are made from flat bed sheets. I even teach you how to make curtains from sheets in this post! (Even regular curtains don't have to crush your budget. The Ritva curtains from IKEA are my favorites. I like to add some flair to them and make them look super expensive!)
Feeling like beige is boring and don't know what to do about it? Neutrals are a great jumping-off point, but there is so much color out there, waiting to decorate your home! We love our neutral couch (check it out here) but the pillows are what make it pop! I just got these beauties and they are amazing.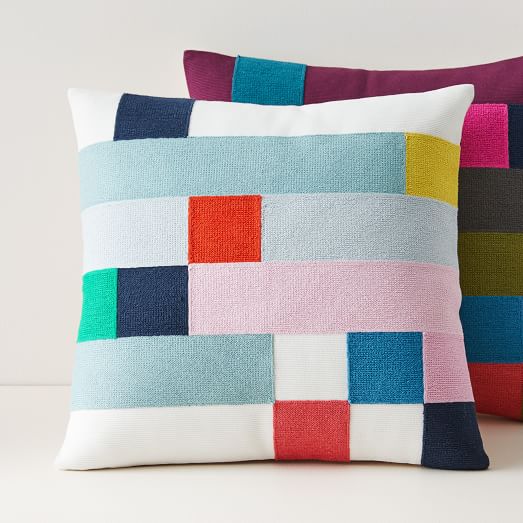 Printable art is my favorite budget decor hack. We get our prints from Printful, and they do an awesome job. We have also gotten things printed much cheaper as engineering prints from places like Staples or Office Depot. I have an awesome library full of art I have created! Just fill out the form at the end of this post to get access to it as a V.I.P. subscriber :)
Joe throws some shade toward Tasha's love of throw pillows. Her defense is pretty solid.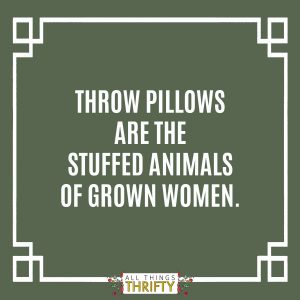 Good news for husbands everywhere, it is even easier to change your throw pillows when you buy inserts and covers. These inserts from IKEA are my favorites. Make sure you listen for that secret idea I give y'all to make changing them out even easier.
I'm currently in love with these pillows I put in the kitchen from Ikea.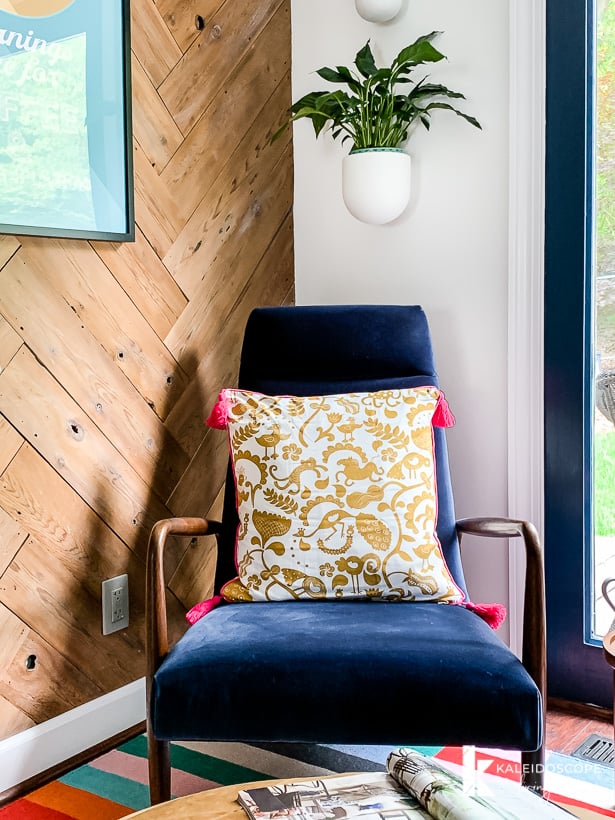 Make sure you listen to our Colorful Conversations episode 5 Tips to Decorate with Color. It is our most popular episode and full of awesome ideas.
Stop being scared to rearrange your furniture! If something doesn't feel right in your room, make a change. Experiment! In this episode, I break it to Joe that I am stewing on making a few changes in our room. He is moderately supportive ;)
Paint is the miracle worker of the DIY world. It is relatively inexpensive and can transform almost anything! Best of all, it can help make mismatched furniture pieces feel cohesive. See below for all my furniture painting tutorials!
Attley's bookcases were a major transformation. Proof that paint is magic! This is the post that explains how we made them.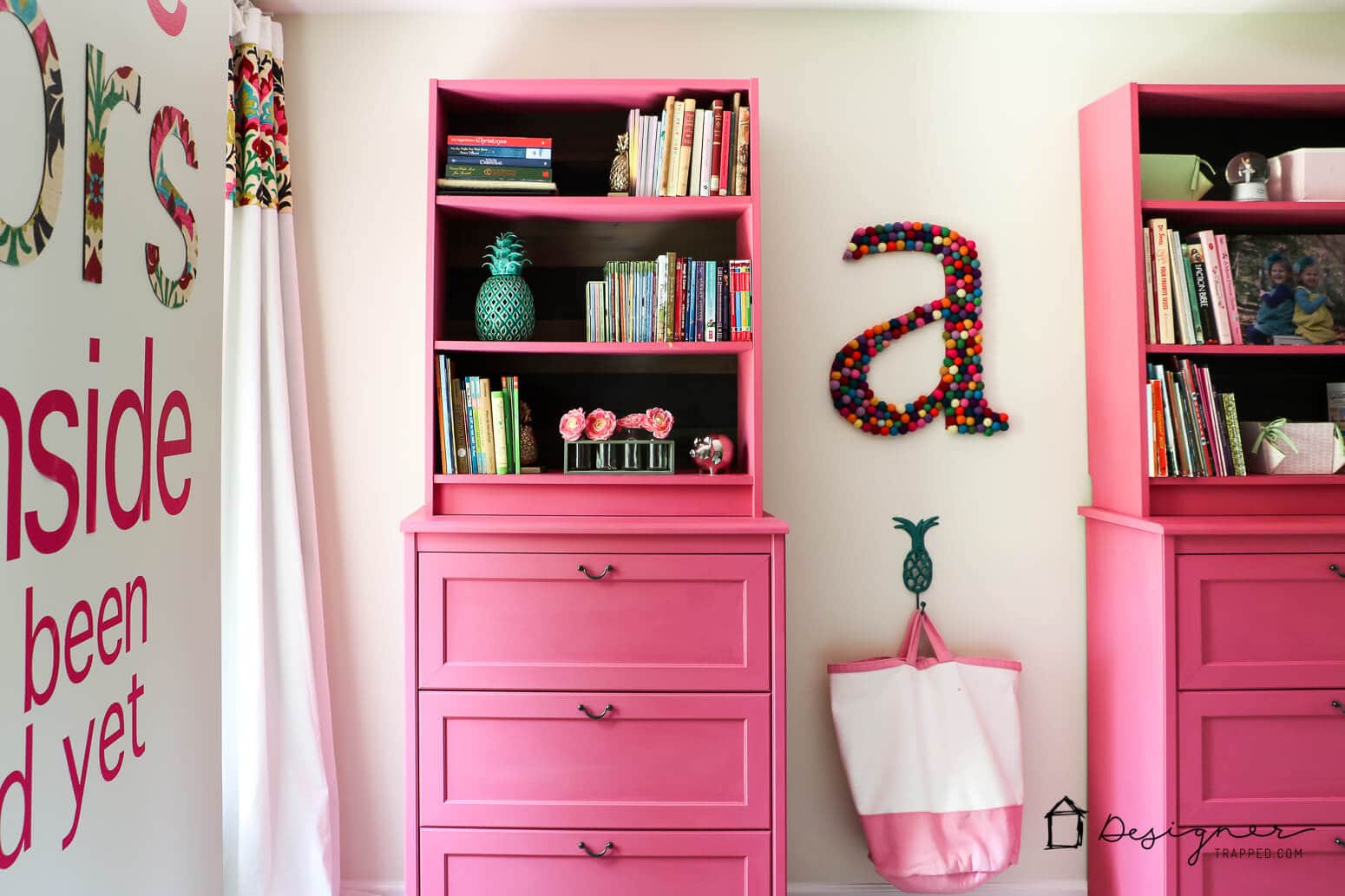 Avery's ottoman was easy and turned out perfect! All you need is an ugly thrift store coffee table and some paint and fabric you love!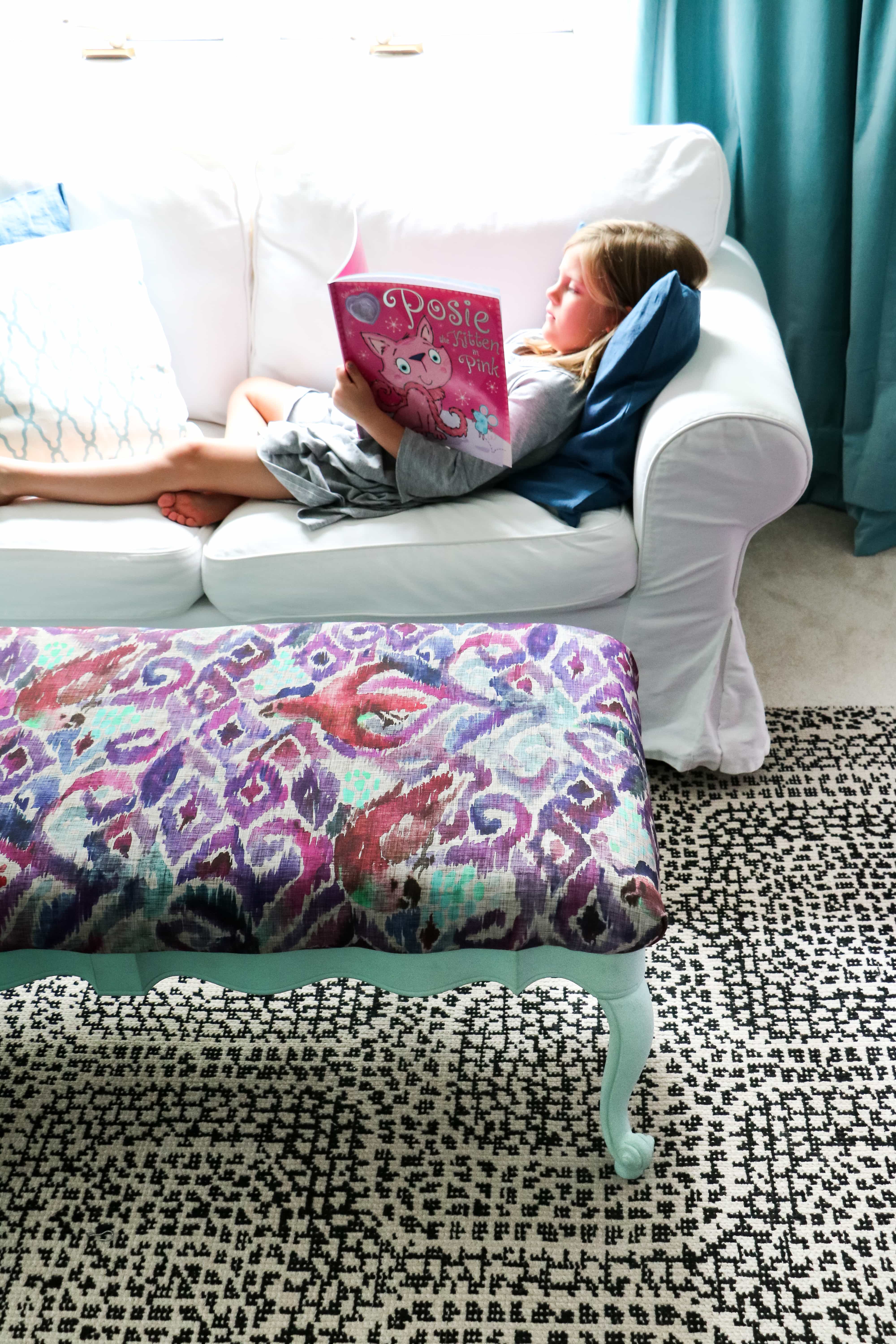 We want to see what you are up to when you listen to Colorful Conversations! Tag us on IG at @tasha.kaleidoscope and tell us! Make sure you are following on Instagram so you can follow along with my stories and see all the behind-the-scenes action. You can see my projects in real-time and me unedited. Also, I love asking what y'all think I should if I am stuck on something. So come hang out with us!
Get Social With Us
Here are some other posts you may enjoy:
Wondering how I approach transforming rooms and spaces in our home? Check out Designer in a Binder®.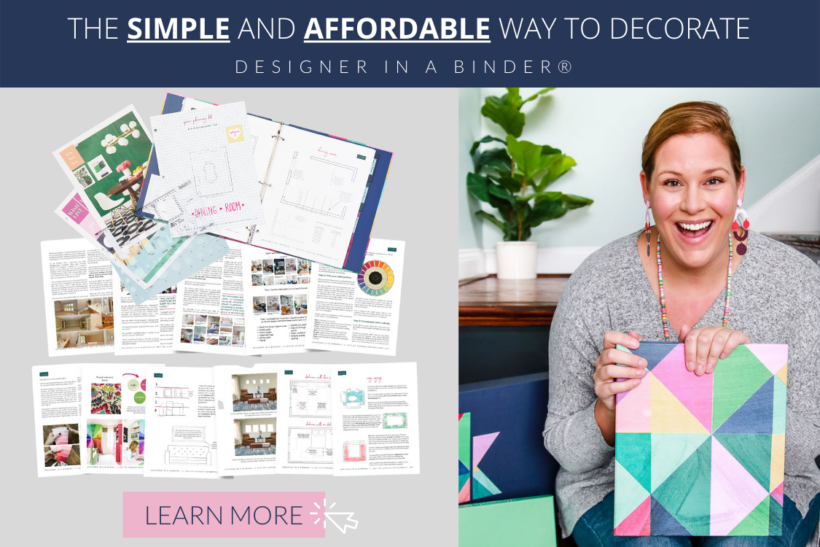 And if you want exclusive content and behind-the-scenes sneak peeks, be sure to subscribe before you head out!