Typography Art Gallery Wall: A How To Guide + Sources
Last Updated on March 2, 2022
So, I'm obsessed with typography. There, I said it out loud. And I know a lot of interior designers (meaning ones with actual degrees, not amateurs like myself) are saying that typography is a thing of the past and isn't cool anymore. And you know what? I DON'T CARE! I love, love, love typography art and I don't care that the trend may have ended. I'm a big believer that any design works in your home as long as YOU love it! If you love it, the trend never ends. As my friend Thea always says, "You do you." THAT is my design motto, my friends. So for me, typography art is here to stay!
Now, if you have followed my blog for a while, you know that I have a huge typography art wall in my foyer. I talked about it years ago on my blog, but since I've added so much to the collection since then, I decided to do a whole new post about it! And in this one, I'm going to teach you how to create an awesome typography art gallery. It's easy to do, it just takes some patience to collect some really awesome pieces. This post contains some affiliate links for your convenience. Click here to read my full disclosure policy.
How to Create a Typography Art Gallery
Step 1: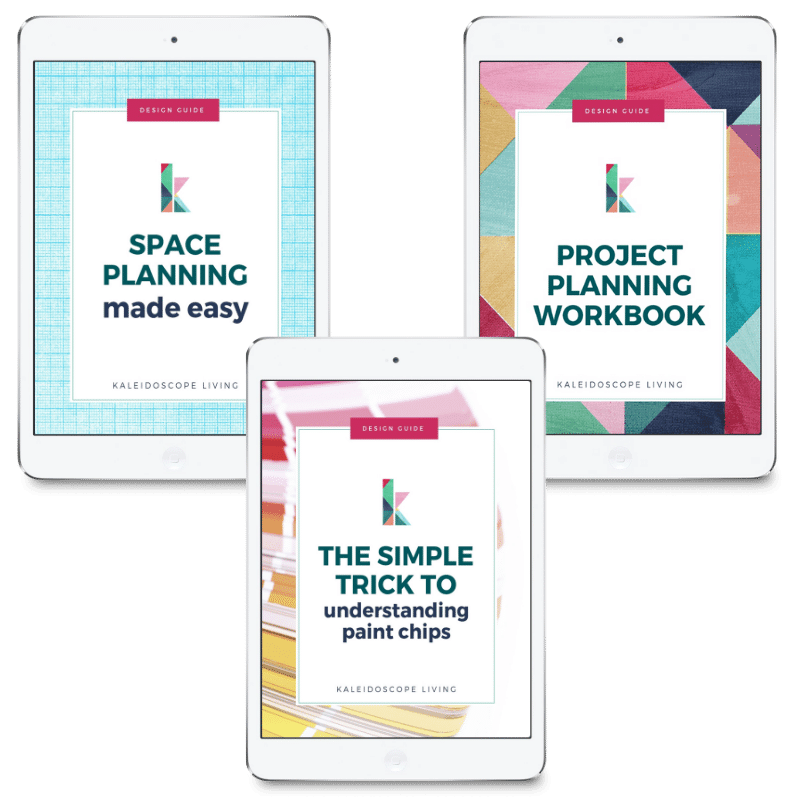 Get my FREE design guides when you subscribe!
The first step is to curate all of your typography art. This is the only hard part because it does require some patience (which is NOT one of my more prominent personality traits). You really want to curate a variety of typography in various shapes, sizes and materials, and color (unless you are going for a neutral palette). A lot of people ask me where I found my collection of As and there answer is, a whole bunch of different places! I found several at Hobby Lobby, some at Michael's, several on Etsy and I made some myself!
I was able to curate a decent enough collection in a fairly short period of time and did hang them up. But since I have patiently added to the collection over time, it finally looks the way I want it to. It just took time to find all the perfect pieces!
The good news is that I have found some awesome typography art sources for you! Check them out below.

Step 2:
Anchor the collection with one or more larger pieces (depending on how large the wall space is). Because the area above our front door is quite large, I have 3 large anchor pieces that I spaced fairly evenly across the wall space. You need at least one large anchor piece of typography art. A gallery wall that is just full of a lot of small pieces tends to look messy.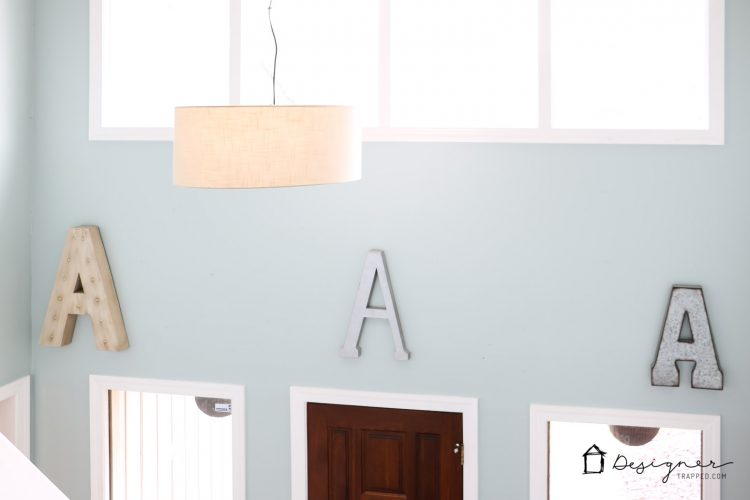 Step 3:
Fill in the space around your first anchor piece using medium sized pieces of varying textures and colors (if you are going for a colorful look). Even though I'm a color lover, my palette is fairly neutral–metallics, wood, black and some turquoise that works as a "neutral" because it's so similar to the wall color. You'll notice I added some rounded shapes, which contrast nicely with the more angular shapes. I also tried to mix in some lowercase typography (those tend to be harder to find).
Step 4:
Fill in the remaining space around your first anchor space with smaller pieces.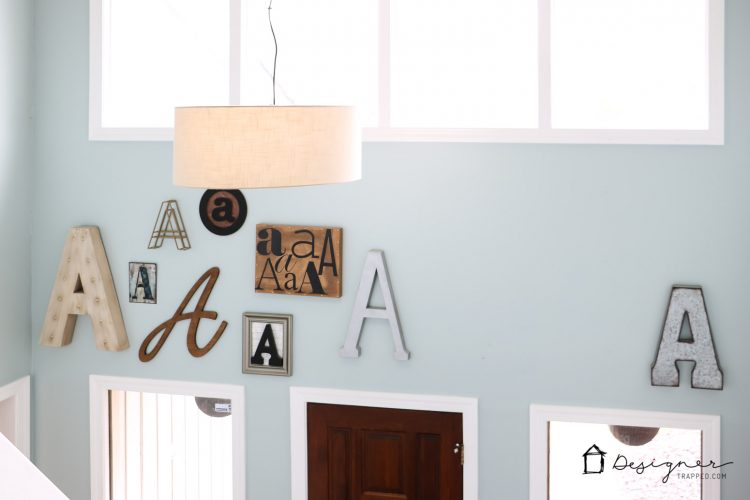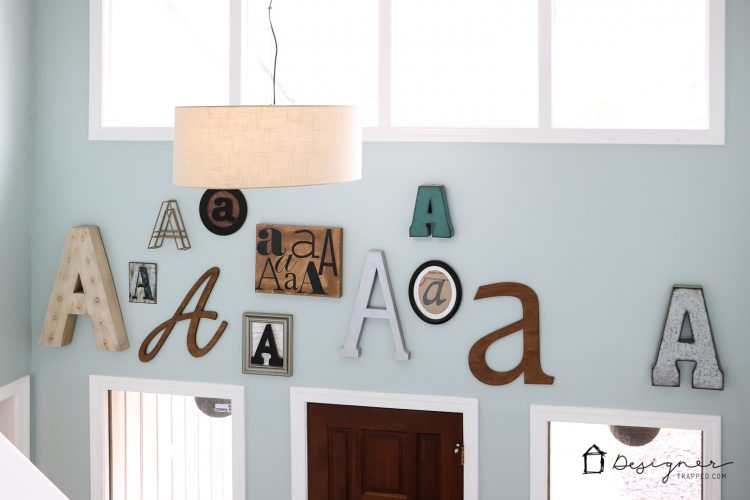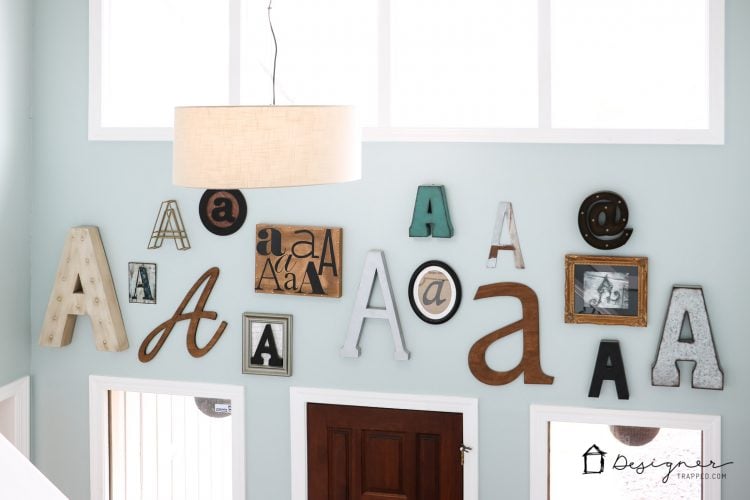 Repeat steps 3 and 4 for each anchor piece in your collection.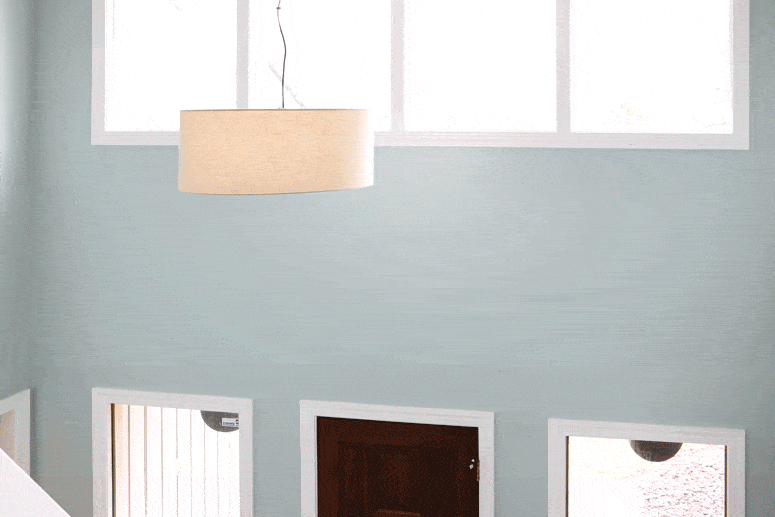 That's it! That formerly vast empty space above our front door is now one of my favorite spots in our home. If you love this idea, be sure to pin it so you can find it again later!
​
[mv_create 1 11 200 2016 key="1″ type="list" title="Most Popular Projects" thumbnail="</span><a href=" https designertrapped com wp content uploads diy home decor projects blog jpg target="_blank" a span]​