It's a Colorful Life – Colorful Christmas Home Tour
Last Updated on March 3, 2022
Come check out my colorful Christmas home tour. It's an eclectic mix of modern and traditional elements and we can't wait to show you!
Hello! I'm so excited to share my colorful Chirmstas home tour with you today. I'm going to take you through our home one room at a time. I'm doing my best to share sources for the decor you see when it's available. But y'all, a lot of my Christmas and home decor has been around for years and years, so I can't link to everything. If I found something similar to stuff we've had for a while, I've included links for those similar items as well.
This post contains some affiliate links for your convenience. Click here to read my full disclosure policy.
The Entryway
Entryway sources: Click on any images below for full product details.

Let's start with where you enter our home. I have to tell you, this is my favorite Christmas spot in our home this year. That huge Noel canvas is one of the very few things I purchased for Christmas this year, and I absolutely LOVE IT. I know we'll have it forever. The rest of the decor is simple and consists of things I've used in different places in years past. For example, that colorful garland was on our tree last year and the ornament tree was in our kitchen.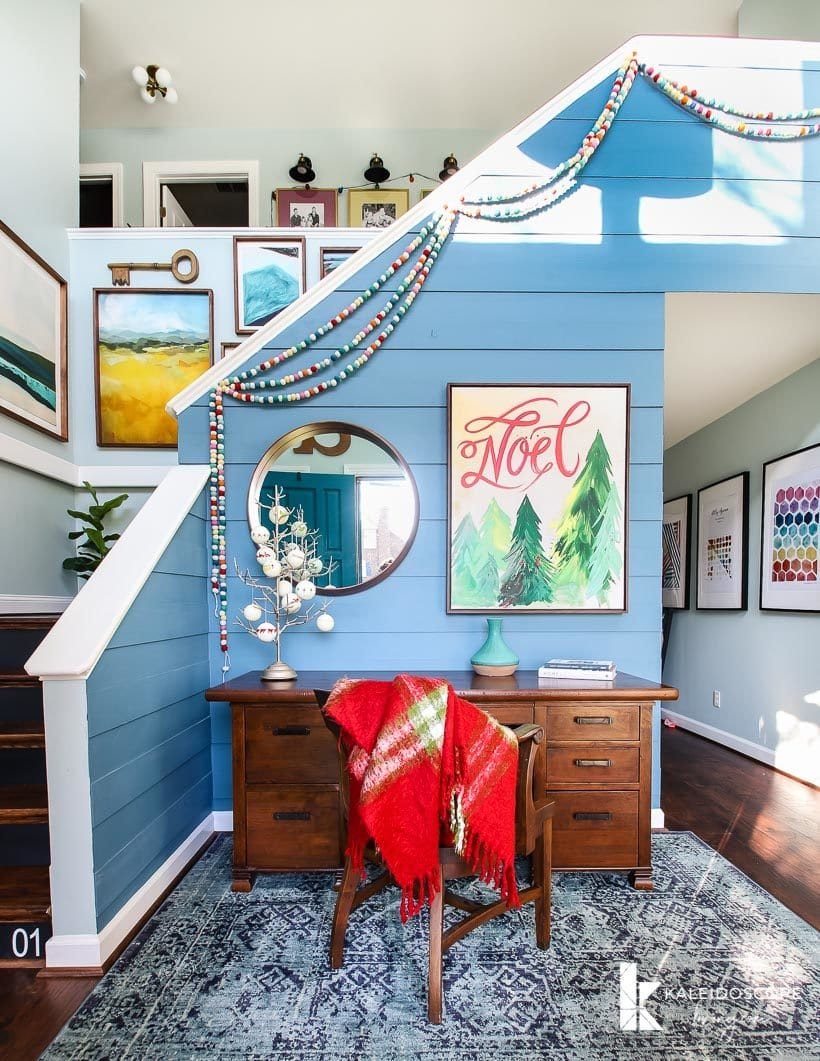 You can catch a glimpse of my beloved DIY pom pom wreath in the mirror below. We've left it hanging year-round, even though I originally thought of it as a Christmas wreath. You can find the tutorial for it here.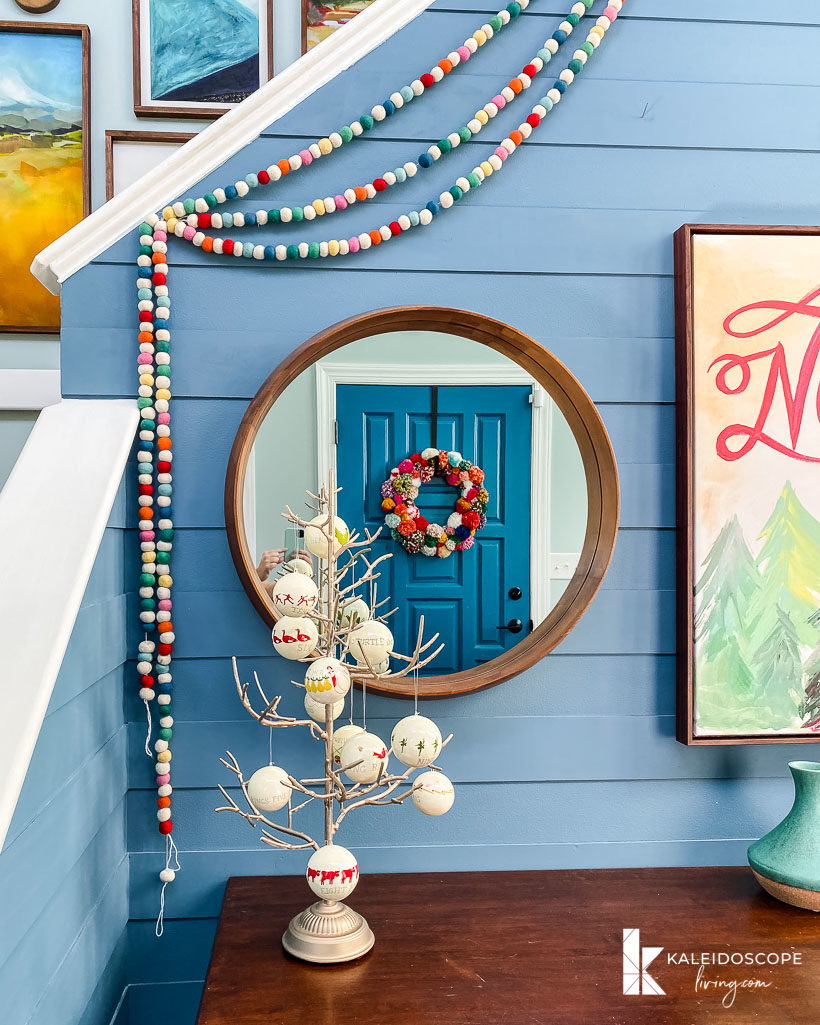 And here's a better look at the DIY pom pom wreath hanging on the inside of our front door.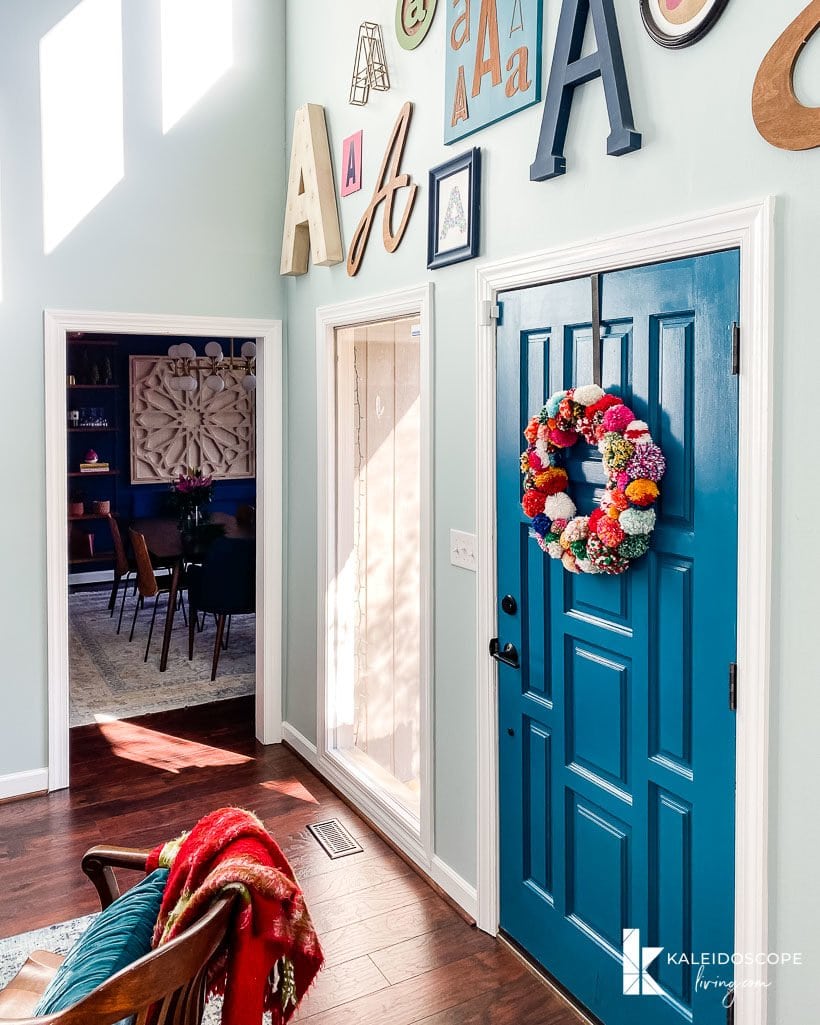 The Dining Room
Dining Room sources: Click on any images below for full product details.

Now let's head into the dining room, since it's right off the foyer. We completely redid our dining room earlier this year when we completed our mega kitchen renovation. And I LOVED decorating it for Christmas this year. Again, I used mostly old Christmas decor in this space, but I did add a few new bottle brush trees to the mix this year.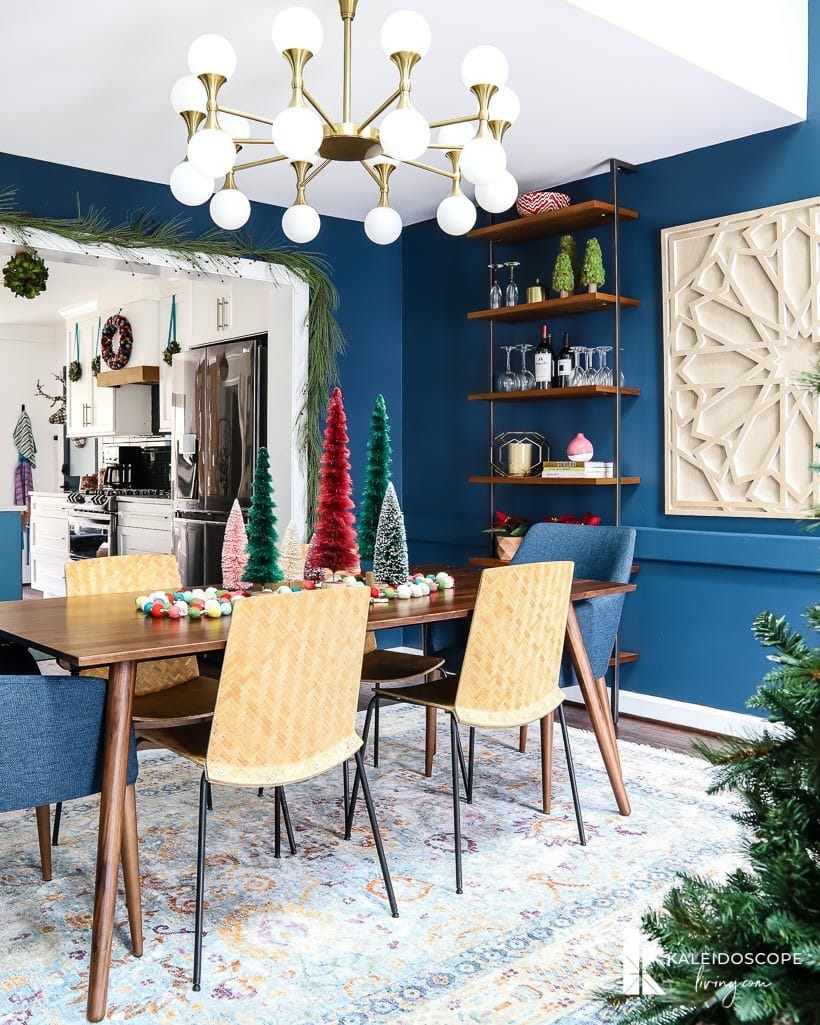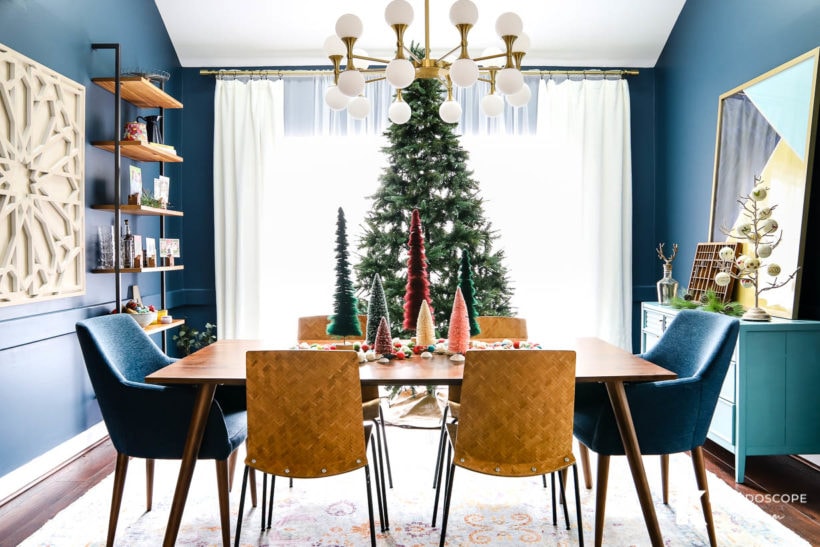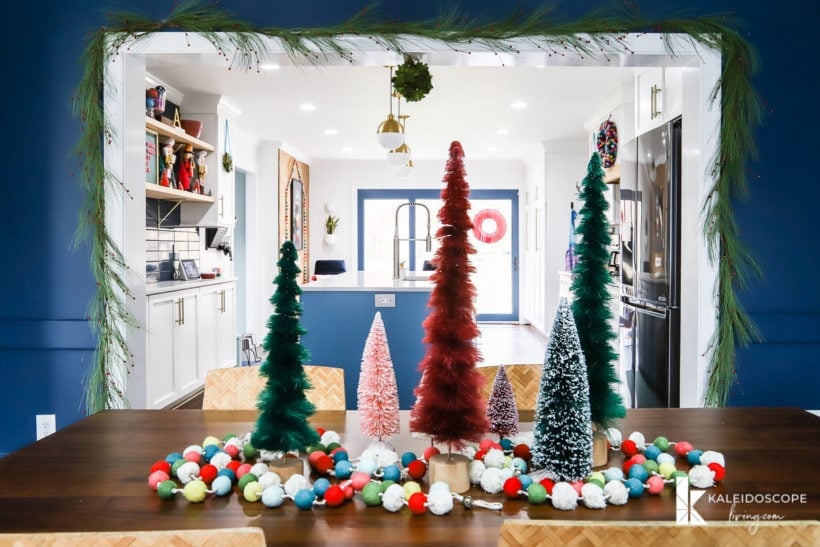 The Kitchen
Kitchen sources: Click on any images below for full product details.

OMG y'all! Decorating our kitchen for Christmas this year filled me up with so much joy because It's our first Christmas since our massive kitchen renovation. The fact that our kitchen and dining room are now open to each other is everything I dreamed of and hoped for over the past 6+ years! I used the same mini wreaths I customized last year on the cabinet doors. And I hung my DIY felt ball wreath on our DIY range hood. SO HAPPY AND COLORFUL! If you love the idea of mini wreaths for your cabinet doors, check out our post with all the best mini wreath options here.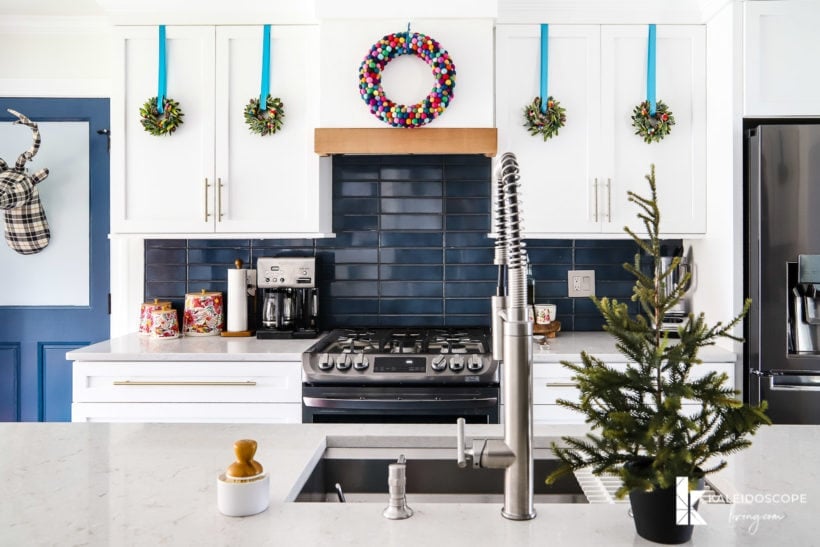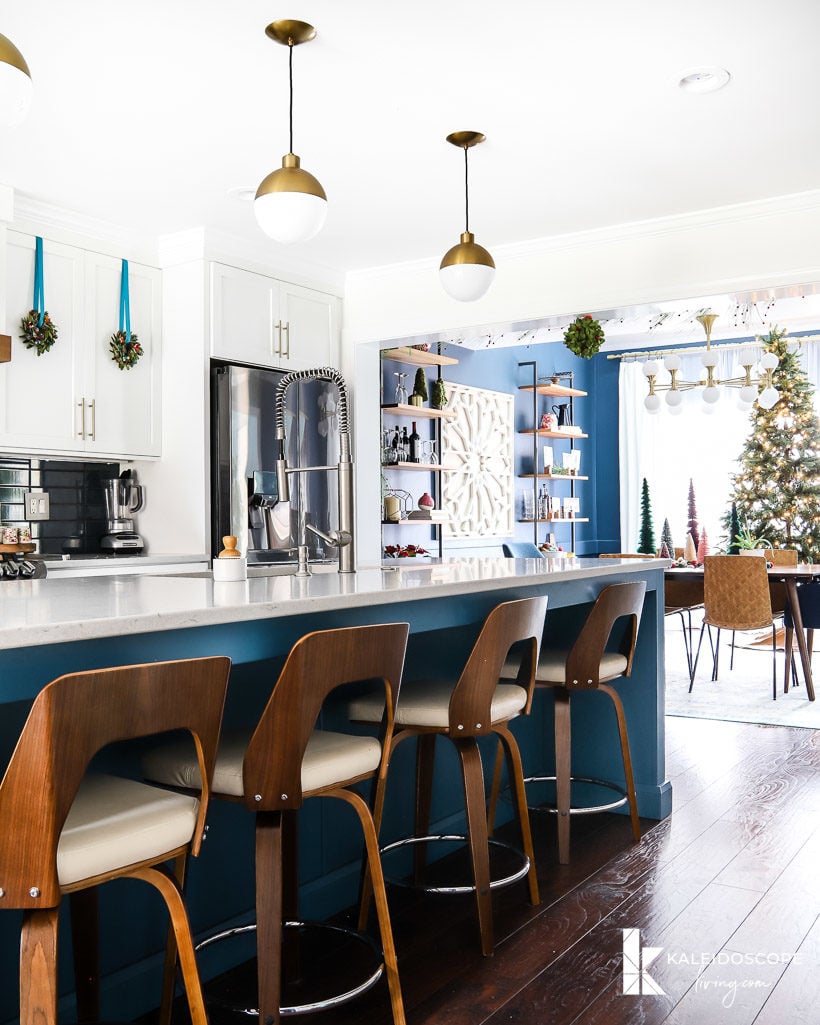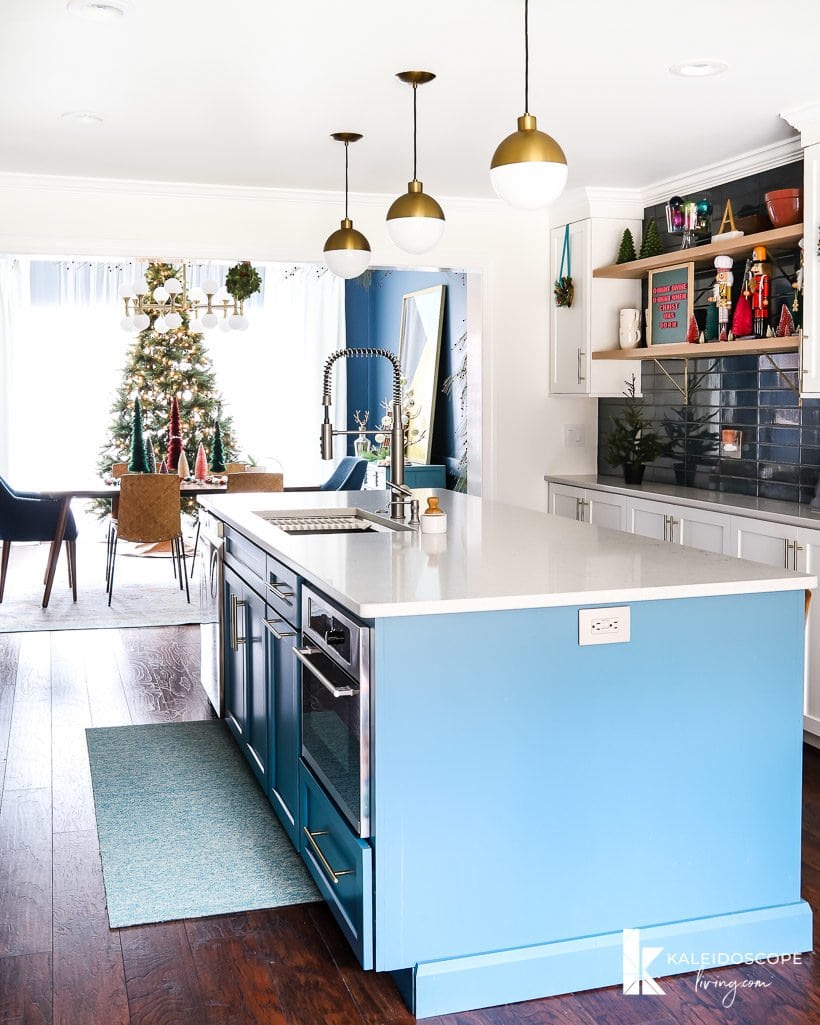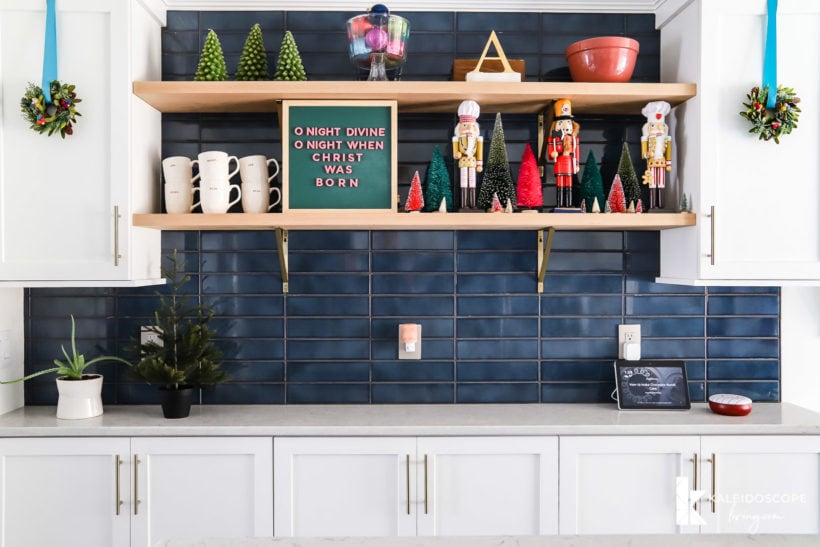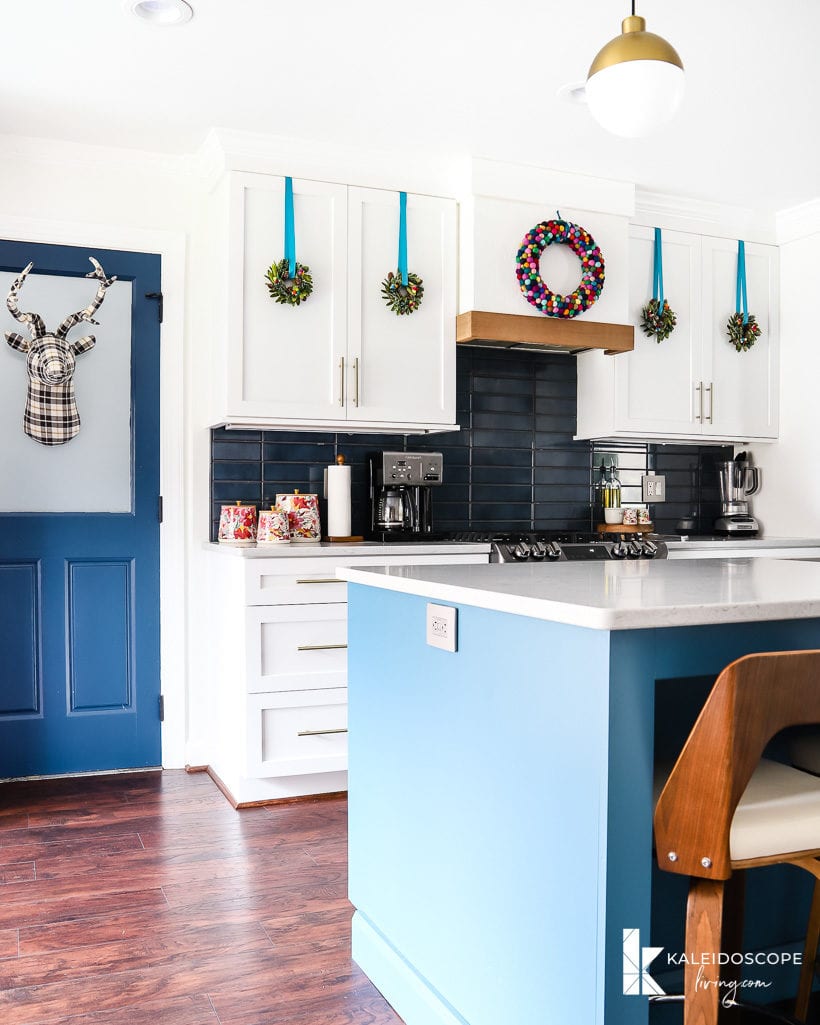 All I did in the seating area of our kitchen was add a bit of garland and hang add a Christmas print to the frame that always hangs here. Oh, and I did buy that super cute Christmas countdown sign this year! I absolutely love it. My girls are able to change it every morning before heading out to school.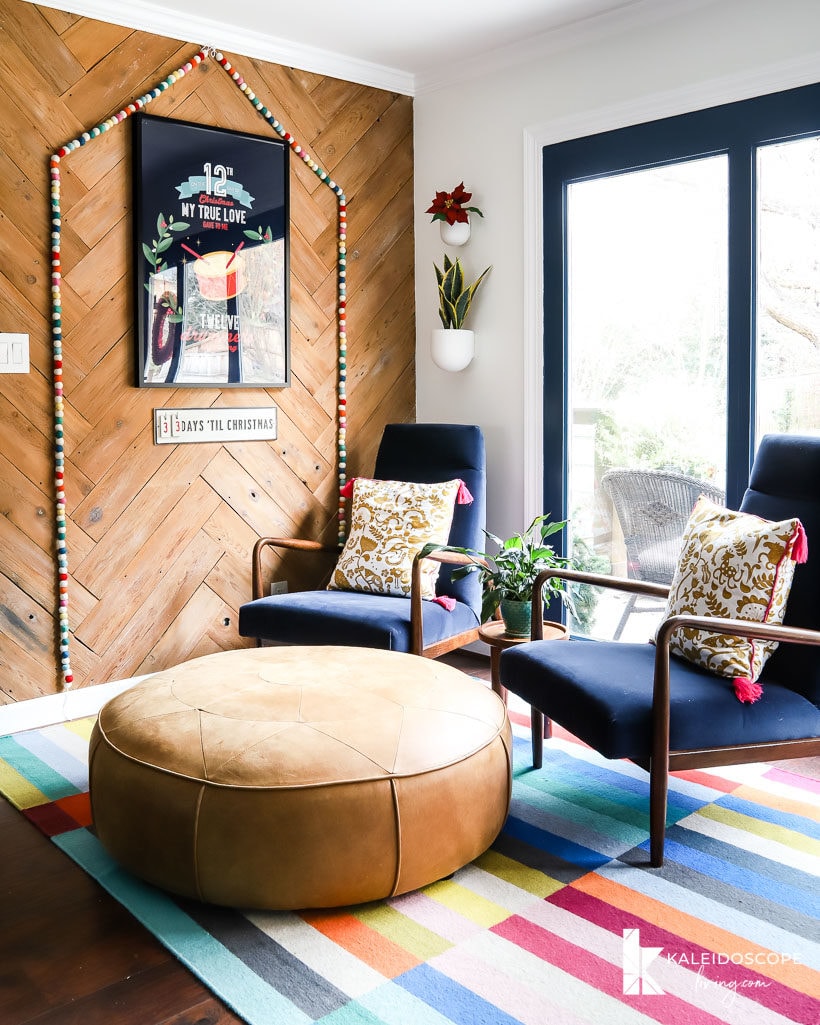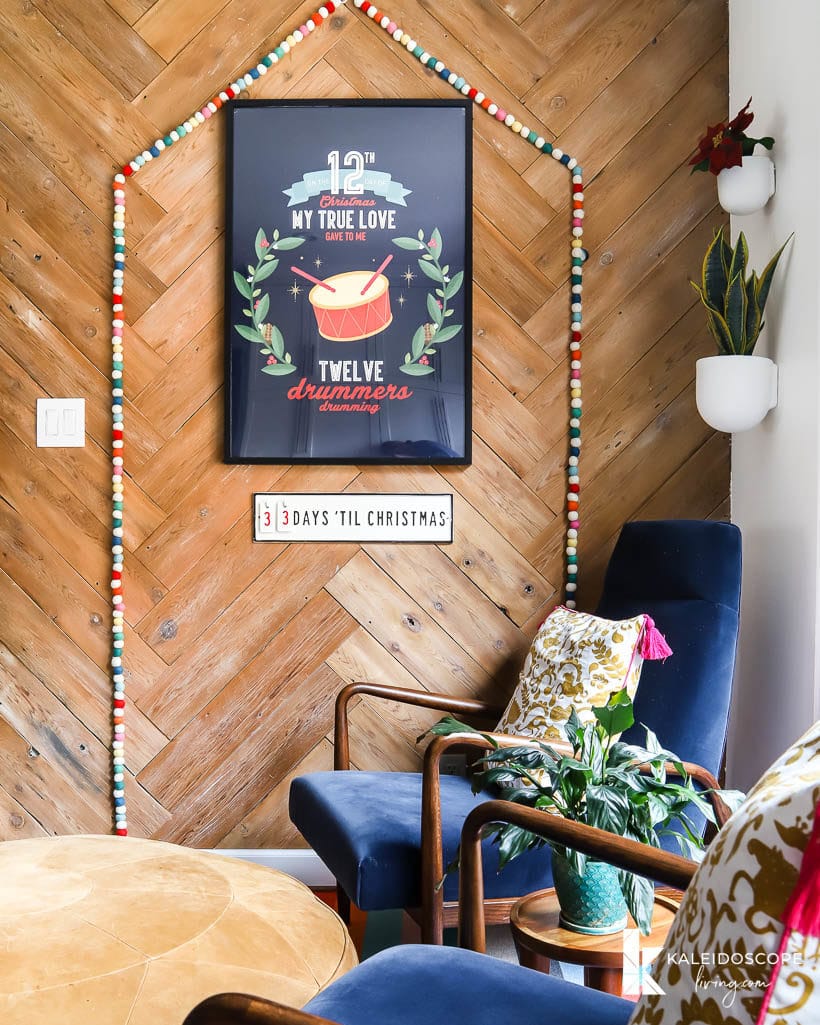 The Family Room/Playroom
Family room/playroom sources: Click on any images below for full product details.

Up next is our family room/playroom. This is a room where we spend a lot of time and it's the room where our "main" tree is since Santa comes down this chimney ;) Other than the tree, we added a bit of decor to the mantel and our girls' art table area and that's it. Oh, and we pulled out our Christmas throw pillows and blankets. We didn't go crazy in this room. You can read all about how we decorated our tree with colorful scarves and ornaments in this post.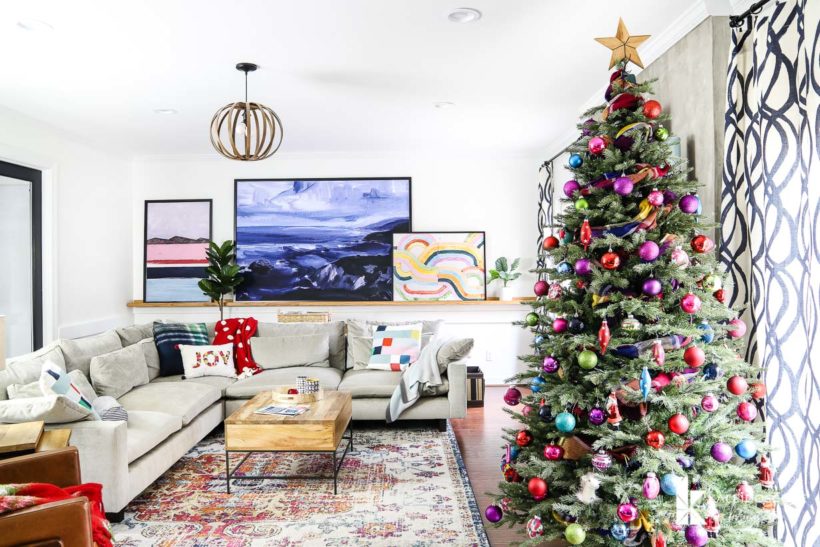 We still love our DIY concrete fireplace (that we resurfaced about 7 years ago for less than $100) and the steel sliding fireplace screen we made. So we kept them mantel decor simple. We just added a garland and our stockings! I bought Joe and I new stockings this year, and just added our colorful pom poms to them :)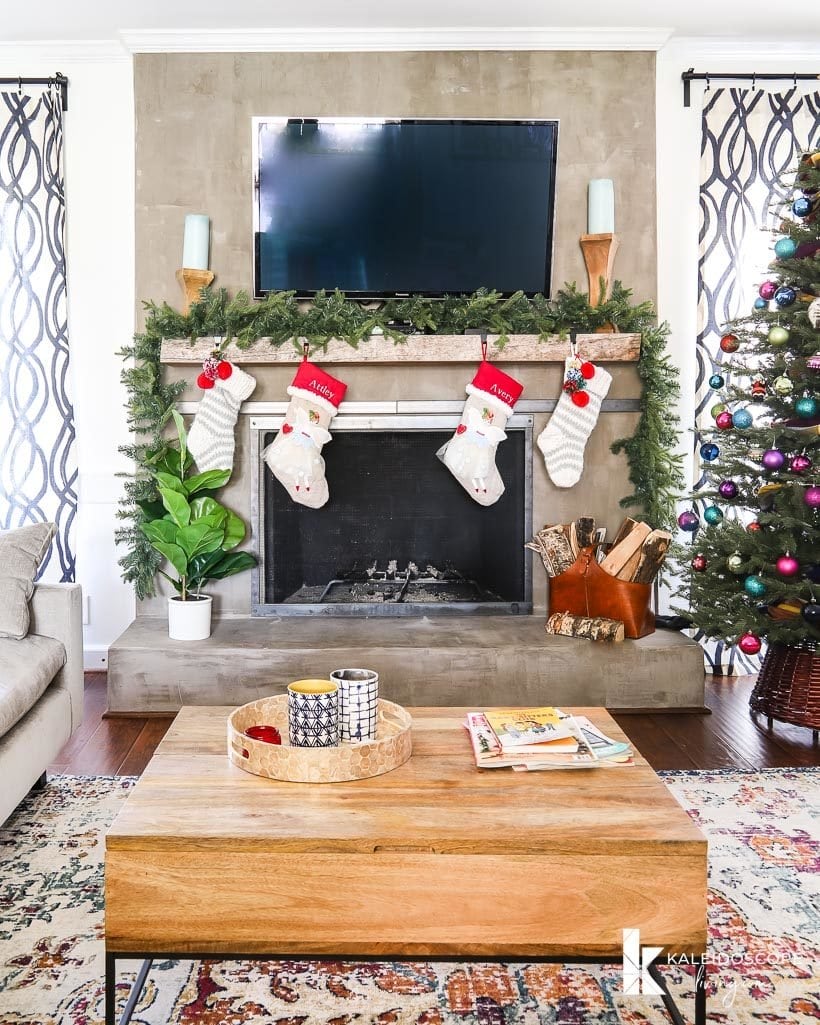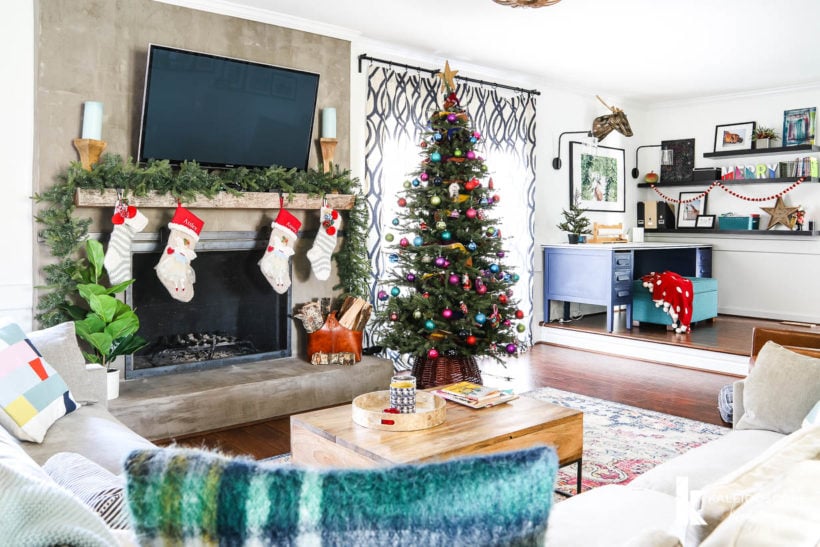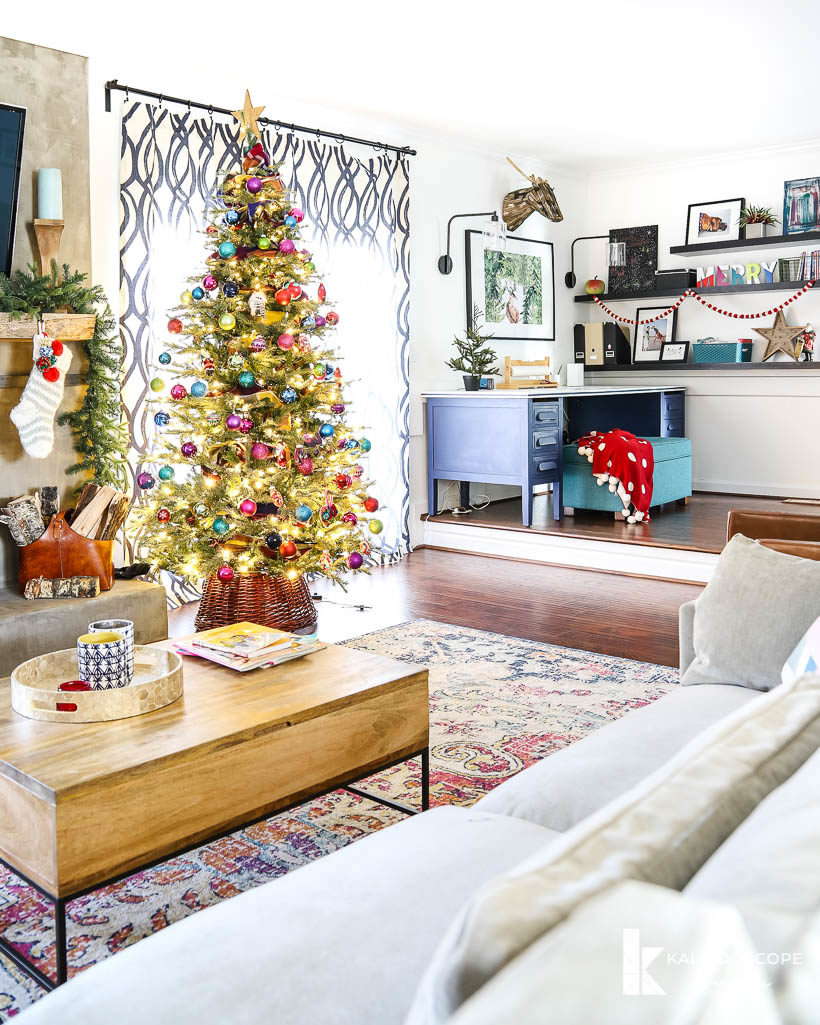 Note the other side of the girls' play area is not pictured because 1) I didn't add any Christmas decorations to it and 2) it was a HOT MESS with a puzzle strewn all over the floor when I took these other photos. Now I wish I had take a photo of it to reassure you that our house is definitely far from spotless most of the time.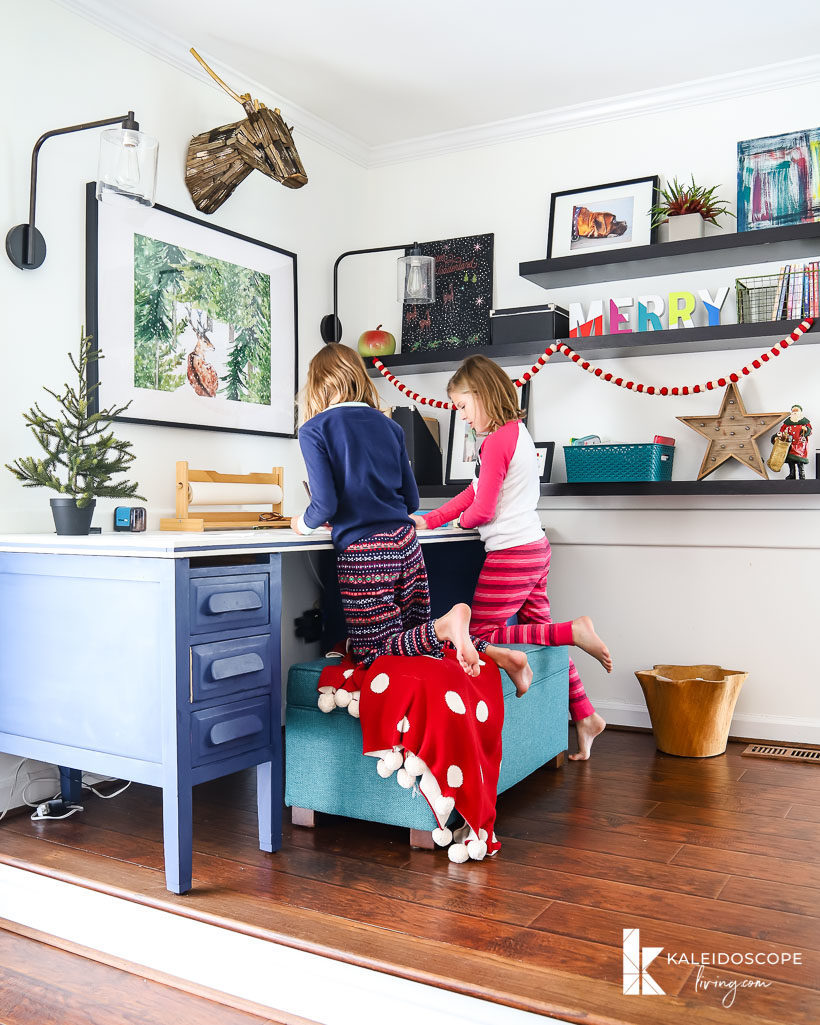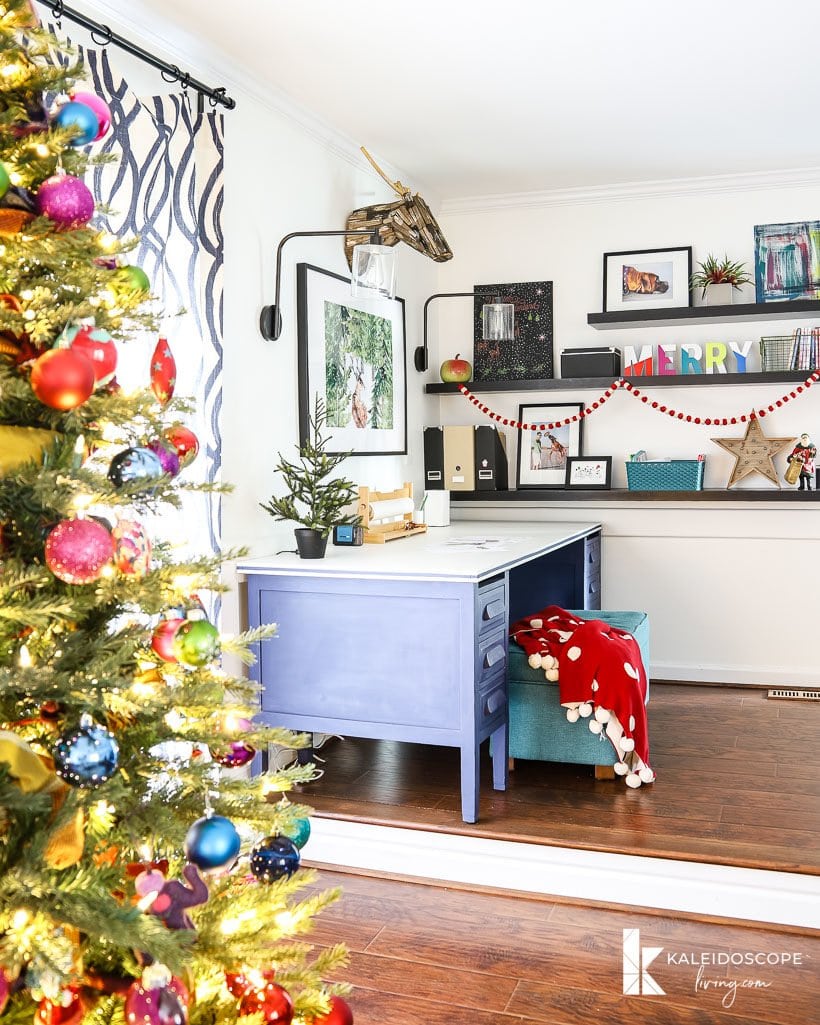 The Master Bedroom
Master bedroom sources: Click on any images below for full product details.

We kept things super simple in our master bedroom again this year. All I did was hang a wreath and garland above the bed and add a Christmas throw pillow. Took about 10 minutes to make this room feel Christmasy and cozy!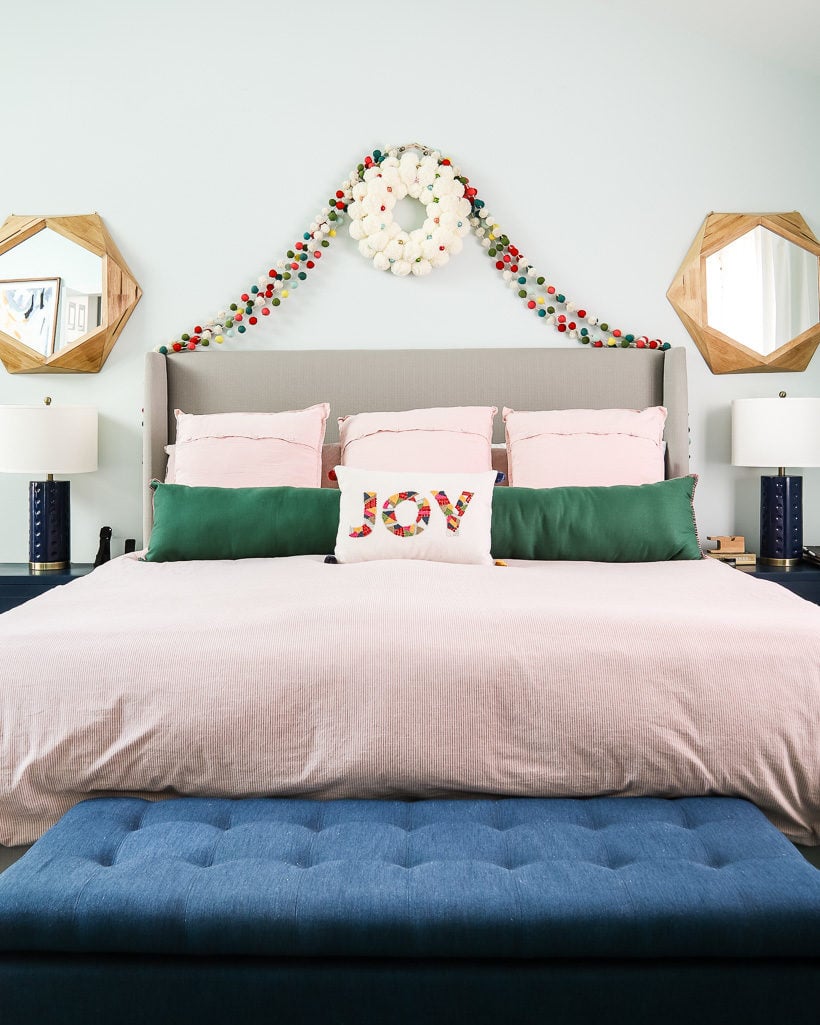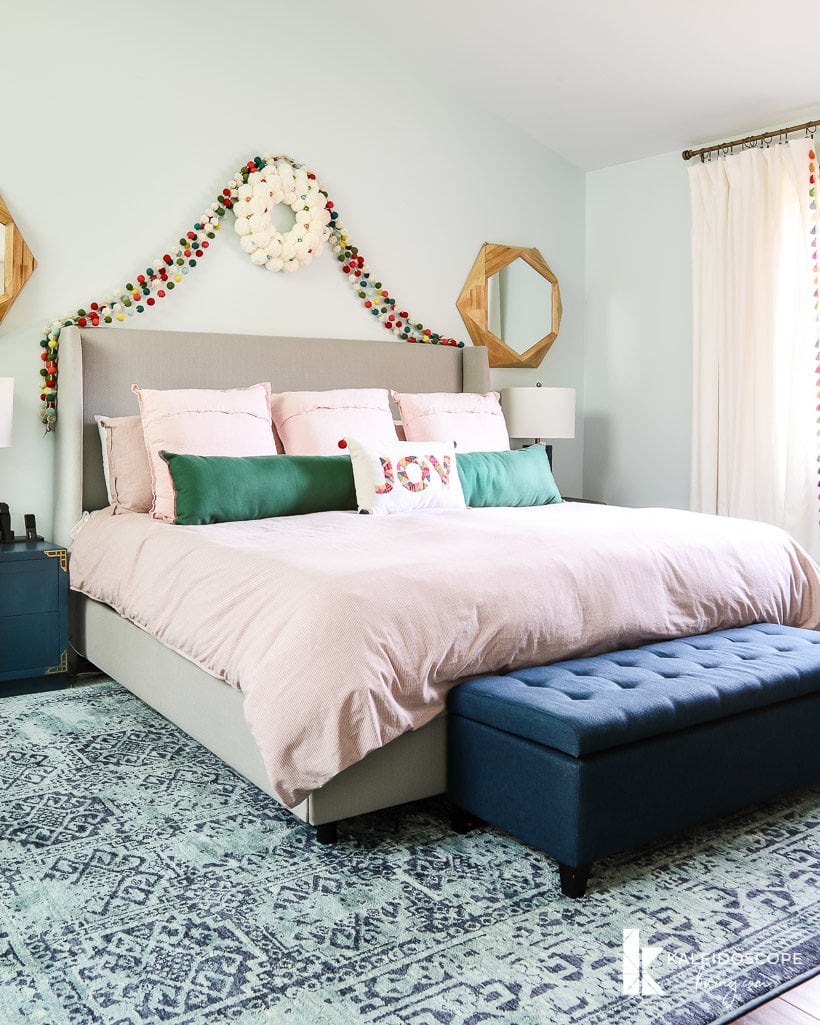 The Hallway
This hardly even qualifies for the Christmas tour, lol! I added some large, colorful bulb lights to our DIY colorful gallery wall because my girls LOVE colorful Christmas lights. I prefer white lights, but it took about 15 seconds and brings them lots of joy, so I'll call it a big win.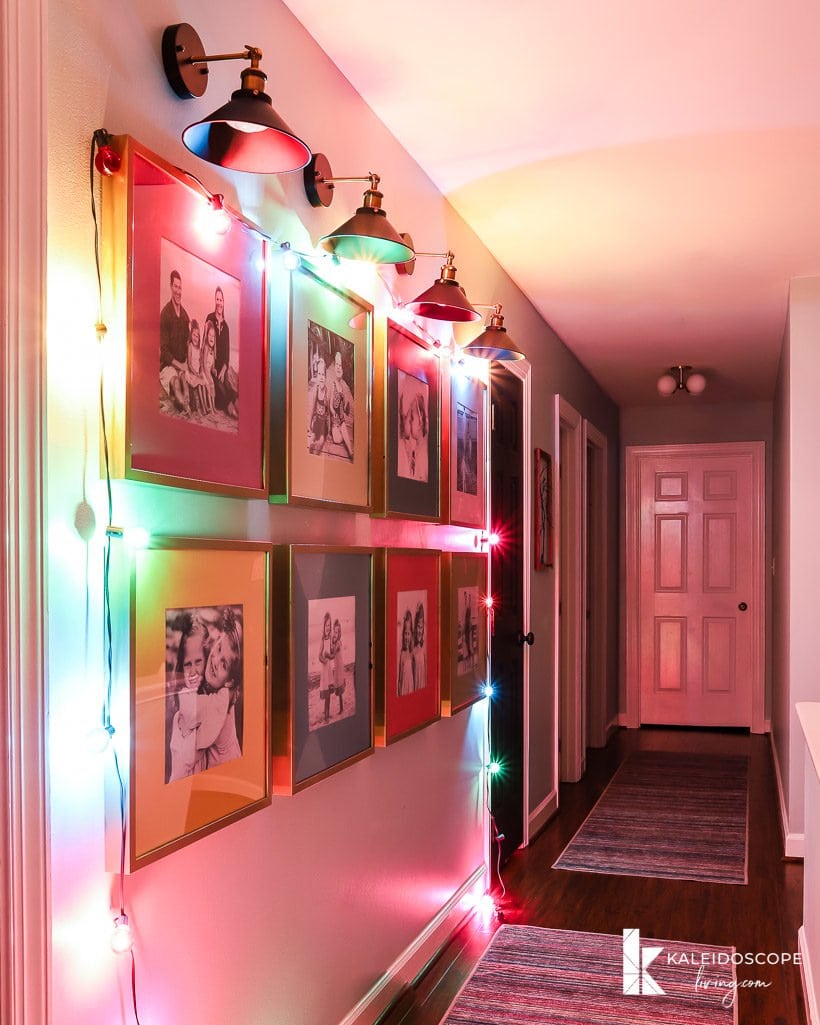 The Girls' Rooms
Last, but not least, we added a touch of Christmas to each of our girls' rooms.
Avery's Room
Avery's bedroom sources: Click on any images below for full product details.

All I did in Avery's room was add some pre-lit garland to her dresser that I restored a while back. I also added her tiny tree (yep, she also decorated her tree herself and I didn't change it) and DIY advent calendar. And then I added that adorable Winter Wonderland art that Avery made herself with Chalk Couture.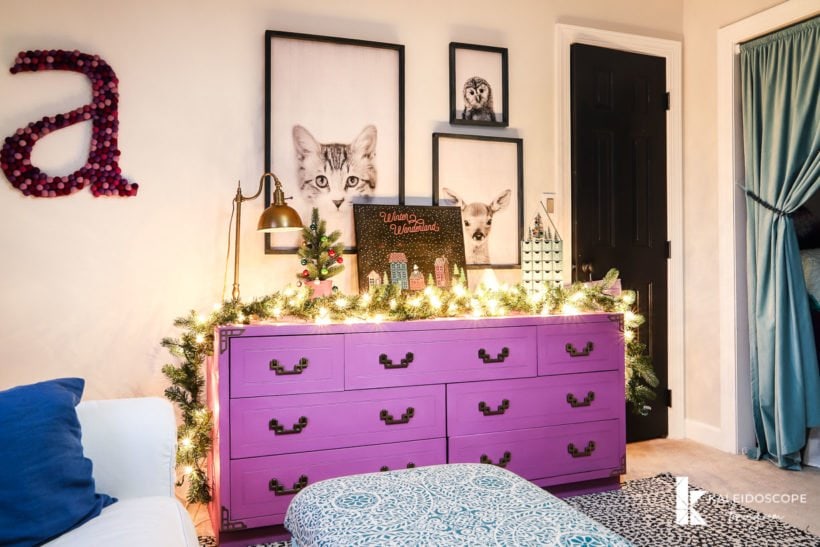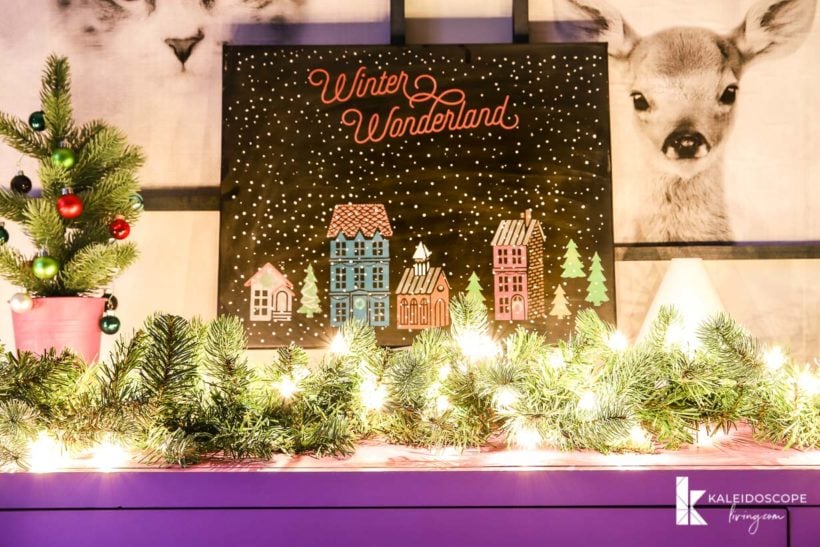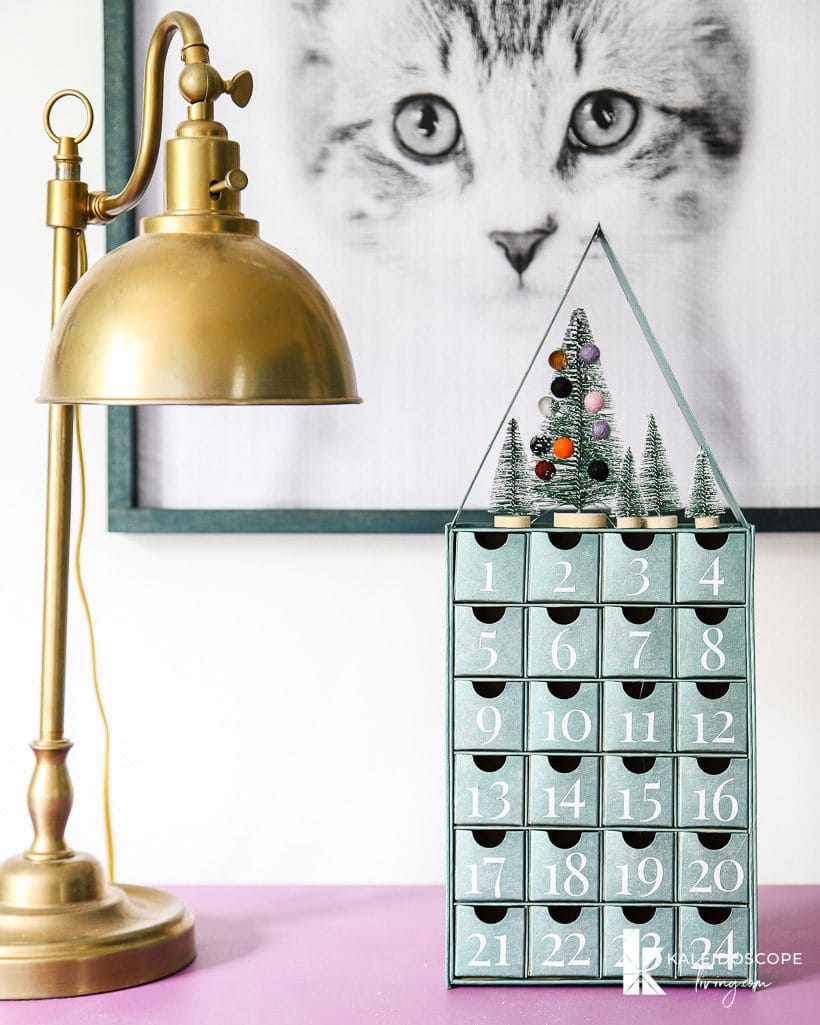 Attley's Room
Attley's bedroom sources: Click on any images below for full product details.

Now let's check out Attley's room.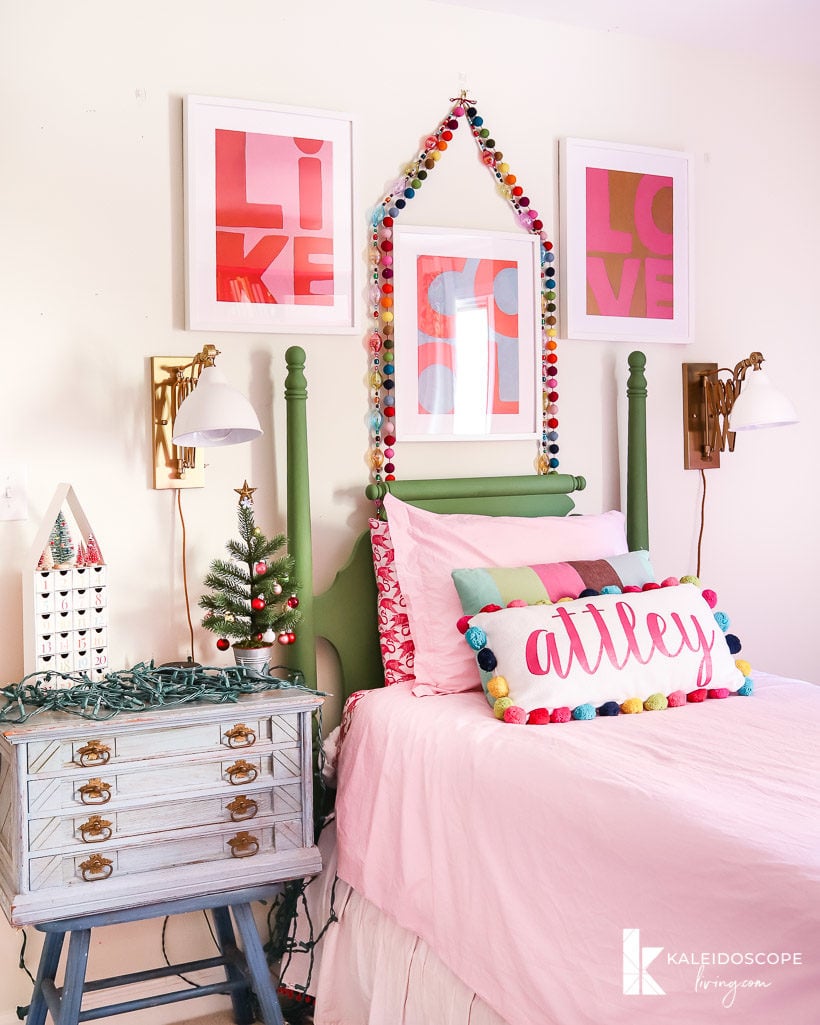 As you can see, I kept it SUPER simple in Attley's room as well. I draped some glass and felt ball garland over her existing art. Then I added her tiny tree (that she decorated herself and I am proud to report I did not alter) and the DIY advent calendar I recently made to her bedside table. I finished it off by adding a string of lights to her bedside table. That's it. So fast and easy. And yet, it makes her room feel like Christmas magic.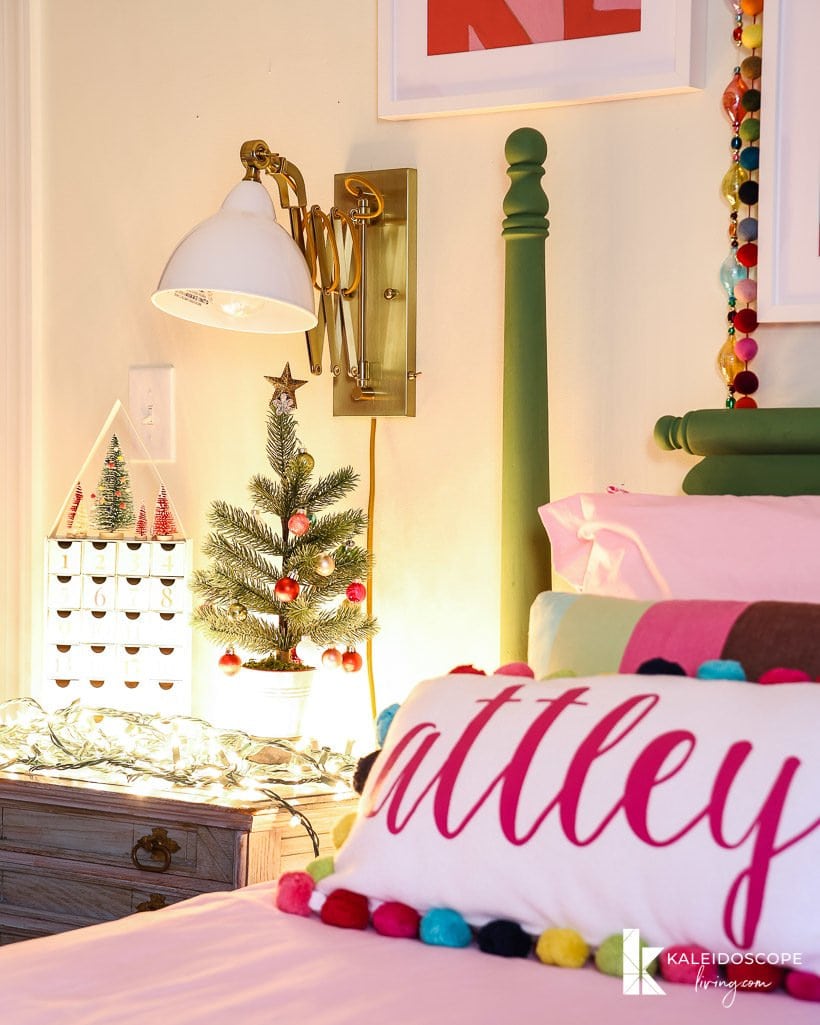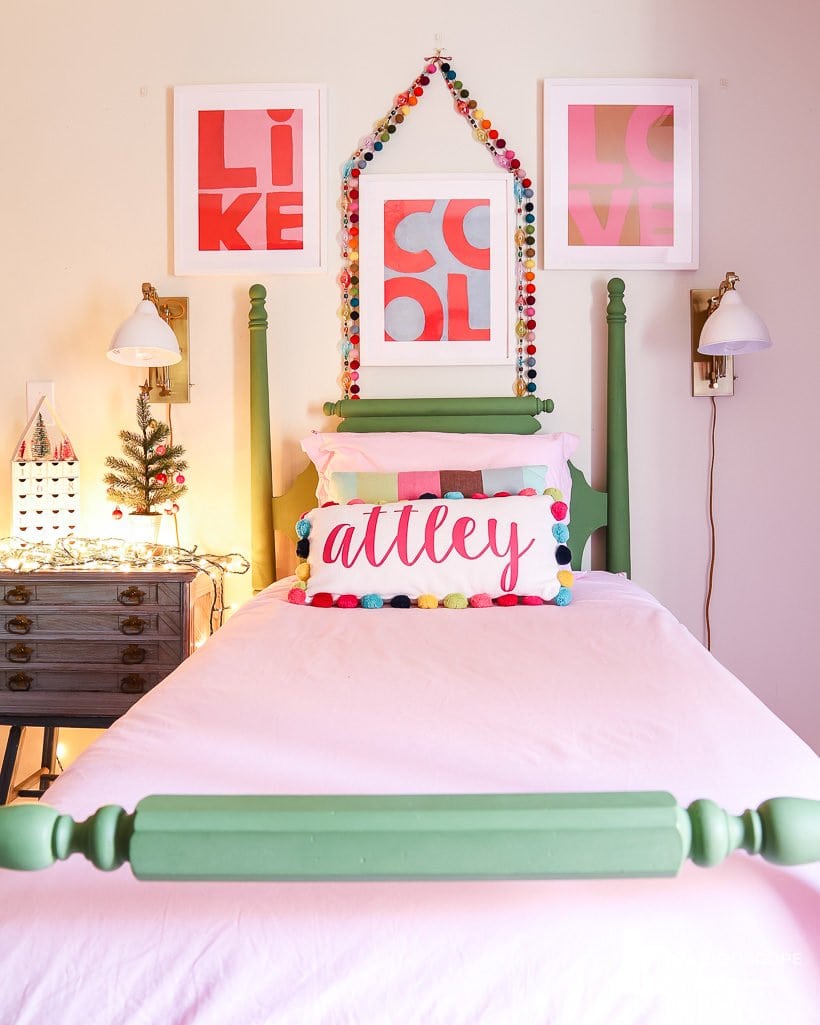 Phew! That's it y'all! Thanks so much for taking my colorful Christmas home tour!
Other posts you may enjoy:
Wondering how I approach transforming rooms and spaces in our home? Check out Designer in a Binder®.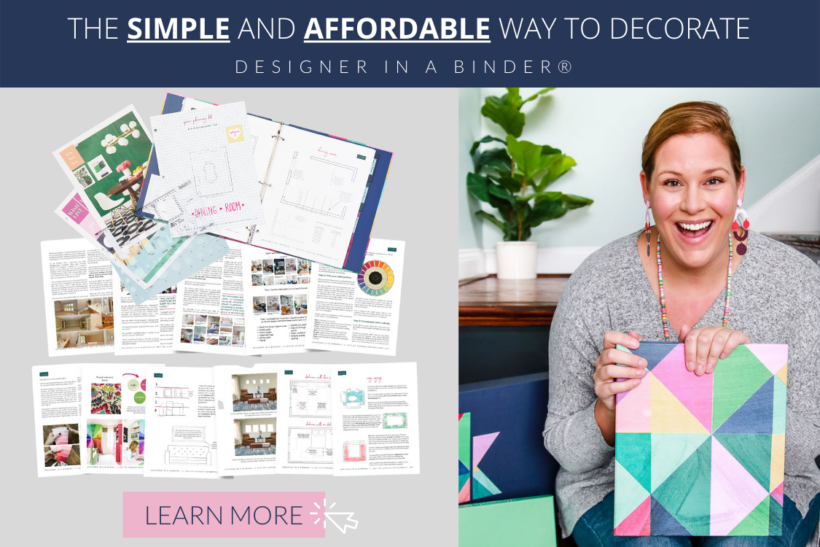 And if you want exclusive content and behind-the-scenes sneak peeks, be sure to subscribe before you head out!