13 DIY Bathrooms You Have to See to Believe
Last Updated on August 10, 2021
Bathroom makeovers can be daunting. But these amazing DIY bathrooms will inspire you to tackle your own DIY bathroom renovation!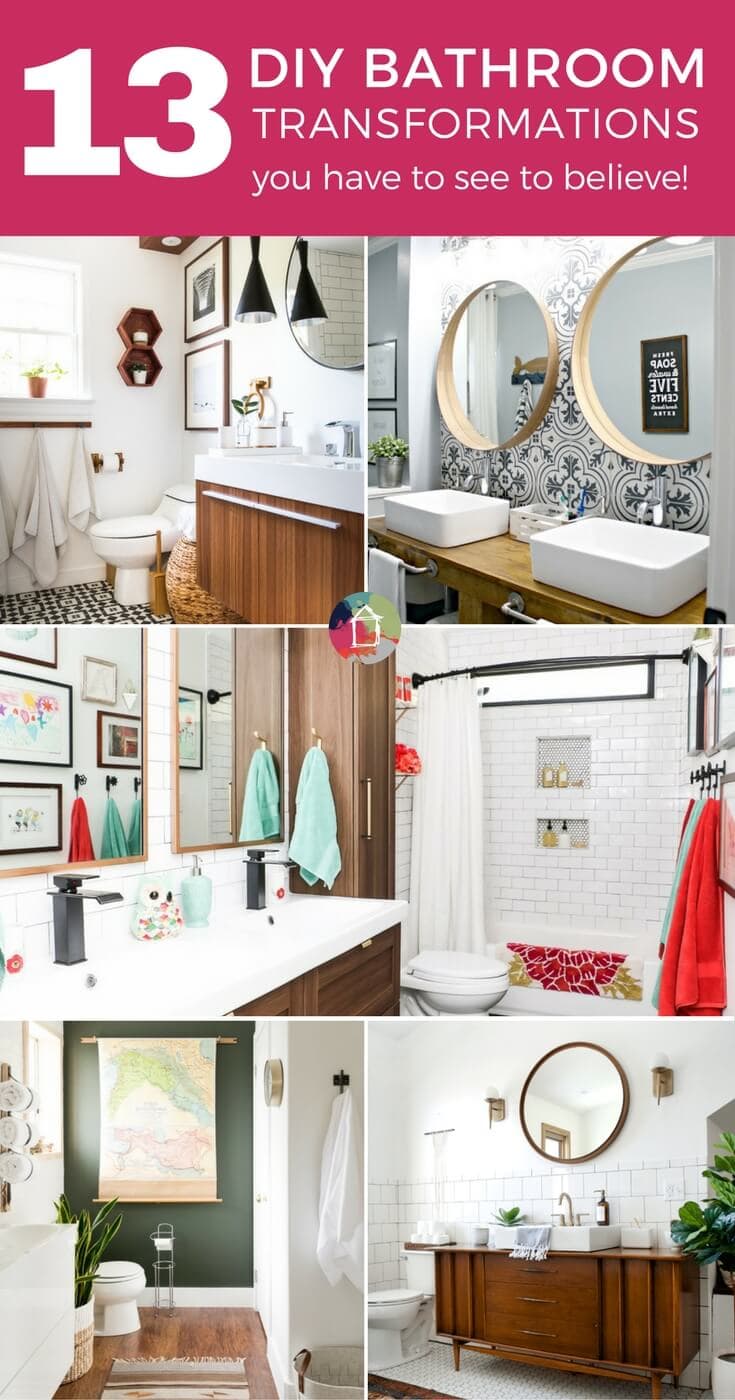 DIY bathrooms are something that lots of people are scared to attempt. There is the budget issue, plumbing and electrical (terrifying!), not to mention having a bathroom out of commission for an extended amount of time can be stressful. (Seriously–hats off to all of you living in a one bathroom home!). But I am here to tell you that all the stress, sweat and hard word yields AMAZING results. We are still so in love with our girls' bathroom makeover we tackled last year. I won't tell you it wasn't a ton of work, but it was totally worth it!
One of the best things about a bathroom renovation is that even changing fixtures and colors and other cosmetic things can make a big impact. Not everyone has the budget to reconfigure the entire bathroom, but some of the projects below are done on a surprisingly tiny amount of money! Check out these amazing DIY bathrooms below. You will not believe the before and after photos and the style and luxury these people were able to accomplish themselves!
13 DIY Bathrooms You Have to See to Believe
DIY Showoff – This dreamy bathroom has so many beautiful details. I imagine it was worth the 7 year wait to get to the top of this blogger's DIY list! It is such a clean design and I love the mix of styles she uses to achieve it.
Place of My Taste – When Aniko calls her bathroom reno "jaw dropping" she could not be more accurate! She takes a formerly non-descript bathroom (seriously, click over to her blog and take a look at the "before" bathroom photos) and turns it into a modern slice of bathroom perfection. This is one I wish I could stick right in my house!
Blesser House – This farmhouse makeover is so pretty and I can hardly believe my friend Lauren did if for less than $600! She really is amazing at repurposing and working with what you have. Totally inspirational if you are working on a tight budget but want big results!
BrePurposed – If there was a DIY Bathrooms Hall of Fame (someone get started on that please!) this insane makeover from BrePurposed would be in it. Transformation really is the perfect word for this modern vintage masterpiece!
JennaSue Design – DIY bathrooms are one of my favorites when it comes to before and after pictures. It literally blows my mind almost every time–and this bathroom is no exception! From that gorgeous floor, to the drool worthy tub, to the perfect gold fixtures–everything about it is perfection. And the transformation is almost unbelievable!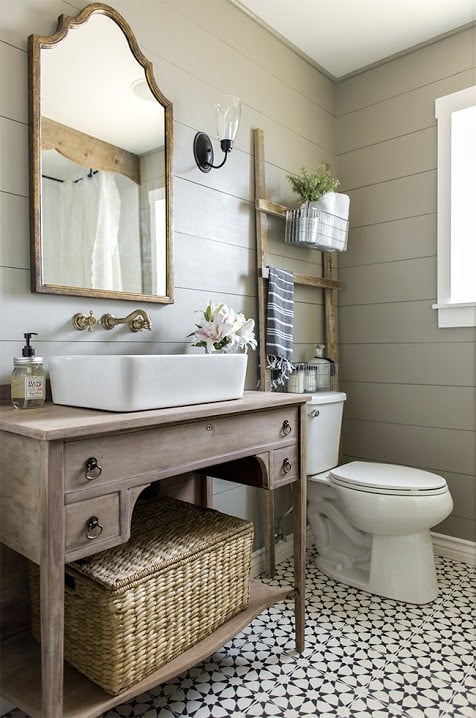 The Heathered Nest – My good friend Heather did an amazing job with her kids' bathroom. I mean that floor alone is swoon worthy! I love all the little details–when I look at the before pics I can hardly believe it is the same space. And as a lover of color and pattern, the fact that Heather injected both into this bathroom makeover totally wins me over ;)
Designer Trapped in a Lawyer's Body – This bathroom was a major labor of love for us. I HATED the old beige walls and almond tile and fixtures in this bathroom. Not to mention the CARPET on the floor and the fact that a big wall divide the shower and toilet area from the rest of the bathroom. I wanted it open and clean with bold pops of color for my girls. It turned out perfectly and I seriously love it more than I ever thought I could!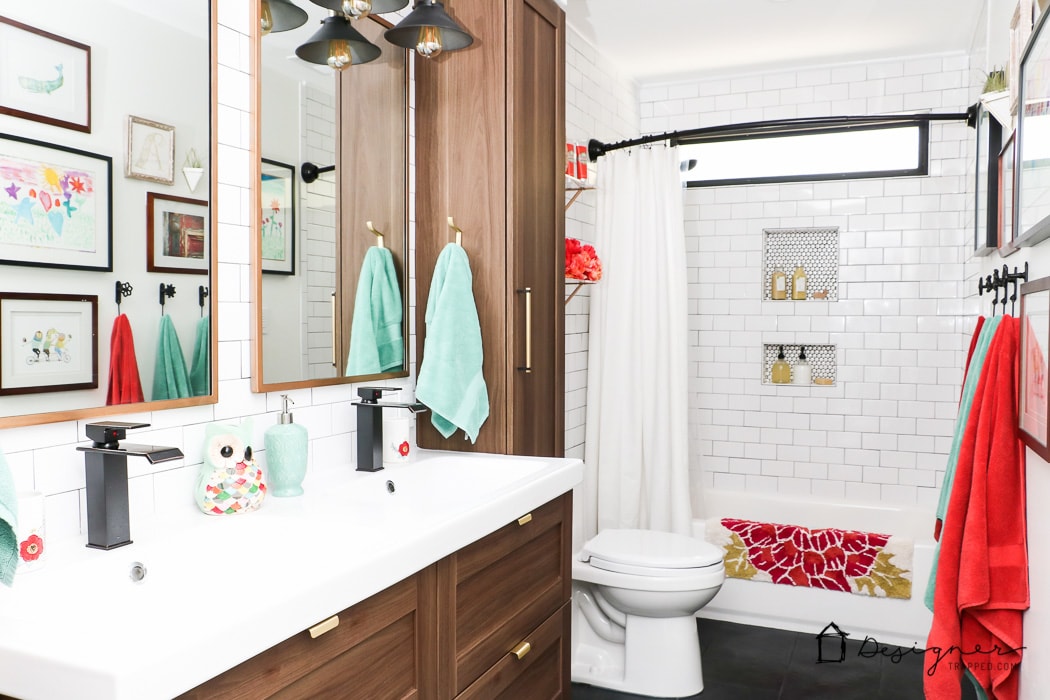 Thrifty Decor Chick – In the world of DIY bathrooms, I put this one at the top of the list for tile. It has amazing cement style tile on one wall, and beautiful white subway tile in the shower. Sarah also built that gorgeous open vanity!
Christina's Adventures – Christina worked hard on the beautiful bathroom renovation in her 1902 Farmhouse. From the exposed brick to the beautiful green wall color to the shiplap…it is gorgeous. All that incredible texture makes my heart beat a little faster. For real.
Vintage Revivals – I pretty much LOVE everything Mandi at Vintage revivals does, and this gorgeous bathroom is no exception. What she did to her mother-in-law's boring beige bathroom is the stuff of dreams. And did I mention it took 4 days and cost less than $1,000?!?!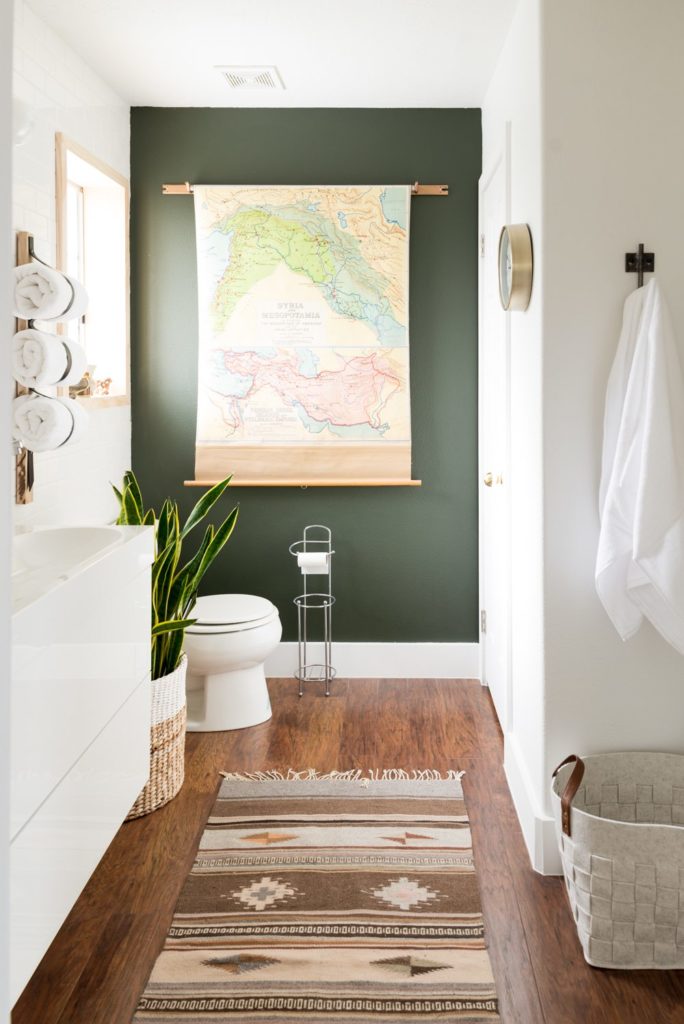 Bless'er House – Lauren from Bless'er House teamed up with a group of bloggers from around the country to pull off the most amazing (and QUICK!) makeover! They chose one couple in Texas out of tons of people asking for blogger designed DIY bathrooms, and the result is this beautiful farm house style sanctuary. How gorgeous is that blue color on the vanity?!
Yellow Brick Home – This DIY loving couple gave their bathroom a total overhaul and achieved a gorgeous and minimal new look. It is fresh and calming and I love the pops of bright color in the art!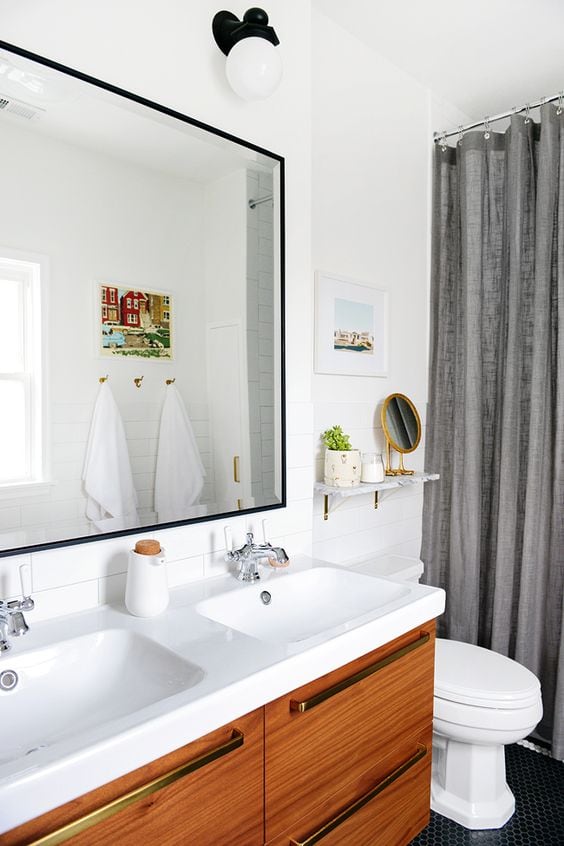 320 Sycamore – When I saw the before shots of this updated bathroom, I could hardly believe it was the same room! She took out some truly awful wallpaper and flooring and transformed it into a farmhouse beauty. She also does a great job of maximizing a smaller bathroom's storage, which is a problem lots of people face.
Aren't you feeling inspired by all of these incredible DIY bathrooms? There are so many changes you can make, big and small, to change your bathroom into the space you want it to be. Sit down and really look at your budget and what you really hate about your bathroom as it is. Then work from there deciding what you can afford and what you can't live without. You will have your dream bathroom before you know it!
I have to admit, looking at these DIY bathrooms is really making me want to dive into our master bath (which is covered in tan tile)!!! Don't believe me… Here's a photo of our master bathroom. And I assure you, it's actually LESS attractive in person!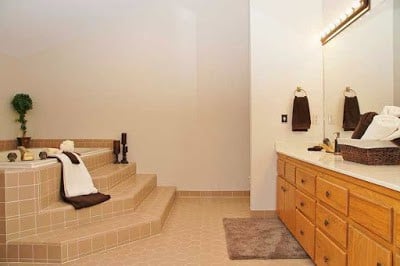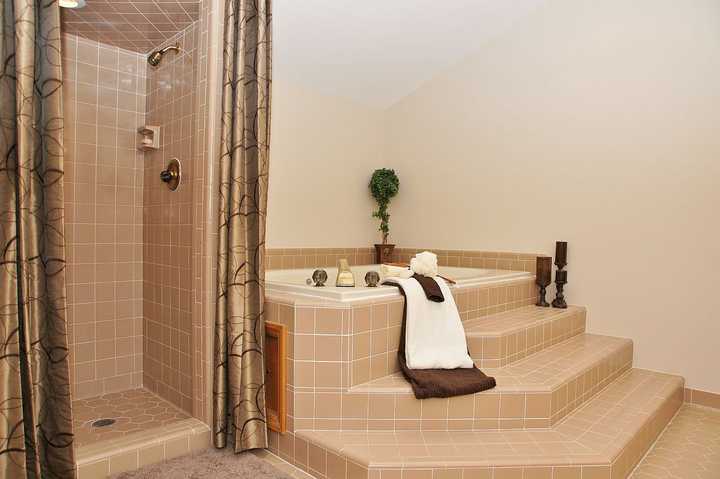 Before you head out, be sure to grab my free guide on how to design a room you love. It will help you plan the perfect bathroom makeover for yourself now that your head is spinning with ideas from all this DIY bathroom inspiration!
[mv_create 1 11 200 2016 key="1″ type="list" title="Most Popular Projects" thumbnail="<a href=" https designertrapped com wp content uploads diy home decor projects blog jpg a]