Making Stencil Wall Art from Scrap Wood
Last Updated on March 3, 2022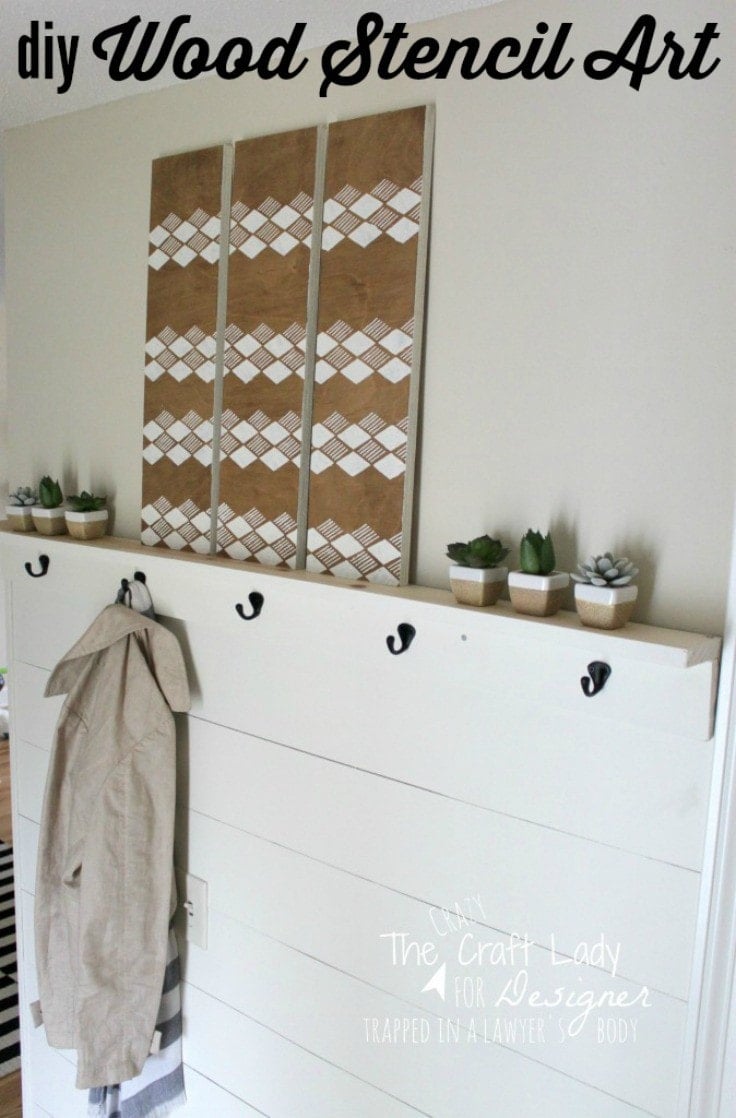 Hey there, I'm Aimee, and I blog about crafts, DIY decor, and life as a twin mommy over at The Crazy Craft Lady. I'm so excited to be here sharing a project with you all today!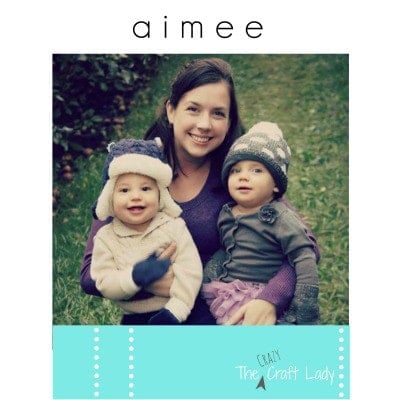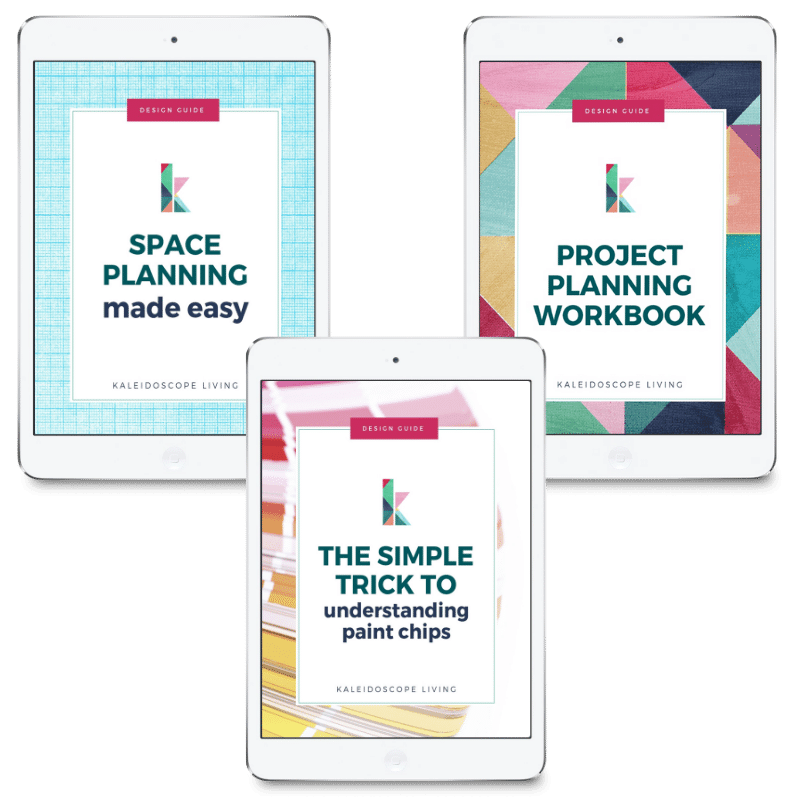 Get my FREE design guides when you subscribe!
I recently gave my teeny-tiny entry a total makeover – complete with a DIY plank wall and shelf with hooks. Here's what the new plank entry wall looked like. It was nice, but needed some serious decor.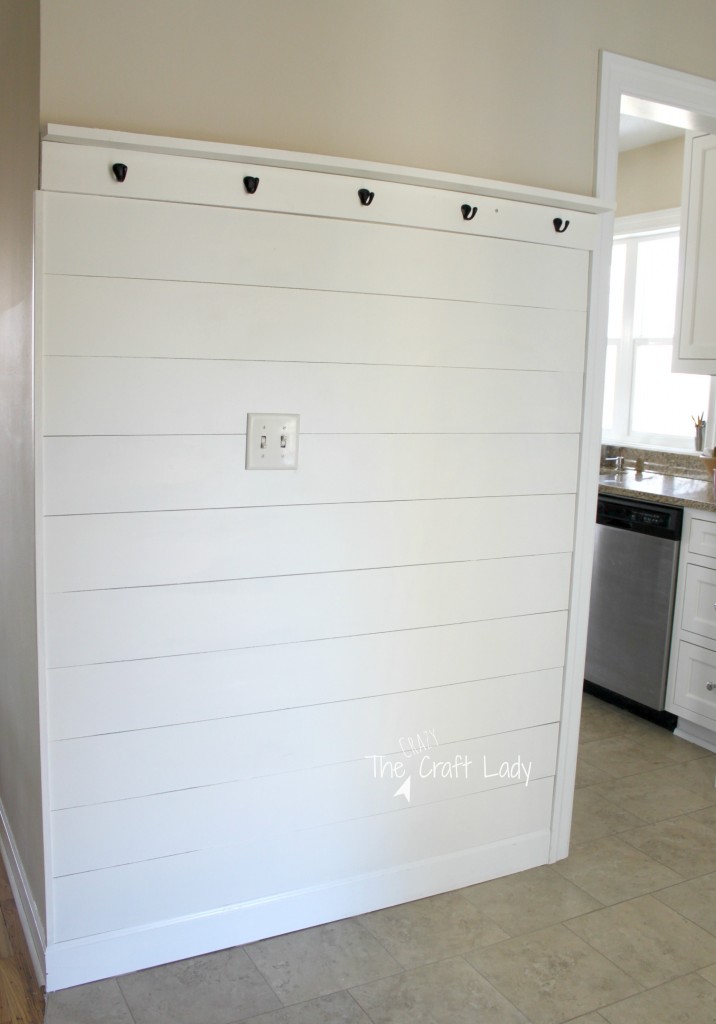 (Check out my DIY plank wall tutorial here)
For about a week, I really wasn't sure how I wanted to style this shelf. I knew it needed to be kid-safe, so no glass or ceramic. Other than that. Nothing. Then, like all good ideas, lightning struck while I was doing laundry.
I was headed into the laundry room to transfer my seventh load of laundry for the day, and I looked over at the shelf where I keep my extra DIY supplies – paint, brushes, and SCRAP WOOD! Of course! With all of my DIY projects, the scrap wood situation had literally been piling up.
I had a custom desktop cut for my home office in a closet, and somehow ended up with three evenly sized pieces of scrap wood. You know your DIY obsession has reached new heights when the scraps from old projects become the inspiration for new ones!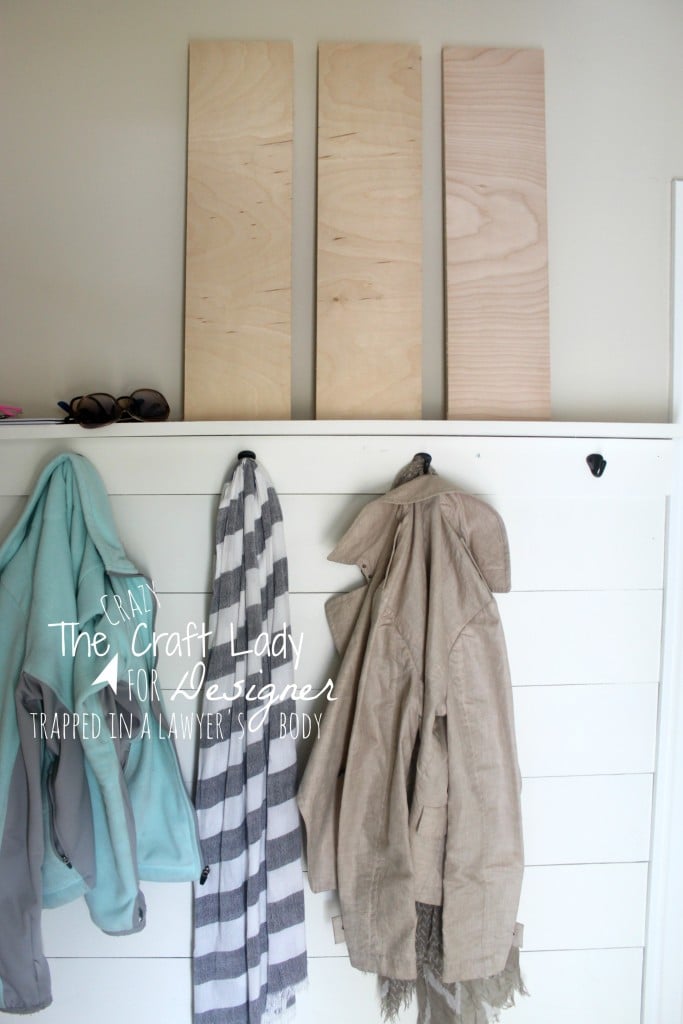 I headed upstairs and tested out my three scrap wood panels on the entry shelf. They were just the right size! Hooray! That meant I had three (FREE!) wood panels just begging to be turned into wall art. So far, I was really liking the budget on this project!
After selecting wood stain, paint, and a stencil, I was able to transform these scrap wood panels into a custom decor piece for my entry.
Stencil Wall Art from Scrap Wood – Supplies
Scrap wood – you can use pallet wood, or something leftover from another project
Sandpaper – optional, depending on the condition of your wood
Drop cloth – fun fact, they sell plastic drop cloths at the dollar store!
Wood stain – Minwax Golden Oak
Stencil – Martha Stewart Crafts Large Mylar Stencil – Tribal
Paint Brushes – one for staining and one for stenciling
Masking tape
White paint – I used leftover wall paint from my plank wall project
Wash cloth and paper towels
Stencil Wall Art from Scrap Wood – Tutorial
Step 1 (optional)
Depending on the condition of your scrap wood, you may want to lightly sand with fine grit sandpaper. I sanded the edges of my three wood panels just enough to remove any splinters… Ouch!
Step 2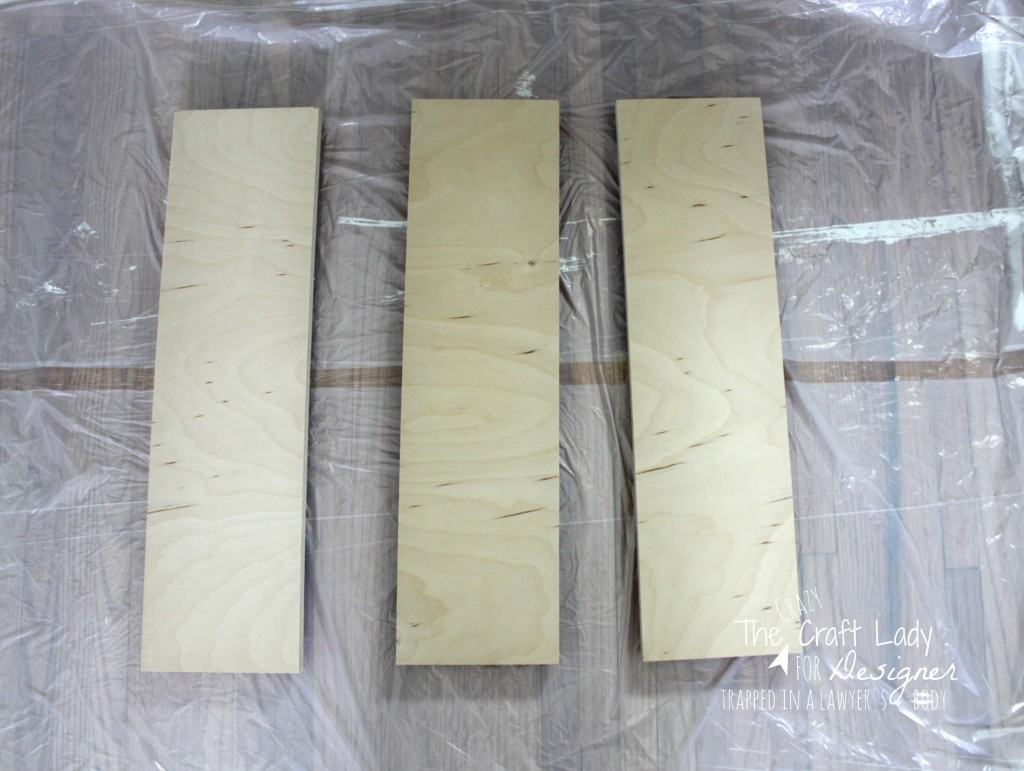 In a well-ventilated area, lay out your drop cloth and arrange your scrap wood. Then it's time to get staining. I used a designated staining brush, but you can use a rag or throw-away brush as well. Apply a thin layer to the wood and let sit for 5-10 minutes.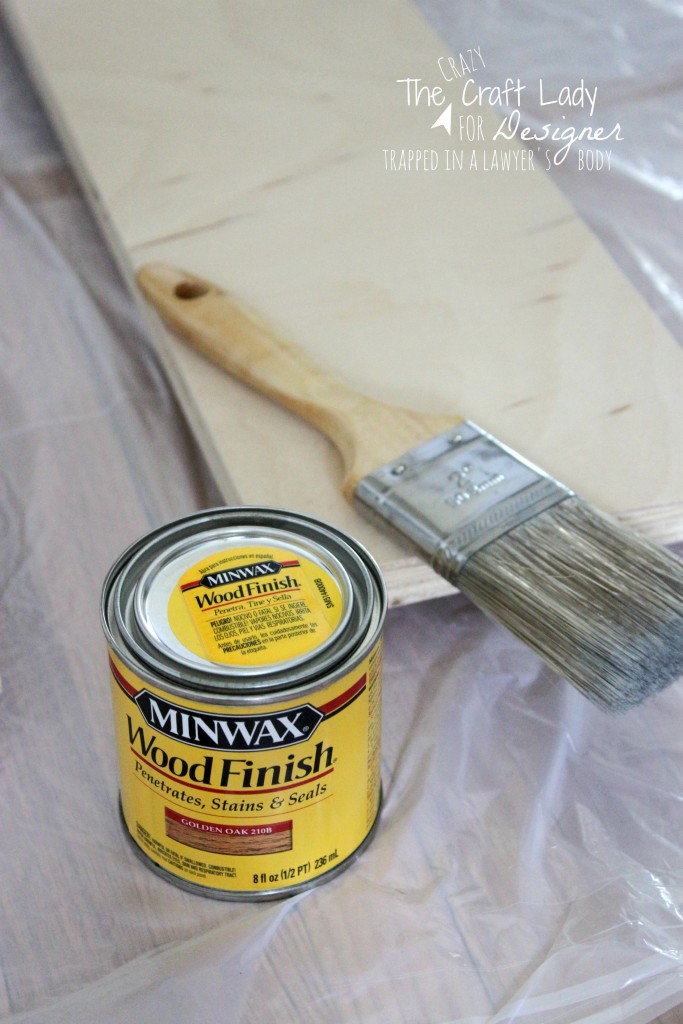 Tip: The amount of time that you leave stain on will depend entirely on how deep you want the color to be. If you are in doubt, less time is better. You can always go back and add another coat of stain. It's not so easy to remove it.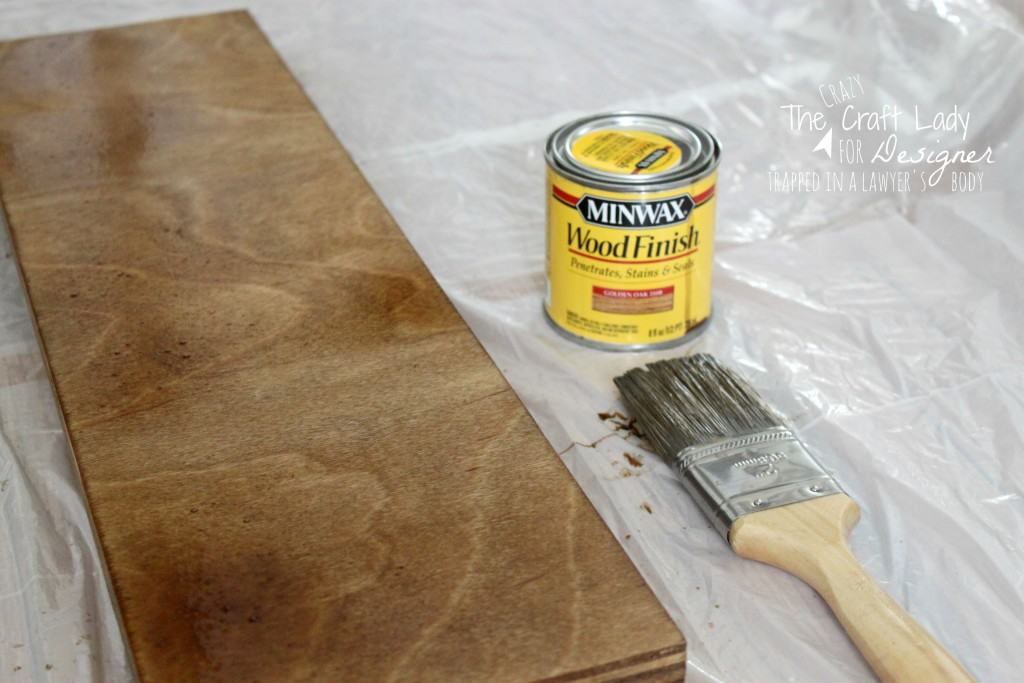 After your allotted time has passed, wipe away any excess stain. Then let everything dry for at least 24 hours.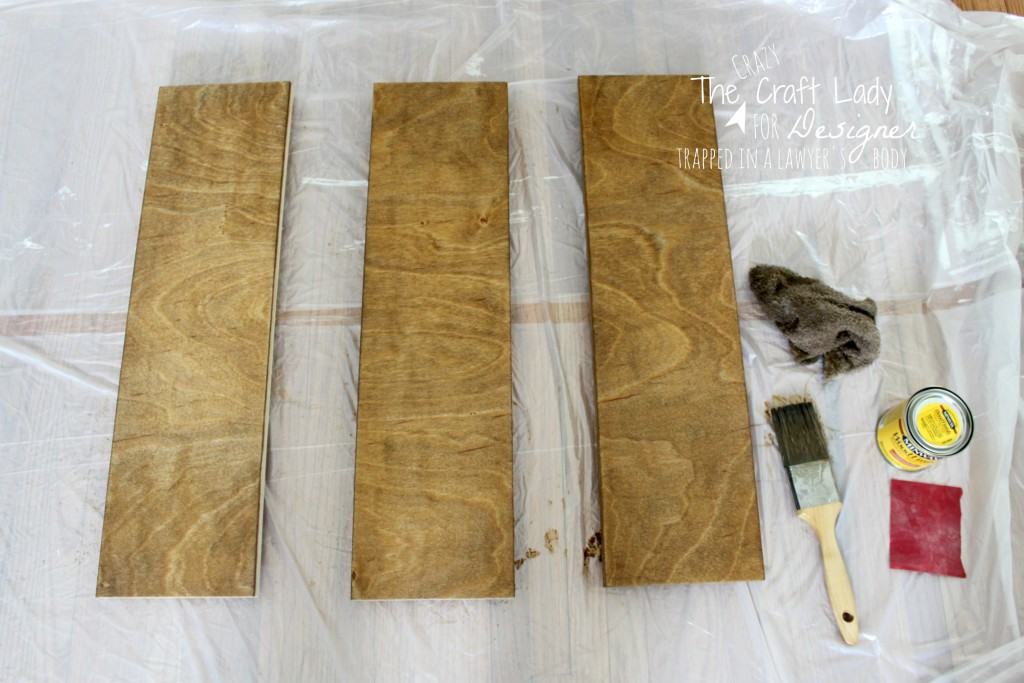 Step 3

24 hours are up? Ok, time to get stenciling.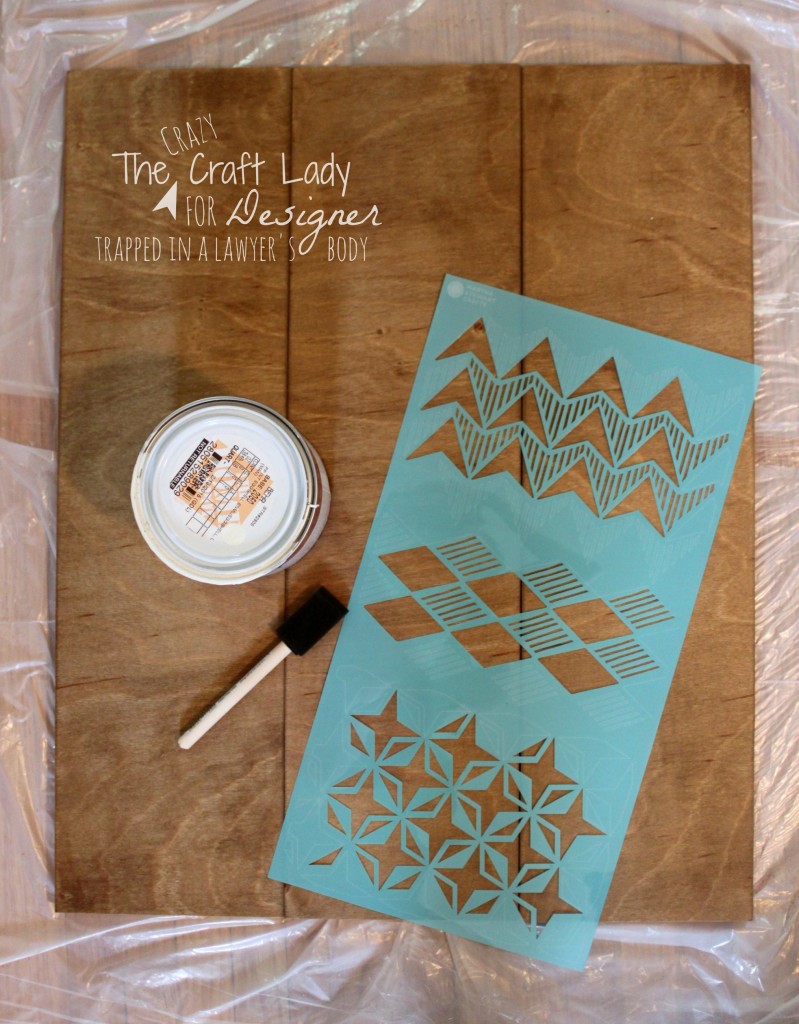 Using masking tape, tape together the boards. You don't want the boards slipping around while you are stenciling. This is a surefire way to ensure you end up with streaks and an uneven pattern.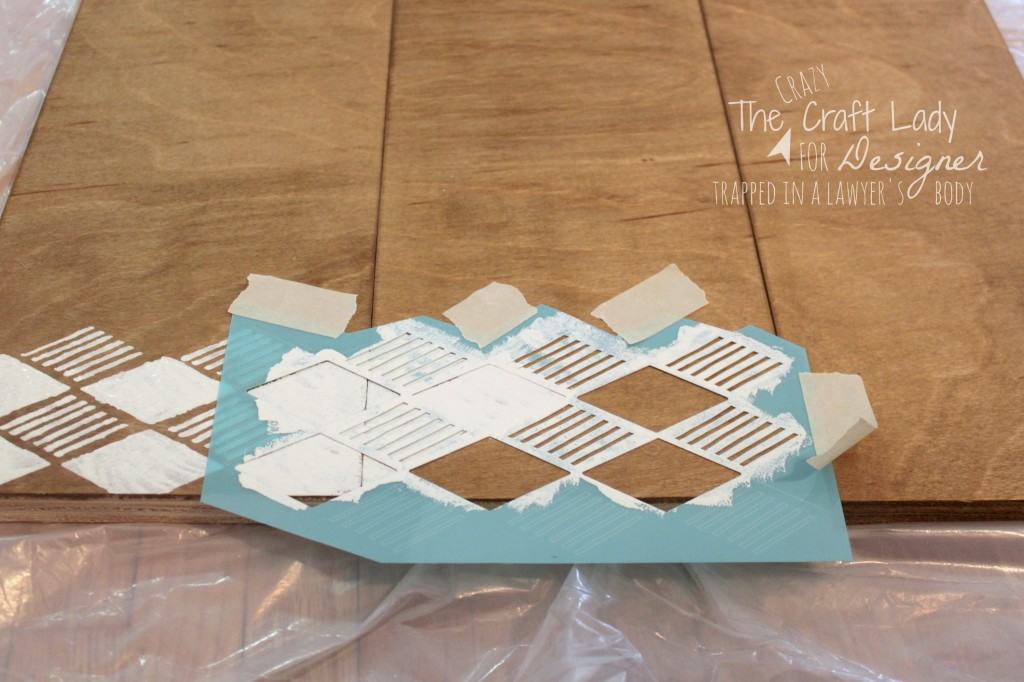 Place pieces of masking tape around the edges of the stencil you are using (I trimmed down my stencil to make it easier to work with). Start in a corner, and tape the stencil to your wood. Load paint onto your brush, and then "offload" some of the paint onto a paper towel. You don't want to have too much paint on your brush – this is a "dry-brush" approach. Take your brush and stencil over your design using light, circular motions.
Step 4

Repeat the stenciling process from step two. Then repeat it again. And again. And again. Are you getting the picture? There is quite a bit of repetition here. I was seeing diamonds for days! Not really. Once I got into a groove, I finished all of the stenciling in under 45 minutes.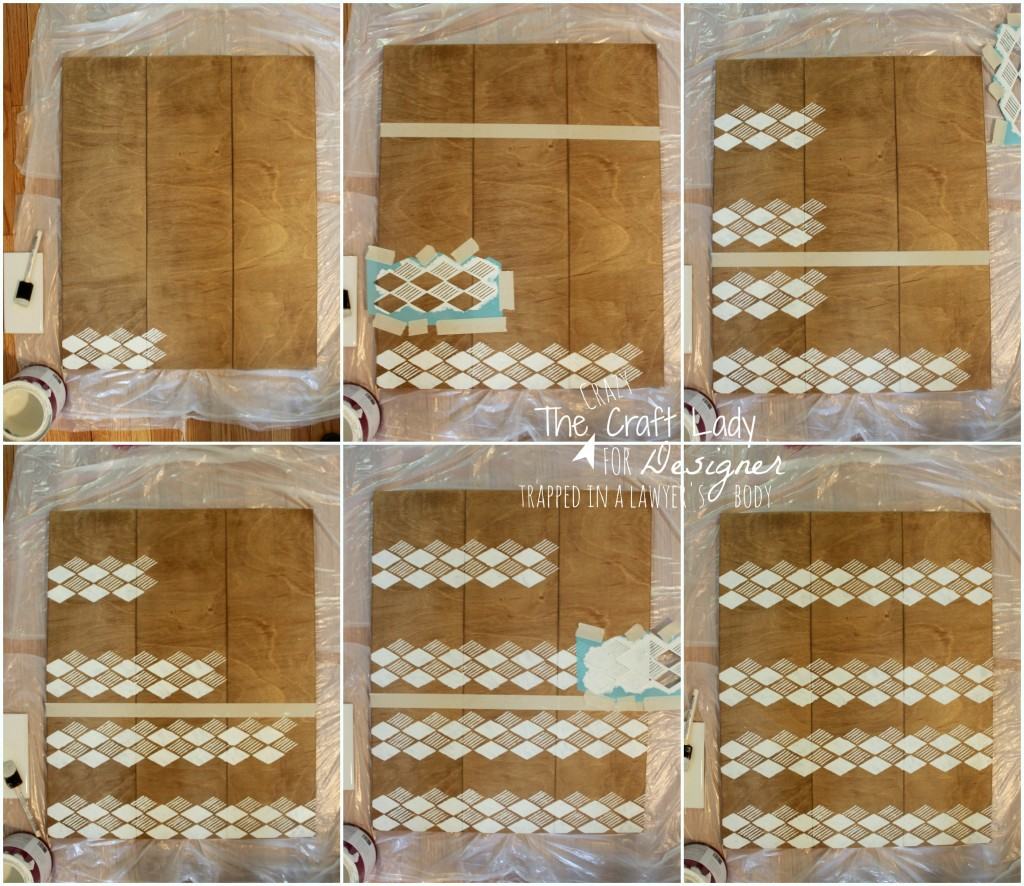 Tip: Remember to let the paint dry a bit between each stenciling. You don't want to have the edge of the stencil smear wet paint. Also, carefully line up your stencil before painting. You don't want to end up with crooked lines!
Let everything dry, and then you can separate the board to hang or display as you wish. I also painted the edges of my boards with white paint, but you can leave yours stained if you would like. That's it!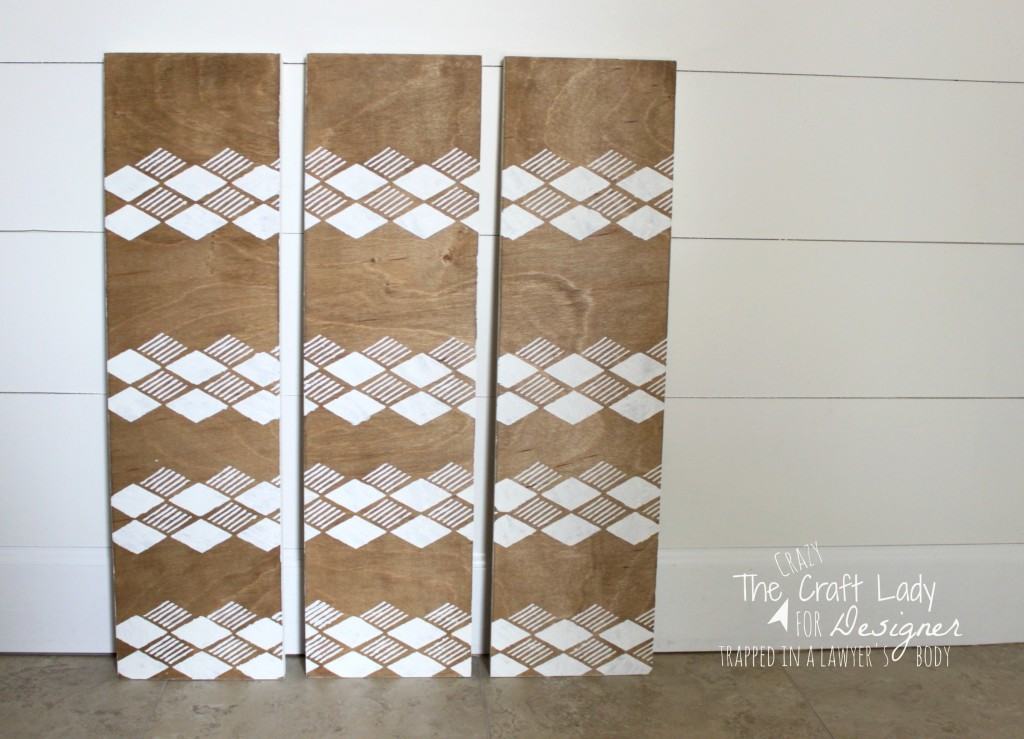 With a little stain and paint, you can transform just about any scrap wood into something worthy of display in your home.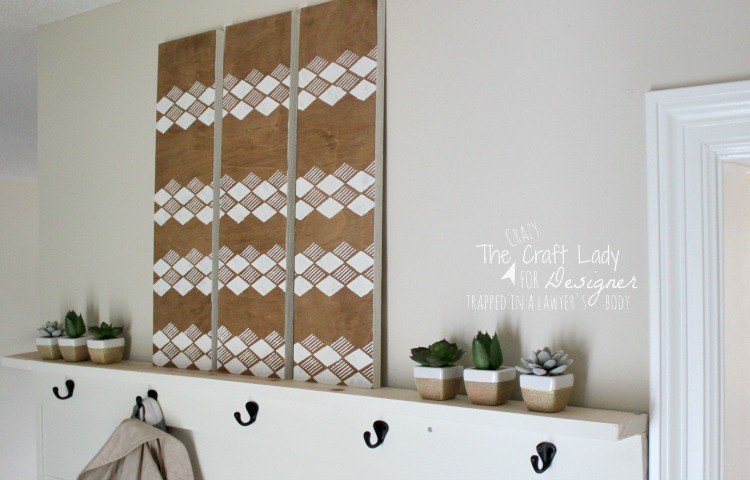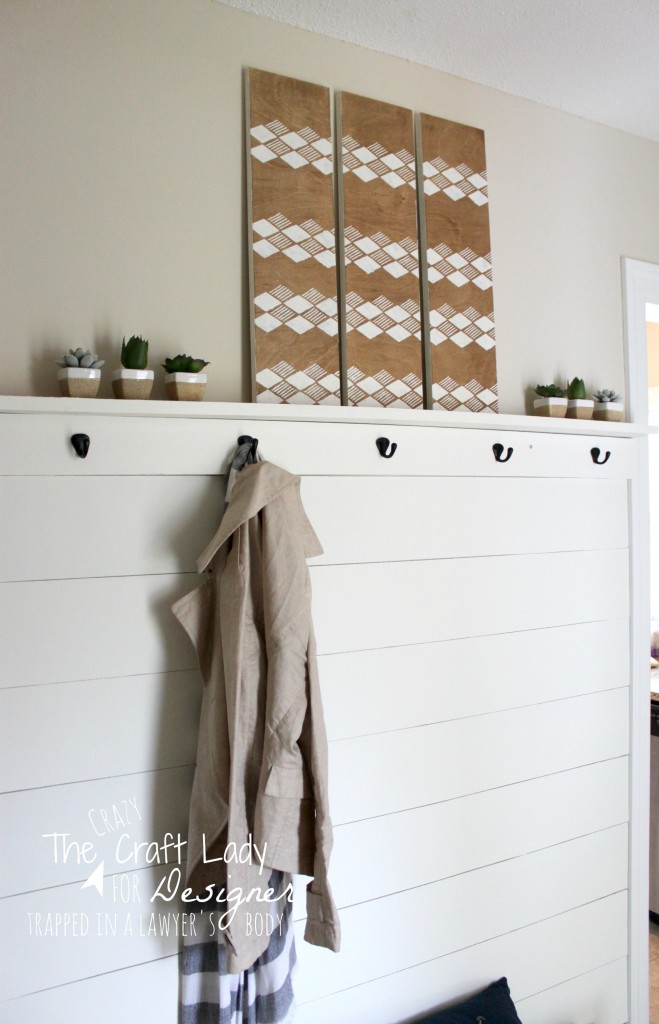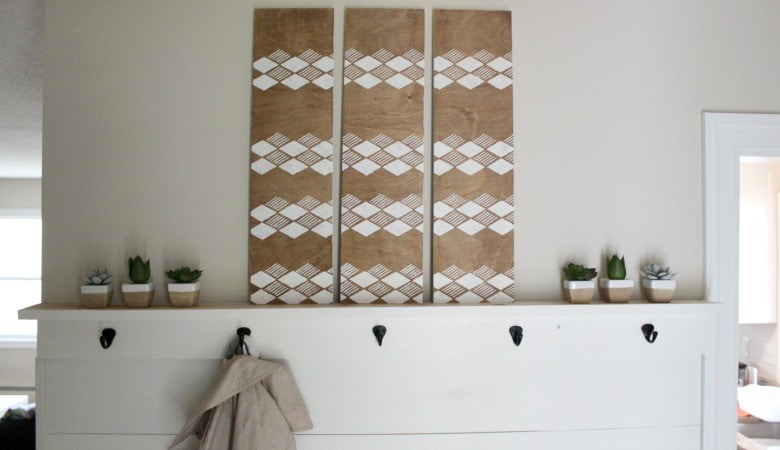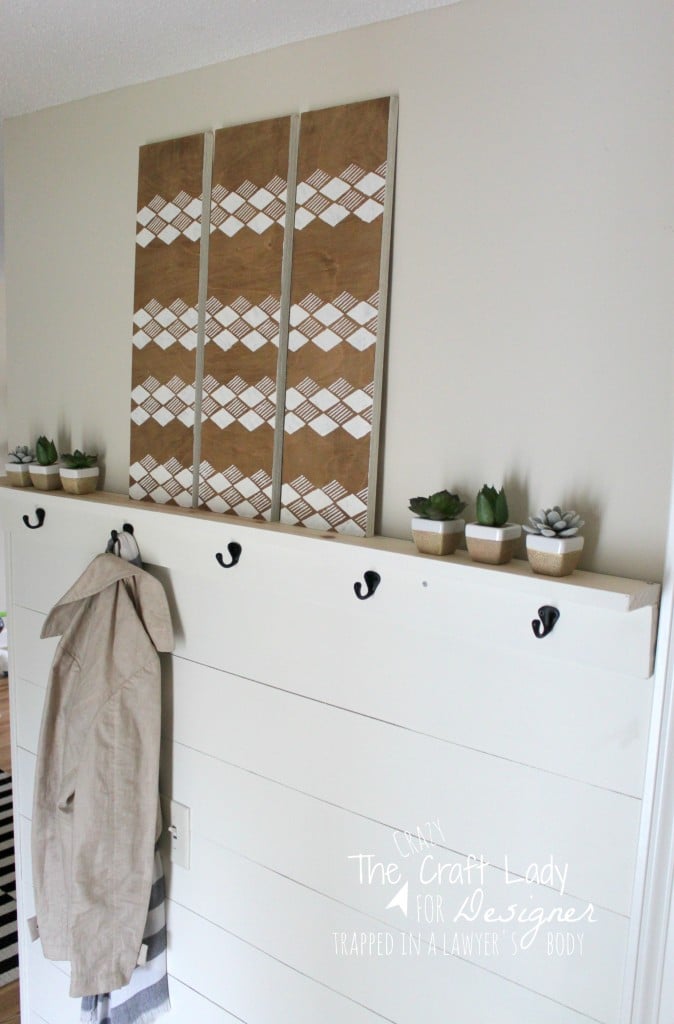 If you enjoyed this tutorial and are looking for more crazy craft and DIY inspiration, you may enjoy these projects:
With a little space, and a whole LOT of organization, a spare closet can be transformed into a functional home office.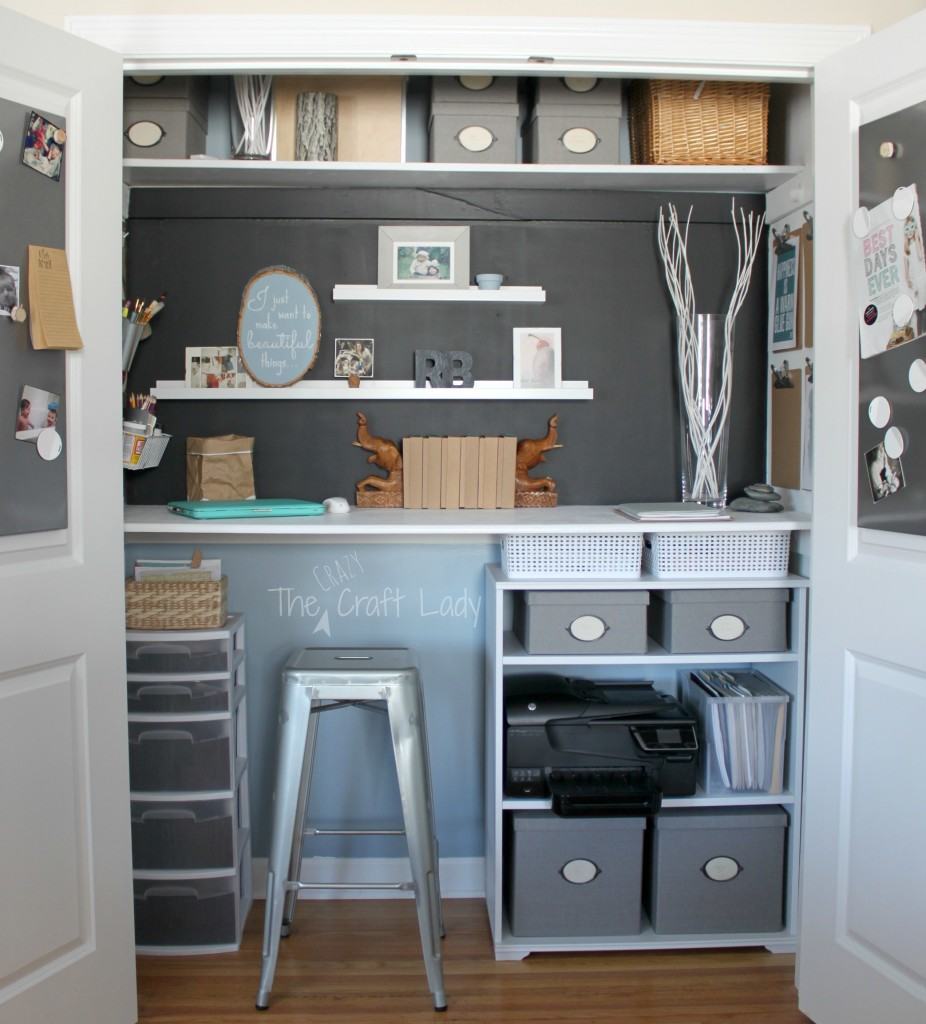 Bath time photos can be transformed into DIY canvas wall art for bathroom decor.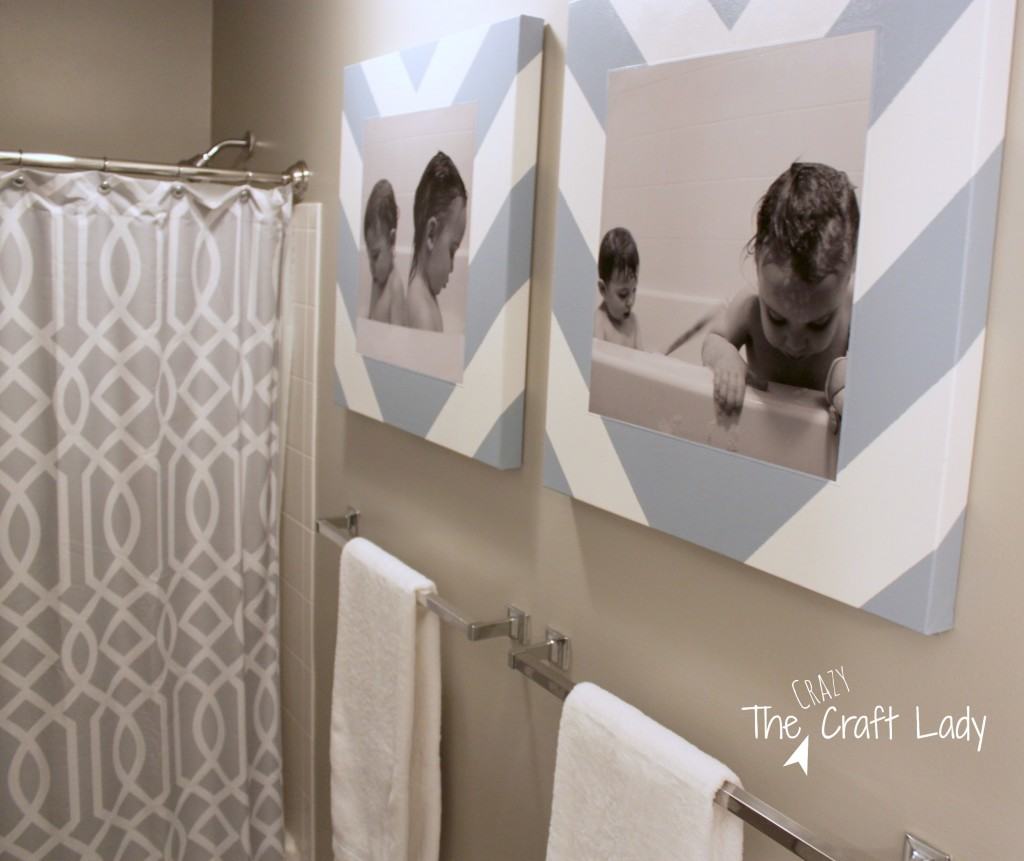 A big shout out and thanks to Tasha for letting me share my project and hang out with you all today. I will be back in a few months for another guest post. In the meantime, feel free to follow along with me on my blog at The Crazy Craft Lady.
​
​
[mv_create 1 11 200 2016 key="1″ type="list" title="Most Popular Projects" thumbnail="</span><a href=" https designertrapped com wp content uploads diy home decor projects blog jpg target="_blank" a span]​