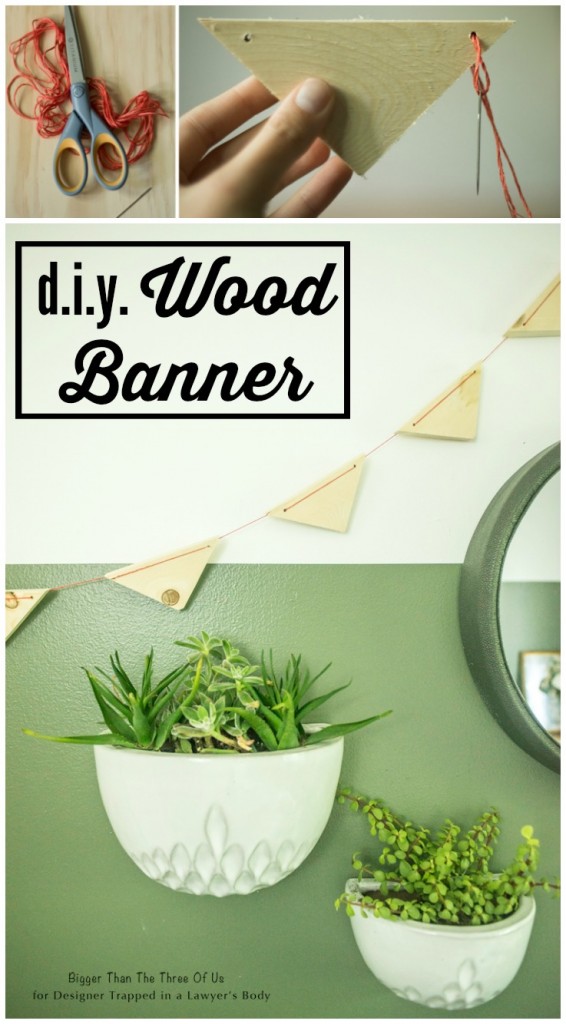 Hi Guys! If you don't remember me from my last contributor post, where I shared how to make a beautiful Spring wreath with moss. I'm Ashley from Bigger Than The Three Of Us. I'm so happy to be back with another contributor post for you today.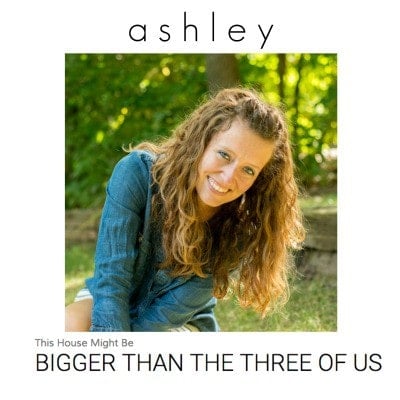 Today, I thought I would share a project that most could do for FREE. Who doesn't like decorating their house or changing decor for FREE? I know I LOVE being able to switch things up at home or add to wall galleries without spending a fortune. So, what is the project you ask… It's a Scrap Wood DIY Banner that would be a perfect addition to a gallery wall or mantle.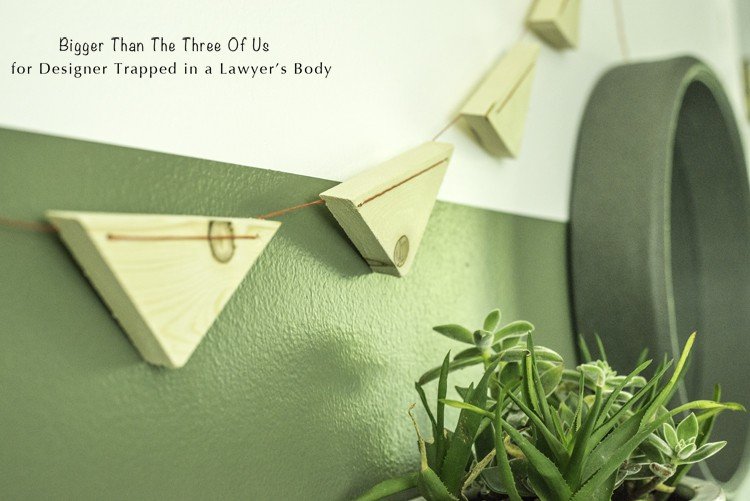 Cute, right?! So, are you ready for this tutorial?
First off, grab some scrap wood. I had a few 1″x3″x6′ boards laying around. Set your miter saw to a 45 degree angle.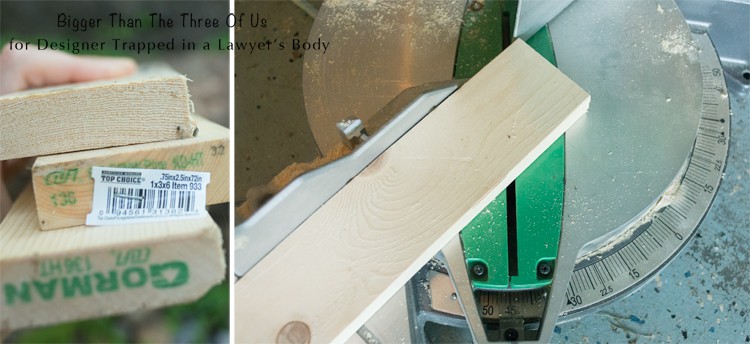 Place the end of the piece of wood where the blade comes through and saw it off.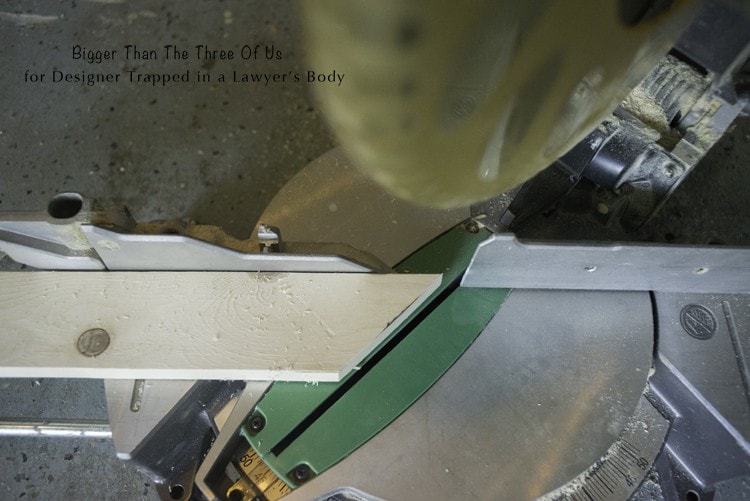 Once you have cut the first end, flip the board so that your angle points down and to the right (see below).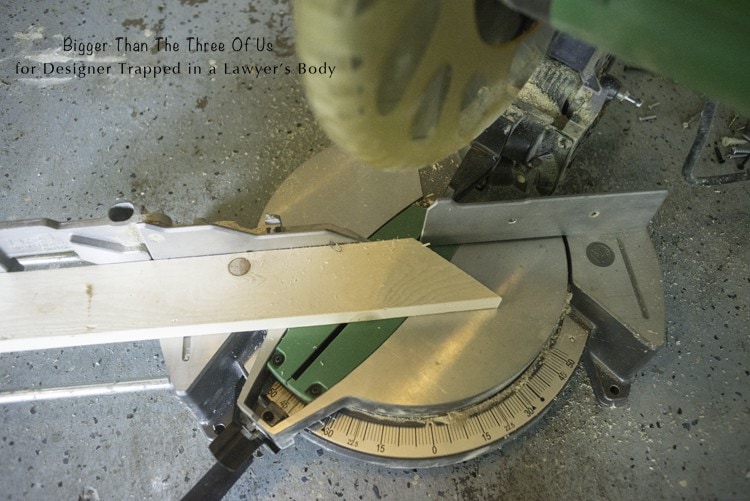 Line up the top of the triangle with where the blade is going to come down and cut.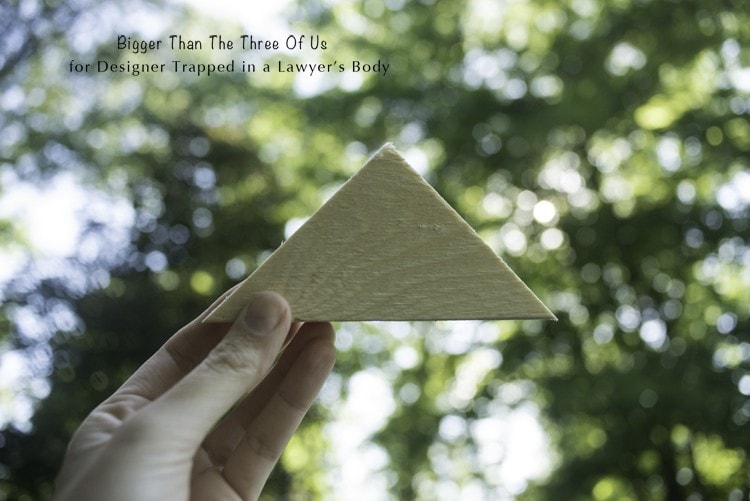 You now have one triangle finished. You need to repeat the same process 4-10x (or more depending on how long you want your wall hanging to be).
You can check your cuts by using one of your triangles as a template.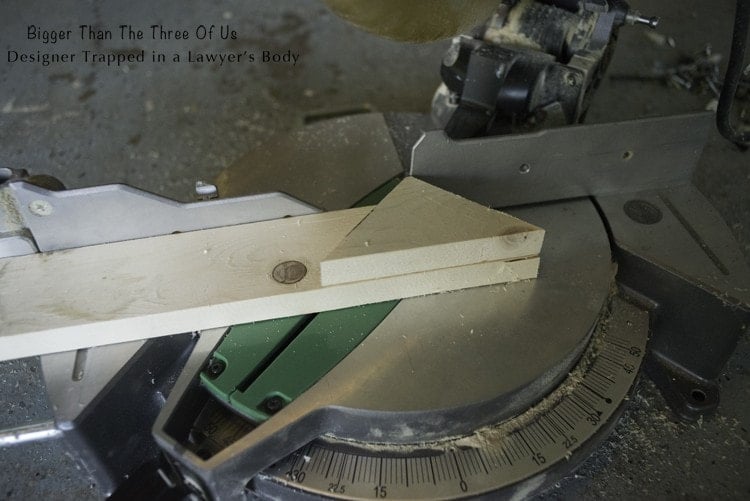 Once you've made all your triangles, clamp the top of one down to a workbench.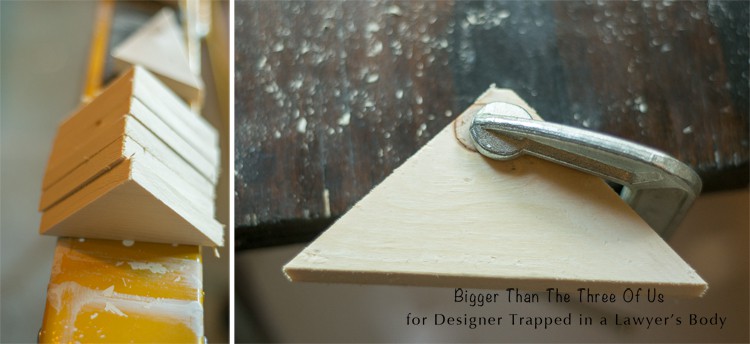 Using a small drill bit, drill holes in each side. Repeat for all triangles.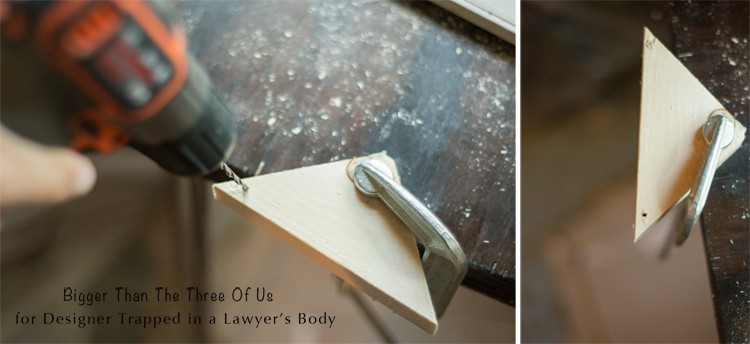 Lightly sand all your pieces. At this point, you need to decide how you want to decorate your banner. Do you want yours plain, do you want to paint stripes, dots, put words on it? I knew I wanted mine plain because it was going on a half-painted wall, but I wanted to show you other options.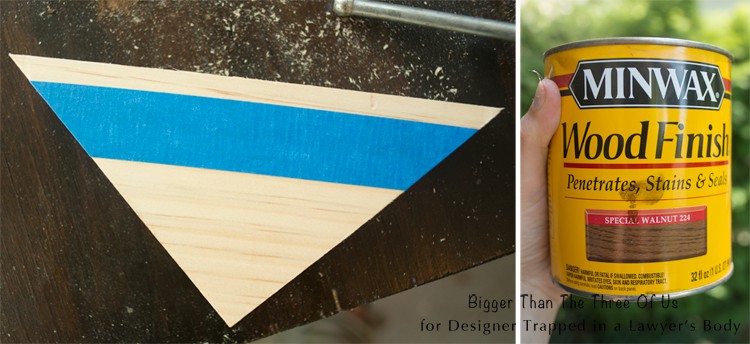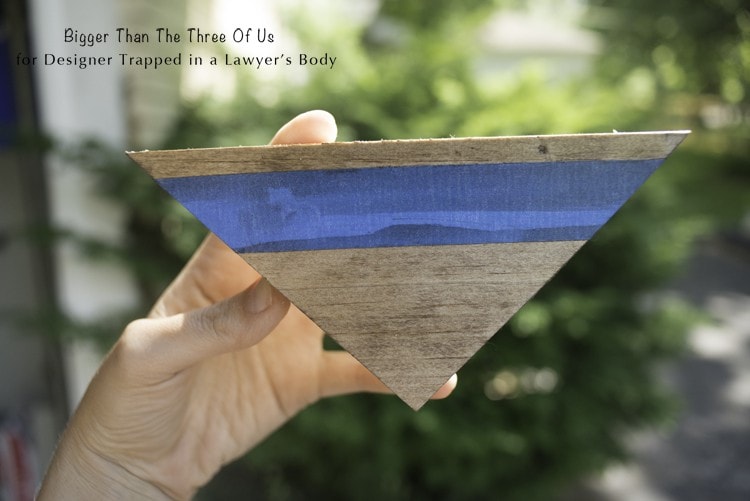 The stain bled through the painters tape just a bit, but I think it adds to the character of the triangle. You could do the same method with paint and it wouldn't bleed through.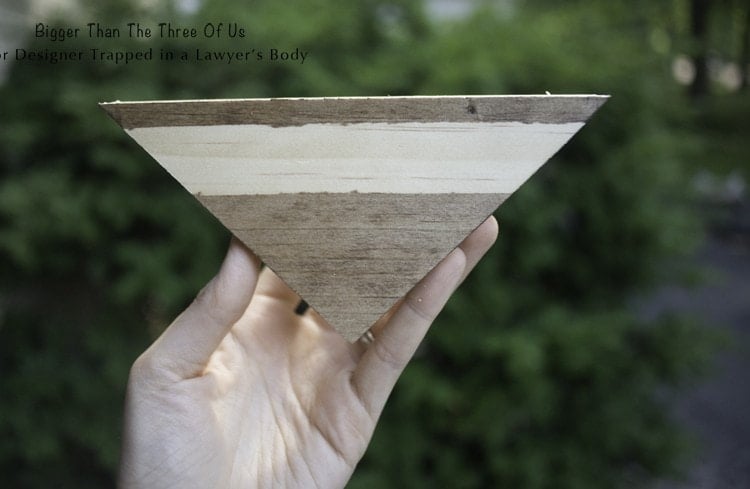 At this point, you need to grab some string, thread or wire and a pair of scissors. Thread each of the triangles and you are done!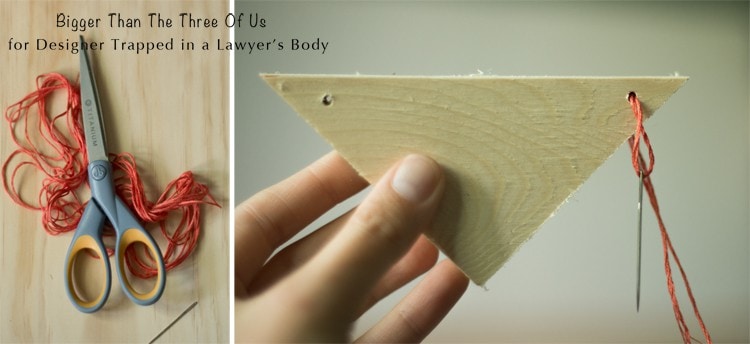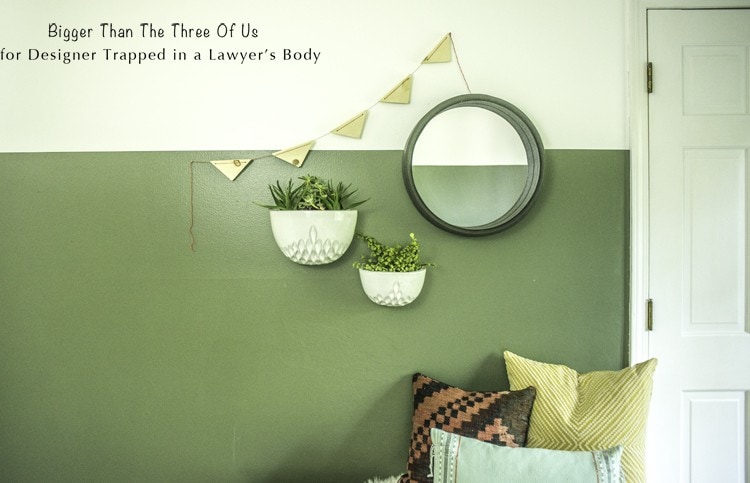 This project is so simple (under 45 min!), but I really like it. You could customize it however you wanted and get different looks by using different size scrap wood pieces. For example, I have some thin plywood that I could have used, and if I would have used that, it would have sat closer to the wall.
Another way to customize it would be to make your angle on the miter saw different. Changing the angle would change the look of the triangle.
Don't have a miter saw? Don't worry! You could do this project with my tool of choice… the jigsaw. If you were going to use the jigsaw, you would need to make a template and trace it on the wood. It would be more time consuming, but totally doable!
I hope you loved this project and if you end up trying it… let me know!
Want to take a peek at the rest of this guest bedroom? I have lots of other DIY tutorials sprinkled along with the guest bedroom reveal!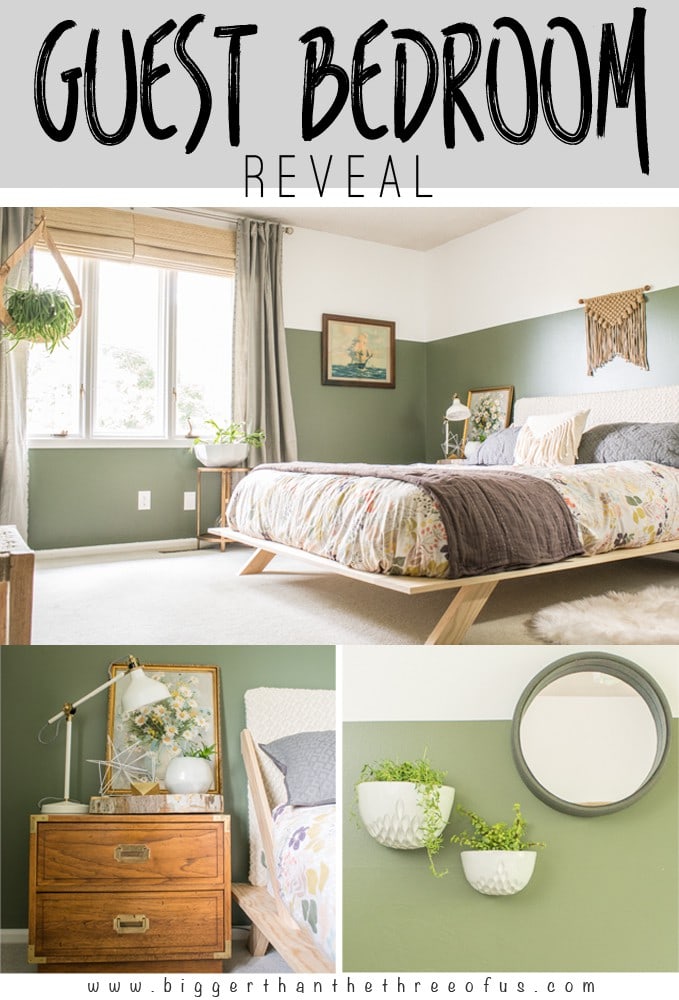 I hope to see you over over at my blog and would love to connect with you on social media. You can find me pretty much everywhere!
Blog – Facebook – Instagram – Pinterest – HomeTalk – Twitter
​
​