Living Room Organization Tips + Stylish Storage Options
Last Updated on August 10, 2021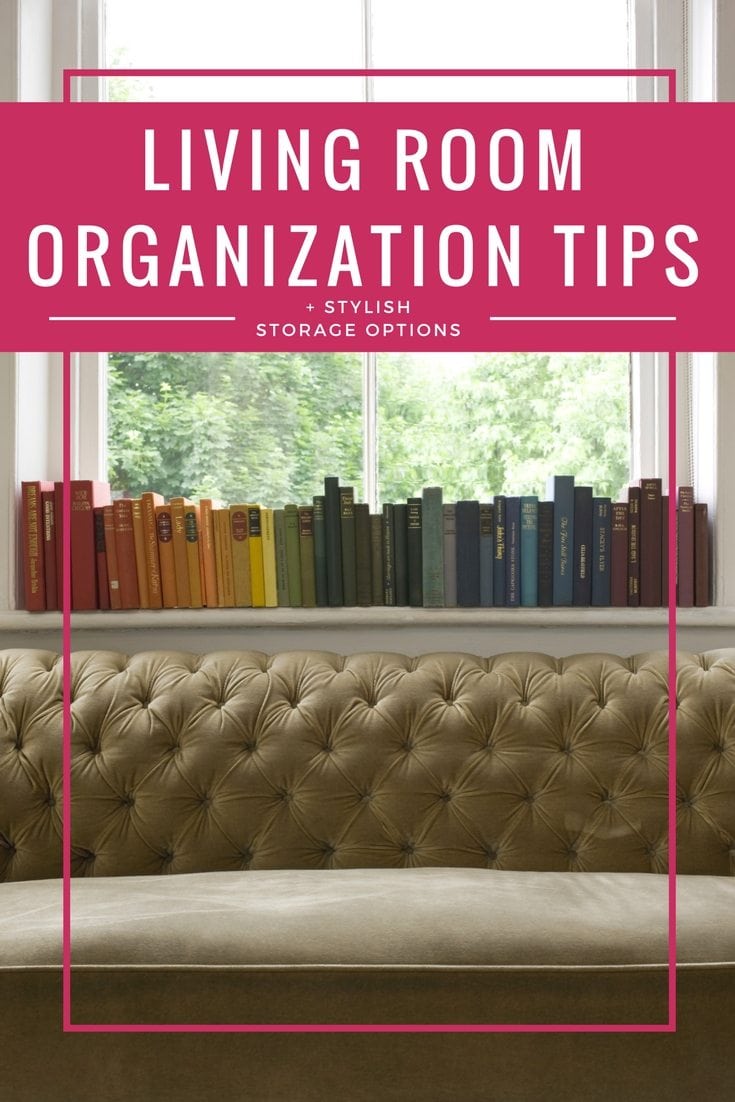 If the kitchen is the heart of the house, then the living room is the soul. It is where families gather to do all the things–watch TV, kids play and parents work, and even eat (don't tell my kids, LOL). But do you find it difficult to relax in your living room because there are constantly items out of place or it's full of toys and other clutter? It is SO easy for this room to get become a hod podge because it has so many uses. Keep reading and discover the easiest way to tackle living room organization so that you can truly love your space! These tips will help you create an organized living room that will allow you to relax and enjoy the space. This post may contain some affiliate links for your shopping convenience.  Click here to read my full disclosure policy.
Living Room Organization To Do List:
Clear all paper from your living room: Quickly clear all surfaces of any paper, including magazines, kids' art and school work, bills and any other paper that has found its way into your living room. Take a family vow to keep paper out of the living room going forward. I can't imagine any paperwork that should live in your living room. Wondering what to do with that stack of paper you collected? Check out this post for the best way to tackle paper clutter.
Remove and put away any items that belong in other rooms: Use a basket to collect items that belong in other rooms and return them to their proper homes.
Get rid of unwanted, broken or useless items: Keep only items that are currently useful, are in proper working order and that you absolutely love. Get rid of things that you are keeping solely out of obligation or guilt. It won't be easy, but it is necessary to let go of those things that were gifted to you that you just don't love or don't use. Be sure to also get rid of anything that is simply too big for the room and is constantly in your way. Decide what to keep, sell or donate and follow through with it ASAP.
Tame your cords and cables: If you have a TV, DVD player and/or cable box in your living room, chances are you have a tangled mess of cords and cables. Tame those cords now! In my opinion, even the most beautiful and organized rooms can be visually ruined by untamed cords. Taming your cord problem is a vital step in the living room organization process and will go a long way in making your living room feel more finished. Below are some great options for cord management. Just click on any of the images for more information about the product.

If you have kids, create a dedicated toy zone: For the past few years we have had a dedicated playroom for our twin girls, but that will soon be turning into my home office (yay!). So, all of their toys will be moved into our living room, which is going to require some creative storage solutions that look great, too. If your living room has to serve double-duty like ours, practical and pretty room organization solutions will be super important to you.
Fortunately, I have noticed that unused corners of a family room can be transformed into great play areas–they can be perfect to fit a small bookcase or kid's table without taking over the whole room. And adding pretty baskets and bins for additional room organization will go a long way in storing your kid's toys without ruining your design aesthetic. Adding pretty rolling bins for toy storage is a great option because your kids can roll their toys into the center of the room to play and roll them back to the corner when they are done and it's time to clean up. I love these rolling baskets from Pottery Barn–they are pretty enough to be in the living room and functional enough to hold lots of toys. They are even divided into sections!
You can check out more stylish and functional living room organization options below. Just click on any of the images for more information about the product

Buy furniture that has hidden storage: One of the best options for awesome living room organization is furniture that has hidden storage! Several months ago we finally got rid of our ottoman and invested in an amazing unique coffee table. I searched for awhile and found this perfect one at West Elm.  I highly recommend doing your research and investing in a coffee table that has some storage capacity. If you don't have the budget for a new coffee table right now, consider adding low storage cubes, rolling baskets or bins to stick under your current table. You can see our coffee table in our family room below.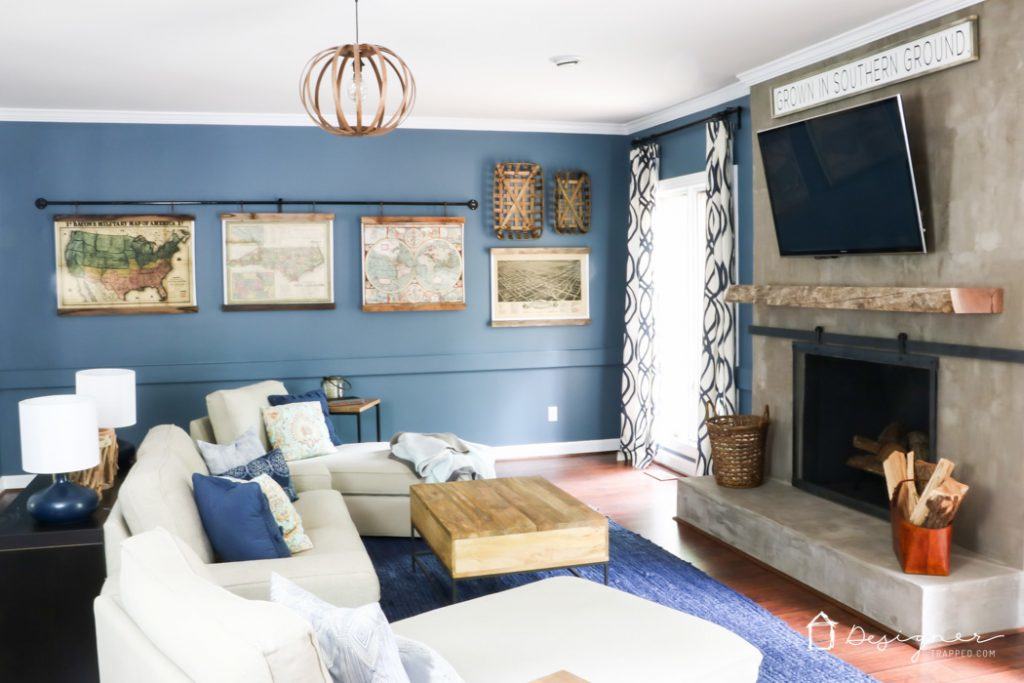 Also, don't underestimate the power of ottomans with storage! Many are incredibly affordable and can double as extra seating, so they are a great option for living room organization. You can check out some of my favorite options below. Just click on any of the images for more information about the product

Stylish and Family Friendly Living Room Organization Products


[go_portfolio id="cleaning_and_organization"]