The Best Options to Order Paint Online
Last Updated on March 3, 2022
Don't let COVID-19 keep you from tackling all those painting projects on your list. There are ways to order the paint and supplies you need online and have them safely delivered to your doorstep.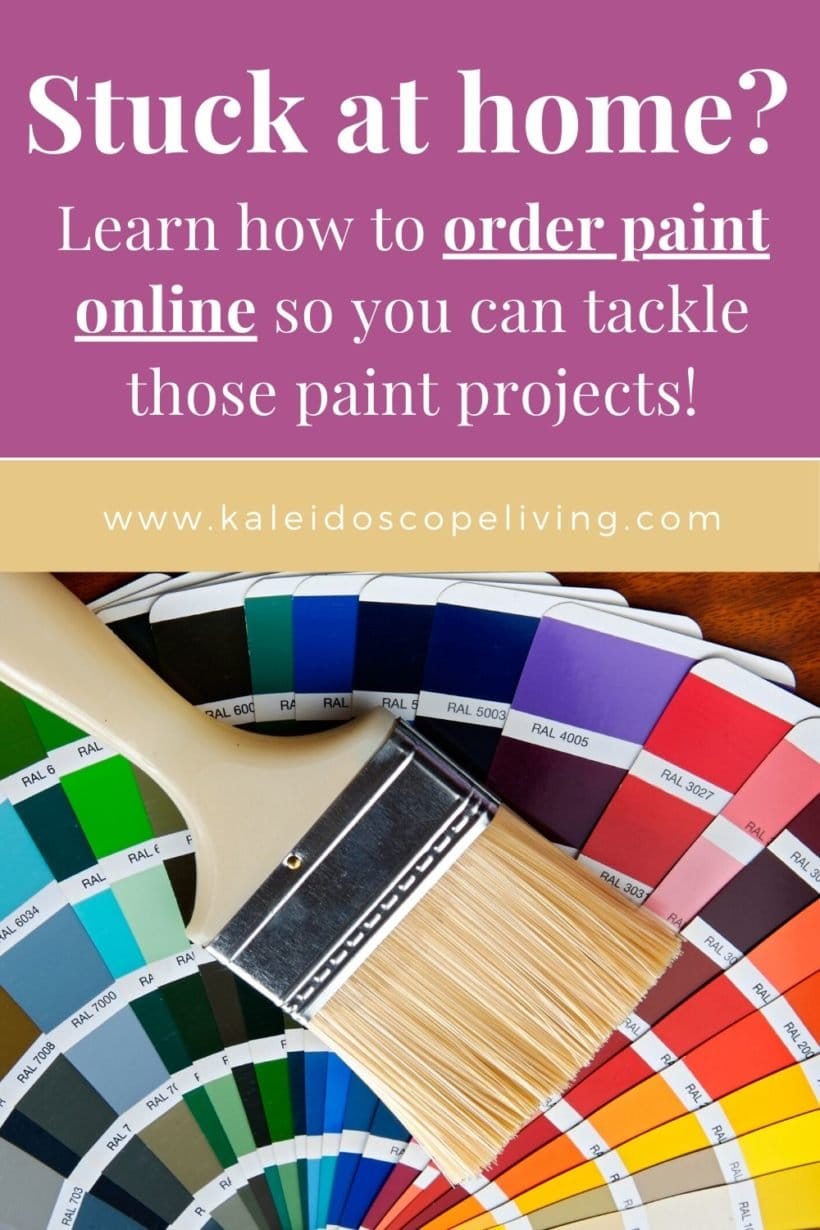 Here's the thing y'all. Doing DIY projects legitimately helps me control my anxiety. So yes, completing DIY projects is part of my job so that I have content for this site, but it also helps me immensely with my mental health. Not being able to run to Home Depot or Lowe's is a challenge.
I pretty quickly figured out what I could do to order paint online while we are sheltering at home. And I was pleasantly surprised!!!! I'm sharing what I've learned with y'all in the hopes it might help some of you tackle your projects during this crazy time.
This post contains affiliate links for your convenience. Click here for my full disclosure policy.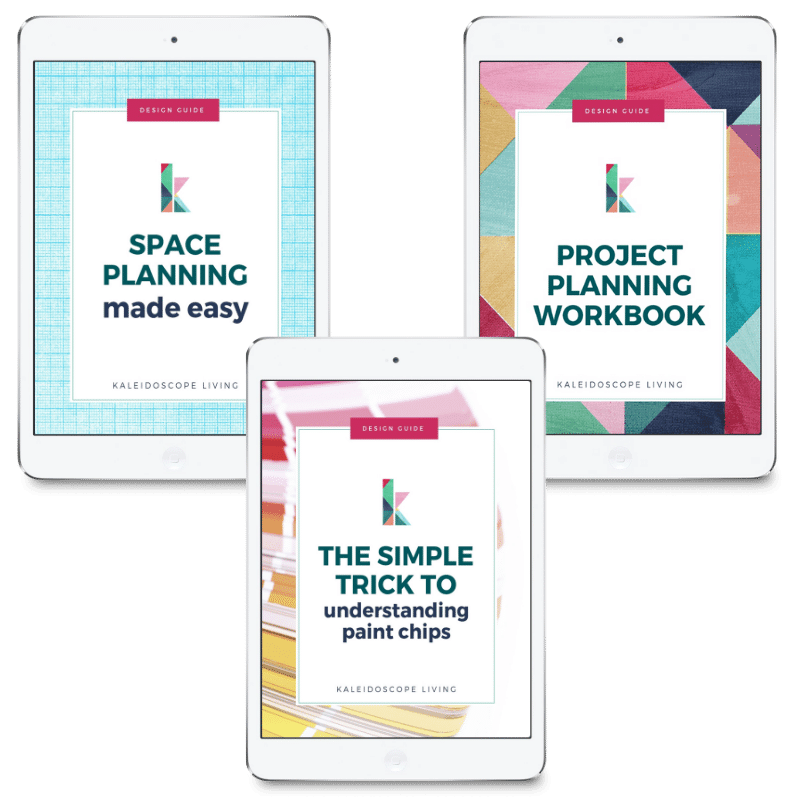 Get my FREE design guides when you subscribe!
This is a long post, so feel free to use the table of contents below to find your way around :)
Yes, you can order paint online!!!!
First up, let's talk about paint. If you follow my Instagram stories, you know that we've been needing to finish painting out interior doors upstairs navy blue for a long time. I decided it was the perfect project to do since we started voluntarily self-isolating almost 2 weeks ago. I had 7 doors to paint, front and back. I completed 5 of them and then ran out of paint. AHHHHHH!
At first I thought I would be stuck with unfinished doors until life returns to normal. I knew we could order certain pre-mixed paints online from Clare or even Behr, but the color we used for our doors wasn't one of those colors.
Out of curiosity, I went to Home Depot's site and searched for "Midnight in the Tropics" by Behr. I was surprised when a bunch of options popped up.
Then when I clicked it, I realized I could order EXACTLY what I needed. The size, finish and even the paint line I prefer (Behr Marquee). Best of all, it's the same price it would be in the store and it comes with FREE SHIPPING! SOLD.
It arrived yesterday and now I can finish painting my doors!!!!
So if you have found yourself wondering, "can I order paint online?" the answer is YES! This is what I have learned about ordering paint online.
Options to Order Wall Paint Online
Option 1: Order ANY Color From Home Depot
* It looks like Lowe's offers this option as well. I just strongly prefer BEHR paint, so I'm walking you through how I ordered via Home Depot's site. *
To order any color from Home Depot, you just need to know the name of the color you want to order. You can even order SAMPLES!!!!
Just click HERE. Then type the name of the color into the search bar and take a look at your search results.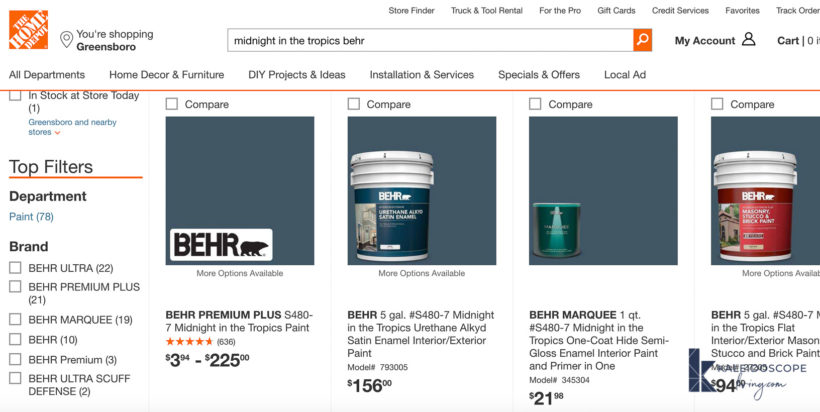 Then click on the option that looks like this and says, "more options" below it.
Then select your options for the paint line, size and finish of your paint and have it shipped straight to your door!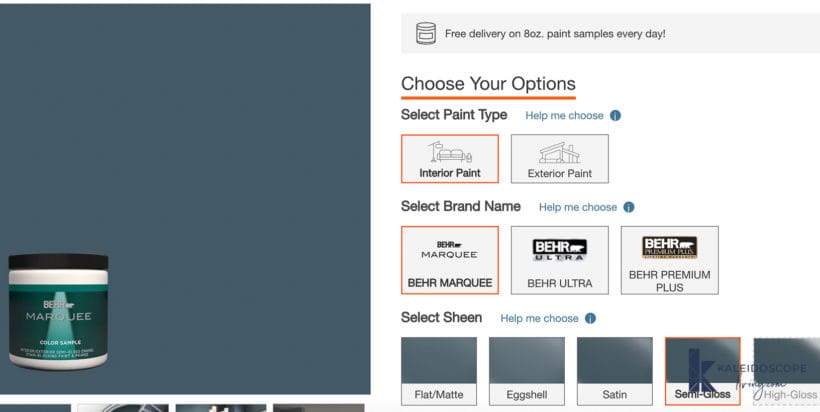 Of course, you can also add the necessary painting supplies to your cart before you check out so you can enjoy free shipping on those, too! These are the supplies I use and recommend any time I am painting a room:
If you want everything in one handy kit and aren't picky about your paintbrushes (I'm really not), you can just grab a kit like this one.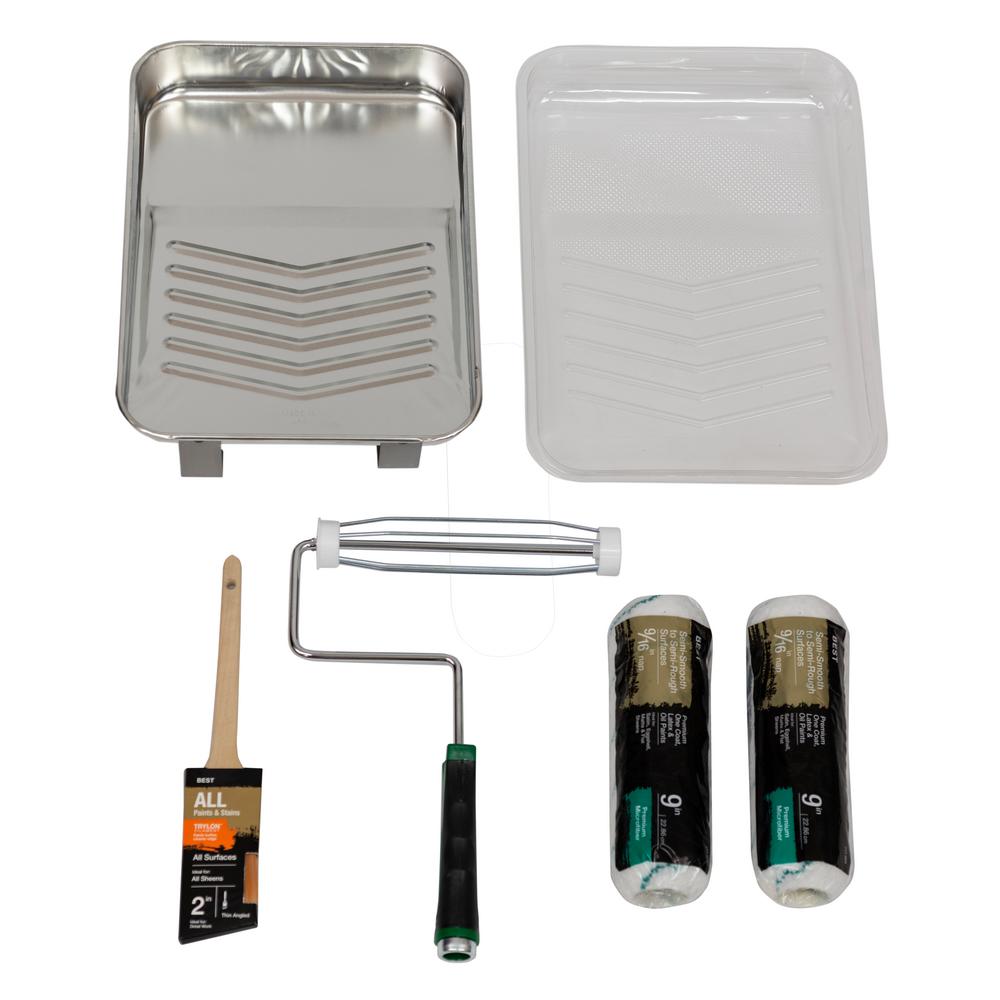 Option 2: Order from a Limited Selection of Pre-Mixed Colors
If you find yourself overwhelmed by choosing from zillions of paint chips (especially when you can only see the colors online, which is VERY different from seeing them in person), you may prefer to order from a paint company like Clare or Behr Express. They each offer a small, curated collection of popular colors. AND they both offer peel and stick paint samples so you can easily sample the colors on your wall before you order!
We used Clare paint for Thea's $997 kitchen makeover, and we were really happy with it! I haven't personally tried the Behr Express service, but given how much I love Behr paint, I feel confident recommending it.
Both companies also offer all-in-one paint supply kits so that you have everything you need to paint your room shipped to you at the same time.
Options for Ordering Cabinet/Furniture Paint Online
Want to know a GREAT project to tackle while you are stuck at home? Painting outdated kitchen cabinets and/or furniture (I have a whole post about the best paint for every kind of furniture)!! The best news is that the ONLY PAINTS I recommend for either of these jobs are really only available online anyway (unless you have a specialty store in your area that happens to be a retailer for them, but it's pretty rare). So getting your hands on these paints hasn't really be affected by COVID-19!
Option 1: High-quality acrylic paint
The first paint I highly recommend for both kitchen cabinet painting AND furniture painting is General Finishes Milk Paint. It is a very high-quality acrylic paint that I absolutely love because it gives you beautiful coverage and incredible durability. We used it to paint our kitchen cabinets without priming or sanding and they held up beautifully for over 6 years. It's also the only paint I recommend for painting a tile backsplash.
Option 2: Mineral Paint
This is a new favorite of mine. It is called Fusion Mineral Paint and it is pretty magical! We used it to paint all of the kitchen cabinets in Thea's kitchen (tutorial coming very soon) and I think it moved even faster than using General Finishes Milk Paint. The only difference is that we did do a very light sanding before painting. But the topcoat process with Fusion Mineral Paint is definitely quicker and easier. So far, this paint is just as durable (it's been about 6 months since we painted her cabinets).
I've also used it to paint Avery's closet door as well as the vintage desk and chair in Thea's office area. It goes on like a DREAM, and the coverage is pretty mind-blowing. Now that I am familiar with Fusion Mineral Paint, I'll definitely be using it frequently. I'm a big fan.
Option 3: Chalk-based Paint
I've also used my fair share of chalk-based paint over the years and have always favored Amy Howard At Home One-Step Paint. You can read the detailed review I gave up this paint years ago in this post. I have used it to paint tons of furniture in our house, like this dresser in our daughter's room, all of these IKEA pieces in our other daughter's room and several pieces in our master bedroom.
Amy Howard At Home One-Step Paint is easy to work with. No top-coat is required, but I do recommend using one of her waxes to protect the surface. The waxes are VERY easy to use–you can learn more about how to use them in this post.
I know you someone is going to ask, so I'll try to answer the questions I anticipate. I would not recommend Amy Howard At Home One-Step Paint for painting cabinets, but I have never tried it, so you can take that with a grain of salt. And now that I have discovered Fusion Mineral Paint, I do prefer the mineral paint for painting furniture. But, I still have lots of Amy Howard At Home One-Step Paint to use up and I am more than happy to do so. It's great paint. I just personally prefer Fusion Mineral Paint since I recently discovered it.
I'm sure there are plenty of other paints that you can order online right now, but the paints above are the ones that I have personally used and recommend. I hope this was helpful for you!!!
Before you head out, check out our amazing subscriber hub that is full of FREE stuff (including a guide all about how to pick paint colors) for all of our subscribers.
Wondering how I approach transforming rooms and spaces in our home? Check out Designer in a Binder®.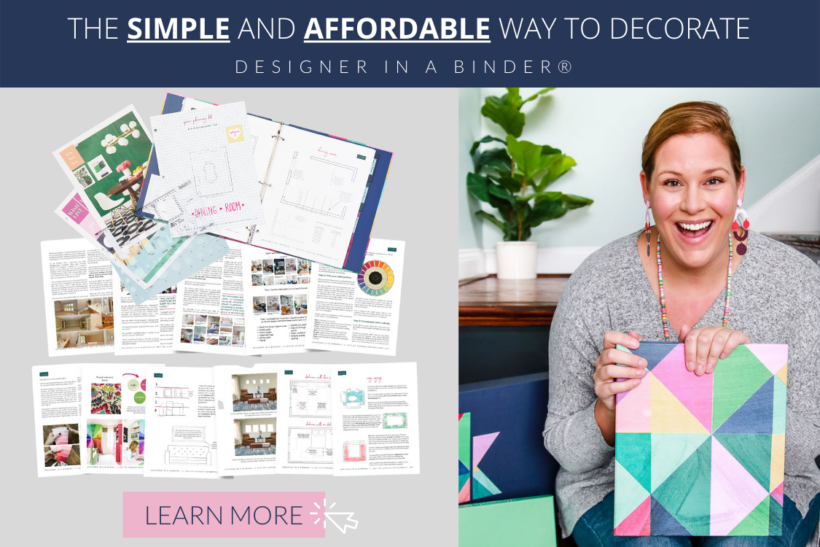 And if you want exclusive content and behind-the-scenes sneak peeks, be sure to subscribe before you head out!


[mv_create key="1″ type="list" title="Most Popular Projects" thumbnail="https://designertrapped.com/wp-content/uploads/2016/11/diy-home-decor-projects-diy-blog-200-1.jpg" layout="circles"]