Dining Room Storage and Organization
Last Updated on August 10, 2021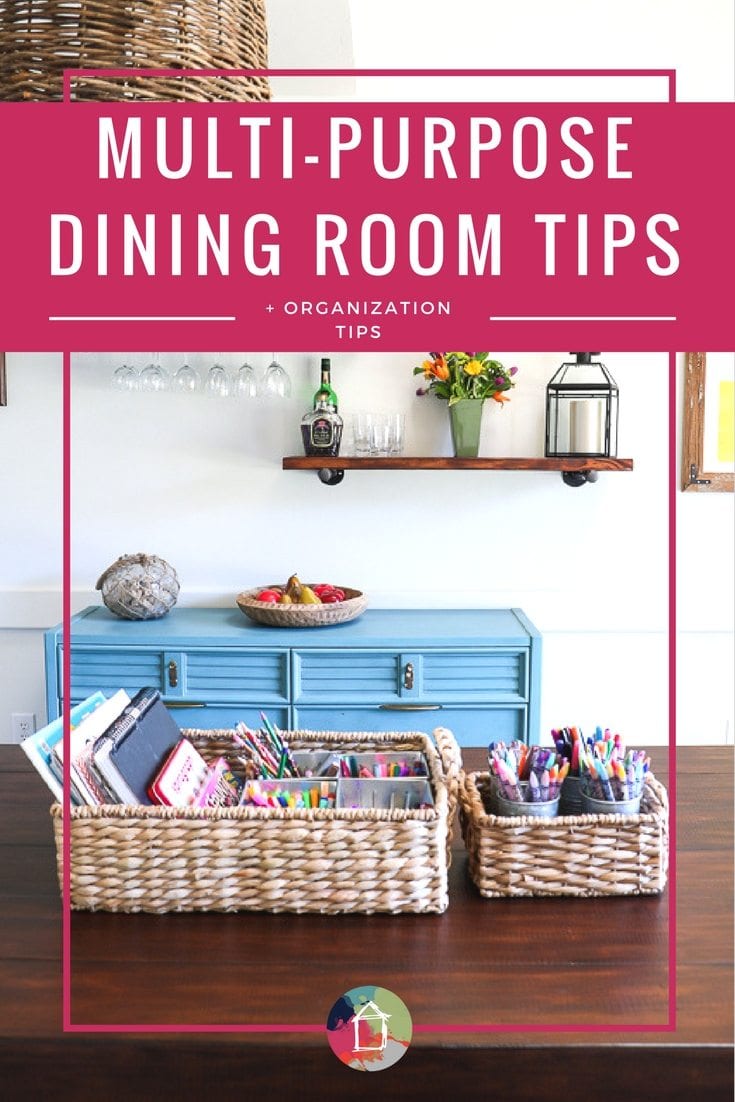 Dining rooms are one of the most multifunctional rooms in many modern homes. Gone are the days of every house having a formal fancy room off by itself filled with antiques and bone china! I know in our home our girls LOVE using our big long table for various art projects and homework. But when art time is over, all of their art stuff goes into it's designated spot in our dining room storage so it goes back to being nice and neat and organized. I have to admit that I often use it for DIY projects that just require a lot of room to spread out, but again, I always tidy it up when I'm done! No matter what extras you do in your dining room, there are some dining room storage tips and tricks that will help you keep tidy so that it's a place where you will want to gather as a family.
Dining Room Storage and Organization
Organization in the dining room is easier than you think. Of course, if your dining room doubles as an office or dumping ground for mail or really anything else, you may have some extra work to do, but don't worry, you've got this! Just bear in mind that functional dining room storage is a key to your success!
Before you get started, let me motivate you a bit by reminding you how important it is to share meals together as a family. I've read that family meals are more important that reading, playing or anything else for young children's vocabulary development and that kids who eat more often with their parents are far more likely to excel in school than those that don't. Pretty good reasons to make sure your dining room is ready to be used for family meals, huh?
Dining Room To Do List:
– Clear all paper from your dining room: Quickly clear all surfaces of any paper. Take a family vow to keep paper out of the dining room going forward. I can't imagine any paperwork that should live on your dining room table, unless it's paper napkins :). If you are having a paper overflow problem refer back to this post How to Go Paperless the Easy Way.
– Remove and put away any items that belong in other rooms: Use a basket to collect items that belong in other rooms and return them to their proper homes.
– Get rid of unwanted, broken or useless items: Keep only items that are currently useful, are in proper working order and that you absolutely love. Get rid of things that you are keeping solely out of obligation or guilt. It won't be easy, but it is necessary to let go of those things that were gifted to you that you just don't love or don't use. Be sure to also get rid of anything that is simply too big for the room and is constantly in your way. Decide what to keep, sell or donate and follow through with it ASAP.
– Create dedicated storage areas in your dining room if you need them: I get it–sometimes dining rooms have to serve double duty! Before I created my craft room in our spare bedroom, I used to craft in our dining room. And many people use their dining room for homework stations. If your dining room has to pull double duty, include some designated storage to house whatever items you need. Don't just leave them strewn about your dining room table or buffet. It could be as simple as adding an inexpensive bookcase or drawer unit. Or you could really go for it and add built-in bookcases like my sweet friend Sarah from Thrifty Decor Chick did.
But if a big project isn't in your future, you can see how we have stored our daughters' art supplies on our dining room table when we didn't have a better spot for them.
This post contains some affiliate links for your shopping convenience. Click here to read my full disclosure policy.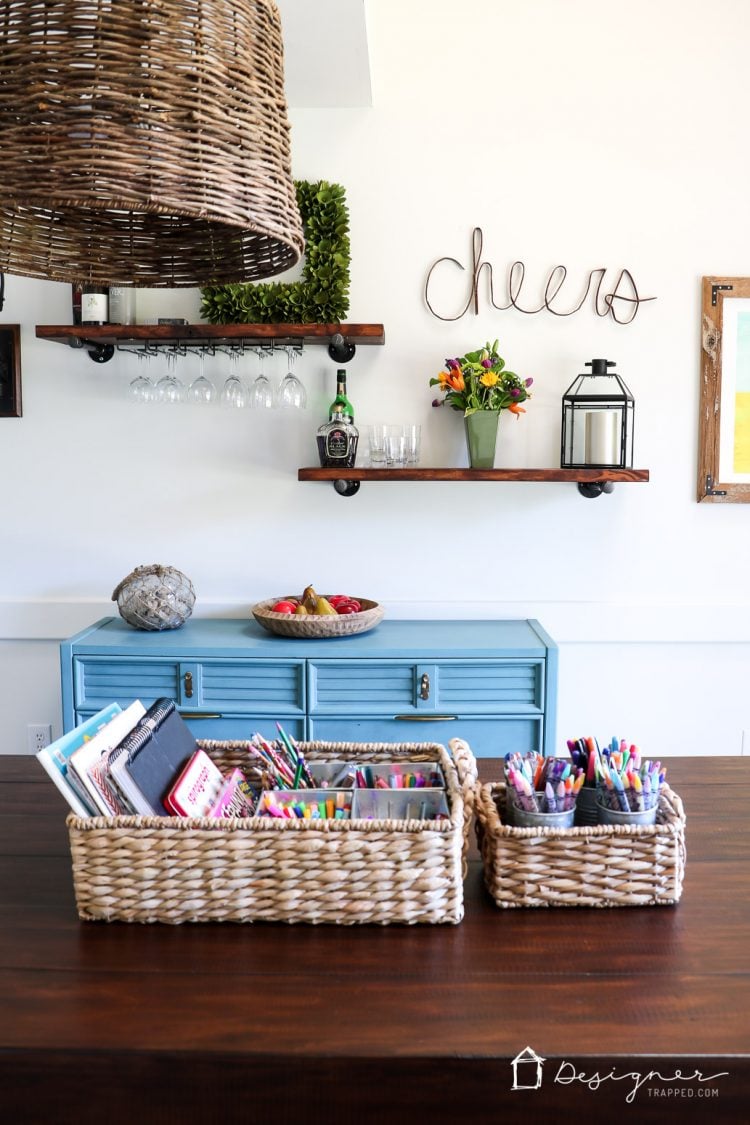 One of my favorite ways to create storage in a dining room (or any other room for that matter) is to purchase seating with storage built in! These storage benches are some of my favorites! Just scroll through to see all the dining room storage options and click on any image for more info about them.

You can see that we have the teal bench in the section of our family room that serves as the girls' playroom. It fits ALL of our board games, which is awesome! So storage benches are a great alternative to traditional chairs if you need some more dining room storage. You could store dishes, linens… ANYTHING!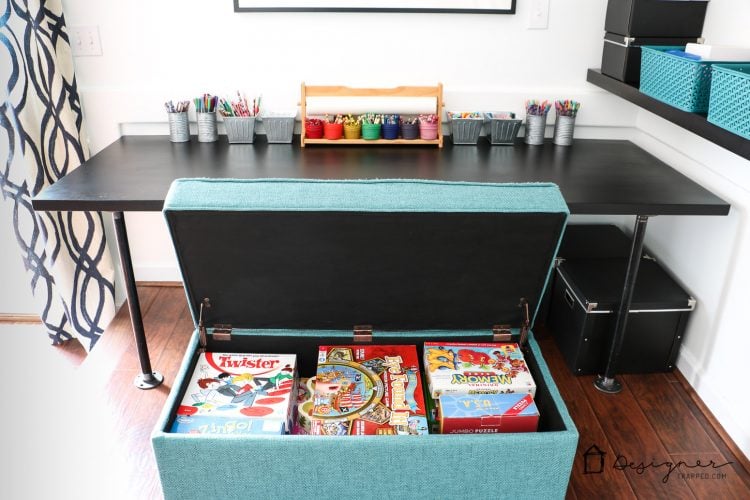 That's it for today. Now head into your dining room and get to work! Once you are finished you can enjoy your clutter-free dining room and you can look forward to enjoying family meals without all the "stuff" distracting you!
[rad_rapidology_inline optin_id="optin_4″]

[go_portfolio id="cleaning_and_organization"]