10 DIY Wall Covering Ideas
Last Updated on February 24, 2022
Hey DLTB'ers! It's Leigh Anne from Houseologie and I'm super excited to share with you some epic DIY wall covering ideas that will have you wanting to makeover at least one room in your home ASAP.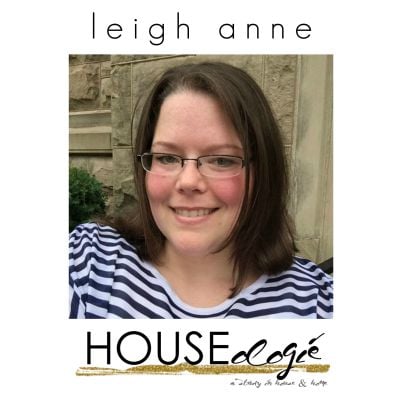 You might remember me from my last post showing you how to make DIY Leather Pulls. Hope you're having a fun Summer with lots of relaxation and of course, a little DIY! I've been busy making plans for our Master Bedroom Makeover. Sometimes you just want more than a painted room with the typical wall decor. Things just need to be kicked up a notch and that's exactly what these 10 DIY wall covering ideas do! I searched the 'net for my favorites and hope you enjoy them! I'm eyeing that black shiplap for my Master Bedroom. So excited about it.
10 DIY Wall Covering Ideas
1. Stikwood Living Room Wall Treatment– This peel and stick Stikwood is a really cool product anyone can use!  You can find a great tutorial for this DIY wall treatment in Erica's living room.

2. Super Organized Pegboard Wall in the Craft Room– You can cover an entire wall with Pegboard for about $40 including the wood and screws. Then cover it with anything your heart desires. I used craft supplies, but you could do Nerf Guns in a boys bedroom, Makeup in a girls bedroom or bathroom. So many possibilities!
3. Easy Shiplap in the Dining Room– Everyone loves a classic shiplap wall right? Sarah shows you how to DIY her dining room wall the easy way while channeling her inner JoJo ;-)
4. Gold Studded Plank Wall– I also planked a wall in my hallway but to add some extra texture and glam I nailed in some furniture nail heads and it added just the right touch!
5. DIY Herringbone Plank Wall– Sometimes DIY wall covering ideas are born from very unlikely sources!  Can you believe this herringbone plank wall was once and ugly, neglected privacy fence? Yes, really!
6. Fabric Accent Wall in a Kid's Bedroom– Woah! This fabric wall definitely makes a bold statement and it speaks right to my heart. Staple it up and when you're tired of it, you can pull it down and make something new out of the fabric.
7. Honeycomb Hexagon Wall– Mandi at Vintage Revivals DIY'd this Hexagon wall.  She has some major skills and the result is super high-impact.  This is one of my favorite DIY wall covering ideas out there! You could use different colors for a completely different vibe.
8. Black Shiplap– Swoon! This is another one of Mandi's DIY wall covering ideas that I love!  Mandi's black washed shiplap wall is every. thing. Total crushing on this wall. I just wanna rub it!
8. Concrete Tile Stencil– This is such a sweet, subtle wall stencil. A gallon or paint + a stencil + a roller = GORGEOUS. I love the soft look of this wall.
10. DIY Geometric Cedar Wall– Isn't this a stunning geometric DIY wall treatment?!  It is truly a work of art I'd be proud to have in my home!
Aren't they all creative and inspiring?  Which one of the DIY wall covering ideas is your favorite?

[go_portfolio id="most_popular"]