Behind the Scenes of a Room Makeover
Last Updated on March 3, 2022
Ever thought that we tackle room makeovers quickly? Well, there is a lot of work that happens before we ever actually start the makeover. Come behind the scenes and learn about the process we use to do a room from start to finish (and why it looks so fast and easy!).
One of the things that y'all ask about every time we do a room makeover is how we can do it so quickly. In today's episode, I am walking you through our process and what it actually looks like! Even though it seems like it only takes a few days, there is a lot of lead-up work that is done for weeks before we actually tackle the room. Listen below and get the real behind-the-scenes of how we get started, work through the design process, and do the actual makeover, and then add those little finishing details.
Would you rather listen on your favorite app? Click whichever option you prefer below:
This post contains affiliate links for your convenience. Click here for my full disclosure policy.
All the Details
Slow start for us this episode.
At the time of recording this episode, we are in the middle of the dining room makeover and it is even better than I thought it was going to be. Joe almost punked out on using the wallpaper on our coffered ceiling. I don't really love traditional features like wainscoting and coffered ceilings, but I feel like we really bought it up to date. We use our dining room all the time and I knew to love the dining room, we would have to make it more modern. We took it to Instagram for encouraging messages for Joe to pull him through and they were awesome. Once it was going up and he could see it he really got on board.
People ask a lot of questions about how the timeline for a makeover looks. They are confused by the pace, because there is so much happening behind the scenes.
As we discussed in this episode, this is something I naturally understand how to do, and but it turns out some people don't.
It takes months to plan. I started the dining room design for this back in October when I bought the wallpaper on sale from Hygge and West.
Just like we talk about in Designer in a Binder®, the wallpaper was my crucial element–another reason why we couldn't change mid-project!
I used my wallpaper to guide all my other choices and plans.
I knew it would be a while (listen here to how we plan our year in-home projects).
I flushed out the rest of the design about 4 weeks before starting. This time I wasn't starting from scratch–I reused a lot of what was in our old dining room. I made a mood board in Canva and then made my additional choices like art. Once Joe approved and we tweaked, I started ordering. (Listen here for our tips on shopping for your home that we shared last week.)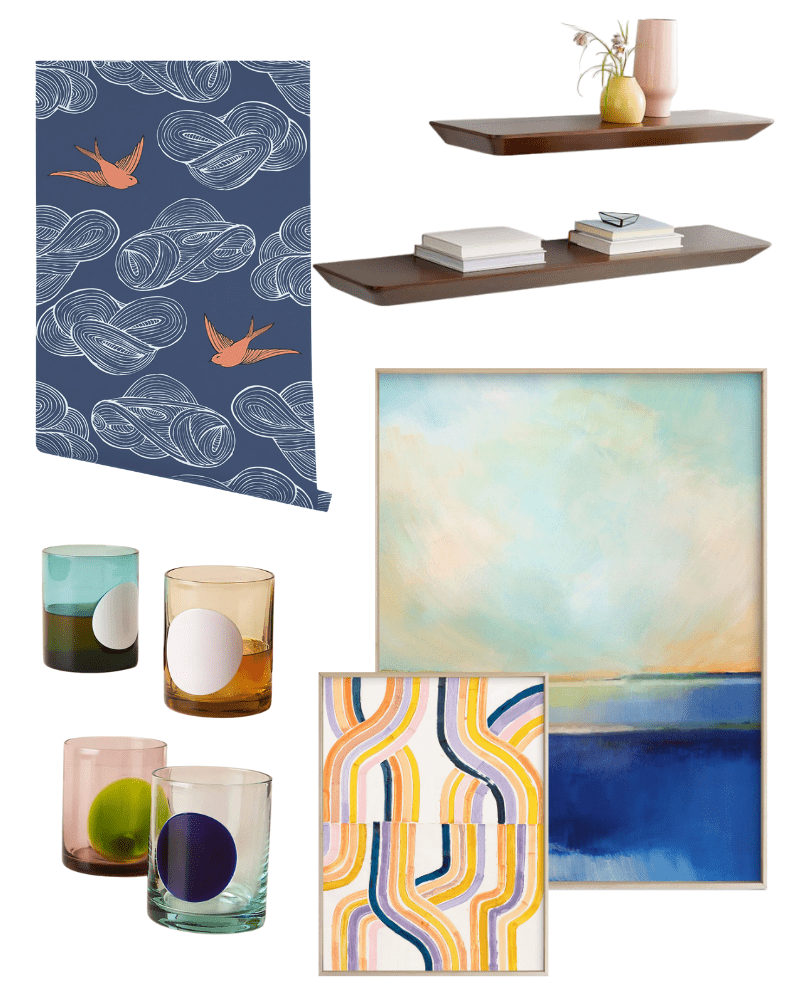 If something is fundamental I make sure it gets ordered and available before I start. I like for most things to arrive before I start.
Side note: Frame It Easy is amazing for custom frames.
Hot tip: if you have most of it ready (paint is chosen, etc), then it keeps the project running much more smoothly. It keeps the havoc at a minimum.
The preplanning is where most people fall apart. This is definitely where things fall apart for Thea.
If you fill out a timeline for Designer in a Binder, like we did for Thea's kitchen you can avoid this being an issue.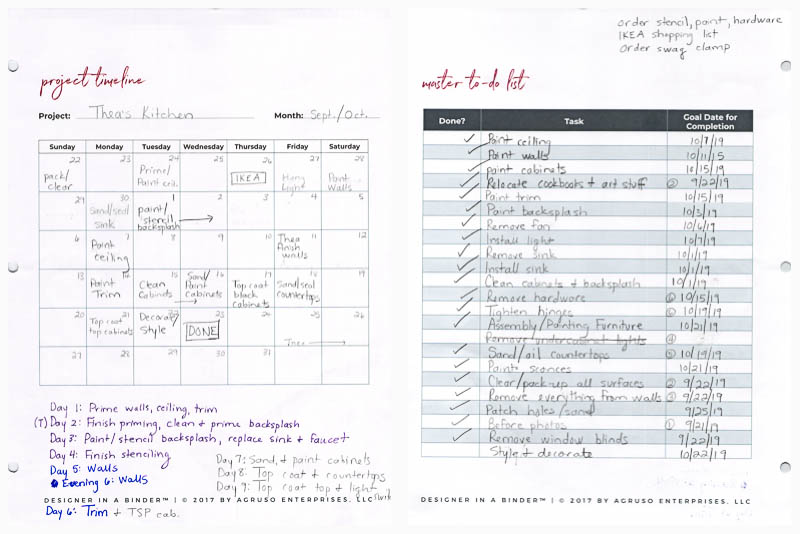 Because we planned ahead and had all of our ducks in a row, it took two full days. Pretty much the same as a weekend. Really the only way to maximize your weekend work time is to plan ahead.
While we have been executing the dining room, we have also started planning the laundry room. We don't always have two big projects so close together.
We have ordered everything for the laundry room because I had to jump on the Boaxel system when it was actually available from IKEA. Things are coming in for the laundry room and the major components will be here and ready, and the "makeover" will only take a few days. Sometimes the finishing details and styling have to happen once everything is finished.
Even if you don't buy Designer in a Binder, plan it out on a notepad! Brain dump everything you need to buy and everything you have to do to complete it. Once you have the list you then slot it in the calendar.
The way Megan Sumrell explained it with the post-it notes in this interview is GENIUS! Those two-hour chunks make it seem so much easier.
People commented things like: "y'all must not sleep." The secret is to do the prep work and then focus only on the execution.
It really is simple! There are times when it is trickier, but we have it down to a science.
If you are a psychologist or environmental psychologist, email us! We want to interview you!
Last episode of the season! We will be back soon with more fun stuff to talk about. Send us what you want to hear about! Email us at podcast@kaleidoscopeliving.com.
Get Social With Us
Wondering how I approach transforming rooms and spaces in our home? Check out Designer in a Binder®.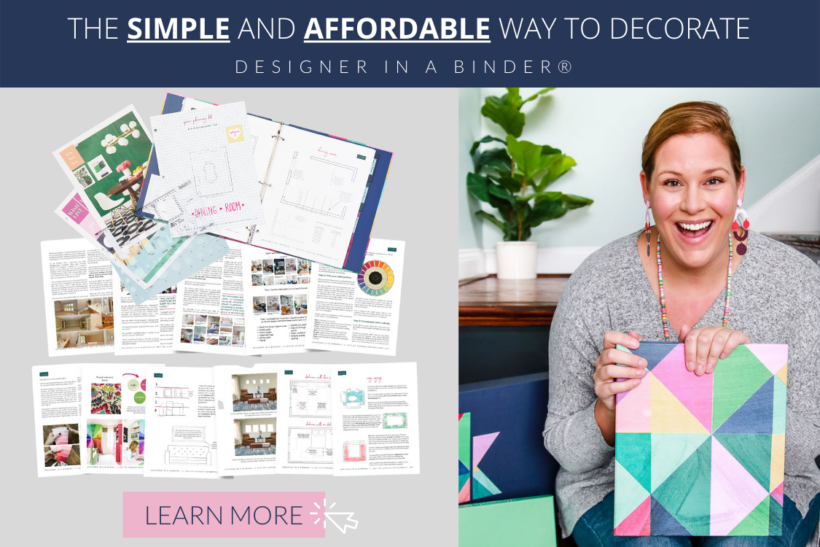 And if you want exclusive content and behind-the-scenes sneak peeks, be sure to subscribe before you head out!


[mv_create key="5″ type="list" title="More Podcast Episodes" thumbnail="https://designertrapped.com/wp-content/uploads/2019/04/marrying-decorating-styles-featured-1.jpg" layout="circles"]