How to Decorate on a Budget: 5 Crucial Tips
Last Updated on August 10, 2021
Just because you have to decorate on a budget doesn't mean you have to sacrifice style. Follow these 5 crucial tips to get the home of your dreams without spending a fortune.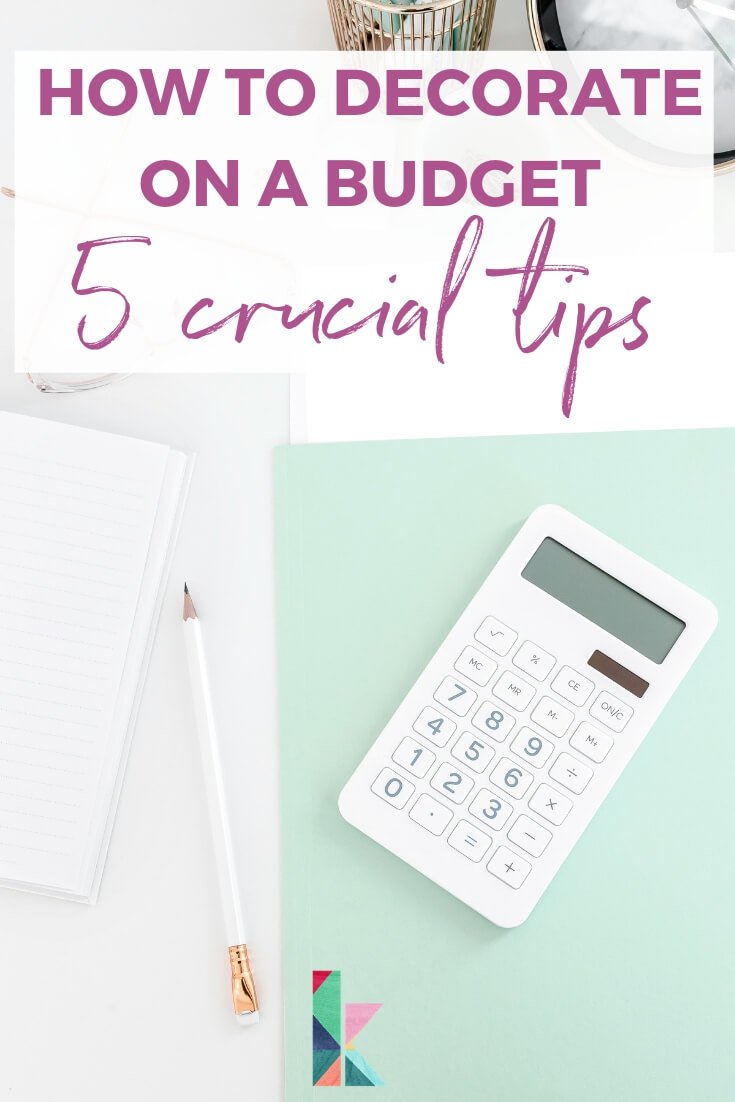 Have you ever looked around your home and thought, "I know exactly what I would do to this space if I had an unlimited budget?" I know I have! It's a fun game to play. But it's imaginary fun because at the end of the day, the fact is most of us have to decorate our home on a very real budget.
The fact is that yes, having an unlimited or very large budget CAN make decorating easier. But a huge budget is absolutely not necessary to create spaces you love. I've scrimped and saved my way to rooms that I absolutely adore and today I'm sharing my best tips for how you can decorate on a budget without sacrificing style.
This post contains some affiliate links for your convenience. Click here to read my full disclosure policy.
How to Decorate on a Budget: 5 Crucial Tips
Tip 1: Know when to splurge.
Generally, I splurge only on key pieces that should last a lifetime (or at least 10 to 15 years) and that really serve as the foundation for my designs–kind of like staple items in your wardrobe. When you are trying to stretch your decorating budget, it's tempting to nickel and dime everything. But sometimes that can cost you more in the long run. I have learned the hard way that buying an inexpensive sofa means I am purchasing a new one just a few years later. Learn from my mistakes. Consider designating a significant portion of your budget on:
A high-quality and timeless couch. Purchase a quality piece that is comfortable and timeless. Avoid a super trendy fabric, color or design. You can spice it up with inexpensive throw pillows. When we purchased the West Elm Harmony sectional sofa for our family room, we invested in one that is well-built, super comfy with clean lines and neutral/durable fabric. I feel confident we will still have this sofa when our kids leave for college and beyond. (This is our sofa if you are curious).
An awesome bed and mattress. If you are decorating your bedroom, don't skimp on the bed or mattress. We spend 1/3 of our lives in bed–that time should be spent in comfort! And a great bed frame can make the difference in transforming your room from feeling like a dorm room to looking like a sophisticated, adult retreat.
Statement lighting. I have learned this lesson the hard way. There is a BIG difference between light fixtures you can purchase at your local hardware store and statement lighting from a specialized company. After finally getting exactly what we wanted for our dining room, I'll always allocate more of our design budgets to good, quality lighting. It just helps set the tone for everything else. I've heard it said that lighting is the "jewelry" of an interior and I couldn't agree more. Good lighting can make or break any design.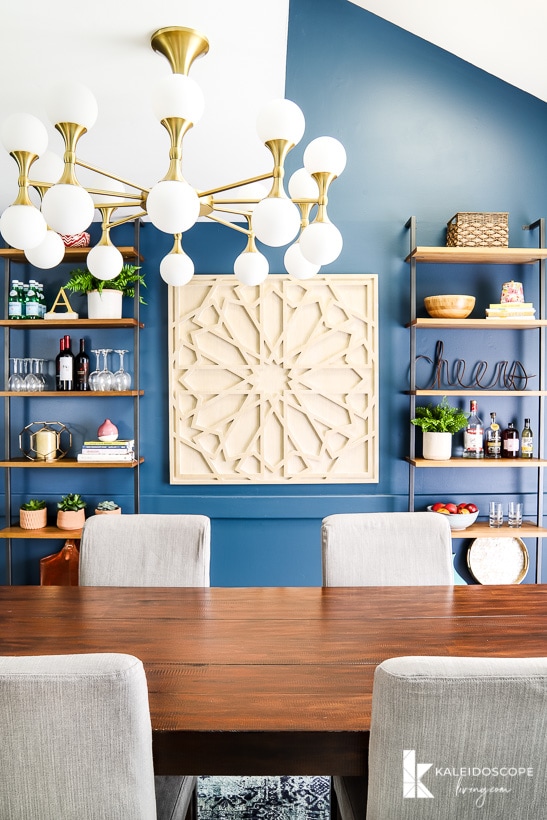 DINING ROOM SOURCES:


Tip 2: Know when to save.
I tend to save whenever it comes to something that is "on trend." I also tend to save for anything that I think of as accessories, meaning they are accents in the room. Those accents include:
Area rugs. Area rugs make a huge impact in a room, so they are a great opportunity to help you decorate on a budget (if you are unsure about choosing a rug, check out this post about how to choose the correct size rug for a living room). I NEVER buy expensive area rugs. There are too many super affordable options out there! And though the quality may not be as high as expensive area rugs, I know that I'll want to update my rugs far more frequently than my foundational furniture pieces. This rug that we purchased for our family room was inexpensive and the quality is shockingly high! It's so soft and plush.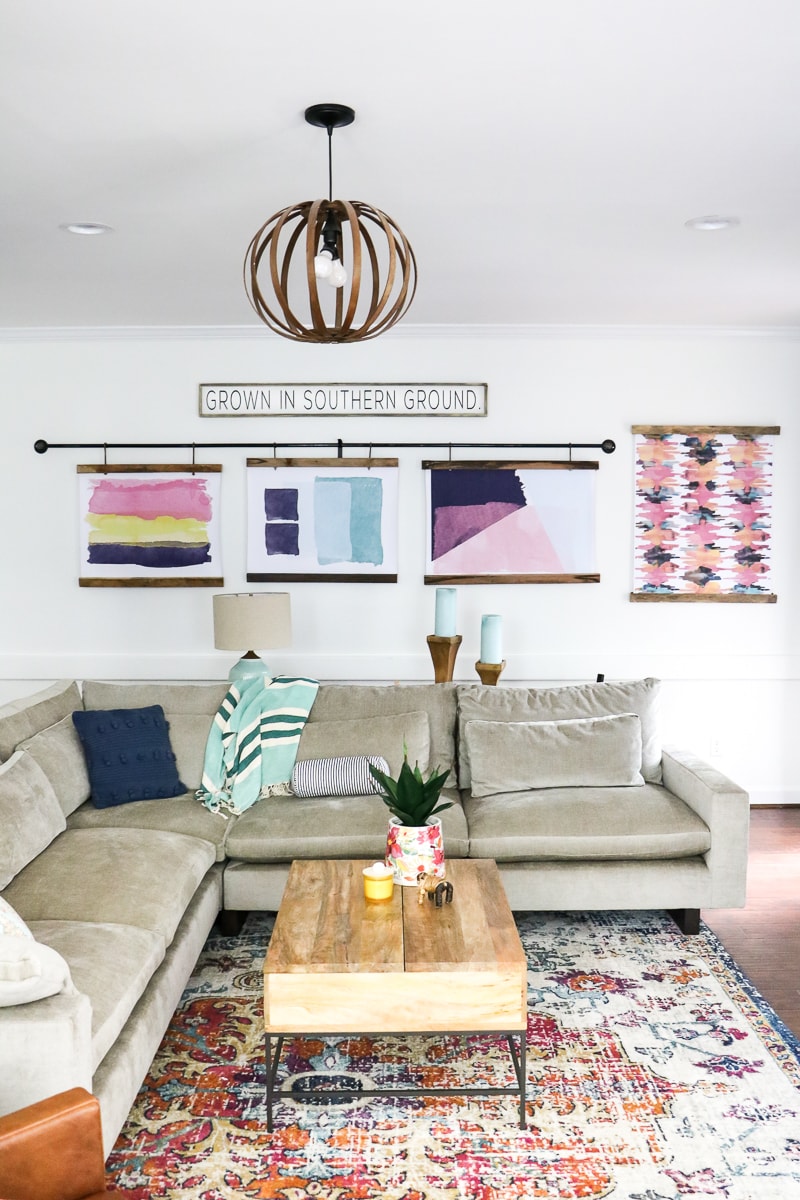 FAMILY ROOM SOURCES:

Throw pillows. Ditto for throw pillows. Or I should say throw pillow covers. I have invested in quality pillow inserts from IKEA over the years and change the covers whenever I want to change the look of a room. It's an easy and inexpensive way to switch up your decor quickly! I just cannot wrap my head around spending hundreds and hundreds of dollars on throw pillows. Save that money and use it toward more important pieces.
Artwork. This is probably a bit controversial, but we are just not at a point in our lives where we can invest in expensive or original artwork. Instead, I design a lot of our art prints (you can get access to my entire library of free printable art here). Or we purchase prints from Minted and stretch our budget by building the frames for them ourselves. But at the end of the day, we allocate very little of our decorating budgets to artwork. You can check out an entire post I wrote about affordable art options here.
Tip 3: DIY as much as you can.
This probably sounds obvious coming from me, lol. But seriously, when you are brainstorming ways to decorate on a budget, think of projects you can DIY in the space! The more you DIY to bring your spaces to life, the more you can put toward things you can't DIY, like a sectional sofa. Here is a list of things that even the most inexperienced homeowners can tackle on their own: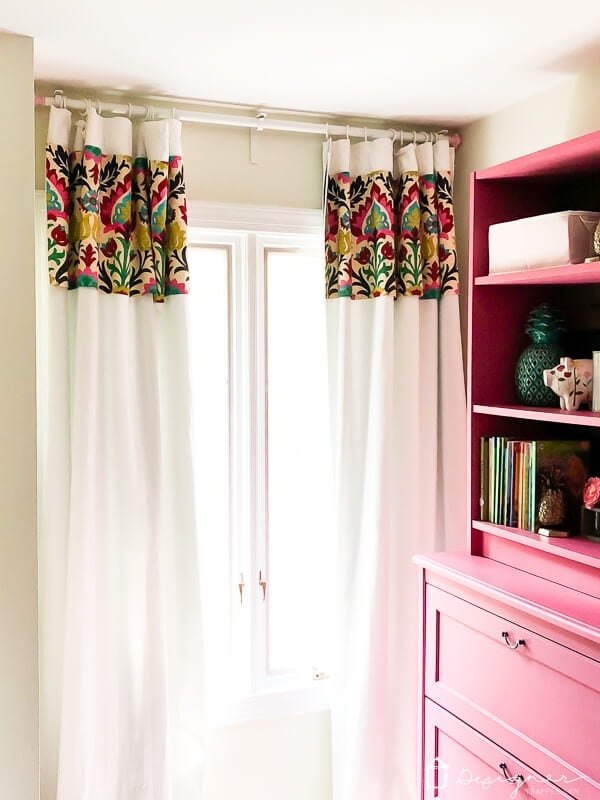 ATTLEY'S ROOM SOURCES

Pillows. You can absolutely find affordable throw pillow covers, but you can also make throw pillows yourself! I made these DIY throw pillows out of dish towels. And I made these throw pillows out of placemats. No sewing machine required!
Tip 4: Become your own designer.
If you are looking to decorate on a budget, there's a very good chance that you can't (or don't want to) spend thousands of dollars on hiring an interior designer. The reality is most people can't afford to hire a designer AND then actually make all the purchases necessary to bring the design to life. That is exactly why I created Designer in a Binder in 2018.
Inside Designer In A Binder, you will find a SYSTEM that teaches you how to think and design your home like an interior designer, for yourself. It takes you by the hand and helps you create your very own design plan that is MORE customized to what you want than ANY interior designer could ever hope to achieve because you know yourself and your style best. And it costs LESS than a 1-hour consultation with a licensed designer. You can learn more about Designer in a Binder here.
Tip 5: Repurpose and reuse.
Don't assume that you need to buy all new pieces for a design! When you want to decorate on a budget, be sure to consider what you already have in your home! When we gave our laundry room a makeover, we only spent $71 out of pocket because we were able to "shop" our own house for so much of the design.
You may have furniture pieces, like a coffee table or dresser, that don't work as they are, but a little imagination and some elbow grease could transform them into something that works beautifully with your new design plans. Some of my favorite pieces in our home were literally found on the side of the road, like this dresser that in Avery's room. You can see the makeover we gave the dresser here.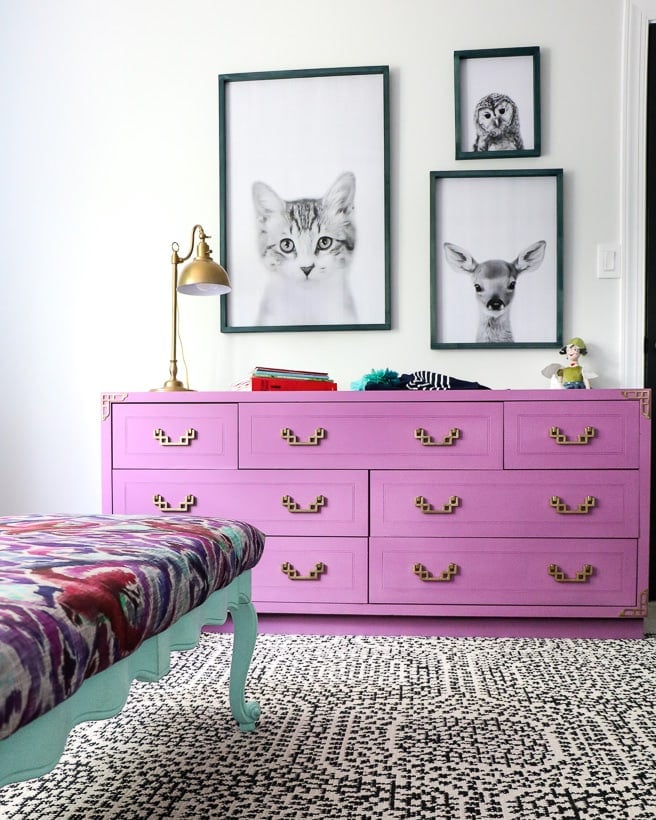 AVERY'S ROOM SOURCES:

And this curvy dresser in our master bedroom came from a thrift store over 15 years ago. I change the paint and hardware as needed to fit in with the design of whatever room it is in (we've used it in a variety of places). You can see my best tips for painting wood furniture here.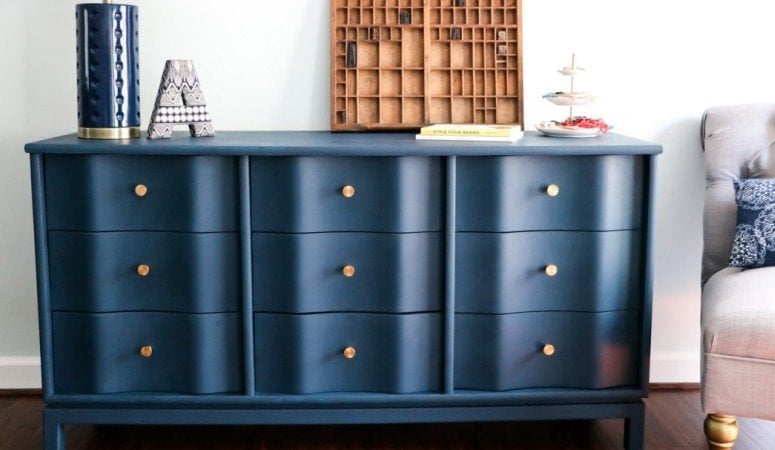 Before you head out and get started, be sure to become a VIP! You get all of my FREE design guides and SO much more that will help you help you design spaces you absolutely love! Unlock my design vault and get access toeverything in one convenient digital library.
[mv_create key="2″ rel="noopener" target="_blank" thumbnail="</span><a href=" title="Design Posts" type="list"]